Alabama Crimson Tide:

Top 5 moments
December, 14, 2012
12/14/12
6:07
AM ET
Editor's note: Each day this week we'll review the five biggest plays or moments of the season for the Alabama Crimson Tide. Yesterday, we looked at AJ McCarron's game-winning drive down the field in Death Valley.
LSU was the challenge, but Georgia was the true test. Alabama went to the SEC championship game in Atlanta facing a true win-and-you're-in scenario: either the Crimson Tide or the Georgia Bulldogs would go on to face Notre Dame in the national title game. For the sixth straight year the winner of the SEC would compete for the crystal football. It was just a matter of figuring out which team would represent the conference.
[+] Enlarge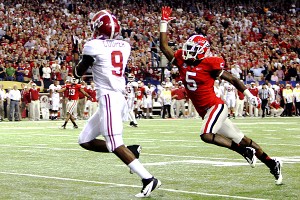 Daniel Shirey/USA TODAY SportsAlabama's Amari Cooper hauls in the winning TD pass in front of Georgia's Damian Swann.
The game between No. 2 and No. 3 in the BCS Standings would not disappoint. Georgia came out firing on all cylinders at first, jumping out to a 7-0 lead while making the Alabama offense look downright confused.
Jarvis Jones
harassed
AJ McCarron
into a fumble in the first quarter and an interception early in the second.
But the Bulldogs offense didn't take advantage of the early lull by the Tide. Alabama got the ball back after McCarron's interception and decided to change plans. It was out with the pass and in with the run. The offensive line would decide the game from then on.
T.J. Yeldon
carried the ball four times and
Eddie Lacy
punched in Alabama's first touchdown on the six-play drive.
It was back and forth from then on, Georgia finding success through the air with
Aaron Murray
and Alabama playing it close to the vest behind the best offensive line in college football.
Murray found
Tavarres King
for 45 yards early in the fourth quarter to set up a go-ahead score from running back Todd Gurley. Alabama's offense stalled the next drive and then Georgia went three-and-out, handing the ball back to the Crimson Tide with 5:25 remaining, down three points.
December, 13, 2012
12/13/12
6:03
AM ET
Editor's note: Each day this week we'll review the five biggest plays or moments of the season for the Alabama Crimson Tide. Yesterday, we looked at Amari Cooper's breakout performance against Tennessee.
Rarely do match-ups dubbed "The Game of the Century" live up to their billing. There's usually too much hype and too much pressure. The buildup overtakes the game itself.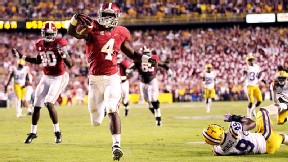 AP Photo/Gerald HerbertT.J. Yeldon's TD capped what would be a game and season-saving drive for Alabama.
Alabama's showdown with LSU on Nov. 3 defied the seemingly boundless media attention and promotion. Death Valley shook, and the Crimson Tide roared. A classic unfolded on Saturday night in Baton Rouge, La.
LSU played its heart out in front of a raucous sea of purple and gold.
Zach Mettenberger
had the game of his life, the Tigers' defense was an iron curtain and the Mad Hatter -- coach Les Miles -- pulled out all the stops, faking a punt and going for an onside kick with the lead in hand.
Alabama answered, with a national championship berth on the line. Louisiana native
Eddie Lacy
carried the ball like a man on a mission,
Kevin Norwood
created big plays where there were none to be had and
AJ McCarron
came up big in the final moments. Alabama's final drive -- or what's become known as The Drive -- was the junior quarterback's crowning achievement. In a game in which he looked lost for the better part of four quarters, McCarron showed up in the end and led his team to victory.
Saban said the game-winning, five-play drive was "Something I'll never forget." McCarron said it was something like clockwork.
"The whole offense just looked at each other, and you could just tell in everybody's eyes it was like, 'We do this every Thursday, so what's the difference here?' " McCarron said.
Alabama marched 72 yards down the field for the final go-ahead score. Three straight passes to Norwood for first downs set up a 28-yard screen pass from McCarron to freshman tailback
T.J. Yeldon
. A hush fell over Death Valley as the Alabama sideline erupted as Yeldon crossed the goal line for the touchdown..
"The momentum changed," Saban said. "But they kept their poise, kept playing, kept competing. I've never been prouder of a bunch of guys."
Alabama would lose its poise the very next week, though.
Johnny Manziel
and the Texas A&M Aggies would beat the Tide at home and seemingly shatter their national championship hopes in the process. The Drive was almost rendered useless.
"If we finish out like we're supposed to, probably one of the greatest wins I've been apart of in my life. ... If we don't finish out strong, it really doesn't factor in really," McCarron said before the Texas A&M game.
That tiny premonition from McCarron ended up coming full circle, as No. 1 and No. 2 in the BCS Standings fell and opened the door for Alabama to return to the national championship. Now that the Tide have a date with No. 1 Notre Dame in Miami, The Drive is only picking up more steam. If Alabama wins, it could become one of the biggest moments in school history.
December, 12, 2012
12/12/12
6:00
AM ET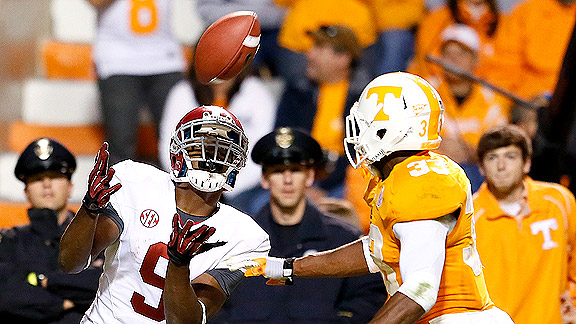 Kevin C. Cox/Getty ImagesAmari Cooper pulls in a touchdown reception against Tennessee, part of his breakout game in the Crimson Tide's victory.
Editor's note: Each day this week we'll review the five biggest plays or moments of the season for the Alabama Crimson Tide. Yesterday, we looked at Eddie Lacy's 177-yard rushing day against Missouri.
AJ McCarron
and the Alabama offense had become accustomed to operating without a go-to target in the passing game. Since Julio Jones left to become a star in the NFL, the Crimson Tide have been good at receiver but not great. There was no one to look to when the game was on the line and a play needed to be made.
Enter
Amari Cooper
. Like his predecessor, Cooper wasted no time making an impact at receiver. The freshman from Miami stepped onto the scene at Alabama and became McCarron's primary target on offense within a few weeks.
By Week 7, at Tennessee, it became clear Cooper was here to stay. Senior tight end
Michael Williams
was already drawing historical significance from Cooper's 167-yard, two-touchdown performance in Knoxville.
"He can be one of the greatest," Williams said of Cooper. "I don't want to put that on his head but you see it. Before long, y'all would start saying that always. Y'all can see what he has. You see the talent. As long as he keeps his head straight, I think he'll be one of the greats."
Williams was right. Cooper's talent was obvious at Tennessee. His speed and ability to get behind defenders was clear on his first touchdown grab. His ability to go up and get the football was evident on his 54-yard reception with a defensive back draped on his shoulders. He put it all together on his second touchdown of the game, a 42-yard reception that sealed the victory for Alabama.
"He's had some big plays all year long," Saban said after the game. "He caught eight passes against Ole Miss. We think he's an outstanding player. He's just a freshman and he's gotten better and better every week. He's really learned to be very consistent. He plays fast and he plays hard."
Cooper hasn't slowed down since. He leads all receivers in receptions (53), yards (895) and touchdowns (9). Impressive for a player that entered the season as a backup and was playing high school football at this time a year ago.
Now, Cooper is coming full circle his freshman season with a return trip home -- to compete for the national championship. Alabama will meet Notre Dame in Miami.
"It's a dream come true," Cooper said after the SEC title game on Dec. 1.
December, 11, 2012
12/11/12
6:00
AM ET
Editor's note:
Each day this week we'll review the five biggest plays or moments of the season for the Alabama Crimson Tide. Yesterday, we looked at Dee Milliner's interception in the season opener against Michigan.
For weeks, Alabama fans wondered what was wrong with
Eddie Lacy
. The big, bruising tailback with the feet of a ballerina was showing his frailty early on in the season. The heir apparent to
Trent Richardson
and
Mark Ingram
couldn't stay on the field as he continued to be bothered with nagging injuries -- a recurring turf toe problem, a sprained ankle, a strained hamstring. The 220-pound junior couldn't get healthy and it appeared that true freshman
T.J. Yeldon
might take the reins as the starting tailback at any moment.
[+] Enlarge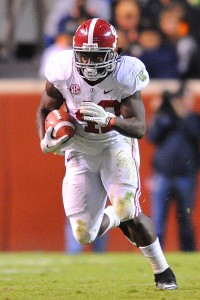 Randy Sartin/US PresswireEddie Lacy re-established himself at Missouri.
Then came Lacy's breakthrough moment in Columbia, Missouri. In Alabama's first trip to conference newcomer Missouri, Lacy reminded fans and analysts what type of running back he can be. In the pouring rain, he slashed the Tigers' defense for 177 yards and three touchdowns. Neither lightning delay nor injury would keep Lacy from getting his that day.
"I came in with a positive mindset," Lacy said after the game. "I don't try to think a certain way. The running backs, we haven't had a big run in a long time, and I was able to do it today, but it was just because I was thinking positive."
Of course, Lacy wouldn't leave the game unscathed. He suffered a bruised hand which has been wrapped up at one point or another ever since. To him, playing through the pain was all a matter of having the right mindset.
"It's mind over matter," he said.
With Lacy and Yeldon both running well at tailback, the Alabama offense has hummed along with remarkable efficiency. UA finished in the top 20 nationally in rushing yards and most recently set an SEC championship game record with 350 yards on the ground against Georgia. Lacy, despite running at less than 100 percent, accounted for 181 yards and two touchdowns to help Alabama secure a trip to Miami to compete for a national title against Notre Dame.
"We have always had two backs -- it's sort of a philosophical thing that we like," UA coach Nick Saban explained. "Durability is such a critical factor in running backs that if you play one guy all the time it enhances his chances of not being able to continue to play at the same level. It's always been our goal to play two guys -- not always equally, but fairly equally to where both guys have a better chance to sustain the season at a high level and are productive throughout."
December, 10, 2012
12/10/12
7:15
AM ET
Editor's note: From Monday-Friday, TideNation will review the five biggest plays or moments of the season for the Alabama Crimson Tide.
Alabama threw a welcome back party for itself in Arlington, Texas, to open the season. At the Cowboys Classic, the No. 2-ranked Crimson Tide reintroduced itself to the college football world by dominating the then-No. 8 Michigan Wolverines.
[+] Enlarge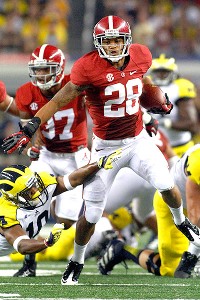 Ray Carlin/Icon SMIDee Milliner's interception against Michigan was one of the biggest plays of the game.
It seemed as if Alabama hadn't missed a beat since taking care of LSU to win the national championship in New Orleans nine months earlier, never mind the litany of starters lost to graduation and the NFL draft. It seemed like a repeat trip to the BCS title game would be attainable by the time the final bell rung on the 41-14 win.
"Everyone thought we were too young, too inexperienced, couldn't handle success," UA coach Nick Saban said after the game. "Everybody was saying those things about our team. Now, people are saying something different."
The build up to the game revolved around the matchup of Michigan quarterback and Heisman hopeful
Denard Robinson
versus the revamped Alabama defense. Three-quarters of the secondary from a season ago was gone, as were two of the most decorated linebackers in the school's history. Robinson was supposed to pick on the inexperienced replacements and get his Heisman campaign off to a fast start.
But Robinson's march to New York never got off the ground.
Dee Milliner
saw to that.
Alabama's junior cornerback, a full-time starter for the first time in his career, instead had the statement game during the nationally televised affair. His four pass breakups and interception showed he and the Crimson Tide defense were not to be messed with. He would end the season as one of the top cornerbacks in the country, a finalist for the Jim Thorpe Award, and Alabama would finish as the No. 1 defense in the country.
Alabama Dismisses Jonathan Taylor
SEC SCOREBOARD
Thursday, 9/3
Saturday, 9/5