Alabama Crimson Tide:

Todd Grantham
January, 17, 2014
Jan 17
12:00
PM ET
January, 13, 2014
Jan 13
12:15
PM ET
Football season is nearly over, but the news never stops in SEC country – especially with all of the NFL draft announcements, coaching changes and recruiting news churning this week.
November, 18, 2013
11/18/13
12:00
PM ET
Another wild weekend of SEC football is in the books. Let's take a look at what's being talked about around the league on Monday:
October, 16, 2013
10/16/13
12:00
PM ET
No, I'm not going to stand up here and scream, "Hump Day!" like that lazy camel. Instead, I'll simply point out that since it is Wednesday we're only some 24 merciful hours away from a quality college football game between No. 10 Miami and North Carolina. And I think we can all agree that watching football is much more enjoyable than watching an animal sell us insurance.
September, 20, 2013
9/20/13
2:30
PM ET
We certainly have a couple of real BCS contenders in the SEC. There's a frontrunner and a cat lurking:

Alabama:
What a game between the Crimson Tide and Texas A&M. It was back and forth in the second half, and who knows what happens if Johnny Manziel gets the football back with 15 seconds left? But Alabama proved its offense is capable of scoring at will in its 49-42 win over the Aggies. That could be important if the defense continues to struggle the way it did when it gave up a school-record 628 yards to A&M. The good news is Johnny Football is off the schedule. Alabama is still No. 1 in the polls and clearly is still the team to beat.
Trending:
Up

LSU:
The Tigers are lurking, folks. They thumped an overmatched Kent State team by 32 points and might have the most complete team in the league right now. LSU is averaging more than 200 yards rushing and passing and has the league's No. 3 defense. The competition hasn't been great, but this offense is moving the ball much better than it did last year against weaker opponents. Zach Mettenberger is averaging 265 passing yards a game, has the league's highest efficiency rating (205.3) and has thrown nine touchdowns to zero interceptions.
Trending:
Up

Texas A&M:
The Aggies lost a thriller, but that offense, especially Manziel, showed a ton of heart. The Aggies have to clean things up on defense, as it's giving up nearly 500 yards and 36 points a game. That can't cut it in this league. This isn't the Big 12, guys. The offense will certainly keep this team in any game, but if the defense continues to play this poorly, A&M will fall down the ranks of the SEC.
Trending:
Down

Georgia:
The Bulldogs were off last week, so you have to think that defensive coordinator Todd Grantham used that extra time to iron out some issues on defense. Georgia won't be perfect on the defensive side going forward, but you're starting to see growth. That's a good thing, because LSU heads to Athens next Saturday.
Trending:
Same

South Carolina:
Vanderbilt made things exciting in the second half of South Carolina's 35-25 win over the Commodores last weekend, but the defense showed improvement from its debacle the previous weekend. If only that defense had shown up against Georgia. Like the Bulldogs, South Carolina's defense has to grow up soon this season. The advantage this team has is that its toughest remaining opponents -- Florida and Clemson -- don't pop up on the schedule until later in the season.
Trending:
Same

Florida:
The Gators were off last week. This offense has moved the ball fairly well this season, but it keeps falling apart in the red zone. This team is 6 of 12 in the red zone and has two turnovers. Those turnovers cost the Gators against Miami two weeks ago, and if these problems persist, Florida will be out of the SEC East race very quickly. The defense is elite, so if this offense gets it together, Florida could sneak back into the BCS picture.
Trending:
Same
September, 3, 2013
9/03/13
9:00
AM ET

The first week of college football is in the books, and it's time to see where we think all 14 SEC teams stack up in our weekly power rankings:
1. Alabama (1-0; LW: 1):
OK, Alabama isn't perfect. Contrary to what
AJ McCarron
said, the offensive line looked ugly for most of the night in Alabama's win over Virginia Tech. It has to get better in a hurry. But when your defense and special teams are clicking like they were on Saturday, who needs offense?
2. South Carolina (1-0; LW: 4):
Two players I've been saying to keep an eye on since the spring:
Mike Davis
and
Shaq Roland
. Both looked pretty good, especially Davis, in that opening win, and both will be fun to watch this weekend. The defensive front looked great, but can someone please give
Jadeveon Clowney
some vitamin C and an extra Gatorade?
3. LSU (1-0; LW: 6):
Don't sleep on these Tigers. They're undervalued, but were very impressive in their 37-27 victory over a ranked TCU team in their own backyard. The defense still looks fast, and the offense racked up nearly 450 yards behind some explosive plays. The return of running back
Jeremy Hill
should make this team even better.
4. Texas A&M (1-0; LW: 2):
Johnny Manziel
looked good when he was actually playing football Saturday. He went through his progressions and didn't think "run" first. But his antics have to stop (just ask Kevin Sumlin), and that defense has to get much, much, MUCH better before Alabama rolls into town in two weeks.
5. Florida (1-0; LW: 5):
It doesn't look like the Gators will miss much of a beat defensively after they suffocated Toledo and that uptempo offense. The offense? Well, it did look more polished and the passing game actually moved down the field, but the Gators were very vanilla. Expect that to change against Miami.
6. Georgia (0-1; LW: 3):
We knew the defense would struggle against Clemson's high-octane offense, but the Bulldogs looked really bad in the tackling department. This group has to go back to the basics, and that isn't a good thing with physical South Carolina coming to town this weekend. Also, that offensive line has to protect
Aaron Murray
better because
Todd Gurley
can't do it all himself on offense.
7. Ole Miss (1-0; LW: 8):
The future certainly looks bright in Oxford, Miss., but this program is hoping the present is just as bright. The Rebels kicked off the college football season with an electric, back-and-forth win over Vanderbilt. This offense looks built to go the distance, but depth is still a major concern. Health is key.
8. Vanderbilt (0-1; LW: 7):
The Commodores lost a heartbreaker to the Rebels at home, but this team still looks as explosive as it was last year. The defense has some things to clean up, but defensive coordinator Bob Shoop should make sure that happens.
Jordan Matthews
has star status, but not having
Chris Boyd
on the other side of him hurts the offense.
9. Auburn (1-0; LW: 9):
The Tigers had quite a fun opener. Both the offense and defense were up and down, but it had to be nice for Gus Malzahn to see his running game put up 295 yards on Washington State. The pass defense has some work to do and injuries won't help.
10. Missouri (1-0; LW: 11):
The 58-point, 694-yard performance from the Tigers' offense looked more like what people in Columbia, Mo., expected to see more often last year. Granted, it was against Murray State, but that sort of outing will build some confidence within this group. It was good to see
James Franklin
and
Henry Josey
on the field and healthy again.
11. Arkansas (1-0; LW: 13):
By looking at the box score, you'd think Bobby Petrino's offense was back in Fayetteville, Ark., after the Hogs put up 522 yards on Louisiana-Lafayette. The Hogs could run and pass, and the defense held the Ragin' Cajuns to just 274 yards. The Hogs still have a couple of cupcakes to face before things get interesting at Rutgers.
12. Tennessee (1-0; LW: 12):
We really don't know what to take from Tennessee's thumping of a very overmatched Austin Peay team, but the Vols looked to have some real legs in the running game. How long that will last is a mystery, but it was a good start. Things get tougher this weekend when Western Kentucky and Bobby Petrino visit Rocky Top.
13. Mississippi State (0-1; LW: 10):
That was a bad offensive performance by the Bulldogs in their 21-3 loss to Oklahoma State. Mississippi State was 2-for-16 on third downs and
Tyler Russell
threw for only 133 yards against a defense that ranked 113th nationally in pass defense last year. The Bulldogs held the Cowboys to just 146 passing yards, but allowed nearly 286 rushing yards.
14. Kentucky (0-1; LW: 14):
That was not the opener Mark Stoops wanted or needed. The Wildcats looked overmatched against Western Kentucky and are still struggling mightily to find playmakers in the passing game. What had to really upset Stoops was that his defensive line, which was supposed to be this team's best unit, didn't get enough pressure up front and allowed the Hilltoppers to rush for more than 200 yards.
September, 1, 2013
9/01/13
10:00
AM ET
Now that Week 1 is in the books for the SEC, here are five things we learned about the conference:
1. Alabama's offensive line needs work:
We knew replacing three NFL draft picks would be tough for Alabama, but Saturday night showed that this unit will certainly need the bye week to get things ready for Texas A&M. There were communication issues and players weren't comfortable with the actual game speed. It didn't help that Virginia Tech surprised the Tide with some of their defensive sets. Still, the kinks really need to be ironed out up front. Alabama failed to rush for 100 yards for the first time since 2011 and quarterback
AJ McCarron
never really looked comfortable with all the pressure he faced. These issues can be fixed, and they'll need to be before the A&M game.
[+] Enlarge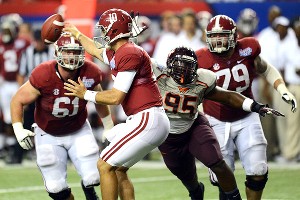 Dale Zanine/USA TODAY SportsAlabama and AJ McCarron have some things to work on before facing Texas A&M on Sept. 14.
2. Ole Miss and Vanderbilt are for real:
We saw a great start to the 2013 season when Ole Miss topped Vanderbilt in that thriller in Nashville on Thursday night. Don't think that we've heard the last of either of these teams. They will make life for all of their opponents tough throughout the season. Both teams showed they have the athletes to keep up with some of the bigger boys in the league and they have the capability of making electric plays on both sides of the ball. They combined for 915 total yards and 74 points Thursday. Both of these offenses should be fun to watch and it wouldn't shock anyone if the Commodores and Rebels both upset one of the big boys this year.
3. Suspect defenses:
It's obvious that Georgia and Texas A&M both need to see a lot of improvement on the defensive side of the ball. We knew we'd see a lot of points this weekend, but Georgia's defense was too sloppy at times. There were protection breakdowns, the line was pushed around and tackling was a major issue in the Bulldogs' 38-35 loss to Clemson. Outside of the poor tackling, what really had to frustrate defensive coordinator Todd Grantham was the fact that Clemson ran for 197 yards. Stopping the run was a major issue for this defense last year, and it was a problem Saturday night. As for the Aggies, Texas A&M's rebuilding defense had a rough day against Rice. Granted, the Aggies were missing five starters, but they gave up 306 rushing yards and 31 points. Even with guys out, you just can't allow that to happen. Key guys will come back next week, but this defense won't be at full strength until the Alabama game in two weeks. This defense has a lot to work on until then.
4. Kentucky's road is longer than expected:
Mark Stoops has brought some excitement back to Kentucky's football program, but Saturday's 35-26 loss to Western Kentucky proved that the Wildcats still have a ways to go when it comes to development and talent. The defense struggled against Bobby Petrino's offense, surrendering 487 yards and 22 first downs, while the offense showed it is in serious need of playmakers in the passing game. The "Air Raid" offense was nowhere to be seen, while the defense didn't register nearly enough pressure to slow down Western Kentucky's attack. This wasn't going to be an easy first year for Stoops, but this was not the start he needed, especially with the way the defense played.
5. Happy returns:
It was good to see some players return to the field after injuries affected them in 2012. Missouri had to be pleased with quarterback
James Franklin
and running back
Henry Josey
getting off to a fast start. Franklin, who dealt with shoulder, knee and head injuries last year, threw for 318 yards and three touchdowns, while rushing for another 44 in the Tigers' blowout win over Murray State. Josey, who missed all of last season because of a knee injury, carried the ball 13 times for 113 yards and a 68-yard touchdown. Forget the opponent -- these two looked up to speed after a trying 2012. Florida also got good production out of linebacker/defensive end
Ronald Powell
, who missed all of last year with two ACL injuries. Powell was very active Saturday, finishing with a sack and three quarterback hurries. Also, South Carolina quarterback
Connor Shaw
made it through Thursday's game without injury. He passed for only 149 yards and touchdown, but he ran 12 times for 43 yards. It's clear these guys are back to their old healthy selves.
August, 28, 2013
8/28/13
10:00
AM ET
Now that we're just a day away from the start of the 2013 college football season, who in the SEC has the most to prove?
We're talking players, coaches, teams, units, position groups ... even fan bases.
Let us know if you agree with the 10 we've selected. I'm sure you will.
Alabama's secondary:
It seems as though the Crimson Tide just reload every year in the secondary no matter how many talented players they lose to the NFL. Junior safety
Ha Ha Clinton-Dix
looks like he's the next big star back there, but there are also a lot of unknowns, as well as some depth concerns. Alabama needs senior
John Fulton
to come through at cornerback and sophomore
Landon Collins
to make a big jump at safety.
[+] Enlarge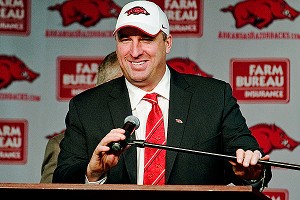 AP Photo/April L. BrownBret Bielema barrelled into the SEC last December. Now he has to prove he can win there.
Arkansas coach Bret Bielema:
You gotta hand it to Bielema. He didn't come into the SEC and quietly stand in the back of the pack. Nope, he was speaking his mind and shaking things up from the time he was announced as the Hogs' coach back in December. Bielema led Wisconsin to three straight Rose Bowls and took a few swipes at the SEC in the process. Now, he gets a chance to prove that he can win in the SEC.
Florida's passing game:
It's not just quarterback
Jeff Driskel
. It's not just the Gators' receivers. It's not just their pass protection. It all has to improve if Florida is going to throw the ball more effectively this season. The Gators finished last in the SEC a year ago in passing offense and had virtually no downfield passing game. The feeling coming out of camp is that Driskel will be fine, so a lot of the burden falls on Florida's receivers to get open and make more plays this season.
Georgia defensive coordinator Todd Grantham:
The Dawgs were tormented by suspensions a year ago and having to play different combinations. They never really played up to their talent level on a consistent basis, which was evidenced by seven defenders being selected in the NFL draft. Grantham, who helped restore the edge to Georgia's defense when he was hired in 2009, faces the challenge this season of getting that edge back and doing it with a whole heap of younger players.
LSU running back Jeremy Hill:
The talented sophomore is getting a third (and presumably) final chance after deciding to go WWE on some guy outside a bar in the wee hours of the morning last April. He was already on probation at the time. Les Miles is clearly sticking out his neck for Hill, who was sensational down the stretch last season. Let's see if he repays Miles and his LSU teammates by doing all of his damage on the field this fall.
Texas A&M quarterback Johnny Manziel:
What a whirlwind these past seven months have been for Johnny Football. It sure sounds as though the Aggies are preparing for him to play this season, despite the NCAA investigation into whether he took money to sign autographs. A better question: How will Manziel respond on the field, and can he put everything that has happened off the field behind him and continue to light up opposing defenses?
Mississippi State:
There was a time when Mississippi State had all the momentum in the Magnolia State. Dan Mullen guided the Bulldogs to three straight victories over the "school up north," and talked openly about owning the state. Suddenly, though, Ole Miss is streaking after knocking off Mississippi State last season in the Egg Bowl and reeling in a top-five recruiting class nationally. The Bulldogs have to find a way to get their mojo back after ending the 2012 season with losses in five of their last six games.
Missouri coach Gary Pinkel:
With all the injuries Missouri sustained last season, Pinkel gets (and deserves) a pass. The Tigers were decimated in the offensive line and looked overwhelmed in a lot of their SEC games. Pinkel is entering his 13th season at Missouri and has won eight or more games in seven of those seasons. But what he's going to be judged on now is whether he can make the Tigers a consistent winner in the SEC.
Tennessee's defense:
It can't get any worse for the Vols on defense, right? They were embarrassingly bad a year ago in Sal Sunseri's one and only year as defensive coordinator, giving up 37 or more points in eight of their 12 games. John Jancek takes over as defensive coordinator in Butch Jones' first season as head coach and has gone back to a 4-3 scheme and simplified things. A lot of the same players who went through last season's nightmare are back, so they get a chance to right the ship.
Vanderbilt's fans:
The Commodores won nine games last season for the first time in nearly 100 years, and second-year coach James Franklin says that was just a start. But to truly take this program to the upper echelon of the SEC, he's going to need the fans to start filling 40,330-seat Vanderbilt Stadium on a consistent basis. He has been pretty open about challenging them and said he doesn't want to hear any excuses. We'll see how they respond starting Thursday night when Ole Miss comes to town for the opener.
August, 12, 2013
8/12/13
10:53
AM ET
GAINESVILLE, Fla. -- The SEC is full of colorful and tradition-rich rivalries. And nasty ones, too.
Not all the time, though. Rivalries are like the tide (not Alabama). They ebb and flow. Sometimes they're fierce and sometimes they're just another game. We took that into consideration when ranking the top five rivalries in the SEC. We went with the ones that are the hottest right now.


Alabama-LSU
It's hard to top a game that has national championship implications every year. Plus two of the best coaches in the country. And loads of NFL talent. The teams have met annually since 1964, but the game became even more important in 1992, when both were slotted into the Western Division. The winner of the regular-season meeting has gone on to win the division title eight times in the last 12 seasons, including four of the last five. LSU has won seven of the last 11 meetings, but Bama won the biggest meeting between the two: the 2012 BCS National Championship Game.


Florida-Georgia
This had become a pretty boring rivalry, with the Gators going 18-3 from 1990 to 2010 in the annual meeting in Jacksonville, Fla. But the Bulldogs have won back-to-back games for the first time since 1987-89 and there have been a series of events that have brought an edge back to the rivalry: the Gator Stomp (2007), Urban Meyer's timeouts (2008), Brandon Spikes' eye gouge (2009), and Todd Grantham's choke sign (2010). Plus, the past two meetings have been pretty entertaining.
Aaron Murray
threw a pair of fourth-down TD passes to rally the Bulldogs from a 17-3 deficit in 2011 and Georgia forced six turnovers last season.


The Iron Bowl
Even though Alabama has won four of the last five meetings and Auburn has posted one winning conference record in the past five seasons, this game still resonates around the conference because of its tradition. Oh, yeah, there also was that Alabama fan who poisoned the trees at Toomer's Corner. On the field, the Crimson Tide have won four of the last five. The only Auburn victory in that span came in 2010, and it was one that's going to sting Bama fans for a long time. Cam Newton rallied the Tigers from a 24-0 deficit and led them to a 27-24 victory in Tuscaloosa. Auburn went on to win the national title.


Georgia-South Carolina
What rivalry wouldn't be juiced by the addition of Steve Spurrier? Georgia has dominated the series (46-17-2) and had won five in a row from 2002 to '06, but South Carolina has won four of the last six games -- including two in Athens. Spurrier arrived in Columbia in 2005 and has gone 4-4 against the Bulldogs despite having some inferior teams. Spurrier hated the Bulldogs from his playing days at Florida, and he carried that over into his coaching career with the Gators and now with the Gamecocks. That's why his career record against Georgia is 15-5.


The Egg Bowl
A national championship berth or a Western Division title isn't on the line when these teams meet on Thanksgiving weekend (Thanksgiving night this season), but to the people in Mississippi, this game is just as important. And to the coaches trying to woo the talent throughout the state, it's a must-win. Mississippi State coach Dan Mullen injected a bit of life into the rivalry when he was hired in 2009, stealing a bit from former boss Meyer by referring to Ole Miss as "the other school in the state." Mullen had been undefeated against Ole Miss until the Rebels' surprising 41-24 rout last season in coach Hugh Freeze's first year.


A rising rivalry
Even though Alabama and Texas A&M have met only five times, this is a series that could get pretty interesting pretty quickly now that the teams will be meeting every year. Last season's meeting, the first since 1988, was an instant classic and pretty much won
Johnny Manziel
the Heisman Trophy. He led the Aggies to a 29-24 victory in Tuscaloosa, the only game the Crimson Tide would lose en route to the national title. Bama fans are eagerly awaiting the rematch in College Station on Sept. 14.


A falling rivalry
Florida-Tennessee used to be one of the biggest matchups of the season in the 1990s, with the winner having a leg up in the Eastern Division race. Now it carries no more cachet than a Vanderbilt-Kentucky matchup. The Gators have won eight in a row and the Vols haven't been closer than 10 points in the past six meetings.
July, 11, 2013
7/11/13
3:19
PM ET
We've checked out the top cornerbacks in this league, now it's time to look at the top safeties:
1. Ha Ha Clinton-Dix, Jr., Alabama:
He might be the nation's best safety prospect with his range, speed, athleticism and physical nature. Clinton-Dix has a great football mind when he's on the field and isn't afraid to play high or in the box. What makes him so good is that he's not only a ballhawk and a banger, but he's excellent in coverage, too. He had five interceptions and defended nine passes last season.
2. Craig Loston, Sr., LSU:
It has taken some time for Loston to come into his own at LSU, but he is in position to be one of the nation's best. It's not like he ever lacked the talent, but his work ethic needed some improvement. Having more responsibility thrown his way helped turn his game up and he started to play like the top-flight athlete LSU's coaching staff had been waiting for. He's a ballhawk and can lay the lumber with ease.
[+] Enlarge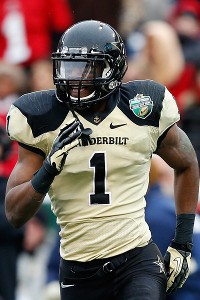 Joe Robbins/Getty ImagesKenny Ladler was a playmaker for the Commodores last season, notching 90 tackles and forcing three turnovers.
3. Kenny Ladler, Sr., Vanderbilt:
He's another one of those safeties who likes to mix it up all over the field and doesn't run from contact. You'll see him in the box ready to pounce. He led Vandy with 90 tackles last year and tied for the team lead with 60 solo stops. He also registered 3.5 tackles for loss, a sack, a forced fumble and two interceptions.
4. Nickoe Whitley, Sr., Mississippi State:
He's basically the grandpa of Mississippi State's secondary, but he certainly doesn't play like an old man. He has 10 career interceptions and was third on Mississippi State's team with 88 tackles last season. Whitley is a big-play threat at the safety spot and covers a lot of ground with his speed.
5. Byron Moore, Sr., Tennessee:
His team-high five interceptions were probably overlooked because of how poorly Tennessee's defense played, but Moore was a heck of a player. Moore, who was second on the team with 86 tackles last year, is extremely versatile as well. He started the first three games of the season at strong safety before moving over to free safety after
Brian Randolph
got hurt. He started the final nine games there.
6. Jaylen Watkins, Sr., Florida:
He's played in 36 games with 19 starts, but the majority of his work has come at cornerback. But Watkins is talented enough and knows Florida's defense well enough that moving to safety wasn't an issue. He played there at the end of last season and cross-trained there all year. He's a physical player, has good coverage skills and should be able to fly all over the field.
7. Demetruce McNeal, Sr., Auburn:
There weren't many positive things to say about Auburn's defense last year, but McNeal was pretty impressive. Off-field issues this spring made his status for the fall uncertain, but now that he's cleared everything up, he should be good to go. He notched a team-high 53 solo tackles last year and was tied for first with seven tackles for loss. Anytime you have a safety who isn't afraid to get rough up front, that's a very good thing.
8. Trae Elston, So., Ole Miss:
The Rebels expected him to play early last year and he didn't disappoint. He played in 12 games and made nine starts as the Rebels' Rover. Elston led the team with six pass breakups, had a sack and recovered a fumble last year. Elston is a big-hitting safety who can play all over. He'll get in the box and cover guys. He's a very dynamic athlete in the Rebels' defense.
9. T.J. Gurley, So., South Carolina:
A knee injury cut his 2012 season short, but even with only eight games under his belt he was selected to the SEC All-Freshman team. South Carolina's coaches are extremely excited about his potential and think he could have been a tremendous player if he was able to finish last season. He didn't go through spring, but should be 100 percent this fall. Gurley has the skill to make plays all over the field and be a solid ballhawk.
10. Tray Matthews, Fr., Georgia:
No, he hasn't played a down in college, but he could be one of the most physically gifted safeties in the SEC right now. He made an immediate impression on his coaches, especially defensive coordinator Todd Grantham this spring, and was an easy choice for the starting free safety spot. He's an excellent tackler, lays bone-crushing hits and has tremendous field range.
June, 18, 2013
6/18/13
7:30
AM ET
TUSCALOOSA, Ala. -- There's a list somewhere inside the walls of the University of Alabama athletic offices with names on it, some we could guess and some that would surely surprise us. In the event that a coaching hire becomes necessary, the list is brought out as a rough outline of prospective candidates for the job. Every athletic department has the same piece of paper with coaches' names on it, and Alabama is no different.

"We keep a good list of what happens if a truck hits somebody," UA athletic director Bill Battle quipped on Monday morning, "because you never know when you're going to need to hire somebody."

Sometimes the truck is a bad season. Sometimes the truck is retirement. Sometimes the truck is simply a vehicle that takes a coach away for one reason or another.


January, 27, 2013
1/27/13
1:45
PM ET
The No. 16 prospect in the nation was in Athens, Ga., over the weekend, as
Reuben Foster
(Auburn, Ala./Auburn) took his third official visit, this time to the University of Georgia. The 6-foot-1, 242-pound linebacker has visited Georgia many times, but this time there was something different about the campus.
To continue reading this article you must be an Insider
July, 13, 2012
7/13/12
9:41
AM ET
We're always looking for the next best thing. The coaching world isn't any different.
Who's the next Urban Meyer? The next Chris Petersen? What about another Brady Hoke?
Who's that next great assistant who rises up the ranks and takes over a major program ... and succeeds?

I'm not completely sure, but I have a few ideas. Here are some coaches lurking in the SEC who could be on their way to bigger and better things or are ready to take the next step with their current teams:
February, 6, 2012
2/06/12
12:52
PM ET
Now that national signing day is out of the way, we're going to take another look at our SEC power rankings.
You won't see any change really, but we have more confidence in some teams now than we did before:
1. Alabama:
The Crimson Tide hauled in the nation's No. 1 recruiting class last week and not only did Nick Saban sign a handful of top-rated players, but he met all of Alabama's major needs with the 2012 class. There are a few freshmen who could make early impacts in Tuscaloosa, including athlete
Eddie Williams
(Panama City, Fla./Arnold), and wide receivers
Chris Black
(Jacksonville, Fla./First Coast) and
Amari Cooper
(Miami, Fla./Miami Northwestern).

2. LSU:
The Tigers' class wasn't as highly rated as some recent ones, but Les Miles and his coaches brought in a solid group and there are a few defense players who might see some playing time early. Three starting linebackers need to be replaced and a few freshmen will get their chances. While LSU lost
Torshiro Davis
((Shreveport, La./Woodlawn) flipped to Texas, the Tigers brought in ESPNU 150 linebackers
Kwon Alexander
(Oxford, Ala.) and
Ronnie Feist
(Edgard, La./West Saint John).
3. Georgia:
The Bulldogs needed to get bigger up front and add a couple of playmaking linebackers. Georgia did just that with the handful of athletic defensive linemen signed and grabbed top outside linebacker
Josh Harvey
-Clemons (Valdosta, Ga./Lowndes), who should thrive in Todd Grantham's 3-4. Georgia's offense could be even better this fall with
Keith Marshall
(Raleigh, N.C./Millbrook) helping
Isaiah Crowell
, and the wide receiver depth returning.
4. South Carolina:
Talk about underrated. South Carolina didn't make much noise at all on national signing day, but the Gamecocks brought in a very balanced class and have a few players who should contribute early to a team that will yet again compete for the SEC East title. Two freshmen to keep an eye on in 2012 are wide receiver
Shaq Roland
(Lexington, S.C.) and safety
Chaz Elder
(College Park, Ga./Benjamin E. Banneker).
5. Arkansas:
It seemed like the Razorbacks were headed for a very strong finish to its 2012 recruiting class, but watched as top receiver
Dorial Green-Beckham
(Springfield, Mo./Hillcrest) and four-star offensive tackle
Jordan Diamond
(Chicago, Ill./Simeon) committed elsewhere. However, Arkansas is still waiting on top athlete
Davonte Neal
(Scottsdale, Ariz./Chaparral) and signed some pretty talented wide receivers to add to that high-flying offense. Defensive depth was a need and Arkansas added six defensive linemen and snatched Tennessee linebacker commit
Otha Peters
(Covington, La./Covington) late.
6. Auburn:
Before Auburn could complete its recruiting class, it had to find someone to run its offense. The Tigers lured Scot Loeffler away from Temple, getting a coach who knows a thing about teaching quarterbacks. Clint Moseley and
Kiehl Frazier
should be ecstatic. The loss of
Michael Dyer
hurts, but Auburn has a stable of running backs to work with and signed one of the best offensive line classes around. Also, athlete
Ricardo Louis
(Miami Beach, Fla/Miami Beach Senior) could be a real playmaker at wide receiver.
7. Florida:
Will Muschamp wanted his team to get tougher and he took a step in the right direction by hitting the line of scrimmage hard in his first full recruiting class. He also got a big back in
Matt Jones
(Seffner, Fla./Armwood) and having
D.J. Humphries
(Charlotte, N.C./Mallard Creek) in early should really help the offensive line. Florida is also waiting for a potential receiving threat in
Stefon Diggs
(Olney, Md./Our Lady of Good Counsel). Muschamp feels better about this team's attitude and expects a more resilient squad in 2012.
8. Missouri:
These Tigers could come in and frustrate some of its new SEC East family with the depth it returns. No one is quite sure if top running back Henry Josey will return in 2012 after a major knee injury, but the Tigers added a very complete back in
Morgan Steward
(Kansas City, Mo./Staley), who could compete for playing time early. But Missouri took home the biggest national signing day prize when Green-Beckham picked Missouri. Mizzou lacked a big-play receiving threat until now.
9. Tennessee:
There is a lot of talent returning in Knoxville and the Vols added some quality depth with its 2012 recruiting class. Tennessee took a hit when top inside linebacker
Dalton Santos
(Van, Texas) flipped to Texas and needed to add a big-time running back to help that offense, but grabbing junior college wide receiver Cordarrelle Paterson (Rock Hill, S.C./Hutchinson Community College) was big. He'll add to an already solid receiving tandem and could provide more leadership. Tyler Bray should have a fun offseason.
10. Texas A&M:
The Aggies lose a lot heading into their first season as a part of the SEC Western Division, but helped the future by signing a top-25 class. Running back
Trey Williams
(Houston, Texas/Andy Dekaney) could provide an early spark for the offense with
Cyrus Gray
leaving. The receivers got some needed help with the signing of No. 3 receiver
Thomas Johnson
of Dallas, and outside linebacker
Jordan Richmond
(Denton, Texas/Billy Ryan) should see early playing time as well.
11. Vanderbilt:
James Franklin
's first full class at Vanderbilt was a total success. He showed that he won't just compete on the field with the SEC big boys but he'll recruit with them too. He beat out a few bigger schools for ESPNU 150 athlete
Brian Kimbrow
(Memphis, Tenn./East) and the Commodores added a lot of bigger bodies up front and at linebacker. Vandy's veterans shouldn't have an issue mingling with this solid recruiting class.
12. Mississippi State:
The Bulldogs will head into the spring looking to jump start their offense. There is a lot of depth and three senior starters returning at wide receiver, but some oomph needs to return to this offense. It's officially Tyler Russell's time at QB and LaDarius Perkins and Nick Griffin could be a powerful one-two running back punch. Where Mississippi State really struck gold in recruiting was up front, where the Bulldogs added three top defensive linemen, including No. 13 tackle
Quay Evans
(Morton, Miss.).
13. Kentucky:
The Wildcats need playmakers on offense and having running back
Josh Clemons
come back at full health this year, will go a long way. But Kentucky desperately needed to add more with its 2012 recruiting class. The Wildcats are hoping dual-threat quarterback
Patrick Towles
(Fort Thomas, Ky./Highlands) can help in that department. Kentucky won't get anywhere without developing the talent already on campus and that's most important at this point.
14. Ole Miss:
Hugh Freeze had some defensive success in his first recruiting class as the Rebels' head coach. There is a good foundation with ESPNU 150 defensive tackle
Issac Gross
of Batesville, Miss., and ESPNU 150 defensive end
Channing Ward
of Aberdeen, Miss., and the secondary got a boost when safety
Trae Elston
(Oxford, Ala.) picked Ole Miss over LSU. Now, Freeze turns his attention to players a part of a two-win 2011 season. Generating discipline and finding leaders are key for a program glued to the bottom of the SEC.
Harvey Updyke Dunk Tank Canceled Following Threats
SEC SCOREBOARD
Thursday, 8/28
Saturday, 8/30
Sunday, 8/31