Alabama Crimson Tide:

Tennessee Volunteers
March, 22, 2014
3/22/14
9:15
PM ET
MARIETTA, Ga. -- The Nike SPARQ combines have grown with each passing year, and on Saturday there was a record turnout. If the 1,993 prospects who attended weren't impressive enough, the performances by several top prospects who came to compete certainly left spectators turning heads.
Here is a rundown of some of the event's top performers.
ESPN Junior 300 running back Taj Griffin posted one of the top SPARQ scores of the day. Griffin checked in at 5-foot-10, 174-pounds, ran a 4.41 40-yard dash and a 4.35 shuttle, had a 46-inch vertical leap and a 36-foot power ball toss for a combined score of 124.29. On the recruiting front, Oregon, Clemson, Florida State, Ohio State and Tennessee continue to stand out the most.



2015 RB Taj Griffin @tg__7 with the highest SPARQ score of the day in Atlanta. pic.twitter.com/SaY2QZLPrE

— Gerry Hamilton (@HamiltonESPN) March 22, 2014

No. 3 junior offensive tackle Chuma Edoga posted an impressive score of 94.65. After measuring at 6-4 and weighing 276 pounds, Edoga ripped off a 5.01 40-yard dash, a terrific 4.69 shuttle and had a 33.8-inch vertical jump and 37-foot power ball throw. Following his impressive effort, he said his top four schools in order are Tennessee, Southern California, Georgia and Stanford with a decision likely on May 25, his birthday. The big news might have been that he currently prefers the Volunteers, but his mother is in the corner of the Bulldogs and Cardinal.
No. 252 prospect C.J. Sanders made the trip and did not disappoint. He checked in at 5-9 and 176 pounds, ran a 4.57 40-yard dash, had a blazing 4.09 shuttle run, leaped 36.5 inches and tossed the power ball 41 feet. On the recruiting front, USC, Notre Dame and Georgia are the latest to offer, joining Duke, Northwestern, Stanford, Tennessee, Vanderbilt, Mississippi State and Ole Miss. He visited USC last week, and lists Reggie Bush as his childhood idol. Sanders is the son of former Ohio State and NFL wide receiver Chris Sanders. His mom played basketball at Michigan. He reports his family favors Duke and USC early on with a decision slated for the summer.
Ben Cleveland is already considered one of the top offensive line prospects in the country, and the 6-7, 317-pounder showed why Saturday. He clocked a very impressive 5.22 40-yard dash and 4.87 shuttle, and had a 25.8-inch vertical leap and 41.5-foot power ball throw for a score of 99.78. He has offers from Georgia, Clemson, Florida, South Carolina and Texas with Alabama expected in the near future. He made an unofficial visit to Clemson two weeks ago.
Class of 2016 prospect
Class of 2015 running back Jaylen Burgess posted a 118.44. The 5-10, 214-pounder ran a 4.66 40-yard dash and a 4.38 shuttle, and had a 36.7-inch vertical leap and 42.5 power ball throw. He is receiving interest from Tennessee, Vanderbilt, Clemson, Duke and a number of other ACC schools. Duke and Tennessee are the coaching staffs Burgess talks to the most. He posted more than 1,500 all-purpose yards as a junior.
Class of 2016 linebacker and defensive end Charles Wiley checked in at 6-3, 203 pounds. He clocked a 4.68 40-yard dash and 4.45 shuttle, and also leaped 35 inches and threw the power ball 34.5 feet. He has an early offer from Virginia Tech.
Class of 2015 athlete Jeremiah Mercer is flying completely under the recruiting radar. While he had to sit out the 2013 season due to transfer rules, he made his mark Saturday posting a score of 97.47. The 5-11, 163-pound running back and wide receiver ripped off a 4.48 40-yard dash and 4.18 shuttle, and added a 36.2-vertical leap and 31-foot power ball toss. He is receiving interest from Vanderbilt and Mississippi State and lists Florida State as his dream school.
Class of 2016 inside linebacker Tyler Reed posted a very impressive score of 104.91. After measuring 6-2, 234 pounds, Reed ran a 4.96 40-yard dash and 4.59 shuttle, and had a 35.5-inch vertical leap and 41-foot power ball throw. He recorded 130 tackles as a sophomore.
Class of 2015 running back Eric Montgomery posted a 115.47, one of the day's top scores. The tailback checked in at 5-11, 185 pounds, ran a 4.46 40-yard dash and a 4.19 shuttle, and jumped 36 inches and threw the power ball 38 feet. On the recruiting front, Kentucky, Cincinnati, Ole Miss and Mississippi State, among others, are showing interest.
October, 25, 2013
10/25/13
5:00
AM ET
1. The NCAA gave SMU the death penalty and the toll was such that the NCAA has never given it again. The toll that the 10 scholarships per year has taken on USC makes me think the NCAA won't do that again, either. The Trojans are down to 58 scholarship players. They are redshirting five freshmen. The lack of depth means more plays per player, and more reps in practice. Three players have suffered season-ending injuries in practice this week. In an era of heightened safety awareness, 15 signees per year isn't enough.

2. College football officials have pointed to fewer targeting fouls this season as evidence that the new, stricter rule is having the desired effect. Maybe so. But the fact that of the 52 fouls, 15 have been reversed upon review speaks to the difficulty of the task foisted upon the officials. And there's still no good answer as to why, if a replay determines the targeting is not worthy of a suspension -- i.e., there was no targeting, why the penalty shouldn't be overturned, too.

3. Never mind the calendar. The Third Saturday in October arrives a week late in Tuscaloosa, where Tennessee and No. 1 Alabama will renew one of the SEC's best rivalries. The Vols have showed signs of life, taking Georgia into overtime and then upsetting South Carolina. But Tennessee played both those games in Neyland Stadium. Tennessee hasn't won a road game outside the state of Tennessee since 2009, and it hasn't beaten Alabama anywhere since 2006.

April, 14, 2013
4/14/13
6:20
PM ET
MEMPHIS, Tenn. -- The Nike Football Training Camp circuit stayed in the southeast on Sunday, stopping at the Memphis University School for an event that, to the surprise of no one, featured solid line play. No doubt, it's a staple in this part of the country. In fact, coaches praised the participants for play as strong in the trenches as they've seen at any Nike camp this spring.
Mitch Sherman of Recruiting Nation attended the event. Here's what he learned:
Youth has been served
While a strong contingent of upperclassmen dominated the positional MVP honors, a few 14- and 15-year-old prospects shared time in the spotlight. Notably, linebacker Dylan Moses of Baton Rouge, La., showed no hesitation in facing players four years his senior. Moses, an eighth-grader set to begin high school at LSU Laboratory School in the fall, added an offer on Saturday from Ole Miss to a list that already featured Alabama and LSU. Running back
Gabe Angel
, a freshman at Lebanon (Tenn.) Wilson Central, performed well on Sunday after recently adding Ole Miss, Vanderbilt and Tennessee to a Mississippi State offer he received last year. Another 2016 prospect, receiver Harry Ballard of Florissant (Mo.) McCluer North, showed well, too.
Ole Miss is surging
October, 18, 2012
10/18/12
9:00
AM ET
TUSCALOOSA, Ala. -- No. 1 Alabama travels to face Tennessee on Saturday for another edition of The Third Saturday in October. The Tide (6-0, 3-0 SEC) have won five in a row in the series and haven't lost to the Volunteers since 2006. Tennessee hasn't beaten a No. 1 team since 1985 when it upset Auburn at home.
Here's five storylines for the game:
FIVE STORYLINES
To continue reading this article you must be an Insider
October, 18, 2012
10/18/12
8:00
AM ET
In advance of the game, Tennessee linebacker
Heman Lathers
spoke to TideNation about the matchup and what the Vols will have to do to be successful:
[+] Enlarge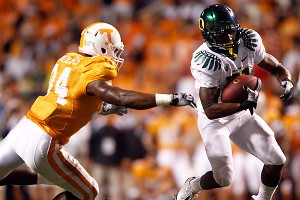 AP Photo/Wade PayneHerman Lathers and the Tennessee defense have a tall task ahead of them in defending Alabama.
Scarborough:
What's the mood after losing in Starkville? How important is it to play well against Alabama and try to get a win in the SEC?
Lathers:
Every loss is a tough loss no matter who it is. The mood this week at practice has been great. Our energy has been great. We know we have a big game coming up this weekend against the No. 1 team in the nation. You know, if you don't come prepared they're going to embarrass you. So we've been working really hard at practice. The energy has been great. We've been flying around. The mood is good and I think we'll be ready.
To continue reading this article you must be an Insider
August, 31, 2012
8/31/12
10:26
AM ET
GAINESVILLE, Fla. -- On a record-breaking night, ESPN 150 athlete
Derrick Henry
(Yulee, Fla./Yulee) has set his announcement date to choose between Alabama, Tennessee and Georgia.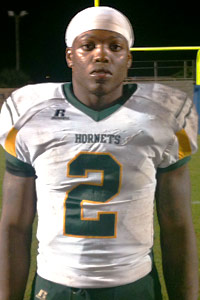 Derek Tyson/ESPN.comDerrick Henry will announce his college decision on Sept. 28 and one team still remains out in front.
In a 51-28 loss to Gainesville High School Thursday night, Henry rushed for 336 yards and three touchdowns on 31 carries. Henry broke former Jacksonville (Fla.) University Christian star Willie McClendon's streak of 33 consecutive 100-yard rushing games from 1985-87. Henry has still never rushed for under the century mark in his high school career.
At 8,200 career rushing yards, Henry moves in to third place on the state of Florida's all-time career rushing list, trailing only Emmitt Smith and Florida running back commit
Kelvin Taylor
(Belle Glades, Fla./Glades Day).
To continue reading this article you must be an Insider
August, 24, 2012
8/24/12
10:27
PM ET
JACKSONVILLE, Fla. -- Four-star
DeMarcus Walker
(Jacksonville, Fla./Sandalwood) announced
his commitment to Alabama
Friday afternoon on ESPNU, but the nation's No. 3-ranked defensive end said later in the day that his recruitment is far from over.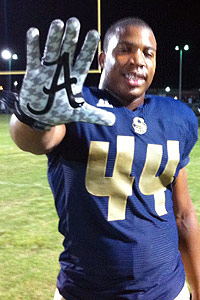 Derek Tyson/ESPN.comTide commit DeMarcus Walker shows off his Alabama gear on the night of his big announcement.
Walker said in an
interview with TideNation's Greg Ostendorf
despite his commitment to the Tide, he plans to take all five official visits to LSU, Auburn, Alabama, Tennessee and USC. Noticeably absent was Florida, a school that had been considered one of his leaders for the last several months.
Walker said on Friday after Sandalwood's preseason 29-27 victory over Orlando Evans that he still plans to unnofficially visit Florida this fall.
To continue reading this article you must be an Insider
August, 15, 2012
8/15/12
12:05
PM ET
GAINESVILLE, Fla. -- Four-star defensive end
DeMarcus Walker
(Jacksonville, Fla./Sandalwood) has officially set his college decision date for Aug. 24 at 5 p.m. ET on ESPNU's first RecruitingNation show of the season.
The 6-foot-4, 271-pound athlete is the No. 24-ranked player in the country and will chose between Alabama, Florida, Auburn, Tennessee and Clemson.
Walker talked about each of his favorite schools.
To continue reading this article you must be an Insider
Scout's Take: Atlanta Opening Regional
SEC SCOREBOARD
Thursday, 9/3
Saturday, 9/5