Alabama Crimson Tide:

story of the season
December, 3, 2013
12/03/13
11:00
AM ET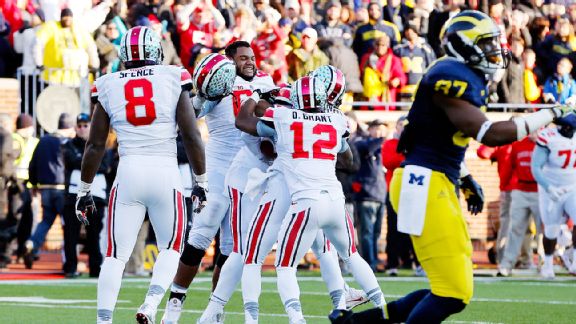 Gregory Shamus/Getty ImagesOhio State players celebrate stopping Michigan's fourth-quarter two-point conversion attempt.
For four months, ESPN The Magazine will follow the march to the Vizio BCS National Championship, moment by moment, culminating in our "Story of the Season" double issue Dec. 27. Every Tuesday, Mag senior writer Ryan McGee will pick the previous week's biggest moments and tell you why they'll have the most impact on potential BCS title matchups. If you disagree, send a tweet to @ESPNMag and tell us why your moment matters more, using the hashtag #StoryoftheSeason. Who knows? Your moment (and tweet) might just end up in our issue.
"We play the game to win ..."
Brady Hoke's vocal cords sounded even more tired than usual as the Michigan coach stood at the podium on Saturday afternoon, moments after losing to archrival Ohio State 42-41. His answer was a response to the first question he faced -- and the one he'll keep hearing as his Wolverines trudge through their mid-tier bowl and into a cold Ann Arbor winter.
Going for two instead of kicking the PAT and likely heading to overtime? At home? In the Big House? With your offense performing at a season-best clip? With a chance to shoot down the Buckeyes' chances at a BCS title?
That's the scenario Hoke had presented to his seniors on the Michigan Stadium sideline. He'd left it up to them, though he was quick to absorb all the criticism after the final outcome. They wanted to go for it. So did he. Besides, they had the go-to, two-point play already dialed up. Always did.
From the moment quarterback
Devin Gardner
stepped into the shotgun position, the play -- like so many others during his amazing 451-yard passing and five-touchdown day -- had looked perfect. In reality, it looked too perfect. On both sides of the football.
Michigan initially lined up with two receivers stacked on the right side, led by 6-foot-5
Devin Funchess
, who had just hauled in the touchdown pass that set up the situation. On the left side was the sneaky Wes Welker-like possession artist, 5-10
Drew Dileo
. But before the snap, Dileo went into motion and jogged over to take his place behind Funchess and
Jeremy Gallon
, who already had 175 yards receiving on the day.
The moment Dileo took his position, Ohio State corner
Tyvis Powell
had to catch himself. He didn't want to reveal what had just popped into his mind, like some sort of heavenly transmission from Woody Hayes ... or at the very least a current OSU position coach.
"It's all thanks to Coach Coombs," said Powell, referring to the Buckeyes' demonstrative secondary coach, Kerry Coombs. Head coach Urban Meyer had let Michigan get set for the two-point try and called a timeout to discuss what the coaches had just seen. Coombs approached Powell, a redshirt freshman, and told him that there was no doubt the Wolverines would run one of two plays. It would either be a speed option, which had already led to a pair of Michigan touchdowns. Or the play would come out of a triple stack ... with Dileo, Powell's man, hiding in the third slot ... as the primary receiver ... running something short ... likely a pivot ... at the goal line ...
"It all started happening just like we'd seen on film and how the coaches said it would," recalled Powell, still sounding a little stunned by it all. But he didn't believe that's how the actual play would go down. It was too obvious, right? Wrong.
Even though Ohio State had four defensive backs guarding three receivers, it was a designed mismatch by Michigan. At the snap, Funchess made contact with Powell and was supposed to either screen him out or draw him into the back of the end zone to help the waiting safety. But Powell didn't bite. His eyes never left Gardner, whose eyes never left Dileo. Funchess had a size mismatch in the back of the end zone, and if Gallon had run a true out instead of a halfhearted block attempt on OSU corner
Doran Grant
, he would've had room to work on the outside half of the end zone.
But Gardner fired the ball into unexpected double coverage, where Powell stepped in at the goal line and made the interception. (Had he not, Grant was also waiting in front of Dileo, having slipped Gallon's shove.)
"He really threw the ball," said Powell, admitting he was "shocked" to see it come his way. "That's their bread-and-butter play on two-point conversions. All week that's what we practiced."
Michigan, too.
A couple of hours later, Powell was still gripping the Michigan football in his arms on the team bus. He was still grinning. But now he was watching Alabama play at Auburn on the bus TV. Like the game he'd just played in, this one seemed destined for overtime.
"There was a shot ... we had the wind behind us ..."
If Hoke's voice was hoarse, then Nick Saban's was like the inside of a gravel truck. Like Hoke, the Alabama coach had rolled the dice. Unlike Hoke, Saban's situation -- a 57-yard field goal with no time remaining -- seemed risk-free. Miss and go to overtime.
But what happened next --
Chris Davis
' impromptu 109-yard kick return for the game-winning touchdown -- has sparked college football conversations in every corner of America, from stuffed-shirt academia to Barbara Walters and Whoopi Goldberg on Monday morning's "The View."
It should be no surprise that perfection-obsessed Saban routinely addresses that very situation in practice, despite the fact that Saturday night's Miracle on the Plains was, according to the NCAA, only the fourth time a game has ended on a similar play. It should also be no surprise that Saban reminded his team as they took the field (like the Michigan two-pointer, after a timeout) to keep an eye on Davis, who was lining up in the end zone, more than half a field away from the line of scrimmage.
Of course, Auburn practices that play, too. No matter how rare it might be. That was made obvious by the beautiful wall of blockers that lined the left sideline to plow the road for Davis. At least three pancake blocks took place in Davis' line of sight. But while all that was going on, we all should have been paying more attention to the cornerback's left foot, which came within inches of stepping over the line and out of bounds at the 35 ... the 40 ... the 45 ... and pretty much every yard in between.
It was so close that a group of bitter Tide fans posted what they believe is photographic evidence that he did step out of bounds, along with a
petition to have overtime played.
"It was closer than I thought," admitted Davis, who carried his game-winning football all the way home, just like Powell. "But I knew I was in."
Davis' white-line ballet was reminiscent of so many other moments in so many games this season that came down to inches. (Remember that missed Missouri field goal against South Carolina in double-OT? How much more interesting would the SEC title game be had it gone the other way?)
But as Lou Holtz reminds us each weekend on "College Football Final," every team that wins a national championship has to have one game in which they're lucky. Auburn now has two. Ohio State, on the other hand, hasn't needed much this year, at least not until Michigan.
Still, for these two teams to meet in Pasadena, Calif., in January, it will require ... lots more luck. They'll need Duke (perhaps second only to Auburn when it comes to 2013's out-of-nowhere teams) to work some magic in Charlotte, N.C., against Florida State. And they'll both need to make sure they aren't on the wrong side of luck in their respective conference title games.
But regardless of what happens this weekend, Tyvis Powell and Chris Davis will never have to buy another lunch in their home states. And Powell will always have his football. Davis is still searching for his.
He dropped it after crossing the goal line during the celebration. The last time anyone saw it, it was at the feet of fellow defensive back
Robenson Therezie
, one of Davis' escorts into the end zone, who stood over it signaling for a touchdown as the crowd started flooding the field. At one point it was thought that it had been retrieved and Davis was even handed a football that was believed to be the one. But it was not.
A crystal football in January would be a nice substitute.
Why we love college football. #StoryOfTheSeason pic.twitter.com/qqqidLG1Op

— ESPN The Magazine (@ESPNMag) December 1, 2013
October, 1, 2013
10/01/13
11:00
AM ET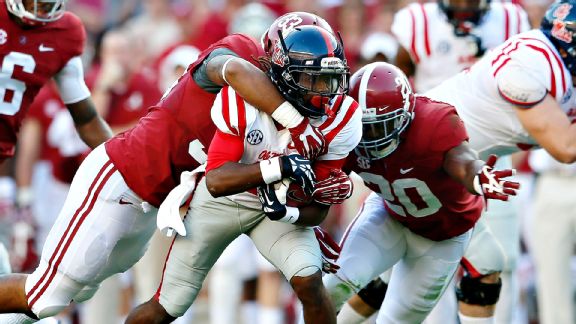 Kevin C. Cox/Getty ImagesAlabama announced its presence this season by shutting out Ole Miss on Saturday.
For four months, ESPN The Magazine will follow the march to the Vizio BCS National Championship, moment by moment, culminating in our Story of the Season double issue Dec. 27. Every Tuesday, Mag senior writer Ryan McGee will pick the previous week's biggest moments and tell you why they'll have the most impact on potential BCS title matchups. If you disagree, send a tweet to @ESPNMag and tell us why your moment matters more, using the hashtag #StoryoftheSeason. Who knows? Your moment (and tweet) might just end up in our issue.
---
SATURDAY EVENING'S GAME
against Ole Miss had barely gotten started when the all-business leader of the Crimson Tide defense, linebacker
C.J. Mosley
, caught himself grinning.
The first play of the game had been a 38-yard pass that had sliced into Alabama territory. And just moments later the vaunted Rebels offense had decided to take their first big chance of the night. On fourth-and-2 at the Alabama 29, Ole Miss was going for it. Receiver
Laquon Treadwell
, the man who caught that demoralizing pass to start the contest, took the ball and seemed destined to get the first down. But he was met by a Tide safety -- he of one of college football's greatest names,
Ha Ha Clinton-Dix
-- who scooped up Treadwell, upended him and threw him to the turf, inches shy of the conversion. Treadwell was credited with a 1-yard carry, one of Ole Miss' scant 46 yards rushing in a 25-0 shutout, shutdown loss.
"That stop set the tone. Before the game I kept telling everybody, 'Remember what they said'," Mosley says, grinning as he recalled the waning confidence in the nation's No. 1-ranked team, acerbated by Mississippi quarterback
Bo Wallace
saying his team could score on anyone. "They called us out. We answered the bell."
Mosley's words were meant to apply only to his team. But he could have very easily been speaking for multiple other big-name programs that sent some very big-time messages during September's final football weekend. Alabama, Oregon, Ohio State, Georgia, Oklahoma ... they all announced their presence with authority.
Officially speaking, it was Week Five of the 2013 college football season. In reality, it was Statement Saturday.
Alabama holds Ole Miss to a goose egg, 25-0. #StoryOfTheSeason #MISSvsBAMA

— ESPN The Magazine (@ESPNMag) September 29, 2013
---
In Columbus, Ohio State quarterback
Braxton Miller
returned and quickly reminded everyone why he was on so many preseason Heisman short lists: He threw solidly and efficiently, often on the run, for four touchdown passes and racked up 281 total yards.
Miller made his "Remember me?" statement at the end of the first half. Leading 17-14 after a big Wisconsin score, he drove the Buckeyes across midfield but then lofted up a horrible wounded-duck Hail Mary toss on third down with 10 seconds remaining. The ball wobbled its way toward the right side of the goal line and into the hands of cornerback
Sojourn Shelton
, but slipped through the freshman's hands and fell incomplete.
Given a second chance with time ticking away on fourth down, Miller calmly took the snap, jogged up through the left-side alley of a collapsing pocket and fired an off-the-back-foot strike. The 45-yard rope hit waiting
Corey Brown
, who had inexplicably slipped alone behind the secondary. Though Wisconsin would make it close late, the half-ended pass was the backbreaker. "Man, it slipped out of my hand," Miller said of the interception. "I told Coach, let's do it again and make up for it on the next throw."
A soft early schedule -- Buffalo, San Diego State, Cal, Florida A&M -- hasn't exactly won the hearts of college football experts or pollsters. But a victory over a should-be undefeated, top-25 team; the fact that the OSU defense held the Wisconsin running machine to 104 yards; and the return of Miller all add up to image momentum that will only increase should the Buckeyes win at 16th-ranked Northwestern this weekend.
Said safety
C.J. Barnett
: "I don't know if we made a statement. We know we had our doubters. Hopefully, we proved them wrong. But if not, it doesn't matter. We're just going to keep working."
---
Along the I-85 corridor, two schools who met nearly a month ago were busy making statements of their own. Clemson, coming off a somewhat flat nationally televised Thursday night performance against NC State, looked crisp early and often against Wake Forest, one of the culprits behind the "Clemson pulling a Clemson" perception that has dogged the program over the last decade. The Tigers won 56-7 in a game that was largely over at the end of the first quarter.
Just down the road at Georgia, the Dawgs outlasted LSU, thanks to a big-boy fourth-quarter drive led by oft-criticized quarterback
Aaron Murray
. Speaking of which, you think maybe it's time to park the "Richt and Murray don't show up for big games" talk?
Murray certainly does. After Sanford Stadium had emptied out, he made his way to the "College GameDay" stage, where an hour earlier his former roommate, LSU quarterback
Zach Mettenberger
, had come up short in the closing moments. When Murray was prepped on the upcoming topics of conversation with Tom Rinaldi, he was told there would be a question about shedding the "bad in big games" image.
"Yeah," he said with a smile. "I figured that was coming."
On camera he was smooth, admitting that he hadn't been able to watch LSU's final drive ("My teammates said, 'Stop being a baby and watch the game!'") and repeating his in-huddle statement to the team that he'd used against North Texas the week before: "Relax and have fun". And yes, he addressed the whispers about his big-stage performances. "This isn't about me. This is about our team. This has been a brutal first month and I think we've proved to the nation that Georgia is for real. No matter what happens, we keep pushing."
Consider this: Georgia played four games in September and three were against top-10 opponents; they won two of those, becoming the first team since Alabama's 2008 squad to defeat two top-10 teams before Oct. 1. The one game they lost was by only three points at Clemson's Death Valley, which, when on its game, is one of America's most intimidating venues.
Yes, UGA is giving up yards and points, but when you're producing 554 yards and 41 points a game, you buy your D time to get their act together, especially with O-challenged Tennessee as their next opponent. "We're ready. We're here, man," says wide receiver
Justin Scott-Wesley
, with enthusiasm. "We can take on anybody, any time … We'll take anybody, anywhere."
Aaron Murray threads the needle to his man Scott-Wesley to put UGA up 44-41 in Athens. EDGE. OF. OUR. SEATS... #StoryOfTheSeason #LSUvsUGA

— ESPN The Magazine (@ESPNMag) September 28, 2013
---
On the West Coast, Oregon posted 55-plus points for the fourth consecutive week. The Ducks racked up 381 yards of offense, despite
De'Anthony Thomas
being injured on the opening kickoff, purposely letting off the gas in the second half, and playing in a rain storm so strong that it knocked out power to a chunk of Eugene. They also played a little defense, shutting down Sonny Dykes' famed Air Bear (with an admitted assist from the monsoon).
Meanwhile, Stanford steamrolled Washington State and Oklahoma ran past Notre Dame … all while key rivals USC and Oklahoma State stumbled, one into program in chaos (Wanted: Head Coach), the other into an inexplicable loss (Take Me Home, Country Roads!).
See? September statements, one and all.
"September is great, and on the win-loss record, the September wins count just like all the others," says Sooners head coach Bob Stoops, already looking ahead to the next two weeks, with TCU coming to Norman and then the annual visit to the Cotton Bowl to see Texas. "But there's an old football cliche and we know it around here better than anybody: They remember what you do in November."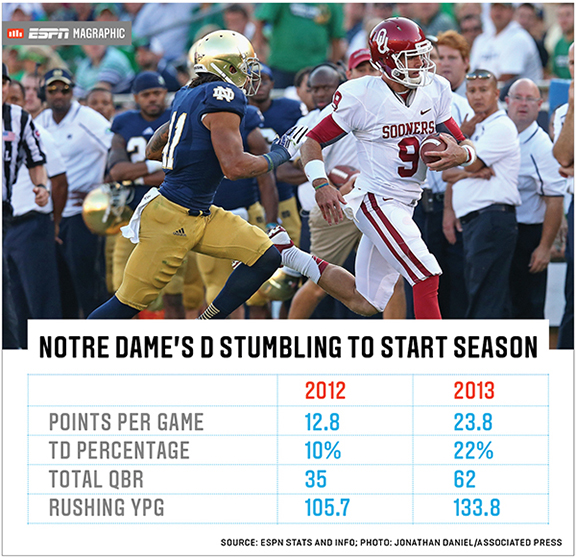 ESPN The Magazine
Alabama Dismisses Jonathan Taylor
SEC SCOREBOARD
Thursday, 9/3
Saturday, 9/5