Alabama Crimson Tide:

SEC media days
July, 19, 2013
7/19/13
9:00
AM ET
HOOVER, Ala. -- He'd been there long enough. A shadow was setting under his eyes as the news blitz began winding down. Even for someone so accustomed to media attention, the station-to-station walk to answer reporters' questions at SEC media days was beginning to take its toll. His steps down the hallway were that of a man walking the plank, reluctantly trudging ahead despite his best wishes.
"Is that it?" he asked.
[+] Enlarge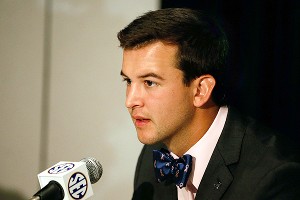 Marvin Gentry/USA TODAY SportsAlabama QB AJ McCarron avoided giving the media any "blinking lights" during SEC media days.
It wasn't. There was one more session before he could go back to campus and resume the admittedly unusual life of a high-profile college quarterback. That spotlight he was used to, not the camera following him from his arrival at the buzzing Wynfrey Hotel earlier that morning. "I wish they'd stop following me around," he huffed, tucking his chin to avoid the beam of light pointed at his temple.
He turned down a corner and the camera gave up the chase. Head up now, he found his destination. Flashing a smile, he prepared to do the job his coach asked of him: represent his team and his university, even if that meant answering questions about his personal life.
Fortunately for this quarterback, none of the questions he faced had to do with off-the field troubles because this quarterback was Alabama's
AJ McCarron
, and his offseason was as dull as dishwater. The round he endured with the media Thursday was a walk in the park compared to his embattled friend and rival at Texas A&M,
Johnny Manziel
, who went through the wringer a day earlier when he had to answer for his behavior of late, most notably his being sent home from the Manning Passing Academy.
The difference between each player's experience at the league's annual kickoff event was night and day: One quarterback stepped up to TV's main stage to explain a highly publicized error in judgment, while another sat down at a cozy setup to talk football; one quarterback was bombarded by a horde of eager reporters, while another managed a more subdued group half the size; one quarterback navigated a hotel with dozens of lenses documenting his every step, while another had to suffer through just one relentless cameraman on the way to his final interview.
McCarron's shoulders sagged some as he went by, but it wasn't from carrying the weight of public scrutiny. Whether right or not, Manziel was the unwilling star of SEC media days, making McCarron something of an afterthought by comparison.
The reason? Buzz. Despite winning consecutive national championships and finishing last season as the country's most efficient passer, McCarron's following is a fraction of Manziel's. Winning the Heisman Trophy has a lot to do with it, but so has the way each quarterback has handled fame. Where Manziel laments that he can't behave like a typical college student, McCarron accepts the responsibility as fact.
"I'm not able to live a normal 22-year-old lifestyle," McCarron said. "I have to watch what I do at all times."
Not everyone his age gets to go out and be recognized for their success, but the attention is a mixed bag. If there's a photo of him at a bar, it's his name in the caption on every website and television screen, while those pictured with him remain anonymous. His image and his last name, he explained, are too important for him to risk. That's why what he can control -- his actions online and in public -- he does.
"I can't go out and act a fool in public, can't go out and drink excessively and end up being wild," he said. "I'm not saying that I want to in any type of way. I want to be the type of kid and guy that younger kids can look up to -- even if it's only a couple."
Even though he'd love for it to be all about football, he understands it's just not the world he lives in.
When he walked onto the set of his final interview in Hoover, the first two comments from the show's host were about what he was wearing and who he was dating. But the difference between him and Manziel was that the talk quickly turned back to football.
Alabama senior guard
Anthony Steen
could see the crowd gathered around McCarron opposite him in the hotel ballroom. A curly-haired kid from Mississippi, Steen said he'd be scared to death to have the kind of attention his quarterback gets. But because of McCarron's mindset, Steen trusts that he can handle it.
"He knows how bright his future can be," Steen said, "and he's not going to mess that up."
A 6-foot-4 athlete with a strong, accurate arm and a history of winning big games, McCarron realizes his every move is being evaluated. As one former NFL general manager said this spring, every pro team will have scouts tracking how McCarron handles the pressure of being a signature player. That means handling events like media days with poise. After all, there's nothing a coach hates more than a distraction, a "blinking light" as Alabama coach Nick Saban described it.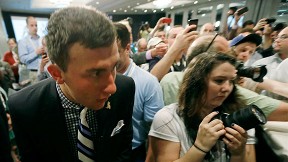 AP Photo/Dave MartinJohnny Manziel was mobbed by media 24 hours before McCarron's turn at SEC media days.
And judging by the lack of news he made this offseason and on the league's stage Thursday, his coach should be proud.
McCarron exited his last interview, took part in a final photo shoot and came out of the room looking much more at ease, his bow tie off and the top button of his pink shirt undone. He stuffed the navy blue tie with pink ribbons in his pocket and let a smile cross his face. He had worn the tie in support of his cousin, Beth Prine, who was recently diagnosed with breast cancer.
Descending to the hotel's lobby, McCarron could breathe easily. There would be stories and tweets about his appearance there, but nothing approaching the level of scrutiny the quarterback who left the same swarm of media 24 hours earlier. Manziel couldn't have known that fans across the country were actively voting on whether or not what he'd said to reporters had repaired his image.
McCarron stepped into the rowdy atrium and slipped past the crowd shouting for his autograph. As he was got into the van outside, a woman who said she'd won her battle with breast cancer came rushing toward him with a photo and a pen in hand. She was stopped short by security, but McCarron went to sign the picture. Had he stuck to his guns and rested while he waited for his other teammates to arrive, it could have become a story. Instead, he signed and quickly returned to the van.
There were no tweets, Facebook statuses or reports capturing the event, and McCarron was able to leave without it becoming news. Instead, he went home, changed clothes and did what made him so popular in the first place. He went back to work.
August, 2, 2012
8/02/12
1:35
PM ET
The impact that Texas A&M's membership in the SEC has had on recruiting is noticeable. The Aggies currently have a whopping 27 commitments in their 2013 recruiting class even though fall practice hasn't even started for Texas high schools. Many of the Aggies' commitments have said that the SEC membership is among the top reasons they chose Texas A&M.
July, 20, 2012
7/20/12
11:15
AM ET
By
RecruitingNation staff
| ESPN.com
Ivan Maisel writes
: It will hardly be the case come fall, but in July, everyone's a winner in the SEC. The annual frenzy that is the league's media days came to an end Thursday with confidence and optimism abound.
July, 19, 2012
7/19/12
7:54
PM ET
HOOVER, Ala. --
Eddie Lacy
missed the entirety of spring practice due to an injury, but don't expect that to slow his ascension to No. 1 on the running backs depth chart.
Alabama
coach Nick Saban said Lacy's recovery from offseason surgery has gone well, and the coach expects him to be ready when fall camp begins in August.
Saban added that Lacy and the rest of the formerly injured players would be "cleared for practice if we started practice today."
Lacy's absence during spring practice had a positive effect, though. It left room for fellow running backs
Jalston Fowler
,
Dee Hart
and freshman
T.J. Yeldon
to make their case for extended playing time in backup roles. Given that Alabama has used two running backs since Saban arrived, the competition for the lead backup has been heated.
Which Players Have The Most To Prove In 2015?
SEC SCOREBOARD
Thursday, 9/3
Saturday, 9/5