Alabama Crimson Tide:

Ricardo Louis
April, 9, 2014
Apr 9
12:00
PM ET
November, 27, 2013
11/27/13
10:00
AM ET
OPELIKA, Ala. -- When you grow up in Alabama, it's either Roll Tide or War Eagle. There's no in between, and there's certainly no love lost between the two in-state rivals. That's what makes the Iron Bowl rivalry so unique.
"I think the Alabama-Auburn game is one of the great rivalries in college football," Opelika High School coach Brian Blackmon said. "I think the history of the game speaks for itself, and there are very few fence riders in Alabama. Most of them are on one side or the other. You'd have a hard time finding somebody, especially this week, saying they don't care who wins."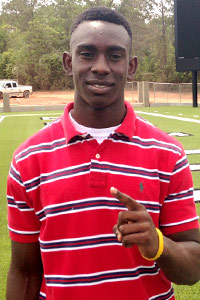 Greg Ostendorf/ESPNESPN 300 defensive back Stephen Roberts flipped his commitment from Alabama to Auburn last week.
It's no different for the state's top football recruits. It's rare to see an ESPN 300 recruit from the state go anywhere but Alabama or Auburn, but it's even more rare to see an Alabama fan commit to Auburn or vice versa.
That's why Opelika defensive back
Stephen Roberts
, who is ranked No. 69 in the ESPN 300, caught a lot of people off guard when he committed to the Crimson Tide in the spring.
Sure, Alabama had just won its second consecutive national championship, and coach Nick Saban has a reputation for sending defensive backs to the next level. But Roberts grew up an Auburn fan. He lives just a hop, skip and a jump away from the AU campus.
"For a kid like Stephen that grew up going to Auburn University and watching them play, it was really kind of a surprise in the spring when he decided he was going to Alabama," Blackmon said.
But the Auburn coaches, specifically offensive coordinator Rhett Lashlee, stayed on him. They continued to recruit the ESPN 300 target.
"They didn't quit," Roberts said. "Even though I was committed to Alabama, they didn't drop my scholarship or anything. It kind of felt like I was still part of them."
The efforts paid off. Roberts attended Auburn's camps over the summer. He has been to every home game this season, including the Tigers' dramatic win over Georgia their last time out. He said it was the loudest he had ever heard Jordan-Hare Stadium when
Ricardo Louis
pulled in the game-winning touchdown grab from
Nick Marshall
.
Roberts has been a part of Auburn's miraculous turnaround every step of the way, and last week, he decided he wanted to be a part of the future, too. He
flipped his commitment from Alabama to Auburn
, a decision that looked more and more plausible with every Tigers victory.
"I basically wanted to see what they were going to do this year," Roberts said. "They kind of showed what they were going to do, and even though they only lost one game, they're still rising."
Auburn has risen all the way to No. 4 in the latest BCS standings, and whether it was Roberts' decision to flip or the recent come-from-behind win against Georgia, the Tigers seem to have all the momentum heading into Saturday's matchup with No. 1 Alabama. But do they have what it takes to topple the Tide?
Regardless of which side you're on, it's setting up to be one of the all-time great games in this series, and Auburn's new four-star commitment will be on hand to see it. It will be his first Iron Bowl experience.
"There's nothing like it," Roberts said. "It's going to be a good game between both teams because both teams play hard.
"It's always been a big rivalry since I was little. I think I've been knowing about it since I first started playing football. I remember watching
Trent Richardson
on TV one day -- he was talking about when he came to Alabama, he didn't know Auburn was a big rival coming from where he came from. I know it's big. It's always been big."
So when it comes to picking a side Saturday, Roberts has already made his choice.
November, 21, 2013
11/21/13
10:15
AM ET
Division titles, bowl games and bragging rights are up for grabs Saturday. Here are 10 things to watch in the SEC for Week 13:
1. Franklin's return:
It has been over a month since quarterback
James Franklin
last threw a pass for Missouri, but his return couldn't have come at a better time. The Tigers visit No. 24 Ole Miss on Saturday, and it's a must-win game if they want to stay atop the SEC East standings. Before the injury, Franklin had thrown for 1,577 yards with 14 touchdowns and just three interceptions. He also rushed for 290 yards and three scores. Missouri fans hope he can return to form in time to keep the Tigers on track for Atlanta.
[+] Enlarge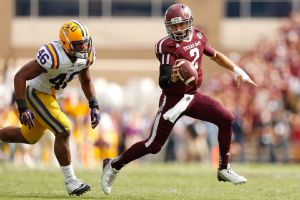 Thomas Campbell/USA TODAY SportsJohnny Manziel can help his Heisman Trophy chances with a win at LSU on Saturday.
2. Manziel's Heisman tour:
The last player to repeat as the Heisman Trophy winner was Archie Griffin way back in 1974 and 1975. Texas A&M quarterback
Johnny Manziel
has a chance to accomplish that feat this season. The sophomore is on pace to surpass the numbers he put up a season ago when he won the award, but losses to both Alabama and Auburn are holding him back. He's still looking for that signature moment, and though LSU has underachieved this season, a win at Tiger Stadium could be just what Manziel needs to impress the voters.
3. The battle of Tennessee:
Who thought the day would come where Vanderbilt would be favored over Tennessee? But with a win, the Commodores have a chance to make it two in a row over their in-state rival for the first time since 1926. James Franklin's squad has won three of its past four and became bowl eligible last weekend with a win over Kentucky. Meanwhile, the Volunteers still have to win their last two games if they want reach the postseason.
4. How Georgia responds:
There are devastating losses, and then there's Georgia's loss to Auburn last weekend. The Bulldogs had the game won until
Nick Marshall
connected with
Ricardo Louis
on a 73-yard prayer in the final minute. It's the type of loss that stays with you. But fortunately, the Dawgs have
Aaron Murray
at quarterback, and he's too much of a competitor to dwell on it. He'll be ready when Kentucky comes to town Saturday.
5. How LSU responds:
It's not the same hangover that Georgia is experiencing, but LSU suffered its own hard-fought loss to No. 1 Alabama the last time out. It was a make-or-break game for the Tigers, and they came up short. Now, after an off week, they have to get up once again to play No. 12 Texas A&M. LSU has had a tendency to fall apart when the BCS is no longer an option, but Les Miles is hoping to buck that trend this season, beginning Saturday.
6. A Rebel upset:
Ole Miss might be the best team in the SEC that nobody is talking about. The Rebels have won four in a row and are up to seven wins on the season. Their only losses came to Alabama, Auburn and Texas A&M -- three teams ranked in the top 12. They will have to keep quarterback
Bo Wallace
upright against a tenacious defensive line for Missouri, but they have a chance to knock off another top-10 team at home this weekend.
7. First-year coaches:
Outside of Auburn's Gus Malzahn, the first-year coaches in the SEC have not fared well. Arkansas' Bret Bielema and Kentucky''s Mark Stoops have yet to win a conference game, while it's still a mystery how Butch Jones and his Tennessee team upset South Carolina. The trio has a combined record of 1-17 in the SEC. On Saturday, they hope to find better results.
8. Coaches on the hot seat:
The seats are getting warmer each week for both Will Muschamp and Dan Mullen. Muschamp's Florida team has had its fair share of injuries, but they're in a downward spiral. The Gators will get a short reprieve Saturday against Georgia Southern. It won't be as easy for Mullen and Mississippi State. The Bulldogs travel to Arkansas in what could be a must-win game for their coach. Both teams need to win out to make a bowl game.
9. More FCS opponents:
There are plenty of intriguing matchups on the docket for Saturday, but there are also a couple of snoozers. Florida plays Georgia Southern, as mentioned above. Alabama welcomes Chattanooga, and South Carolina will host Coastal Carolina. The days of playing FCS opponents might be numbered, but the fans will have to endure them for at least one more week.
10. Are we there yet?
It's still a week away from the Iron Bowl, but everybody is already talking about the matchup between Alabama and Auburn. The state of Alabama might not make it though Thanksgiving at this rate. Auburn is off this weekend, giving Malzahn and the Tigers two weeks to prepare. In Tuscaloosa, the Crimson Tide might as well have two weeks to prepare with a game against Chattanooga on Saturday.
November, 18, 2013
11/18/13
1:50
PM ET
They will be talking about Nick Marshall's miraculous 73-yard touchdown pass to
Ricardo Louis
on the Plains for a long time.
As Hail Marys go, that one has to be right there at the top. But where does that play rank among some of the more thrilling and/or memorable ones in SEC history?
[+] Enlarge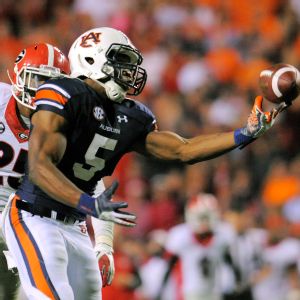 Shanna LockwoodRicardo Louis' catch will live in SEC lore.
Here's a look at a few more that will live eternally, and we've listed them chronologically.
Obviously, there are countless others. Let us know what we've missed.
Oct. 31, 1959: Billy Cannon's tackle-breaking 89-yard punt return on Halloween night stands as one of the most famous plays in college football history. It was the only touchdown scored that game, lifting No. 1 LSU to a 7-3 win over No. 3 Ole Miss in Baton Rouge.

Dec. 2, 1967: Alabama quarterback Ken Stabler's 47-yard touchdown to beat Auburn 7-3 is known simply as "The Run in the Mud." The game was played in a driving rainstorm, and Stabler saved the Tide that day with his scamper around right end in what was a quagmire of a field.

Dec. 7, 1972: Known as the "Punt, Bama, Punt" game, Auburn's Bill Newton blocked two Alabama punts in the fourth quarter, both returned for touchdowns by David Langner to lead the Tigers to a 17-16 win over the previously unbeaten and heavily favored Crimson Tide. Langner's game-winning score came in the final minute and a half.

Jan. 1, 1979: Who can forget Barry Krauss' fourth-down, midair stop of Penn State's Mike Guman just inches short of the goal line in the Sugar Bowl? It's one of the most memorable defensive plays in Alabama's storied history and preserved a 14-7 win over the Nittany Lions, leading to the first of two straight national titles for the Tide.

Sept. 6, 1980: It was the day Herschel Walker was introduced to the college football world. He ran over Bill Bates at the goal line on the first of two touchdown runs in his freshman debut, rallying Georgia to a 16-15 win over Tennessee in Knoxville and setting the stage for the Bulldogs' national championship run.

Nov. 1, 1980: Mississippi State snapped Alabama's 28-game winning streak with a 6-3 win over the Tide in Jackson, Miss. With the Tide threatening in the final seconds on first-and-goal from the 4, the Bulldogs got a huge defensive play to secure one of the more memorable upsets in SEC history. Tyrone Keys darted through and forced Alabama quarterback Don Jacobs to fumble on an option play, and Billy Jackson was there to recover for Mississippi State. Afterward, Bear Bryant came into the Mississippi State locker room to congratulate the Bulldogs.

Nov. 8, 1980: This one also has its own name, "Run, Lindsay, Run." Lindsay Scott's 93-yard touchdown catch and run on third-and-8 from Georgia's own 7 allowed the Bulldogs to pull out a 26-21 win over Florida in the final seconds in Jacksonville and keep alive their national championship season.

Oct. 8, 1988: There aren't many touchdowns that lead to earthquakes, but Tommy Hodson's game-winning 11-yard touchdown pass to Eddie Fuller on fourth down in LSU's 7-6 victory over Auburn registered vibrations on a seismograph in the LSU geology department.

Dec. 5, 1992: Antonio Langham returned an interception 27 yards for a touchdown with 3:15 to play in the inaugural SEC championship game, leading Alabama to a 28-21 win over Florida and setting the stage for the Tide's national championship victory over Miami in the Sugar Bowl.

Nov. 14, 1998: Clint Stoerner's stumble and fumble after it appeared all Arkansas had to do was run out the clock in the final 1:43 gave Tennessee new life, and the Vols zipped in for the game-winning touchdown to stay unbeaten and keep alive their 1998 national championship season in miraculous fashion.

Nov. 9, 2002: Yep, another one with a nickname, "The Bluegrass Miracle." Marcus Randall threw a desperation 75-yard touchdown pass that was batted around and caught by Devery Henderson as time expired, lifting LSU to a 33-30 win over Kentucky in Lexington.

Nov. 16, 2002: David Greene threw a 19-yard touchdown pass to a leaping Michael Johnson on fourth-and-15 with 1:25 to play, giving Georgia a 24-21 win over Auburn on the Plains and paving the way for the Bulldogs' first SEC championship in 22 years.
November, 18, 2013
11/18/13
11:55
AM ET
Nothing was hotter this past weekend than the dramatic ending of that Auburn-Georgia game. Elsewhere in the SEC, though, it wasn't quite as toasty.
Here's a look at our Week 12 version of Hot and Not in the SEC:
GLOWING EMBERS
[+] Enlarge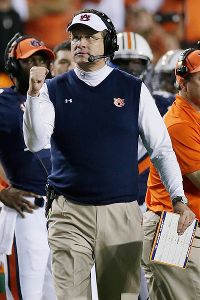 AP Photo/Dave MartinGus Malzahn already has engineered a seven-win turnaround from 2012's 3-9 debacle.
Auburn's magical ride:
Sometimes, it's just meant to be. Call it miraculous. Call it lucky. Call it whatever you want. But
Nick Marshall
's batted 73-yard touchdown pass to
Ricardo Louis
in the final seconds Saturday, lifting Auburn to an improbable 43-38 win over Georgia, kept this magical ride going for the Tigers. They've now won seven straight games and will take on No. 1 Alabama in two weeks in the Iron Bowl with the SEC's Western Division championship on the line. Is this really the same team that didn't win an SEC game a year ago and was outscored 150-21 in its last three SEC contests? That's an easy answer … no. Gus Malzahn and his veteran staff have come in and restored everything that had seemingly vanished from a program that won a national championship only three years ago. There was certainly more talent on this team than last season's 3-9 record would suggest, but the difficult part for Malzahn was restoring the Tigers' edge after they went belly-up last season. It's safe to say he has done that. And before anybody says Auburn has been more lucky than good, show me just about any championship team and I'll show you a team that has had some luck along the way. This team believes right now, and we're in store for one epic Iron Bowl on the Plains in two weeks.
HOT
Georgia quarterback Aaron Murray:
He has been around for so long that we've probably all taken him for granted, but Murray is one class act and one terrific football player. He did everything he could to bring Georgia back from the dead in the fourth quarter against Auburn. The fifth-year senior has been a rock all season for the Bulldogs despite crippling injuries around him and has exuded class every step of the way.
NOT
Mississippi State quarterback Tyler Russell:
The Bulldogs' senior quarterback hasn't been able to catch much of a break this season. He suffered a concussion in the opener and had to miss several games, eventually losing the starting job to
Dak Prescott
. This past weekend, Russell got another shot against Alabama after Prescott was unable to play because of a shoulder injury, but Russell wasn't able to finish the game after hurting his shoulder while trying to make a tackle following his fourth-quarter interception.
HOT
Florida's grit:
Nobody is happy in Gator Nation right now, and that starts with coach Will Muschamp. But there's something to be said for the way Florida fought its guts out Saturday in a tough 19-14 loss to South Carolina. The Gators were down to their third-string quarterback and had an excellent chance to win the game on the road against a top-15 team.
NOT
Preseason rankings:
Florida, Georgia and LSU all started the season ranked in the top 12 of the Associated Press poll. As we head into Week 13, those three teams have a combined 13 losses, and LSU still has to face Texas A&M at home this weekend.
HOT
[+] Enlarge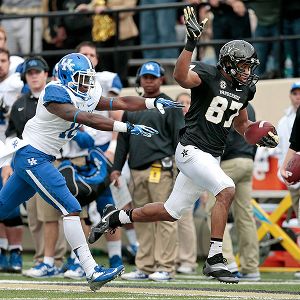 AP Photo/Mark HumphreyJordan Matthews had a season-high 12 receptions as Vanderbilt reached bowl eligibility with a victory over Kentucky.
Vanderbilt:
We all know Vanderbilt coach
James Franklin
doesn't like to talk about bowl games, but we will. Thanks to the Commodores' 22-6 victory over Kentucky last weekend, fueled by 12 catches for 141 yards from senior receiver
Jordan Matthews
, they're now headed to a bowl game for the third straight season. For perspective, Vanderbilt had been to only four bowl games in its history before Franklin arrived. The Commodores also have a chance to get to nine wins for the second straight season if they can win out over Tennessee, Wake Forest and their bowl opponent.
NOT
Alabama's focus:
Good thing the Crimson Tide's defense came to play Saturday in Starkville. And good thing the Tide were playing Mississippi State. Against a more talented team, Alabama would have been toast. Four turnovers going forward will mean an end to their national championship run. OK, maybe not this weekend against Chattanooga, but certainly against Auburn in two weeks and any other games after that. Something says this week in practice won't be a lot of fun for the Tide.
FREEZER BURN
Fans' patience:
It's that time of year again when they're lining up at the town square. That's a reference to Bobby Bowden's classic line regarding fans' impatience when a football team or a unit on a football team starts to struggle. Bowden would always say, "They want a hanging at the town square." With only two weeks remaining in the regular season, it's safe to say there are more than a few restless fan bases around the SEC. It remains to be seen who's really in trouble. Florida athletic director Jeremy Foley insists that Muschamp will be back for a fourth season, but it's difficult to see Muschamp's offensive staff returning intact. Mississippi State fans aren't thrilled with Dan Mullen right now, and that's despite the Bulldogs still having a chance to go to a fourth straight bowl. The Georgia fans are furious over the way the defense has played this season, although given the Bulldogs' youth, it was obvious they were going to struggle on that side of the ball. If LSU loses to Texas A&M this weekend there could be grumbling on the Bayou about Les Miles. Even first-year coaches aren't spared. Arkansas has lost seven straight under Bret Bielema, and the fans in the Ozarks are wondering how they could go from 21 wins in 2010 and 2011 to 15 losses in the past two seasons. In this league, there is no equity and even less patience.
November, 17, 2013
11/17/13
10:00
AM ET
Wow. What a Saturday. How do you top that?
Fortunately, there are still things to be decided and big games remaining in the SEC. But in the meantime, let's look back at the storylines and what we learned in the league from Saturday's action:
Just when you think you've seen it all ...
guess again. The ending to Auburn versus Georgia will be talked about for a long time to come. People still talk about the "Bluegrass Miracle" when Devery Henderson caught a game-winning 74-yard touchdown pass from Marcus Randall to help LSU stun Kentucky with no time remaining back in 2002, but the "Miracle on the Plains" had a similar feel, only with much higher stakes. Auburn still has a chance at an SEC title if it can win out; Georgia was still holding out hope it could find its way into a tie for the SEC East title. But
Nick Marshall
's desperation heave on fourth-and-18 wound up bouncing off a Georgia defender (two had a shot to intercept it or knock it down) and into the hands of
Ricardo Louis
, who walked in for the improbable game-winning score. This really is a dream season for Auburn, considering where the Tigers were at this time a year ago.
[+] Enlarge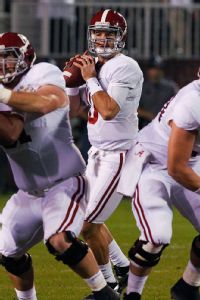 AP Photo/Butch DillIt wasn't always pretty, but AJ McCarron and Alabama did enough to win against Mississippi State.
Alabama can win when not at its best:
Saturday was a big-time gut check for the No. 1 Crimson Tide. After their destruction of LSU last week, it seemed all but a formality that they would walk into the BCS title game, but Mississippi State gave them all they could handle. Championship teams have to deal with that and have to win when they're not performing at peak level. That's what happened to Alabama, which got it done, on the road.
It wasn't pretty, but a win's a win for SC:
Considering how beaten up Florida is, it's easy to say that South Carolina should have cruised by the Gators. The Gamecocks didn't, having to squeak out a 19-14 victory, but it doesn't matter, because they've done all they can do to this point. Their conference schedule is wrapped (the Gamecocks are 6-2) and all they can do is sit and wait to see if Missouri wins out and clinches the division, or falters and drops a game. The loss Georgia suffered means South Carolina doesn't have to worry about the Bulldogs, and if Mizzou loses, the Gamecocks head to the SEC title game.
Vanderbilt's pretty good in November:
At least under James Franklin, that is. The Commodores took care of business against Kentucky, winning 22-6 to make them bowl eligible for the third straight year. Pre-Franklin, Vanderbilt appeared in just four bowl games. Since Franklin took over, Vanderbilt is 8-2 in November and has won seven straight in the month dating back to 2011. The Commodores are hoping to finish like they did last season, when they won five consecutive games. A bonus for the Commodores: Quarterback
Austyn Carta-Samuels
returned from injury and went 19-of-24 for 184 yards while wearing a brace on his left knee.
It's going to be a fun finish:
Who knew Auburn would be playing for something come the Iron Bowl? Nobody had Missouri winning the SEC East, which the Tigers have a chance to do. There are players in the conference still gunning for the Heisman Trophy, namely Texas A&M quarterback
Johnny Manziel
, who has a date with LSU waiting (and one at Mizzou after that). No matter what you do, hold on to your hats because it could be a wild finish in these last few weeks, if Saturday was any indication.
November, 17, 2013
11/17/13
9:00
AM ET
Here are five players (or groups) from around the SEC who earned helmet stickers with their performances on Saturday.

Nick Marshall and Ricardo Louis (and Tray Matthews and Josh Harvey-Clemons):
Let's be clear. It was nothing more than a 1-in-1-million occurrence that allowed Louis to catch a 73-yard pass from Marshall, deflected between Matthews and Harvey-Clemons, to score the game-winning touchdown with 25 seconds remaining on Saturday. But the Tigers scored that touchdown, and kept their SEC championship hopes alive in the process. Marshall finished the day with 229 passing yards against his old team, plus 89 rushing yards and two more scores. And Louis had 131 receiving yards, 66 rushing yards and two touchdowns. It was certainly a winning combination.
Aaron Murray:
The Georgia quarterback's ridiculous second half will fade in relevance over time, but the only reason Marshall even needed to complete the last-minute touchdown pass to Louis was because Murray carried his team into the lead in the second half. Georgia stunk it up in the first half, but Murray rallied the Bulldogs to a 38-37 lead with 1:49 to play after trailing by 20 points early in the fourth quarter. Murray finished with 415 passing yards, two touchdowns and one interception, while also rushing for 37 yards and two more scores -- including a diving go-ahead touchdown in the closing minutes -- although Auburn's Hail Mary minimized the importance of Georgia's rally.
Alabama's defense:
By this point, this should be obvious. The reason anyone is talking about
AJ McCarron
contending for the Heisman Trophy is that we can't collectively give it to his defense. Alabama turned the ball over four times Saturday against Mississippi State -- including two interceptions from McCarron -- but the defense allowed just seven points and 197 total yards. Heck, State's one touchdown came on a fumble forward into the end zone. Alabama led 10-7 at one point in a mediocre third quarter, but the defense didn't allow things to get truly scary. McCarron should be taking THOSE guys out to dinner this week.
Jordan Matthews:
The Vanderbilt receiver caught 12 passes for 141 yards, becoming the first Commodores wideout to post back-to-back 1,000-yard seasons, and rushed twice for 31 yards in Vandy's 22-6 win over Kentucky. He's within three catches of former Vandy receiver Earl Bennett's SEC record of 236 career catches. And the Commodores (6-4) are bowl eligible for three straight years for the first time in program history -- thanks in large part to the contributions from their senior receiver.
Elliott Fry:
I almost went with Ole Miss quarterback
Bo Wallace
here -- his four touchdowns in Ole Miss' 751-yard effort against Troy were impressive -- but place-kicker Fry's four field goals in Saturday's 19-14 win against Florida were much more important. The Gators led 14-13 entering the fourth quarter on Saturday, but Fry knocked down a 22-yard kick with 6:43 remaining and a 43-yard field goal with 2:16 to play to extend the Gamecocks' lead to five points. Fry went 4-for-5 on field goals Saturday and hit his only PAT as South Carolina put pressure on Missouri to claim the SEC East title.
May, 21, 2013
5/21/13
7:00
AM ET
It's Rankings Week at TideNation. Every day we'll rank some facet of the Alabama football program heading in 2013. Today we're ranking the top 10 offensive players the Tide will face this season. On Wednesday we'll rank the top 10 defensive players Alabama will face in the fall.
Ranking the offensive players
1. QB Johnny Manziel (Texas A&M):
Alabama hasn't faced a Heisman Trophy winner since Tim Tebow starred at quarterback for the
Florida Gators
. And while UA didn't come out on top of the first meeting with Tebow in the SEC Championship, it did in the second. Alabama fans are hoping for similar results after a heartbreaking defeat to Manziel and the Aggies last season. Stopping an athlete with his unique skill set and ability to make plays out of nothing won't be an easy task, though.
2. RB LaDarius Perkins (Mississippi State):
He did so largely under the radar, but Perkins was second in the SEC in all-purpose yards and out-rushed every running back in the SEC West not wearing crimson last season, tallying 1,016 yards on 205 attempts. With All-SEC offensive guard
Gabe Jackson
leading the way, he should be in for a banner senior year.
3. QB Logan Thomas (Virginia Tech):
Thomas has been up and down in his career under center, but no one doubts the senior's arm strength and athleticism. He threw for just as many yards as
AJ McCarron
did last season (2,976), despite playing in one fewer game. And he finished 18th in the ACC in rushing with 524 yards. His ability to stretch the defense vertically through the air and horizontally with his feet will give Alabama headaches.
[+] Enlarge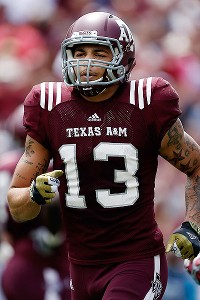 Scott Halleran/Getty ImagesAt 6-foot-5, Aggies receiver Mike Evans can dominate opposing defensive backs. Having Johnny Manziel as a triggerman helps, too.
4. WR Mike Evans (Texas A&M):
With an entire offseason to prepare for Manziel, rest assured that the Alabama coaching staff has been busy devising ways to keep the fleet-footed quarterback stationary this time around. That means Manziel will have to use his arm to beat the Tide, and he'll have a good target to throw to in the 6-foot-5 Evans, who finished third in the league with 1,105 yards receiving.
5. QB Bo Wallace and RB Jeff Scott (Ole Miss):
When they're executing the read-option and pushing the tempo, Wallace and Scott are hard to stop. Neither is what you'd call an NFL talent, but together they can keep a defense on its heels, as they did against Alabama last season. If they get going downhill and can convert on third downs, it will mean trouble for UA.
6. RB Jeremy Hill and Alfred Blue (LSU):
Alabama's duo of tailbacks has commanded the lion's share of attention in recent years, but LSU has quietly perfected its rotation of ball-carriers as well. And Hill and Blue should be respected as they're both prototypical NFL backs in terms of size and speed. Hill averaged 5.3 yards per carry, and Blue had two 100-yard performances in his first three games before missing the rest of the season with an injury.
7. WR Odell Beckham (LSU):
He was a steady playmaker last season when he caught 43 passes for 713 yards, but he hasn't been much of a threat to score, settling for four touchdowns in his career. With new offensive coordinator Cam Cameron in place and
Zach Mettenberger
a year wiser, Beckham could see his role expand as the Tigers look to inject some explosiveness into the passing game.
8. OT Jake Matthews (Texas A&M):
More than weapons in the passing and running game, someone will need to protect Manziel from opposing defenses. Matthews is as capable an offensive tackle as you'll find in the SEC. If Alabama hopes to get its revenge against Texas A&M, it will have to find a way to get around Matthews and the Aggies offensive line.
9. RB Dennis Johnson (Arkansas):
Bret Beilema leaned heavily on his running game at Wisconsin the past two seasons, handing his former running back Montee Ball the ball 663 times over that time. Now at Arkansas, Beliema will likely look to do the same with Johnson, who led the Razorbacks with 757 yards and eight touchdowns last season.
10. HC Gus Malzahn (Auburn):
Malzahn turned Chris Todd into a respectable quarterback, morphed Michael Dyer into an All-SEC performer and helped Cam Newton to one of the best single seasons in college football history. Auburn's new head coach has a knack for getting the most out of his players and we'll likely see a few surprises for the Tigers this season, whether it's running back
Tre Mason
, quarterback
Jonathan Wallace
or an unknown commodity like wide receiver
Ricardo Louis
.
July, 11, 2012
7/11/12
2:11
PM ET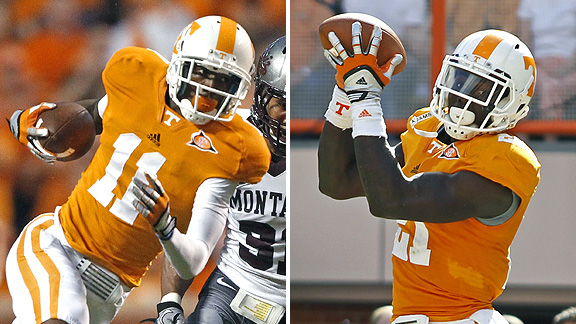 AP Photo/Wade PayneJustin Hunter (11) and Da'Rick Rogers (21) are considered to be the best receiving duo in the SEC.
Our SEC position rankings continue with a look at schools' wide receiver and tight end groups.
Past rankings:
On to the league's wide receiver/tight end groups:
1. Tennessee:
The Vols are equipped with two of the top wideouts in the league with
Da'Rick Rogers
, who was second in the SEC in receiving last year, and
Justin Hunter
, who might be the SEC's top deep threat. It sounds like Hunter will be 100 percent this fall after his ACL injury last year. Junior college transfer Cordarrelle Patterson is big, fast and possesses the big-play gene. The speedy
Zach Rogers
is back and is so is talented tight end
Mychal Rivera
.
2. Arkansas:
Cobi Hamilton
is now Arkansas' primary receiver, and he might be the league's most complete wideout. He can make the big-play and elude defenders along the way. While
Marquel Wade
's status is still unclear, if he does return, he'll be a major lift for this offense because of his playmaking ability in the slot.
Julian Horton
and
Javontee Herndon
have always impressed coaches in practice and now will get their chances to in games. Tight end
Chris Gragg
should be even more involved and is the league's top tight end.
3. Georgia:
While
Malcolm Mitchell
could go back and forth between receiver and corner, when he's at receiver he's Georgia's top offensive threat and was one of the league's best as a rookie. There are vets behind him, starting with reliable senior
Tavarres King
, who had a very good spring, senior
Marlon Brown
, who seemed to take a big step in his game this spring. Sophomores
Michael Bennett
and
Chris Conley
combined for 48 catches for 608 yards and seven touchdowns last year. Unproven tight ends
Arthur Lynch
and
Jay Rome
will replace Orson Charles and Aron White.
February, 6, 2012
2/06/12
12:52
PM ET
Now that national signing day is out of the way, we're going to take another look at our SEC power rankings.
You won't see any change really, but we have more confidence in some teams now than we did before:
1. Alabama:
The Crimson Tide hauled in the nation's No. 1 recruiting class last week and not only did Nick Saban sign a handful of top-rated players, but he met all of Alabama's major needs with the 2012 class. There are a few freshmen who could make early impacts in Tuscaloosa, including athlete
Eddie Williams
(Panama City, Fla./Arnold), and wide receivers
Chris Black
(Jacksonville, Fla./First Coast) and
Amari Cooper
(Miami, Fla./Miami Northwestern).

2. LSU:
The Tigers' class wasn't as highly rated as some recent ones, but Les Miles and his coaches brought in a solid group and there are a few defense players who might see some playing time early. Three starting linebackers need to be replaced and a few freshmen will get their chances. While LSU lost
Torshiro Davis
((Shreveport, La./Woodlawn) flipped to Texas, the Tigers brought in ESPNU 150 linebackers
Kwon Alexander
(Oxford, Ala.) and
Ronnie Feist
(Edgard, La./West Saint John).
3. Georgia:
The Bulldogs needed to get bigger up front and add a couple of playmaking linebackers. Georgia did just that with the handful of athletic defensive linemen signed and grabbed top outside linebacker
Josh Harvey
-Clemons (Valdosta, Ga./Lowndes), who should thrive in Todd Grantham's 3-4. Georgia's offense could be even better this fall with
Keith Marshall
(Raleigh, N.C./Millbrook) helping
Isaiah Crowell
, and the wide receiver depth returning.
4. South Carolina:
Talk about underrated. South Carolina didn't make much noise at all on national signing day, but the Gamecocks brought in a very balanced class and have a few players who should contribute early to a team that will yet again compete for the SEC East title. Two freshmen to keep an eye on in 2012 are wide receiver
Shaq Roland
(Lexington, S.C.) and safety
Chaz Elder
(College Park, Ga./Benjamin E. Banneker).
5. Arkansas:
It seemed like the Razorbacks were headed for a very strong finish to its 2012 recruiting class, but watched as top receiver
Dorial Green-Beckham
(Springfield, Mo./Hillcrest) and four-star offensive tackle
Jordan Diamond
(Chicago, Ill./Simeon) committed elsewhere. However, Arkansas is still waiting on top athlete
Davonte Neal
(Scottsdale, Ariz./Chaparral) and signed some pretty talented wide receivers to add to that high-flying offense. Defensive depth was a need and Arkansas added six defensive linemen and snatched Tennessee linebacker commit
Otha Peters
(Covington, La./Covington) late.
6. Auburn:
Before Auburn could complete its recruiting class, it had to find someone to run its offense. The Tigers lured Scot Loeffler away from Temple, getting a coach who knows a thing about teaching quarterbacks. Clint Moseley and
Kiehl Frazier
should be ecstatic. The loss of
Michael Dyer
hurts, but Auburn has a stable of running backs to work with and signed one of the best offensive line classes around. Also, athlete
Ricardo Louis
(Miami Beach, Fla/Miami Beach Senior) could be a real playmaker at wide receiver.
7. Florida:
Will Muschamp wanted his team to get tougher and he took a step in the right direction by hitting the line of scrimmage hard in his first full recruiting class. He also got a big back in
Matt Jones
(Seffner, Fla./Armwood) and having
D.J. Humphries
(Charlotte, N.C./Mallard Creek) in early should really help the offensive line. Florida is also waiting for a potential receiving threat in
Stefon Diggs
(Olney, Md./Our Lady of Good Counsel). Muschamp feels better about this team's attitude and expects a more resilient squad in 2012.
8. Missouri:
These Tigers could come in and frustrate some of its new SEC East family with the depth it returns. No one is quite sure if top running back Henry Josey will return in 2012 after a major knee injury, but the Tigers added a very complete back in
Morgan Steward
(Kansas City, Mo./Staley), who could compete for playing time early. But Missouri took home the biggest national signing day prize when Green-Beckham picked Missouri. Mizzou lacked a big-play receiving threat until now.
9. Tennessee:
There is a lot of talent returning in Knoxville and the Vols added some quality depth with its 2012 recruiting class. Tennessee took a hit when top inside linebacker
Dalton Santos
(Van, Texas) flipped to Texas and needed to add a big-time running back to help that offense, but grabbing junior college wide receiver Cordarrelle Paterson (Rock Hill, S.C./Hutchinson Community College) was big. He'll add to an already solid receiving tandem and could provide more leadership. Tyler Bray should have a fun offseason.
10. Texas A&M:
The Aggies lose a lot heading into their first season as a part of the SEC Western Division, but helped the future by signing a top-25 class. Running back
Trey Williams
(Houston, Texas/Andy Dekaney) could provide an early spark for the offense with
Cyrus Gray
leaving. The receivers got some needed help with the signing of No. 3 receiver
Thomas Johnson
of Dallas, and outside linebacker
Jordan Richmond
(Denton, Texas/Billy Ryan) should see early playing time as well.
11. Vanderbilt:
James Franklin
's first full class at Vanderbilt was a total success. He showed that he won't just compete on the field with the SEC big boys but he'll recruit with them too. He beat out a few bigger schools for ESPNU 150 athlete
Brian Kimbrow
(Memphis, Tenn./East) and the Commodores added a lot of bigger bodies up front and at linebacker. Vandy's veterans shouldn't have an issue mingling with this solid recruiting class.
12. Mississippi State:
The Bulldogs will head into the spring looking to jump start their offense. There is a lot of depth and three senior starters returning at wide receiver, but some oomph needs to return to this offense. It's officially Tyler Russell's time at QB and LaDarius Perkins and Nick Griffin could be a powerful one-two running back punch. Where Mississippi State really struck gold in recruiting was up front, where the Bulldogs added three top defensive linemen, including No. 13 tackle
Quay Evans
(Morton, Miss.).
13. Kentucky:
The Wildcats need playmakers on offense and having running back
Josh Clemons
come back at full health this year, will go a long way. But Kentucky desperately needed to add more with its 2012 recruiting class. The Wildcats are hoping dual-threat quarterback
Patrick Towles
(Fort Thomas, Ky./Highlands) can help in that department. Kentucky won't get anywhere without developing the talent already on campus and that's most important at this point.
14. Ole Miss:
Hugh Freeze had some defensive success in his first recruiting class as the Rebels' head coach. There is a good foundation with ESPNU 150 defensive tackle
Issac Gross
of Batesville, Miss., and ESPNU 150 defensive end
Channing Ward
of Aberdeen, Miss., and the secondary got a boost when safety
Trae Elston
(Oxford, Ala.) picked Ole Miss over LSU. Now, Freeze turns his attention to players a part of a two-win 2011 season. Generating discipline and finding leaders are key for a program glued to the bottom of the SEC.
Saban: Peyton's Visit: 'Mutually Beneficial'
SEC SCOREBOARD
Thursday, 8/28
Saturday, 8/30
Sunday, 8/31