Alabama Crimson Tide:

Patrick Peterson
January, 30, 2014
1/30/14
10:30
AM ET
The SEC has
dominated the recruiting world
over the past several years. Since 2008, the SEC has had at least three schools finish in the top 10 of the ESPN recruiting class rankings each year. Last year, the conference had an impressive six schools ranked among the top 10 recruiting classes in the country. This year is much of the same, as seven SEC schools are ranked in the top 10.
Here's a closer look at the five best recruiting SEC schools in the
Ultimate ESPN 300
.
January, 29, 2014
1/29/14
10:30
AM ET
The ESPN Ultimate 300 looks back at the best recruits since 2006, and it's hardly surprising that the SEC made its presence felt in the rankings.
Here's a look at the top five SEC recruits in the
Ultimate ESPN 300
:
To continue reading this article you must be an Insider
January, 23, 2014
1/23/14
4:15
PM ET
The SEC's successes reach far beyond the college football landscape. Sure, the seven consecutive BCS titles -- which came to an end this year thanks to a pretty darn good Florida State team -- are well-documented, but most of the studs in this league eventually make it to the big leagues, where they continue to strut their stuff.
[+] Enlarge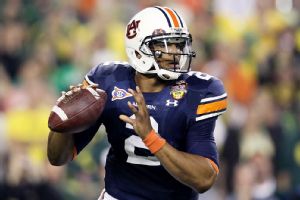 Christian Petersen/Getty ImagesFormer Auburn QB Cam Newton is one of 24 former SEC players in the Pro Bowl.
The NFL has always had an affinity for SEC players, and this year's Pro Bowl rosters blare that loud and clear, as 24 players from the SEC were selected for the all-star game in Hawaii. The SEC was represented by at least one player at every position except kicker and punter.
This year, the Pro Bowl changed its selection format. Former NFL greats Jerry Rice and Deion Sanders
drafted from a pool of Pro Bowl players
who were selected earlier in the season. Team Rice and Team Sanders went back-and-forth with their picks, and four of the first 10 players in the first Pro Bowl draft were former SEC players, including former Auburn quarterback Cam Newton (Carolina Panthers), who went No. 3 overall to Sanders.
Tennessee led the SEC with four selections. The game is Sunday night at 7:30 p.m. ET on NBC.
The 24 former SEC players selected to this year's Pro Bowl:
QB
RB
WR
TE
OL
DL
LB
CB
S
RS
January, 13, 2014
1/13/14
10:30
AM ET
It's time to celebrate the best of the best in the SEC during the BCS era.
So what we've done is taken on the monumental task of selecting an All-SEC team from the BCS era, which officially ended last Monday with Florida State's 34-31 victory over Auburn in the VIZIO BCS National Championship.
To be eligible, a player had to have played at least one season in the SEC at any time between 1998 and 2013. More weight was given to those players who had longer careers and displayed consistency over the course of their careers.
Before the second-guessing commences, there were some spectacular players -- even a few players who won national awards such as the Heisman Trophy -- that were left off this team.
Nonetheless, it's one star-studded team.
Here's a look:
OFFENSE
[+] Enlarge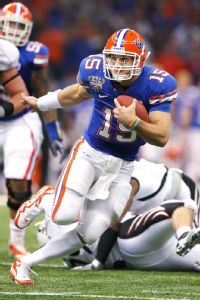 Derick E. Hingle/USA TODAY SportsTim Tebow accounted for more touchdowns than any player in SEC history.
QB -- Tim Tebow, Florida:
A tough call at quarterback, but Tebow had a hand in two national championships, won the Heisman Trophy in 2007 and accounted for more touchdowns (145) than anybody in league history.
RB -- Mark Ingram, Alabama:
In 2009, Ingram became the first Alabama player to win the Heisman Trophy with a 1,658-yard rushing season. He rushed for 42 career touchdowns, breaking Shaun Alexander's school record.
RB -- Darren McFadden, Arkansas:
A two-time winner of the Doak Walker Award, McFadden averaged 120.8 rushing yards per game for his career, second only to Herschel Walker and Emmitt Smith in the SEC.
WR -- A.J. Green, Georgia:
He combined speed, size and incredible body control to haul in 23 touchdown catches in 31 career games. Green caught more than 50 passes in each season from 2008 to 2010.
WR -- Josh Reed, LSU:
The Biletnikoff Award winner as the top receiver in the country in 2001, Reed hauled in 17 touchdown catches in his last two seasons. He set the SEC single-season record in 2001 with 1,740 receiving yards.
TE -- Jason Witten, Tennessee:
It's hard to beat Witten in any era as both a receiving and blocking tight end. He had seven career touchdown catches, including five during his All-SEC junior season in 2002.
AP -- Percy Harvin, Florida:
Harvin was Mr. Everything for the Gators on their 2008 national championship team and a two-time All-American. He finished his career with 32 touchdowns (19 rushing and 13 receiving).
OL -- Shawn Andrews, Arkansas:
Andrews is the last player to win the Jacobs Award as the SEC's top blocker in back-to-back seasons (2002 and 2003). The Hogs' massive offensive tackle was a consensus All-American in both of those seasons.
OL -- Barrett Jones, Alabama:
Jones was a part of three national championship teams at Alabama and started at every position on the line but left guard during his career. He won the Rimington Trophy in 2012 as the country's top center and won the Outland Trophy a year earlier as the Tide's left tackle.
OL -- Marcus McNeill, Auburn:
A two-time All-America selection at offensive tackle, McNeil paved the way for the Tigers' explosive rushing attack and was a huge part of their unbeaten 2004 SEC championship team.
OL -- Chris Samuels, Alabama:
The Crimson Tide have been stocked with menacing offensive linemen during their storied history, and Samuels is right there near the top. The big offensive tackle won the Jacobs Award and Outland Trophy in 1999 and helped lead Alabama to an SEC title.
C -- Maurkice Pouncey, Florida:
Also a standout guard earlier in his career, Pouncey gravitated to center and won the Rimington Award in 2009 as the nation's top center. He was a devastating blocker and made 40 starts in 41 career games.
DEFENSE
DL -- Glenn Dorsey, LSU:
The most decorated SEC defensive tackle of the BCS era, Dorsey won the Outland Trophy and both the Lombardi and Nagurski awards in 2007. He was the centerpiece of that LSU national championship defense in 2007.
DL -- John Henderson, Tennessee:
A two-time All-American, Henderson is one of just five defensive players in the BCS era to win the Outland Trophy (2000) as college football's most outstanding interior lineman.
[+] Enlarge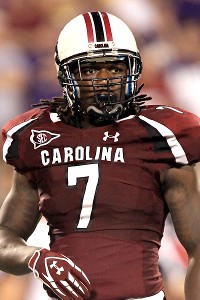 Streeter Lecka/Getty ImagesJadaveon Clowney had 24 sacks in three seasons at South Carolina.
DL -- Jadeveon Clowney, South Carolina:
Even though his numbers dipped this season, Clowney remains one of the most disruptive defensive ends to play in the SEC during the BCS era. He finished with 47 tackles for loss, including 24 sacks, in 36 career games.
DL -- David Pollack, Georgia:
Pollack joined Herschel Walker as Georgia's only three-time, first-team All-Americans. He racked up a school-record 36 sacks from his defensive end position and was a two-time SEC Defensive Player of the Year in helping the Bulldogs win the 2002 SEC title, their first in 20 years.
LB -- C.J. Mosley, Alabama:
Mosley is the only player in the Nick Saban era at Alabama to have back-to-back 100-tackle seasons and was a part of two national championship teams. He was terrific in coverage and an even better tackler.
LB -- Patrick Willis, Ole Miss:
Before he found stardom in the NFL, Willis terrorized the SEC and won the Butkus Award in 2006 as college football's top linebacker. He was a tackling machine for the Rebels and the quintessential middle linebacker.
LB -- Al Wilson, Tennessee:
The heart and soul of Tennessee's 1998 national championship team, Wilson was a playmaking machine at middle linebacker for the Vols. He was a two-time All-SEC selection and consensus All-American his senior season.
CB -- Champ Bailey, Georgia:
One of the most versatile players in SEC history, Bailey participated in more than 1,000 plays during the 1998 season and won the Bronko Nagurski Trophy as the nation's best defensive player.
CB -- Patrick Peterson, LSU:
No matter where Peterson lined up, he was the most explosive player on the field. As a cornerback, few were better. He won the Thorpe and Bednarik awards in 2010 and scored touchdowns three different ways during his career: punt return (two), interception return and return of a blocked field goal.
S -- Mark Barron, Alabama:
The Crimson Tide's 2011 national championship defense was dripping with talent, but Barron might have been the best of the bunch. He was a three-time All-SEC selection and two-time All-American.
S -- Eric Berry, Tennessee:
Berry was as good in coverage as he was blowing up ball carriers. He won the Jim Thorpe Award in 2009 as the top defensive back in the country and was a finalist the previous year. He finished with 14 career interceptions.
SPECIAL TEAMS
PK -- Billy Bennett, Georgia:
Bennett is the SEC record holder with 87 made field goals from 2000 to 2003. Bennett was equally accurate, connecting on 79 percent of his kicks.
P -- Dustin Colquitt, Tennessee:
A finalist for the Ray Guy Award in both 2002 and 2003, Colquitt averaged 43.1 yards a punt during his career. As a junior in 2003, he had 19 punts of 50 yards or longer and 21 punts downed inside the 20-yard line.
RS -- Derek Abney, Kentucky:
His eight career returns for touchdowns (six punts and two kickoffs) are an SEC record, and six of those came during one season (2002). Abney set seven NCAA records, 11 SEC records and 14 school records.
November, 4, 2013
11/04/13
10:15
AM ET
Sit down, Michigan-Ohio State.


Take a back seat, Alabama-Auburn. Not so fast, Florida-Florida State. Try a little harder, Notre Dame-USC. Better luck next time, Oklahoma-Texas.
Although you're all amazing rivalry games, you just don't currently compare to the new rivalry in town: Alabama-LSU.
No, this game doesn't have the hatred that comes with the Iron Bowl or the storied tradition that Michigan-Ohio State possesses. But when it comes to the national championship, no other game holds the importance of Alabama-LSU. In the past few years, this game has been
the
game of the season.
On Saturday, when No. 1 Alabama (8-0, 5-0 SEC) hosts No. 13 LSU (7-2, 3-2), it will mark the eighth consecutive time these two have met as ranked opponents, and it will yet again have major SEC West Division championship and national championship implications in the balance.
[+] Enlarge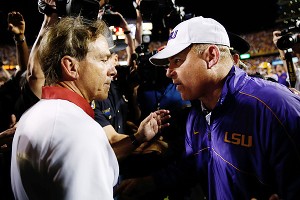 Jamie Squire/Getty Images for ESPN The MagazineThere's always a lot on the line when Nick Saban and Les Miles clash.
The past three games in this series have all dealt with the phrase "Game of the Century." And when the SEC West and the national championships have all been on the line, it's hard to argue against the hyperbole.
Since the 2006 season, these teams have delivered a few gems together. Four times, both have been ranked in the top 10, and twice they've met as No. 1 and No. 2. Oh, and once was in the national championship back in 2011.
"Every year -- past the first year we've been here [2007] -- it's [been a big game]," Alabama coach Nick Saban said.
"We have a tremendous amount of respect for them, being one of the most challenging opponents that we have in this league. The fact that they've been really, really good and we've been pretty good makes this game -- more than it has -- a tremendous amount of significance for both teams. ... It's a great game, and it's a game that players on both sides probably look forward to, but it's a tremendous challenge."
It certainly has become quite the challenge for both teams. Since 2006, Alabama has a 4-3 advantage over the Tigers but has lost at home twice. The winner of this game -- and the loser in 2011 -- has played in the national championship four times and won the SEC West five times. The average margin of victory in the six regular-season meetings between these two during that span has been 6.3 points. Alabama blanked LSU 21-0 in the BCS National Championship at the end of the 2011 season.
Two months earlier, the teams played their first "Game of the Century" when No. 1 LSU went to Tuscaloosa and left with a draining, 9-6 overtime victory over No. 2 Alabama. People poked at the offenses, but the story of that game was just how good both defenses were, as neither team gained 300 yards of offense and both defenses grabbed two takeaways.
Two freight trains smashed into each other in the middle of Bryant-Denny Stadium, but the one coated in purple and gold emerged still on the tracks.
Things were even more entertaining last fall, when No. 1 Alabama won 21-17 in thrilling, comeback style in Baton Rouge, La. While the 2011 game in Tuscaloosa had special-teams blunders and beautiful defensive stops, this one had a high-flying LSU passing game and a screen pass from AJ McCarron to T.J. Yeldon with 51 seconds remaining that put McCarron in tears and etched its place in the college football highlights hall of fame.
We also saw a classic in 2010, which featured two LSU fourth-down conversions and Les Miles introducing us to his appetite for eating grass. The 2009 game had that wonderful 73-yard Julio Jones touchdown and an interception that wasn't for LSU corner Patrick Peterson.
You want talent? There have been 31 players selected in the NFL draft who were on the Alabama or LSU rosters in the 2011 BCS title game.
Outside of the tremendous play on the field, you have the sideshow of Saban versus Miles. Saban is the ultimate perfectionist, and Miles' quirkiness can get the best of both him and his opponents. It truly is a match made in heaven, just like this game.
The animosity and disdain that seeps into every major rivalry isn't really there for this one. Sure, there was the Saban storyline that lingered for a few years because he's coached and won a national championship at both schools, but the loathing between players and fans in other rivalries really doesn't exist here.
This game has more of a mutual respect about it because of what is on the line when the clock hits zero. There isn't a shiny trophy or in-state bragging rights to claim. No, this game's winner is looking for bigger, more important awards, such as a division title and national championship.
"If you played at Alabama or LSU, it's one of those games you measure yourself by," Peterson said. "Look at the players who've come out of both schools, how many of those guys are in the NFL. It's
the
game in college football."
January, 10, 2013
1/10/13
4:08
PM ET
Eddie Jackson
(Pompano Beach, Fla./Boyd Anderson) is the epitome of a late-bloomer, under-the-radar prospect.
A senior wide receiver/defensive back who had little film to offer because academic issues sidelined him for much of his high school career, Jackson worked to get his grades up, had a solid senior season on the field and now has a growing list of offers.
Including the latest one.
To continue reading this article you must be an Insider
July, 11, 2012
7/11/12
2:11
PM ET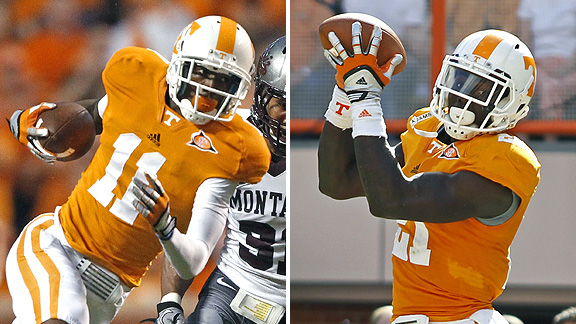 AP Photo/Wade PayneJustin Hunter (11) and Da'Rick Rogers (21) are considered to be the best receiving duo in the SEC.
Our SEC position rankings continue with a look at schools' wide receiver and tight end groups.
Past rankings:
On to the league's wide receiver/tight end groups:
1. Tennessee:
The Vols are equipped with two of the top wideouts in the league with
Da'Rick Rogers
, who was second in the SEC in receiving last year, and
Justin Hunter
, who might be the SEC's top deep threat. It sounds like Hunter will be 100 percent this fall after his ACL injury last year. Junior college transfer Cordarrelle Patterson is big, fast and possesses the big-play gene. The speedy
Zach Rogers
is back and is so is talented tight end
Mychal Rivera
.
2. Arkansas:
Cobi Hamilton
is now Arkansas' primary receiver, and he might be the league's most complete wideout. He can make the big-play and elude defenders along the way. While
Marquel Wade
's status is still unclear, if he does return, he'll be a major lift for this offense because of his playmaking ability in the slot.
Julian Horton
and
Javontee Herndon
have always impressed coaches in practice and now will get their chances to in games. Tight end
Chris Gragg
should be even more involved and is the league's top tight end.
3. Georgia:
While
Malcolm Mitchell
could go back and forth between receiver and corner, when he's at receiver he's Georgia's top offensive threat and was one of the league's best as a rookie. There are vets behind him, starting with reliable senior
Tavarres King
, who had a very good spring, senior
Marlon Brown
, who seemed to take a big step in his game this spring. Sophomores
Michael Bennett
and
Chris Conley
combined for 48 catches for 608 yards and seven touchdowns last year. Unproven tight ends
Arthur Lynch
and
Jay Rome
will replace Orson Charles and Aron White.
Alabama Dismisses Jonathan Taylor
SEC SCOREBOARD
Thursday, 9/3
Saturday, 9/5