Alabama Crimson Tide:

Oregon Ducks
March, 22, 2014
3/22/14
9:15
PM ET
MARIETTA, Ga. -- The Nike SPARQ combines have grown with each passing year, and on Saturday there was a record turnout. If the 1,993 prospects who attended weren't impressive enough, the performances by several top prospects who came to compete certainly left spectators turning heads.
Here is a rundown of some of the event's top performers.
ESPN Junior 300 running back Taj Griffin posted one of the top SPARQ scores of the day. Griffin checked in at 5-foot-10, 174-pounds, ran a 4.41 40-yard dash and a 4.35 shuttle, had a 46-inch vertical leap and a 36-foot power ball toss for a combined score of 124.29. On the recruiting front, Oregon, Clemson, Florida State, Ohio State and Tennessee continue to stand out the most.



2015 RB Taj Griffin @tg__7 with the highest SPARQ score of the day in Atlanta. pic.twitter.com/SaY2QZLPrE

— Gerry Hamilton (@HamiltonESPN) March 22, 2014

No. 3 junior offensive tackle Chuma Edoga posted an impressive score of 94.65. After measuring at 6-4 and weighing 276 pounds, Edoga ripped off a 5.01 40-yard dash, a terrific 4.69 shuttle and had a 33.8-inch vertical jump and 37-foot power ball throw. Following his impressive effort, he said his top four schools in order are Tennessee, Southern California, Georgia and Stanford with a decision likely on May 25, his birthday. The big news might have been that he currently prefers the Volunteers, but his mother is in the corner of the Bulldogs and Cardinal.
No. 252 prospect C.J. Sanders made the trip and did not disappoint. He checked in at 5-9 and 176 pounds, ran a 4.57 40-yard dash, had a blazing 4.09 shuttle run, leaped 36.5 inches and tossed the power ball 41 feet. On the recruiting front, USC, Notre Dame and Georgia are the latest to offer, joining Duke, Northwestern, Stanford, Tennessee, Vanderbilt, Mississippi State and Ole Miss. He visited USC last week, and lists Reggie Bush as his childhood idol. Sanders is the son of former Ohio State and NFL wide receiver Chris Sanders. His mom played basketball at Michigan. He reports his family favors Duke and USC early on with a decision slated for the summer.
Ben Cleveland is already considered one of the top offensive line prospects in the country, and the 6-7, 317-pounder showed why Saturday. He clocked a very impressive 5.22 40-yard dash and 4.87 shuttle, and had a 25.8-inch vertical leap and 41.5-foot power ball throw for a score of 99.78. He has offers from Georgia, Clemson, Florida, South Carolina and Texas with Alabama expected in the near future. He made an unofficial visit to Clemson two weeks ago.
Class of 2016 prospect
Class of 2015 running back Jaylen Burgess posted a 118.44. The 5-10, 214-pounder ran a 4.66 40-yard dash and a 4.38 shuttle, and had a 36.7-inch vertical leap and 42.5 power ball throw. He is receiving interest from Tennessee, Vanderbilt, Clemson, Duke and a number of other ACC schools. Duke and Tennessee are the coaching staffs Burgess talks to the most. He posted more than 1,500 all-purpose yards as a junior.
Class of 2016 linebacker and defensive end Charles Wiley checked in at 6-3, 203 pounds. He clocked a 4.68 40-yard dash and 4.45 shuttle, and also leaped 35 inches and threw the power ball 34.5 feet. He has an early offer from Virginia Tech.
Class of 2015 athlete Jeremiah Mercer is flying completely under the recruiting radar. While he had to sit out the 2013 season due to transfer rules, he made his mark Saturday posting a score of 97.47. The 5-11, 163-pound running back and wide receiver ripped off a 4.48 40-yard dash and 4.18 shuttle, and added a 36.2-vertical leap and 31-foot power ball toss. He is receiving interest from Vanderbilt and Mississippi State and lists Florida State as his dream school.
Class of 2016 inside linebacker Tyler Reed posted a very impressive score of 104.91. After measuring 6-2, 234 pounds, Reed ran a 4.96 40-yard dash and 4.59 shuttle, and had a 35.5-inch vertical leap and 41-foot power ball throw. He recorded 130 tackles as a sophomore.
Class of 2015 running back Eric Montgomery posted a 115.47, one of the day's top scores. The tailback checked in at 5-11, 185 pounds, ran a 4.46 40-yard dash and a 4.19 shuttle, and jumped 36 inches and threw the power ball 38 feet. On the recruiting front, Kentucky, Cincinnati, Ole Miss and Mississippi State, among others, are showing interest.
March, 13, 2014
3/13/14
12:30
PM ET
The new College Football Playoff is supposed to encourage schools to schedule better nonconference games, as teams try to beef up their schedule strength to earn one of the playoff's coveted four spots at season's end.
On Thursday, Texas A&M and UCLA
announced that they'll play each other
during the 2016 and 2017 seasons.
Other schools have announced future marquee nonconference opponents, including Texas A&M vs. USC, Notre Dame vs. Texas, Alabama vs. Michigan State and LSU vs. Oklahoma.
Here are five other nonconference games I'd like to see in the future:
[+] Enlarge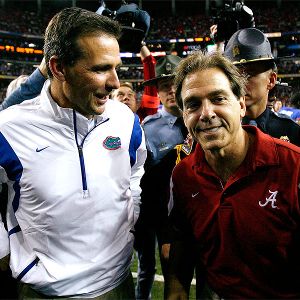 Kevin C. Cox/Getty ImagesUrban Meyer and Nick Saban have faced off for SEC titles, but their current teams, Ohio State and Alabama, have played only three times in history.
1. Alabama vs. Ohio State
: Alabama's Nick Saban and OSU's Urban Meyer dominated the SEC when Meyer was coaching at Florida, combining to win five BCS national championships from 2006 to 2012.
When Meyer was still coaching at Florida, the Crimson Tide and Gators played in two of the most anticipated SEC championship games. The No. 2 Gators beat the No. 1 Tide 31-20 in 2008, and then the Tide turned the tables on No. 1 UF with a 32-13 win in 2009.
Alabama and Ohio State have played only three times in history, with the Tide winning each time, most recently in a 24-17 victory in the 1995 Citrus Bowl.
2. Texas vs. Texas A&M
: Perhaps the biggest casualty in conference realignment, Texas and Texas A&M haven't played each other since the Aggies bolted the Big 12 for the SEC after the 2011 season. Sadly, there are no plans for the in-state rivals to play again in future regular seasons.
The Aggies and Longhorns played each other 118 times from 1894 to 2011, with their annual meeting traditionally being played on Thanksgiving Day. UT won nearly twice as many games as the Aggies (76-37-5), including nine of the last 12 meetings.
With former Louisville coach Charlie Strong taking over at Texas, and Kevin Sumlin building the Aggies into an SEC powerhouse, the game would also pit two of the sport's best African-American coaches against each other.
3. Oregon vs. Baylor
: Two of the game's most explosive offenses -- and two of its best-dressed teams -- would undoubtedly light up the scoreboard if they ever played. In fact, the contest would probably look more like a track meet.
Under coach Art Briles, the Bears have become the Ducks of the Southwest, with their hurry-up, spread offense and myriad flashy uniforms closely resembling what Chip Kelly and then Mark Helfrich built at Oregon. The Bears and Ducks follow the same blueprint on offense: play fast and score fast.
We hoped to see this matchup in the Tostitos Fiesta Bowl last season, but alas, it didn't happen. Oregon and Baylor have never met on the gridiron.
4. Michigan vs. USC
: Two of the sport's traditional heavyweights have faced each other eight times in the Rose Bowl Game Presented by Vizio, but only twice during the regular season -- in 1957 and 1958.
The Trojans won the last three meetings in the Rose Bowl, 32-18 in 2007, 28-14 in 2004 and 17-10 in 1990. USC has won six of the past seven meetings overall and holds a 6-4 advantage all-time.
We might have seen this matchup during the regular season if a Big Ten/Pac-12 scheduling partnership hadn't fallen apart in 2012.
5. Georgia vs. Florida State
: UGA coach Mark Richt was a longtime assistant under legendary FSU coach Bobby Bowden before taking over the Bulldogs, and he recently poached defensive coordinator Jeremy Pruitt off the Seminoles' staff.
The Bulldogs and Seminoles go head-to-head for a lot of recruits every year, and Florida State coach Jimbo Fisher upgraded his roster by effectively recruiting South Georgia and Atlanta.
The Bulldogs and Seminoles have played 11 times and only once since 1984 -- UGA defeated FSU 26-13 in the 2003 Sugar Bowl. Georgia leads the all-time series, 6-4-1.
November, 18, 2013
11/18/13
5:00
AM ET
1. In the 11th game of last season, Oregon lost to Stanford, 17-14, in overtime. In the 11th game in 2011, Oregon lost to USC, 38-35. In the 11th game in 2009, Oregon held on to win at Arizona, 44-41, in three overtimes. I'm not smart enough to figure that out. Ducks offensive coordinator Scott Frost told me that in April. The coaches didn't have a reason, other than fatigue or overconfidence. But they are aware of it. If Oregon looks flat at Arizona this week, it won't be from falling into the same trap.
2. Alabama and Florida State are guaranteed nothing in the BCS. But the
gulf between the No. 2 Seminoles and No. 3 Buckeyes
indicates that there won't be any drama about who goes to Pasadena as long as the Crimson Tide and the Seminoles win out. Given that Alabama still must play No. 6 Auburn, and then, with a win, either No. 8 Missouri or No. 11 South Carolina, we may yet witness a huge public debate about the Buckeyes and No. 4 Baylor. As of now, that debate is for entertainment purposes only.
3. Here's one thing the BCS standings might have gotten right: as
Coaches By the Numbers
tweeted Sunday, only three teams are 5-0 this season against teams with winning records. They are No. 1 Alabama, No. 2 Florida State and No. 3 Ohio State. You can argue that their opponents don't play anyone, hence their records. But if it were that easy to beat that many teams with records over .500, more than three teams would have done so.
November, 4, 2013
11/04/13
5:00
AM ET
1. It's not smart to delve deeply into BCS what-ifs. The season has five remaining weeks -- a full third of the schedule. Besides, the top of the
BCS standings
will sort itself out. It has every year since the FBS went to a 12-game schedule. But the race at the other end of the BCS is worth keeping an eye on. Fresno State has reached No. 16, the minimum threshold a BCS buster needs to secure a bid as long as it's ahead of an AQ champion. Louisville and UCF of the American are No. 20 and No. 21, respectively.
2. No. 1 Alabama and No. 3 Oregon turn their heads toward their biggest conference nemeses. Nick Saban is only 4-3 against No. 13 LSU while since taking over as coach of Alabama. He's 72-10 against everyone else. No. 5 Stanford is the only team to beat Chip Kelly's Ducks twice in his four seasons. Last season's 17-14 overtime loss cost Oregon a berth in the BCS Championship Game. Suffice to say it left a mark. Expect coach Mark Helfrich to have something in his game plan this week. The Ducks kept it pretty vanilla last year, and it cost them.
3. When Michigan State defeated Michigan four consecutive times from 2008-11, it didn't quite feel as if the Spartans owned the rivalry. This wasn't the real Michigan -- coach Rich Rodriguez didn't fit the Wolverine mold. Michigan State took advantage of Michigan, but so did a lot of teams. That's not the case any longer. Michigan has its own (Brady Hoke) running the program. He is in Year Three. Yet Michigan State just beat Michigan
29-6
, the Spartans' biggest margin in their 5-1 run against the Wolverines. The rivalry belongs to Sparty as securely as it did in the mid-1960s run of Duffy Daugherty.
December, 14, 2012
12/14/12
5:52
PM ET
ORLANDO, Fla. -- Class of 2015 athlete
Jaylin Hayward
(Tallahassee, Fla./Godby) might be just a sophomore, but the talented prospect is already receiving heavy interest from the in-state programs.
The 5-foot-9, 165-pound athlete, who totaled three receptions for 35 yards in Godby's 21-20 state championship victory over Immokalee (Fla.) Immokalee on Friday, said he is receiving heavy interest from several top programs.
"I'm hearing a lot from Alabama, Florida State, Florida, Miami and hopefully Oregon soon, but I'm not sure," Hayward said. "I have offers from Kentucky, FSU, Miami and Florida already."
October, 19, 2012
10/19/12
3:05
PM ET
ROSENBERG, Texas -- ESPN 150 tight end
Derrick Griffin
wasn't too busy on Thursday night as he and his Rosenberg (Texas) Terry teammates cruised to a 30-0 win over Bay City (Texas) High School. Griffin, who caught three passes, made them count, as two of them were for touchdowns.
[+] Enlarge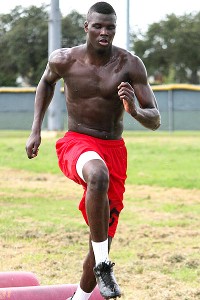 Sam Khan Jr./ESPN.comTexas A&M commit Derrick Griffin, the top 2013 TE prospect, said he's still looking at other schools.
Lining up at receiver for the Rangers, Griffin works hard to stay focused and stay involved for his team, which operates in a run-heavy offense and was playing its third-string quarterback Thursday because of injuries to the first two sustained early in the season.
But when his time comes, Griffin is ready to deliver.
To continue reading this article you must be an Insider
August, 22, 2012
8/22/12
4:58
PM ET

Robert Nkemdiche committed to Clemson, but that didn't slow down his recruiting. Kipp Adams talks with the nation's top recruit about his recruitment since committing to Clemson, and his goals for the 2012 season.
July, 1, 2012
7/01/12
5:46
PM ET
BRADENTON, Fla. -- Five-star cornerback prospect
Vernon Hargreaves III
(Tampa, Fla./Wharton) won defensive MVP of the IMG Madden 7-on-7 National Championship tournament on Sunday after Team Tampa beat Max Ex Blue 28-17 to win the tournament.
[+] Enlarge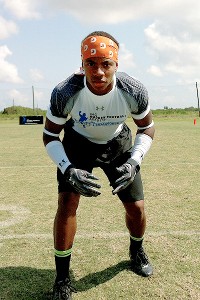 Derek Tyson/ESPN.comVernon Hargreaves is the No. 1 cornerback in the nation and the No. 4 overall player in the ESPN 150.
The 5-foot-11, 185-pound athlete had several interceptions over the course of the two-day tournament, including one against Michigan quarterback commit
Shane Morris
in the championship game.
As for recruiting, the talented corner who has more than 50 scholarship offers said three schools are starting to stand out to him.
To continue reading this article you must be an Insider
June, 25, 2012
6/25/12
1:17
PM ET
The most interesting and potentially controversial part of the four-team college football playoff it appears we are about to adopt is the selection committee. Who's on it? What will be their criteria? How transparent will the process be? What, ultimately, will be their foundation for impossible distinctions?
The Pac-12 blog has gone on and on about its "just because" concerns. That's the idea that if you have an 11-1 team from the SEC it will get an automatic bump over an 11-1 team from any other conference, even if there is evidence that it shouldn't.


So let's do a "what if" that blends reality and fiction.
What if LSU, Oklahoma State and Wisconsin had all finished unbeaten in 2011. And what if Oregon kicker
Alejandro Maldonado
's 37-yard field goal in the waning moments against USC was good, and the Ducks then prevailed over the Trojans in overtime.
Our question: Which 11-1 team, Oregon or Alabama, gets the No. 4 spot in a four-team playoff?
June, 18, 2012
6/18/12
10:05
PM ET
Monday was a busy day for commitments in the West region, but defensive tackle
Eddie Vanderdoes
(Auburn, Calif./Placer) isn't exactly ready to jump into the commitment scene. More than half of the top 30 players in the West have already made verbal commitments, but Vanderdoes is taking things slowly. On Monday, the 6-foot-3, 285-pound lineman took to twitter to release a list of his top 15 schools.
Alabama, Baylor, California, Florida, Georgia Tech, LSU, Miami, Michigan, Michigan State, Nebraska, Oregon, Penn State, UCLA, USC and Washington all made the cut. Vanderdoes included in his tweet that he will be cutting that down to a top 10 group soon.
To continue reading this article you must be an Insider
Scout's Take: Atlanta Opening Regional
SEC SCOREBOARD
Thursday, 9/3
Saturday, 9/5