Alabama Crimson Tide:

Ole Miss Rebels
October, 1, 2013
10/01/13
11:00
AM ET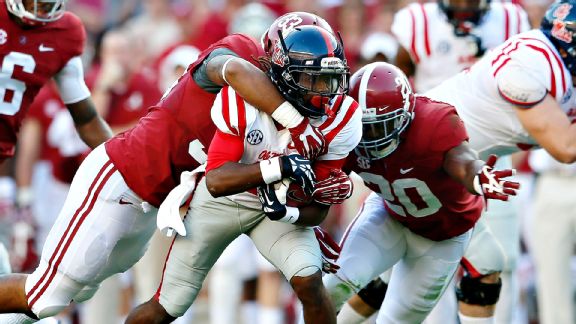 Kevin C. Cox/Getty ImagesAlabama announced its presence this season by shutting out Ole Miss on Saturday.
For four months, ESPN The Magazine will follow the march to the Vizio BCS National Championship, moment by moment, culminating in our Story of the Season double issue Dec. 27. Every Tuesday, Mag senior writer Ryan McGee will pick the previous week's biggest moments and tell you why they'll have the most impact on potential BCS title matchups. If you disagree, send a tweet to @ESPNMag and tell us why your moment matters more, using the hashtag #StoryoftheSeason. Who knows? Your moment (and tweet) might just end up in our issue.
---
SATURDAY EVENING'S GAME
against Ole Miss had barely gotten started when the all-business leader of the Crimson Tide defense, linebacker
C.J. Mosley
, caught himself grinning.
The first play of the game had been a 38-yard pass that had sliced into Alabama territory. And just moments later the vaunted Rebels offense had decided to take their first big chance of the night. On fourth-and-2 at the Alabama 29, Ole Miss was going for it. Receiver
Laquon Treadwell
, the man who caught that demoralizing pass to start the contest, took the ball and seemed destined to get the first down. But he was met by a Tide safety -- he of one of college football's greatest names,
Ha Ha Clinton-Dix
-- who scooped up Treadwell, upended him and threw him to the turf, inches shy of the conversion. Treadwell was credited with a 1-yard carry, one of Ole Miss' scant 46 yards rushing in a 25-0 shutout, shutdown loss.
"That stop set the tone. Before the game I kept telling everybody, 'Remember what they said'," Mosley says, grinning as he recalled the waning confidence in the nation's No. 1-ranked team, acerbated by Mississippi quarterback
Bo Wallace
saying his team could score on anyone. "They called us out. We answered the bell."
Mosley's words were meant to apply only to his team. But he could have very easily been speaking for multiple other big-name programs that sent some very big-time messages during September's final football weekend. Alabama, Oregon, Ohio State, Georgia, Oklahoma ... they all announced their presence with authority.
Officially speaking, it was Week Five of the 2013 college football season. In reality, it was Statement Saturday.
Alabama holds Ole Miss to a goose egg, 25-0. #StoryOfTheSeason #MISSvsBAMA

— ESPN The Magazine (@ESPNMag) September 29, 2013
---
In Columbus, Ohio State quarterback
Braxton Miller
returned and quickly reminded everyone why he was on so many preseason Heisman short lists: He threw solidly and efficiently, often on the run, for four touchdown passes and racked up 281 total yards.
Miller made his "Remember me?" statement at the end of the first half. Leading 17-14 after a big Wisconsin score, he drove the Buckeyes across midfield but then lofted up a horrible wounded-duck Hail Mary toss on third down with 10 seconds remaining. The ball wobbled its way toward the right side of the goal line and into the hands of cornerback
Sojourn Shelton
, but slipped through the freshman's hands and fell incomplete.
Given a second chance with time ticking away on fourth down, Miller calmly took the snap, jogged up through the left-side alley of a collapsing pocket and fired an off-the-back-foot strike. The 45-yard rope hit waiting
Corey Brown
, who had inexplicably slipped alone behind the secondary. Though Wisconsin would make it close late, the half-ended pass was the backbreaker. "Man, it slipped out of my hand," Miller said of the interception. "I told Coach, let's do it again and make up for it on the next throw."
A soft early schedule -- Buffalo, San Diego State, Cal, Florida A&M -- hasn't exactly won the hearts of college football experts or pollsters. But a victory over a should-be undefeated, top-25 team; the fact that the OSU defense held the Wisconsin running machine to 104 yards; and the return of Miller all add up to image momentum that will only increase should the Buckeyes win at 16th-ranked Northwestern this weekend.
Said safety
C.J. Barnett
: "I don't know if we made a statement. We know we had our doubters. Hopefully, we proved them wrong. But if not, it doesn't matter. We're just going to keep working."
---
Along the I-85 corridor, two schools who met nearly a month ago were busy making statements of their own. Clemson, coming off a somewhat flat nationally televised Thursday night performance against NC State, looked crisp early and often against Wake Forest, one of the culprits behind the "Clemson pulling a Clemson" perception that has dogged the program over the last decade. The Tigers won 56-7 in a game that was largely over at the end of the first quarter.
Just down the road at Georgia, the Dawgs outlasted LSU, thanks to a big-boy fourth-quarter drive led by oft-criticized quarterback
Aaron Murray
. Speaking of which, you think maybe it's time to park the "Richt and Murray don't show up for big games" talk?
Murray certainly does. After Sanford Stadium had emptied out, he made his way to the "College GameDay" stage, where an hour earlier his former roommate, LSU quarterback
Zach Mettenberger
, had come up short in the closing moments. When Murray was prepped on the upcoming topics of conversation with Tom Rinaldi, he was told there would be a question about shedding the "bad in big games" image.
"Yeah," he said with a smile. "I figured that was coming."
On camera he was smooth, admitting that he hadn't been able to watch LSU's final drive ("My teammates said, 'Stop being a baby and watch the game!'") and repeating his in-huddle statement to the team that he'd used against North Texas the week before: "Relax and have fun". And yes, he addressed the whispers about his big-stage performances. "This isn't about me. This is about our team. This has been a brutal first month and I think we've proved to the nation that Georgia is for real. No matter what happens, we keep pushing."
Consider this: Georgia played four games in September and three were against top-10 opponents; they won two of those, becoming the first team since Alabama's 2008 squad to defeat two top-10 teams before Oct. 1. The one game they lost was by only three points at Clemson's Death Valley, which, when on its game, is one of America's most intimidating venues.
Yes, UGA is giving up yards and points, but when you're producing 554 yards and 41 points a game, you buy your D time to get their act together, especially with O-challenged Tennessee as their next opponent. "We're ready. We're here, man," says wide receiver
Justin Scott-Wesley
, with enthusiasm. "We can take on anybody, any time … We'll take anybody, anywhere."
Aaron Murray threads the needle to his man Scott-Wesley to put UGA up 44-41 in Athens. EDGE. OF. OUR. SEATS... #StoryOfTheSeason #LSUvsUGA

— ESPN The Magazine (@ESPNMag) September 28, 2013
---
On the West Coast, Oregon posted 55-plus points for the fourth consecutive week. The Ducks racked up 381 yards of offense, despite
De'Anthony Thomas
being injured on the opening kickoff, purposely letting off the gas in the second half, and playing in a rain storm so strong that it knocked out power to a chunk of Eugene. They also played a little defense, shutting down Sonny Dykes' famed Air Bear (with an admitted assist from the monsoon).
Meanwhile, Stanford steamrolled Washington State and Oklahoma ran past Notre Dame … all while key rivals USC and Oklahoma State stumbled, one into program in chaos (Wanted: Head Coach), the other into an inexplicable loss (Take Me Home, Country Roads!).
See? September statements, one and all.
"September is great, and on the win-loss record, the September wins count just like all the others," says Sooners head coach Bob Stoops, already looking ahead to the next two weeks, with TCU coming to Norman and then the annual visit to the Cotton Bowl to see Texas. "But there's an old football cliche and we know it around here better than anybody: They remember what you do in November."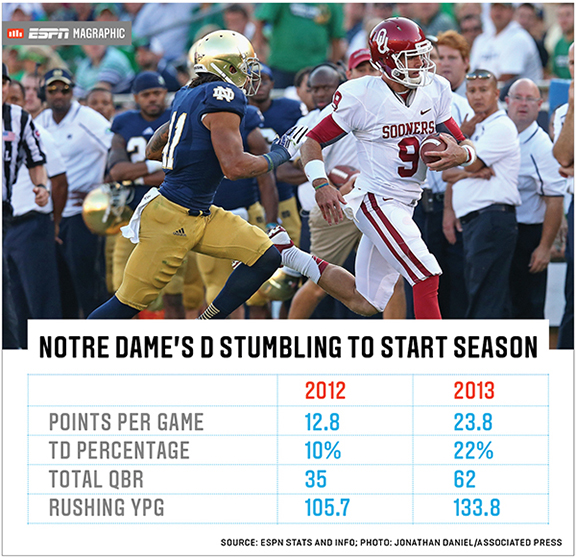 ESPN The Magazine
September, 24, 2013
9/24/13
1:00
PM ET
TUSCALOOSA, Ala. -- The
Colorado State Rams
came into Bryant-Denny Stadium on Saturday as a physical underdog. The CSU defensive line wasn't just out-starred on the football field, as recruiting services would suggest, there were outweighed and outmanned as well, lighter than the Alabama offensive line by an average of 30 pounds.
The Rams were allowing 162 rushing yards per game, slightly below the middle of the NCAA pack.
And still, the same scrappy CSU defense stacked the box, pushing and pulling and knifing through the line of scrimmage to hold Alabama's historically vaunted running game to a meager 66 yards on 21 rushing attempts, the lowest output by the top-ranked Crimson Tide since 2010. It was only a season ago that UA averaged 227.5 yards rushing per game, seemingly running at will, regardless of how many bodies were taken down from the secondary to help.
[+] Enlarge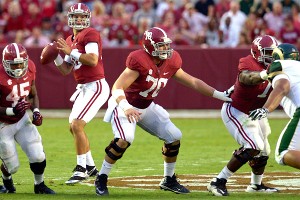 John David Mercer/USA TODAY SportsThe 2013 Alabama offensive line is better in pass protection than it is in the running game.
That identity -- the will to dominate the line of scrimmage -- has been missing in Tuscaloosa, at least as it relates to the running game. Alabama, after five consecutive years finishing in the top five of the SEC in rushing yards, is now dead last in the conference in rushing.
"I mean, we're a new team,"
AJ McCarron
, Alabama's leader under center, said Monday. "I think people need to realize that. You're not going to be the best at running every year. Some years you're going to be better throwing the ball than you are running -- and vice versa."
While Alabama is still running more than it passes -- 96 rushing attempts to 80 passing attempts, so far -- the identity of the offense has indeed changed. The offensive line, with its three new starters, isn't getting the drive up front to allow for a dominant running game. The yardage disparity between run and pass -- 396 to 716 -- is utterly unfamiliar to Nick Saban, who has built a championship-winning program on the foundation of a solid running game and a strong defense.
It's not for a lack of talent, as Saban and players have explained time and time again. Instead, it's a mixture of poor communication and a lack of chemistry. Last season, all five starters on the offensive line played all 14 games together. The continuity was obvious. Alabama averaged 4.1 yards before contact on designed rushes and led the SEC with just 16 percent of rushes going for 0 or negative yards in 2012. But this season the room to run hasn't been there. Against Virginia Tech, Alabama generated just 1.1 yards before contact and through three games, the Tide is averaging 28.1 percent of rushes to result in 0 or negative yards, ranking 105th out of 123 FBS teams.
The same issues that have led to McCarron being sacked six times, Saban said, have led to a meager running game.
"It's the same thing," he said. "Not necessarily the plays that we call, because as fans everybody thinks you called bad plays because they didn't work. But why didn't they work? I think that's the most important thing.
"We had a few missed assignments but more than that we probably had a lack of technique. If we're running a play and the guard is supposed to help the center block the nose or the two guy or whatever and he doesn't do it, and the guy gets in the backfield and hits us in the backfield, that's just a lack of technique. Then you see the same play run again and you make 9 yards on the play when it was done correctly."
Said center
Ryan Kelly
: "Obviously, teams know what Alabama is going to do. We're going to run the ball, we're going to pass the ball. That's what a lot of teams like to do, load the box up. At some point you can't let them dictate what we're going to do."
McCarron, who said the offensive line is "doing great," also recognizes that this year's group is different. Asking them to be last year's offensive line, a historically dominant line, would be unreasonable. Three All-Americans don't walk out the door without some sense of cause and effect.
So why should the offense continue to beat its head against the wall trying to run the football? Doing that against a team like No. 21 Ole Miss (3-0) this Saturday could end in defeat. The Rebels, though thin in terms of depth, are bigger and stronger and more talented up front on defense than CSU could ever hope to be.
Ole Miss is, after all, allowing only 3.09 yards per rush this season, third in the SEC behind Florida and Arkansas. The Rebels are much more susceptible to the pass, giving up an average of 218.3 yards per game.
Maybe instead of expecting gaping holes and big gains in the running game, Alabama should simply go with what works and put the ball in the air. Though it might be unfamiliar to the program's ground-and-pound roots, it is working. Alabama is undefeated and scoring points hasn't been much of problem.
"We're going to play to our strengths," McCarron said. "If we've got to throw the ball, we'll throw it. If we've got to run it, we've got to run it. As long as we win."
August, 6, 2013
8/06/13
7:00
AM ET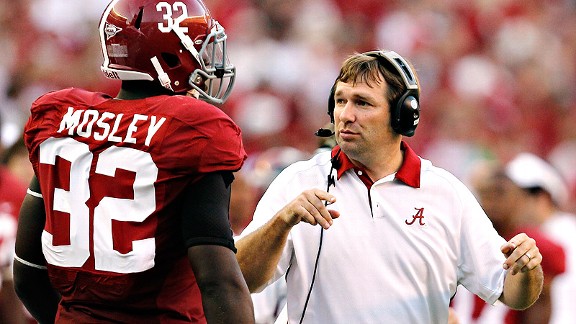 AP Photo/Butch DillKirby Smart and C.J. Mosley have a matter-of-fact approach to stopping uptempo offenses.
TUSCALOOSA, Ala. -- Uptempo offenses have been written about and agonized over at length this offseason. It sometimes felt like SEC Media Days was devoted entirely to answering the question Nick Saban posed more than six months ago: "Is this what we want football to be?"
Gus Malzahn answered in the affirmative, saying he thought the issue of player safety was a joke. Bret Bielema fired back, saying he's no comedian and that player safety is no laughing matter. Between barbs, there actually was very little talk of how coaches planned on actually slowing down no-huddle offenses.
Well, Kirby Smart isn't biting. Alabama's 37-year-old defensive coordinator is young by coaching standards, but he's taking the long view on the subject. He's watched tape of hurry-up offenses since before many of his players were in middle school. It isn't new to him. In fact, it's what he grew up on.
"You guys have made a big deal about this uptempo," he said on Sunday. "I was coaching my first year in 2000 with coach Muschamp at Valdosta State. Chris Hatcher was going no-huddle, fast pace every play, throwing the ball, running the ball."
Smart was matter-of-fact on the topic in an interview session that will be his only time speaking with the media during the regular season. "You've got to deal with the cards you're dealt," he said.
Teams such as Texas A&M, Ole Miss and Auburn have made a living pushing the tempo in recent years, never stopping to huddle in an attempt to get defenses on their heels and out of position. Smart concedes that Alabama needs to get better at stopping such schemes, saying that he's never experienced a game like the one against the Aggies last season.
Johnny Manziel
threw his defense for a loop as Texas A&M jumped out to a 20-0 lead that the Tide never recovered from.
The loss was tough, Smart said. He said he wasn't sure whether it was a symptom of not playing them before or simply not being prepared.
"They obviously did a great job against us," Smart said.
Players such as former linebacker Nico Johnson said it was a wake-up call, a jolt that helped the defense return the focus to the field and away from the distractions of the media.
Smart, for his part, wouldn't speak to his players' mindset after the loss. What he would say was that while he's eager to do better this season, he's not ready to overreact to fast-paced offenses, almost dismissing their effect by labeling them a "trend."
"Every year, things kind of go in cycles," Smart said. "For us the new cycle is uptempo, fast-paced offenses, which you have to adjust; you have to adapt to it. We've studied a lot of teams in the offseason. A lot of NFL teams have come here to study fast tempo and running quarterbacks, which is kind of the new trend going forward. So we've been able to study with those guys for any ideas. Try to create ways to give them negative plays.
"There's an upside and a downside to fast tempo. Because when teams go fast tempo, there's a lot of things they can't do at the line. We try to create an advantage for us by being able to give them negative plays, and I think if we can do that, it can hurt them with their uptempo."
It's no secret that the best way to slow a tempo offense is to stop it altogether. Make it go three-and-out and you need not worry about the next play. But what happens when teams such as Ole Miss move the chains is scary to defensive coordinators such as Smart: Everything speeds up. Players get tired, play calls get fumbled and mistakes are inevitably made. Suddenly
Bo Wallace
has the football and before your secondary knows if they're in cover-2 or man-to-man, he's found
Donte Moncrief
in the open field for another big gain. The chains move and one of oldest cliches in sports hits you over the head -- momentum.
There's no stopping momentum, but Smart would like to see referees play a role in slowing it down. He called for referees to do a better job of catching when the offense substitutes players.
"If they don't substitute, obviously we cannot substitute," he said. "We'll get caught with 12 on the field, which happened to us once last year. ... If they exchange receivers, one guy runs on one guy runs off, that allows us -- we can change 11 people if we wanted to. But again, that's not always caught by the official."
The issue of substitutions is key to Alabama's success on defense. Though Saban has scoffed at describing his defense as complex in the past, players and recruits consistently say how difficult it is to master. Ask opposing coaches and they'll agree: It's the complicated nature of Alabama's defense that makes it so difficult to succeed against. The coverage is usually disguised, as are blitzes. Watch the 2011 BCS National Championship and you'll see just how confused
Jordan Jefferson
is under center. At one point he flees the pocket and flips the ball underhanded to linebacker
C.J. Mosley
for an easy interception.
Now a senior, Mosley's focus has turned to creating a similar sense of confusion for no-huddle offenses. Preparation, he said, will be vital.
"The only thing a fast-paced offense does is simplify the defense," he said.
But if simplicity is the enemy of complexity, won't that take away what makes Alabama's defense so special?
"That's why we have Coach Saban and Coach Smart," Mosley answered matter-of-factly. "If they want to get fast-paced, we'll make certain calls where we aren't as technical as we usually would [be]."
Confidence is in no shortage in Tuscaloosa, which makes sense given Alabama's historic string of top-five defenses that goes back to 2008. Last season Alabama finished No. 1 in the country in defense, giving up 250 yards per game.
Big or small, Smart said Alabama is going to do what it's always done on defense.
"You can't lose sight of defeating blocks," he said, "whether it's in space or not, tackling people, which we have to do every game. So certainly we've tried to become athletic, but we'll never leave our true motto, which is [to] be bigger and more physical than everybody we play and try to out-physical them at the point of attack. Because at every play there is a point of attack. It may be wider, it may be tighter, but there is a point of attack."
April, 14, 2013
4/14/13
6:20
PM ET
MEMPHIS, Tenn. -- The Nike Football Training Camp circuit stayed in the southeast on Sunday, stopping at the Memphis University School for an event that, to the surprise of no one, featured solid line play. No doubt, it's a staple in this part of the country. In fact, coaches praised the participants for play as strong in the trenches as they've seen at any Nike camp this spring.
Mitch Sherman of Recruiting Nation attended the event. Here's what he learned:
Youth has been served
While a strong contingent of upperclassmen dominated the positional MVP honors, a few 14- and 15-year-old prospects shared time in the spotlight. Notably, linebacker Dylan Moses of Baton Rouge, La., showed no hesitation in facing players four years his senior. Moses, an eighth-grader set to begin high school at LSU Laboratory School in the fall, added an offer on Saturday from Ole Miss to a list that already featured Alabama and LSU. Running back
Gabe Angel
, a freshman at Lebanon (Tenn.) Wilson Central, performed well on Sunday after recently adding Ole Miss, Vanderbilt and Tennessee to a Mississippi State offer he received last year. Another 2016 prospect, receiver Harry Ballard of Florissant (Mo.) McCluer North, showed well, too.
Ole Miss is surging
February, 7, 2013
2/07/13
11:36
AM ET
By
Mackenzie Kraemer
| ESPN.com
1
– Alabama's class rank. Every year that head coach Nick Saban has had a full season to recruit (since 2008), the
Crimson Tide
have had a top-three class. No other school has even had a top-10 class each of the past six years. Alabama received commitments from three of the top-10 running backs, plus
Derrick Henry
(No. 9 in ESPN 300, No. 1 Athlete), the leading rusher in high school football history.
3
– Number of Ole Miss's recruits ranked in the top 20 of the ESPN 300. Since ESPN recruiting rankings were introduced in 2006,
Ole Miss
had never had a single top-20 recruit. Head coach Hugh Freeze received letters of intent from two of the top five recruits, including the top ranked player in the ESPN 300, DE
Robert Nkemdiche
.
7
– Number of players since November who have decommitted from
USC
, and all were in the ESPN 300. USC's class was ranked No. 1 for more than three months between July and November, but now it's ranked 14th. Two of those decommits,
Eldridge Massington
(No. 172 in ESPN 300, No. 21 WR) and
Kylie Fitts
(No. 86 in ESPN 300, No. 8 DE) flipped their commitments to rival UCLA. The Bruins finished the day with the 12th-ranked class, the first time since 2006 they finished ahead of their crosstown rival.
June, 19, 2012
6/19/12
6:45
AM ET
The rundown
2011 overall record:
2-10
2011 conference record:
0-8
Returning starters
: Offense: 8; defense: 6; kicker/punter: 2
To continue reading this article you must be an Insider
June, 17, 2012
6/17/12
7:41
PM ET
[+] Enlarge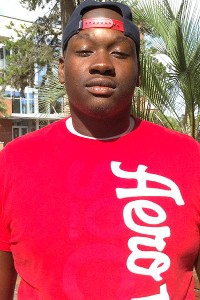 Derek Tyson/ESPN.comFive-star offensive tackle Laremy Tunsil now has a top three of Florida, Georgia and Alabama.
GAINESVILLE, Fla. -- Five-star offensive lineman
Laremy Tunsil
(Lake City, Fla./Columbia) visited Alabama, Georgia and Florida over the last week. The 6-foot-6, 295-pound tackle named a top three after his visit to Florida on Sunday.
"I would say they are my top three," Tunsil said of the three schools he visited. "It's a tie right now with all of them."
Tunsil, who camped at Alabama last weekend, visited Georgia on Friday and Saturday before heading to Gainesville on Sunday. The No. 3-ranked player in the country said he was impressed by what Georgia had to offer.
To continue reading this article you must be an Insider
February, 26, 2012
2/26/12
9:51
PM ET
WINTER GARDEN, Fla. -- ESPNU Watch List wide receiver
Richard Benjamin
(Tampa, Fla./Tampa Bay Tech) boasts several scholarship offers, including new ones from Oklahoma and Alabama. Benjamin said on Sunday that some schools are starting to stand out for him.
"Florida, Miami, USF and USC are starting to standing out to me right now," Benjamin said from the Nike SPARQ combine in Winter Garden (Fla.). "I really like the coaches at atmosphere at all of those schools."
Benjamin declined to name a leader, but did say there are several out of state schools he will likely visit over spring.
To continue reading this article you must be an Insider
Alabama Dismisses Jonathan Taylor
SEC SCOREBOARD
Thursday, 9/3
Saturday, 9/5