Alabama Crimson Tide:

Ole Miss football
September, 24, 2013
9/24/13
1:00
PM ET
TUSCALOOSA, Ala. -- The
Colorado State Rams
came into Bryant-Denny Stadium on Saturday as a physical underdog. The CSU defensive line wasn't just out-starred on the football field, as recruiting services would suggest, there were outweighed and outmanned as well, lighter than the Alabama offensive line by an average of 30 pounds.
The Rams were allowing 162 rushing yards per game, slightly below the middle of the NCAA pack.
And still, the same scrappy CSU defense stacked the box, pushing and pulling and knifing through the line of scrimmage to hold Alabama's historically vaunted running game to a meager 66 yards on 21 rushing attempts, the lowest output by the top-ranked Crimson Tide since 2010. It was only a season ago that UA averaged 227.5 yards rushing per game, seemingly running at will, regardless of how many bodies were taken down from the secondary to help.
[+] Enlarge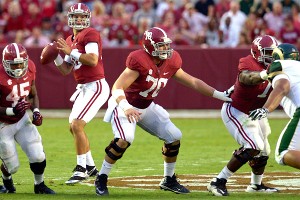 John David Mercer/USA TODAY SportsThe 2013 Alabama offensive line is better in pass protection than it is in the running game.
That identity -- the will to dominate the line of scrimmage -- has been missing in Tuscaloosa, at least as it relates to the running game. Alabama, after five consecutive years finishing in the top five of the SEC in rushing yards, is now dead last in the conference in rushing.
"I mean, we're a new team,"
AJ McCarron
, Alabama's leader under center, said Monday. "I think people need to realize that. You're not going to be the best at running every year. Some years you're going to be better throwing the ball than you are running -- and vice versa."
While Alabama is still running more than it passes -- 96 rushing attempts to 80 passing attempts, so far -- the identity of the offense has indeed changed. The offensive line, with its three new starters, isn't getting the drive up front to allow for a dominant running game. The yardage disparity between run and pass -- 396 to 716 -- is utterly unfamiliar to Nick Saban, who has built a championship-winning program on the foundation of a solid running game and a strong defense.
It's not for a lack of talent, as Saban and players have explained time and time again. Instead, it's a mixture of poor communication and a lack of chemistry. Last season, all five starters on the offensive line played all 14 games together. The continuity was obvious. Alabama averaged 4.1 yards before contact on designed rushes and led the SEC with just 16 percent of rushes going for 0 or negative yards in 2012. But this season the room to run hasn't been there. Against Virginia Tech, Alabama generated just 1.1 yards before contact and through three games, the Tide is averaging 28.1 percent of rushes to result in 0 or negative yards, ranking 105th out of 123 FBS teams.
The same issues that have led to McCarron being sacked six times, Saban said, have led to a meager running game.
"It's the same thing," he said. "Not necessarily the plays that we call, because as fans everybody thinks you called bad plays because they didn't work. But why didn't they work? I think that's the most important thing.
"We had a few missed assignments but more than that we probably had a lack of technique. If we're running a play and the guard is supposed to help the center block the nose or the two guy or whatever and he doesn't do it, and the guy gets in the backfield and hits us in the backfield, that's just a lack of technique. Then you see the same play run again and you make 9 yards on the play when it was done correctly."
Said center
Ryan Kelly
: "Obviously, teams know what Alabama is going to do. We're going to run the ball, we're going to pass the ball. That's what a lot of teams like to do, load the box up. At some point you can't let them dictate what we're going to do."
McCarron, who said the offensive line is "doing great," also recognizes that this year's group is different. Asking them to be last year's offensive line, a historically dominant line, would be unreasonable. Three All-Americans don't walk out the door without some sense of cause and effect.
So why should the offense continue to beat its head against the wall trying to run the football? Doing that against a team like No. 21 Ole Miss (3-0) this Saturday could end in defeat. The Rebels, though thin in terms of depth, are bigger and stronger and more talented up front on defense than CSU could ever hope to be.
Ole Miss is, after all, allowing only 3.09 yards per rush this season, third in the SEC behind Florida and Arkansas. The Rebels are much more susceptible to the pass, giving up an average of 218.3 yards per game.
Maybe instead of expecting gaping holes and big gains in the running game, Alabama should simply go with what works and put the ball in the air. Though it might be unfamiliar to the program's ground-and-pound roots, it is working. Alabama is undefeated and scoring points hasn't been much of problem.
"We're going to play to our strengths," McCarron said. "If we've got to throw the ball, we'll throw it. If we've got to run it, we've got to run it. As long as we win."
July, 30, 2013
7/30/13
7:00
AM ET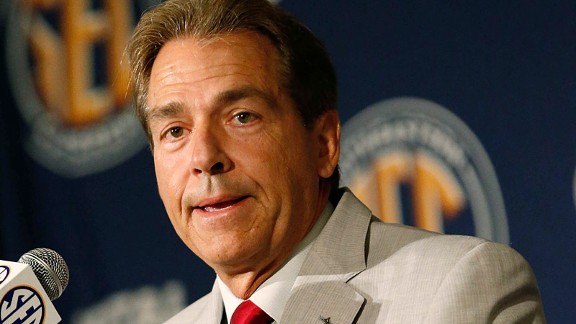 Marvin Gentry/USA TODAY SportsNick Saban isn't apologizing for a schedule that appears easier for Alabama in 2013. There's plenty of difficulty at the beginning with matchups against Virginia Tech and Texas A&M.
TUSCALOOSA, Ala. -- Les Miles is right. So is Steve Spurrier, Butch Jones and every other SEC coach who looks at his schedule and wonders why it's not as easy as the one the defending champions will play.
Nick Saban knows Alabama caught a break. He might not say it directly, but when he told reporters at SEC Media Days that "there can never be an equal path to the championship," he was acknowledging that his team won't face the stiffest of competition this season, and in his mind that's OK. He coached at LSU. He knows what facing Florida every year is like.
It might not be fair, but it is what it is. The Tide avoid the big three in the SEC East -- Florida, Georgia and South Carolina -- while facing nonconference cupcakes such as Georgia State and Chattanooga. The bye weeks set up perfectly, and if you throw in the fact that Ole Miss has to come back to Tuscaloosa for a second consecutive season, its easy to see why some are pointing fingers.
But don't blame Saban, and don't blame his players. And while you're at it, give Alabama a little bit of credit. While you might not like its schedule top to bottom, the beginning is nothing to sneeze at. If Alabama is going to win a third consecutive national championship, it has no time to waste as three of its most important games come in the first five weeks of the season.
"Obviously we start out with a very difficult opening schedule," Saban said. "Virginia Tech has been a 10win team almost every year. ... And then to go play the team that beat us last year, Texas A&M, on the road in the second game of the season, obviously is going to be very challenging.
"That's what we're sort of focusing on, what we're looking forward to."
Anthony Steen
is on the same page. Alabama's veteran right guard was asked what he thought of the busy start to the season, and all he could say was, "I know we play Virginia Tech; I know it's not going to be one of those easy games." As part of an offensive line replacing three starters, he ought to be circling the Hokies defense and its 35 sacks from a season ago.
While everyone might be focusing on the next game on the schedule, the season opener won't be a walk in the park as the Hokies undoubtedly will be a measuring stick for just how prepared Alabama is to stop a mobile quarterback in an uptempo style of offense.
Logan Thomas
, a 6-foot-6 senior with NFL potential, has run for more than 1,000 yards and passed for more than 6,000 in his career under coach Frank Beamer. Despite a disappointing 2012, he finished in the top 40 nationally in total offense with 3,500 yards and 27 touchdowns.
But to be fair, the second game on Alabama's schedule is easily the biggest of the season. Texas A&M was the only team to beat the Tide a year ago, and it's safe to say revenge will be on the mind of players this time around. A camera recently captured an image of the loss playing on TVs in Alabama's weight room, and though players are saying all the right things, there's no underplaying the magnitude of the matchup.
AJ McCarron
gave the best coach-speak a few weeks ago, saying, "Me, personally, I take every week the same way."
"Just a normal week, nothing greater," he added. "It's going to be fun playing in College Station, and I'm looking forward to it."
Steen tried his best to keep the focus on the Hokies, but even he couldn't downplay the matchup.
"We want to beat them by 50," he said. "Obviously we see it on TV every day that they beat us. Like I said, Virginia Tech comes first. Once that switch comes on for A&M, I promise you we're going to be pumped."
Johnny Manziel
had his Heisman Trophy moment against the Tide in 2012, leading his team to a thrilling, 29-24 victory. He exposed the defense early with his feet and finished them off late with his arm. And throughout the offseason, players and coaches have been asked how they'll stop him a second time around.
The bye week that comes before the game might be viewed as a positive in that respect, but not necessarily to players. Steen said he'd rather not have the break and that the time off will only make him more nervous.
C.J. Mosley
, Alabama's leader at inside linebacker, was more even-keeled in his assessment, saying they'll take the extra week to prepare, even though it's not ideal.
"It kind of slows things down," Mosley said. "When the season starts, you just want to keep it going."
Leaving College Station might provide a bit of a breather, but not for long, as Alabama returns home to host an up-and-coming Ole Miss squad two weeks later. Outside of LSU, Texas A&M and Georgia, the Rebels gave the Tide their toughest game last season. The defense held McCarron and company to a season-low 305 yards, while the offense proved dangerous at times, pushing the pace and creating confusion as they went no-huddle. With
Bo Wallace
,
Jeff Scott
and
Donte Moncrief
all a year more familiar with the scheme, Hugh Freeze could increase the tempo even further this time around.
Keeping up won't be easy, especially after going through the wringer against Virginia Tech and Texas A&M in previous weeks. The decidedly weak schedule that follows against rebuilding programs such as Kentucky, Arkansas and Tennessee will be key in regrouping for late games against LSU and Mississippi State.
Even though Alabama might not have the top-to-bottom schedule of its somewhat perturbed SEC brethren, its road to the championship nonetheless presents its own set of challenges. A fast start to the season means a fast start to fall camp and a sense of urgency. As Mosley explained, a team finds its identity in the beginning of the season, "so we have to make sure we're doing a great job during fall camp to have that step ahead."
June, 27, 2013
6/27/13
1:00
PM ET
Editor's note: The season is nearly upon us and TideNation is taking steps to get you ready for every one of Alabama's regular season opponents. Every Tuesday and Thursday we'll go through each week of the Crimson Tide's schedule, starting with the season-opener against Virginia Tech and closing with the finale against Auburn.

The rundown
2012 overall record: 7-6
2012 SEC record: 3-5, fifth in the SEC West
Record all time against Alabama: 3-9-46
Last meeting: Sept. 29, 2012 in Tuscaloosa, Ala.

Starters returning
Offense: 8; Defense: 11; Kicker/punter: 0

Top returners
DE C.J. Johnson, WE Donte Moncrief, LB Denzel Nkemdiche, LB Mike Marry, CB Charles Sawyer, RB Jeff Scott, QB Bo Wallace

Key losses
OG A.J. Hawkins, ATH Randall Mackey, DT Gilbert Pena, K Bryson Rose

2012 statistical leaders (*returners)
Rushing: Jeff Scott* (846 yards)
Passing: Bo Wallace* (2,994 yards)
Receiving: Donte Moncrief* (979 yards)
Tackles: Denzel Nkemdiche* (82)
Sacks: C.J. Johnson* (6.5)
Interceptions: Dehendret Collins*, Senquez Golson*, Denzel Nkemdiche* (tied at 3)


September, 30, 2012
9/30/12
10:34
AM ET
TUSCALOOSA, Ala. -- A look at the good and bad from Alabama's 33-14 win over Ole Miss at home on Saturday night.
THREE UP
1. Responding to adversity:
Alabama wasted no time getting over the feeling of being down in a game. After Ole Miss took a 1-point lead in the first half, UA return man
Christion Jones
took exactly 15 seconds to field the kickoff and sprint 99 yards to the end zone. Alabama came out fiery on defense after that and put the game away in a hurry.
To continue reading this article you must be an Insider
September, 29, 2012
9/29/12
11:10
PM ET
TUSCALOOSA, Ala. -- No. 1 Alabama trailed Ole Miss, if ever so briefly. And then the Crimson Tide remembered what it is to be the No. 1 team in the country playing in front of its home crowd, scoring three unanswered touchdowns to lead the Rebels 27-7 at halftime.


Stat of the half:
Alabama fell behind for the first time all season -- for 15 seconds. Following the Ole Miss touchdown,
Christion Jones
took the kickoff 99 yards for the touchdown.
Player of the half:
For at least one half, it looked as if
AJ McCarron
had found a go-to receiver in true freshman
Amari Cooper
. The former top-10 receiver out of high school hauled in two touchdown passes and six total catches.
What's working for Alabama:
Alabama's defense smothered Ole Miss quarterback
Bo Wallace
, limiting the dual-threat signal caller, forcing coach Hugh Freeze to try his hand with backup
Barry Brunetti
and running back
Randall Mackey
under center. All told, Ole Miss quarterbacks were 8-of-16 for 70 yards and three interceptions.
What's not working for Alabama:
Alabama lost starting receiver
DeAndrew White
on the first drive of the game to an apparent knee injury. The junior went to the locker room and returned to the sidelines in street clothes on crutches.
September, 28, 2012
9/28/12
8:00
AM ET
By
Alex Scarbrough
| ESPN Insider
TUSCALOOSA, Ala. -- With No. 1 Alabama's matchup against Ole Miss on the horizon, let's take a look at how Ole Miss has evolved with first-year coach Hugh Freeze and what the Tide might be looking for when the two schools meet on Saturday night.
With the help of the ESPN Stats and Information Department, we broke down some keys to the game:
The rundown
Ole Miss 2012 overall record:
3-1 (0-0 in SEC)
Against Alabama:
9-45-2
Ole Miss offense under Freeze
With coach Hugh Freeze, Ole Miss' offense is getting off more snaps in each game -- 71.75 plays per game as opposed to last season, when the Rebels averaged 64.42.
Texas gashes Ole Miss outside the tackles
Alabama may look to get the ball outside the tackles more against Ole Miss than it has in the past. Texas showed that the Rebels can be hurt when ball carriers bounce outside and force linebackers and defensive backs to make plays. The Longhorns gained nearly the same yards running outside the tackles as they did inside -- on half the carries.
Something's gotta give
If there's one area in which Ole Miss has struggled on offense, it's holding on to the football. The tale of the tape on turnover margin favors the Crimson Tide, who rank No. 2 in the SEC in that category. Conversely, the Rebels rank 11th.
On the flip side, the matchup on third down could be one worth watching as the Rebels come in as the top team in the SEC in converting third downs. Meanwhile, Alabama is the second best in the SEC at stopping third down conversions.
Running left
Alabama has had much more success running the ball behind left tackles Cyrus Kouandjio and left guard Chance Warmack. Alabama has run the ball their way for nearly 54 percent of all rushing yards gained.
Yards after catch skyrockets
The Alabama receivers took a step forward against Florida Atlantic in terms of getting their hands on the football and making a play before going down.
Opposing teams' YAC:
Michigan, 98
Western Kentucky, 85
To continue reading this article you must be an Insider
September, 27, 2012
9/27/12
5:04
PM ET
Ole Miss wide receiver
Donte Moncrief
is more than familiar with what his teammates will face when they travel Saturday to Tuscaloosa, Ala., to face the No. 1 Crimson Tide. He grew up knowing what trips to Bryant-Denny Stadium sounded like and felt like.
"I know how the crowd is -- very loud," he said. "There's a lot of energetic people in the crowd trying to get Alabama to make big plays."
Now a sophomore and Ole Miss' leading receiver with 343 yards and four touchdowns, he knows what he has to do on his return trip to the University of Alabama.
To continue reading this article you must be an Insider
September, 27, 2012
9/27/12
8:50
AM ET
TUSCALOOSA, Ala. -- For the Alabama Crimson Tide, Saturday's showdown against Ole Miss will be a return to SEC action and the beginning of the meat of the conference schedule.
[+] Enlarge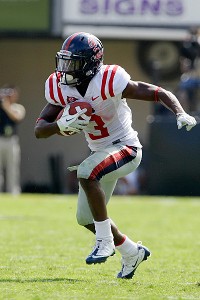 AP Photo/Mark HumphreyRunning back Jeff Scott is having a breakout season.
For the Rebels, it's just the start of league play. First-year coach Hugh Freeze has guided his team to a 3-1 record so far, but he knows the real challenge lies ahead at Bryant-Denny Stadium in Tuscaloosa where he'll meet the team he called "arguably the gold standard in football right now."
FIVE STORYLINES
To continue reading this article you must be an Insider
September, 26, 2012
9/26/12
8:32
PM ET
TUSCALOOSA, Ala. -- In what seems to be a growing trend, the No. 1-ranked Alabama Crimson Tide must once again prepare for a team unsure of the health of one of its top weapons on offense.
Week 1, it was Michigan's starting running back
Fitzgerald Toussaint
who was kept from playing because of a suspension. The following week, Western Kentucky's offense faltered with starting running back
Keshawn Simpson
injured on the sidelines. A couple of weeks later, Arkansas was forced to play without All-SEC quarterback
Tyler Wilson
. Even Florida Atlantic went to bat in Tuscaloosa without quarterback
Stephen Curtis
.
This week, it's Ole Miss' turn to wonder whether its starting quarterback will play.
Bo Wallace
, the Rebels leading passer, has been kept from practice because of a sore shoulder. The 6-foot-4 junior has taken a beating running coach Hugh Freeze's no-huddle, read-option offense. He's attempted more passes (86) than
AJ McCarron
and had far more rushing attempts, leading the Rebels with 44 carries.
Freeze said on Wednesday that Wallace's status is still uncertain. He was held out of Tuesday's practice despite telling the coaching staff he could go.
September, 26, 2012
9/26/12
12:29
PM ET
Alabama coach Nick Saban took to the SEC's weekly teleconference on Wednesday morning to discuss this week's game against Ole Miss. While he was on the line, he talked about a number of issues, including the Rebels' up-tempo attack, the future of injury reports and how a few freshmen linebackers have improved this season.
1. Hurry-up issues
Saban isn't sleeping on Ole Miss' up-tempo offense and knows it's difficult to replicate in practice.
"Their hurry-up offense is really something that gets defensive players out of their comfort zone and we're working hard to get a picture of that and work on that," Saban said. "They've done a very good job of creating a lot of explosive plays for their really good skill guys."
Saban continued later in the call: "They also have pretty good players doing some of this stuff. They have really good speed, offensively, quarterbacks that do a good job executing what they do, a couple of wideouts who can make explosive plays. So this is a difficult preparation from the no-huddle part, but also from their ability to execute with some pretty good players.
2. NFL-style injury reports
Saban started off saying he didn't have an opinion on the desire for uniform injury reports, but went ahead and said what he thought anyways.
"If you're going to give injury reports, everyone should do them the same way," he said. "We kind of tell it like it is if he's going to be out.
"Even in the NFL, I think people manipulate the system to put questions in people's minds about whether a guy's going to play or not. I don't think it's imperative for the future of college football that we have an injury report. I'm not opposed to one if everyone has to do it the same way and it can be enforced."
3. Freshmen linebackers coming along
A number of freshmen have played at linebacker for Alabama in the first four weeks. From what Saban's seen, they're improving.
"[
Denzel Devall
] is playing a position that he's starting to develop confidence in what he's supposed to do," Saban said. "He's done a really good job for us and been productive, and we think he's going to be a really good player. We have confidence in being able to play him.
"
Reggie Ragland
was making really good progress and he was on a couple of special teams and got a high ankle sprain in the Michigan game, so he's just sort of getting back into it. We have high hopes for him.
"
Tyler Hayes
has gotten some playing time on special teams. All those guys have developed nicely for us and we're happy that they're making a contribution."
September, 24, 2012
9/24/12
3:28
PM ET
TUSCALOOSA, Ala. -- Alabama defensive end
Damion Square
smiled when he remembered last year's game against Ole Miss.
[+] Enlarge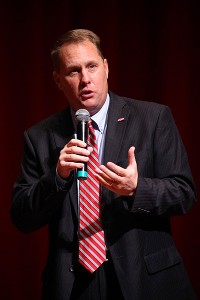 Shelby Daniel/Icon SMIOle Miss coach Hugh Freeze has the Rebels playing better on offense.
"It was a good day," he said with a laugh, thinking back on the 52-7 win in Oxford, Miss.
The Crimson Tide dominated from start to finish that day, out gaining Ole Miss 615 yards to 141. The defense racked up five sacks and 14 tackles for loss. Square, then a junior, had three tackles, including one and half that resulted in negative yards.
"The defense got after them pretty well," he said.
But that was then and this is now.
No. 1 Alabama began preparation for a new-look Ole Miss team on Monday afternoon, one guided by new philosophies under first-year coach Hugh Freeze, who has the Rebels at 3-1 heading into their SEC opener.
Alabama coach Nick Saban said the Rebels are a "much, much improved team" with Freeze at the helm. On offense, Ole Miss has gotten better, increasing from 16.1 points per game in 2011 to 36.8 in 2012.
"They have been very, very impressive," Saban said. "The no-huddle style is a little bit like Auburn used to be when Gus Malzahn [was there]. They're playing hard, they're playing with a lot of spirit. They've got a lot of good skill players."
September, 21, 2012
9/21/12
4:35
PM ET
NASHVILLE, Tenn. -- The decision seems to have been made. Well, sort of.
"I'm still thinking about it but I'm leaning towards playing football," ESPN 300 tailback
Cornelius Elder
said when asked whether he would play football or basketball in college.
The decision hasn't come easy. Elder, who goes by the nickname "Corn," seemed intent on playing basketball this spring and summer while football scholarships piled up. Instead of participating in summer football camps to grow his name, Elder was playing basketball on the AAU circuit. His best basketball offer came from Murray State, so now he's thinking football first and, maybe, basketball second.
To continue reading this article you must be an Insider
June, 19, 2012
6/19/12
6:50
AM ET
Each week at TideNation we will speak with a writer who covers one of Alabama's 2012 opponents. Today we spoke with Parrish Alford, who covers all things Ole Miss for the Northeast Mississippi Daily Journal.
Question: What has been your impression of Hugh Freeze in his first year at Ole Miss? How are players reacting to him personally, as well as his change in coaching philosophy?
[+] Enlarge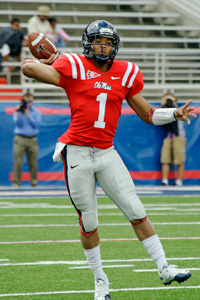 AP Photo/Rogelio V. SolisRandall Mackey is expected to play a number of different positions in 2012.
Alford:
My impression of Hugh has been one of a tireless worker with an incredibly difficult task. He's a high-energy guy who relates well with players. There seems to be more accountability for the players and therefore more effort from the players. He seems to have gotten off to a good start in recruiting. If he can keep it up, that will serve the Rebels well in the long term.
To continue reading this article you must be an Insider
June, 19, 2012
6/19/12
6:45
AM ET
The rundown
2011 overall record:
2-10
2011 conference record:
0-8
Returning starters
: Offense: 8; defense: 6; kicker/punter: 2
To continue reading this article you must be an Insider
Harvey Updyke Dunk Tank Canceled Following Threats
SEC SCOREBOARD
Thursday, 8/28
Saturday, 8/30
Sunday, 8/31