Alabama Crimson Tide:

Mario Cristobal
April, 1, 2014
4/01/14
10:00
AM ET
TUSCALOOSA, Ala. -- Like a lot of position battles going on during spring practice in Tuscaloosa, Ala., -- hello, quarterbacks -- the starting five up front for the
Crimson Tide
likely won't be decided anytime soon.
[+] Enlarge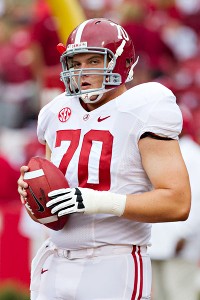 Wesley Hitt/Getty ImagesCenter Ryan Kelly is one of three returning starters for Alabama. The Tide is auditioning several youngsters at left tackle and right guard.
Sure,
Ryan Kelly
returns at center,
Austin Shepherd
is back at right tackle and
Arie Kouandjio
remains at left guard, but that's only slightly more than half the equation. The second half of the Kouandjio Bros., left tackle Cyrus, is off to a carer in the NFL, as is veteran right guard
Anthony Steen
, who racked up more than 35 starts in his career. Replacing those two stalwarts won't be an easy, much less quick, task.
The good news for Alabama is that this isn't the first time coach Nick Saban and his staff have been through this. Just last season offensive line coach Mario Cristobal had the unenviable job of replacing three All-SEC caliber linemen:
Barrett Jones
,
Chance Warmack
and
D.J. Fluker
. And do you remember what happened? The 2013 line actually one-upped the previous season's line in some respects. The line allowed six fewer sacks and also saw its rushes for zero or negative yards -- a good indicator of the push a line generates -- fall from 91 to 79, vaulting the Tide to fourth nationally in that category.
But, of course, there's room to improve. Just ask Kelly.
"Communication is the most important thing," he explained. "All 11 guys have to be on the same page. ... It starts with the offensive line. One of the things we're trying to emphasize is get up to the ball, get down, get set. Last year, look at it, we were running the clock down to five, four seconds every time. The faster that we can get to the line, get set, let the quarterback look at what he's got to look at, the more time we can have and we're not rushing to make calls last-minute."
Does that mean Alabama is turning to a more up-tempo offense under new coordinator Lane Kiffin? It depends whom you ask.
Brian Vogler
, a senior tight end, said that he thought the offense would stay similar to years past, relying on the "mauler" style it was founded on. Kelly, however, asked the question: "Anytime we can run more plays it's good for an offense, right?" He said he anticipates "a lot" of change this season, including new plays and new formations.
"Obviously, we want to practice faster every day," Kelly continued. "As as the spread offense, stuff like that, it's still the same. We've just been wanting to get more reps in practice. Obviously, reps make us better."
More repetitions will be key for the newcomers on the offensive line, not to mention the communication among all five potential starters.
Through the first four practices, the first-team line features Kelly, Shepherd and Kouandjio at their usual positions, with
Alphonse Taylor
added at right guard and
Leon Brown
at left tackle. The two combined for 17 appearances and one start last season, the lone start coming from Brown when Shepherd was lost for the Sugar Bowl against Oklahoma.
Though he can play inside, Brown might be better suited at tackle given his length (6-foot-6, 313 pounds).
Taylor, however, has all the earmarks of a punishing guard. At 6-5, 335 pounds and a low center of gravity, he looks vaguely like Warmack when he shuffles upfield in running situations.
"If you look at how big he is, he's actually really athletic, can bend really well and he's got a lot of power," Kelly said. "Another young guy, doesn't have a whole lot of experience, obviously, playing games. But I think this spring's going to be really big for him."
But the most intriguing prospect of all has to be
Cameron Robinson
, a five-star prospect and the No. 1 offensive lineman in the 2014 class. He has everything you look for in an offensive tackle: size, strength, athleticism. The 6-6, 325-pound freshman from Louisiana has shown some growing pains since enrolling in January, but he has also shown flashes of the talent that made him such a coveted recruit.
With a spring to learn, an offseason to prepare and an open position at left tackle to compete for come fall, don't sleep on Robinson.
"He's got a lot of ability," Kelly said of Robinson. "He's a big guy, can bend really well, long arms. Obviously he came into an offense where we kind of transitioning into a new style or new plays, stuff like that. So he never really learned the old one. Anytime you're coming from high school to college it's going to take a while to kind of get acclimated to it. Older guys have been helping him along the way, kind of showing him the ropes, because it can be eye-opening at times, coming from high school to college."
Saban called Robinson "a young guy that's learning and getting better every day." But along the same line, Saban said of the entire line that he wasn't "satisfied with where they are, but pleased with the progress they're making."
In other words, the line is very much an ongoing process.
"The depth chart means nothing right now," Shepherd said. "The depth chart won't mean anything until we play West Virginia."
March, 12, 2014
3/12/14
11:00
AM ET
Editor's note: This is Part III in a weeklong series predicting what changes are ahead for Alabama this spring.
TUSCALOOSA, Ala. -- It's not going to be easy, but
Cam Robinson
is going to do it. The five-star prospect from Louisiana is still wet behind the ears, but that won't stop him from claiming the left tackle position at Alabama. He'll be replacing another former highly-regarded recruit who played in his first eight games as a freshman before suffering a season-ending knee injury.
Cyrus Kouandjio
would recover and start 27 consecutive games as a sophomore and junior and is on pace to be taken in the first round of May's NFL draft.
Whether Robinson develops into
that
successful an offensive tackle remains to be seen. Rather, today is reserved for the slightly less ambitious question of whether a true freshman can enroll early, beat out some stiff competition and start from Day 1 at a position that is widely considered the most pivotal on the offensive line. Robinson, who cuts an imposing figure at 6-foot-6 and 325 pounds, is the best equipped of Alabama's eight early enrollees to answer with a resounding, "Yes." And that's saying something, if you take Nick Saban at his word.
"I've been really impressed with the eight freshmen that we have here," the 62-year-old head coach of the Tide said last week. "I think that it's a huge advantage for them to be here. But they've all sort of done a nice job in the offseason program, are all guys that look like might be guys that can compete to help the team in some kind of way which I think is a real positive for us."
Robinson gave up his final semester of high school -- prom, graduation, etc. -- to come to Alabama early and compete. It wasn't a tough decision, he said, because it would give him the leg up he was after.
"I had to think about the long run, how it would benefit me when I get to college," he told reporters on signing day in early February. "So it wasn't a tough decision at all."
Coaches have told him he'll play left tackle, he said, which is obvious when you look at his tape. He might be big, but he's more than athletic enough to play on the outside. As his ESPN scouting report notes, he has "good initial quicks off the ball, ankle flexibility and the strength to deliver a jarring initial pop." There are plenty of colorful adjectives one could use to describe the way he hits the second level of the defense.
"Of course I wouldn't mind starting," Robinson said, "but that's something you have to ask coach about."
For now, Saban isn't saying. He wouldn't put the pressure on a player like that. And Mario Cristobal, who is in charge of the offensive line, isn't allowed to speak to the media.
That said, Robinson seems like he has humbled himself to the challenge of competing at Alabama. When asked what he needs to work on, his answer was very much to the point.
"Everything," he said. "I need to work on everything. SEC man, with these defensive linemen, it's crazy. These guys are freak athletes. I'm working on everything I can to just get better overall."
He'll have challengers, but none with the upside he possesses.
Leon Brown
should figure into the competition, along with
Brandon Greene
and
Brandon Hill
.
Dominick Jackson
, who was the No. 1 offensive tackle in junior college last year according to ESPN, wasn't signed by Alabama to sit and watch. He'll push Robinson as much as anyone.
But there are already rumblings coming out of Alabama that Robinson will play as a true freshman, and spring practice hasn't even begun. If his work ethic matches his physical tools, then the job very well could be his.
If that sounds familiar, it should. Kouandjio was talked about much in the same vein prior to his arrival in 2011. Had he enrolled early, he might have done more than play in eight games as a true freshman -- he might have started.
It's going to be a tall task for Robinson to win the job and start from Day 1. That challenge will begin on Saturday when Alabama opens spring practice in Tuscaloosa. How Robinson fares over those 15 practices will either propel him to a starting role or set him on a course for later development. But given the landscape of things, bet on the more ambitious goal.
May, 8, 2013
5/08/13
11:30
AM ET
Editor's note: TideNation will use this week to look at the four major positions on the football field and how their outlook has changed after spring practice. Today we examine the offensive line:

Who's leading?

Remember when there wasn't a conversation about Alabama's championship prospects without mention of the soon-to-be rebuilt offensive line? It shouldn't be too difficult to recall as it was only a few months ago. But my oh my, how time changed that. Like the new $9 million weight room that was built in an astonishing five months, a new offensive line was arranged almost overnight. A superb spring seems to have quelled the concerns on the line of head coach Nick Saban, and the entire fan base can breathe easily.
March, 26, 2013
3/26/13
7:00
AM ET
TUSCALOOSA, Ala. --
Cyrus Kouandjio
wasn't bitter when he heard his position coach was leaving Alabama this offseason. The Crimson Tide's hulking left tackle was surprised when he saw offensive line coach Jeff Stoutland had
accepted a position with the Philadelphia Eagles
, but he wasn't disappointed with the news. After all, one day he'll be off to the NFL, too.
"I'm proud," Kouandjio explained. "I texted him that morning. It's the best thing in the world to be recognized. He's a really great coach and I feel happy for him that he's been recognized by an NFL team."
[+] Enlarge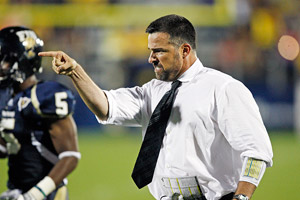 Joel Auerbach/US PresswireThe Tide's O-linemen say they see similarities in the technical, energetic coaching style of Mario Cristobal (above) and former coach Jeff Stoutland.
If Kouandjio continues on this path, he could have his own name called by a professional franchise soon. NFL draft analysts have said that he would have been a first-round pick this year if he were eligible.
That speculation will have its day, maybe a year from now, maybe in 2015. In the meantime, Kouandjio and the Alabama offensive line are in transition. With Stoutland gone, they are getting to know their new position coach,
Mario Cristobal
.
Cristobal, 42, is nearly a decade younger than his predecessor. Stoutland was no slouch, but Crisotbal is another level of energetic. He's ambitious, upbeat and inspiring -- traits that landed him Florida International's top coaching job at the early age of 36. His practices are uptempo and his coaching style is hands-on. He has already made his mark on the recruiting trail in South Florida, and now he's making an impact at Alabama during spring practice.
"I think the players like him," Alabama coach Nick Saban said of Cristobal, one of three position coaches he hired this offseason. "He's done a good job teaching them. He's got good energy and enthusiasm. He brings some new ideas. That's always welcome when you have new coaches join the staff."
Said Kouandjio, regarding the difference between Cristobal and Stoutland: "I mean it's kind of early to say, but they're both good coaches. They're both really technical coaches. They're really down with the little things. They both push you and are really high-energy coaches. I mean you have to be a high-energy coach to coach the O-line because that's the one position on the field where you can't get lazy."
Cristobal won't have the opportunity to sit on his hands, especially this year as he must find a way to replace three starters on the offensive line: All-SEC performers D.J. Fluker, Barrett Jones and Chance Warmack.
So far, Kouandjio said they're "doing pretty good."
"There's always room for improvement and the sky's the limit for us. ... We have a lot of different characters on the offensive line right now, and, we'll be all right."
Saban said the transition has been smooth thus far.
"So everything about this so far from a transition standpoint has been positive," he said. "But that's a work in progress, too. Consistency in performance over the long haul is what's going to be important to helping us develop and helping our staff develop, as well."
March, 20, 2013
3/20/13
11:12
PM ET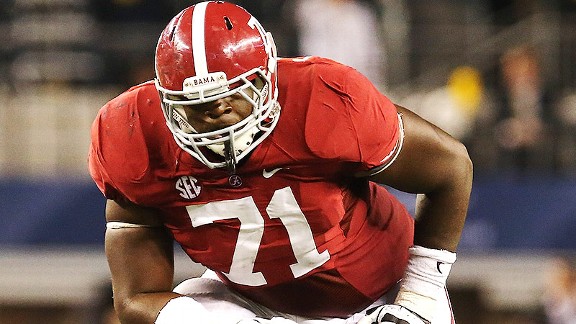 Kevin Jairaj/USA TODAY SportsCyrus Kouandjio might have a secure spot on the O-line, but not many others do.
TUSCALOOSA, Ala. -- At a certain point, there's too much work to be done on the football field. So much so that the idea of competition goes out the window. With three vacant starting positions on the Alabama offensive line this spring, the idea of actually battling for playing time is unthinkable, at least to left tackle
Cyrus Kouandjio
.
The depth chart, he noted, is still open.
"Everybody is just working," Kouandjio said following Wednesday's practice. He and guard
Anthony Steen
are the only two returning starters on the line. "At this time, we're not even thinking about competition."
They might be the only ones, though.
If Alabama is going to have anywhere near the success it had last season, the offensive line must come together, and in a hurry. Kouandjio might have the luxury of feeling good about his position on the depth chart, but he's the exception to the rule, as Alabama must replace three NFL-caliber offensive linemen in
Barrett Jones
,
Chance Warmack
and
D.J. Fluker
. That's not to mention the other seven former starters now plying their trade elsewhere.
At least Kouandjio would admit that practice felt different without his former teammates around.
"It feels weird," he said. "I've been with those guys for a long time."
But he's been with his brother,
Arie
, longer. And with Warmack gone, Arie has a chance to start alongside his twin at left guard. He'll have to fend off
Kellen Williams
for the spot, but so far he's the favorite to win the starting nod.
Chemistry, the glue of any good offensive line, is already set on the left side. After playing together in high school, the Koundajios don't have to say a word to communicate to one another.
"It's my brother" Cyrus said, "of course we already have camaraderie. We already understand each other.
"I love playing with my brother. He's always pushing me, and I'm always pushing him."
The camaraderie of the line as a whole won't come from either Kouandjio, though.
Ryan Kelly
, the man charged with replacing Jones at center, is looking to make his stamp as the leader of the unit now. And as Cyrus put it, he brings a lot to the table, rivaling Jones in at least one respect.
"He's the most professional person I know," Cyrus said of Kelly. "He's really serious, and that's the perfect center right there. Most centers have to be really tough, and I trust him 100 percent. I trust him as much as I trusted Barrett Jones last year.
"I think things are looking good for him."
Cyrus also singled out rising sophomore
Brandon Greene
for his improvement this offseason. He, Williams,
Isaac Luatua
,
Alphonse Taylor
and newcomers
Leon Brown
and
Brandon Hill
have added depth to the offensive line.
"He's doing so much better from last year," Cyrus said of Greene. "He got so much better over the break. His hands are where they're supposed to be, his footwork is good, he is where he's supposed to be right now."
Head coach Nick Saban, for his part, downplayed the transition taking place on the offensive line. He said new position coach Mario Cristobal is doing a "really good job" at coaching and connecting with the players.
"He's done a good job teaching them," he said. "He's got good energy and enthusiasm. He brings some new ideas. That's always welcome when you have new coaches join the staff. So everything about this so far from a transition standpoint has been positive."
And like everything with the offensive line, Saban's remarks came with a caveat.
"But that's a work in progress, too," he said.
February, 21, 2013
2/21/13
6:41
PM ET
TUSCALOOSA, Ala. -- The coaching carousel at the University of Alabama kept on spinning Thursday afternoon when it became clear that wide receivers coach and recruiting coordinator Mike Groh would be leaving to join the Chicago Bears, according to multiple reports. Former Florida State tight ends coach Billy Napier will be hired as Groh's replacement.
[+] Enlarge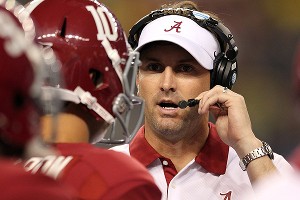 Matthew Emmons/USA TODAY SportsAlabama moved quickly to replace wide receivers coach Mike Groh on Thursday.
Napier, who was hired by FSU in January after spending a year at Colorado State, was formerly an offensive quality control assistant at Alabama under former offensive coordinator Jim McElwain. The 32-year-old Georgia native became Clemson's youngest coordinator ever in 2009, serving as the Tigers offensive coordinator.
Alabama loses a strong recruiter in Groh, who was named the country's top recruiter by Rivals.com and 247Sports. The 41-year-old was instrumental in the Crimson Tide's No. 1-ranked recruiting class in 2012 and 2013. He came to Alabama in 2011 after one season at Louisville coaching quarterbacks. Before that, he spent eight years at Virginia under his father, Al Groh.
The news of Groh's departure comes on the heels of Alabama hiring new offensive line coach Mario Cristobal. Earlier in the week, coach Nick Saban welcomed in former defensive coordinator Kevin Steele as the new director of player personnel, and former Vigor High (Ala.) coach Kerry Stevenson as director of player development.
February, 20, 2013
2/20/13
1:31
PM ET
TUSCALOOSA, Ala. -- Alabama went to the well once more when it hired offensive line coach Mario Cristobal. Two years ago, coach Nick Saban stole Jeff Stoutland away from the University of Miami, and with Cristobal he did the same. He can only hope the move pays off as well the second time around.
[+] Enlarge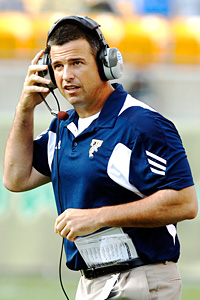 AP Photo/Keith Srakocic Mario Cristobal's strong recruiting background is expected to benefit the Tide.
On the face of it, it should. Cristobal is already being hailed as a home-run hire, and with good reason. The former Florida International head coach has a strong resume and well-rooted ties to the South Florida recruiting scene, an area Stoutland patrolled for two years at UA. Cristobal is young (42 years old), ambitious (he all but built the FIU program from nothing) and energetic. He was hired by Miami as its tight ends and assistant head coach on Jan. 11 and some of the first words out of his mouth were about hitting the recruiting trail hard.
"With three weeks to go in recruiting, it's about attack mode," Cristobal told reporters at his introductory press conference."Wherever I need to go, wherever I need to be sent, whatever I need to accomplish, anything involving 2014 or '15, it's ',Go!' There's no time to rest."
Said Miami coach Al Golden at the time: ""Clearly his expertise as an O-line coach, a tight ends coach, a guy that has coached many positions and obviously has cultivated talent and recruited in this area, it was just too good a package for us to pass up."
It was too good for Saban to pass up as well. That type of aggressiveness is music to the 61-year-old head coach's ears. Enthusiasm goes a long way on the recruiting trail and in the UA football offices. Cristobal helped the Hurricanes have the 21st-ranked recruiting class in the country, according to ESPN. Four-star receiver
Stacy Coley
surprised many by choosing Miami on signing day.
Saban praised Cristobal in a news release on Wednesday, calling it "an important hire in terms of working with our offensive line and we feel fortunate that we were able to hire a coach of Mario's caliber."
February, 15, 2013
2/15/13
4:35
PM ET
South Carolina has managed to hold onto one of its most valuable assistant coaches.
Offensive line coach and co-offensive coordinator Shawn Elliott informed South Carolina coach Steve Spurrier on Friday that he would be staying in Columbia after interviewing with Nick Saban for the Alabama offensive line job.

Elliott, who'll be entering his fourth season at South Carolina, has been a big part of the Gamecocks' success. He's provided stability for South Carolina's offensive line and also brought the zone read package with him from Appalachian State that the Gamecocks have used so much of the past three seasons.
Being able to keep Elliott says something about where South Carolina's program is right now. He's obviously a commodity, and his name has come up a couple of different times the last two years in job searches.
But he's a Camden, S.C., native and grew up attending South Carolina games at Williams-Brice Stadium with his father, who was a South Carolina state highway patrolman.
Elliott obviously feels at home at South Carolina even when a powerhouse like Alabama comes calling.
Here's something else to consider: If you're looking for legitimate candidates to replace Spurrier when the Head Ball Coach does decide to step aside, Elliott would (and should) be in that conversation.
He's a superb coach and an excellent fit at South Carolina.
With Elliott out of the picture at Alabama, Miami associate head coach/tight ends coach Mario Cristobal is the latest candidate to reportedly interview for the Crimson Tide's offensive line job. Cristobal was the head coach at Florida International for six seasons before being fired following this past season.
Two other names connected to Alabama's search for an offensive line coach were former Fresno State head coach Pat Hill and UCF assistant head coach/offensive line coach Brent Key.
Scout's Take: Atlanta Opening Regional
SEC SCOREBOARD
Thursday, 9/3
Saturday, 9/5