Alabama Crimson Tide:

Marcus Mariota
November, 5, 2013
11/05/13
10:00
AM ET
Alabama senior quarterback
AJ McCarron
is 33-2 as a starter and is trying to make it three straight national championships before he leaves the Capstone.
Despite his success, McCarron has been overshadowed this season by several other quarterbacks, namely
Marcus Mariota
,
Jameis Winston
and
Johnny Manziel
.
With LSU coming to town this weekend, we thought we'd throw open the great debate: Is McCarron a marquee quarterback who shines in big games, or is he more a product of having great personnel around him?
ESPN.com colleagues Chris Low and David Ching tackle that question in a Take Two debate.
Take 1: Ching -- Best in big games? Not so fast
Let me start by saying that I think McCarron is a good quarterback. He absolutely deserves to be mentioned among the best quarterbacks in the SEC alongside Manziel,
Aaron Murray
and
Zach Mettenberger
.
[+] Enlarge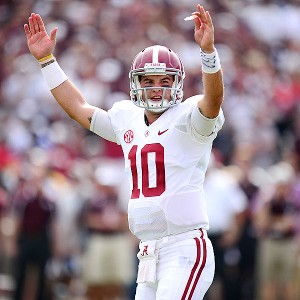 Phil Ellsworth/ESPN ImagesAJ McCarron has two national championship rings, but some still doubt his big-game credentials.
The reason this point-counterpoint column exists is that Mr. Low and I were on a phone call the other day, when he opined that McCarron is the best big-game quarterback in the country, and I disagreed.
Now, did McCarron play great in the last two BCS National Championships? Absolutely. Without question, he deserves credit for his performances against LSU and Notre Dame with a national title at stake.
But think back over Alabama's other big games over the last couple of seasons. How often was he more than a solid player on a great team? Not often enough to declare him the nation's best big-game quarterback.
Sure, he torched Texas A&M's defense earlier this season, but who hasn't? Does the opener against Virginia Tech count as a big game? Because if it does, he went 10-for-23 for 110 yards, one touchdown and one interception against the Hokies.
I'm sure you're asking, "What about his clutch passes last season?" No, I haven't forgotten about the key touchdown drives against LSU and Georgia in 2012. But do you recall what McCarron did in those games prior to his late heroics?
He was bad for a good chunk of the LSU game, completing 10 of 23 passes for just 93 yards prior to Alabama's last drive, which he conducted brilliantly and capped with a screen pass to
T.J. Yeldon
for the game-winning touchdown with 43 seconds to play.
Likewise, the play we remember from the win against Georgia was McCarron's game-winning touchdown pass to
Amari Cooper
. Not his two lost turnovers, including an interception in the Georgia end zone. Not that McCarron had passed for just 117 yards in the game prior to the pass to Cooper, or that the reason Alabama was able to come back and win was that Alabama's coaches largely took the game out of his hands in the second half and let the Crimson Tide's dominant running game take over.
You might also recall that Alabama's lone loss in 2012 -- to Texas A&M -- essentially ended when McCarron threw an interception in the end zone.
Listen, I don't want to sling mud at McCarron. He's a good player and he perfectly suits what Alabama needs from its quarterback. That's why his career has been so successful.
But is he the best big-game quarterback in the nation? I don't think so. There are other quarterbacks on good teams who carry much more of the production burden -- like Manziel, who had 562 yards and five touchdowns, against Alabama's defense -- and deserve this label more.
That's all I'm saying.
Take 2: Low -- How is this even a debate?
Really want to stoke McCarron's fire?
Refer to him as a good game manager, which he is, by the way.
The fifth-year senior is terrific at getting Alabama out of bad plays against a particular defense and into good plays. He's equally adept at taking what the defense gives him, and he rarely turns the ball over (only six interceptions in his last 25 games).
Moreover, he's excellent at spreading the football around and using all of his offensive weapons.
But above everything else, McCarron delivers in big moments and on big stages.
He might not be the best quarterback in the country, even in the SEC, and he might not be the game's most talented or entertaining quarterback.
But there's not a better big-game quarterback in college football than McCarron, and he's proved that time and time again.
When the Crimson Tide have needed him most, he has almost always delivered, which is why coach Nick Saban has so much faith in McCarron.
Saban has said repeatedly that McCarron doesn't get the credit outside the program that he deserves. Then again, McCarron will gladly take rings over credit.
But deep down, he stews over any suggestion that he's more game manager than playmaker.
This just in: If you are playing quarterback for Saban and aren't very effective at managing the game, you're going to be doing more watching than playing.
To me, McCarron is a little bit of everything you want in a quarterback. He's tough, playing through dislocated ribs toward the end of last season. He is a leader and isn't afraid to get in anybody's face, and he's one of those guys who never gets caught up in the moment.
That's why the Alabama coaches felt comfortable enough after the 2011 regular season to put so much of the game plan on his shoulders in Bama's 21-0 win over LSU in the BCS National Championship, a performance that earned him Offensive MVP honors.
That's why he shredded Notre Dame for four touchdown passes last season in the 42-14 rout of the Irish in the BCS National Championship.
And even when McCarron hasn't been at his best for the first three quarters of a game, he's been money in the fourth quarter. He hadn't done much of anything against LSU's defense in last year's regular-season meeting. But when the Tide got the ball back with under two minutes to play, McCarron calmly marched them down the field for the winning touchdown, capped by his memorable screen pass to Yeldon.
A few weeks later, in the SEC championship game, he connected with Cooper on a 45-yard touchdown pass with 3:15 to play, which wound up being the winning points. Up until that clutch throw, he'd been average at best.
But, again, when Alabama desperately needs a play, he is there to deliver it.
And let's not forget his four-touchdown performance at Texas A&M earlier this season. The Aggies were up 14-0 before anybody could blink. But in vintage McCarron fashion, he guided Alabama to 35 unanswered points, a spree that started with three consecutive McCarron touchdown passes.
As Bill Parcells used to famously say, you are what your record says you are.
McCarron's record says that he's a winner -- period.
October, 28, 2013
10/28/13
3:00
PM ET
TUSCALOOSA, Ala. -- Saturday's game at Bryant-Denny Stadium was a dud. It seemed like
who was watching was of greater concern than what they were actually watching
at times. In the end, Alabama walloped Tennessee 45-10 for the school's 50th all-time win over its SEC East rival.
But the greater context of the game was more significant. Tennessee, for better or worse, served as a piņata for both No. 1 Alabama and No. 2 Oregon this season, offering a rare common opponent to examine. When you consider the fact that no other top-five team has faced a common opponent with Alabama, the Tennessee games grow more interesting.
So who looked better against Butch Jones' Volunteers? Well, the answer to that question is tricky. The scores -- Alabama won by 35 points and Oregon won by 45 -- are misleading. The Ducks jumped to a 38-7 halftime lead and continued their manic pace on offense, scoring three third-quarter touchdowns. The Tide, too, got out to a big 35-0 halftime lead, but instead cruised in the third and fourth quarters, scoring one touchdown and a field goal.
Oregon ran 67 plays on offense to Alabama's 65, and the Ducks were more efficient.
Marcus Mariota
threw for 456 yards and four touchdowns and helped generate 687 total yards of offense.
AJ McCarron
, meanwhile, threw for 275 yards and two touchdowns. All told, the Tide put up a respectable 479 yards of offense. But in fairness, the difference in first-half offense -- Oregon put up 350 yards to Alabama's 292 -- was not as noticeable.
The teams' third- and fourth-down efficiency numbers were nearly identical. Alabama converted on 7 of 11 third downs and moved the chains on its lone fourth-down attempt. Oregon, conversely, was 6 of 13 on third downs and picked up a first down on its only fourth-down attempt.
Both teams ran for an average of roughly 5 yards per carry and both forced a turnover on defense.
The defenses offered little separation, though. Oregon gave up a touchdown to Tennessee in the first quarter and the Vols held the ball for 34:18. Alabama, meanwhile, didn't give up points until a third-quarter field goal and the Vols didn't score a touchdown until early in the fourth quarter when the game was well in hand. Tennessee generated about the same offensive output against Alabama as it did against Oregon -- 322 yards to 316.
Truthfully, if you're looking for who the better team is -- Alabama or Oregon -- based on their common opponent, Tennessee, you're looking too hard. Both Alabama and Oregon beat up on Tennessee badly and both looked like title contenders in the process. Alabama's traditional pro-style offense, largely viewed as weaker than Oregon's fast-paced attack, held its own by comparison. Meanwhile, Oregon's defense, traditionally thought of as inferior to Alabama's historically dominant defense, was just as good by comparison, too.
If you're an Oregon fan you can focus on the Tide's one turnover against the Vols. An Alabama fan would point out that his team committed only four penalties and didn't allow a single sack while Oregon committed twice as many penalties and allowed twice as many sacks.
But leave the film study to the coaches if the two teams do wind up meeting in Pasadena for the BCS National Championship in January. We've got a long way to go until then.
October, 22, 2013
10/22/13
1:00
PM ET
TUSCALOOSA, Ala. -- Why
Kenyan Drake
was absent from the top-ranked
Alabama Crimson Tide
's season opener against Virginia Tech is still in question.
Was he suspended? Did he fall on the depth chart? Did he simply miss the flight? The talented sophomore and former Gatorade Player of the Year from Georgia seemed the incumbent No. 2 tailback heading into preseason camp, squarely behind another second-year player,
T.J. Yeldon
. The two, it was thought, would continue the one-two punch at tailback to which Alabama fans had become accustomed.
[+] Enlarge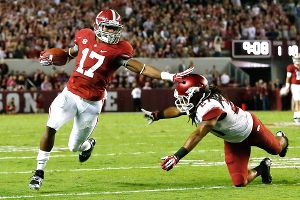 Kevin C. Cox/Getty ImagesKenyan Drake has rushed for 349 yarda and five TDs in the past four games.
But Drake was nowhere to be found in the Georgia Dome when the Tide beat the Hokies, 35-10, on Aug. 31. He wouldn't show up until two weeks later.
Nick Saban has enjoyed playing personnel matters close to the vest as a head coach, Drake's being no different. Saban, now in his seventh season leading Alabama, never announced why Drake wasn't on the depth chart when it was first released on Aug. 28. Drake, the team's third-leading rusher last season and arguably its most explosive back, wasn't wearing his No. 17 jersey in practices. Instead, he ran with the scout team, simulating opponents.
Saban, when asked, said matter-of-factly, "We had to get other guys ready to do things, and they actually did well enough." In other words, Drake was in the doghouse.
On a teleconference a week later, Saban said Drake was going to play against the then sixth-ranked Texas A&M Aggies. He was "ready to go," but he'd have to outplay those ahead of him.
Against the Aggies in College Station, Drake did exactly that. In fact, he wound up the team's second-leading rusher in what proved to be a dramatic 49-42 victory for Alabama. He rushed for 50 yards and a touchdown that day, providing a much-needed spark. And despite a poor performance a week later against Colorado State -- a game no one in crimson ran the ball especially well -- he has continued to be the clear No. 2 back behind Yeldon, racking up 349 yards and five touchdowns over the last four games.
The "why" of Drake's early season absence has gone by the wayside. All that seems to matter now is that he's back and Alabama is better off for it. The offense that has been known for showcasing two premier tailbacks at a time -- Eddie Lacy and Yeldon last year, Lacy and Trent Richardson the year before that, Richardson and Mark Ingram the year before that -- suddenly has the one-two punch it has been missing. Since Drake returned after Week 1, Alabama has ranked 19th in the country in rushing yards per game (231.0) and second in yards per rush (6.63).
"They complement each other and both guys have a little different running style," Saban said. "I think it's a real change of pace that they both present to the defensive players. Both guys have been productive for us and both guys have done a good job."
"It's a great combination with two different backs, two styles of runs," UA wideout
Christion Jones
said. "T.J. is a powerful and physical back. Drake is physical but quicker, faster on the perimeter."
[+] Enlarge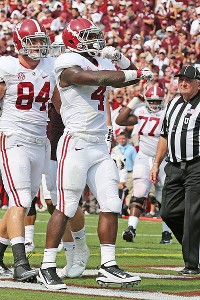 Matthew Emmons/USA TODAY T.J. Yeldon has rushed for 384 yards and five TDS in the past four games.
Where Yeldon is the more between-the-tackles, traditional back, Drake is all speed all the time. He's a big play waiting to happen. He has moves and vision, but the thing he's most known for in his ability to find daylight and accelerate through it. He and Oregon quarterback
Marcus Mariota
are the only two players in the country to reach 17 rushes of 10-plus yards in fewer than 70 attempts. In fact, neither has carried the ball 50 times this season.
If Drake gets to the edge of the defense, there's no tracking him down. Last weekend against Arkansas he had two rushes of 20 or more yards. It was as if went from zero to 60 mph in the blink of an eye on his 46-yard touchdown run in the second quarter, bouncing off a teammate at the line of scrimmage before accelerating in a hurry. He cut outside, made one defender miss and took the sideline the rest of the way for the score.
Drake, who acknowledged after the game that acceleration is one of his biggest assets, said it helps to "start up, and start up quick." It was his first time speaking with the media in Tuscaloosa since joining Alabama last season. And despite the early season turmoil, he seemed pleased with his role on the team, saying he and Yeldon were good friends who enjoyed working with one another.
"We support each other when we go in and do well. We pick each other up when we do badly," he said. "Everybody loves the connection we have. We just go out there and do our best.
"We push each other a lot. We're both competitive."
Drake came to Alabama to show he was a complete tailback. What he said he had to learn most, though, was how to put bad plays behind him and focus on what's next. It seemed fitting in the context of his season, overcoming an early absence to become a major contributor.
It couldn't have been easy for a young player with star potential, but he has learned that there's more to the game than going fast. Sometimes you have to be told to wait.
"Being here they teach you about learning the details and handling yourself accordingly," Drake said. "I feel like at the end of the day I've improved on the mental aspect of my game."
October, 11, 2013
10/11/13
10:00
AM ET
We've reached Week 7 in the SEC. Here are some random tidbits you might not have known.
• The matchup between Florida's stellar defense and LSU quarterback
Zach Mettenberger
should be highly intriguing. The Gators lead the nation in Total QBR allowed, with opposing quarterbacks rating just a 13.0 against Florida and completing just 21.1 percent of their passes of 15 yards or longer. Meanwhile, Mettenberger has completed 60 percent of his throws of 15-plus for eight touchdowns, no interceptions and an average of 15.8 yards per attempt.
• Florida quarterback
Tyler Murphy
has led an offensive revival since taking over for
Jeff Driskel
as the Gators' signal-caller. He hasn't played enough snaps to qualify for ESPN's Total QBR rankings, but only Oregon's
Marcus Mariota
and Baylor's
Bryce Petty
have higher QBRs than Murphy's 93.7 among QBs who have participated in at least 80 action plays.
• South Carolina expects star defensive end
Jadeveon Clowney
to start this week after missing last week's game with a much-debated injury. ESPN Stats and Information reports that Clowney has played 63 percent of South Carolina's defensive snaps this season. Opponents are averaging 5.9 yards per play with Clowney on the field versus 4.8 ypp when he's off.
• Georgia enters Saturday's game against Missouri riding a 15-game winning streak. That's the longest active home winning streak in the conference and the third-longest such streak in school history. The Bulldogs last lost at home against South Carolina on Sept. 10, 2011.
• Expect Alabama to look to establish the run against Kentucky on Saturday. The Crimson Tide are averaging an SEC-high 6.6 yards per designed run in SEC games. Meanwhile, the Wildcats are allowing 5.2 yards per designed run -- second-most in the league. Kentucky has allowed an SEC-high 629 yards before contact on such runs.
• Georgia quarterback
Aaron Murray
claimed the SEC's career passing yards lead last week against Tennessee. He's closing in on two more career marks. With 11,908 yards of career total offense, Murray is 324 yards behind Tim Tebow's SEC record (12,232). And with 109 career touchdown passes, he's five behind Danny Wuerffel's SEC record of 114.
• Ole Miss' no-huddle offense has been a mess of late after a strong start. The Rebels averaged just 1.6 yards per play last week against Auburn when employing the no-huddle after averaging 7.6 yards per play through the first four games when operating out of the no-huddle. Quarterback
Bo Wallace
was 2-for-10 on passes out of the no-huddle against Auburn after going 19-for-23 in the first four games.
• Arkansas freshman
Alex Collins
leads the SEC with 651 rushing yards, but his workload has decreased in his first two conference games. Collins was averaging 21.5 carries against nonconference opponents, but that average dipped to 13.5 in SEC play. His average yards per game dipped from 120.3 to 85.0 and his yards after contact per game have dropped steeply, from 73.0 to 27.5.
• Aside from its shaky performance in a win against Texas A&M, Alabama's defense has been impressive. Following a shutout against Ole Miss and a 45-3 win last week against Georgia State, the Crimson Tide are now tied with Florida for the SEC lead in scoring defense at 12.2 ppg. Alabama is second in rushing defense (85.8 ypg), second in total defense (299.8) and fifth in pass defense (214.0). The Tide have an SEC-low 25 missed tackles according to ESPN Stats and Information.
• Missouri is first in the SEC in rushing (258.8 ypg) and fourth in passing (285.0). The Tigers rank among only five FBS teams averaging at least 255 yards on the ground and 285 through the air alongside Baylor, Oregon, Washington and UCLA.
• Auburn will hold its 100th observance and 87th homecoming game on Saturday against Western Carolina. The Tigers are 74-8-4 in their previous homecomings. They own a 2-0 all-time record against the Catamounts, winning by a combined 111-6 margin.
• It's also homecoming at Mississippi State and a reunion between three Bulldogs coaches with a program where they once worked: Bowling Green. Mississippi State head coach Dan Mullen and assistants Billy Gonzales and John Hevesy coached at Bowling Green in 2001-02. Mullen also met his wife Megan while coaching there.
September, 15, 2013
9/15/13
10:00
AM ET
The Alabama-Texas A&M game was as exciting as we could have hoped, but it was far from the only entertaining game on the SEC slate this weekend.
Here are five things we learned around the league on Saturday:
[+] Enlarge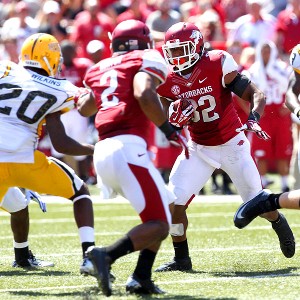 Nelson Chenault/USA TODAY SportsJonathan Williams helped power Arkansas to 258 rushing yards against Southern Miss.
The SEC is a defense-first league?:
For a minute there, it looked like Alabama (2-0) was preparing to blow out Texas A&M (2-1), as the Tide held a three-touchdown lead at the start of the fourth quarter. But Aggies quarterback
Johnny Manziel
reminded us in the fourth that he's pretty darn good. Manziel tossed three touchdown passes in the final period -- including a 95-yard bomb to
Mike Evans
-- and helped A&M climb within a touchdown in the final minute. There wasn't much defense on display at Kyle Field -- the teams combined for 1,196 yards, 62 first downs and 91 points -- but Alabama avenged its upset loss last year by holding on at the end for a thrilling 49-42 victory.
Rumors of South Carolina's demise were greatly exaggerated:
For South Carolina fans who were concerned that last week's loss to Georgia was a sign of impending doom, the Gamecocks (2-1) provided a reminder that they've still got a strong pulse in the first quarter against Vanderbilt (1-2). Steve Spurrier's team rode strong early performances by quarterbacks
Connor Shaw
and
Dylan Thompson
to jump out to a 21-0 lead by the end of the first quarter and led 28-0 before a better-than-average Vanderbilt team notched its first points. Vanderbilt mounted a rally in the fourth quarter to make things interesting, but make no mistake, the Gamecocks will still be a force to reckon with in the SEC East race.
Arkansas' running game is worth watching:
When quarterback
Brandon Allen
went down with a shoulder injury in the first quarter, Arkansas (3-0) abandoned the passing game almost entirely against Southern Miss. The Razorbacks didn't need to pass much with
Alex Collins
and
Jonathan Williams
in the backfield. Williams had a team-high 116 rushing yards and Collins added 115, making him the first freshman in SEC history to rush for more than 100 yards in each of his first three games, and the first in any conference since Oklahoma's Adrian Peterson in 2004. Collins entered the weekend as the SEC's top rusher and Williams was third, and the duo didn't do anything to damage their standing on Saturday. They haven't faced a powerful defense yet -- next week's game at Rutgers will be their biggest test to date -- but Collins and Williams' considerable running skills have helped Arkansas jump out to a 3-0 start.
One slide ends, another continues:
It's hard to say who needed a win more at Jordan-Hare Stadium: an Auburn team that hadn't won an SEC game since 2011 or a Mississippi State team that had lost six of its last eight games. It was Gus Malzahn's Auburn club (3-0) that rallied for the game-winning touchdown with 10 seconds to play on Saturday, handing Mississippi State (1-2) another gut-wrenching defeat. Auburn's victory ended a 10-game league losing streak that provides an enormous boost with a trip to LSU on tap next weekend.
Vols aren't back yet:
Tennessee (2-1) couldn't keep its game with No. 2 Oregon interesting for long, as the promise the Volunteers showed in wins against Austin Peay and Western Kentucky didn't translate into remaining competitive with one of the nation's better teams. The Ducks scored 59 straight points and ran up 687 yards -- 456 passing by quarterback
Marcus Mariota
-- in blowing new coach Butch Jones' club off the field. In the next five games, the Vols will face four ranked teams: No. 18 Florida, No. 9 Georgia, No. 13 South Carolina and No. 1 Alabama. So the road could get rocky quickly for the Vols.
August, 15, 2013
8/15/13
10:00
AM ET
By
ESPN.com staff
| ESPN.com
Braxton Miller. Jadeveon Clowney. Teddy Bridgewater. They're the Heisman favorites for the 2013 season. But what about the dark-horse candidates? Travis Haney looks at some players, including Oregon's Marcus Mariota, Georgia's Todd Gurley and Alabama's T.J. Yeldon, who may become relevant as the season progresses.
Read his story here

.
Alabama Dismisses Jonathan Taylor
SEC SCOREBOARD
Thursday, 9/3
Saturday, 9/5