Alabama Crimson Tide:

LSU
September, 30, 2013
9/30/13
8:00
AM ET
TUSCALOOSA, Ala. -- There was no dipping a toe in the water for preseason No. 1 Alabama. The Crimson Tide instead had to jump right in, battling sharks every week in the first month of the season.
The early stretch was brutal at times. Sure, Alabama looked like the best team in the country and got through the first four games undefeated, but there were certainly some blemishes revealed along the way. Each week and each win was a struggle.
Virginia Tech opened the season by stifling Alabama's offense in Atlanta, getting into the face of quarterback
AJ McCarron
by applying constant pressure on the backfield. The offensive line, a group that featured three new starters, looked nothing if not inexperienced.
[+] Enlarge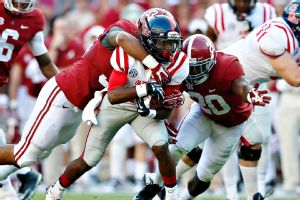 Kevin C. Cox/Getty ImagesThe Crimson Tide defense had its most complete effort of the season on Saturday.
Ninth-ranked Texas A&M then lit up Alabama two weeks later.
Johnny Manziel
and
Mike Evans
tore apart the secondary, abusing the Tide with the deep pass. UA set a kind of record you don't want to see, allowing the most yards in school history.
Even Colorado State, the $1.5 million cupcake courtesy of the Mountain West Conference, gave Alabama trouble. The Tide defense made too many mistakes and the offense was terribly inconsistent, failing to convert on a single third-down attempt in the first three quarters.
Then came No. 24 Ole Miss, an undefeated team playing with house money against Alabama. But this time, mercifully, the Tide put together a complete game and won, ending a four-game streak that tested the mettle of the championship contenders.
Now it's time to exhale. Alabama survived the early onslaught and can now take a breath to regroup with Georgia State, Kentucky, Arkansas and Tennessee up next. None of the four is ranked, and only the Razorbacks and the Vols are above .500, albeit at just one game over each. The four teams' combined record (7-11) is noticeably worse than the combined record of the first four teams Alabama faced (13-6) and the last four teams Alabama will face to end the season (11-6).
To make matters even more favorable for the Tide, Alabama will get a bye to start the month of November before hosting LSU on Nov. 9.
No team in the SEC has an easier next five weeks than Alabama. South Carolina is a close second and the only other school in the conference that won't face a ranked team over that time, but at least the Gamecocks don't have a cupcake like Georgia State to snack on. Instead, Steve Spurier's team will be tested somewhat by Kentucky, Arkansas, Tennessee, Mississippi State and undefeated Missouri. In fact, if one-loss South Carolina plays like it did against unranked UCF this past weekend, it might not be much of a championship contender come November.
The rest of the league's title contenders don't have it so easy. Georgia has rival Florida to contend with, LSU has Florida and Ole Miss in back-to-back weeks, and Texas A&M has to deal with the same explosive Rebels on Oct. 12.
Ole Miss is one of seven SEC schools to play two ranked opponents over the next five weeks. Only Tennessee and Missouri have it worse with three ranked opponents each in the month of October.
While Nick Saban might not be fond of focusing on records, it's hard to ignore the obvious -- if Alabama doesn't make it to November undefeated, it would be a shock. The Crimson Tide's coach isn't one to admit those things and he won't ever say an opponent is overmatched, but he and his staff do have the luxury of not stressing over serious competition the next few weeks.
Instead, they can budget their time wisely, resting banged up starters such as
Ryan Kelly
and
T.J. Yeldon
while working out the kinks with some younger guys for the stretch run, especially those on defense such as rookie cornerbacks
Eddie Jackson
and
Maurice Smith
.
"I'm looking more at the standard, not the record," Saban said following his team's shutout of No. 24 Ole Miss on Saturday night. "And I think it's important that our players do the same so we can continue to improve."
Improvement, though, might be the best Saban can hope for. Making another statement like his team did by thumping Ole Miss doesn't appear to be possible against the forthcoming carousel of unranked, overmatched opponents. Rather, building up some level of consistency over the next few weeks will be the challenge as the scoreboard certainly doesn't figure to be.
"We have high expectations for the standard of how we play," Saban said. "And I think more than what the record is, I think and our team thinks, what do we need to do so we can continue to improve so we can play the the standard on a more consistent basis.
"I would say if there's any criticism of myself, our staff and our team, it would be the fact that we have not been as consistent as we'd like to be."
Saban got through a rough, inconsistent start to the season intact and in the driver's seat for another run to the national championship. For the next month, he'll be in the enviable position of fine-tuning his team's mistakes against lesser competition.
While the rest of the SEC slogs through the ghoulish month of October, Alabama will be playing trick or treat each Saturday. All that remains now is reaching LSU on Nov. 9 without slipping on the proverbial banana peel.
October, 31, 2012
10/31/12
9:21
PM ET
By
Dave Telep
| ESPN Insider
We didn't see this one coming.
ESPN 100
power forward
Jarrell Martin
(Baton Rouge, La./Madison Prep), thought to be a spring signee, is set to make his college decision.
According to Jeff Jones, the head coach at Madison Prep, Martin will announce Thursday at 1:30 p.m. CT at the school.
"He's tired (of recruiting) and he's ready to decide," Jones said.
October, 31, 2012
10/31/12
3:53
PM ET
TUSCALOOSA, Ala. -- The players filtered in and out, the coaches too. The football office on the University of Alabama campus was quietly buzzing as ESPN cameras documented it all on the Wednesday leading into Alabama-LSU, the primetime showdown Saturday night between two teams ranked in the top five of the BCS Standings.

The hype of the game wasn't a deterrent to the day's events, though. For players and coaches, it was more of the same: Work out, watch film, practice. Rinse, repeat.

Alabama hasn't gotten to No. 1 in the country by letting the pressure get to it. What's at stake goes without saying.

"Everybody knows the ramifications of the game," coach Nick Saban told ESPN's Samantha Steele.

The goal: stay the same, play the same. Saban doesn't want anxious players coming out of the tunnel in Death Valley on Saturday night. The environment there is capable of eating players alive if they're not prepared.

But how do you know when your players are ready? How do you know they're focused?


October, 31, 2012
10/31/12
3:00
PM ET
TUSCALOOSA, Ala. -- Kirby Smart came in with scruff on his face that looked less like a 5 o'clock shadow and more like a day-after cover. In fact, it was only midday on the University of Alabama campus and the Crimson Tide's defensive coordinator was in a hurry.
It's LSU week in the football offices and Smart has his work cut out for him. His young defense has been the best in the country this season, coming in first in all four major defensive categories, but on Saturday it will face a top-5 team that knows its strength: power football.
"They really run the ball well," Smart told ESPN's Samantha Steele. "You have to stop them."
Even when they do get bogged down, the Tigers don't give up.
"They're stubborn with the run and that's toughest to defend," Smart continued.
Alabama has the bodies to match up with LSU up front. Smart said that despite losing three-quarters of his starters from a year ago, he feels UA has more depth on the line, and possibly less in the secondary. When you're going up against a team with a sometimes shaky starter in
Zach Mettenberger
and a consistently bruising rushing attack, that's a good thing. Not that Smart is sleeping on the passing game.
"Zach throws a good deep ball," Smart explained. The lanky quarterback who transferred to LSU from Georgia has thrown for 1,419 yards, seven touchdowns and four interceptions this season.
Starting cornerbacks
Dee Milliner
and
Deion Belue
will be tasked with defending LSU's weapons on the outside. Milliner leads the country in passes defended, a stat that combines pass breakups with interceptions. Belue hasn't been much easier to throw on either. The junior college transfer stepped in as the starter opposite Milliner right away.
LSU coach Les Miles told ESPN on Tuesday that his team will have to throw the ball against Alabama, something the secondary is prepared for.
"We know they are going to run the ball and take shots down the field," UA safety
Robert Lester
said. The senior from southern Alabama has gone back-to-back weeks with an interception, his last coming in the end zone against then-undefeated Mississippi State. "As long as we're prepared for it and we know at least something that is coming, I think we'll be good."
Lester is one of the few returning starters from a year ago. Smart and head coach Nick Saban had to rebuild Alabama's defense this offseason, incorporating first-time starters such as Milliner and Belue, as well as sophomores such as
Trey DePriest
and
Vinnie Sunseri
who starred on special teams last season.
Smart said he's seen a more hungry, more coachable group of players this season. The latter might contribute to the scruffy beard.
"There's a lot of work, a lot of effort," Smart explained.
In Baton Rouge, the Crimson Tide will need all the effort they can muster. Only one team will leave Death Valley on the fast track to the SEC Championship Game, and the defense is likely to be the difference in who comes out on top.
October, 31, 2012
10/31/12
1:59
PM ET
TUSCALOOSA, Ala. -- At the University of Alabama, Goliath feels more like David. The team with the undisputed No. 1 defense in the country has a pair of stars playing with a chip on their shoulders.
"All we heard all summer is we wouldn't be good enough," UA linebacker
Nico Johnson
told ESPN's Samantha Steele.
Johnson said he didn't feel like the defense got the respect they deserved after losing seven starters to the NFL over the offseason. Those who returned came back during spring and fall practice ready to work hard to prove the doubters wrong, incorporating rookies like
Deion Belue
at cornerback,
Xzavier Dickson
at Jack linebacker and
Ha'Sean Clinton-Dix
at safety.
The transition, by all accounts, has been seamless. UA is No. 1 in the country in all four major defensive categories, giving up less than 9 points per game. In fact, the defense has actually gotten better at creating more big plays, coming in this week on pace to surpass last year's number of interceptions, fumble recoveries and sacks.
But there's a standard Alabama's defense is living up to, said fellow linebacker
C.J. Mosley
. The standard isn't about statistics or standings. It's about blocking out the hype and getting better every week. With LSU on tap Saturday, the challenge is bigger than ever. The Tigers have a physical running game unlike anything the Tide has seen this season.
"We know what kind of game it's going to be," Mosley told Steele.
Johnson said the defense is preparing as it does for every game: "Like it's our last."
Two years ago, LSU beat Alabama with a late touchdown in Baton Rouge. That season, Alabama fell to South Carolina and Auburn in dramatic fashion as well. Johnson said he felt like the defense let them down then and he's not ready for a repeat this season.
"We feel like this year we can't let that happen," Johnson said.
October, 24, 2012
10/24/12
8:17
PM ET
Offensive lineman
David Dawson
(Detroit/Cass Tech) had been committed to Michigan since February, but recently parted ways with the Wolverines. Dawson promptly set up a visit to Florida for the South Carolina game, since the Gators and Dawson had been in communication for quite some time.
The visit went well for Dawson as he got to take in the game atmosphere, check out Florida's communication department and the athletic facilities. The visit didn't yield the results Florida fans were hoping for, though, as there were rumors Dawson would be committing on the visit.
"I rushed myself into a bad situation at Michigan earlier this year by not weighing my options, so I didn't want to make the same mistake," he said. "I want to look at a few other schools close to home, and that might play a factor in the long run. That's mainly because of all the things my family has been through in the last year, so I feel that maybe I should try to stay close to my support system."
To continue reading this article you must be an Insider
Scout's Take: Atlanta Opening Regional
SEC SCOREBOARD
Thursday, 9/3
Saturday, 9/5