Alabama Crimson Tide:

Logan Thomas
September, 5, 2013
9/05/13
7:00
AM ET
TUSCALOOSA, Ala. -- There was something off about Nick Saban's demeanor following Saturday's season opener. He sounded too calm, too collected in the aftermath of the Alabama's 35-10 win over Virginia Tech. It wasn't that he was disinterested, but his post-game comments lacked the fervor we've become accustomed to when his teams don't play up to par, which was the case even though the scoreboard inside the Georgia Dome might have indicated otherwise.
Alabama's notoriously critical head coach was placid at the podium in Atlanta. Never mind the poor play from his offensive line, the inability to move the ball effectively on the ground or
AJ McCarron
's inconsistency passing the football, Saban wasn't ready to jump down his team's throat just yet. His "We've done nothing to prove we're No. 1" speech never made its customary appearance. Defending champion Alabama was 1-0 and he seemed content with that.
But on Tuesday, after three days of watching film, Saban met the press with a wholly different attitude. For the first time all year, he sounded genuinely upset. He said the Virginia Tech game should serve as a "wakeup call" and called for an improved effort from his team, which in itself wasn't shocking. … Then he promptly jumped on his soap box and talked about how we "live in a society now where everybody wants to do what they want to do."
[+] Enlarge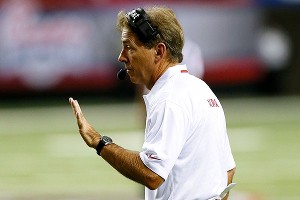 Kevin C. Cox/Getty ImagesNick Saban wants better execution from several areas when Alabama plays Texas A&M.
"Nobody wants to be obedient," he said. "Nobody wants to pay attention to rules or whatever. When you make a rule you've got to have your dog on a leash, somebody wants to have their dog not on a leash. That's the way it is.
"We can't have a team of people like that."
Saban raised his voice, cut off comments and even turned questions around on reporters during his news conference. All it took was someone to ask about the health of McCarron's toe and Saban was off to the races.
"You know, AJ's mobility is fine," he snapped, "and his mobility was fine in the game and there was nothing wrong with him in the game and I'm, you know, sort of sick and tired of talking about this B.S. All right? Cause it's nothing."
This was the Nick Saban we expected Saturday night. This was the Nick Saban more than willing to shout a message to players through the media.
With a date against No. 7 Texas A&M fast approaching, the heat is being turned up around the football facilities. The Aggies upset Alabama at home less than a year ago and no one around Tuscaloosa has forgotten how that loss felt. It very nearly kept the Tide from repeating as national champions. Highlights of
Johnny Manziel
's Heisman Trophy performance have played on televisions in the weight room and all players have been asked about around campus is how they'll stop him this time.
Everything has led up to this: Manziel, Texas A&M and the rematch of the year.
And in that respect, a sloppy game against Virginia Tech might have been exactly what Alabama needed. Had UA played perfectly in Week 1, whose to say what the team's mood would be today? Would complacency have set in? Would players have been overconfident heading into Texas A&M?
Alabama may still be ranked No. 1 in the country, but the attitude inside the locker room is that of an underdog.
"Obviously, we're 1-0 and that feels good," center
Ryan Kelly
said, "but we knew as a team afterward that we didn't make them quit. We felt like they walked away with a sense that they [Virginia Tech] didn't let Alabama take control of them. I think that's what everybody was disappointed about. We could have played a lot better than that and we know we're a better team."
When Kelly arrived at Alabama, he never expected a 25-point win to be viewed as a disappointment. But, as he said Tuesday, he caught on quickly.
"I didn't really know what type of beast I was walking into, I guess," he said. "That's just how it is at Alabama. The standard has been set high by the guys before us. We're always going to carry it out that way."
With an extra week to prepare for Texas A&M, Alabama has time to get back to that standard.
The offensive line, which was the best in the country last year, was suspect at first glance.
NFL scouts said they simply got beat
and that if their play doesn't improve, you could kiss the Tide's title chances goodbye. Those comments alone should provide a chip on every lineman's shoulder. They saw a tenacious front seven against Virginia Tech and lived to learn from it. The hope is that with time, the revamped line can establish the chemistry necessary to go on the road and move the chains.
The success of the offense as a whole depends on it. As we saw against the Hokies, without help up front, neither Alabama's passing game nor its running game could move the ball consistently. Three of the Tide's five touchdowns came on defense and special teams, and both scores on offense came from drives that began inside Virginia Tech territory.
"This week is very important because we get back to what Alabama's offensive line is about and that's being physical and making the defensive line quit," Kelly said. "I think that's what we're going to bring to Texas A&M."
Moving the ball and finishing off drives will certainly be at a focus against the Aggies, who finished first in the SEC in scoring a season ago. Keeping up with Manziel and the Aggies' up-tempo attack won't be easy. Going three-and-out seven times as it did against Virginia Tech could prove disastrous.
The good news amid the sense of disappointment is this: Alabama's front seven played well against an offense that should look similar to Texas A&M's. Hokies quarterback
Logan Thomas
isn't near the playmaker Manziel is, but he's nonetheless a good substitute with his ability to move the pocket and pick up yards with his feet.
Against Thomas, Alabama reversed its history of trouble against mobile quarterbacks. The defense adjusted and adapted, pressuring Thomas without losing containment. Thomas, who averaged 269.2 total yards per game a year ago, settled for just six yards on the ground and 56 yards through the air on Saturday.
Should the defense have similar success against Manziel next week, Alabama could be in good shape to leave College Station undefeated and in the driver's seat to return to the national championship. Just don't tell Saban that. He's still fixated on correcting mistakes.
In the end, it was hard to tell whether there was more good or bad to come from the season opener. But maybe that was for the best. The defense looked good and so did the special teams, but having every phase of the team running on all cylinders would have made for a boring lead up to what could be the most anticipated game of the season.
Disgruntled though he may be, Saban was able to see the silver lining. A day removed from his rant to the media, he put the game in perspective, saying it was a relief to have his players see they weren't as good as they thought they were.
Having that edge could be the difference.
"It was a wakeup call to some of the areas of our team that didn't execute very well," Saban said on Wednesday morning. "I don't think there's any question about the fact that if we take this the right way, it can help us improve."
August, 31, 2013
8/31/13
9:03
PM ET
No. 1
Alabama handled Virginia Tech 35-10
in the Chick-fil-A Kickoff Game in Atlanta on Saturday. Here is a look at how the Tide won:


It was over when:
Christion Jones
returned his second kick for a touchdown to put Alabama ahead 28-10 late in the second quarter. Virginia Tech had just cut the lead to 21-10 with 3:39 to go before halftime. With the way their defense was playing, the last thing the Hokies needed was to give up another non-offensive score. But on the ensuing kickoff, Jones went 94 yards for the touchdown, putting the game out of reach.
Game ball goes to:
Jones. In addition to the kickoff return for a TD in the second quarter, Jones returned a punt 54 yards for a touchdown to open the scoring -- making him the first player in Alabama history to score on two returns in one game. He then added a 38-yard touchdown reception in the third quarter -- the first time in his career he has scored three touchdowns in one game. In fact, Jones went into the game with five career touchdowns.
Stat of the game:
3. Virginia Tech gave up a kickoff return, a punt return and an interception return for a touchdown -- the first time that has happened under Coach Frank Beamer.
What Alabama learned:
The Tide dominated on the scoreboard, but if there is one area the Tide must work on, it is the offensive line. There were concerns about the rebuilt line going into the game with three new starters. Alabama struggled at times to protect
AJ McCarron
and struggled to get the run game going consistently. To its credit, Virginia Tech is strong up front. But the Tide are going to have to do better than 2.5 yards per carry and 96 yards on the ground. You can bet this is going to be a big area of emphasis during practice this week.
What Virginia Tech learned:
Its defense can be dominant, but that means nothing if its special teams and offense continue to be an Achilles' heel.
Logan Thomas
did not look any better than he did a year ago, going 5-of-26 for 59 yards and an interception, despite a new offensive coordinator. But once again, he had no help around him at receiver. The Hokies continued to drop catchable passes, a problem last year, as well. Special teams have deteriorated. This team still has major problems that have to be addressed.
August, 31, 2013
8/31/13
4:46
PM ET
ATLANTA -- Alabama's championship defense begins today in the Georgia Dome against perennial ACC power Virginia Tech.


Frank Beamer's Hokies have been hit hard by injuries and attrition leading up to the start of the season, prompting their heavy underdog status.
Logan Thomas
, Beamer's senior quarterback with NFL potential, gives Virginia Tech a fighting chance, though. If he can buy some time in the pocket for his young receivers and gain a few yards on the ground, he could make things interesting.
Meanwhile, Nick Saban's No. 1-ranked Crimson Tide is operating at full strength, with no significant injuries to report. Quarterback
AJ McCarron
was a major point of discussion Friday night when a photo circulated of his arrival at the team hotel with a protective boot on his right foot. But the controversy was cleared up in short order when it was learned the boot was simply a precautionary step to alleviate pain from an ingrown toenail.
McCarron jogged briskly onto the turf here for warmups, sans boot, and moved around without any apparent pain, much to the pleasure of the Tide fans who made the short trip from Tuscaloosa, Ala. McCarron has arguably his most explosive group of receivers since joining the program in 2009, and with Virginia Tech using two freshmen in the secondary, we could see him put the ball in the air early and often to start the game.
That could be predicated on the success of Alabama's rebuilt offensive line, though. UA incorporated three new starters over the offseason, replacing All-SEC players Barrett Jones, Chance Warmack and D.J. Fluker. Reports have been mostly good about their replacements -- center
Ryan Kelly
, right tackle
Austin Shepherd
and left guard
Cyrus Kouandjio
-- but until they see live action it will be hard to tell where they stand, as their chemistry and compatibility is in question.
August, 30, 2013
8/30/13
7:00
AM ET
TUSCALOOSA, Ala. -- It's so close you can taste it. The smell of barbecue is set to saturate the air in Atlanta as hoards of tailgaters prepare for Saturday's kickoff between No. 1 Alabama and historic ACC powerhouse Virginia Tech.

To get you ready for the game, here are some things to look for when the two schools take to the turf inside the Georgia Dome:

Alabama will win if …
August, 27, 2013
8/27/13
1:00
PM ET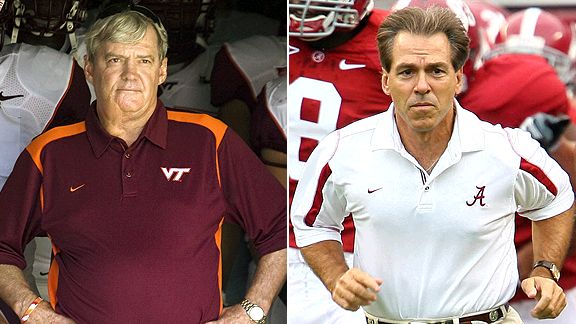 Icon SMI, Getty ImagesVirginia Tech coach Frank Beamer, the winningest active head coach in college football, has a lot of respect for Nick Saban's Alabama team.
TUSCALOOSA, Ala. -- Nick Saban doesn't blush, he fumes. Ask the enigmatic, often high-handed coach of the
Crimson Tide
about being ranked No. 1 and you'll see his nostrils flair as he grips the podium in disdain. Polls, especially those done before the start of the season, are useless to him. He'll say politely that they appreciate the recognition, but that's merely a preamble to a sermon on their worthlessness. The rest of college football might see his team as the front-runner to reach the national championship, but he sees a team that's yet to accomplish a single thing.
"You can make any kind of predictions that you want about what you think you have or what you think you are," Saban said, "but until you actually go and play a game and see how your team's going to respond [you don't know.]"


Frank Beamer sees it another way. He has watched the tape and studied Alabama's roster in preparation for Saturday's season opener in Atlanta. He knows all about
AJ McCarron
,
Amari Cooper
and the Tide's stifling defense, led by All-American linebacker
C.J. Mosley
. And what he's seen in film study is a team that's fully justified of its position atop the polls.
"They've just got it all," Virginia Tech's veteran head coach told reporters, repeatedly calling Alabama the No. 1 team in the country. "They do everything well."
It could have been a classic coaching maneuver, praising the opponent into a false sense of security, but Beamer sounded downright resigned to defeat during a roughly 20-minute teleconference on Monday. He was asked whether he had found any area of Alabama's game he felt the Hokies could exploit, and he said there was none to be had, going so far as to praise Alabama's punter,
Cody Mandell
, rattling off his 44.3 yards per punt average from a season ago.
"I don't think they have a weakness," he explained. "They're just as solid as the day is long."
Saban and Beamer aren't new to this song and dance. With 80 years of coaching experience between them, they know how to play to expectations. The Chick-fil-A Kickoff Game means something different to each team. For Alabama, the stakes are high. It could either be the first step or the fatal fall in the Tide's run toward the championship. For Virginia Tech, the stakes are far less dramatic. The goal is to win, but the more realistic venture is to simply improve as a football team.
"Sometimes when you have runaway wins to start the season, you don't really find what you need to work on or sometimes that's not as clear," Beamer said. "I think playing a team like Alabama, you become a better football team. We understand what a task it is to go in there and beat Alabama. But it's not often that you get a chance to play the best team in the country, the number one team in the country. I think there's plusses, it's certainly a challenge and we know what kind of game we have to play to have a chance."
Is it fair to call the Hokies underdogs? Beamer thinks so.
"I think facts are facts," he said. "We are. I don't think you'll see many people, if any, picking us."
Even with his team favored by three touchdowns, Saban isn't sleeping on Virginia Tech. Always the cynic, he's concerned about how some of his younger players will perform and how the Tide's rebuilt offensive line will play together in its first meaningful action. Alabama lost 10 starters from a year ago, and there are 11 true freshmen on the two-deep depth chart. The ratio is enough to give any coach chills.
"I'm not disappointed in the way we've prepared and the way we've practiced, the things we've done," Saban said. "I'm anxious to see how it all comes together when we play a game."
The seventh-year head coach of the Crimson Tide called Hokies' quarterback
Logan Thomas
"an outstanding player" that will be "a big challenge for our defense." He went on to praise both the their defense and special teams, saying the first-team defense looked "dominant at times" during their spring game. In the end, though, Saban kept coming back to Virginia Tech's head coach, a man who has the most wins of any current coach in college football.
"I've known Frank for a long time," Saban said. "I think he's certainly a class guy that's a credit to college football in everything that he does, from how he represents our game with a lot of class and integrity and the outstanding job he's done as a coach in terms of the product that he's put on the field on a consistent basis over a long period of time.
"I mean, 27 years is a long to be someplace and to have the consistent success that he's had over time, you have to have a tremendous amount of respect for that."
July, 30, 2013
7/30/13
7:00
AM ET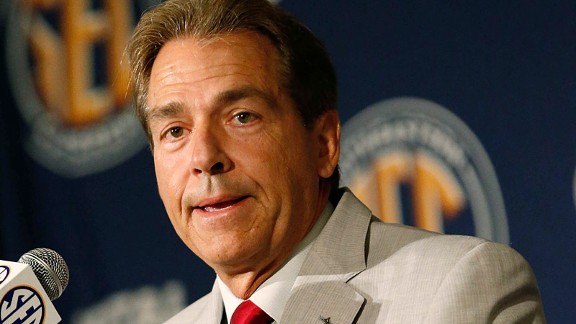 Marvin Gentry/USA TODAY SportsNick Saban isn't apologizing for a schedule that appears easier for Alabama in 2013. There's plenty of difficulty at the beginning with matchups against Virginia Tech and Texas A&M.
TUSCALOOSA, Ala. -- Les Miles is right. So is Steve Spurrier, Butch Jones and every other SEC coach who looks at his schedule and wonders why it's not as easy as the one the defending champions will play.
Nick Saban knows Alabama caught a break. He might not say it directly, but when he told reporters at SEC Media Days that "there can never be an equal path to the championship," he was acknowledging that his team won't face the stiffest of competition this season, and in his mind that's OK. He coached at LSU. He knows what facing Florida every year is like.
It might not be fair, but it is what it is. The Tide avoid the big three in the SEC East -- Florida, Georgia and South Carolina -- while facing nonconference cupcakes such as Georgia State and Chattanooga. The bye weeks set up perfectly, and if you throw in the fact that Ole Miss has to come back to Tuscaloosa for a second consecutive season, its easy to see why some are pointing fingers.
But don't blame Saban, and don't blame his players. And while you're at it, give Alabama a little bit of credit. While you might not like its schedule top to bottom, the beginning is nothing to sneeze at. If Alabama is going to win a third consecutive national championship, it has no time to waste as three of its most important games come in the first five weeks of the season.
"Obviously we start out with a very difficult opening schedule," Saban said. "Virginia Tech has been a 10win team almost every year. ... And then to go play the team that beat us last year, Texas A&M, on the road in the second game of the season, obviously is going to be very challenging.
"That's what we're sort of focusing on, what we're looking forward to."
Anthony Steen
is on the same page. Alabama's veteran right guard was asked what he thought of the busy start to the season, and all he could say was, "I know we play Virginia Tech; I know it's not going to be one of those easy games." As part of an offensive line replacing three starters, he ought to be circling the Hokies defense and its 35 sacks from a season ago.
While everyone might be focusing on the next game on the schedule, the season opener won't be a walk in the park as the Hokies undoubtedly will be a measuring stick for just how prepared Alabama is to stop a mobile quarterback in an uptempo style of offense.
Logan Thomas
, a 6-foot-6 senior with NFL potential, has run for more than 1,000 yards and passed for more than 6,000 in his career under coach Frank Beamer. Despite a disappointing 2012, he finished in the top 40 nationally in total offense with 3,500 yards and 27 touchdowns.
But to be fair, the second game on Alabama's schedule is easily the biggest of the season. Texas A&M was the only team to beat the Tide a year ago, and it's safe to say revenge will be on the mind of players this time around. A camera recently captured an image of the loss playing on TVs in Alabama's weight room, and though players are saying all the right things, there's no underplaying the magnitude of the matchup.
AJ McCarron
gave the best coach-speak a few weeks ago, saying, "Me, personally, I take every week the same way."
"Just a normal week, nothing greater," he added. "It's going to be fun playing in College Station, and I'm looking forward to it."
Steen tried his best to keep the focus on the Hokies, but even he couldn't downplay the matchup.
"We want to beat them by 50," he said. "Obviously we see it on TV every day that they beat us. Like I said, Virginia Tech comes first. Once that switch comes on for A&M, I promise you we're going to be pumped."
Johnny Manziel
had his Heisman Trophy moment against the Tide in 2012, leading his team to a thrilling, 29-24 victory. He exposed the defense early with his feet and finished them off late with his arm. And throughout the offseason, players and coaches have been asked how they'll stop him a second time around.
The bye week that comes before the game might be viewed as a positive in that respect, but not necessarily to players. Steen said he'd rather not have the break and that the time off will only make him more nervous.
C.J. Mosley
, Alabama's leader at inside linebacker, was more even-keeled in his assessment, saying they'll take the extra week to prepare, even though it's not ideal.
"It kind of slows things down," Mosley said. "When the season starts, you just want to keep it going."
Leaving College Station might provide a bit of a breather, but not for long, as Alabama returns home to host an up-and-coming Ole Miss squad two weeks later. Outside of LSU, Texas A&M and Georgia, the Rebels gave the Tide their toughest game last season. The defense held McCarron and company to a season-low 305 yards, while the offense proved dangerous at times, pushing the pace and creating confusion as they went no-huddle. With
Bo Wallace
,
Jeff Scott
and
Donte Moncrief
all a year more familiar with the scheme, Hugh Freeze could increase the tempo even further this time around.
Keeping up won't be easy, especially after going through the wringer against Virginia Tech and Texas A&M in previous weeks. The decidedly weak schedule that follows against rebuilding programs such as Kentucky, Arkansas and Tennessee will be key in regrouping for late games against LSU and Mississippi State.
Even though Alabama might not have the top-to-bottom schedule of its somewhat perturbed SEC brethren, its road to the championship nonetheless presents its own set of challenges. A fast start to the season means a fast start to fall camp and a sense of urgency. As Mosley explained, a team finds its identity in the beginning of the season, "so we have to make sure we're doing a great job during fall camp to have that step ahead."
June, 18, 2013
6/18/13
12:00
PM ET
Editor's note: The season is nearly upon us and TideNation is taking steps to get you ready for every one of Alabama's regular-season opponents. Every Tuesday and Thursday we'll go through each week of the Crimson Tide's schedule, starting with the season-opener against Virginia Tech and closing with the finale against Auburn.
The rundown

To continue reading this article you must be an Insider
May, 20, 2013
5/20/13
7:00
AM ET
It's Rankings Week at TideNation. Every day we'll rank Alabama's opponents in some form or fashion. Today we turn to the Football Bowl Subdivision teams on the Tide's schedule. Tomorrow we'll rank the offensive players Alabama will face.
Ranking the schedule

1. Texas A&M (Sept. 14 in College Station, Texas):
It may not be the Alabama-LSU Game of the Century Trilogy, but the Week 2 date with Texas A&M will be the Tide's Game of the Year in 2013. Why? If for nothing other than revenge.
Johnny Manziel
and the Aggies had the ball bounce their way in a thrilling finish last season, and Alabama will be eager to prove the loss a fluke. Kevin Sumlin's squad might take a step back after losing its franchise tackle (Luke Joeckel) and best defensive player (Damontre Moore), but don't doubt the talent assembled in College Station. Alabama might have been favored at home, but on the road it's anyone's guess.

2. LSU (Nov. 9 in Tuscaloosa, Ala.):
If these two teams are undefeated at this point in the season, we could be talking about extending the Trilogy of classics between SEC rivals. But having lost so much on both sides of the ball, it's difficult to imagine the Tigers making it through the likes of Georgia and Florida without a loss. Les Miles is a magician, but even his tricks have their limits. Replacing seven starters on defense won't be as easy task, and the offense will need time to adjust under new coordinator Cam Cameron.

3. Virginia Tech (Aug. 31 in Atlanta):
If the Hokies are going to challenge in the opener, it will be have to be because of
Logan Thomas
. The senior quarterback turned down the NFL, and after watching him in the Hokies' spring game, his stock doesn't look so solid. He threw three interceptions against what will be a good but probably not spectacular defense. Thomas is one of four returning starters on an offense under the direction of coordinator Scott Loeffler, who struggled mightily at Auburn last season.

4. Ole Miss (Sept. 28 in Tuscaloosa):
Give Hugh Freeze credit. What the Rebels did holding Alabama to its lowest offensive production of the season in 2012 was impressive. And given what Freeze's offense can do with
Bo Wallace
at quarterback pushing the tempo, it's easy to see Ole Miss giving the Tide fits again. The flow of talent coming into Oxford, Miss., is starting to level the playing field.

5. Mississippi State (Nov. 16 in Starkville, Miss.):
Unlike last season, we'll know just how good the Bulldogs are before they face Alabama. (See dates with LSU, South Carolina, Texas A&M). And maybe some toughening up is exactly what they'll need to get ready for a challenge. But the loss of their top two cornerbacks (Johnthan Banks, Darius Slay) and the No. 1 receiver (Chad Bumphis) might be too much to overcome. The good news is
Tyler Russell
is back under center and
LaDarius Perkins
returns at tailback, and they'll be helped by an offensive line with four returning starters.

6. Arkansas (Oct. 19 in Tuscaloosa):
Bret Bielema might be regretting
his comments about Alabama
when he travels to Tuscaloosa to face Nick Saban and the Crimson Tide. It's probably not wise to poke the bear in your first season, even if you're supposed to be doing it behind closed doors to like-minded fans.On the field, Bielema and his new staff have their hands full, replacing 11 starters.

7. Auburn (Nov. 30 in Auburn, Ala.):
It's the Iron Bowl, which means anything can happen. And it will be on Auburn's home turf, which means a Super Bowl atmosphere for a program that will likely have nothing to lose. Gus Malzahn should fare better than his predecessor after cleaning house, but the cupboard was left pretty bare. Cam Newton is on campus, but
only for classes
. Making him eligible might be the only thing that could save what will be a rocky season for Auburn.

8. Tennessee (Oct. 26 in Tuscaloosa):
Butch Jones has re-energized the program, but much like Malzahn at Auburn, he wasn't left with much to work with. Tyler Bray is gone, as is core of the offense with Justin Hunter, Cordarrelle Patterson and Mychal Rivera out the door as well. The defense isn't in much better shape, as it returns a secondary that finished 111th in pass defense. The good news is the Vols should have one of the best offensive lines in all of college football. It's a start.

9. Kentucky (Oct. 12 in Lexington, Ky.):
Mike Stoops is building from the ground up in Lexington, and that hard work is showing on the recruiting trail. But it will take time before it shows up on the football field, where it counts. Until the Wildcats start bringing in SEC talent on a consistent basis, they won't compete in big games like Alabama. It will be a while before Kentucky can make the climb from last in scoring offense and next to last in scoring defense in the league.

10. Colorado State (Sept. 21 in Tuscaloosa):
Jim McElwain has familiarity with Alabama. Give him that much. He'll try to prepare his players for what to expect in Tuscaloosa, but nothing he can say will truly get his team ready for the dramatic change of scenery. Colorado's four wins last season came against dreadful competition (Colorado, Hawaii, UNLV, Mexico), but the silver lining is McElwain returns a whopping 19 starters.
December, 12, 2012
12/12/12
7:33
PM ET
TUSCALOOSA, Ala. -- It should come as no surprise
AJ McCarron
has opted to return to the University of Alabama for his senior season. While the junior quarterback is among the best -- and maybe more appropriately the most efficient -- signal-callers in the country, his play down the stretch has done little to help his NFL draft stock.
As coach Nick Saban is oft to suggest to his players, you don't leave school early unless you are poised to go in the first round of the draft. It would have come as a shock if McCarron were to come off the board that early, leapfrogging the likes of West Virginia's
Geno Smith
, Southern Cal's
Matt Barkley
, Florida State's E.J. Manuel, Arkansas'
Tyler Wilson
and possibly Georgia's
Aaron Murray
.
"To me, he certainly doesn't look like a first-round pick," ESPN college football and draft analyst Kevin Weidl explained. Weidl said he'd start with the third round for McCarron at this point: "He needs to get stronger, sturdier in the pocket and improve some accuracy issues I saw at times."
[+] Enlarge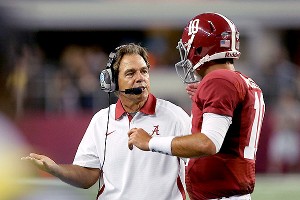 Leon Halip/Getty ImagesHad AJ McCarron left Alabama early for the NFL, Nick Saban would have lacked a QB with experience.
McCarron was a non-factor in the last three games he played against ranked teams this season. Weidl said he looked at the film and saw his decision-making "tail off at the end." McCarron threw for a then-season-low 165 yards at LSU on Nov. 3. The next week, he struggled against Texas A&M, breaking his streak of 290-plus pass attempts without an interception by throwing two key picks in a loss to the Aggies. McCarron rebounded nicely against a pair of sub-.500 teams in Western Carolina and Auburn, only to hit the skids again against Georgia in the SEC Championship Game, attempting just 21 passes for 162 yards and a touchdown.
"He showed very good maturity in looking at all of the factors and making an informed decision on his future," Saban said in a released statement. "He has a chance to add to what he has already accomplished here while also better preparing himself for the next level. We're excited to have him back for his senior season."
By returning for another season, McCarron has the chance to solidify his position as one of the best quarterback prospects in the country. His 173.08 passer rating was tops in college football this season. The only thing remaining for him to prove is consistency and measurables he might face at the NFL combine.
Tide RB dismissed following pot charge
SEC SCOREBOARD
Thursday, 9/3
Saturday, 9/5