Alabama Crimson Tide:

LaMichael Fanning
December, 24, 2013
12/24/13
12:00
PM ET
Hope everyone is enjoying their holiday season. We've started bowl season, too, so there are plenty of storylines across the league. Here are a few of them:
December, 23, 2013
12/23/13
1:50
PM ET
TUSCALOOSA, Ala. --
LaMichael Fanning
is leaving the University of Alabama for Jacksonville State, according to a source. The former four-star prospect had spent time at defensive end and tight end for the Tide in three seasons.
Fanning played sparingly and was suspended Oct. 23. The suspension was for violation of team rules and he never practiced with the team again. He will be immediately eligible to play at JSU.
At 6-foot-7 and 270 pounds, Fanning has the size and athleticism to play several positions. Alabama tried him at tight end during fall camp, but the experiment proved short-lived and he returned to defensive end.
Fanning becomes the second player this year to leave Alabama for JSU. Former Alabama offensive lineman
Caleb Gulledge
was medically disqualified by the coaching staff before the season and shortly afterward signed with JSU.
August, 23, 2013
8/23/13
7:00
AM ET
TUSCALOOSA, Ala. -- Camp formally ended for the Crimson Tide on Monday when the fall semester began on the University of Alabama campus. And while studies have gotten in the way of the early morning practices and two-a-days players had become accustomed to, the mood of preseason camp lingered for much of the week, as players fought to climb the depth chart and position changes remained in effect.
Preparation for Virginia Tech didn't begin until Thursday afternoon, when the second half of the brief media viewing portion of practice came with the condition that cameras not film the proceedings. For the first time, there was something coaches weren't willing to show the outside world.
[+] Enlarge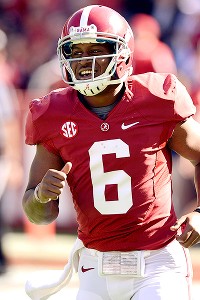 John David Mercer/USA TODAY SportsComing out of preseason practice, Blake Sims is the clear cut No. 2 quarterback for the Crimson Tide.
But even so, there was plenty to report, and in the final edition of Alabama Intel we'll try to do just that.
August, 2, 2013
8/02/13
2:06
PM ET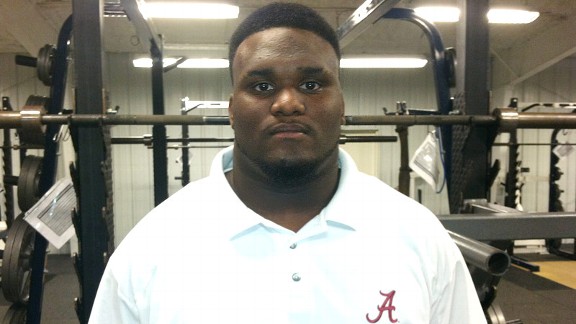 Greg Ostendorf/ESPN.comFreshman DT Darius Page will remain on scholarship and could rejoin the team in the future.
TUSCALOOSA, Ala. -- Former four-star defensive tackle
Darius Paige
has been "medically disqualified" to play by the University of Alabama medical staff, according to coach Nick Saban.
Paige (6-foot-4, 314 pounds), out of Foley, Ala., was part of Alabama's No. 1-ranked signing class of 2013 and arrived on campus this summer eager to compete for playing time on a defensive line replacing three of its top four players from a season ago. Instead, he will remain in school on scholarship and work toward playing sometime in the future.
"Paige has medical issues that have caused our medical staff to think that it's not safe for him to to try and play, so he has been medically disqualified," Saban said. "He is here, and we are helping to support him, and he will be on scholarship, get an education, and our medical staff is working with him right now to improve his condition.
"Now, I can't comment any further on that. ... I'm just giving you what I can say."
Paige tweeted from his personal account on Sunday that, "Being left out is the worst feeling ever."
Saban said Paige's redshirt cleared the way for
Bradley Bozeman
to join the team this week. Bozeman, a former four-star signee in the 2013 class had been prepared to grayshirt this season because of a knee injury. Bozeman
told TideNation's Greg Ostendorf this week
that he's very close to 100 percent.
Paige's loss wasn't the only blow to the Tide, as it was announced that reserve tight end
Malcolm Faciane
has been suspended for violation of team rules. The 6-foot-5, 267-pound redshirt sophomore was in line to take on an increased role after the departure of former Alabama tight end
Michael Williams
. Now he'll have to work his way back into the good graces of the coaching staff.
"He can return, if he does the things he's supposed to do, at some point in the future," Saban said.
Defensive end
LaMichael Fanning
practiced with the tight ends and will continue there for another four days to see if he can contribute and provide depth at the position.
June, 27, 2013
6/27/13
11:00
AM ET
During the summer, TideNation will analyze each of the scholarship players on the Alabama roster -- excluding the Tide's 2013 recruiting class -- in our Crimson Countdown series. Starting with No. 1 Dee Hart, we will go through the roster numerically, finishing with No. 99 Brandon Ivory.
No. 44 LaMichael Fanning
Redshirt sophomore defensive end
Expectations for 2013:
There may be no bigger question mark on the Alabama roster than Fanning, who clearly has the potential to be a standout in the SEC but has yet to put everything together on the football field. Last season was a start for the talented defensive end as he played in eight games and recorded four tackles. But one of those tackles against Missouri is why he's such an unknown commodity. On his body-slam of the Tigers' running back, Fanning showed both overwhelming physical gifts and underwhelming awareness, not understanding in the moment that he should not literally throw a ball carrier over his head.
To continue reading this article you must be an Insider
May, 7, 2013
5/07/13
11:00
AM ET
Editor's note: TideNation will use this week to look at the four major positions on the football field and how their outlook has changed after spring practice. Today we examine the front seven:
To continue reading this article you must be an Insider
March, 26, 2013
3/26/13
1:53
PM ET
TUSCALOOSA, Ala. -- If you want to see the results of Alabama's new $9 million,
37,000 square-foot weight room
, look no further than the updated roster numbers. The sheer tonnage of pounds lost and gained in the span of one year is overwhelming.
To continue reading this article you must be an Insider
January, 11, 2013
1/11/13
8:00
AM ET
Editor's note: The season is over and the Alabama Crimson Tide are national champions yet again. But what happens next? TideNation examines the most pressing storylines of the offseason as the Tide gear up for another title defense.
TUSCALOOSA, Ala. -- The heart of the defensive line is gone. So is its vocal leader. Its best backup is leaving, too. Three of the top four defensive linemen played their final game with the Alabama Crimson Tide on Monday night in South Florida.
This week marked the beginning of a new era on the defensive front at Alabama. Nose guard
Jesse Williams
and defensive ends
Damion Square
and
Quinton Dial
are all awaiting their heirs. The unit that garners little of the credit yet bears the brunt of the responsibility on defense is getting a makeover.
To continue reading this article you must be an Insider
October, 15, 2012
10/15/12
4:19
PM ET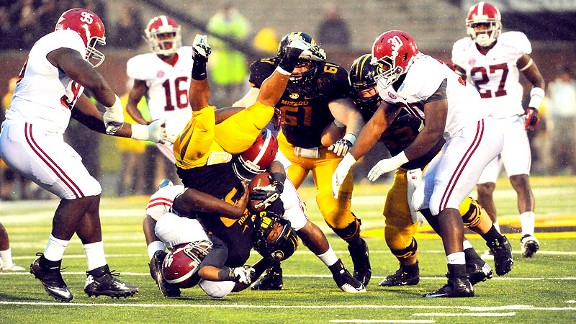 Denny Medley/US PresswireAlabama's LaMichael Fanning drew an unsportsmanlike conduct penalty and had to write a letter of apology after this tackle against Missouri.
TUSCALOOSA, Ala. --
LaMichael Fanning
's body slam on a Missouri running back had the look of a pro wrestling maneuver, grabbing him by the chest and flipping him over his head.
The move from Alabama's redshirt defensive lineman drew awes from the crowd and boos from commentators. Officials threw a flag on the play for unsportsmanlike conduct and there has been no word from the SEC offices whether the play would merit a suspension.
The move was over the top, UA coach Nick Saban said on Monday.
"This is a young player who's excited about getting in the game who makes a very, very poor decision and judgment on making that play," he said. "It's something we don't condone here. It's not how we want our players to play."
Fanning was not made available to the media. Saban said he had Fanning write a letter of apology to Missouri coach Gary Pinkel and the player he slammed to the turf,
Russell Hansbrough
, who was not injured on the play.
"He understands that what he did was not done in the right way in terms of being a strong competitor," Saban said, "and we are managing internally things for him to do to make better choices and decisions in the future.
"With our young people, when they make mistakes, that's what you really want to try to do."
September, 9, 2012
9/09/12
4:18
PM ET
TUSCALOOSA, Ala. -- After nearly 24 hours of digestion, analysis of No. 1 Alabama's 35-0 win over Western Kentucky in the home opener at Bryant-Denny Stadium in Tuscaloosa:
Alabama's offensive line was shaky. There were several negative plays on offense. They continue to get very good push in the running game, but pass protection is an issue. The pocket was poor all game. Of the six sacks on AJ McCarron, two were the quarterback's fault, one of which he held the ball just a split-second too long.
Give the WKU defense credit, though. The Hilltoppers pressured the backfield with blitzes and misdirection all game.
To continue reading this article you must be an Insider
August, 6, 2012
8/06/12
5:00
PM ET
TUSCALOOSA, Ala. -- The University of Alabama football team took the field for the second consecutive days of practice in shells on Monday. It's the fifth day in a row that the Crimson Tide have practiced, and they will continue through the week before a scheduled off day on Sunday.
Here are a few notes and observations from the media viewing period of Monday's practice.
For the second consecutive day, no players other than quarterbacks started the practice in black no-contact jerseys. On Sunday, both Eddie Lacy and Arie Kouandjio switched into the black shirts after a few periods of practice. Lacy and Kouandjio are both recovering from offseason surgery. Coach Nick Saban has given no indication that either have had setbacks in their rehab. Lacy is nearly full-go, still not working on cutting. Saban said he hopes Kouandjio will be available for the season opener against Michigan.
Sunday's practice did have some casualties and Monday we got a glimpse into the fallout. Receiver Chris Black and cornerback Dee Milliner were out at practice after their respective tumbles at Fan Day, but only Milliner appeared to be back to 100 percent, working out in all drills. Black, on the other hand, was dressed out but did not work out with the other receivers. He walked through drills and jogged from station to station.
Quinton Dial continues to work with the first group on the defensive line with Williams and Damion Square. Dial appears to be in very good shape.
To continue reading this article you must be an Insider
July, 19, 2012
7/19/12
7:00
AM ET
From now until kickoff in Arlington, Texas, we'll be counting down the days before Alabama and Michigan get the season started. Today, we move to No. 44 and what it means to UA football. See all the previous editions here.
No. 44 on the University of Alabama roster certainly looks the part.
LaMichael Fanning
is built to be a defensive end. The long, lean Georgia native is too strong for tight ends to block and too quick for offensive linemen. At 6-foot-7, 298 pounds, he's one of the largest men on the field at all times.
But Fanning didn't come to Tuscaloosa that way. In fact, it may be one of the reasons coach Nick Saban and Co. decided to redshirt him last season despite showing promise during fall camp. Like many true freshmen in college, Fanning enrolled looking more like a basketball player than someone who battles in the trenches. After a year in the weight room and in line at the cafeteria, Fanning put on nearly 30 pounds.
(You'll remember
Adrian Hubbard
signed with Alabama at a stringy 227 pounds. He's currently listed at 248 pounds.)
With the redshirt gone and more bulk to his frame, there's reason to expect Fanning to contribute on defense. The former top-20 defensive end prospect will have plenty of competition, though, with Ed Stinson, Quinton Dial and others vying for spots alongside Jesse Williams at nose tackle. If Fanning were to get into the rotation, it could give the Crimson Tide some much needed depth on the defensive line -- a position that values fresh legs above all else.
Scout's Take: Atlanta Opening Regional
SEC SCOREBOARD
Thursday, 9/3
Saturday, 9/5