Alabama Crimson Tide:

Kevin Steele
May, 6, 2014
5/06/14
9:00
AM ET
TUSCALOOSA, Ala. -- "What's an analyst?" was the overwhelming response among the sports information directors polled for this story. They didn't know, it turns out, because some football staffs use them, some don't, and some call them by entirely different names, like "quality control" or "recruiting specialist."
[+] Enlarge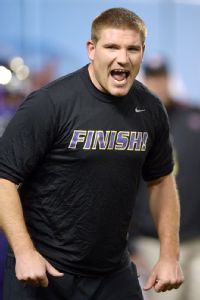 Kirby Lee-USA TODAY SportsTosh Lupoi, who was at Washington last season, is the newest 'intern' on Alabama's football staff.
Heck, Nick Saban called his latest analyst an "intern," bringing to mind coffee runs, car washes and other frivolity -- which couldn't be further from the truth. This
intern
happened to be Tosh Lupoi, the 32-year-old former defensive line coach and super recruiter who earned $350,000 at Washington in 2013. Lupoi could hire an army of pimply faced undergrads if he wanted. He wasn't brought in by Alabama to run errands.
"He's got a lot of good experience both coaching and recruiting," Saban said of Lupoi earlier this spring. "He didn't get a job this year, didn't have any issues relative to the way we checked him out with the NCAA, which we do with everybody that we hire.
"He's going to be an intern that helps us some in recruiting, a lot in the electronic media part of recruiting, which is something that we feel like we need to improve."
You'll have to forgive Saban for his mistake in language. On March 31 he described his role working with cornerbacks in individual drills as that of a "G.A." under defensive coordinator Kirby Smart. It was a laughable moment, painting the 62-year-old head coach as the highest paid graduate assistant in the world, not to mention the fact he's likely not pursuing a post-graduate degree on the side.
Dr. Nick Saban, imagine that.
No, Saban is still the head coach and Lupoi is his analyst, Alabama associate athletics director Doug Walker confirmed. Lupoi is, in fact, a full-time employee and one of seven analysts working for the football program.
Drawing on his background in the NFL, Saban has long been ahead of the curve when it comes to building large, supremely qualified support staffs. In addition to the coordinators and position coaches you recognize on the sidelines, there are those who work behind the scenes: interns, graduate assistants, video coordinators, strength coaches and, of course, secretaries. Some have roles like director of player development, football operations coordinator and athletic relations coordinator. Kevin Steele was Alabama's director of player development before transitioning to linebackers coach this season. Before that, he was a head coach at Baylor and defensive coordinator at Clemson.
But Alabama isn't alone in stockpiling personnel, though it does appear to be something of an uneven landscape in the SEC. Auburn boasts six analysts and three quality control members, according to its 2013 media guide. Mississippi State has two recruiting specialists and three quality control staffers, according to its online directory. Meanwhile, Tennessee and South Carolina each have one quality control staffer for offense and one for defense, according to their official websites.
More than a handful of SEC schools' directories and media guides fail to provide any information at all on their analyst-like positions, leaving room for speculation when it comes to historical powerhouse programs like Florida and Georgia, which operate on large staffs and even larger budgets. The Gators, for instance, have nine "non-coaching football staff" members who work full time, according to a member of the UF communications department.
Walk into any major college football complex in the country, and you'll notice a swarm of activity. The team-issued Polos are often too many to count, far more than NCAA bylaw 11.7.2 outlines: "There shall be a limit of one head coach, nine assistant coaches and four graduate assistant coaches who may be employed by an institution in bowl subdivision football." By creating roles like that of analyst and quality control, programs can have more bodies to work with, even if they come with limitations that prohibit them from directly coaching athletes or contacting prospective recruits.
Managed effectively, an extra pair of hands and an extra set of eyes can be an enormous advantage for an infrastructure as large and involved as Alabama's. There are players to watch over, game plans to devise and any number of other institutional responsibilities.
Bigger has always been better when it comes to college football, and coaching staffs are no different. Lupoi's hire just happens to be the latest warning shot fired in the staffing arms race as Alabama filled a normally low-level position with a candidate any number of athletic directors would have been happy to interview for an on-field coaching job and its accompanying six-figure salary.
In fact, Lupoi was all set to follow Steve Sarkisian from Washington to USC late last year. But a six-week NCAA investigation left him in limbo, and he ultimately dropped into Alabama's lap, a seasoned coach and successful recruiter wildly overqualified for the position Saban was offering.
Intern? Given Lupoi's credentials and reputation, he might as well be.
Call him whatever you like, Alabama got a steal even if Lupoi stays for a year as an analyst and moves on to the next job as a position coach or coordinator. His knowledge as a coach and recruiter is worth whatever the University is paying him.
March, 14, 2014
3/14/14
9:00
AM ET
Schedule:
The Crimson Tide will open spring practice on Saturday in Tuscaloosa, Ala. All practices are closed and only the A-Day scrimmage at 2 p.m. ET on April 19 will be open to the public.
What's new:
The coaching staff has gone under some serious reconstruction. In fact, it looks a lot like Nick Saban's staffs of old with Kevin Steele as the linebackers coach and Bo Davis as the defensive line coach. Defensive coordinator Kirby Smart moved back to coaching the secondary to allow for Steele's return. And let's not forget the one new face on the staff, offensive coordinator Lane Kiffin. You might have heard of him.
On the move:
When Saban last spoke to the media a week ago, he said there was "no news on who's playing what position and who the quarterback is." But there will be movement. Look for some tweaking in the defensive backfield this spring. Much like last year,when Saban asked offensive players
Dee Hart
,
Christion Jones
and
Cyrus Jones
to try their hand at cornerback, he might ask someone like
ArDarius Stewart
to see if a return to defense is in order. Considering the lack of depth at cornerback and the departure of safeties
Ha Ha Clinton-Dix
and
Vinnie Sunseri
, the coaching staff might need to plug some holes in the secondary with some surprise players.
[+] Enlarge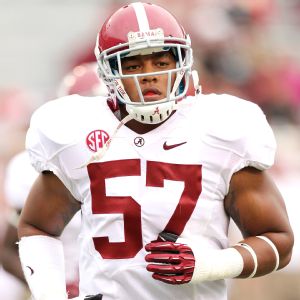 Nelson Chenault/USA TODAY SportsD.J. Pettway is back and will attempt to earn a shot at playing time at Alabama.
On the mend:
One of those defensive backs coming back is
Nick Perry
. The safety started four games in 2012 and appeared in two more games in 2013 before suffering a season-ending injury. Though he might not be the most talented option at the position, he's clearly the most experienced, with 30 games under his belt. And that counts for something with Saban, who needs to trust whoever starts opposite
Landon Collins
.
New faces:
Aside from the handful of early enrollees fresh out of high school, there are four junior college transfers to watch, including the return of former Alabama defensive end
D.J. Pettway
. There's also tight end
Ty Flournoy-Smith
, who was at Georgia once upon a time and could add to the passing game behind
O.J. Howard
; defensive tackle
Jarran Reed
, who could help plug the middle at 315 pounds; and offensive tackle
Dominick Jackson
, who was ranked as the No. 1 player at his position and could challenge to replace
Cyrus Kouandjio
.
Question marks:
We've detailed the problems in the secondary and hinted at the battle at left tackle, leaving a major unanswered question as to who replaces
C.J. Mosley
on defense. The former All-American linebacker was the heart and soul of the unit. We know
Trey DePriest
wants to take on the role, but is he ready? And who will play alongside him at inside linebacker?
Reuben Foster
was an immensely talented linebacker coming out of high school -- with a dramatic recruitment, no less -- but he played mostly on special teams as a freshman. He'll have a lot of competition for playing time, with
Dillon Lee
and
Reggie Ragland
hoping to emerge.
Key battle:
Unfortunately, this one won't be solved until the fall. But that makes the battle no less important. Alabama needs to find a starting quarterback to replace
AJ McCarron
, and until that's resolved, it's priority No. 1.
Jacob Coker
, the Florida State transfer, won't arrive on campus until May. So that leaves a bevy of unproven options under center.
Blake Sims
will get his shot after backing up McCarron last year, but it remains to be seen how the run-first athlete will do as a pocket passer. Beyond Sims, there's rising sophomore
Alec Morris
and a pair of redshirt freshmen,
Cooper Bateman
and
Parker McLeod
. If one stands out this spring, he'll surely have the upper hand come fall and could challenge the presumed frontrunner, Coker.
Breaking out:
It was a process started at the Sugar Bowl that many Alabama fans hope will continue right on into his sophomore season.
Derrick Henry
didn't do much during the regular season, carrying the ball a total of 28 times. But all you'll remember is the bowl game and his eight carries and one reception against Oklahoma, accounting for 161 yards and two touchdowns. He's big (try 6-3 and 238 pounds) and he's deceptively fast. With dreadlocks that stick out from under his helmet, picture a stretched out Trent Richardson. After losing a large chunk of practice last spring to a broken leg, he'll have the benefit of a full offseason to climb the depth chart and nip at the heels of incumbent starter
T.J. Yeldon
.
Don't forget about:
Don't sleep on Yeldon. He's pretty darn good, with back-to-back 1,000-yard rushing seasons to start his career. But don't forget Alabama's depth at wide receiver. Whoever starts at quarterback will have plenty of receivers to throw to.
Amari Cooper
, who is among the best in the SEC when healthy, is just the tip of the iceberg.
DeAndrew White
and Christion Jones are two veteran pieces, and tight end O.J. Howard has the potential to be one of the disruptive offensive weapons in the league if he reaches his potential. Given the way Alabama has recruited of late, look for one or two blue-chip prospects to emerge.
Chris Black
has been waiting patiently, and
Robert Foster
seems poised to step up with a year of experience under his belt.
All eyes on:
There's going to be a quarterback competition, position battles and several new players will emerge. But keep an eye on Alabama's attitude. Saban's dynasty in Tuscaloosa was shaken but not entirely derailed last season. Losing the final two games, to Auburn and Oklahoma, in such unspectacular fashion hurts. The question is how Alabama will respond. It worked out well after the 2010 season, but this isn't the same team. There are quite a few leaders in need of replacing, and there might be something to McCarron's criticism that a five-star sense of entitlement crept into the program. Righting the ship won't be easy for Saban and his staff, but he will have the luxury of putting a gigantic chip on his players' shoulders this offseason. How they respond is up to them.
March, 13, 2014
3/13/14
11:00
AM ET
Editor's note: This is Part IV in a weeklong series predicting what changes are ahead for Alabama this spring.
TUSCALOOSA, Ala. -- If you've watched Alabama football these past few years, then you know what
Trey DePriest
looks like in uniform. The No. 33 emblazoned on his chest, he's a thickly built linebacker with a low center of gravity. He's a complete player; good in tight quarters against the run and solid in space against the pass. He doesn't shy away from contact, but he hasn't always been at the center of it either since signing with Alabama in 2011. Instead, that honor belongs to All-American
C.J. Mosley
, who racked up 100 or more tackles in each of the past two seasons.
But with Mosley off to a career in the NFL, expect to see a new Trey DePriest on the field this spring. The 6-foot-2, 245-pound senior doesn't figure to change much physically; he doesn't need to. Between the ears, however, he should make significant strides. A vacuum in leadership has moved him to the forefront of Nick Saban's defense, demanding that he be both productive and vocal in 2014. Looking good in uniform and showing flashes of promise won't cut it anymore. DePriest must transform himself these next few weeks and months if Alabama's defense is to live up to the lofty standards of seasons past.
[+] Enlarge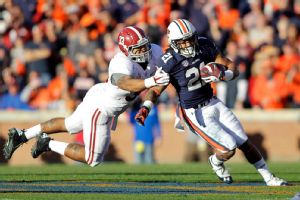 John Reed/USA TODAY SportsTrey DePriest says he's ready to assume the leadership role on the field and in the locker room left open by the departure of C.J. Mosley.
The good news for Alabama fans is that DePriest does have all the tools to succeed. His size and speed are ideal. He isn't quite as fast as Mosley, but then again few in the college game have ever been.
Still, he has been consistently productive in somewhat of a lesser role. He stood out early as a playmaker on special teams with 25 tackles in 13 games as a freshman. In each of the past two seasons he's ranked in the top three on the team in tackles: 59 as a sophomore and 65 as a junior. Mosley, by means of comparison, went from 37 tackles as a sophomore to 107 tackles as a junior. Both could have entered the NFL draft as underclassmen, but both decided to stay for their senior seasons. For Mosley, it paid off to the tune of another 100-tackle season and an even more inflated draft stock. The hope for DePriest is he does the same.
"He knows the defense just like I do," Mosley told reporters prior the Allstate Sugar Bowl. "If he comes back like I did, he'll evolve into that every-down linebacker role so people will be able to see his true talents. They'll see he can control the defense and be the only linebacker on the field and make all the calls."
When it comes to the matter of leadership, Mosley sees that capability in DePriest, too.
"If he stays, it will be him," Mosley said when asked who the leaders will be when he leaves. "He doesn't get a lot of credit, but he's a pretty good linebacker."
Said DePriest: "I'm definitely going to be ready to take on that job. Like I said earlier, I'm going to have to. Him and the other guys leaving like that, it's going to be something that I have to do."
The linebacker corps will be young next season. Sam linebacker
Adrian Hubbard
is off to the NFL and Jack linebacker
Xzavier Dickson
was suspended for the Sugar Bowl, though Saban said he'll be back for spring practice. None of the three contenders to replace Mosley at inside linebacker --
Reuben Foster
,
Dillon Lee
and
Reggie Ragland
-- has ever started a game and together they combined for all of 45 tackles last season.
DePriest, more than ever, will be leaned on by the coaching staff. He has had the luxury of working with defensive coordinator Kirby Smart one-on-one in the past as his position coach, but now that responsibility falls to Kevin Steele, who was a defensive coordinator at Clemson (2009-12) before returning to Tuscaloosa last year as director of player personnel.
Maybe a new challenge and a new coach will be just what the doctor ordered for DePriest as he takes on the biggest test of his career at Alabama. As spring practice kicks off on campus this week, look for the senior to look the same but play like a new man.
March, 11, 2014
3/11/14
12:00
PM ET
Half of the SEC teams have started officially-sanctioned football-related activities with Missouri and Vanderbilt opening spring practice on Tuesday. There's a lot going on.
February, 19, 2014
2/19/14
10:00
AM ET
It's not that unusual in the SEC to see former head coaches at the collegiate level (or even the NFL level) show back up in an assistant's role.
For example, Cam Cameron just finished his first season as LSU's offensive coordinator. He was the Miami Dolphins' head coach in 2007 and served as Indiana's head coach from 1997-2001.
[+] Enlarge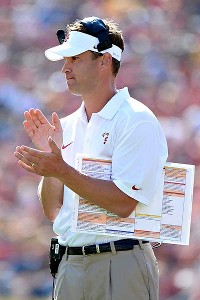 Harry How/Getty ImagesLane Kiffin is among the former head coaches on Nick Saban's Alabama staff.
Former Miami coach Randy Shannon is on Bret Bielema's staff at Arkansas. Former Marshall coach Mark Snyder is Kevin Sumlin's defensive coordinator at Texas A&M. Former UCLA coach Karl Dorrell was recently announced as Vanderbilt's offensive coordinator under first-year coach Derek Mason. Former Kentucky coach Joker Phillips is Florida's receivers coach, and Auburn defensive coordinator Ellis Johnson spent one season as Southern Miss' head coach before joining Gus Malzahn on the Plains.
At Alabama, Nick Saban has five former head coaches working under him, counting director of football operations Joe Pannunzio. Prior to going to Miami, his last stop before joining Alabama, Pannunzio was Murray State's head coach from 2000-05.
The newest former head coach on Saban's on-the-field staff is a familiar face and a valuable one. Kevin Steele, who was the head coach at Baylor from 1999-2002, is moving back on the field as inside linebackers coach and will also be a special assistant to the head coach after serving in a player personnel role at Alabama last season. Steele, one of the top recruiters in the business, also coached linebackers at Alabama in 2007 and 2008 before going to Clemson as defensive coordinator.
Steele is one of three coaches on Alabama's 2014 staff who left to go elsewhere and are now back. Defensive line coach Bo Davis returned after spending the last three seasons at Texas. Outside linebackers coach Lance Thompson is on his third different stint with Saban. They were together at LSU in 2002 and 2003, and Thompson spent the first two seasons with Saban at Alabama in 2007 and 2008 before going to Tennessee for three seasons and then returning to Alabama in 2012.
Ironically enough, Thompson was lured away from Alabama following the 2008 season to join Lane Kiffin at Tennessee. Kiffin is entering his first season on Alabama's staff as the Crimson Tide's quarterbacks coach and offensive coordinator. He's one of the five assistants on this staff with head coaching experience, with the NFL's Oakland Raiders as well as Tennessee and USC in the collegiate ranks.
Offensive line coach Mario Cristobal was the head coach at Florida International from 2007-12, while tight ends coach/special teams coordinator Bobby Williams followed Saban as head coach at Michigan State from 2000-02.
Counting current defensive coordinator Kirby Smart, seven of the nine on-the-field coaches on the Tide's 2014 staff have either been a head coach or offensive/defensive coordinator at the FBS level.
Saban, for all the talk about being so controlling, likes having that kind of experience on his staff and particularly likes having guys on his staff who are going to challenge his thinking. It also speaks to his security that he would have so many former head coaches on his staff, not to mention the fact that he's not hesitant to bring guys back.
He has never been shy about tweaking his staff, either. Every year he has been at Alabama, he's had at least one coaching change.
April, 23, 2013
4/23/13
6:30
AM ET
TUSCALOOSA, Ala. -- Gas up the car, fuel up the jet and be sure to load up on plenty of snacks. A-Day is officially in the rearview mirror. It's time to take the show on the road.

Alabama coaches will hit the recruiting trail hard over the coming weeks as the focus shifts from spring practice to the spring evaluation period. After months of laying the groundwork, it's time for the staff to make hay with some of the country's top prospects.


February, 14, 2013
2/14/13
5:37
PM ET
TUSCALOOSA, Ala. -- The University of Alabama filled two support staff vacancies Thursday when it announced the hirings of former Clemson defensive coordinator Kevin Steele as director of player personnel and former Vigor (Ala.) High coach Kerry Stevenson as director of player development.
[+] Enlarge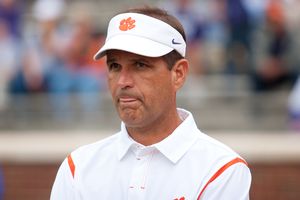 Jeremy Brevard/Icon SMIAfter serving as defensive coordinator at Clemson for three years, Kevin Steele returns to Alabama.
For Steele, it was a welcome home after having spent the 2007 and 2008 seasons as the Crimson Tide's defensive coordinator under head coach Nick Saban. He most recently held the same position at Clemson.
Steele, 54, will be responsible for directing Alabama's recruiting efforts and will assist in other football-related activities. Clemson finished 19th in the ESPN class rankings in 2010 and eighth in 2011. He was fired by Clemson following the 2011 season after the Tigers gave up 70 points to West Virginia in the Orange Bowl. He did not coach in 2012.
"We are excited to have Kevin back on our staff," Saban said in a statement. "He did an excellent job here previously, and he knows our program from a recruiting standpoint as well as anyone. His organizational skills and people skills make him a perfect fit for this role. As recruiting in college football has evolved through the years, this position is one of the most important on our staff."
Steele said in a statement released through the University that he's looking forward to the challenges of the position.
Alabama Dismisses Jonathan Taylor
SEC SCOREBOARD
Thursday, 9/3
Saturday, 9/5