Alabama Crimson Tide:

Justin Hunter
October, 21, 2012
10/21/12
1:49
AM ET
KNOXVILLE, Tenn. -- The scoreboard read like just another day at the office for Alabama, but Saturday night's performance meant so much more to the No. 1 team in the nation.
It would have been easy for Alabama to coast through this one and grind out things in the fourth quarter, as it did against Missouri last week.
But the Crimson Tide didn't come close to that. With their most balanced offensive performance of the season and yet another tremendous effort from their defense, the Tide pounded Tennessee
44-13
by playing arguably their most complete game of the season.
With top-15 opponents Mississippi State and LSU coming up in consecutive weeks, this was exactly the kind of performance Alabama needed going forward.
"We came in with a game plan and we executed it," tight end
Michael Williams
said. "We like to come out and impose our will on our opponent, and we did that to the best of our abilities tonight."
Previous games were mere tuneups for what lies ahead. Now, Alabama's true tests come, and the difference between the SEC and more lies within the next two weeks. Heading into Saturday, questions still remained. Alabama did a great job of answering them.
Everyone harped on Alabama's passing. On Saturday, quarterback
AJ McCarron
couldn't throw it enough, as he passed for a career-high 306 yards and had four touchdowns on 17-of-22 passing.
People wondered how Alabama's secondary would fare against a talented passing game. It shined, as
Justin Hunter
and
Cordarrelle Patterson
were targeted 14 times but combined for five catches for 95 yards and no touchdowns.
[+] Enlarge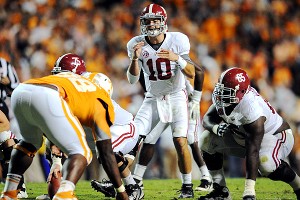 Randy Sartin/US PresswireAJ McCarron answered doubts about Alabama's passing with four TDs and a career-high 306 yards.
Tyler Bray
threw for just 184 yards and two interceptions.
And the young offensive playmakers are getting better, as receiver
Amari Cooper
led all receivers with 162 yards and two touchdowns, and
T.J. Yeldon
led all rushers with 129 yards and two scores.
Players knew how important it was to come out and have everything click before Alabama's upcoming stretch. A rusty win only makes for longer film sessions and more pressing. This team had to have a complete game before facing the Bulldogs and Tigers.
After Saturday, Alabama is showing the systematic separation between not just its opponents, but the rest of the nation.
"We played all four quarters of Alabama football tonight," center
Barrett Jones
said.
People nitpicked at the offense being too run-oriented, but it was as balanced as ever Saturday. McCarron was asked to pass more and showed he certainly doesn't have a problem slinging the ball.
"Everybody's gotta understand, we're gonna take what the defense gives us," McCarron said. "One week, we might have to run it, and the next week, we might have to throw it. Tonight, we got them on their heels a little and we were able to do both really well."
So well that it even had coach Nick Saban consenting that this was his team's most complete game.
"I was really pleased with how our guys played for 60 minutes in the game, and we know that's what it would take," Saban said. "They kept grinding, and we finally got control of the game."
Alabama's recovery was splendid, as well. Adversity hadn't really hit this team until Saturday, but the Tide always responded, as the offense scored touchdowns directly after three drives that ended without scores and the defense erased big plays almost immediately after they occurred.
Tennessee averaged just 4 yards on the plays right after the Vols' four pass plays that went for 20-plus yards. One play was a 2-yard touchdown, while only one other drive led to a score -- a 32-yard field goal.
Trouble didn't bother Alabama.
"We did an excellent job doing that, forgetting about the big plays and making all big plays on defense," said safety
Robert Lester
, who intercepted Bray in the end zone three plays after a 44-yard Hunter reception in the third.
Alabama wasn't perfect, but it played its most well-rounded game without a lull in its performance. That's what this team has waited for. It's more focused and it's getting better at the most important time of the season.
October, 19, 2012
10/19/12
8:30
AM ET
TUSCALOOSA, Ala. -- There's something about the Third Saturday in October, Alabama versus Tennessee, crimson and orange on a fall night.
It's not a rivalry by geography, nor is it one that dates back to the school's inception. But the rivalry between Alabama and Tennessee is no less intense. In fact, to UA linebacker
Trey DePriest
, it might be the most intense game the Tide play all season.
"Being a second-year player, it's kind of grown on me now," he said. "Last year, I didn't know. I thought it was always Alabama-Auburn. I didn't really know about the Tennessee game. But a lot of the older fans take this game real seriously. It's bigger than Alabama-Auburn to them."
To
Cyrus Kouandjio
, the game represents something different. The sophomore left tackle will come full circle Saturday, marking a year since he tore his ACL at home against Tennessee. The road back wasn't as easy as he thought it would be.
"When I got hurt was almost exactly a year ago; it was tough," Kouandjio said. "To rehab every day -- I didn't know it was going to be as hard, actually. When you get hurt, it's not a joke, because it's tough to get back. I'm still kind of hurting a little bit. But I'm just ready to go out there and play, you know? I'm actually pretty excited. It's been a year, and this is the same team that I tore my ACL against.
"I'm ready to go out there and have fun."
With a trip to Neyland Stadium to look forward to all week, Kouandjio said he has noticed a change not just in himself, but the team as a whole.
October, 18, 2012
10/18/12
9:00
AM ET
TUSCALOOSA, Ala. -- No. 1 Alabama travels to face Tennessee on Saturday for another edition of The Third Saturday in October. The Tide (6-0, 3-0 SEC) have won five in a row in the series and haven't lost to the Volunteers since 2006. Tennessee hasn't beaten a No. 1 team since 1985 when it upset Auburn at home.

Here's five storylines for the game:

FIVE STORYLINES
September, 20, 2012
9/20/12
10:30
AM ET
Well, well, well. It looks like The Kid knows a little bit about what he's yapping about these days.
After two weeks of having identical picks, we have some separation after I correctly picked that Florida would walk into Neyland Stadium and snatch a win away from the Vols. I thought the Gators would win because of their defense -- and that unit did just what I thought it would in the second half -- but I didn't think Florida's offense would step up like that. My goodness.
Talk about Rocky Bottom.
That's exactly where Chris sits heading into Week 4 with a record of 31-4 (.886), which is one game behind my 32-3 (.914) record. We both missed on Kentucky losing to Western Kentucky last week, but the most important thing in my eyes is that I have a one-game lead, and I can tell that Chris is scrambling.
You should have heard our conversation after his alma mater let the Gators off the hook Saturday. The mental games for him started when
Cordarrelle Patterson
and
Justin Hunter
both dropped those key second-half passes for the Vols. They just fueled his realization that he'd leave the weekend a game behind The Kid.
It's funny how he has time to take jabs at my love for soccer (the world's most popular sport, I might add), but doesn't have the time to remember that defense wins championships. Going with offense last week was a true gaffe by the vet.
For the sake of competition, I hope he has learned his lesson.
On to the picks:
OLE MISS AT TULANE
Edward Aschoff:
The Rebels are coming off quite the blowout loss to Texas, in which the defense was totally overmatched. The Rebels face one of the nation's worst offenses, so the outcome will be much different. ...
Ole Miss 31, Tulane 14
Chris Low:
Ole Miss' defense is reeling following the Texas stampede last weekend. The good news for the Rebels is that Tulane has been anemic offensively in its first two outings. …
Ole Miss 31, Tulane 13
FLORIDA ATLANTIC AT ALABAMA
Edward Aschoff:
The only real question for Alabama is whether the defense can pitch its third straight shutout. One will get past this defense. ...
Alabama 45, Florida Atlantic 3
Chris Low:
One of these days, the Crimson Tide are going to have a game where somebody comes within 40 points of them again. But it won't be this one. …
Alabama 56, Florida Atlantic 3
SOUTH ALABAMA AT MISSISSIPPI STATE
Edward Aschoff:
The Bulldogs got caught sleeping a little bit in last week's win against Troy, but expect to see a little more life out of Mississippi State this weekend. ...
Mississippi State 45, South Alabama 14
Chris Low:
The Sun Belt Conference tour continues for Mississippi State, although this one is at home. The Bulldogs need to play better after playing just well enough to survive last week at Troy. …
Mississippi State 38, South Alabama 10
SOUTH CAROLINA STATE AT TEXAS A&M
Edward Aschoff:
We saw a good bit of offense and points from the Aggies last week, and they shouldn't have a problem keeping that up Saturday. ...
Texas A&M 51, South Carolina State 7
Chris Low:
Texas A&M quarterback
Johnny Manziel
already has established himself as one of the most exciting players in the SEC. Look for him to roll up Xbox numbers for the second straight week. …
Texas A&M 45, South Carolina State 14
AKRON AT TENNESSEE
Edward Aschoff:
The Vols have to move on from last week's loss to Florida. Getting the offense back on track against the Zips is the best way to do that. ...
Tennessee 45, Akron 14
Chris Low:
A lot of air came out of the Vols' Big Orange balloon last weekend following their collapse in the second half against Florida. They ought to have this one in hand well before the second half. …
Tennessee 42, Akron 17
KENTUCKY AT FLORIDA
Edward Aschoff:
The Gators are brimming with confidence after back-to-back road wins, and offensive coordinator Brent Pease said he wanted to hang 50 on the Cats. He'll come close. ...
Florida 45, Kentucky 10
Chris Low:
Kentucky has snapped a couple of long losing streaks over the past two years against Tennessee and South Carolina, but the drought against Florida will grow to 26 in a row Saturday. …
Florida 38, Kentucky 14
LSU AT AUBURN
Edward Aschoff:
LSU has quietly been one of the most impressive teams in the country, while Auburn barely got by Louisiana-Monroe. Auburn has too many questions remaining to hang with the other Tigers. ...
LSU 38, Auburn 10
Chris Low:
The battle of the Tigers has been one of the most entertaining rivalries in the SEC over the past decade, but a more physical and more talented LSU team is poised to make it two blowouts in a row. …
LSU 31, Auburn 13
RUTGERS AT ARKANSAS
Edward Aschoff:
The Razorbacks are at a real low point right now, while Rutgers is riding a three-game winning streak.
Tyler Wilson
is still questionable and Rutgers' running game is much improved. That's bad news for the Hogs. ...
Rutgers 24, Arkansas 20
Chris Low:
With or without Tyler Wilson, the Hogs have to figure out a way to stop somebody. They've given up 110 points in three games, but the bleeding stops Saturday. …
Arkansas 34, Rutgers 21
VANDERBILT AT GEORGIA
Edward Aschoff:
Last year's game had a very dramatic ending, both in the game and after it. The Commodores are fired up for this one, but Georgia just has more going for it all around. ...
Georgia 31, Vanderbilt 14
Chris Low:
The game last year ended with James Franklin and Todd Grantham going nose-to-nose. That little dust-up will ensure that the Bulldogs don't sleepwalk into this game. …
Georgia 35, Vanderbilt 14
MISSOURI AT SOUTH CAROLINA
Edward Aschoff:
Both teams have banged-up quarterbacks, and while both could play, we aren't sure how long either will be in. This one will come down to line play, and South Carolina has the advantage both ways. ...
South Carolina 27, Missouri 20
Chris Low:
It's Columbia versus Columbia. It's also one banged-up quarterback versus another banged-up quarterback. The difference will be a South Carolina defensive line that takes over in the second half. …
South Carolina 27, Missouri 21
September, 13, 2012
9/13/12
10:15
AM ET
We're heading into Week 3 in the SEC, so here's what to watch:
1. Quarterback health:
The statuses of Arkansas'
Tyler Wilson
and South Carolina's
Connor Shaw
are still unknown. Wilson suffered a head injury against Louisiana-Monroe, while Shaw is still nursing a bruised shoulder from Week 1. For the Gamecocks, losing Shaw for the second straight week won't really hurt South Carolina's offense. It was just fine without him against East Carolina. However, Arkansas isn't in the same position.
Brandon Allen
completed just 6 of 20 passes against Louisiana-Monroe in place of Wilson. Not having Wilson will make Saturday's game against No. 1 Alabama that much tougher for the Razorbacks.
[+] Enlarge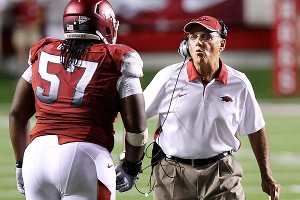 AP Photo/Danny JohnstonCoach John L. Smith and his Razorbacks face a formidable foe in No. 1 Alabama this week.
2. Arkansas' defense:
Speaking of the Razorbacks, what has happened to that defense? It was supposed to be more aggressive and more disciplined under Paul Haynes. We saw neither in the second half against Louisiana-Monroe, as the Razorbacks blew a 21-point lead. The defense was shredded against a lesser opponent and now has to play one of the most balanced attacks in the SEC. Last year, Alabama wore down this defense. If Arkansas is going to pick itself up, it has to play much tougher than it has in the first two games. Alabama has far more talent than Arkansas' first opponents and has the capability to really beat this unit down.
3. Tennessee's passing game vs. Florida's secondary:
This game always comes down to the running game, but the difference this time will be Tennessee's passing game against Florida's secondary. The Gators are loaded with talent back there and made tremendous strides during the second half of the Texas A&M game, while Tennessee might have the best passing game in the SEC, led by quarterback
Tyler Bray
. The matchups between
Justin Hunter
and
Marcus Roberson
and
Cordarrelle Patterson
and
Loucheiz Purifoy
should be great.
Zach Rogers
is another deep threat the Gators have to be careful about, but
Matt Elam
has the ability to take the deep ball away for Florida. Should be fun.
4. Must-wins:
Both Auburn and Vanderbilt are 0-2 and are coming off tough losses. The Commodores blew a halftime lead at Northwestern, while Auburn was overmatched across the board at Mississippi State. The Tigers are struggling with or without the ball this season, and that's a major concern. Quarterback
Kiehl Frazier
has to get going, and he's facing the team that just knocked off Arkansas. Vandy just can't get anything going on offense. The explosion we expected to see has been mostly absent through two games and the Commodores have to generate some sort of offensive momentum this weekend against Presbyterian.
5. Mississippi State keeping its edge:
Now that Dan Mullen and his Bulldogs have gotten over the hump of beating a West opponent not named Ole Miss, the Bulldogs can't get complacent. That was just one win, and this team has far bigger goals than just beating Auburn. With the schedule Mississippi State has, it's very possible the Bulldogs could be 6-1 or 7-0 heading into the Alabama game at the end of October. But this team has to focus on Troy and come out strong against a team that won't be a pushover.
6. Showdown in the Grove:
It's been a long time since a game in Oxford got attention like Saturday's showdown with Texas has been receiving. It's eerily similar to the 2003 game with Eli Manning and LSU, although there isn't hatred in the air. The Grove is gonna be poppin' and Oxford is expected to double in size. There's more confidence around that town because Ole Miss is 2-0 for the first time since 2009. The talent difference between Ole Miss and Texas is obvious, but the Rebels have some momentum and some conviction. Can the Rebels stop that burnt orange wave coming to town?
7. The newbie's returns:
Missouri and Texas A&M got a nice taste of what life will be like in the SEC last weekend. Now, it's time for both teams to regroup. Both teams lost a lot of steam in the second half, which was expected. Missouri has the challenge of playing Arizona State and its high-flying offense. The Sun Devils have averaged 54 points through two games, averaging 532 offensive yards in the process. The Tigers got into a shootout with Arizona State last year, but can they handle another one after that physical loss to Georgia? The Aggies are taking on SMU in Dallas, and are also recovering from a tough loss to Florida. This is a game where Texas A&M should try to get more out of its running game, which has to generate more production up the middle.
8. Mettenberger's arm:
Through the first two games of the season, we've been anxiously waiting to see what
Zach Mettenberger
could really do in LSU's offense. So far, he's yet to eclipse the 200-yard passing mark in a game and has just two touchdowns -- pedestrian numbers compared to what everyone expected. But the Tigers have utilized their running game flawlessly and haven't needed to send the ball downfield much. Saturday, that should change. It's time to unleash Mettenberger and get him going more in the offense before LSU gets into conference play.
9. Lattimore's workload:
If Steve Spurrier wanted to push
Marcus Lattimore
anymore last week, he would have. But the Head Ball Coach gave his workhorse a bit of a rest against East Carolina, running him just 13 times. Maybe Spurrier just wanted to get his new quarterback,
Dylan Thompson
, a chance to show his stuff in place of Shaw. But as Lattimore continues to return from his knee injury, he'll need to get more reps and get more comfortable on the field before league play revs up. UAB should provide him the opportunity to do that.
10. Florida's winning streak:
The Gators have had Tennessee's number for seven straight years now. Not since Dallas Baker's infamous slap in Knoxville have the Vols bested Florida. This might be Tennessee's best shot since. There's no question that this is the best and most complete Vols team Derek Dooley has had. The Vols have cruised through the first two weeks, while Florida's offense stumbles in with a lot of uncertainty concerning the passing game. Florida might have the edge on defense, but Tennessee's offense knows how to put up points. Is this the year Tennessee finally gets the Gator off its back?
September, 4, 2012
9/04/12
9:00
AM ET
The first weekend of the college football season brought some changes to our power rankings. As we enter Week 2, some teams are trending down, while others are on the up. And some look pretty much like we thought they'd look in their first games.
It's still early, but this weekend could help to better shape the conference race, especially in the SEC East where Florida travels to Texas A&M and Georgia heads to Missouri. Also, keep an eye on Mississippi State's home game with Auburn.
OK, time for the rankings:
1. Alabama (1-0):
The Crimson Tide made quite the statement by absolutely dominating No. 8 Michigan inside Cowboys Stadium. The defense, which lost a host of top talent from last year's national championship team, took
Denard Robinson
out of the game from the start. The offense should be fun to watch this fall with freshman
T.J. Yeldon
and
Eddie Lacy
carrying the ball and
AJ McCarron
throwing to those young, explosive receivers.
2. LSU (1-0):
It's not like the Tigers looked bad against overmatched North Texas, but Alabama's performance was just
that
good.
Zach Mettenberger
did well in his LSU debut, passing for 192 yards and a touchdown, while running backs
Kenny Hilliard
(141 yards) and
Alfred Blue
(123) pounded away at North Texas' defense. The Tigers racked up 508 total yards and limited North Texas to just nine first downs and 219 total yards.
3. Arkansas (1-0):
We know Arkansas can score and churn out yards. The Hogs made both of those things look very easy against Jacksonville State, especially quarterback
Tyler Wilson
, who threw for 367 yards and three touchdowns Saturday. But the defense still has some questions surrounding it, as the Hogs gave up 24 points. The defense settled down the second half and gave up 322 total yards, which was one yard less than the average given up by top 15 teams this weekend.
4. Georgia (1-0):
The Bulldogs' defense is obviously hurting without
Bacarri Rambo
and
Alec Ogletree
and it showed in the win over Buffalo. There was a lot of give in the pass defense and the Bulldogs struggled stopping quarterback runs. Improving in both of those areas will be crucial heading into the Missouri game. The offense looked pretty good, especially with freshman running back
Todd Gurley
carrying the ball. He registered 100 yards and two touchdowns on eight carries.
5. South Carolina (1-0):
The offense was shaky when it came to throwing the ball, and it certainly wasn't any better after quarterback
Connor Shaw
went down with that shoulder injury. His health is critical, as there isn't much experience at all behind him. Running back
Marcus Lattimore
looked solid in his return and was back to his workhorse ways. The defense played well overall, but the secondary still has concerns.
6. Tennessee (1-0):
Everything went right for the Vols against NC State. It became blatenly obvious that they have more depth across the board now than they've had during Derek Dooley's tenure. Getting the tough yards running the ball was still an issue at times, but
Marlin Lane
showed that he might have what it takes to be that explosive running back Tennessee needs.
Tyler Bray
had no issue throwing the ball with
Justin Hunter
back and newcomer
Cordarrelle Patterson
going off.
August, 30, 2012
8/30/12
10:15
AM ET
It's here.
After hundreds of days of having to watch and follow inferior sports, take up new hobbies and do extra cute things with your better half just to pass the time, we are finally here.
It's college football season, again! The helmets are perfectly shined. The jerseys are hung so neatly and ironed so sweetly. You've gone to the store in advance to prep for the artery-bursting feast that awaits this weekend. Some are even lucky enough to be tailgating as we speak!
Cue up the bands, the grills and the fryers and the big-screen TVs. It's football season, and here's what to watch in the SEC this week:
[+] Enlarge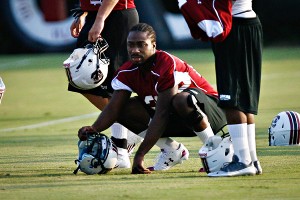 C. Michael Bergen/The State/MCT/Getty ImagesSouth Carolina's Marcus Lattimore is one of three star running backs to keep an eye on this weekend.
1. Running backs return:
If not for Texas A&M's game getting postponed, we'd get to see three elite running backs returning to the field after injuries cut their 2011 seasons short.
Christine Michael
's debut will have to wait, but we'll still get to see how South Carolina's
Marcus Lattimore
and Arkansas'
Knile Davis
do with the ball in their hands. When they're 100 percent, it's hard to find two better running backs out there.
2. Quarterback battles:
Florida and Ole Miss still don't know who their starting quarterbacks will be. Florida coach Will Muschamp said
Jacoby Brissett
and
Jeff Driskel
will alternate quarters to start Saturday's game, while Ole Miss' Hugh Freeze anticipates playing both
Bo Wallace
and
Barry Brunetti
in the opener. This could be the final round of competition at both schools.
3. Questionable offensive lines:
So many offensive lines have questions entering the fall. Keep an eye on Auburn, Florida, Georgia, Kentucky, Missouri, Ole Miss and Vanderbilt. Auburn and Georgia are working in a few new parts, while Florida is hoping most of the parts from last year's line have improved. Mizzou has all sorts of injury issues and Kentucky, Ole Miss and Vandy are just hoping to stay healthy because depth is an issue for all three.
4. More passing yards:
Last year, SEC quarterbacks were laughed at. It seems like that won't be the case in 2012.
Aaron Murray
,
AJ McCarron
,
Tyler Bray
and
Tyler Wilson
could all throw for 3,000 yards and 30 touchdowns, while Missouri's
James Franklin
has arguably the best pass-run ability in the league. Vanderbilt's
Jordan Rodgers
is a year older and wiser, while
Zach Mettenberger
is a major upgrade for LSU. If
Connor Shaw
learns to be more of a pass-first player, he could have a big year.
5. Athletic multitasking:
Two players to keep both eyes on this weekend are Georgia's
Malcolm Mitchell
and Ole Miss'
Randall Mackey
. Mitchell will start at cornerback, but Mark Richt would like to play him at wide receiver and possibly have him return punts and kickoffs. He certainly is talented enough to do it, but I hope he gets a lot of sleep and loads up on 5-hour Energy. Mackey will start at running back, but since he's played both quarterback and receiver for the Rebels, his coaches would like to move him around some. Expect him to line up out wide and as a Wildcat quarterback against Central Arkansas.
6. First days on the job:
There will be a lot of debuts this weekend. Freeze will coach his first game at Ole Miss, Mettenberger takes over as LSU's quarterback and
Kiehl Frazier
makes his first start at quarterback for Auburn. Freeze isn't sure what he'll see, but he's looking to bring the Rebels' fan base some much-needed excitement. Mettenberger has bided his time at both Georgia and LSU, but is finally the man. And Frazier can now call Auburn his team. He gets a very suspect defense in Clemson to start.
7. Alabama's defense:
There's no question that Alabama lost a lot of talent from last year's historic defense, but the thought is that the Tide will do more reloading than rebuilding. It will get a good first test against Michigan's high-flying spread offense led by potential Heisman candidate in quarterback
Denard Robinson
. Nick Saban is still looking for key leaders to emerge, and he thinks he'll finally find them come Saturday's game. The key for this defense is getting out faster than it did when it was in a similar situation in 2010.
8. Tennessee's passing game vs. NC State's pass defense:
Derek Dooley entered the season with a potent passing game, but the loss of Da'Rick Rogers suddenly makes that receiving depth not so attractive.
Justin Hunter
might be a little rusty and he'll have a matchup with another potential first-rounder in corner
David Amerson
. We don't know what
Cordarrelle Patterson
will do and he'll battle
Dontae Johnson
, who beat out the talented C.J. Johnson before he was ruled ineligible. Dooley said he's "very concerned" about his receivers, and this battle could determine Friday's outcome.
9. Vanderbilt's swagger:
Thursday night is a chance for Vandy to make a strong statement to the rest of the SEC. Some are questioning if Vandy will build off of last year's rebound or revert back to its old ways. The Dores don't have to beat South Carolina, but they do have to show that same confidence they had last year and that they won't back down.
10. Possible suspensions:
It wouldn't be opening day without some sort of controversy. Georgia starters
Bacarri Rambo
and
Alec Ogletree
both reportedly failed drug tests this spring, and suspensions were expected. But Richt has been very quiet about it and has told everyone to wait until Saturday. Can't wait …
July, 13, 2012
7/13/12
7:05
AM ET
Now that we've ranked the top 10 wide receivers, it's time to check out the top tight ends.
Past rankings
Here are our top 10 SEC tight ends:
[+] Enlarge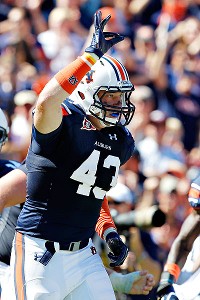 Butch Dill/Getty ImagesPhilip Lutzenkirchen will be Auburn's go-to guy for game-winning scores this season.
1. Chris Gragg, Sr., Arkansas:
Gragg is a big, fast target who can cause mismatches for defenders. He has great hands and with the loss of three NFL wide receivers he'll be one of
Tyler Wilson
's top targets this fall. Expect him to improve on his 41 catches and 518 yards from last year.
2. Philip Lutzenkirchen, Sr., Auburn:
He only caught 24 passes last year, but seven of those catches went for touchdowns. He's a big-time threat in the red zone and is a solid blocker as well. The addition of fullback
Jay Prosch
will give Lutzenkirchen a chance to be even more active in the receiving game.
3. Jordan Reed, Jr., Florida:
There's no doubt that Reed is extremely athletic, but he can lose focus at times on the field. Still, when he's on the ball, he can make plenty of plays. He's the Gators' top returning receiving target and with two young quarterbacks throwing this year, Reed has the chance to rack up receptions as a close-to-the-line safety net.
4. Mychal Rivera, Sr., Tennessee:
Rivera is a very reliable and consistent weapon for the Vols. Even with
Justin Hunter
coming back and Cordarrelle Patterson jumping into the receiving mix, Rivera might not see his production drop too much if
Tyler Bray
can stay health. This team will throw it around as much as possible.
5. Michael Williams, Sr., Alabama:
Williams only caught 17 passes last year, but there were a couple more proven players around him. This time around, his experience will be valued more by quarterback
AJ McCarron
. He's a solid player and can be a beast on the field, so the coaches are expecting to get a lot more out of him this fall.
July, 11, 2012
7/11/12
2:11
PM ET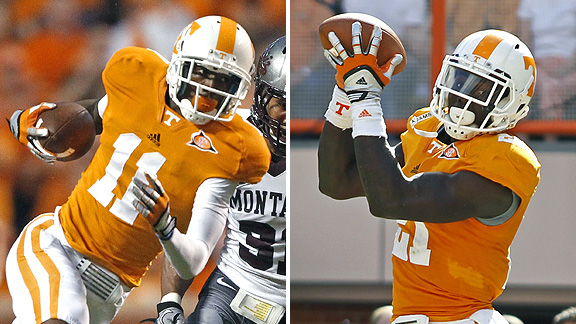 AP Photo/Wade PayneJustin Hunter (11) and Da'Rick Rogers (21) are considered to be the best receiving duo in the SEC.
Our SEC position rankings continue with a look at schools' wide receiver and tight end groups.
Past rankings:
On to the league's wide receiver/tight end groups:
1. Tennessee:
The Vols are equipped with two of the top wideouts in the league with
Da'Rick Rogers
, who was second in the SEC in receiving last year, and
Justin Hunter
, who might be the SEC's top deep threat. It sounds like Hunter will be 100 percent this fall after his ACL injury last year. Junior college transfer Cordarrelle Patterson is big, fast and possesses the big-play gene. The speedy
Zach Rogers
is back and is so is talented tight end
Mychal Rivera
.
2. Arkansas:
Cobi Hamilton
is now Arkansas' primary receiver, and he might be the league's most complete wideout. He can make the big-play and elude defenders along the way. While
Marquel Wade
's status is still unclear, if he does return, he'll be a major lift for this offense because of his playmaking ability in the slot.
Julian Horton
and
Javontee Herndon
have always impressed coaches in practice and now will get their chances to in games. Tight end
Chris Gragg
should be even more involved and is the league's top tight end.
3. Georgia:
While
Malcolm Mitchell
could go back and forth between receiver and corner, when he's at receiver he's Georgia's top offensive threat and was one of the league's best as a rookie. There are vets behind him, starting with reliable senior
Tavarres King
, who had a very good spring, senior
Marlon Brown
, who seemed to take a big step in his game this spring. Sophomores
Michael Bennett
and
Chris Conley
combined for 48 catches for 608 yards and seven touchdowns last year. Unproven tight ends
Arthur Lynch
and
Jay Rome
will replace Orson Charles and Aron White.
May, 18, 2012
5/18/12
11:30
AM ET
We're putting spring behind us and looking toward the fall with our post-spring power rankings:
1. LSU:
The Tigers had one of the best springs around. Things were quiet off the field, and the offense rallied behind quarterback
Zach Mettenberger
. Coach Les Miles was very impressed with Mettenberger's play and maturity, and expects LSU's offense to be more balanced with him under center. LSU can still use four or five running backs as well. Defensively, the Tigers are stacked once again, especially up front with two potential first-rounders in ends
Sam Montgomery
and
Barkevious Mingo
. Questions surround the inexperienced linebackers, but
Kevin Minter
had a tremendous spring in the middle. On paper, LSU is equipped with the talent to make another title run, and gets Alabama at home this year.

2. Alabama:
The defending national champs saw a lot of "new" faces on defense this spring, but coach Nick Saban left happy with where his players were -- but not satisfied. There is still work to be done, especially in the secondary, where the Tide must replace three starters. Dont'a Hightower and Courtney Upshaw are gone at linebacker, but the coaches were impressed with how
Nico Johnson
,
C.J. Mosley
and
Adrian Hubbard
played this spring. Some think Hubbard, a redshirt sophomore, could be Bama's top pass-rusher. Offensively, quarterback
AJ McCarron
is back, more mature and surrounded by a very veteran line. He has a group of younger receivers to throw to, but has at least four quality running backs. Alabama's road to repeating is tougher, with games at Arkansas and LSU.
3. South Carolina:
A healthy
Marcus Lattimore
(knee) makes South Carolina an even better contender for the SEC East crown. His status is uncertain, but the pieces around him are pretty impressive. Quarterback
Connor Shaw
had an impressive spring, and looks ready to be the passer coach Steve Spurrier wants him to be. The defense is once again stacked, especially up front with ends
Jadeveon Clowney
and
Devin Taylor
. There are questions in the secondary, with two new, young starters in
Victor Hampton
(cornerback) and
Brison Williams
(safety), and senior
Akeem Auguste
coming back after missing all of last season with a foot injury. Still, Spurrier is chirping about his SEC counterparts, so you know he thinks he's got a good team this year.
SEC players featured on Kiper's Big Board
SEC SCOREBOARD
Thursday, 9/3
Saturday, 9/5