Alabama Crimson Tide:

Josh Harvey-Clemons
November, 26, 2013
Nov 26
12:10
PM ET
It's the final week of the regular season in the SEC, and there's plenty to talk about. Here's a look at Tuesday's news and notes from around the league.
November, 18, 2013
Nov 18
9:05
AM ET
It looks like No. 1 and No. 2 in our Power Rankings are in for quite the game in their regular-season finale. As for the rest of the lineup, we had a little more movement after a pretty entertaining weekend:
1. Alabama (10-0, 7-0 SEC; last week: 1):
All title contenders slack. For some reason, it's in their DNA. A week after thumping LSU by 21, Alabama received quite the gut check with a lethargic 20-7 win over Mississippi State. The Crimson Tide mustered just 383 total yards and turned it over four times, but a win is a win at this point. A nice tuneup against Chattanooga is all that remains before what should be an epic bout in the Iron Bowl.

2. Auburn (10-1, 6-1 SEC; LW: 2):
Whatever cliche you want to give Saturday's thrilling 43-38 win over Georgia, go for it because it deserved it. The Tigers tried to hand Georgia a comeback win, but
Nick Marshall
's prayer of a throw had other plans. Say what you will about Auburn's sloppy fourth quarter, this team heads into the bye week with a ton of momentum and in the BCS picture. It must be nice to rest before playing Alabama.
3. Missouri (9-1, 5-1 SEC; LW: 3):
The Tigers were off over the weekend, which means quarterback James Franklin had another week to rest his shoulder before heading to the Grove on Saturday. So much is still in front of this team, and the pressure is on. With South Carolina beating Florida, Mizzou has to win out to claim the SEC Eastern Division.
4. Texas A&M (8-2, 4-2 SEC; LW: 4):
The Aggies were also on a bye, which will probably do A&M some good with a trip to LSU on Saturday. Last year, LSU's defense suffocated
Johnny Manziel
for most of the day in the Tigers' 24-19 win. But neither Manziel nor Kevin Sumlin has lost a road game during their two seasons of work with the Aggies. Tiger Stadium won't intimidate either one.
5. South Carolina (8-2, 6-2 SEC; LW: 5):
The Gamecocks certainly made things interesting in their ugly 19-14 win over Florida, but now they are a Mizzou loss away from winning the SEC East for just the second time. It has been an interesting season for South Carolina, but the Gamecocks seem to be hitting their stride and have a chance for a top-10 matchup with Clemson at the end of the season that could be for a BCS bowl game.
6. Ole Miss (7-3, 3-3 SEC; LW: 7):
After losing three straight SEC games, the Rebels have now reeled off four wins in a row and are fresh off a 51-21 win over Troy. Quarterback
Bo Wallace
has been extremely impressive during the Rebels' run, averaging 305 yards with eight touchdowns to two interceptions. Things will be absolutely rocking in Oxford with No. 8 Mizzou heading in for what should be an electrifying night game.
7. LSU (7-3, 3-3; LW: 8
)
:
After a deflating loss to Alabama, the Tigers got a chance to rest this weekend. You have to wonder how this team is doing mentally. This year has been the season of mistakes and what-ifs for LSU, and the Tigers can't afford another sloppy performance with Johnny Football coming to town.
8. Vanderbilt (6-4, 3-4 SEC; LW: 9):
Just like last year, the Commodores are making another impressive run in November. Last year, Vandy went 4-0 and could be on its way to doing that again. The Commodores weren't dominant in their 22-6 win over Kentucky, but they became bowl eligible for a school-record third straight year and created history with wins over Florida and Georgia this season.
9.Georgia (6-4, 4-3 SEC; LW: 6):
It has been a really ugly season for the Bulldogs. Everything in 2013 for the Dawgs can be summed up in the split second it took for
Josh Harvey-Clemons
to deflect Marshall's last-ditch-effort pass up and into the hands of
Ricardo Louis
for a touchdown that ripped the Bulldogs' hearts from their chests. Injuries and rookie mistakes have cost the Bulldogs a chance at a third consecutive SEC East title.
10. Florida (4-6, 3-5 SEC; LW: 10):
What did you really expect from Florida on Saturday? The Gators, who have dealt with a rash of season-ending injuries, were down to their third-string quarterback in a hostile South Carolina environment. This team didn't quit and had a pretty good game plan until things fell apart in the fourth quarter. For the second time in three years, Florida will finish the year with at least six losses.
11. Tennessee (4-6, 1-5 SEC; LW: 11):
With Vandy and Kentucky remaining, the Vols are in must-win mode against the Commodores on Saturday. Last year, the Dores ran the Vols out of Nashville with a 41-18 blowout and enter this game on an absolute roll. It has been a tough first year for Butch Jones, but the Vols are coming off of a bye week and have their backs against the wall.
12. Mississippi State (4-6, 1-5 SEC; LW: 12):
Even though the Bulldogs lost at home to Alabama over the weekend, their fans cheered them on after the game. A 13-point loss is rarely applauded, but Mississippi State stayed tough against No. 1 Alabama. Still, the Bulldogs now have to win out in order to become bowl eligible for the fourth straight year, and that won't be easy with Ole Miss still on the schedule.
13. Arkansas (3-7, 0-6 SEC; LW: 13):
The Hogs were off over the weekend, and you have to hope that the extra time was used to get that passing game going. It's clear that Bret Bielema has been behind the eight ball when it comes to having the types of players he needs for his system. As a result, Arkansas is last in the SEC in passing (149 yards per game) and is riding a seven-game losing streak.
14. Kentucky (2-7, 0-6 SEC; LW: 14):
You have to give the Wildcats credit: Despite their record, they haven't quit. That 22-6 loss to Vanderbilt marked the 14th straight SEC loss for Kentucky and the third straight loss to the Commodores. The offense's inconsistency just keeps holding this team back, as the Cats scored on an early 75-yard drive but failed to score again, registering just 262 total yards.
November, 17, 2013
Nov 17
9:00
AM ET
Here are five players (or groups) from around the SEC who earned helmet stickers with their performances on Saturday.

Nick Marshall and Ricardo Louis (and Tray Matthews and Josh Harvey-Clemons):
Let's be clear. It was nothing more than a 1-in-1-million occurrence that allowed Louis to catch a 73-yard pass from Marshall, deflected between Matthews and Harvey-Clemons, to score the game-winning touchdown with 25 seconds remaining on Saturday. But the Tigers scored that touchdown, and kept their SEC championship hopes alive in the process. Marshall finished the day with 229 passing yards against his old team, plus 89 rushing yards and two more scores. And Louis had 131 receiving yards, 66 rushing yards and two touchdowns. It was certainly a winning combination.
Aaron Murray:
The Georgia quarterback's ridiculous second half will fade in relevance over time, but the only reason Marshall even needed to complete the last-minute touchdown pass to Louis was because Murray carried his team into the lead in the second half. Georgia stunk it up in the first half, but Murray rallied the Bulldogs to a 38-37 lead with 1:49 to play after trailing by 20 points early in the fourth quarter. Murray finished with 415 passing yards, two touchdowns and one interception, while also rushing for 37 yards and two more scores -- including a diving go-ahead touchdown in the closing minutes -- although Auburn's Hail Mary minimized the importance of Georgia's rally.
Alabama's defense:
By this point, this should be obvious. The reason anyone is talking about
AJ McCarron
contending for the Heisman Trophy is that we can't collectively give it to his defense. Alabama turned the ball over four times Saturday against Mississippi State -- including two interceptions from McCarron -- but the defense allowed just seven points and 197 total yards. Heck, State's one touchdown came on a fumble forward into the end zone. Alabama led 10-7 at one point in a mediocre third quarter, but the defense didn't allow things to get truly scary. McCarron should be taking THOSE guys out to dinner this week.
Jordan Matthews:
The Vanderbilt receiver caught 12 passes for 141 yards, becoming the first Commodores wideout to post back-to-back 1,000-yard seasons, and rushed twice for 31 yards in Vandy's 22-6 win over Kentucky. He's within three catches of former Vandy receiver Earl Bennett's SEC record of 236 career catches. And the Commodores (6-4) are bowl eligible for three straight years for the first time in program history -- thanks in large part to the contributions from their senior receiver.
Elliott Fry:
I almost went with Ole Miss quarterback
Bo Wallace
here -- his four touchdowns in Ole Miss' 751-yard effort against Troy were impressive -- but place-kicker Fry's four field goals in Saturday's 19-14 win against Florida were much more important. The Gators led 14-13 entering the fourth quarter on Saturday, but Fry knocked down a 22-yard kick with 6:43 remaining and a 43-yard field goal with 2:16 to play to extend the Gamecocks' lead to five points. Fry went 4-for-5 on field goals Saturday and hit his only PAT as South Carolina put pressure on Missouri to claim the SEC East title.
November, 17, 2013
Nov 17
12:44
AM ET
Go ahead and get ready. This will be the most anticipated Iron Bowl that we've seen in 20 years.


After Auburn's unbelievable 43-38 win against Georgia on Saturday, the Tigers will still miraculously control their destiny when Alabama visits the Plains on Nov. 30.
Everybody who predicted that in August, raise your hands. For those two or three true believers, wow, congratulations. Your team is set to play in the most impactful meeting between the nation's most heated rivals since 1994. (I was there at Legion Field that night, and if you try to convince me Frank Sanders was short on that fourth down, I'll fight you.)
Sure, 2010 was huge -- and with the way that game evolved, with Cam Newton's Auburn team rallying for a 28-27 win, it lived up to every bit of the pregame hype. But Auburn and Alabama haven't entered this game with one or no losses since that crazy matchup I mentioned in Birmingham. And I expect every bit of the same buildup and mayhem that preceded that game, in the heyday of what has been an extremely cyclical rivalry ever since.
Back then, this was a fairly common occurrence. The Iron Bowl regularly had mutual national-championship implications in the late 1980s and early '90s. But this rivalry hasn't been in that position in some time, and here we are.
Auburn is off next week. And Alabama might as well be, with FCS opponent Chattanooga visiting Tuscaloosa next weekend. The outcome is incidental, as
AJ McCarron
and
C.J. Mosley
will be on the sidelines early in the third quarter, while the reserves complete a sure blowout and only add to the buildup for a winner-take-all showdown in Auburn the following Saturday.
When they meet at Jordan-Hare Stadium on Nov. 30, the implications are simple. Win and play for the SEC (and maybe the BCS) title. The loser ... well who cares where they go bowling? You win or you lose in this one, and that's all anyone in Atmore and Gordo and Sylacauga will discuss for the next 364 days -- and for a long while after that. Although I haven't lived in Alabama in the past 14 years, I can tell you who won the Iron Bowl every single year that I've been alive.
Comparatively, it flew under the radar, but we also gained a bit of clarity on who might face the Auburn-Alabama winner in the SEC championship game. With its heartbreaking loss, in which safeties
Tray Matthews
and
Josh Harvey-Clemons
failed to break up Auburn's game-winning Hail Mary touchdown pass, Georgia is out of the running in the SEC East. Meanwhile, South Carolina's 19-14 win over Florida ensured that the Gamecocks are still alive and well in the division race.
We could discover next weekend whether South Carolina or Missouri will face the Iron Bowl winner. But the West will go right down to the wire -- and it will see its two most heated rivals determine the division championship.
We haven't seen it come down to that most bitter rivalry for a while, but that's what is now approaching over the next two weeks. Buckle up. It's a trip straight into this league's past.
October, 21, 2013
Oct 21
9:00
AM ET
Well, a lot has has changed in the SEC after just one weekend. Our No. 1 team is clear, but after that, well, it's a bit murky. That just makes it that much more fun, but we are finally seeing the SEC actually beat up on itself in the final year of the BCS era:

1. Alabama (7-0, 4-0 SEC; last week: 1):
Say what you will about the lack of competition Alabama has faced since the Ole Miss game, but the Crimson Tide are doing exactly what they need to develop and build momentum. For the second straight year, the Tide blanked an overmatched Arkansas team 52-0 and appear to be the SEC's biggest hope for bringing the conference its eighth straight national championship.
2. Missouri (7-0, 3-0 SEC; LW: 4):
So this is what Missouri's offense is supposed to look like when guys are healthy. Well, even with
James Franklin
out and
Maty Mauk
running things, the offense is pretty deadly. The Tigers are the surprise of the conference and crushed Florida 36-17 over the weekend with 500 yards of offense and a smothering defense that allowed just 151 yards. A win over South Carolina this weekend would essentially clinch the SEC Eastern Division for the Tigers.
3. Auburn (6-1, 3-1 SEC; LW: 8):
It's clear that Gus Malzahn was the right choice for this team. The Tigers marched into Kyle Field on Saturday and shocked the nation with a thrilling 45-41 win over Texas A&M. The offense churned out more than 600 yards, including 379 rushing yards. The Tigers might be a bad first half against LSU away from being undefeated. Auburn is now averaging a league-high 300.1 rushing yards per game, which is 65.7 more than Missouri's No. 2 rushing offense.
4. Texas A&M (5-2, 2-2 SEC; LW: 2):
Not even the great
Johnny Manziel
could rescue the Aggies against Auburn. Despite playing with a bad shoulder and throwing for 454 yards and four touchdowns, Manziel wasn't enough. Why wasn't he enough? Well, look at the Aggies' pitiful defensive performance. They surrendered 615 yards of offense, allowed Auburn to convert 7 of 14 third downs and gave up 7.2 yards per play. I've never seen a team so great offensively yet so bad defensively.
5. LSU (6-2, 3-2 SEC; LW: 3):
Just when we thought LSU was really figuring things out, the defense gets gashed in Oxford,
Zach Mettenberger
reverts back to his bad habits throwing the ball and the Tigers get outplayed in a rivalry game. LSU fell to Ole Miss 27-24 on Saturday and looked as though it didn't want it as much as the Rebels. Mettenberger was flustered all night, throwing three interceptions and registering a QBR of 33.2
6. South Carolina (5-2, 3-2 SEC; LW: 6):
The Gamecocks looked like a team ready to make a charge through the SEC, but that sight was short-lived after Saturday's 23-21 loss to Tennessee on a last-second field goal. It was a bad loss that might knock the Gamecocks out of contention for the East title, and quarterback
Connor Shaw
left the game with a knee sprain. South Carolina's only hope for the East crown is to win at Missouri this weekend.
7. Georgia (4-3, 3-2 SEC; LW: 5):
As the injuries continue to pile up in Athens, so do the losses. Georgia surrendered a 13-point lead in the fourth quarter, allowing Vanderbilt to score 17 straight in the Commodores' 31-27 upset. Now, top receiver
Chris Conley
and safety
Josh Harvey-Clemons
could be out against Florida in two weeks with injuries. This was Georgia's worst offensive showing of the year, registering just 221 yards of total offense and turning it over three times.
8. Ole Miss (4-3, 2-3 SEC; LW: 9):
Right when it looked like the honeymoon with Hugh Freeze was starting to lose its luster, the Rebels shocked LSU with a 27-24 win after losing three straight in conference play. The mistakes that had plagued this team during its three-game losing streak vanished as Ole Miss outplayed the Tigers at home.
9. Florida (4-3, 3-2 SEC; LW: 7):
A week ago, coach Will Muschamp said his defense shouldn't worry about the offense. On Saturday, the defense gave up 500 yards and 36 points but got absolutely no help from an inept offense that has generated just 391 yards, 16 points and one touchdown in the past two games combined. The defense was gashed, but fatigue had to set in with a sputtering offense barely staying on the field. It'll be a long two weeks in Gainesville before next week's game against Georgia.
10. Tennessee (4-3, 1-2 SEC; LW: 11):
Something tells me those guys in the Knoxville are really digging what new coach Butch Jones has to say. After some shaky play and some over-coaching early, the Vols put together back-to-back solid games against SEC East heavyweights and really shook things up with their 23-21 shocker over South Carolina. Keep an eye on freshman wide receiver
Marquez North
. The kid has some talent.
11. Vanderbilt (4-3, 1-3 SEC; LW: 10):
If Vanderbilt was truly going to take the next step under coach James Franklin, the Commodores had to beat one of the big guys in the SEC East. Well, that finally happened after the Dores upset Georgia 31-27 in Nashville on Saturday. With backup quarterback
Patton Robinette
in, Vanderbilt erased a 27-14 deficit in the fourth quarter to end the game on a 17-0 run.
12. Mississippi State (3-3, 0-2 SEC; LW: 12):
After a close call against a scrappy Bowling Green team, the Bulldogs were off over the weekend. They'll face a hurting Kentucky team Thursday, which is an important game in the realm of bowl talk for Mississippi State. The Bulldogs haven't been very flashy this season, but the defense hasn't been half bad, ranking fourth in the SEC in total defense (364.5 yards allowed per game) and allowing just 23 points per game.
13. Arkansas (3-5, 0-4 SEC; LW: 13):
It has been a nightmare of a start to the Bret Bielema era in Fayetteville. It seems like ages ago that the Hogs were sitting at 3-0. Now, after Alabama destroyed this team in every area of the game over the weekend, Arkansas has lost five straight. The past three losses (all in conference play) have been by a combined 117 points.
14. Kentucky (1-5, 0-3 SEC; LW: 14):
The Wildcats were off this past weekend after getting thumped 48-7 by Alabama the previous week. Coach Mark Stoops said after the game that neither he nor his players would give up after a rough first half. Kentucky enters Thursday's matchup with Mississippi State ranked 13th in the SEC in total offense and defense.
October, 4, 2013
Oct 4
12:30
PM ET
Kickoff is just a day away. Week 6 might not offer any marquee matchups in the SEC, but there are plenty of intriguing games across the league. Here's one last look around the conference to get you ready for Saturday.
October, 1, 2013
Oct 1
8:00
AM ET
From year-to-year the Southeastern Conference is full of recruiting battles. This year it appears that Alabama and LSU could have some of the best recruiting battles we've seen in a while. Here's a closer look at the five top recruiting rivalries in the SEC.
To continue reading this article you must be an Insider
September, 6, 2013
Sep 6
1:30
PM ET
Just because it's the bye week in Tuscaloosa, Ala., it doesn't mean all is lost. Nick Saban and Alabama have Saturday off, but an astute fan of the Crimson Tide will have plenty to pay attention to around the SEC.
With that in mind, we set out to deliver an Alabama-centric primer for all the weekend's action. Here are six games every Tide fan should watch:
July, 9, 2013
Jul 9
2:15
PM ET
In order to make a stand in the SEC, you have to have a strong front seven. It starts with a stout defensive line, but don't forget about those cats behind that front line.
Linebackers need love, too:
1. Alabama:
For starters, "Linebacker U" will enter the 2013 season with three linebackers --
C.J. Mosley
,
Adrian Hubbard
and
Trey DePriest
-- who started 10 or more games last season. Then there's
Xzavier Dickson
, who started seven games at the rush-end "Jack" position. All four played in every game last year, making play after play. Mosley was considered one of the nation's best linebackers and could have opted for the NFL early. He'll get even more time with
Nico Johnson
gone. Hubbard is the team's top pass-rusher, DePriest has transformed into a top linebacker prospect in next year's NFL draft and Dickson is versatile enough to play linebacker and on the line. There is also a ton of young talent to watch, starting with sophomore
Denzel Devall
, who could really break out.
[+] Enlarge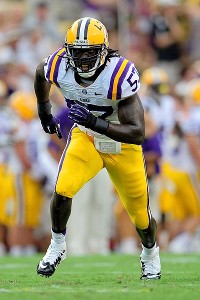 Stacy Revere/Getty ImagesLamin Barrow should replace some of the production the Tigers lost when Kevin Minter moved on to the NFL.
2. LSU:
Kevin Minter might be gone, but the Tigers still have some quality players roaming around the position.
Lamin Barrow
will anchor the group and is coming off a season in which he registered 104 tackles, including 52 solo stops. He's getting a ton of NFL love and will get help from very talented sophomore
Kwon Alexander
, who only played seven games, but would have seen plenty more action if hadn't suffered a broken ankle midseason. Alexander could be primed for a huge season and might be the team's best linebacker. Senior
Tahj Jones
only played in one game last year because of academic issues, but he'll have every chance to start outside. Sophomores
Deion Jones
,
Lamar Louis
and
Ronnie Feist
all saw good time last year and will be in the rotation along with incoming freshman
Kendell Beckwith
, who could immediately push for a starting spot.
3. Ole Miss:
The Rebels work in that 4-2-5 defense, but have a lot of talent at linebacker, starting with big-hitting senior captain
Mike Marry
, who has 22 career starts and finished last season with 78 tackles with 10.5 for loss. The pleasant surprise from this group last year was
Denzel Nkemdiche
, who was a second-team All-SEC member as a freshman after leading Ole Miss in tackles (82), tackles for loss (13) and forced fumbles (four). The thing that makes Nkemdiche so valuable is that he knows all of the linebacker positions and covers a ton of ground with his speed. Long-time Rebel
D.T. Shackelford
is back after two knee surgeries, but had a very good spring and should provide quality depth and excellent leadership. Then you have talented reserve
Serderius Bryant
, who could start at a lot of schools. Don't forget about the hybrid "Husky" position that will feature top recruit Antonio Conner.
4. Tennessee:
The Vols bring back the league's top tackler in
A.J. Johnson
and excellent pass-rusher
Curt Maggitt
, who had his 2012 season shortened because of injury. He should be back to full health this fall, but could move to defensive end. Johnson has a chance to play his way into the first round of next year's NFL draft. Senior
Dontavis Sapp
doesn't have a ton of experience, but was a star this spring and has the ability to play any of the linebacker spots. Four senior backups return and have combined to play in nearly 140 games. The only problem is that they've also combined for just one start. Senior
Brent Brewer
also moved from safety to linebacker to give the Vols a lot of speed on the outside.
5. Florida:
The Gators lost two valuable players in Jon Bostic and Jelani Jenkins, but they still have a ton of young talent to work with, starting with
Antonio Morrison
. He ran into legal trouble this summer, but he has a chance to be an All-SEC player after moving from outside to middle linebacker.
Dante Fowler Jr
. and
Ronald Powell
will rotate at the hybrid defensive end/linebacker "Buck" position, but Powell could see more time at strongside linebacker. If he's healthy after his two ACL injuries, he could be an elite pass-rusher. Hard-hitting and dependable
Michael Taylor
left spring as the starting weakside linebacker, while freshman
Daniel McMillian
had an outstanding spring at the Will position. Fellow freshman
Alex Anzalone
was a top recruit in the 2013 class and should vie for plenty of time, while vets
Darrin Kitchens
and
Neiron Ball
will push for starting spots.
6. Vanderbilt:
This was supposed to be a concern for the Commodores last year, but it ended up being a strength. Do-everything leader
Chase Garnham
is back, along with his 43 solo tackles, seven sacks and 12.5 tackles for loss. He's the heart of the defense. Hybrid linebacker/safety (Star)
Karl Butler
returns and should continue to put a lot of heat on opposing backfields. He registered 11.5 tackles for loss last season. Sophomore
Darreon Herring
has to replace the very reliable Archibald Barnes, but saw plenty of time last year as the Commodores' top reserve at linebacker. Sophomores
Larry Franklin
and
Jake Sealand
provide good depth after seeing significant time last year.
[+] Enlarge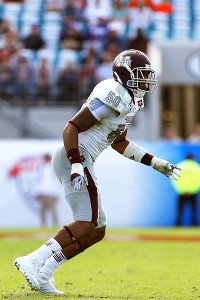 AP Photo/Don Juan MooreBenardrick McKinney was named to the Freshman All-SEC Team following last season.
7. Mississippi State:
Starters
Benardrick McKinney
(102 tackles) and
Deontae Skinner
(62 tackles) return, giving Mississippi State a very sound foundation to work with. McKinney was quietly one of the league's top linebackers last year and could be even better this fall. Veteran
Ferlando Bohanna
, who has tremendous speed, will provide good depth, and the staff is excited about the versatility junior
Matt Wells
has. Losing
Chris Hughes
this summer hurts, but the Bulldogs will be able to cover a lot of ground with this group of rangy, athletic linebackers.
8. Georgia:
Like every defensive position, the Bulldogs lost a lot at linebacker, but there is some promising young talent that should get better as the season goes on. Everything revolves around sophomore
Jordan Jenkins
, who could end up being an elite pass-rusher after learning under
Jarvis Jones
last season. Jenkins was second on the team in sacks last season with five and should be even more disruptive in Jones' old spot. Junior
Amarlo Herrera
started nine games and will be the captain of the unit inside. Junior
Ramik Wilson
had a very good spring and has found his spot inside, while sophomore
Josh Harvey-Clemons
will play some linebacker when he isn't at safety and has a chance to be a star. Sophomore
James DeLoach
also had a very good spring outside. Freshmen
Reggie Carter
and
Ryne Rankin
will also have ample opportunities for good playing time this fall.
9. Kentucky:
Having Alvin "Bud" Dupree moving to defensive end hurts, but the Wildcats still have two solid options returning in
Avery Williamson
and youngster
Khalid Henderson
, who has playmaker written all over him. Williamson enters his senior season with 194 career tackles. Finding someone to take the other linebacker spot is the goal of fall camp.
Miles Simpson
started 11 games and had 70 tackles last year, but has to be more consistent. Junior
Kory Brown
and sophomore
Josh Forrest
will compete for that spot too and might be more athletic, but they lack experience.
Malcolm McDuffen
still hasn't reached his potential and Demarius Rancifer has decided to transfer.
10. Texas A&M:
The Aggies lost starters Jonathan Stewart and Sean Porter and are now surrounded by youth. Veteran
Steven Jenkins
is back, but he missed spring practice due to offseason shoulder surgery. He had time to work with junior college transfer Tommy Sanders, which will help a lot this fall, as he vies for a starting spot outside. The Aggies will have to rely on youngsters at linebacker, but junior
Donnie Baggs
looks like he'll start at middle linebacker. But after that it's all about newcomers, including new linebackers coach Mark Hagen. Freshmen Reggie Chevis and Brett Wade both went through spring practice, which helps, but expect growing pains from this unit.
11. Missouri:
The Tigers are fortunate to have senior
Andrew Wilson
and his 23 career starts back, but there isn't a lot of experience beyond that. Wilson has also led the Tigers in tackles in back-to-back seasons (79 last year).
Donovan Bonner
, a senior, and
Kentrell Brothers
showed flashes this spring, but both have to be more consistent. The same goes for
Darvin Ruise
, who entered the spring as a starter and played primarily on special teams last year. Keep an eye on freshman
Michael Scherer
, who has the talent to be a stud. There is athleticism here, but tackling was a major issue with this unit last year.
12. Arkansas:
The Razorbacks return veterans
A.J. Turner
and
Otha Peters
, but the best overall player at this position might be junior college transfer Martrell Spaight. That could be both good and bad, but the fact of the matter is that Turner and Peters have to improve and get over their injuries from the spring if they want starting jobs this fall. Senior
Jarrett Lake
had a good spring and could be the leader here. Freshman Brooks Ellis could make an immediate impact too. Experience is a bigger issue than talent with this unit. Also, the staff could spend the preseason moving everyone around.
13. Auburn:
This unit really struggled last year with getting lined up right and making tackles. There should be improvement with Ellis Johnson taking over the defense, but players need to get better. Star hybrid
Justin Garrett
had a great spring and could be primed for a breakout year. He can play in the box and cover, so he'll really help this unit. The good news is that Johnson needs just two linebackers for his 4-2-5 scheme. But those players have to perform. Sophomore
Kris Frost
made strides this spring and
Jake Holland
is experienced, while
Cassanova McKinzy
and
JaViere Mitchell
should vie for the other linebacker spot.
14. South Carolina:
The Gamecocks lost their entire two-deep at linebacker and had to move tight end
Kelvin Rainey
to linebacker to help with depth. There are a lot of bodies, but the experience is really lacking. Sophomore
Kaiwan Lewis
made strides this spring at middle linebacker, while junior
Sharrod Golightly
left spring with the edge at the hybrid Spur position. Freshmen
T.J. Holloman
and
Jordan Diggs
will compete for time this spring, but, again, they have no experience. Sophomore
Cedrick Cooper
missed spring while recovering from knee surgery, but should start at weakside linebacker.
February, 6, 2012
2/06/12
12:52
PM ET
Now that national signing day is out of the way, we're going to take another look at our SEC power rankings.
You won't see any change really, but we have more confidence in some teams now than we did before:
1. Alabama:
The Crimson Tide hauled in the nation's No. 1 recruiting class last week and not only did Nick Saban sign a handful of top-rated players, but he met all of Alabama's major needs with the 2012 class. There are a few freshmen who could make early impacts in Tuscaloosa, including athlete
Eddie Williams
(Panama City, Fla./Arnold), and wide receivers
Chris Black
(Jacksonville, Fla./First Coast) and
Amari Cooper
(Miami, Fla./Miami Northwestern).

2. LSU:
The Tigers' class wasn't as highly rated as some recent ones, but Les Miles and his coaches brought in a solid group and there are a few defense players who might see some playing time early. Three starting linebackers need to be replaced and a few freshmen will get their chances. While LSU lost
Torshiro Davis
((Shreveport, La./Woodlawn) flipped to Texas, the Tigers brought in ESPNU 150 linebackers
Kwon Alexander
(Oxford, Ala.) and
Ronnie Feist
(Edgard, La./West Saint John).
3. Georgia:
The Bulldogs needed to get bigger up front and add a couple of playmaking linebackers. Georgia did just that with the handful of athletic defensive linemen signed and grabbed top outside linebacker
Josh Harvey
-Clemons (Valdosta, Ga./Lowndes), who should thrive in Todd Grantham's 3-4. Georgia's offense could be even better this fall with
Keith Marshall
(Raleigh, N.C./Millbrook) helping
Isaiah Crowell
, and the wide receiver depth returning.
4. South Carolina:
Talk about underrated. South Carolina didn't make much noise at all on national signing day, but the Gamecocks brought in a very balanced class and have a few players who should contribute early to a team that will yet again compete for the SEC East title. Two freshmen to keep an eye on in 2012 are wide receiver
Shaq Roland
(Lexington, S.C.) and safety
Chaz Elder
(College Park, Ga./Benjamin E. Banneker).
5. Arkansas:
It seemed like the Razorbacks were headed for a very strong finish to its 2012 recruiting class, but watched as top receiver
Dorial Green-Beckham
(Springfield, Mo./Hillcrest) and four-star offensive tackle
Jordan Diamond
(Chicago, Ill./Simeon) committed elsewhere. However, Arkansas is still waiting on top athlete
Davonte Neal
(Scottsdale, Ariz./Chaparral) and signed some pretty talented wide receivers to add to that high-flying offense. Defensive depth was a need and Arkansas added six defensive linemen and snatched Tennessee linebacker commit
Otha Peters
(Covington, La./Covington) late.
6. Auburn:
Before Auburn could complete its recruiting class, it had to find someone to run its offense. The Tigers lured Scot Loeffler away from Temple, getting a coach who knows a thing about teaching quarterbacks. Clint Moseley and
Kiehl Frazier
should be ecstatic. The loss of
Michael Dyer
hurts, but Auburn has a stable of running backs to work with and signed one of the best offensive line classes around. Also, athlete
Ricardo Louis
(Miami Beach, Fla/Miami Beach Senior) could be a real playmaker at wide receiver.
7. Florida:
Will Muschamp wanted his team to get tougher and he took a step in the right direction by hitting the line of scrimmage hard in his first full recruiting class. He also got a big back in
Matt Jones
(Seffner, Fla./Armwood) and having
D.J. Humphries
(Charlotte, N.C./Mallard Creek) in early should really help the offensive line. Florida is also waiting for a potential receiving threat in
Stefon Diggs
(Olney, Md./Our Lady of Good Counsel). Muschamp feels better about this team's attitude and expects a more resilient squad in 2012.
8. Missouri:
These Tigers could come in and frustrate some of its new SEC East family with the depth it returns. No one is quite sure if top running back Henry Josey will return in 2012 after a major knee injury, but the Tigers added a very complete back in
Morgan Steward
(Kansas City, Mo./Staley), who could compete for playing time early. But Missouri took home the biggest national signing day prize when Green-Beckham picked Missouri. Mizzou lacked a big-play receiving threat until now.
9. Tennessee:
There is a lot of talent returning in Knoxville and the Vols added some quality depth with its 2012 recruiting class. Tennessee took a hit when top inside linebacker
Dalton Santos
(Van, Texas) flipped to Texas and needed to add a big-time running back to help that offense, but grabbing junior college wide receiver Cordarrelle Paterson (Rock Hill, S.C./Hutchinson Community College) was big. He'll add to an already solid receiving tandem and could provide more leadership. Tyler Bray should have a fun offseason.
10. Texas A&M:
The Aggies lose a lot heading into their first season as a part of the SEC Western Division, but helped the future by signing a top-25 class. Running back
Trey Williams
(Houston, Texas/Andy Dekaney) could provide an early spark for the offense with
Cyrus Gray
leaving. The receivers got some needed help with the signing of No. 3 receiver
Thomas Johnson
of Dallas, and outside linebacker
Jordan Richmond
(Denton, Texas/Billy Ryan) should see early playing time as well.
11. Vanderbilt:
James Franklin
's first full class at Vanderbilt was a total success. He showed that he won't just compete on the field with the SEC big boys but he'll recruit with them too. He beat out a few bigger schools for ESPNU 150 athlete
Brian Kimbrow
(Memphis, Tenn./East) and the Commodores added a lot of bigger bodies up front and at linebacker. Vandy's veterans shouldn't have an issue mingling with this solid recruiting class.
12. Mississippi State:
The Bulldogs will head into the spring looking to jump start their offense. There is a lot of depth and three senior starters returning at wide receiver, but some oomph needs to return to this offense. It's officially Tyler Russell's time at QB and LaDarius Perkins and Nick Griffin could be a powerful one-two running back punch. Where Mississippi State really struck gold in recruiting was up front, where the Bulldogs added three top defensive linemen, including No. 13 tackle
Quay Evans
(Morton, Miss.).
13. Kentucky:
The Wildcats need playmakers on offense and having running back
Josh Clemons
come back at full health this year, will go a long way. But Kentucky desperately needed to add more with its 2012 recruiting class. The Wildcats are hoping dual-threat quarterback
Patrick Towles
(Fort Thomas, Ky./Highlands) can help in that department. Kentucky won't get anywhere without developing the talent already on campus and that's most important at this point.
14. Ole Miss:
Hugh Freeze had some defensive success in his first recruiting class as the Rebels' head coach. There is a good foundation with ESPNU 150 defensive tackle
Issac Gross
of Batesville, Miss., and ESPNU 150 defensive end
Channing Ward
of Aberdeen, Miss., and the secondary got a boost when safety
Trae Elston
(Oxford, Ala.) picked Ole Miss over LSU. Now, Freeze turns his attention to players a part of a two-win 2011 season. Generating discipline and finding leaders are key for a program glued to the bottom of the SEC.
ESPNU's national signing day coverage kicks off at 9 a.m. ET. Here's the list of the announcements and time for some of the top prospects.

NOTE: Bold names are announcements, all others are interviews.


January, 30, 2012
1/30/12
12:11
PM ET
ESPNU's national signing day coverage kicks off at 9 a.m. ET. Here's the list of the announcements and time for some of the top prospects.

NOTE: Bold names are announcements, all others are interviews.


December, 11, 2011
12/11/11
4:04
PM ET
ESPNU 150 outside linebacker
Josh Harvey-Clemons
(Valdosta, Ga./Lowndes) made his first official visit this weekend when he tripped to the University of Florida. He said it was good all the way around.
"It was good, very good," Harvey-Clemons said. "That's a school where I can get some great playing time. They are losing some players. I love the staff. It's a great defensive staff. I had a good time with the all the players and the coaches. Everyone seems so genuine all around there. And they want to win, and Florida is going to get the players to win."
Harvey-Clemons, a high four-star prospect, said he will visit Louisville next weekend (Dec. 16) and in January will visit both Georgia (Jan. 13) and Florida State ( Jan. 20).
To continue reading this article you must be an Insider
McCarron Wins Maxwell Award