Alabama Crimson Tide:

John Chavis
June, 2, 2014
6/02/14
10:30
AM ET
We've officially hit the home stretch in our season-long road trip as the calendar turns to October.
So turn down the air conditioning and pack a light jacket for the night games.
The leaves won't be the only things changing colors around this time, though. Contenders and pretenders will begin to separate themselves as we get into the meat of the conference schedule.
If you're just now jumping on board, we at the SEC blog have been getting ready for the coming season by plotting out our
top destinations every week
. So far we've been to Georgia, LSU, Alabama, South Carolina, Houston, Vanderbilt and Oklahoma. We've got five weeks down and nine more to go.
Let's take a look at the best options for Week 6:
Oct. 4
Alabama at Ole Miss
LSU at Auburn
Florida at Tennessee
Vanderbilt at Georgia
South Carolina at Kentucky
Texas A&M at Mississippi State


Alex Scarborough's pick:
LSU
at
Auburn
Nothing approaches Alabama and the Iron Bowl when you're talking about Auburn's most significant rivalry game. But Auburn's annual matchup with LSU is darn close. When these Tigers hook up, it's appointment viewing.
I'm talking about the 1988 earthquake game. I'm talking about 1996, when a fire broke out. I'm talking abut 2004, when John Vaughn needed two shots at a game-winning extra point. And I'm definitely talking the 2006 slugfest that was one of the best displays of SEC defense in recent memory.
A 10-point game? Yeah, I don't think that will happen any time soon. Not as long as Gus Malzahn is putting the pedal to the metal offensively at Auburn.
But this year's Auburn-LSU game is appealing for that same reason: It pits one of the most prolific offenses in college football against one of the most physical defenses.
Nick Marshall
and the Auburn offense like to get out in open space and run. John Chavis wants his LSU defense to hit you in the teeth and suffocate you with speed. It's strength vs. strength.
Man is it fun to watch when both teams are clicking, too. And at a venue such as Jordan-Hare Stadium in early October, you can't ask for much more.


David Ching's pick:
Alabama
at
Ole Miss
You've made a good pick there, Alex. The craziest game I've attended was the 1994 LSU-Auburn game, when Auburn rallied to a miraculous win by returning three interceptions for touchdowns. That series probably doesn't get the attention it deserves nationally, considering how many ridiculous things have happened when they've met in the last couple decades.
At any rate, I nearly allowed nostalgia to overcome me with my pick, which would have led me to select Florida-Tennessee. I'm a child of the early 1990s and there was no more important annual SEC rivalry in those days than when Phil Fulmer's Vols took on Steve Spurrier's Gators. For that reason alone, I'd enjoy watching those teams meet at Neyland Stadium, simply to soak in a bit of that history.
But both of those teams missed out on the postseason last year, and even if I think at least one of them -- if not both -- will return to bowl contention this season, Alabama-Ole Miss feels like it will be a more appealing game this fall.
Ole Miss' solid
2013 recruiting class
is coming of age, and the Rebels might be good enough to challenge the Crimson Tide -- particularly because this game will be played in Oxford, Mississippi. Second, there's the lure of The Grove and the sights and sounds that come with tailgating around campus.
I've covered a couple of games in Oxford but haven't been able to enjoy all that Oxford has to offer. If I'm picking a game to attend for fun, the social aspect would definitely figure into the equation as I choose what might also be a key game in the SEC West race.
May, 19, 2014
5/19/14
9:00
AM ET
By now we should have our legs about us. No more early season mistakes. Make sure the cooler is stocked, the oil has been changed and the GPS is fully updated.
If you're just now getting on board, we at the SEC blog have been getting ready for the season by plotting out
the top destinations every week
. So far we've been to Houston, South Carolina, Vanderbilt and Oklahoma. Three weeks down, 11 more to go.
Let's take a look at the best options for Week 4:
Sept. 20
Auburn at Kansas State (Sept. 18)
Florida at Alabama
Northern Illinois at Arkansas
Troy at Georgia
Mississippi State at LSU
Indiana at Missouri
South Carolina at Vanderbilt
Texas A&M at SMU
Alex Scarborough's pick:
Mississippi State
at
LSU
[+] Enlarge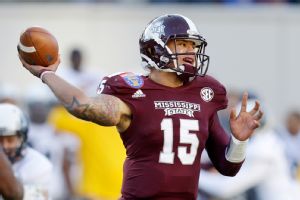 AP Photo/Mark HumphreyDak Prescott and the Bulldogs will get their first tough test of the season when they visit LSU on Sept. 20.
Expect the hype for this game to be considerable. Mississippi State, barring a considerable collapse, should enter Baton Rouge, La., undefeated and ranked in the Top 25. If LSU survives its season opener against Wisconsin, it will be in the same boat.
With a Heisman Trophy contender at quarterback, a burgeoning group of playmakers on offense and a deep, veteran defense, the Bulldogs are a team worth keeping an eye on. The momentum Mississippi State gained from beating Ole Miss and Rice to end last season was huge. In a wide-open West, Mississippi State is in as good a position as any to make it to Atlanta, especially with its schedule. Early season games against Southern Miss, UAB and South Alabama should be a breeze. In fact, I'd be concerned about playing down to the level of competition.
LSU will be a considerable obstacle, however.
Against LSU, we'll see if Mississippi State is for real. Against a John Chavis-Les Miles defense, we'll see just how good
Dak Prescott
is and how far Dan Mullen's offense has come.
Along those same lines, we'll learn a lot about LSU's retooled defense and its overhauled offense, which features exactly zero returning starters at quarterback, wide receiver and running back.
This game should be a good one. And the fact that it will be played in the renovated Tiger Stadium only makes it that much more appealing. If it's not a night game, and I don't get to hear the P.A. announcer say, "It's Saturday night in Death Valley," I'll be thoroughly disappointed. There's not a better environment in all of college football, for my money.
Sam Khan's pick:
Florida
at
Alabama
After Florida's rough 2013 season, this game at first glance might not have much appeal. That's fair, but both teams are likely to head into this one unbeaten. It will be the Crimson Tide's conference opener after nonconference tilts against West Virginia, Florida Atlantic and Southern Mississippi, while Florida has dates with Idaho, Eastern Michigan and Kentucky before heading to Tuscaloosa.
Florida's offense can't be as inept as it was last season, right? Kurt Roper's arrival as offensive coordinator should help the Gators improve vastly in that area and help quarterback
Jeff Driskel
make significant progress. The defense should be fine. Overall, as long as the Gators can avoid the rash of injuries they encountered last season, things are looking up for a sizeable leap in the wide-open SEC East standings.
Alabama is Alabama and will be one of the favorites to take the SEC title once again. But Florida -- if the Gators are playing well defensively -- will provide a good test for the new Crimson Tide quarterback, whether it be Florida State transfer
Jacob Coker
or someone else. The Tide have a new offensive coordinator, too -- Lane Kiffin -- and there will be plenty of eyes watching to see how the offense develops under Kiffin.
If the Crimson Tide roll to an easy victory, it will probably come as no surprise. But as we saw last season with the Gators' fall and Auburn and Missouri's rise, things can change quickly, even in the span of one year. Alabama is likely to be a heavy favorite, but if the Gators get off to a good start and show signs of life during their early season slate, it should provide some intrigue in the buildup to this early season conference clash.
March, 26, 2014
3/26/14
12:00
PM ET
Spring storylines abound this week around the SEC. Let's take a quick spin around the league to see what's happening.
November, 24, 2013
11/24/13
9:00
AM ET
Here are five individuals (or groups) from around the SEC who earned helmet stickers for their performances on Saturday.

Missouri's running game:
The backfield committee of
Henry Josey
,
Marcus Murphy
,
James Franklin
and
Russell Hansbrough
led the way, as the Tigers racked up 260 yards rushing to handle Ole Miss on the road. Josey was Mizzou's statistical standout with 95 yards, a 6.3-yard average and two touchdowns. Murphy added 67 yards and a touchdown, and Franklin chipped in 42 yards in his return to the starting lineup. The senior quarterback, who averaged 5.3 yards a carry, showed just what a challenge he presents to defenses when they must account for his snap decisions to run, throw or do both. The Tigers have a reliable offense built on the foundation of their diverse running game. It should come in handy at home next week as they aim for Atlanta.
John Chavis:
With an assist from some nasty weather, LSU's defensive coordinator architected what might have been a Heisman bid-killer in Death Valley on Saturday. Texas A&M's
Johnny Manziel
was gunning for back-to-back trophies but ran smack into a determined Tigers' D. Manziel was only 16-of-41 passing (a career-low 39 percent) for 224 yards with two interceptions and two sacks. He also had only 54 rushing yards on 12 carries. All told, Johnny Football recorded a career-low 14.9 Total QBR on Saturday. Just as it was in a win at College Station last season, Chavis' key was having his front focus on containment in order to limit Manziel's improvisational magic. Mission accomplished.
Jordan Matthews:
Any time Vanderbilt beats instate rival Tennessee in back-to-back seasons (Hint: It hadn't happened since 1925-26), a helmet sticker must be awarded. In a game that was more about two defenses fighting for every yard, the senior wide receiver caught 13 passes for 133 yards and broke the SEC record for career receptions. Matthews now has 246 career receptions and owns the mark previously held by Vandy's Earl Bennett, who caught 236 passes from 2005-07. Matthews also has the SEC record for career yards receiving (3,491).
AJ McCarron:
We'll give a nod to Georgia QB
Aaron Murray
, who similarly feasted on an inferior opponent (four touchdown passes before leaving with an injury). But McCarron had much more on the line in leading the undefeated top-ranked Tide past Chattanooga. Like Murray at Sanford Stadium, McCarron also bore the emotional burden of playing in his final home game at Bryant-Denny Stadium. He was a brutally efficient 13-of-16 passing for 171 yards and two touchdowns (95.9 Total QBR), and he even found time to deliver brother Corey his first career reception. But the most important statistic in McCarron's sterling legacy at Bama is his 36-2 record as a starter, which broke a tie with Jay Barker for the school record.
Terrence Magee:
Sure, the junior tailback has played second fiddle to
Jeremy Hill
all season. But Magee broke out on Saturday with a career-high 149 yards rushing in LSU's win against visiting Texas A&M. The conditions -- cold, wet, blustery and generally miserable -- called for a strong running game. Magee answered the bell early with a 65-yard sprint that put the Aggies defense on its heels and set up the Tigers' first touchdown. Magee led the way for LSU to amass 324 yards on 55 rushes, a ground assault for which A&M had no answer.
September, 30, 2013
9/30/13
11:00
AM ET
Anybody hot … or not?
It's that time again as we review the week that was in the SEC.
GLOWING EMBERS
Alabama's intel:
Alabama's defense was already fired up thanks to what the Tide perceived as smack talk by some of the Ole Miss players leading up to the game. Let's face it: There's a fine line sometimes between a player answering a question honestly and his comments mushrooming into full-blown bulletin board material. Either way, the Alabama defense was amped by some of the things Ole Miss quarterback
Bo Wallace
was quoted as saying earlier in the week, even though what Wallace said was pretty tame. We're not exactly talking about any "Archie who?" banter here. But where the Crimson Tide really stuck it to the Rebels was with a little inside intel thanks to Tyler Siskey, Alabama's assistant director of football operations. Siskey was on the Ole Miss staff last season as director of recruiting development. He was in the Alabama coaches' booth for the game with a set of binoculars, and even though Ole Miss changed up its signals, there weren't many times that the Tide were fooled by what the Rebels were doing offensively. As ESPN analyst Todd Blackledge noted during the broadcast, Siskey's knowledge of the Ole Miss offense was a big asset to an already imposing Alabama defense in its preparation for the game. The Tide might not have had the Rebels' signals, but they were sure locked in to the Rebels' tendencies on offense and played lights-out in shutting out a Hugh Freeze-coached team for the first time in his college career.
[+] Enlarge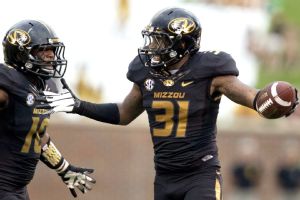 Shane Keyser/Kansas City Star via Getty ImagesDefensive back E.J. Gaines, 31, was a standout on Missouri's defense in 2013.
HOT
Missouri cornerback E.J. Gaines:
When you start reeling off the top cornerbacks in this league, don't forget about Gaines. He's off to a terrific start to the season. In the 41-19 win over Arkansas State, he had nine total tackles, including one for loss, and his third interception of the season to set up Missouri's final touchdown. Gaines is more than just a cover guy. He leads the Tigers with 19 solo tackles.
NOT
LSU's defense:
The Tigers have a way to go defensively. When you lose as many good defensive players early to the NFL draft as they have over the last couple of years, that kind of talent drain has a way of catching up with even the best defenses. Veteran coordinator John Chavis knew this defense would be a work in progress, but seeing all the blown coverages in the 44-41 loss at Georgia and wide-open receivers running free in the LSU secondary was difficult for anybody on that LSU staff to stomach.
HOT
Georgia quarterback Aaron Murray:
So much for the "can't win the big game" label. Murray has been fabulous in Georgia's two wins over top-10 teams this season, with eight touchdown passes and just one interception. There's no substitute for his experience, and it shows in the way he's carving apart defenses right now.
NOT
SEC defenses:
Only one SEC team (Florida at No. 2) is ranked in the top 10 nationally in total defense this week. For that matter, only two are ranked in the top 20. Mississippi State is 20th. In scoring defense, Alabama is still among the national leaders at No. 13. The offenses have taken center stage this season in the SEC, and suddenly the defenses are trying to catch up. Keep in mind, too, that six of the seven national champions during the SEC's streak have finished in the top 10 nationally in total defense.
HOT
South Carolina running back Mike Davis:
He's the SEC's rushing leader heading into the month of October and seemingly gets better every week. He carried the Gamecocks in the 28-25 win over UCF after
Connor Shaw
went down, and finished with a career-high 167 yards and three touchdowns. He has had a run of 50 yards or longer in three of his four games.
NOT
Schedule balance:
Talk about a contrast in October schedules. Alabama doesn't play anyone that should come within 20 points of the Crimson Tide (and that's being kind) until LSU comes to town on Nov. 9. Arkansas, meanwhile, has Florida, South Carolina and Alabama over the next three weeks, and Florida and Alabama are on the road. Tennessee gets Georgia, South Carolina and Alabama in October. Ole Miss also has a tough October stretch that will go a long way toward shaping the Rebels' season. They travel to Auburn this weekend and then come back home for back-to-back games against Texas A&M and LSU. Georgia gets a little bit of a break, although the Bulldogs do have to go on the road to face both Tennessee and Vanderbilt in October. Given their September gantlet (three top-10 opponents), nothing should seem too daunting the rest of the way.
FREEZER BURN
Staying healthy:
Geez, what a bad week on the injury front for a handful of SEC teams and players. Florida was already reeling after losing starting quarterback
Jeff Driskel
to a season-ending injury two weeks ago against Tennessee. And then last week in practice, star defensive tackle
Dominique Easley
was lost for the season with a torn ACL. Easley was playing as well as any defensive lineman in the league. This past weekend, we saw South Carolina quarterback Shaw go down with a right (throwing) shoulder sprain that will sideline him for two to three weeks. Alabama will be without starting center
Ryan Kelly
for two to three weeks after he suffered an MCL injury to his knee, and Georgia running back
Todd Gurley
injured his ankle in the win over LSU. Georgia coach Mark Richt said Gurley would be "day-to-day" in preparation for Saturday's game at Tennessee and wouldn't need any kind of surgery. The Bulldogs played the final three quarters without Gurley. Texas A&M defensive tackle
Kirby Ennis
had to leave the Arkansas game with a left knee injury. Depending on the severity of Ennis' injury, he will have some extra time to recover. The Aggies are off this week before traveling to Ole Miss on Oct. 12.
August, 12, 2013
8/12/13
12:30
PM ET
Here's some required SEC reading to help get you through the rest of your Monday.
July, 19, 2013
7/19/13
7:00
AM ET
By
TideNation
and
GeauxTigerNation
| ESPN Insider
The Alabama-LSU rivalry admittedly is a young one. While the schools have played one another a lot in their history -- 77 times, to be exact -- the real antagonism didn't come until 2007, when former LSU coach Nick Saban left the Miami Dolphins for the University of Alabama. Ever since, it is prime-time viewing when the Tide and the Tigers meet.
Saban and LSU coach Les Miles have won four of the past six SEC titles
and
four of the last six BCS national championships. They've pushed each program to greater heights and established themselves as two of the top coaches in the game, all the while competing against one another on and off the field.
So far, Alabama holds the slight edge over LSU in terms of head-to-head wins and national championships, but will that last? Who will own the rivalry in the years to come? That's what we asked of TideNation writer Alex Scarborough and GeauxTigerNation writer Gary Laney. Each looked into their crystal ball to come up with three things each school must do to win the rivalry moving into 2014 and beyond.
What LSU must do to own the rivalry
1. Win the home front:
Alabama is trying to go toe-to-toe with LSU for most of Louisiana's top recruits. If LSU is to hold its own or win the long-term rivalry with Alabama, it's essential for the Tigers to not only win this war, but in a rout. We all know about the 2014 class in Louisiana, featuring a handful of the nation's best players, most of whom have LSU and Alabama as their top two contenders (see
Leonard Fournette
,
Cameron Robinson
and
Laurence "Hootie" Jones
). This might repeat itself in what's shaping up to be a similar 2016 class in Louisiana. Given Alabama's current status as college football's back-to-back champion, it's hard to imagine LSU being able to match the Tide's recruiting without dominating its own state.
2. A transformed offense:
LSU looks like it can be a defensive juggernaut for years to come. Not only does LSU have a great defensive coordinator in John Chavis, Louisiana yields Chavis an ample quantity of athletes capable of thriving in his system. That has not been the case on offense, where the Tigers have played musical coordinators and have struggled to find their stride since they last won a national championship in 2007. That's in contrast to Alabama, which a year ago had a dominant running game and an efficient passing game. LSU can't be a one-dimensional team while Alabama is a complete team.
3. A thriving state:
An underrated part of LSU's success, and struggles, is the fate of the state of Louisiana itself. We saw LSU take a hit when Hurricane Katrina displaced much of metro New Orleans, which represents close to a quarter of the state's population. New Orleans has recovered and the state is at a point where, if the right buttons are pushed, it can move past recovery to experiencing real growth. We've seen in neighboring Texas, a huge growth state, that transplants have assimilated into Texas' rabid football culture and football prospect production has been incredibly strong. If Louisiana, annually the nation's leader in per capita NFL player production, experiences significant population growth with LSU remaining its sole BCS football power, matching the Tigers' recruiting base would be enormously difficult for any rival, Alabama included.
What Alabama must do to own the rivalry
1. Find a quarterback to replace McCarron:
It doesn't matter how stellar the defense or how spectacular the running game: Without a solid starting quarterback, Alabama won't be going anywhere against LSU or any other team in the SEC when AJ McCarron leaves after this season. If you're not balanced in this league, you're not going to win, and you need a capable quarterback to make that possible. The difficulty of finding that man might be taken for granted, considering the consistent play the Tide has had with McCarron and Greg McElroy before him, but much of this season will be devoted toward that process.
Alec Morris
has nice potential and so do the trio of freshman quarterbacks Alabama welcomed onto campus this spring. UA commitment
David Cornwell
is a guy that can come in and compete for the job in 2014 as well. But whoever wins the gig will have his hands full.
2. Continue drawing from the Louisiana pipeline:
Saban left LSU nine years ago, but he never left the state behind entirely. The relationships he maintained there have paid dividends since he came to Alabama in 2007. Since then, Saban has signed nine recruits from Louisiana, including 2012's top prospect, safety
Landon Collins
. Alabama is in the hunt for 2014's No. 1 overall prospect, running back Fournette and No. 1 offensive tackle Robinson, and the Tide will no doubt continue to mine the area for talent in the years to come. With each recruit signed out of Louisiana, Alabama fills its own coffers while simultaneously emptying LSU's -- a win-win scenario in any rivalry.
3. Keep Saban and his "process" in Tuscaloosa:
It's an obvious thing to say, but the vast majority of Alabama's success comes from its head coach and the program he has installed in Tuscaloosa. While it's true that Saban has built a machine -- also known as "The Process" -- that seemingly operates on its own, he's nonetheless the man with his hand on the lever making sure it's working at maximum capacity. Without him, who knows how far Alabama would fall? Kirby Smart or some other coaching candidate may be the perfect man for the job when Saban leaves, but following up what Saban has done in establishing a dynasty would border on the impossible. The pressure would be incredible. The best-case scenario for Tide fans is that Saban stays head coach for as long as he wants before handing over the reigns to a successor who he could watch develop from an advisory role within the athletic department, whether that's as the school's athletic director or in some other responsibility.
July, 18, 2013
7/18/13
7:00
AM ET
By
TideNation
and
GeauxTigerNation
| ESPN.com
Editor's note: This week, GeauxTigerNation and TideNation will examine all aspects of the LSU-Alabama rivalry during the Nick Saban-Les Miles era. Today we turn to this season's game and what each team must do to come out victorious.
It's never too early to look forward to a good old-fashioned rivalry game. So with more than 100 days remaining between now and the Alabama-LSU regular-season matchup in Tuscaloosa, Ala., we asked TideNation writer Alex Scarborough and GeauxTigerNation writer Gary Laney to break down three keys for each school to come out on top.
A lot can happen between now and Nov. 9, but its safe to say the plans laid out by each writer will be as true today as they are four months from now when Nick Saban and Les Miles meet at midfield in Bryant-Denny Stadium to renew a rivalry that's been boiling intensely in recent years.
How LSU wins in 2013
[+] Enlarge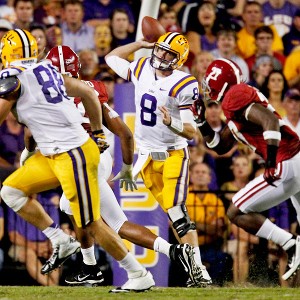 Derick E. HingleAlabama's defense has to find a way to put pressure on Zach Mettenberger in its matchup with LSU on Nov. 9.
1. Offensive balance:
On a spreadsheet, LSU did not have a team that should have been able to beat Alabama in 2012. The Tigers were too one-dimensional on offense without a consistent passing game and, if the 2011 meetings showed anything, Nick Saban-coached teams will eat one-dimensional offenses for lunch. But for one night in Tiger Stadium, LSU quarterback
Zach Mettenberger
was brilliant, throwing for a season's-best 298 yards to bring balance to the usual productive running game, led by
Jeremy Hill
, and the Tigers nearly pulled off an upset, losing 21-17. This year, Mettenberger will have to be as good -- probably better -- and LSU will need its usual running threat, whether it's Hill or somebody elese. Of course, that is the whole reason why LSU has a new offensive coordinator in Cam Cameron.
2. Pressure points:
Alabama has some work to do on its offensive line, and LSU has some holes to fill on its defensive line. This should not be a huge issue for the Tigers' run defense -- defensive coordinator John Chavis is a master of scheming extra men in the box to negate the run -- but if a now well-seasoned
A.J. McCarron
has time to sit back and go through his progressions in the passing game, even "DBU" won't be able to cover. Don't believe it? Look at the winning drive last season. Defensive tackle
Anthony Johnson
should be a pass-rushing force this season. But if the Tigers enter the LSU game still waiting for one of the young ends to emerge as a consistent sack threat, they could be in for a world of hurt.
3. Kicking it around:
The last time the Tigers beat Alabama, Drew Alleman gave LSU all of its points with three field goals. Under Les Miles, LSU always seems to enjoy a special teams edge. That's especially important against this team because it will take a mighty effort to just be close to the Tide, based on what they have coming back with offensive skill players and defensive talent. That might be a problem for LSU, which is breaking in a new starting punter in
Jamie Keehn
and is entering August camp still searching for Alleman's replacement at kicker.
How Alabama wins in 2013
1. Pressure Mettenberger:
It's odd that the silver lining in Mettenberger's otherwise lackluster 2012 campaign was a defeat, but such was the case for the rising senior quarterback who threw for a season-high 298 yards against Alabama in early November. Give him credit for making all the throws, but a fair share of the blame lies with the Tide defense, which had three sacks and no quarterback hurries in Baton Rouge. Allowing a big, strong-armed quarterback such as Mettenberger to set his feet like that was just asking for trouble. Combined with a season-low two pass breakups, it's a wonder he didn't throw for more than one touchdown. For Alabama to survive LSU in Tuscaloosa this season, the defense can't afford Mettenberger another career-making day where he has the time to sit back and pick the secondary apart.
2. Stay with the running game:
There were times last season when the Alabama offense got too far ahead of its skis and lost balance -- twice to be exact. The LSU game was the first such instance when offensive coordinator Doug Nussmeier called more passes than runs, and the lack of continuity showed in the second half, when McCarron and Co. went three-and-out on four of six drives. Alabama, of course, survived that bit of unbalance, but the next week it did not as the Tide threw the ball more than it ran and lost in heartbreaking fashion to Texas A&M. While the temptation to pass will be even greater with McCarron a year wiser and with more weapons at wide receiver, the fact remains that the Alabama offense is based on running the football and controlling the line of scrimmage. Handing the ball off to
T.J. Yeldon
and the rest of the stable of running backs might not be sexy, but it gets the job done.
3. Stay special:
A bad kicking game doomed Alabama the last time LSU came to Tuscaloosa as the Tide missed four-of-six field goal attempts in its only loss of the 2011 season. And while
Cade Foster
appears to have gotten over the hiccup of that game, he comes into the 2013 season with even greater expectations now that short-range specialist Jeremy Shelley is gone. Making the most of every opportunity will be important for whoever handles field goals for the Tide this go-around, whether it's Foster or redshirt freshman
Adam Griffith
, who could take over for Shelley as the short- to intermediate-range kicker. Getting the ball through the uprights won't be the only thing that's important, though. The Tide must do well in coverage and take care of the ball in the return game, as five of the past seven meetings between the schools have been decided by a touchdown or less.
December, 12, 2012
12/12/12
3:00
PM ET
The head coaches are the ones who make the big money in the SEC.
But without a quality staff, a head coach isn't going to survive very long in this league.

So as we look back on the 2012 regular season, let's pay tribute to 12 assistant coaches who separated themselves from the rest. Each of these guys made a huge difference in their development of players and units.
We'll call it our "Dandy Dozen" of SEC assistant coaches, and they're listed in alphabetical order:
Mike Bobo, Georgia, offensive coordinator/quarterbacks: A finalist for the Broyles Award, Bobo has the Bulldogs ranked in the top four in the SEC in both rushing and passing offense. They scored 28 or more points in 11 of their 13 games, and did it with an offensive line that was both young and unproven when the season began.
Burton Burns, Alabama, associate head coach/running backs: Despite injuries to Dee Hart and Jalston Fowler, Alabama didn't miss a beat in its running game. In fact, Eddie Lacy and T.J. Yeldon became the first two players in school history to each rush for 1,000 yards in the same season.
John Chavis, LSU, defensive coordinator/linebackers: Like clockwork, Chavis just keeps on churning out rock-solid defenses at LSU. The Tigers are No. 8 nationally in total defense and No. 11 in scoring defense, and that's despite losing their top playmaker on defense (Tyrann Mathieu) in the preseason.
D.J. Durkin, Florida, special teams coordinator/linebackers: When you play as many close games as the Gators did this season, you better be good on special teams. They weren't just good. They were excellent in all facets, which is a credit to Durkin and the job he did in coordinating the entire kicking game.
Herb Hand, Vanderbilt, offensive line: For the second year in a row, Zac Stacy rushed for 1,000 yards, and for the second year in a row, the Commodores more than held their own up front offensively. One of the best decisions James Franklin made when he took the job was holding onto Hand from the previous staff.
Kliff Kingsbury, Texas A&M, offensive coordinator/quarterbacks: Just his work with Heisman Trophy winner Johnny Manziel alone was enough to get Kingsbury some serious props. But Texas A&M's offense also put up crazy numbers in its first season in the SEC. Kingsbury, a finalist for the Broyles Award, has suddenly become a hot commodity in the head coaching ranks.
Brad Lawing, South Carolina, defensive line: One of the more underrated coaches in the SEC, Lawing has been doing it for a long time at a very high level. His defensive lines at South Carolina have been excellent the past few years and are one of the big reasons the Gamecocks have made their move into the SEC's upper tier.
Matt Luke, Ole Miss, co-offensive coordinator/offensive line: Just about everybody agreed in the preseason that the offensive line was Ole Miss' weakest link, but Luke was able to get everything and then some out of that group after a lackluster showing by the Rebels in the trenches in 2011. What's more, Ole Miss was one of only three teams in the league (Texas A&M and Georgia) to average more than 250 yards passing and 165 yards rushing this season.
Sam Pittman, Tennessee, offensive line: Few units in the league improved as much from 2011 to 2012 as Tennessee's offensive line. The Vols gave up just eight sacks in 12 games, which was tied for fourth nationally, and padded their rushing average by more than 70 yards per game. Pittman's approach was exactly what the Vols needed up front, and they blossomed into one of the top offensive lines in the SEC.
Dan Quinn, Florida, defensive coordinator/defensive line: The Gators won 11 games in the regular season, and they held the opposition to 17 or fewer points nine times. Quinn, a Broyles Award finalist, put a defense on the field during his first season at Florida that was very good. But the one this season played at a championship level. The Gators head to the Allstate Sugar Bowl ranked No. 3 nationally in scoring defense and No. 5 in total defense.
Bob Shoop, Vanderbilt, defensive coordinator/safeties: For the second straight season, the Commodores rank among the top 20 teams nationally in total defense. They're also No. 15 in scoring defense. They're not real big up front and lost three key players from last season (Chris Marve, Casey Hayward and Tim Fugger), but Shoop keeps finding ways to stop people.
Kirby Smart, Alabama, defensive coordinator/linebackers: Alabama fans were holding their breath when it looked like Smart might be going to Auburn as head coach. The Crimson Tide had six players drafted off of their 2011 national championship defense, but here they are again going back to the national title game and ranked No. 1 nationally in total defense and No. 2 in scoring defense.
October, 31, 2012
10/31/12
11:17
AM ET
TUSCALOOSA, Ala. -- Alabama offensive coordinator Doug Nussmeier is one to spread the credit around. Sure, his quarterback
AJ McCarron
is in the thick of the Heisman race, has thrown 18 touchdowns with no interceptions and faces the biggest game of the season against LSU on Saturday night in Baton Rouge, La., but it's not all about him.
Alabama's undefeated record and 40.6 points per game is a testament to the play of the team all the way around, not just the man under center.
"It's the body of work of everybody on the offense," Nussmeier told ESPN's Samantha Steele, crediting the offensive line, running backs and wide receivers.
If anything, it's been a team effort. McCarron just happens to be the face of it.
The junior quarterback from South Alabama has taken on a greater role on offense this season after leading the Tide to a national championship in his first year starting under center. Nussmeier, who is in his first season at Alabama, said McCarron came in this past offseason ready to work on the finer points of his game, things like footwork and selling the play-action pass better. It was music to the former pro quarterback's ears.
Coordinator and quarterback jelled quickly and McCarron's newfound attention to detail has paid off on the football field. The same pundits and and prognosticators that labeled McCarron a "game manager," are calling him something different this season. They're calling him one of the best quarterbacks in the country.
Not that UA coach Nick Saban is ready to abandon the title of "game manager" any time soon. To him, it's a compliment more than an insult.
Alabama Dismisses Jonathan Taylor
SEC SCOREBOARD
Thursday, 9/3
Saturday, 9/5