Alabama Crimson Tide:

Jim McElwain
December, 11, 2013
12/11/13
2:30
PM ET
Nick Saban's name is sure to come up in every high-profile coaching job that opens until he decides to retire.
That's just the nature of the business when you've had the kind of success Saban has had with four national championships in the last 11 years.
[+] Enlarge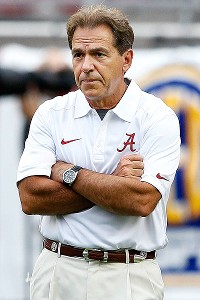 Kevin C. Cox/Getty ImagesAlabama coach Nick Saban has several protégés who are now head coaches, including Florida State's Jimbo Fisher, Florida's Will Muschamp and Michigan State's Mark Dantonio.
He won't be playing for a national title this season, but one of his protégés will -- Florida State's Jimbo Fisher.
In fact, it's been an eventful season all the way around for the Saban coaching tree.
Since we're all into power rankings this time of year, let's roll out the power rankings for the Saban coaching tree coming out of this season. In other words, those guys who have coached under Saban at some point in the college ranks and have gone on to be head coaches either in major college football or the NFL.
1. Jimbo Fisher, Florida State head coach:
We'll go with Fisher at No. 1 on this list since he has the No. 1 Seminoles unbeaten and headed to the VIZIO BCS National Championship game to face Auburn. It's their first trip to the national title game since the 2000 season. Fisher is a finalist for the Eddie Robinson Coach of the Year Award. His Seminoles have been dominant this season. They've won all 13 of their games by 14 or more points and 12 of their 13 games by 27 or more points. Fisher was Saban's offensive coordinator at LSU from 2000-04.
2. Mark Dantonio, Michigan State head coach:
Another finalist for the Eddie Robinson Coach of the Year Award, Dantonio has Michigan State in the Rose Bowl for the first time since the 1988 season and led the Spartans to a school-record 12 wins this season. This will be their seventh straight bowl appearance. Dantonio was Saban's secondary coach at Michigan State from 1995-99.
3. Jim McElwain, Colorado State head coach:
In his second season at Colorado State, McElwain has the Rams in a bowl game for the first time since the 2008 season. They will face Washington State in the New Mexico Bowl. McElwain was a part of two national championship teams at Alabama under Saban as the Crimson Tide's offensive coordinator from 2008-11.
4. Pat Shurmur, Philadelphia Eagles offensive coordinator:
Now in his first season with the Eagles, Shurmur was the Cleveland Browns head coach from 2011-12. He coached under Saban at Michigan State from 1995-97 as the Spartans' tight ends coach.
5. Josh McDaniels, New England Patriots offensive coordinator:
This is McDaniels' second season as the Patriots' offensive coordinator. He was the Denver Broncos' head coach from 2009-10 and was a graduate assistant under Saban at Michigan State in 1999.
6. Will Muschamp, Florida head coach:
After a breakthrough second season at Florida and a trip to the Sugar Bowl, Muschamp's Gators suffered through a dismal 4-8 season this year that was marred by a litany of injuries. It was Florida's first losing season since 1979. The Gators lost their last seven games, including a home loss to Georgia Southern. It goes without saying that Year No. 4 will be a critical one for Muschamp, whose Gators have struggled on offense. Muschamp coached under Saban at LSU as the linebackers coach in 2001 and defensive coordinator from 2002-04. He was also Saban's assistant head coach with the Miami Dolphins in 2005.
7. Derek Dooley, Dallas Cowboys receivers coach:
Now in his first season with the Cowboys, Dooley was the head coach at Tennessee from 2010-12. The Vols suffered through losing seasons all three years and managed just five SEC wins, leading to Dooley's firing. Dooley was the head coach at Louisiana Tech for three years prior to his stint at Tennessee. He coached under Saban at LSU from 2000-04 as tight ends coach and then running backs coach. From there, he went with Saban to the Miami Dolphins and coached tight ends before getting the Louisiana Tech head job in 2007.
September, 23, 2013
9/23/13
3:00
PM ET
TUSCALOOSA, Ala. -- When
Deion Belue
,
Jarrick Williams
and
Nick Perry
walked onto the field Saturday dressed in sweatpants, you knew the game would be different. Those were three of the most experienced members of Alabama's secondary on the sideline, unable to play against Colorado State because of lingering injuries.
Then
Kevin Norwood
, who started 11 games at wide receiver last season, followed them out of the tunnel, wearing the same crimson pants and sneakers. He too would miss the game.
[+] Enlarge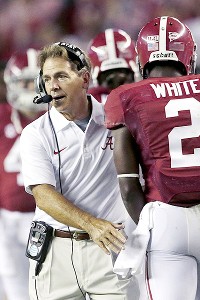 AP Photo/Dave MartinNick Saban's Alabama squad wasn't sharp in the win over Colorado State as the Tide played several youngsters on defense.
And as we later found out, they wouldn't be alone. Right guard
Anthony Steen
and wide receiver
Amari Cooper
, both key starters on offense, dressed for the game but never played. Steen sat out with a headache and Cooper rested with a sprained toe, never so much as picking up a helmet on the sideline. To make matters worse, starting running back
T.J. Yeldon
sat out the first quarter, serving a suspension for his behavior in the game against Texas A&M the week prior.
Alabama coach Nick Saban had said throughout the week to expect some younger players to get a chance to compete Saturday, but we had no idea it would go like it did. The offense struggled to move the ball with any consistency and the secondary, already reeling from a poor performance against Texas A&M the week before, was put to the test with so many players sidelined with injuries.
Very little was expected from reserve cornerbacks
Bradley Sylve
and
Eddie Jackson
coming into the season, and yet there they were being announced over the P.A. system in Bryant-Denny Stadium as starters in the home opener. The near-capacity crowd cheered, but only wearily, unsure of anything to expect other than the color of the jerseys. Jackson, a true freshman, hadn't played a single snap in the first two games of the year. Sylve, who had all of six tackles a season ago, hadn't been in on a single stop this year.
John Fulton
, the only senior available in the secondary, didn't play until the second half as the staff opted instead to try out youngsters like Jackson, Sylve,
Maurice Smith
,
Cyrus Jones
and
Geno Smith
.
The results were predictable. Colorado State played on Alabama's youth, hitting up the defense for a number of big gains, 10 plays going for 10 or more yards, including four of which that went for 20-plus yards. Rams coach Jim McElwain, a former offensive coordinator at Alabama, was able to move the ball downfield almost at ease, dinking and dunking the defense with screens and misdirection plays when it didn't go for the deep pass from quarterback
Garrett Grayson
.
It was death by a million paper cuts as UA allowed more yards to a sub-.500 Mountain West team (279) than it did in all but five games last season. Five SEC teams and Big 10 powerhouse Michigan had less success against the Tide defense in 2012.
"Well, they all made mistakes," Saban said of his young corners. "Their little bit of lack of experience shows up like [when CSU] hit that little x-screen with the halfback blocking the corner about three times for first downs, and I don't know that we've ever given up a first down on that play. It wasn't played correctly."
Landon Collins
, a sophomore, is still learning the ins and outs of Saban's defense at safety. And yet on Saturday he was the veteran voice in the secondary, calming down his even more inexperienced teammates.
"Just a lot of new guys on the field," Collins said. "We've got to figure out what to do. They're going to be some great players when they come down to it and know what they really have to do.
"I told them just be calm. It's a fast game. Everything's going to slow down after a while."
If Saban wanted to find someone capable of joining the cornerback rotation this season, that player didn't appear to emerge Saturday. The job of starting opposite Belue might return to Fulton, who has been underwhelming thus far, or Jones, who is still experiencing some growing pains at the position after playing wide receiver last season.
With Ole Miss coming to town this weekend, whoever wants the job must step up now. The Rebels, which average 490 yards and 38 points per game, can make a veteran defense look bad. As UA linebacker
C.J. Mosley
said of the mistakes made Saturday, "Some of those little things will get us beat next week."
"We played about five guys at corner, just kind of rotated them in there with the idea that we're going to see if somebody can play the position with any kind of consistency and do their assignment and do their job," Saban said after the game. "That's an area we need to do better in. It'd certainly be helpful if we get Deion back."
If Alabama doesn't get Belue back, it could be in trouble. Another game like the one against CSU could blow a hole in the Tide's championship hopes.
September, 20, 2013
9/20/13
12:00
PM ET
Colorado State coach Jim McElwain doesn't waste any time before pointing out his team's poor job of finishing games. In fact, it's the first words out of his mouth. Pleasantries were quickly dispensed in a call with ESPN.com on the Wednesday before his team is scheduled to face No. 1 Alabama in Tuscaloosa.
"We have [struggled late], and yet part of that is we're at least in games," he said. "I couldn't have said that a year ago. We're getting better."
[+] Enlarge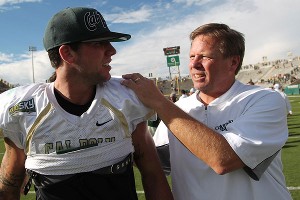 AP Photo/David ZalubowskiColorado State coach Jim McElwain, who was Alabama's offensive coordinator from 2008 to 2011, takes his team to Tuscaloosa this weekend.
The former Alabama offensive coordinator who left coach Nick Saban's staff following the 2011 season for Fort Collins, Colo., sees something of a silver lining to the Rams' 1-2 start, but he's nonetheless worried about the challenge that awaits.
"Right now the University of Alabama is complete, if you know what I mean," he said later on in the Q&A. "They're great in all phases."
McElwain was kind enough to spend a few minutes previewing the game against Alabama. Here's what he had to say:
A.S.:
What has it felt like preparing for Alabama?
J.M.:
When the reality hits and you start to put a game plan together, you start to think, 'What was I thinking?' Having been removed you kind of forget about how good the players are and the system is on both sides of the ball. Plus, Bobby [Williams] is doing a great job on special teams. They really have some parts that are playing hard there. Those things, I just hope they don't throw me in jail for throwing these guys to the wolves.
A.S.:
You are getting paid a pretty penny for it, though. But it will be a good experience for your players, right?
J.M.:
You said it. What we're building here has a lot to do with culture, and that culture doesn't just begin and end with the football team. That's everyone in the organization not accepting mediocrity no matter what their job is. For our people to go see a place where so many -- where people may think they have an insignificant role -- but they do it at such a high level. It doesn't matter what they do, they do it to the best of their ability.
A.S.:
What stands out to you about the Alabama team you'll face this season?
J.M.:
First, I talk about them on offense. The maturity and growth level is, I knew it would happen. [Doug Nussmeier] is doing a fantastic job with
AJ [McCarron]
and how he's utilizing all the different parts, all the different weapons. He's got true command of everything, getting them into good plays and out of bad plays. I mean this now, there's not a guy that's played better on bigger stages. When you look at how he takes care of the football and what he does for that team offensively, in my opinion that's the best player in college football.
A.S.:
You think so?
J.M.:
I really do. People are going to say, well, maybe this, maybe that. Well, look at what he's done with his full body of work. Look at what he does in the biggest moments. I can't tell you how proud I am to see him play the way he is, and with that the collective group around him, it's like they want to match his intensity level, his knowledge level.
A.S.:
And what about Alabama's defense?
J.M.:
It's a Coach Saban, Kirby Smart defense. People are going to say whatever about the Texas A&M yardage but there's going to be a lot of people who give yardage up to that guy. Yet they were in position numerous times, right? So I truly believe that was simply a little blip on the radar.
A.S.:
What do your players need to do to have a puncher's chance Saturday?
J.M.:
We need to stay on the field a little bit, which against their defense, shoot, I don't think anyone in the last freaking six years has done that. Yeah, you can say a game or two. But we've got to maintain possession of the ball, No. 1. These guys pride themselves in takeaways and we have to be sound on that part of it. We have to try to create any form of matchup we can with the playmakers we have to allow them the opportunity to get open in the pass game. And you know no one runs the ball on them and sometimes you have to understand that maybe a hard, 2- or 3-yard run is good.
And our defense, explosive plays, the speed factor is what scares me to death. Our guys have never played against anything like that. Not allowing those quick scores and those quick strikes and trying to make them earn that a little bit and not just giving them cheap ones.
A.S.:
When we talked a while back you spoke about gathering a blueprint from Saban about how to run your program. How far along are you in implementing that now?
J.M.:
I've seen a thought process change here dramatically over the past year and a half where our guys are starting to understand the accountability for their actions. I've seen guys invest in their own lives where, shoot, there's a direct reflection that when I got here the G.P.A. was horrible and now it's the same guys who understand that's a part of their life, that's a part of making themselves great. And those are all carryovers when you get out on the practice field.
A.S.:
When you're in the locker room before the game Saturday, what are you going to tell your players to get ready for the environment?
J.M.:
It's an opportunity to measure yourself. It's an opportunity that not many people get to play the No. 1 team in the country, to play in a place such as Bryant-Denny Stadium. Relish the moment. Don't be scared or afraid of the moment but rather take the challenge every single down, don't look at the scoreboard and go out and win this play and play as hard as you can so when you walk back in that locker room you know that you gave it your all.
September, 20, 2013
9/20/13
9:00
AM ET
TUSCALOOSA, Ala. -- Jim McElwain was searching for the right word to describe it.
"It" being the way the offense is run at the University of Alabama. It was clear in talking with those around the program that the overarching direction of the offense is determined by head coach Nick Saban, whose meticulous, controlling nature has been well documented.
[+] Enlarge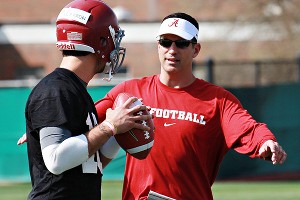 UA Athletic PhotographyOC Doug Nussmeier has continued to build on Alabama's success on offense. The Crimson Tide's offensive style under Nussmeier has changed very little, if at all, from previous seasons.
But calling the offense Saban's alone was too wide of a stretch for McElwain, who served as his offensive coordinator from 2008-11 and winning two national championships before leaving to become the head coach at Colorado State.
"Back when I was fortunate enough to get the opportunity to coach there, we sat down and he kind of gave me kind of a philosophy, if that makes sense, a thought process, or a vision, I guess, maybe," he said on the eve of his team's trip to face the No. 1-ranked Crimson Tide on Saturday in Tuscaloosa.
"The big thing was to figure out what you had and then put it together based upon what team you have," McElwain said.
Unlike many teams in college football that are strictly ground-and-pound or run-and-gun depending upon who is calling the plays, Alabama's offense has been more adaptive, more fluid based upon the strengths of its roster. There's never been an "Air Raid" type of offense under Saban, and there's never been much of a "three yards and a cloud of dust" attack, either, no matter what the national perception has been in the past.
It's been productive, averaging 30 or more points per game in each of the past five seasons. What Saban insists upon is balance and limiting turnovers, according to McElwain.
Though the coaches running the offense have changed multiple times (seven coaching changes to be exact, including three different coordinators), the offense itself has never shifted dramatically. As Saban said upon hiring current offensive coordinator Doug Nussmeier, "this is Alabama's offense" and that means a power running game, controlling the clock and passing enough to keep the defense honest.
"Are we wholesale changing our offense and going to a whole new system, a whole new terminology?" Saban asked shortly after Nussmeier was hired. "Everybody in the building's got to learn a whole new system because one guy's changed? We're not doing that."
Nussmeier was only half-kidding when he said he wouldn't do anything new at all from the year before, just "change the order we ran them." But the truth is that from Major Applewhite to Jim McElwain to Doug Nussmeier, the style of the offense has changed very little, if at all. Saban's been the one holdover, a known commodity as a defensive mastermind but an unknown in his ability to form an offensive identity. He just happens to look at it from a different perspective.
"What he does is he has a great knack of looking at film, which is what he does, looking at film of the opponent's defense, and really helping you kind of understand what they're trying to take away based on what they're doing," McElwain said. "Inevitably the pieces he brings in, saying you may want to look at something in this design or something like that, they work."
Under Saban, Alabama has never thrown the ball more than its passed. Sixty-three percent of plays were runs in 2008, and that number barely changed over the years to where last season the Tide ran 63.5 percent of the time. The only time UA ever broke the 250 passing yards per game mark was in 2010 when the Tide started off the season as title favorites only to lose three games and wind up in the Capital One Bowl.
There's the idea that Alabama's offense has opened up dramatically and become more explosive in recent seasons, but the numbers show that to be untrue. Instead, it's been same old, same old, as the offense actually had fewer plays of at least 20 yards per game last season than it did the year before (5.43 to 5.46). Points per game went up, but only slightly (38.7 from 34.8 the year before).
"They made the transition very smooth," former UA center Barrett Jones recalled, saying later that it was hard to see McElwain leave going into his senior season. "They did a really good job of letting Coach Nuss bring in some new ideas, but not changing too much because, honestly, it wasn't really broken. We kept a lot of our same verbiage, our same calls, same principals, and just added a few new things, a few wrinkles. … You hardly had to learn any new stuff."
Said McElwain: "I can see the plays and probably what they were called within the system. I think the system is sound fundamentally. I think you pick your places to take your shots. The thing I see is maybe more explosive playmakers on the outside from a collective group than there were before.
"Yet you always have that dynamic that if you're going to load the box, you're going to have guys out there that will make it hurt. And then if you cover those guys, you've got those runners in the backfield with a dominant offensive line, which really helps. I mean, pick your poison."
It's the same offense McElwain would like to run at Colorado State, though he admittedly doesn't quite have the parts to do it. He had to laugh at the talent Saban's assembled through back-to-back top-ranked recruiting classes, saying, "If you've got any [running backs] you want to send our way, I'll take them."
McElwain would love to use Saban's blueprint at CSU, but at the same time, he knows that won't be easy, saying, "The one thing I know is that I can't be him -- no one can."
The continuity Saban's been able to establish at Alabama has been second to none, never missing a beat when coaches leave or star players are drafted into the NFL. The production on offense has remained as steady as the tide. McElwain credited that to his unwavering vision, which extends to both sides of the football.
There's a plan in Saban's mind, and it's never changed in seven years at Alabama.
"To me, he's the whole package," McElwain said. "He's hired great coaches who understand what he wants and then go out and execute it."
September, 19, 2013
9/19/13
1:00
PM ET
TUSCALOOSA, Ala. -- Alabama coach Nick Saban slipped into another soap-box moment this week when he took to the podium to describe how his secondary had played so poorly against Texas A&M.
"The players have to do what the coaches do, and that's the point," he said before launching into a narrative about civil disobedience, wrapped around what's becoming a borderline obsession with dog owners failing to keep their pets on a leash (he used the same "Nobody wants to be obedient now" rant the week before the game as well).
[+] Enlarge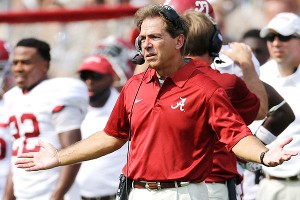 AP Photo/David J. PhillipNick Saban is hoping his players got the message after Alabama's defense struggled to stop Johnny Manziel and Texas A&M last Saturday.
What Saban's argument boiled down to was a four-word sentence nobody wants to hear: I told you so.
"No matter how many times you tell someone, 'Look, son. Don't touch the stove. It's hot,' " he said, lamenting the fact that they always have to see for themselves. "Once they touch it and get burned, then they start saying, 'Huh, maybe I'll listen to this guy. Maybe Dad knows what he's talking about.' So, I think a lot of lessons were learned in this game.
"So now, when you say, 'Don't drop your hands when you're playing bump and run,' and the guy does it 15 times in a game against me, now you'll see why you were telling him. If you've told a guy 100 times to get in the middle of the field and he doesn't get there, now you can see what happens when he doesn't get there. No different than touching the stove. Same old thing."
Alabama ought to have learned its lesson against Texas A&M. The memory should be seared into every player's skull by now. If the game didn't do it, then surely the film review did.
Though
Johnny Manziel
and the Aggies are certainly one of the best offenses in the country, that does little to explain the staggering inefficiency of the defense as whole. The same defense that allowed the fewest plays of 10 or more yards per game (8.42) and the fewest passing touchdowns (eight) a season ago was gashed for five passing touchdowns and 20 plays of 10 or more yards as Texas A&M racked up the most total yards allowed by an Alabama defense in school history (628).
The Manziel-to-
Mike Evans
combination couldn't be stopped. "It's a combination of both guys' strengths that make a difficult matchup," Saban tried to explain, citing Manziel's speed and Evans' overwhelming size. Saban used at least three different defensive backs on Evans, not counting the double coverage over the top, and still, the 6-foot-5 sophomore racked up a career high 279 yards receiving. Manziel was Manziel again, evading the grasp of pass-rushers left and right while exploiting every hole in the secondary to throw for a career-high 464 yards.
And that was supposed to be the game Alabama's defense had figured out, aided by an offseason of study and an extra bye week to prepare.
Instead, the Crimson Tide were torched on national television and sent back to the drawing board in search of answers.
"We've tried to play the more experienced guys," Saban said, "especially in these first two games, because they're tough games. Everybody's had an opportunity.
"Now, we're just going to ... need to compete better. And it's not just the corners now, the safeties weren't where they were supposed to be in the game some, too."
With starting cornerback
Deion Belue
questionable to play against Colorado State this weekend, the competition is wide open. Saban said two freshmen are in position to see the field more, and based on practice, it looks like
Maurice Smith
and
Eddie Jackson
are the two in line for an early opportunity.
Bradley Sylve
, a redshirt sophomore, has been mentioned as another possible replacement in the cornerback rotation as well.
Geno Smith
, who started at nickel as a freshman late last season, was supposed to be a part of that mix, but after being arrested for a DUI during the preseason, suspended for a game and sent to the bottom of the depth chart, even he's fighting to get back into the mix. For now, veteran
Jarrick Williams
is holding down his spot just fine.
"Geno's got to beat somebody out. He lost his job," Saban said. "Jarrick's played really well. So, I mean, nobody has a rite of passage here just because you played in two games last year, 'I'm guaranteed my job.' If you do the right things and you play well, nobody gets your job."
In fact, Williams might be the only bright spot in the Alabama secondary after last week's game. He held down the slot receiver well and had it not been for his tipped pass,
Vinnie Sunseri
's interception return for a touchdown never would have happened.
"He's been unbelievable," Sunseri said. "Jarrick has done exactly what we've asked him to do. He's had great coverage, been really physical at the point of attack and just been a real sound defensive player at that star position. I can't express how happy I am for him to get the opportunity and take advantage of it like he's been able to."
Williams, for his part, tried to stay positive about the game, saying that the mental errors and mistakes against Texas A&M were "nothing we can't fix." Asked whether the game was a letdown, he said simply, "No, sir."
"I think we're just going to get on there and keep on fighting."
Saban may still be fuming over the coverage breakdowns and big plays, but the players seemed to have moved on.
CSU coach Jim McElwain has, too. The former Alabama offensive coordinator went up against Saban's defense in practice from 2008-11, and he's not buying any theory of a downward trend. In his mind, Texas A&M was merely an outlier.
"People are going to say whatever about the Texas A&M yardage, but there's going to be a lot of people who give yardage up to that guy," he said, citing the one they call Johnny Football. "Yet, they were in position numerous times, right? So I truly believe that was simply a little blip on the radar."
September, 19, 2013
9/19/13
7:00
AM ET
TUSCALOOSA, Ala. -- Don't exhale too much after No. 1 Alabama's thrilling win over No. 10 Texas A&M this past weekend. The Crimson Tide get right back at it against an eager Colorado State team at home on Saturday night:
The Crimson Tide will win if …

If Alabama plays like it did against Texas A&M last weekend, this game will be over by the end of the first quarter. Against the Aggies, UA rediscovered its offensive identity -- between-the-tackles running, play-action passing -- and a reenergized offensive line deserves the bulk of credit for that. Though Texas A&M's defense was porous, Colorado State's won't be much better, if at all. The Rams gave up 41 points to Colorado in their season opener and followed that up with a 30-point performance against Tulsa. So long as Alabama's defense doesn't encounter another
Mike Evans
-
Johnny Manziel
type combination in Colorado State, it should be fine.
The Rams will win if ...
Jim McElwain's Rams catch Alabama sleeping, which isn't out of the realm of possibility after a difficult, draining game on the road the previous week. With Ole Miss to follow, this might be something of a trap game. A quick score and a few turnovers could put Colorado State in the driver's seat early. That said, it's hard to imagine UA coach Nick Saban won't have his players ready for this game. Alabama might have escaped Kyle Field with a win, but it also learned a lot about its own flaws. Because of that, the Tide should come out with something to prove, especially on defense.
Colorado State players to watch
QB Garrett Grayson:
The junior quarterback had one of the best games of his career last week, throwing for 297 yards and two touchdowns in a 34-17 win over Cal Poly at home.
WR Chris Higgins and Jordan Vaden:
Alabama's secondary was exposed by a tall wide receiver in Evans a week ago. This time UA must face a pair of sizable receivers in 6-foot-2
Rashard Higgins
and 6-foot-3 Jordan Vaden. The two have combined for 17 receptions for 205 yards and two touchdowns.
LB Shaquil Barrett:
The senior All-Mountain West linebacker is fourth on the team in tackles (21), but he's been the best at getting into the backfield with seven tackles for loss and two sacks.
Alabama players to watch
CB Cyrus Jones:
His first foray into meaningful action at cornerback had its good and bad last weekend. He struggled to stop Evans -- so did everyone else who tried -- but his end zone interception was arguably the turning point in the game. With
Deion Belue
banged up and Alabama in search of answers in the secondary, Jones could cement his place in the rotation, if not the starting lineup.
WR Amari Cooper:
Through the first two games of the season, it's fair to call 2013 a sophomore slump of sorts for Cooper. The former All-SEC wideout has just six receptions and no touchdowns, but it's the drops that are bothersome. Injuries are likely partly to blame, but he's missed on some very catchable balls.
Running back corps:
We heard all offseason and preseason that the running back corps would go five or even six deep, but so far we haven't seen much of that depth play itself out. The Texas A&M and Virginia Tech games didn't provide much of a venue to use everyone effectively, but Colorado State should be that opportunity to see how the back end of the rotation will work. Will
Altee Tenpenny
continue to be the leader of the freshmen backs? Or will
Derrick Henry
take the reins? And let's not forget
Tyren Jones
, who could play a part as well.
Key stats
6.3:
The difference between Game 1 and 2 for Alabama's offensive line was like night and day. After averaging 3.5 yards per rush against Virginia Tech, Alabama came back against Texas A&M and averaged 6.3 yards per carry. Yards before contact improved as well, shooting up from an average of 1.1 yards to 3.9.
12.9:
An improved running game brought back Alabama's play-action attack as
AJ McCarron
went from completing 3 of 8 such passes for an average of 2.6 yards per attempt against the Hokies to completing 7 of 10 play-action attempts for two touchdowns and an average of 12.9 yards per attempt.
20:
Alabama has won an impressive 20 games in a row against nonconference opponents. During Saban's tenure, the Tide is 27-3 in nonconference games, outscoring those opponents 1,145-333.
Information from ESPN Stats & Information was used in this article.
June, 26, 2013
6/26/13
12:30
PM ET
Editor's note: The season is nearly upon us and TideNation is taking steps to get you ready for every one of Alabama's regular season opponents. Every Tuesday and Thursday we'll go through each week of the Crimson Tide's schedule, starting with the season-opener against Virginia Tech and closing with the finale against Auburn.

The rundown
2012 overall record: 4-8
2012 Mountain West record: 3-5, seventh overall
June, 18, 2013
6/18/13
7:30
AM ET
TUSCALOOSA, Ala. -- There's a list somewhere inside the walls of the University of Alabama athletic offices with names on it, some we could guess and some that would surely surprise us. In the event that a coaching hire becomes necessary, the list is brought out as a rough outline of prospective candidates for the job. Every athletic department has the same piece of paper with coaches' names on it, and Alabama is no different.
"We keep a good list of what happens if a truck hits somebody," UA athletic director Bill Battle quipped on Monday morning, "because you never know when you're going to need to hire somebody."
Sometimes the truck is a bad season. Sometimes the truck is retirement. Sometimes the truck is simply a vehicle that takes a coach away for one reason or another.
To continue reading this article you must be an Insider
May, 20, 2013
5/20/13
7:00
AM ET
It's Rankings Week at TideNation. Every day we'll rank Alabama's opponents in some form or fashion. Today we turn to the Football Bowl Subdivision teams on the Tide's schedule. Tomorrow we'll rank the offensive players Alabama will face.
Ranking the schedule

1. Texas A&M (Sept. 14 in College Station, Texas):
It may not be the Alabama-LSU Game of the Century Trilogy, but the Week 2 date with Texas A&M will be the Tide's Game of the Year in 2013. Why? If for nothing other than revenge.
Johnny Manziel
and the Aggies had the ball bounce their way in a thrilling finish last season, and Alabama will be eager to prove the loss a fluke. Kevin Sumlin's squad might take a step back after losing its franchise tackle (Luke Joeckel) and best defensive player (Damontre Moore), but don't doubt the talent assembled in College Station. Alabama might have been favored at home, but on the road it's anyone's guess.

2. LSU (Nov. 9 in Tuscaloosa, Ala.):
If these two teams are undefeated at this point in the season, we could be talking about extending the Trilogy of classics between SEC rivals. But having lost so much on both sides of the ball, it's difficult to imagine the Tigers making it through the likes of Georgia and Florida without a loss. Les Miles is a magician, but even his tricks have their limits. Replacing seven starters on defense won't be as easy task, and the offense will need time to adjust under new coordinator Cam Cameron.

3. Virginia Tech (Aug. 31 in Atlanta):
If the Hokies are going to challenge in the opener, it will be have to be because of
Logan Thomas
. The senior quarterback turned down the NFL, and after watching him in the Hokies' spring game, his stock doesn't look so solid. He threw three interceptions against what will be a good but probably not spectacular defense. Thomas is one of four returning starters on an offense under the direction of coordinator Scott Loeffler, who struggled mightily at Auburn last season.

4. Ole Miss (Sept. 28 in Tuscaloosa):
Give Hugh Freeze credit. What the Rebels did holding Alabama to its lowest offensive production of the season in 2012 was impressive. And given what Freeze's offense can do with
Bo Wallace
at quarterback pushing the tempo, it's easy to see Ole Miss giving the Tide fits again. The flow of talent coming into Oxford, Miss., is starting to level the playing field.

5. Mississippi State (Nov. 16 in Starkville, Miss.):
Unlike last season, we'll know just how good the Bulldogs are before they face Alabama. (See dates with LSU, South Carolina, Texas A&M). And maybe some toughening up is exactly what they'll need to get ready for a challenge. But the loss of their top two cornerbacks (Johnthan Banks, Darius Slay) and the No. 1 receiver (Chad Bumphis) might be too much to overcome. The good news is
Tyler Russell
is back under center and
LaDarius Perkins
returns at tailback, and they'll be helped by an offensive line with four returning starters.

6. Arkansas (Oct. 19 in Tuscaloosa):
Bret Bielema might be regretting
his comments about Alabama
when he travels to Tuscaloosa to face Nick Saban and the Crimson Tide. It's probably not wise to poke the bear in your first season, even if you're supposed to be doing it behind closed doors to like-minded fans.On the field, Bielema and his new staff have their hands full, replacing 11 starters.

7. Auburn (Nov. 30 in Auburn, Ala.):
It's the Iron Bowl, which means anything can happen. And it will be on Auburn's home turf, which means a Super Bowl atmosphere for a program that will likely have nothing to lose. Gus Malzahn should fare better than his predecessor after cleaning house, but the cupboard was left pretty bare. Cam Newton is on campus, but
only for classes
. Making him eligible might be the only thing that could save what will be a rocky season for Auburn.

8. Tennessee (Oct. 26 in Tuscaloosa):
Butch Jones has re-energized the program, but much like Malzahn at Auburn, he wasn't left with much to work with. Tyler Bray is gone, as is core of the offense with Justin Hunter, Cordarrelle Patterson and Mychal Rivera out the door as well. The defense isn't in much better shape, as it returns a secondary that finished 111th in pass defense. The good news is the Vols should have one of the best offensive lines in all of college football. It's a start.

9. Kentucky (Oct. 12 in Lexington, Ky.):
Mike Stoops is building from the ground up in Lexington, and that hard work is showing on the recruiting trail. But it will take time before it shows up on the football field, where it counts. Until the Wildcats start bringing in SEC talent on a consistent basis, they won't compete in big games like Alabama. It will be a while before Kentucky can make the climb from last in scoring offense and next to last in scoring defense in the league.

10. Colorado State (Sept. 21 in Tuscaloosa):
Jim McElwain has familiarity with Alabama. Give him that much. He'll try to prepare his players for what to expect in Tuscaloosa, but nothing he can say will truly get his team ready for the dramatic change of scenery. Colorado's four wins last season came against dreadful competition (Colorado, Hawaii, UNLV, Mexico), but the silver lining is McElwain returns a whopping 19 starters.
January, 16, 2012
1/16/12
11:05
AM ET
Alabama has contacted Stanford offensive coordinator Pep Hamilton about taking the same job with the Crimson Tide, a source close to Hamilton has confirmed.
Through a Stanford spokesperson, Hamilton declined comment, though the source said that only contact has been made and no interview has been scheduled. The source did not indicate whether the interest was mutual.
Alabama is looking to replace Jim McElwain,
who is leaving to become the head coach
at Colorado State.
Washington offensive coordinator Doug Nussmeier
has also been linked to the position
and is reportedly the favorite.
Hamilton joined the Stanford staff in 2010 as the wide receivers coach before assuming offensive coordinator and quarterbacks coach duties this past season in David Shaw's first year as head coach. He spent the previous decade working with several NFL teams on the offensive side of the ball — specifically as a quarterbacks coach.
Hamilton is one of the architects of Stanford's current offensive scheme that ranked eighth nationally in total offense and seventh in scoring offense this past season. On more than one occasion, Shaw has referred to Hamilton as a "guru" when it comes to red-zone play calling. The Cardinal led the nation in red-zone efficiency this past year, scoring on 67-of-69 trips (97 percent) inside the opponent's 20-yard line.
"He's a great person and a great offensive mind," the source said. "He's going to make a great head coach someday."
Alex Scarborough, who covers Alabama for ESPN.com's Tide Nation contributed to this report.
January, 7, 2012
1/07/12
9:00
AM ET
NEW ORLEANS -- The trenches were no place for the meek the last time Alabama and LSU tangled, and that's where this game will be won on Monday night in the Allstate BCS National Championship Game.
Alabama center William Vlachos said LSU's depth up front in the defensive line was staggering, and that every time he looked up there were three or four fresh guys running into the game.
"They're deep, but they're also good and very well-coached," Vlachos said. "They don't make many mistakes."
"

"I was like, 'Dang, he's short,' and he is short. But he's got the leverage all the time. I'm 6-6 and don't know how tall he is, 6-1 or 6-2, but he's under my pads pretty much every play. "

"

-- LSU's Michael Brokers on Alabama's William Vlachos
That respect is mutual.
LSU defensive tackle Michael Brockers said Vlachos, who's listed at 6-1 (which is probably a stretch), is one of the best he's gone against. The 6-6 Brockers has Vlachos by a good five or six inches, which is not always ideal for an interior defensive lineman.
"I kind of took it as funny at first because he's so short," Brockers said. "I was like, 'Dang, he's short,' and he is short. But he's got the leverage all the time. I'm 6-6 and don't know how tall he is, 6-1 or 6-2, but he's under my pads pretty much every play.
"Sometimes he's blocking me and I'm looking over him and saying, 'Oh my gosh, I'm getting blocked.' That guy uses his strength and leverage to his advantage."
Brockers said the only thing more difficult than going up against Alabama's offensive line is trying to tackle
Trent Richardson
.
"After the (first) game, my neck was hurting, shoulders, everything," Brockers said. "It's like hitting a brick wall constantly. He gets the ball a lot, so you have to hit him a lot. You can't know how solid he really is.
"We've got to get all 11 hats to the ball. You can't take that dude down with one guy."
Richardson rushed for 89 hard-earned yards on 23 carries in the first game against LSU and also caught five passes for 80 yards, but the Crimson Tide were stymied any time they moved inside the 30.
This time, Richardson said Alabama needs to "step on the throat."
Four different times back on Nov. 5, Alabama had a first-and-10 at the LSU 30 (or closer) only to be bogged down by a negative play on first down. Twice they lost yardage, once on a reverse to receiver
Marquis Maze
. They also had 5-yard penalty on a substitution infraction, and Maze's pass out of the Wildcat formation was intercepted by LSU's Eric Reid at the 1.
In overtime, the Crimson Tide had another 5-yard penalty on a substitution infraction with it second-and-1o at the 25.
"Everybody wants to talk about our kickers not making their field goals," Richardson said. "Those were long field goals. We're the ones who need to finish drives."
Maze suggested that Alabama might have gotten too cute with a few of the trick plays and needs to do what it does best on offense and go right after the Tigers.
Of course, that's easier said than done against an LSU defense that simply doesn't give up many touchdowns, period, and specializes in knocking teams out of scoring position.
"Here's the deal. If a couple of those things had worked, we would have been geniuses," Alabama offensive coordinator Jim McElwain said. "If we would have just run the ball inside, it would have been the other way. That's the beauty of this sport. That's the beauty of you guys (the media). You've got to have something to write about. You either make a great call or you don't.
"Give them the credit on defense. They stopped us."
Which Players Have The Most To Prove In 2015?
SEC SCOREBOARD
Thursday, 9/3
Saturday, 9/5