Alabama Crimson Tide:

Greg McElroy
March, 27, 2014
3/27/14
12:00
PM ET
The words "revolutionary" and "game-changing" are prominent in the aftermath of
Wednesday's ruling by a federal agency
that college athletes at Northwestern University are school employees and can form a union. The SEC had this to say:
"Notwithstanding today's decision, the SEC does not believe that full time students participating in intercollegiate athletics are employees of the universities they attend," commissioner Mike Slive said in a written statement.
Former South Carolina defensive tackle Kelcy Quarles came out
against the idea of college football players unions
.
Elsewhere in the South, spring practice and NFL scouting continued as if the earth had not spun off its axis.
December, 30, 2013
12/30/13
2:00
PM ET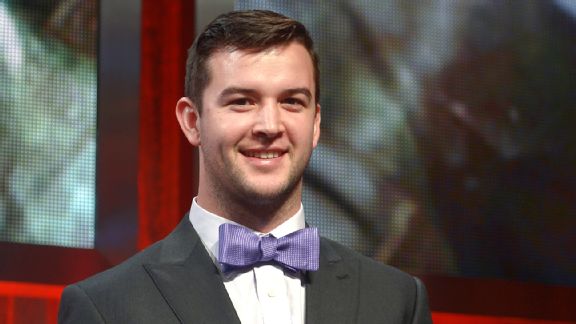 AP Photo/Phelan M. Ebenhack
After all the big moments, big throws and, most importantly, big wins,
AJ McCarron
has one final game in what has been a record-setting Alabama career.
It's not the way he hoped to go out or the way he expected to go out.
One of college football's most accomplished winners, McCarron had his sights set on a third straight national championship. Instead, Alabama will face Oklahoma in the Allstate Sugar Bowl on Thursday.
As consolation prizes go, it's not a shabby one. But McCarron is accustomed to playing for the top prize only. In fact, this will be the first time as Alabama's starting quarterback that his season hasn't ended in the national championship game.
It will be odd, for sure, but his legacy is untouchable, and according to those who came before him, he has very few peers in a renowned Alabama quarterback fraternity that includes the likes of Joe Namath, Ken Stabler and Bart Starr.
"I don't think there are many quarterbacks in college football history, much less at Alabama, who have the resume AJ has," said Jay Barker, who quarterbacked the Crimson Tide to the 1992 national championship.
"There have been other quarterbacks at Alabama who've been a part of back-to-back championships, but I don't know if they've contributed as much as AJ has. He's been a leader. He's delivered in pressure situations. He's played through injuries. I think you have to put him at the very top."
[+] Enlarge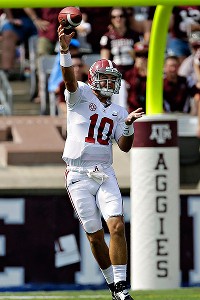 AP Photo/David J. PhillipAJ McCarron will be remembered as a tough competitor who always came up big in big games.
McCarron owns virtually every career passing record at Alabama, at least the major ones. And in most cases, it's not even close.
He'd already thrown more career touchdown passes than anybody at Alabama coming into this season. He heads into the Sugar Bowl with 75. Second place on that list is John Parker Wilson with 47.
McCarron also holds the school record for career passing yards (8,632), total offense (8,625 yards) and career completions (667).
In his last two seasons, he has thrown 56 touchdown passes and just eight interceptions. He led the nation in passing efficiency a year ago and is eighth nationally this season.
In truth, he has put up the kind of numbers that might not be touched at Alabama for a long time. But the numbers that mean the most to McCarron are 36-3, his record as the Crimson Tide's starting quarterback. The 36 wins are the most in school history and third most in SEC history.
"What he's been able to accomplish there is amazing," said Greg McElroy, who quarterbacked Alabama to the 2009 national championship. "It's been fun to watch. One thing I can say is that it's tough playing quarterback at Alabama, especially when you consider that AJ grew up in that state. The pressure can be overwhelming at times, but the level of consistency that he's sustained has been nothing short of spectacular."
His penchant for performing on the biggest stages has set him apart, whether it was his clutch drive in the final minutes at LSU last season, his four touchdown passes in the BCS National Championship last season or his Offensive MVP performance in the BCS National Championship two years ago.
"Everybody talks about him being a game manager, but that's a part of that position. You have to be a good game manager if you're going to be a good quarterback," Barker said. "What I look at is AJ in big games and in big moments. He always seems to deliver in those moments.
"I know it's not a fair comparison, although it's a flattering one. But AJ reminds me of Tom Brady in the way he thrives under pressure and makes the plays that have to be made. There are a lot of quarterbacks who have good stats. But what separates the men from the boys at the quarterback position is being able to handle the biggest of moments.
"Those are the ones who are special, and AJ is in that class."
Even though there's not a national championship at stake in New Orleans, McCarron has made it clear to anybody who will listen that the Tide will be ready. The last time Alabama lost two consecutive games was the end of the 2008 season when the Crimson Tide fell to Florida in the SEC championship game and were then beaten handily by Utah in the Sugar Bowl.
"We slipped up one time. That's football," McCarron said of the bitter loss to Auburn in the Iron Bowl. "You've got to let it go. It's the next game. I don't want to come out and just play a game and not win it. … I don't really care what I'm playing. I want to win."
And that's precisely the way he'll be remembered -- as a winner.
"Coach [Gene] Stallings used to always say, 'Don't confuse activities with accomplishments,'" Barker said. "In other words, if you're not winning, who cares if you're throwing for 300 yards and four touchdowns?
"Ask
Johnny Manziel
or any other quarterback who's putting up big numbers if they'd rather have those stats or have some championships. They'd rather have the titles.
"Your job as a quarterback is to deliver the win, and that's what AJ was so good at."
November, 5, 2013
11/05/13
9:00
AM ET
When
AJ McCarron
steps behind center on Saturday night for Alabama's first offensive snap in its showdown against LSU, he'll be making his fourth start against the Tigers.
The senior has been the picture of stability the last three years as Alabama's starting quarterback. His first start against LSU was Nov. 5, 2011, dubbed "The Game of the Century," one that LSU won 9-6 in overtime at Bryant-Denny Stadium in Tuscaloosa, Ala.
LSU quarterback
Zach Mettenberger
, McCarron's counterpart on Saturday night, will make his second start against the Tide. LSU hasn't quite enjoyed the same stability that Alabama has, though Mettenberger has provided a steady hand and productive play this season, making LSU's offense the talk of the program for once; hard to do in a program known for its defense.
[+] Enlarge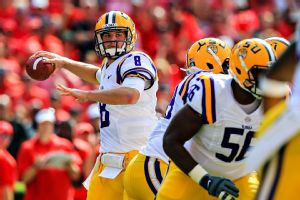 Daniel Shirey/USA TODAY SportsZach Mettenberger was 28-of-35 for 298 yards and a score in his first start against Alabama.
But in the same time span that McCarron has served as Alabama's lone starter in the Tide-Tigers showdowns, LSU has had three different starting quarterbacks. Mettenberger started last season's game but when the teams met twice in 2011 – in November and in January for the BCS championship – the Tigers had a different starter each time.
That's simply a microcosm of these two power programs. Both are championship-caliber teams that are annually in the BCS national championship discussion. Both have stable coaching staffs and a foundation built on great defense and the ability to run the football. Both recruit at a high level and, of course, play in the same division, the SEC West.
But since the Nick Saban took over at Alabama in 2007, the Tide have had just three quarterbacks start against LSU: McCarron, Greg McElroy (2009-10) and John Parker Wilson, who predated Saban and started for the Tide from 2006-08.
In that same time span, the Tigers have had a different starter vs. Alabama six times. In 2007 it was Matt Flynn, who was a senior. Jarrett Lee started the 2008 game, while
Jordan Jefferson
started in 2009 and 2010. In 2011 Lee started the November "Game of the Century," and Jefferson started the BCS national championship later that season. Though the Tigers have had four different quarterbacks in that span, it's been rare that the same one has started twice in a row against the Tide like Mettenberger will do Saturday.
Despite that contrast, the series has been back-and-forth. Alabama has won four times since 2007, LSU three. The Tigers' success despite quarterback turnover is even more fascinating in an age where quarterbacks dominate the headlines and up-tempo spread offenses are en vogue.
Take last season as an example, one in which the Tigers didn't make a change at quarterback but didn't get strong play from the position either. Florida (3rd), Oregon State (13th) and Kent State (25th) were the only schools other than LSU with a Total QBR of less than 55 for the season to finish in the top 25 of the BCS standings at the end of the regular season. The team with the worst QBR of thos, LSU (38), finished eighth in the final BCS standings last season.
Even in 2011, when the Tigers went 13-1 and went to the BCS title game before falling to Alabama, the quarterback situation was far from stable. Lee made nine starts that season, Jefferson made five. There was even discussion in the aftermath of the 21-0 title game loss to the Crimson Tide about LSU coach Les Miles' decision to not play Lee at all that night and leave Jefferson in, which Miles later said was because he wanted a mobile quarterback who could avoid Alabama's tenacious pass rush in the game.
The reason the Tigers were able to succeed despite a sometimes uncertain quarterback situation is their defense. LSU finished in the top 12 nationally in total defense each season from 2010-2012 and had a 34-5 record in that time span. They've also had a reliable running game to turn to move the chains offensively.
Alabama has enjoyed the fruits of both of those traits during their run of three BCS titles in four seasons, but the stability at quarterback is evident. The Tide have finished the season with a better QBR than LSU each of the last five seasons.
Stable or not, life is tough for the quarterbacks in this game. During the Saban era, Alabama quarterbacks have a QBR of 42.8 against LSU, while LSU's is 33.1 against the Tide. The touchdown-to-interception ratios aren't pretty (8-to-6 for Alabama, 7-to-11 for LSU) as the defenses take center stage in this matchup.
But the Tigers have shown that even in this era of offensive dominance, good defense can still get you far. And now, they just might have the quarterback to knock off the nation's top team.
July, 17, 2013
7/17/13
7:00
AM ET
By
TideNation
and
GeauxTigerNation
| ESPN Insider
The Alabama-LSU rivalry began heating up the minute Nick Saban left the Miami Dolphins in an attempt to resurrect a sleeping giant in Tuscaloosa, and it hasn't slowed down since. Alabama has flourished into a dynasty with three rings and counting, while LSU continues to battle for national championships year in and year out under the sometimes-eccentric leadership of Les Miles.
Head to head, the Crimson Tide and Tigers have had some of the most thrilling games in recent memory, often propelling one team or another on to the SEC championship and beyond. Each matchup has had its defining play or its defining performance, whether it was
T.J. Yeldon
's last-second touchdown in 2012 or Eric Reid's acrobatic interception the year before.
Breaking down each game was no easy matter. In fact, when TideNation writer Alex Scarborough and GeauxTigerNation writer Gary Laney sat down to make up a top 10 list of the best games since 2007, determining No. 1 was so difficult they had to split the difference and stop just short of calling it a tie.
Looking at numbers three through seven wasn't much simpler. But they persevered and ranked the games from best to worst, and here's the order they came up with:
July, 11, 2013
7/11/13
9:00
AM ET
Looking back at the top Alabama players in the last decade, not every one was a five-star recruit coming out of high school. Much of the Crimson Tide's success can be traced to more under-the-radar prospects who emerged once they got to Tuscaloosa. Every recruiting class has a hidden gem or two that succeeds beyond expectations.
We look back at the top five players who might not have been household names in high school but who went on to make a significant impact during their careers at Alabama.
LB DeMeco Ryans
(Class of 2002)
Bessemer, Ala./Jess Lanier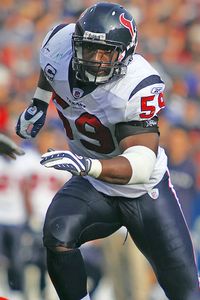 Kellen Micah/Icon SMILightly recruited out of high school, DeMeco Ryans starred at Alabama and is entering his eighth season in the NFL.
Ryans grew up a huge Alabama fan, so it wasn't surprising when he committed to the Tide. The surprising part was that he had just two other offers, from Mississippi State and UAB. He was relatively undersized coming out of high school, but UA fans are happy that former coach Dennis Franchione took a chance on him. Ryans started out as a special teams contributor, but he went on to become an All-American linebacker and was named the SEC defensive player of the year in 2005. He was the first pick of the second round in the 2006 NFL draft.
DB Rashad Johnson
(Class of 2004)
Sulligent, Ala./Sulligent
Forget stars coming out of high school. Johnson had none. He didn't have a single Division I scholarship offer when he graduated from Sulligent High School. He walked on at Alabama as a running back. After making his mark on special teams as a freshman, Johnson moved to safety, where he started four games as a sophomore. By the time he was a junior, he was a captain for Alabama, and he finished among the SEC leaders in interceptions. After his senior year, the former walk-on was drafted by the
Arizona Cardinals
in the third round of the 2009 draft.
DB Javier Arenas
(Class of 2006)
Tampa/Robinson
Arenas committed to Florida Atlantic early in the recruiting process. It was his only offer, and it remained his only offer until Alabama jumped in late and stole him away with the intention of making him a return specialist. The plan worked. Arenas set the SEC record for career punt return touchdowns. But he did much more than that during his time in Tuscaloosa. Under the direction of Nick Saban, Arenas became one of the stars of Alabama's 2009 defense and helped lead the Tide a national championship. He was a second-round pick in 2010.
DL Marcell Dareus
(Class of 2008)
Birmingham, Ala./Huffman
Looking back, it was Alabama's 2008 recruiting class that served as the catalyst for the Tide's recent success. The biggest gem in that class had to be Dareus, who was ranked No. 30 in the state of Alabama coming out of high school. The potential was there, but nobody expected him to have the success he had during his time at UA. As a true freshman, he suited up for the Tide's opener against Clemson and never looked back. After just three years in Tuscaloosa, Dareus left early for the NFL and was taken No. 3 overall in the 2011 draft by the
Buffalo Bills
.
OL Chance Warmack
(Class of 2009)
Atlanta/Westlake
When Warmack was in high school, he never received an offer from Georgia, the in-state favorite. Had the Bulldogs offered, he might not be on this list. Instead, the three-star offensive guard ended up at Alabama, where he made 39 career starts and was a part of three national championship teams. Saban and his staff were the first to offer Warmack, which went a long way in securing his signature. They saw the potential in the 300-pound lineman, and it paid off. Warmack was taken No. 10 overall by the
Tennessee Titans
in April's draft.
Honorable mention: QB
Greg McElroy
, RB
Glen Coffee
, DT
Terrence Cody
.
July, 28, 2012
7/28/12
6:00
AM ET
[+] Enlarge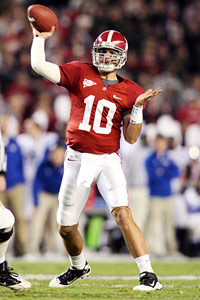 Marvin Gentry/US PresswireAJ McCarron (above) is second in Alabama history in QB winning percentage, second only to Jay Barker.
From now until kickoff in Arlington, Texas, we'll be counting down the days before Alabama and Michigan get the season started. Today, we move to No. 35 and what it means to UA football. See all the previous editions here.
At the quarterback position, you're judged on one statistic. It's not touchdowns, interceptions or yards thrown. It's not completion percentage or the calculated quarterback efficiency. At the end of the day, a quarterback is judged on wins and losses.
That's why Jay Barker must be included in the discussion of the best quarterbacks to ever play at the University of Alabama. The three-year starter in the early 90s won a school-record 35 games in his career. He lost two games over that time and finished with one tie. For those keeping score, that's a 93.4 winning percentage.
Like AJ McCarron, Barker led the Crimson Tide to a national championship in 1992 in his first year starting at quarterback. The Tide went 13-0 that year and beat the Miami Hurricanes in the Sugar Bowl to finish No. 1 overall. Two years later, in 1994, Barker would lead Alabama back to the SEC Championship game. He earned All-American honors that season, throwing for just under 2,000 yards while completing 61 percent of his passes.
Here's how Barker stacks up against the rest of the quarterbacks in Alabama history:
Career attempts
1. John Parker Wilson: 1,175
2. Brodie Croyle: 869
3. Andrew Zow: 852
4. Jay Barker: 706
5. Freddie Kitchens: 680
April, 13, 2012
4/13/12
3:38
PM ET
By
Jon T. Stewart, ESPN Stats & Info
| ESPN.com
Derick E. Hingle/US Presswire
Quarterback A.J. McCarron is one of eight offensive starters returning in 2012.
Spring is a time for renewal. In college football, spring is also the time to look ahead to fall and the upcoming season. Saturday,
Alabama
holds its annual Golden Flake A-Day Game (ESPN3, 3 ET), which will give its fans a first look at the defending national champions.
Alabama captured its record-breaking ninth national championship of the major poll era in January. Once again, the Crimson Tide are expected to be one of the best teams in the country in 2012. But the Tide have been here before. Will history repeat?
In 2010, Alabama was preseason No. 1 in both The Associated Press and Coaches polls with 11 combined offensive and defensive starters returning from the team that had won the 2009 national title. The problem was the retention breakdown. Bama lost eight starters from a defense that allowed the second-fewest yards (244.1) and points (11.7) per game in the bowl subdivision. With QB Greg McElroy, the RB tandem of Heisman Trophy winner Mark Ingram and
Trent Richardson
and WR Julio Jones, the belief was that the Tide would score points and win games through their offense while buying enough time for their defense to jell.
Which Players Have The Most To Prove In 2015?
SEC SCOREBOARD
Thursday, 9/3
Saturday, 9/5