Alabama Crimson Tide:

Gabe Ikard
January, 3, 2014
1/03/14
4:05
AM ET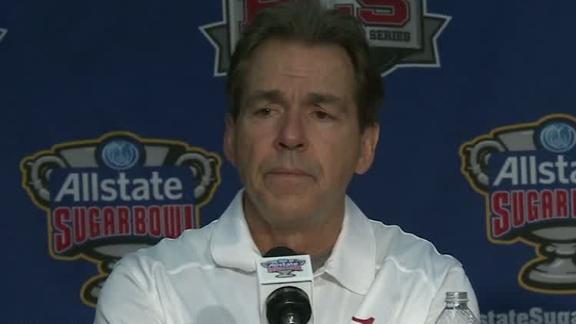 NEW ORLEANS -- The focus was there. So was the determination and the motivation.
But as the final seconds of the Allstate Sugar Bowl dripped off the clock inside the Mercedes-Benz Superdome, Alabama once again had to watch someone else celebrate a wild finish. For the first time since 2008, No. 3 Alabama (11-2, 7-1 SEC) lost back-to-back games after falling 45-31 in stunning fashion to 11th-ranked Oklahoma (11-2, 7-2 Big 12).
The team overwhelmingly pegged to win it all from the beginning of the season to just before
Chris Davis
' miracle return on the Plains on Nov. 30, was once again dragged down to earth with a head-scratching loss.
"We were more focused than we needed to be. We were ready to play, we just came out slow," safety
Landon Collins
said. "We came out very slow, very sluggish -- not to the Alabama standard."
[+] Enlarge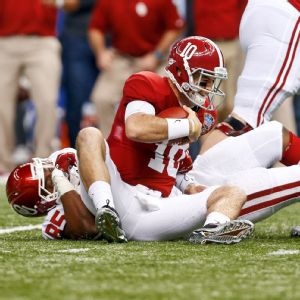 Derick E. Hingle/USA TODAY SportsAJ McCarron, playing his final game for the Crimson Tide, was sacked seven times as Alabama lost back-to-back games for the first time since 2008.
While the talk all week leading up to the game was about Alabama being prepared and motivated to play the Sooners, the Tide were out-muscled at their own game. This team looked fired up from the jump, but so did Oklahoma. The Sooners didn't have near the talent that Alabama did, but it was the tougher team on the field.
So it begs a couple of questions: Was Alabama as great as we thought it was? And where does it go from here?
For all the talk about Alabama being favored against national championship opponents Auburn and Florida State, the Crimson Tide looked nothing like the best team in the country Thursday night. A fluke play ended their BCS title hopes, but this Sugar Bowl debacle ended any sort of "best team" talk.
Alabama was repeatedly pushed around, run by and slammed to the ground against an Oklahoma team that struggled to find its identity until late in the season.
The team so used to mistake-free football saw all of the demons that plagued it in some form or fashion this season attack all at once. The secondary couldn't keep up, the offensive line broke down,
T.J. Yeldon
fumbled and
AJ McCarron
had two uncharacteristic interceptions.
Oklahoma's makeshift offensive line stuffed the biggest line it had seen all season. Alabama struggled to put consistent pressure on quarterback
Trevor Knight
, who picked the Tide apart for 348 yards and four touchdowns, after being the on-again, off-again guy at the position all year.
In Saban's first six seasons at Alabama, no quarterback threw four touchdowns against Alabama in game. Now, two have in this season (Johnny Manziel's five being the other one).
"We had it in our minds that we could beat these guys, that we could move them off the ball," Oklahoma center
Gabe Ikard
said.
"In our opinion, they're the best team in the country, but we out-executed them."
When Alabama swung back with a pair of
Derrick Henry
TDs -- one a 43-yard run and the other a 61-yard reception -- to pull within a score in the second half, the Sooners fought back, exploiting Alabama's defense, especially its secondary. Collins admitted that the uptempo offense tired guys out, helping Knight & Co. find space.
"Once they got tired with that uptempo -- we knew they were big boys up front -- and we started to get them sweating and a little bit winded, we could start pounding them a bit," OU running back
Brennan Clay
said. "We started hitting those creases up the middle and finally they broke."
[+] Enlarge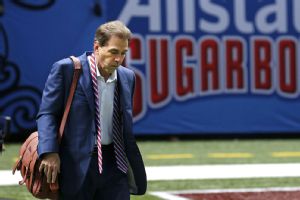 AP Photo/Patrick SemanskyNick Saban admitted that maybe Bama wasn't as focused as it needed to be late in the season and it paid for that in the losses to Auburn and Oklahoma.
Then, there was the Alabama offensive line, which looked more makeshift than Oklahoma's, yet was only down one starter -- right guard
Anthony Steen
. Left tackle
Cyrus Kouandjio
struggled all night to stop
Eric Striker
, who finished with three sacks. As the game went on, McCarron could barely stand upright, as he was sacked seven times.
"We were late off the ball, technique was all whacky a couple times," Kouandjio said. "If you're going against a normal guy, you'll get away with that type of stuff, but when you're going up against a top guy, it's not going to look good.
"It was all just being lazy on technique. They'll take advantage of that because they're good players."
To Alabama coach Nick Saban, you could sense that a performance like this didn't exactly surprise him after the way players took to preparation leading up to the Auburn game.
"I thought our team late in the season, from the LSU game on, maybe didn't have the focus we needed to have," Saban said. "We didn't pay attention to detail, didn't do little things right, didn't practice well. I think that eventually caught up with us in the Auburn game.
"I just don't think that our players realized sometimes that they won so much that they realize sometimes what it really takes to win every game and that you can never take anything for granted, and that everyone that plays us has something to prove. And they have to change the way they think, and that's difficult to do. And they've gotta stick with the process with what they have to do to do it, and it's tough."
A loss like this can do two things to a program: It can motivate, or it can drain. Right now, players are saying it will serve as motivation, but losing leaders, including seniors McCarron and
C.J. Mosley
, will be major blows. Finding guys who can step up and carry this team will be a top priority for Saban moving forward.
"These losses are not the Alabama standard," Collins said. "We're looking to come into next year and stepping it up. These losses, they weigh on us and we have a point to prove now. We know people are coming at us because they always have a point to prove against Alabama, and now we have a point to prove against everybody else in the nation."
January, 2, 2014
1/02/14
9:00
AM ET
NEW ORLEANS -- As the clock ticks down to Thursday night's Allstate Sugar Bowl matchup between No. 3 Alabama (11-1, 7-1 SEC) and No. 11 Oklahoma (10-2, 7-2 Big 12), it's time to take a look at why Alabama will capture its third straight BCS bowl win.
This might not be a national championship scenario for the Crimson Tide, but coach Nick Saban and his players have made it clear that they are treating this one with the same sort of importance.
Here are 10 reasons why Alabama will beat the Sooners inside the Mercedes-Benz Superdome:
1. Alabama's running game:
One thing you can always count on with the Crimson Tide is a stout running game. Led by sophomore running backs
T.J. Yeldon
(1,163 yards and 13 touchdowns) and
Kenyan Drake
(694/eight), Alabama averaged 212 rushing yards per game and almost 6 yards per carry. Oklahoma's rush defense is giving up only 138 yards per game, but the push from Yeldon and Drake will just be too much.
2. Play in the trenches:
It's cliche, but it's true. If you can't win up front, you can't win at this level. Alabama's offensive line has been a force all year, while the defensive line is bigger than any line the Sooners have faced this year. It doesn't help that Oklahoma is dealing with the loss of two starters on its offensive line.
[+] Enlarge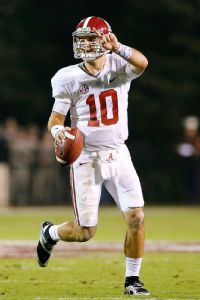 Kevin C. Cox/Getty ImagesAJ McCarron will be motivated to have a big finale.
3. That seasoned guy under center:
This is
AJ McCarron
's swan song and you better believe he's fired up about going out on top. Yet again, he was one of the nation's most efficient passers this season, throwing for 2,676 yards and 26 touchdowns with five interceptions. McCarron isn't the most athletic QB, but he knows how to make plays and win games. Expect him to show plenty of moxie and take some shots on the Big 12's No. 1 pass defense.
4. This team's mindset:
A lot of the talk leading up to this one has been about Alabama's approach to a game that isn't the national championship. Thanks to a miracle kick return, the Tide is on Bourbon Street and not out in Cali. But players sound motivated and ready, while Saban has said all week that he has been proud of his players' preparation. Seniors have talked about younger players buying in and youngsters have talked about sending the seniors out right. This Alabama team also wants to prove that it's still one of the best teams in the country.
5. C.J. Mosley:
Is there anything he can't do? Oklahoma coach Bob Stoops called him an "absolute perfect football player." Oklahoma center
Gabe Ikard
said he was the best defensive football player he has ever seen during his career. Alabama safety
Ha Ha Clinton-Dix
said he "
is
the defense." Mosley can move from sideline to sideline, drop back in coverage, stuff the run and rush the passer. He won the Butkus Award as the nation's top linebacker for a reason, and he'll show why over and over Thursday night.
6. A healthier secondary:
It seems like Alabama's secondary has been nicked up all year, but the time away from the playing field has given guys the opportunity to rest up and get back up to speed. Clinton-Dix is moving around better after getting his knee scoped and fellow safety
Landon Collins
is healthy after spraining his ankle early in bowl prep. Corner
Deion Belue
appears to be feeling much better after dealing with a nagging toe injury all season. This is a unit that has been up and down this season, but Alabama still owned the SEC's best pass defense (166.3 yards per game) and playing a team that rotates at quarterback and averages just 186 passing yards a game could be a good thing for the Tide.
7. Playmakers galore on offense:
There will just be too much of a mixture of McCarron, Yeldon/Drake and those talented receivers for Oklahoma's defense to handle. The Sooners have a linebacker in
Eric Striker
who has made his home in opposing backfields, but I don't see him having too much of an effect on McCarron's ability to throw or those running backs. Alabama will be able to churn yards out on the ground and McCarron will hit a couple of big plays down the field with
Amari Cooper
and
Kevin Norwood
.
8. Stopping the run early:
If Oklahoma can get its running game going early, it will open up things for the pass as the game goes on. That wouldn't be good for the Tide, but Alabama won't have to worry about that because this defense is looking to stop the run first, second and third. Before the Auburn game, Alabama was allowing just 91.3 rushing yards per game and 1.5 yards before contact per rush. OU likes that zone-read, but this isn't Auburn's run game.
9. Oklahoma's revolving quarterback door:
The fact that the Sooners won't know who their starting quarterback is until just before a game with Alabama isn't a good thing. Alabama prides itself on its consistency and thrives on opponents' errors. The revolving door at quarterback with
Blake Bell
and
Trevor Knight
could be an issue against such a detail-oriented defense. The Tide seems pretty comfortable defending either guy, after both passed for a combined 2,119 yards and 17 touchdowns with nine interceptions.
10. Nick Saban:
Is there a better game manager out there? Sure, Gus Malzahn got the best of him on the Plains at the end of the regular season, but Saban is still
the
coach everyone would want for a game like this … or any game, really. He'll have no problem pumping his team up and preparing it for the Sooners. He's obsessed with details and should have every single one of his bases covered for this game. He wants this win just as badly as his players.
December, 31, 2013
12/31/13
1:00
PM ET
NEW ORLEANS -- When asked about his very first impression of Alabama linebacker
C.J. Mosley
, Oklahoma center
Gabe Ikard
was as concise as he could be, sporting an ear-to-ear grin.
[+] Enlarge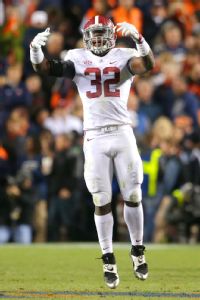 AP Photo/Dave MartinButkus Award winner C.J. Mosley leads Alabama in tackles, tackles for loss and quarterback hurries this season.
"That dude's good; very, very good," Ikard, an All-American, said.
"He's obviously the most talented linebacker in the country."
Mosley, an All-American himself and the recipient of the Butkus Award as the nation's best linebacker, is quiet and gentle away from the field but a thunderous wrecking ball on it. He can cover the field from side to side, drop back to defend the pass, rush the passer and stuff the run.
He's the heart of Alabama's staunch defense and enemy No. 1 for Oklahoma's offense.
Ikard and his teammates agreed they'll game plan to try and thwart Mosley's effectiveness in Thursday's Allstate Sugar Bowl. You'd think that added attention would put some pressure on Mosley, but this is nothing new for the nation's best.
"I can't really control that," Mosley said. "I just gotta do what I have to do and make plays when my name is called."
He's made plenty of plays this year for the Crimson Tide. A year removed from leading the Tide with 107 tackles while sharing time, Mosley leads Alabama this season in tackles (102), tackles for loss (nine) and quarterback hurries (eight) as a full-time starter at weakside linebacker. He's also defended five passes and forced a fumble.
"C.J. Mosley is probably the best player we've played against this year, probably one of the best I've played against in my four and a half years here," Ikard said.
"You always have to be aware of where 32 is at."
And that isn't easy to do. He's so active that one blink and you'll lose him. But spend too much time locking in on him and you'll lose focus, making it easier to blow an assignment. It puts many offensive players, especially offensive linemen, in precarious situations.
Like a playmaking receiver who can line up inside, outside or in the backfield, you have to account for Mosley in some form or fashion whenever he's on the field or he'll make you pay.
"Your eyes are just attracted to him just by the way he runs around and makes big plays," Oklahoma quarterback
Trevor Knight
said.
"We're going to account for him like anybody else, but he's definitely a force to be reckoned with. He's all over the field and he's a great leader out there."
Despite lining up in the middle of Alabama's defense, the Tide's defensive quarterback finds ways to get to the ball, no matter where it is. He's so dangerous because he's so multitalented. He pores over extra film for hours each week, while still trying to motivate and push his teammates with his relentless practice habits.
The quiet tone and smoother demeanor he shows the media is only a small part of who Mosley is. He's an animal on the field, and the Sooners understand the challenge of making him obsolete is quite an undertaking.
"He's a great player. He won the Butkus Award for a reason," Oklahoma running back
Brennan Clay
said. "He's fundamentally sound, he gets to the ball, his technique is great."
But for all the good Mosley does, he admits he isn't perfect. He's actually pretty goofy in the way he looks when he plays. Though he carries an impressive, stone-like 6-foot-2, 238-pound frame, his legs can get the best of him at times with his "unorthodox" running style that gives him some awkward-looking strides when he runs. His legs sometimes get caught under him, making sprinting tough.
It doesn't impede his pursuit too much, but it does receive a few giggles in the film room from his teammates.
"I've been doing that since high school," Mosley said with a laugh.
The Sooners might have 10 other players to account for when Alabama's defense takes the field, but everyone knows the Tide's defense goes the way of its commander. Mosley is the linchpin, and disengaging his playmaking ability will go a long way for the Sooners inside the Mercedes-Benz Superdome.
"That kid is the defense, if you ask me," Alabama safety
Ha Ha Clinton-Dix
said.
"It's been a blessing having him on this team, and I'm definitely going to miss him next year."
December, 31, 2013
12/31/13
10:30
AM ET
NEW ORLEANS -- When No. 3 Alabama (11-1, 7-1 SEC) looks at its matchup with 11th-ranked Oklahoma (10-2, 7-2 Big 12) in Thursday's Allstate Sugar Bowl, the Crimson Tide can't help but see similarities to their last opponent.
You know, the opponent that derailed Alabama's national championship hopes with a miracle of a kick return and a run game that churned out nearly 300 yards on the Tide's vaunted defense.
Oklahoma, which is averaging 235.8 yards per game this season, isn't quite Auburn, but it does possess that pesky zone-read that gutted the Tide on the Plains. For all the inconsistency that Oklahoma has had this season on offense, Alabama isn't overlooking the Sooners' running game, which could pose quite the threat if it gets going early.
"It's very important [to stop the running run early] because once they get started, they keep on rolling," cornerback
Deion Belue
said. "They're a tough team as it is because their offensive line is big and strong. The thing is stop the run. If all else fails, we have to do that. If not, they can keep on rolling and then they have the option to run and pass any time they want to."
The thing with Oklahoma is that the offense can get a little complicated at times with quarterbacks
Blake Bell
and
Trevor Knight
sharing time. A starter hasn't even been announced for Thursday, but the good news is that both can run the zone-read, which has been pretty successful for the Sooners this season.
Oklahoma averages 7.2 yards per zone-read play when Knight is in and 4.5 yards per play with Bell, according to ESPN Stats & Information. Knight has gained 257 yards and is averaging 10.3 yards per play when he keeps the ball on zone-read rushes, which is the best among AQ players with at least 25 zone-read runs, according to ESPN Stats & Information.
So while the Sooners aren't sure who will be under center first, Alabama knows to expect plenty of running plays, regardless.
"We're just going to look at it as them trying to take our manhood, kinda, and try and down us a little bit [with their run game]," defensive lineman
Jeoffrey Pagan
said.
According to ESPN Stats & Information, Oklahoma has run 138 zone-read plays this season and averaged 18.7 zone-read plays (130 yards per game) in each of its last three games (all wins) after averaging 9.1 plays per game (47.2 yards per game) in its first nine games.
"We're going to be all right against it," linebacker
Trey DePriest
said. "We've repped it. That's the same offense the last we guys we played [ran]."
In Alabama's 34-28 loss to Auburn, the Tigers gained 270 rushing yards on 38 zone-read plays (7.1 yards per carry), including seven runs of 10 yards or more, according to ESPN Stats & Information. Alabama entered that game allowing 3.6 yards per rush on such plays, which second best in the SEC.
Senior running back
Brennan Clay
(913 yards) has been the bell cow back for Oklahoma, and while he's been very impressed with Alabama, he thinks Auburn's 296-yard outing against the Tide created a blueprint for how to hurt a rush defense that was allowing just 91 yards a game before facing Auburn.
"They're not the gods that everyone [claims] them to be," Clay said. "I feel like everyone was putting them on such a high pedestal, but anyone can get beat on any given day. It's whatever transpires in between those lines on the football field is what matters.
"If we come out being aggressive, being able to establish the run, make big plays, we'll be fine."
Establishing the run is easier said than done. Before Auburn, Alabama had allowed 100-plus rushing yards just four times and surrendered just five rushing touchdowns. With about a month to prepare, Alabama won't be startled by what it sees inside the Mercedes-Benz Superdome Thursday.
This isn't a defense prone to continuing its mistakes.
"They're just very technical. They don't make a whole lot of mistakes, they're really physical, they know how to make plays and stop offenses, especially high-powered offenses," Knight said. "That's been a staple of their program the last couple years."
What's also been a staple of this defense is winning up front. Getting the push up in the trenches will be important for both teams, and Oklahoma All-American center
Gabe Ikard
said winning there will dictate the game. Fail against their big uglies, and Ikard said Oklahoma is toast.
"They're extremely powerful and big up front -- biggest defense we've seen, most physical defense we've seen, best defensive we've seen all year," he said. "It's going to be a great challenge to control the line of scrimmage against those guys. They're D-linemen are bigger than anybody we've seen this year, and that includes Notre Dame.
"If we can't run the ball, it'll be a long day for us."
December, 11, 2013
12/11/13
11:40
AM ET
There's one thing the Allstate Sugar Bowl has in spades: tradition.
Alabama and Oklahoma are members of college football's aristocracy with a history of winning that goes back decades. From Paul Bryant to Bud Wilkinson, dusty images come to mind with these two schools. And it's only fitting that they'll meet in New Orleans, which holds its own storied place in history.
But what about the game itself? It's still a few weeks away, but let's break down some of the aspects that might make Tide-Sooners an interesting event to watch on Jan. 2.
Key storylines
[+] Enlarge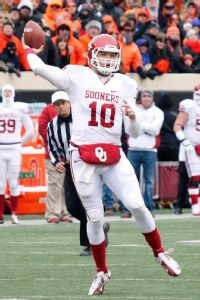 J.P. Wilson/Icon SMIAfter leading Oklahoma to a Bedlam win, will Blake Bell get the call against Alabama?
Letdown factor:
Both Alabama and Oklahoma came into this season with eyes on Pasadena, Calif., and the VIZIO BCS National Championship Game, but neither wound up in a position to make the long trip to the West Coast. How will that play a factor when the two teams meet in New Orleans? Is there any kind of unfinished business both programs feel? For Alabama, at least there's the idea that coming out and winning big might show the country that despite a last-second loss to Auburn, the Tide is the better team. A convincing win won't vault it to No. 1 in the rankings again, but a No. 2 finish could be cause enough to show up in New Orleans ready to compete.
Who starts at QB?:
Oklahoma will begin bowl practice soon, but who starts under center is still a significant question mark. As Sooners offensive coordinator Josh Heupel explained, he'll go with, "Whoever it takes." Redshirt freshman
Trevor Knight
is nursing an injured non-throwing arm, though it's unclear the severity of the injury. Meanwhile, junior
Blake Bell
, who came on in relief of Knight against Oklahoma State and led the Sooners on a game-winning drive in the fourth quarter, seems like the hot hand. But he entered the game third on the depth chart behind
Kendal Thompson
so making any assumptions here seems futile.
Stoops vs. the SEC:
Some folks just don't like to dredge up the past. But after what Oklahoma coach Bob Stoops has said about the SEC in the past year or so, it's hard to forget. Stoops has called the league with seven straight BCS champions overrated, top-heavy and overstated in terms of its defensive prowess. It's all propaganda, he claims. A veteran of the Big 12, he's been mostly alone in his criticism of the SEC, which has made him a favorite target of college football fans in the South who like to chide other conferences already. But Stoops will have his chance to answer their criticism and state the case for his own. A win over the Tide might spell vindication.
Players to watch
Oklahoma DB Aaron Colvin:
He's a big, physical corner who might be able to give
Amari Cooper
trouble. At 6-foot and 192 pounds, he's an aggressive type that doesn't intercept the ball a lot -- he has just one this season -- but does draw his fair share of flags. He's fifth on the team in tackles (49) and tied for sixth in passes defended (4).
Alabama LB Adrian Hubbard:
We saw it play out last season where Hubbard came from nowhere to close the season strong (three sacks in the final games) and flirt with the NFL as a redshirt sophomore. He ultimately stayed for his junior season, but we could see a repeat of last year as Hubbard has racked up three sacks and 11 tackles in the Tide's past four games.
Oklahoma DL Charles Tapper:
The Sooners have struggled some on offense this season, but their youth on defense is cause for hope. Trapper, a big 6-foot-4, 261-pound defensive end, is one of those bright spots. As a sophomore, he leads the team with nine tackles for loss and 5.5 sacks.
Alabama QB AJ McCarron:
It's ironic to consider that McCarron's final game at UA will come against a team he nearly signed with as a player coming out of high school. The night before he was set to decide, he said he was thinking he'd go with Oklahoma. Why? He liked their program and Sam Bradford. But as he said, when you're a teenager, "Your mind changes about 20 times a day." In the end, it's safe to say McCarron made the right decision as a win over Oklahoma would be the cherry on top of a career that's seen him win two national championships as a starter and earned him a trip to New York for the Heisman Trophy ceremony.
Stats to keep an eye on
2:
Oklahoma has a history of being a talent-rich program on offense, but this season's been different as the Sooners placed just two such players on the first- and second-team AP All-Big 12 Team. And those two selections -- center
Gabe Ikard
and kicker
Mike Hunnicutt
-- aren't what you'd call impact players.
18:
The Sooners have flipped the script after being known as a passing team under former quarterbacks Sam Bradford and Landry Jones. This season Oklahoma's relied heavily on the run, ranking 18th in the country with 235.8 rushing yards per game.
20:
Alabama's still shaking off the reputation of a slow and plodding offense. And while it may be true the Tide doesn't huddle, it does get big plays. In fact, UA ranks 28th in the country with 68 plays of 20 or more yards. Meanwhile, Oklahoma ranks 86th with only 48 such plays.
Alabama Dismisses Jonathan Taylor
SEC SCOREBOARD
Thursday, 9/3
Saturday, 9/5