Alabama Crimson Tide:

Eric Reid
May, 16, 2014
5/16/14
9:40
AM ET
As the 2014 NFL draft drew to a close last Saturday, I could still hear Joe Pendry's prophetic words in the press box on Nov. 5, 2011.
[+] Enlarge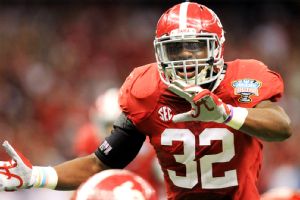 Scott Donaldson/Icon SMIC.J. Mosley was taken in the first round by the Baltimore Ravens.
Pendry, who had just retired the previous year as Alabama's offensive line coach, said there was a very simple reason that nobody could score a touchdown that night in Tuscaloosa, Ala.
"Look out there on the field, and probably 20 of the 22 defensive starters will be playing in the NFL," said Pendry, who was an offensive coordinator for the
Kansas City Chiefs
,
Buffalo Bills
,
Carolina Panthers
and
Houston Texans
before ending his career in the college ranks.
Turns out, he might have undersold just how much talent was on the field, which in my 20-plus years of covering the SEC is unquestionably the gold standard for premium defensive talent on the field together at one time.
In that game alone, which LSU won 9-6 in overtime, there were 28 defensive players who played in the game -- 14 on each side -- who would get drafted. That includes 10 first-rounders.
The grand total of future draftees who played in the game was 42, and that doesn't even count another handful of players who made NFL rosters as undrafted free agents.
"You don't see that every Saturday," said Phil Savage, former
Cleveland Browns
general manager and current executive director of the Senior Bowl.
"That's why it was a tug-of-war in the middle of the field, all those future pros on defense. We call it a logo game. Neither offense could move the ball very far past the logo at midfield."
Savage, the color man on Alabama's radio broadcasts, remembers doing interviews leading up to that epic No. 1-versus-No. 2 encounter and estimating that 40 to 50 players from the game would end up playing in the NFL.
"It's as close to an NFL game as you're ever going to see in terms of a college matchup, with so many future NFL players on each side," Savage said.
The two teams wound up playing twice that season. Alabama avenged its only loss by beating LSU 21-0 in the BCS National Championship in New Orleans. Alabama finished No. 1 nationally that season in scoring defense, and LSU was No. 2. Between them, they gave up 27 touchdowns in 27 games.
The only games in Savage's recent memory that would come close to that Alabama-LSU affair in terms of producing NFL draft picks were the Florida State-Miami game in 2000 and the Miami-Ohio State BCS National Championship game to cap the 2002 season.
Miami beat Florida State 27-24 in 2000, snapping the Seminoles' 26-game regular-season winning streak.
In the next three drafts, Miami produced 26 draft choices, although not all of those players played in that 2000 game. For instance,
Willis McGahee
and
Jerome McDougle
redshirted in 2000, and
Clinton Portis
was injured and didn't play.
Florida State, over the next three drafts, produced 18 draft choices.
But in one game, it's hard to imagine that we'll ever see 42 future draft choices again on the field playing, and certainly not 28 on defense.
As a comparison, in that FSU-Miami game in 2000, there were a total of 17 defensive players who would end up being drafted.
Now, when it comes to one team, good luck in trumping Miami's 2001 national championship team. The Hurricanes had 16 players from that team who would go on to be first-round picks.
Here's a look at the draftees from that Alabama-LSU game in 2011:
ALABAMA
[+] Enlarge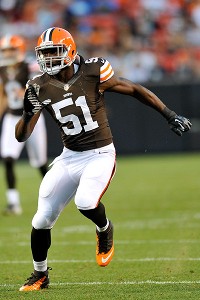 AP Photo/David RichardBarkevious Mingo was one of the many LSU defenders on the 2011 team that was drafted.
2014 draft
2013 draft
2012 draft
LSU
2014 draft
2013 draft
2012 draft
January, 23, 2014
1/23/14
4:15
PM ET
The SEC's successes reach far beyond the college football landscape. Sure, the seven consecutive BCS titles -- which came to an end this year thanks to a pretty darn good Florida State team -- are well-documented, but most of the studs in this league eventually make it to the big leagues, where they continue to strut their stuff.
[+] Enlarge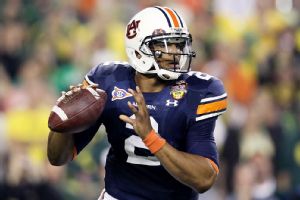 Christian Petersen/Getty ImagesFormer Auburn QB Cam Newton is one of 24 former SEC players in the Pro Bowl.
The NFL has always had an affinity for SEC players, and this year's Pro Bowl rosters blare that loud and clear, as 24 players from the SEC were selected for the all-star game in Hawaii. The SEC was represented by at least one player at every position except kicker and punter.
This year, the Pro Bowl changed its selection format. Former NFL greats Jerry Rice and Deion Sanders
drafted from a pool of Pro Bowl players
who were selected earlier in the season. Team Rice and Team Sanders went back-and-forth with their picks, and four of the first 10 players in the first Pro Bowl draft were former SEC players, including former Auburn quarterback Cam Newton (Carolina Panthers), who went No. 3 overall to Sanders.
Tennessee led the SEC with four selections. The game is Sunday night at 7:30 p.m. ET on NBC.
The 24 former SEC players selected to this year's Pro Bowl:
QB
RB
WR
TE
OL
DL
LB
CB
S
RS
July, 17, 2013
7/17/13
7:00
AM ET
By
TideNation
and
GeauxTigerNation
| ESPN Insider
There have been dozens of All-Americans and first-round picks to come out Alabama and LSU in recent years, talented guys like
Courtney Upshaw
,
Barkevious Mingo
,
Trent Richardson
and
Tyrann Mathieu
. All told, there have been more than 30 NFL draft picks from both programs since Nick Saban arrived in Tuscaloosa in 2007.
But with so many players to choose from, how do you determine the best athletes to compete in the rivalry, the ones who have shown up and played their best when the two schools met on the football field each year?
TideNation writer Alex Scarborough and GeauxTigerNation writer Gary Laney did their best to answer that difficult question.
July, 17, 2013
7/17/13
7:00
AM ET
By
TideNation
and
GeauxTigerNation
| ESPN Insider
The Alabama-LSU rivalry began heating up the minute Nick Saban left the Miami Dolphins in an attempt to resurrect a sleeping giant in Tuscaloosa, and it hasn't slowed down since. Alabama has flourished into a dynasty with three rings and counting, while LSU continues to battle for national championships year in and year out under the sometimes-eccentric leadership of Les Miles.
Head to head, the Crimson Tide and Tigers have had some of the most thrilling games in recent memory, often propelling one team or another on to the SEC championship and beyond. Each matchup has had its defining play or its defining performance, whether it was
T.J. Yeldon
's last-second touchdown in 2012 or Eric Reid's acrobatic interception the year before.
Breaking down each game was no easy matter. In fact, when TideNation writer Alex Scarborough and GeauxTigerNation writer Gary Laney sat down to make up a top 10 list of the best games since 2007, determining No. 1 was so difficult they had to split the difference and stop just short of calling it a tie.
Looking at numbers three through seven wasn't much simpler. But they persevered and ranked the games from best to worst, and here's the order they came up with:
To continue reading this article you must be an Insider
February, 22, 2013
2/22/13
10:14
AM ET
Several of RecruitingNation's SEC sites took a look this week at the players headed to the NFL combine, which begins today in Indianapolis, and other predraft camps. Click here to read
the entire predraft series
.
Today: Defensive backs and special teams.
It's hard to imagine that the Alabama secondary in 2011 yielded five NFL prospects.
Mark Barron
,
Dre Kirkpatrick
and De'Quan Menzie were all drafted a year ago. Dee Milliner and Robert Lester stuck around and won one more ring before hanging it up in 2013.
January, 30, 2013
1/30/13
3:40
PM ET
Now that we've examined where the offensive players on the 2012 Associated Press All-SEC team ranked as high school recruits, we look next at the defensive players.
Whereas only four of the 12 offensive players (counting the all-purpose player) on this season's All-SEC team were ESPN 150 prospects, nine of the 11 defensive players made the ESPN 150 cut as high school recruits. Eight of the 11 were ranked among the top 10 prospects nationally at their position.
The only two who weren't ESPN 150 prospects were Texas A&M defensive end
Damontre Moore
and Mississippi State cornerback
Johnthan Banks
.
Here's a look back:
[+] Enlarge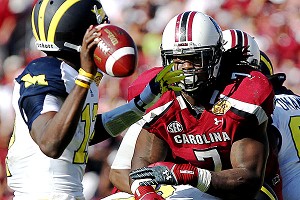 Kim Klement-USA TODAY SportsSouth Carolina's Jadeveon Clowney was ranked No. 1 overall in the ESPN 150 in 2011.
DEFENSE
DE: Jadeveon Clowney, South Carolina
-- A five-star prospect and ranked No. 1 overall in the ESPN 150 in 2011. Received a grade of 95 and described by some analysts as one of the most talented and physically impressive high school prospects to be evaluated since the advent of recruiting rankings.
DE: Damontre Moore, Texas A&M
-- A three-star prospect and unranked in the ESPN 150 in 2010. Ranked as the No. 48 defensive end prospect nationally. Six of the top 15 defensive end prospects that year signed with SEC schools -- No. 4
Corey Miller
(Tennessee), No. 5
Adrian Hubbard
(Alabama), No. 9
Corey Lemonier
(Auburn), No. 10 Chris Martin (Florida), No. 14
LaDarius Owens
(Auburn) and No. 15
Justin Maclin
(LSU).
DT: Sharrif Floyd, Florida
-- A four-star prospect and ranked No. 25 in the ESPN 150 in 2010. Ranked as the No. 3 defensive tackle prospect nationally. The No. 1 defensive tackle prospect that year was Florida teammate
Dominique Easley
. The Gators also signed a third top 10 defensive tackle prospect --
Leon Orr
-- in that 2010 class.
DT: Sheldon Richardson, Missouri
-- Ranked No. 107 in the ESPN 150 in 2009. Ranked as the No. 8 defensive tackle prospect nationally. There were three tackle prospects ranked ahead of him that year who signed with SEC schools -- No. 2 Gary Brown (Florida), No. 4
Josh Downs
(LSU), and No. 7
Chris Davenport
(LSU).
LB: Jarvis Jones, Georgia
-- Ranked No. 59 in the ESPN 150 in 2009. Originally signed with USC before transferring to Georgia. Ranked as the No. 6 outside linebacker prospect nationally. The No. 1 outside linebacker prospect in that class was
Manti Te'o
. Jones was ranked as the No. 7 overall prospect in the state of Georgia in 2009. Future Georgia teammates
Branden Smith
(No. 2) and
Chris Burnette
(No. 6) were ranked ahead of him.
LB: Kevin Minter, LSU
-- Ranked No. 133 in the ESPN 150 in 2009. Ranked as the No. 11 outside linebacker prospect nationally. Counting Jarvis Jones, eight of the top 15 outside linebacker prospects that year either signed with an SEC school or wound up at one. Florida got two of them -- No. 2
Jelani Jenkins
and No. 8
Jon Bostic
.
LB: C.J.Mosley, Alabama
-- A four-star prospect and ranked No. 99 in the ESPN 150 in 2010. Ranked as the No. 7 outside linebacker prospect nationally. The only outside linebacker prospect to sign with an SEC school ranked higher was Georgia's
T.J. Stripling
at No. 5.
CB: Johnthan Banks, Mississippi State
-- Unranked in the ESPN 150 in 2009. Ranked as the No. 27 athlete nationally, one spot behind eventual LSU cornerback Morris Claiborne. Banks, who grew up in the tiny town of Maben, Miss., only received the one scholarship offer from Mississippi State.
CB: Dee Milliner, Alabama
-- A four-star prospect and ranked No. 16 in the ESPN 150 in 2010. Ranked as the No. 2 cornerback prospect nationally. Florida State's
Lamarcus Joyner
was ranked as the country's No. 1 cornerback prospect that year. Florida signed three of the top 10 cornerback prospects in 2010 -- No. 3
Josh Shaw
, No. 5
Jaylen Watkins,
and No. 7
Cody Riggs
.
S: Matt Elam, Florida
-- A five-star prospect and ranked No. 9 in the ESPN 150 in 2010. Ranked as the No. 2 athlete nationally. The No. 1 athlete that year was eventual Florida teammate
Ronald Powell
. Auburn signed three of the top 10 athletes in 2010. Two of them, Antonio Goodwin and Shaun Kitchens, were part of the 2011 armed robbery of a trailer and kicked off the team. The third was receiver
Trovon Reed
.
S: Eric Reid, LSU
-- A four-star prospect and ranked No. 71 in the ESPN 150 in 2010. Ranked as the No. 7 safety prospect nationally. Reid was one of two top 10 safety prospects the Tigers signed that year. The other was
Tharold Simon
, who wound up playing cornerback. The No. 1 safety prospect in 2010 was
Jonathan Dowling
, who signed with Florida and was kicked off the team during his freshman season by Urban Meyer.
November, 1, 2012
11/01/12
12:18
PM ET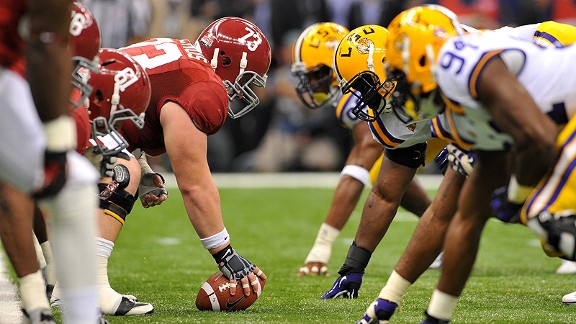 Cal Sport Media/AP ImagesThe stakes are always high when the Crimson Tide and Tigers square off.
Growing up in Baton Rouge, La., LSU junior safety
Eric Reid
was accustomed to seeing that overwhelming sea of crimson march into his city every other year.
And he hated it more each time.
During his younger days, he detested the sight of that gray elephant and he absolutely loathed two words shouted so confidently by those outsiders from two states over: "Roll Tide."
Reid, who grew up a staunch LSU fan, was always excited for the Tigers' traditional rivals, but Alabama week brought more emotion. The hatred he carried around as a youngster was real and just the mere thought of losing to Alabama made Reid sick.
"I had that bitter feeling whenever 'Alabama' came off my tongue," Reid said.
Now, Reid's feelings toward the Crimson Tide have only intensified. After playing Alabama three times in his two-plus years with the Tigers, his hatred has transformed into respect. There's still bitterness, but he also has gained some civility.
And when Alabama week rolls around, he can't help but have a different sort of excitement. It feels like a real traditional rivalry game to Reid and has been
the
game in college football the past two years. It might even be the sport's best rivalry at the moment.
"I do think it's up there with the big ones," Reid said. "Everybody knows when Alabama and LSU are playing each other. It's grown significantly over the past couple of years.
"Whenever Alabama and LSU play each other, it's going to be a big game."
When people talk about college football's best rivalries, no one forgets Ohio State-Michigan, Alabama-Auburn or Army-Navy. You also have Florida-Florida State, Oklahoma-Texas and Miami-Florida State.
But it's clear we now have Alabama-LSU, and while it doesn't have the tradition of some of the other national rivalries, recent history has it soaking up all the national spotlight. And with the way these two giants have been able to recruit, it isn't going away anytime soon.
Like last year's two meetings, championship implications are on the line for Saturday's matchup between No. 1 Alabama (8-0, 5-0 SEC) and No. 5 LSU (7-1, 3-1) in Baton Rouge. There was the national championship quarterfinal in Tuscaloosa, Ala., in Game 1 and the actual national championship in Game 2.
Like most traditional rivalries, trophies are at stake when these two play.
While the national audience is just now catching onto Alabama-LSU, this game is nothing new to the Deep South. Alabama leads the all-time series 46-25-5, but the real bitterness started when Nick Saban returned to the SEC and went to Alabama in 2007. Two years removed from bringing LSU its second national championship, Saban was done with the pros and back in the same division -- and less than 350 miles from Baton Rouge.
[+] Enlarge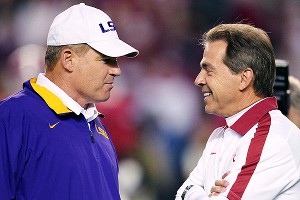 Marvin Gentry/US PresswireLes Miles and Nick Saban are 3-3 against one another as head coaches.
There was tremendous buildup to Saban's first game against LSU in 2007 -- a 41-34 loss for the Tide -- but things reached a boiling point when he returned to the Bayou in 2008 and escaped with a 27-21 overtime win. He won again in 2009 and will enter Saturday's game tied 3-3 with Les Miles in this series.
It probably doesn't help LSU fans when they look up and see Saban holding two crystal balls as Alabama's coach.
What really gives this game life is the national importance it has. The national championship really is on the line for both teams … again.
"People become more and more interested in those kinds of games, regardless of the league that they're in," Saban said.
It's a game that has taken the country by storm, and to LSU defensive end
Sam Montgomery
, its magnitude is something younger players won't truly comprehend until Saturday.
"Get ready. It's going to be the closest, most competitive thing you ever did in your life -- hopscotch to basketball to playing video games," Montgomery said.
"They don't understand, but I hope soon they will.
"It's a true battle where only the mean can survive and make plays."
Miles was inside Ohio State-Michigan and isn't ready to say this rivalry is there, yet. However, he did acknowledge that players and fans have a different look about them during Alabama week.
The same can be said for those in Tuscaloosa, especially running back
Eddie Lacy
, who attended Reid's high school (Geismar, La./Dutchtown). He knows all too well that this is a love-hate affair.
"You just know they don't like each other," Lacy said. "That's pretty much all you need to know."
Everyone with any ounce of college football fandom will tune into this game. So much talent will be on the field, and just like last year, the winner will be a front-runner on the path to the BCS title.
There's no turning back, and there's no time to hide any sort of spite come Saturday night.
"There's bad blood between the two teams when we play just because of who you're lining up against," Reid said.
October, 17, 2012
10/17/12
12:36
PM ET
Now that you've seen
Chris Low's top 25
, it's time to see what my list of the top 25 players in the SEC looks like.
I'm not perfect, but I'll try to be:
1. Johnny Manziel, QB, Texas A&M:
Who has been more exciting than Johnny Football? The Aggies aren't 5-1 without him or his 1,600 passing yards, 676 rushing yards and 24 touchdowns.
2. Mike Gillislee, RB, Florida:
He's powering Florida's offense and he's been the SEC's best back thus far. He's extremely explosive and is strong enough to bully his way to extra yards and wear down defenses.
3. Jadeveon Clowney, DE, South Carolina:
He's turning into the dominating player we've really been waiting to see. Some think he might be the best player overall in the conference and is pushing to be next year's No. 1 NFL draft pick.
4. Jarvis Jones, LB, Georgia:
At one time, he was a Heisman candidate, but injuries and double-teams stunted that campaign. Still, he's the SEC's best linebacker, can fly around the field and just feasts on opposing quarterbacks.
5. C.J. Mosley, LB, Alabama:
He's been Alabama's best defensive player this year and can make plays from just about anywhere on the field. He leads Alabama with 51 tackles, has 2.5 sacks, an interception and a forced fumble.
6. Damontre Moore, DE, Texas A&M:
Even though he moved from linebacker to defensive end, Moore has been just as dominant as he was last season. He leads the SEC in sacks (8.5) and tackles for loss (15).
7. Johnthan Banks, CB, Mississippi State:
This summer, he said he was the SEC's best cornerback and he hasn't disappointed. He has three interceptions on the season and is averaging just 4.7 yards per attempt in man coverage.
8. Chance Warmack, OL, Alabama:
He might be the nation's best offensive lineman and he's just blowing defenders up this season. No wonder Alabama can run the ball so well.
August, 29, 2012
8/29/12
1:30
PM ET
July, 19, 2012
7/19/12
11:07
AM ET
HOOVER, Ala. -- The 2012 SEC media days All-SEC team was announced Thursday, and LSU led the conference with the most first-team selections with seven. The media has voted for a preseason All-SEC team and predicted the order in which each team would finish since 1992.
It should be noted that the media has only picked the correct SEC champion four times since 1992. Those correct picks were Florida in 1994 and 1995, LSU in 2007 and Florida in 2008.
Here are some notes from the league on the All-SEC team:
[+] Enlarge

Daniel Shirey/US PresswireSEC members are expecting big things this season for South Carolina's Marcus Lattimore.

The 222 voters is an all-time high for SEC media days. The previous high was 177 voters in 2010.
South Carolina running back Marcus Lattimore was the leading vote-getter this season with 201 of 222 votes. He is the fourth running back in the past six years to be the highest vote-getter (2007 – Darren McFadden, Arkansas; 2008 – Knowshon Moreno, Georgia and Percy Harvin, Florida; 2009 – Tim Tebow and Brandon Spikes, Florida; 2010 – Mark Ingram, Alabama; 2011 – Alshon Jeffery, South Carolina).
Lattimore (2012) and Jeffery (2011) have been the leading vote-getters the last two seasons.
Alabama offensive lineman Barrett Jones is a three-time member of the SEC media days first team
South Carolina has had a sophomore make the media days first team for the third straight season – Jadeveon Clowney, South Carolina, DE (2012); Marcus Lattimore, South Carolina, RB (2011); Stephon Gilmore, South Carolina, DB (2010).
Since 2000, Arkansas' Darren McFadden is the only unanimous selection to the SEC media days All-SEC team, collecting all 80 votes.
LSU had the most first-team selections this season with seven. Since 1992, the most players on a first team were nine by Alabama in 2011 and eight by Alabama (2010) and Florida (2009).
LSU leads with the most overall selections this season with 13. The total is the second highest ever, behind Alabama's 16 last season. Prior to last season, Alabama (2010) and Florida (2009) had the most overall selections with 12.
LSU is predicted to win the SEC championship by the media for the first time since 2007. It is the second time since 1992 that LSU has been predicted to win the league title. LSU did win the SEC title in 2007 and went on to win the BCS title.
Here is what the complete first team looks like:
July, 17, 2012
7/17/12
5:41
PM ET
Now that we've ranked the
SEC's secondaries
, it's time to take a look at the league's top cornerbacks.
Past rankings:
Here are our top 10 SEC safeties:
[+] Enlarge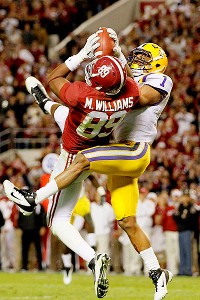 Kevin C. Cox/Getty ImagesLSU safety Eric Reid has tremendous cover skills.
1. Eric Reid, Jr., LSU:
He might be the league's best ball-hawking threat and he packs quite the punch. He had a knack for making all sorts of plays in LSU's secondary last year -- none bigger than his game-changing interception in the first game against Alabama. He tied for the team lead with 76 tackles, broke up three passes and intercepted two. Pro scouts love his ability to roam all around the field and his tremendous cover skills.
2. Bacarri Rambo, Sr., Georgia:
He had a true breakout season last year and could have easily left for the NFL draft. The first-team All-American led the SEC and ranked second nationally with eight interceptions and was second in the SEC with 16 pass breakups. He takes the deep pass away, but is also very solid in defending the run and shorter passes.
3. Matt Elam, Jr., Florida:
The headliner of Florida's defense, Elam found himself playing all over the field in 2011. He was second on the team with 78 tackles, but led the Gators with 11 tackles for loss, seven pass breakups and two forced fumbles. He loves contact, but also has improved his coverage skills and can line up at the nickel if needed.
4. Robert Lester, Sr., Alabama:
Lester has had a solid career with the Tide so far. He notched an SEC-best eight interceptions in 2010 and flirted with leaving for the NFL after his junior season. He's moving to free safety, but has the speed and ability to play that rover position. He covers a lot of ground and can come in and play in the box as well.
5. D.J. Swearinger, Sr., South Carolina:
His move from strong safety to free safety was a plus for the Gamecocks. He turned into a tremendous rover in South Carolina's defensive backfield and wasn't afraid to move closer to the line to hit people -- a lot of people. He's a proven playmaker and has no issues finding the ball, as he's registered 122 solo tackles in three seasons.
July, 13, 2012
7/13/12
7:01
AM ET
The SEC has a nation-leading 19 players on the 2012 preseason watch list for the Bronko Nagurski Trophy, which is awarded annually to the nation's best defensive player. Alabama leads the SEC with five players on the list, while LSU is second with four.
Here are all 19 SEC players on the Nagurski Trophy list:
For the complete Nagurski Trophy watch list,
go here
.
The SEC also leads the country with 19 players on the 2012 preseason watch list for the Outland Trophy, which is presented annually to the nation's top interior lineman. Alabama leads the SEC with four players on the list, including reigning Outland Trophy winner
Barrett Jones
.
Here are all 19 SEC players on the Outland Trophy watch list:
Alvin Bailey, OG, Arkansas
Josh Boyd, DT, Mississippi State
Chris Faulk, OT, LSU
Sharrif Floyd, DT, Florida
D.J. Fluker, OT, Alabama
Alex Hurst, OT, LSU
Gabe Jackson, OG, Mississippi State
John Jenkins, DT, Georgia
Luke Joeckel, OT, Texas A&M
T.J. Johnson, C, South Carolina
Wesley Johnson, OT, Vanderbilt
Barrett Jones, C, Alabama
Bennie Logan, DT, LSU
Jake Matthews, OT, Texas A&M
Travis Swanson, C, Arkansas
Dallas Thomas, OG, Tennessee
Larry Warford, OG, Kentucky
Chance Warmack, OG, Alabama
Jesse Williams, DT, Alabama
For the full Outland Trophy watch list,
go here
.
Alabama Dismisses Jonathan Taylor
SEC SCOREBOARD
Thursday, 9/3
Saturday, 9/5