Alabama Crimson Tide:

Donte Moncrief
January, 21, 2014
Jan 21
4:10
PM ET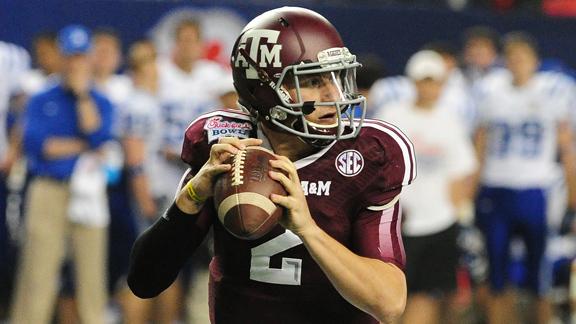 Earlier, we took a look at some of the underclassmen leaving the SEC and who could replace them at their respective schools. Now it's time to look at 14 pairs of the biggest shoes to fill in the SEC in 2014.
These are either graduates or guys who decided to take their talents to the NFL early. It's never easy to replace top players, but the SEC has a tendency to just reload. Let's see if SEC teams can replace these 14 studs:
ALABAMA
AJ McCarron, QB:
He won two national championships and went 36-4 as a starter for Alabama. He was also the first Crimson Tide quarterback to throw for 3,000 yards and was an excellent leader. Alabama must now turn to junior
Blake Sims
and a host of youngsters to fill his spot as Alabama's starter.
ARKANSAS
Zach Hocker, K:
A kicker? You bet. Hocker finished his career as the SEC's active career leader in extra points made, extra points attempted, field goals made, field goals attempted points. Hocker ranked in the top-five nationally among active players in field goals made, points, extra points made, extra points attempted and field goals attempted. He was also excellent on kickoffs and has no true heir in 2014.
[+] Enlarge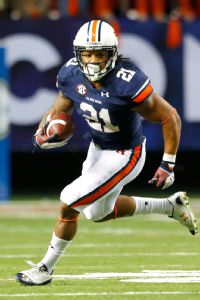 Todd Kirkland/Icon SMI Tre Mason's productivity won't be easy to replace for Auburn.
AUBURN
Tre Mason, RB:
Replacing the guy who set the single-season school record for rushing yards (1,816) and total offense (2,374) won't be easy at all. Mason carried Auburn's offense for most of the season and led the SEC in rushing and rushing touchdowns (23). The Tigers now turn to
Cameron Artis-Payne
and
Corey Grant
, who both rushed for more than 600 yards and six touchdowns last season. Also, keep an eye on incoming freshman
Racean Thomas
.
FLORIDA
Dominique Easley, DT:
Though his season was cut short by an ACL injury, Easley was so dominant when he was on the field. He was the type of player who didn't have flashy stats but created so many plays for other people. Losing someone as disruptive as Easley really showed as the season continued, as the Gators failed to get consistent pressure on opposing backfields.
Leon Orr
and
Darious Cummings
get first crack at trying to replace Easley.
GEORGIA
Aaron Murray, QB:
He won a handful of games, went to two SEC championship games and broke a ton of SEC records. Now, Murray is gone, and
Hutson Mason
has been given the duty of replacing one of the most decorated quarterbacks to ever play in the SEC. Mason got his feet wet early when Murray went down late with an ACL injury, but now this is his team and it's his turn to be a leader.
KENTUCKY
Avery Williamson, LB:
In his last two seasons in Lexington, Williamson totaled 237 tackles, including 116 solo stops. A leader of the defense, Williamson was all over the field, and it might take a committee to fill his shoes both in games and in the locker room. Kentucky was able to do more when Williamson was on the field, and now the Wildcats will need to find a new spark at linebacker.
LSU
Zach Mettenberger, QB:
We got to really see what Mettenberger was capable of once he got comfortable running Cam Cameron's offense. He was third in the SEC with 3,082 passing yards and threw 22 touchdowns. His big-league arm and awareness will truly be missed, as the Tigers turn to a band of inexperienced quarterbacks, starting with
Anthony Jennings
.
MISSISSIPPI STATE
Gabe Jackson, OG:
Quietly, he was one of the country's best guards in 2013. He was the anchor of the Bulldogs' line and was arguably the team's best overall player in 2013. Mississippi State has
Justin Malone
returning from a season-ending foot injury, while former walk-on
Ben Beckwith
, who replaced Malone, and
Jamaal Clayborn
should compete for one of the guard spots.
MISSOURI
E.J. Gaines, CB:
If not for Gaines' play, Missouri's secondary would have been in a lot of trouble last season. That means the loss of arguably the SEC's best cover corner will hurt that much more in 2014. What will make things even tougher for the Tigers is that two other seniors from the secondary will also be gone, but replacing Gaines is easily the toughest job of all.
OLE MISS
Donte Moncrief, WR:
He might not have had the same sort of season as he did in 2012, but Moncrief was yet again Ole Miss' top offensive weapon in 2013. He doesn't have elite speed, but he's such a tough player to cover with his size and strength. He could hit the big play deep or make the tough catches in traffic. The loss of Moncrief now puts the pressure on sophomore-to-be
Laquon Treadwell
, who led the Rebels in receptions.
[+] Enlarge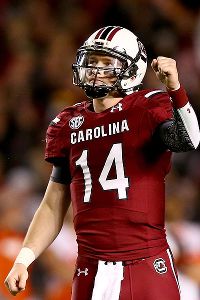 Streeter Lecka/Getty ImagesDylan Thompson will get the first crack at replacing Connor Shaw as South Carolina's QB.
SOUTH CAROLINA
Connor Shaw, QB:
With all due respect to future top-five pick
Jadeveon Clowney
, Shaw's play, toughness and leadership will be tougher to replace in Columbia. He was the heart of this team and played through all sorts of pain to help lead the Gamecocks to their third straight 11-win season.
Dylan Thompson
backed him up for the past two seasons and now has to job of following Shaw's impressive career.
TENNESSEE
Antonio Richardson, OT:
One of the best offensive linemen in the league, Richardson will be very tough for the Vols to replace in 2014, especially with young quarterbacks littering the backfield. Making matters worse is that the rest of the entire starting offensive line will be gone too. But not having that anchor at left tackle hurts the most.
TEXAS A&M
Johnny Manziel, QB:
Yeah, like replacing all the on-field theatrics from someone who won the Heisman Trophy and produced 9,989 career yards of offense and 93 touchdowns will be easy. Manziel could hurt a defense with his arm and legs and was only contained a few times during his two seasons as the Aggies' starter. No one will be able to produce the entertainment Manziel provided.
VANDERBILT
Jordan Matthews, WR:
One of the SEC's best all-time receivers is leaving the league. More importantly, he's leaving a Vanderbilt team that now has to find a consistent go-to receiver for its new quarterback. Sophomore-to-be
Jordan Cunningham
could be the next in line.
January, 16, 2014
Jan 16
2:30
PM ET
The official list will be released by the NFL this weekend, but the latest count of underclassmen leaving the SEC this year is 28. That's after 32 left early a year ago.
The
deadline to declare was Wednesday
, although players still have a window to change their mind prior to this weekend as long as they don't sign with an agent.
For the second straight year, LSU is losing the most. Seven players with eligibility remaining are leaving early to enter the draft, which is actually down from the 11 players the Tigers lost last year. Alabama is losing five players and Florida and South Carolina four apiece.
Below is an unofficial list:
ALABAMA
OLB
Adrian Hubbard
, OT
Cyrus Kouandjio
, DT
Jeoffrey Pagan
, S
Ha Ha Clinton-Dix
, S
Vinnie Sunseri
AUBURN
RB
Tre Mason
, OT
Greg Robinson
FLORIDA
DL
Dominique Easley
, CB
Loucheiz Purifoy
, CB
Marcus Roberson
, OLB
Ronald Powell
LSU
RB
Michael Ford
, RB
Jeremy Hill
, OG
Trai Turner
, WR
Odell Beckham Jr.
, WR
Jarvis Landry
, DT
Ego Ferguson
, DT
Anthony Johnson
MISSOURI
RB
Henry Josey
, DE
Kony Ealy
OLE MISS
WR
Donte Moncrief
SOUTH CAROLINA
DE
Jadeveon Clowney
WR
Bruce Ellington
, CB
Victor Hampton
, DT
Kelcy Quarles
TENNESSEE
OT
Antonio Richardson
TEXAS A&M
QB
Johnny Manziel
, WR
Mike Evans
January, 7, 2014
Jan 7
12:00
PM ET
Well, that was fun. Another college football season is in the books. It's Day 1 of the long, hard offseason.
October, 1, 2013
10/01/13
12:00
PM ET
TUSCALOOSA, Ala. -- It's safe to assume that
Eddie Jackson
understands the opportunity ahead of him at Alabama. He can't say as much publicly because of the school's policy prohibiting freshmen from speaking to the media. But given all he's already gone through, it would be a wonder if he didn't look back on his road to Tuscaloosa and comprehend the enormous turnaround it took for him to get there.
It's a wonder he's wearing Alabama's signature crimson helmet in the first place. The fact that he's starting at cornerback for the defending national champions is something even more implausible considering where he was at this time last year.
Jackson needed a change of scenery before any of the chips fell into place. He likely learned the value of a fresh start from his brother, Demar Dorsey, a former blue-chip defensive back prospect who signed a letter of intent to play for Michigan in 2010 but never made it to Ann Arbor. Dorsey's past included poor grades and three felony charges that robbed him of the opportunity to play at a BCS-level football program. He failed to meet Michigan's standard for admission, announced he would transfer to Louisville, failed to make it there because of more issues and eventually landed at Grand Rapids Community College. Dorsey was supposed to transfer to Hawaii in 2012, but he never reached the Big Island and today is not listed on Hawaii's roster.
[+] Enlarge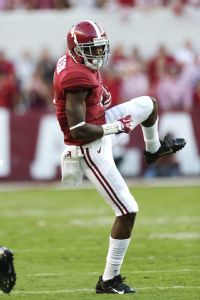 AP Photo/Dave MartinEddie Jackson was a virtual unknown in recruiting at this point last year. Now he's a key piece on defense for the No. 1 team in the country.
Wayne Blair knew of Dorsey's story when Jackson walked into his office at Boyd Anderson High in Lauderdale Lakes, Fla., looking to transfer after becoming academically ineligible at his previous school. Blair saw Dorsey's "pitfalls" up close at nearby University School, where he was an assistant in 2009. He took a chance on Jackson, who was then a junior with serious eligibility issues. His grades were "way below normal standards," said Blair, who helped get Jackson eligible just in time for spring football.
Blair's investment and Jackson's hard work paid off instantly.
"He played free safety for us at the time," Blair said of the spring game against University School, a national powerhouse. "He had an interception, he returned one for a touchdown and then had another interception. And I realized then that I had something really, really special on my hands."
Jackson, though, had no college offers at the start of his senior season. Blair worked the phones, calling contacts at all the major conferences looking for someone to take a flier on his wide receiver/defensive back, a tall kid with enormous raw potential. Blair said he told them, "I got a guy that if I can get him NCAA eligible, you might want to go ahead and put your vested interest into him." Of course, no one took him seriously.
What Jackson did on the football field as a senior caught their attention, though, making him an increasingly rare sight in college recruiting: a late-blossoming prospect.
"Every game he either did something extraordinary offensively or completely excellent defensively or on special teams," Blair said. "And the buzz started growing as we had ourselves a good year. We went into the playoffs and he went off."
Jackson's grandmother passed away early in Boyd Anderson's postseason run. Blair said that's when "he went from good to great within a two-week span."
Blair had to chuckle when he retold his "folklore of Eddie Jackson" by telephone this week. He remembered how Florida State offered Jackson as a wide receiver, LSU wanted him as a defensive back and Miami looked at him as a wide receiver. Alabama had him strictly as a cornerback, though, drawn to his raw athleticism and 6-foot-1 frame.
"We thought Eddie was a good player," Alabama coach Nick Saban said Monday. "There were some academic questions and some of those things. We're always looking for longer corners, guys that have got a little bit more size. We had
Maurice [Smith]
, who had committed to us. We were still looking for somebody else and we found Eddie. We'd known about Eddie, but we weren't sure we were going to be able to recruit him. As soon as we found out that he would be qualified and all that, we really jumped on him."
Being able to work closely with Saban, who coaches cornerbacks one-on-one at Alabama, was part of what swayed Jackson to sign with the Tide. The other factor was timing. With last season's top corner for Alabama, Dee Milliner, likely to enter the NFL draft and not much behind him in terms of depth, Jackson and Blair saw an opportunity to play right away.
"I knew he'd probably be jumping into the starting lineup; I just didn't know when," Blair said. "I was thinking by Week 6. Low and behold, here we are."
Blair's prediction was off by two weeks. Jackson accomplished the improbable, learning enough of Alabama's complicated defensive scheme by Week 4 that he was inserted into the starting lineup against Colorado State.
A week later he proved that his first start wasn't a fluke opportunity against a cupcake opponent, starting again against No. 21 Ole Miss. On Saturday, Jackson was fourth on the team in tackles, had two pass breakups and a key interception against the Rebels, prompting senior cornerback
Deion Belue
after the game to say, "We finally found a piece to our secondary so that we all can come together."
"He fit in perfectly," said safety
Vinnie Sunseri
. "Having
Jarrick [Williams]
and Deion [Belue] back was a huge part of it, too, but Eddie in there, and him getting comfortable and getting that one pick, kind of gave him that confidence booster that he needed. He played unbelievable. I was so proud of him."
Jackson's first-half interception was a defining moment. The rookie corner whiffed on
Donte Moncrief
, Ole Miss' veteran wideout, on the previous play, allowing a 36-yard gain and a first down. Coach Hugh Freeze then reached into his bag of tricks, calling for a backward pass to
Laquon Treadwell
, who looked toward Jackson's side of the field for a pass. But Jackson didn't bite on the fake, stuck to his assignment and secured the ball for the takeaway.
"He did everything perfect," Sunseri said. "He jammed the guy off the line, stayed, stepped in the divider, and he threw one right to him and he got the pick. It was a great momentum swing for us."
Saban, who covets long, aggressive corners such as Jackson, was pleased. He and his staff had been searching for an answer at the position after
John Fulton
and
Cyrus Jones
were torched by Texas A&M and
Mike Evans
, and in Jackson it appears they've found someone to work with. He's still just a freshman, but he's already done more in one game than all but Belue, Alabama's top on-ball defender.
"He played well," Saban said of Jackson. "Made a couple of mistakes, but I thought that most of those were because of communication, which is one of the things that we emphasize, where he wasn't sure about what the call was. But when it came to just his technique and what he was supposed to do and the way he competed in the game, I thought he did a really good job."
Blair, who talks to Jackson regularly, said it's now "his position to lose."
"Before it's all said and done, he could end up being the prototype defensive back like that guy over at Seattle, Richard Sherman," he said. "You have a tall, smart kid with good range, good hips. He can end up being the prototype Coach Saban has been looking for."
Reading into Blair's comments, it's clear he thinks that development could happen quickly. And why shouldn't it? It might seem improbable, but everything about Jackson's journey, going from academically ineligible with no college offers to a top prospect signing a letter of intent with Alabama, has been just that.
Jackson turned it around in a hurry in high school. What's to say he can't take the next step in just as timely a fashion? He's certainly showed he's no stranger to making the most of an opportunity.
September, 29, 2013
9/29/13
9:00
AM ET
Week 5 in the SEC provided what could have been the game of the year between Georgia and LSU. The nation's No. 1 team played up to its ranking, and there were plenty of impressive performances across the league. It's time to hand out the helmet stickers.

Aaron Murray, QB Georgia:
It wasn't long ago when Murray was labeled the quarterback who couldn't win the big game. It's time to throw that away. The senior finished 20-of-34 for 298 yards and five total touchdowns in Georgia's biggest game of the year. He has always been productive -- he could soon become the SEC's most productive quarterback of all time -- but add the clutch factor and there's no reason not to think he's a top contender for the Heisman this year. The Bulldogs control their own destiny in the SEC East, and Murray and company would love nothing more than a chance to avenge last year's loss to Alabama in the conference championship. They have to get through Florida first.
Zach Mettenberger, QB LSU:
It doesn't matter how well somebody plays, there has to be a winner and there has to be a loser. Unfortunately for Mettenberger, he finished on the losing side Saturday, but the former Georgia quarterback played admirably against his former team. He finished 23-of-37 for 372 yards with three touchdowns and no interceptions. Down the stretch, he made clutch throw after clutch throw to keep the Tigers in the game. LSU wide receivers
Odell Beckham
and
Jarvis Landry
had close to 300 yards receiving between them, but it starts with Mettenberger. He had a terrific homecoming but came up just short.
The Alabama secondary:
Before the game, Ole Miss quarterback
Bo Wallace
said he thought they could score on anybody. Evidently not Alabama. The No. 1 team in the nation shut out the Rebels, 25-0. Wallace singled out the Crimson Tide cornerbacks, saying they weren't exactly first-rounders, but
Deion Belue
and
Eddie Jackson
stepped up on Saturday. Jackson, a true freshman, was especially impressive locking up Wallace's favorite target
Donte Moncrief
for most of the game. He also came down with the Tide's lone interception. As a whole, the UA secondary held Ole Miss to just 159 yards through the air.
Mike Davis, RB South Carolina:
At halftime, it didn't look good for South Carolina. The Gamecocks trailed Central Florida, 10-0, and quarterback
Connor Shaw
was lost for the game with a shoulder injury. But Davis didn't care. He put his team on his back and carried it to victory. It started with a 53-yard touchdown run on the opening drive of the third quarter, the first points of the game for the Gamecocks. He scored twice more in the fourth quarter to extend the lead and put the game away. The sophomore back finished with 26 carries for 167 yards and three touchdowns as South Carolina survived a difficult road test.
The Texas A&M offensive line:
Johnny Manziel
gets most of the credit for Texas A&M's high-powered offense, but it was the offensive line that absolutely dominated Arkansas up front on Saturday. The Aggies rushed for 262 yards against the Razorbacks, averaging six yards per carry. No one player reached 100 yards rushing, but
Trey Williams
and
Tra Carson
played well down the stretch, and starting running back
Ben Malena
scored twice. Manziel still finished with 261 yards and two touchdowns through the air and another 59 yards on the ground, but it all started with the offensive line.
September, 28, 2013
9/28/13
7:00
AM ET
TUSCALOOSA, Ala. -- Get through this next game and regroup. That's the idea for Alabama after a shaky start to the season against Virginia Tech, Texas A&M and Colorado State. Should the undefeated Crimson Tide clear the final September hurdle and beat Ole Miss, the month of October will set up nicely with unranked Georgia State, Kentucky, Arkansas and Tennessee all in a row.
Here's what we'll be watching when the top-ranked Crimson Tide get back to SEC play against the 21st-ranked Rebels.


Think positive:
Nick Saban wants everyone to think happy thoughts. Alabama's coach has seen the frustration of the fan base permeate the locker room, and he doesn't like it. "The big thing we need, everyone needs," he said Wednesday, "is a lot of positive energy and to be excited about the challenges this team has." That is, the challenge of living up to its championship expectations. "They need to be supported and everybody doesn't need to sit around and say, 'Ah, what's wrong with these guys?'" Saban added. With that in mind, pay attention to the Crimson Tide's body language and the attitude. If expectations really are getting to these players and this program, it will inevitably show on the football field.
Shore up the secondary:
Nick Perry
wasn't the be-all and end-all to the Alabama secondary, but the senior safety was one of the most veteran contributors and a calming force on the back end of the defense. Perry stands to miss the rest of the season after undergoing surgery, robbing Saban of a piece of the defense he could sorely afford to lose. Thankfully for the coach, though,
Deion Belue
appears to be ready to go after sitting out last week's game, which gives the Tide back its top on-ball defender. Now Alabama must find some complementary parts.
John Fulton
, who was manhandled by
Mike Evans
and Texas A&M a few weeks ago, didn't start until the second half against CSU. He's a question mark. So is
Cyrus Jones
, who continues to show some growing pains after transitioning from offense this offseason. Saban said a freshman would have started had Belue not been able to go.
Maurice Smith
and
Eddie Jackson
, the two likeliest rookies to play, learned a lot against CSU, but they're nonetheless shaky with such little experience. They likely will be leaned on regardless, as Ole Miss likes to spread out on offense with
Donte Moncrief
and
Ja-Mes Logan
on the outside,
Laquon Treadwell
in the slot, and
Evan Engram
split out at tight end.
Establish the running game:
Sixty-six yards isn't going to cut it, not in Alabama's offense, which is still predicated on the ability to run the football. The Crimson Tide mustered just 66 yards rushing against a Colorado State team that came into the game allowing an average of 160 yards on the ground per game.
AJ McCarron
said earlier this week how this year's team is different, how it might not be a run-first team. Although that appears to be true, Alabama still must have some measure of success running the football. Too much of offensive coordinator Doug Nussmeier's scheme is dependent on working off of play-action. If the Tide offense isn't balanced, it simply won't work. Against an Ole Miss team that gives up just 114.3 yards per game on the ground (29th nationally) and 3.09 yards per carry (21st nationally), it should be even tougher sledding for Alabama.
T.J. Yeldon
& Co. don't necessarily have to run for last season's average of 227.5 yards per game, but getting over the 100-yard plateau would do wonders for the success and consistency of the offense as a whole.
Win third down:
Because of that lackluster running game, third down has become increasingly difficult for Alabama. Second-and-long has led to third-and-long, which has led to a lot of punts. UA ranks 98th nationally and next to last in the SEC by converting one of every three third-down attempts. That number shrinks even further when it's third-and-7 or more to go. Although it's hard for any team to convert on third-and-long, Alabama can do itself some favors and pick up positive yards on first down and stay ahead of the sticks.
Tempo, tempo, tempo:
It's the biggest thing that can take defensive players out of their rhythm, according to Saban, who said that communication and a sense of urgency are important against teams such as Ole Miss that like to push the tempo on offense. "When they go speed ball or hurry up and run a play really fast in 8 seconds," Saban said, "you barely have time to get lined up." Basically, it gets a defense out of whack by getting players out of position and making it difficult for the right play to get called in and relayed to everyone on the field. And Ole Miss does as good a job as anyone at creating that confusion with
Bo Wallace
upping the pace at quarterback whenever possible. He and running back
Jeff Scott
can go read-option and shake up the defense effectively. Alabama got a good dose of tempo against Texas A&M a few weeks ago, which should prepare the defense for what it will see Saturday, but, until the bullets start flying, it's hard to tell what the response will be.
August, 26, 2013
8/26/13
9:00
AM ET
It's officially game week! We all thought it wouldn't come, but it's finally here, and in just three days we'll have our first college football games of the 2013 season!
And what's a better way to kick off one of the most glorious weeks of the year than debuting the first set of power rankings for the season?
Here's where all 14 SEC teams rank in my eyes heading into the first weekend of the season:
1. Alabama:
The two-time defending national champion brings back an extremely talented defense and an All-American candidate at quarterback who will have a slew of weapons to work with. The question is if there's a team not named Alabama that can stop the Tide from winning its third straight BCS national title.
2. Texas A&M:
Reigning Heisman Trophy winner
Johnny Manziel
has received all the wrong kinds of attention this year, but as long as he's the Aggies' quarterback, A&M should again contend for the SEC West. Even with an ongoing investigation swirling around Johnny Football and his autographs, it doesn't sound like A&M plans to sit its star for Saturday's opener against Rice.
3. Georgia:
The Bulldogs lost a wealth of defensive experience from last year's team, but they still will operate with one of the nation's best offenses. There should be no shortage of points in Georgia's opening matchup against Clemson on Saturday, and it'll provide a nice test for the Dawgs' young defense.
4. South Carolina:
There are questions at linebacker and in the secondary, but having arguably the SEC's best defensive line could help mask some issues behind it early. Oh, and
Jadeveon Clowney
is still roaming around out there. The Gamecocks also should have quite the balanced offense to work with this fall, even if two quarterbacks are sharing snaps at times.
5. Florida:
The defense lost some key starters from last year, but it looks like year's defense won't miss much of a beat given the quality reps returners got last year. The offense is still a mystery, especially the passing game, as a consistent receiving target has to emerge. Also, not having running back
Matt Jones
after the first week would be a major blow.
6. LSU:
The return of running back
Jeremy Hill
and the maturation of quarterback
Zach Mettenberger
mean the Tigers should have a better and more explosive offense in 2013. It'll help to have a solid line and all of Mettenberger's top receiving targets returning, but can that rebuilt defense help get LSU back into BCS contention this fall?
7. Vanderbilt:
Off-field distractions could be clouding the minds of these players, but coach
James Franklin
has made sure to keep his guys as focused as possible. Expectations are higher than ever, as a very good -- and underrated -- defense returns, while the offense has the potential to be very explosive again. However, if starting receiver
Chris Boyd
misses time due to his suspension, Vanderbilt could be in trouble.
8. Ole Miss:
The expectations are higher in Oxford than they have been in years, but second-year coach Hugh Freeze would like those tempered a bit. Nineteen starters return, including All-SEC candidates
Donte Moncrief
and
Bo Wallace
. It's hard not to think the Rebels will build off the success Freeze had in his first year. Depth is still an issue in certain areas, and the start of the schedule is brutal.
9. Auburn:
With Gus Malzahn back on the Plains and Ellis Johnson working with the defense, the Tigers have the recipe to be better in 2013. No longer will coaches be trying to fit a square peg into a round hole on offense, and Johnson has proved to be a great at developing talent. Those are two things that lacked in last year's team. Also, Malzahn has said he's very comfortable with junior college transfer quarterback
Nick Marshall
, who fits his offense perfectly.
10. Mississippi State:
Dan Mullen is looking to take the Bulldogs to their fourth straight bowl game. The talent is certainly there to do it, but the road to the postseason will be challenging. Mississippi State has to replace its top four receiving threats and three starters in the secondary, including Jim Thorpe Award winner Johnthan Banks. Having veterans
Tyler Russell
and
LaDarius Perkins
working behind a solid offensive line will help, but this team has to generate more pressure from its defensive line.
11. Missouri:
The Tigers' SEC debut didn't go well at all last year, but injuries were a major factor. The offensive line is healthier, but communication issues in the spring really hurt the offense's growth. The hope is that the talent at receiver lives up to its potential, while the defense has to make strides at linebacker and in the secondary.
12. Tennessee:
New coach Butch Jones has brought a lot of excitement to the program, and he's building for the future. But in the present, a lot of questions remain, especially on offense. So much receiving talent is gone, and recently named starting quarterback
Justin Worley
has little experience. The defense returns a lot of experience and should be better-suited to run John Jancek's 4-3 defensive scheme.
13. Arkansas:
There's no question Bret Bielema's presence in Fayetteville has generated some much-needed excitement, but the personnel has to match Bielema's intensity. Right now, the name of the game is making sure players adapt to Bielema's more physical style. The inexperienced receiving corps has been ravaged by injuries plus a transfer, and the defense still has a lot of questions at linebacker and in the secondary.
14. Kentucky:
New coach Mark Stoops has known since day one that fixing the problems at the offensive skill positions was going to be tough. A quarterback has to be found, consistency at receiver must develop, and the running backs have to stay healthy. Defensively, the line is one of the SEC's best, but there are holes at linebacker and in the secondary. A turnaround is possible, but this team has a long way to go.
July, 12, 2013
7/12/13
3:00
PM ET
When:
Tuesday through Thursday
Where:
Hoover, Ala.

Big names in attendance:
QB
AJ McCarron
, Alabama; QB
Jeff Driskel
, Florida; QB
Aaron Murray
, Georgia; QB
Zach Mettenberger
, LSU; WR
Donte Moncrief
, Ole Miss; QB
Tyler Russell
, Mississippi State; QB
James Franklin
, Missouri; DE
Jadeveon Clowney
, South Carolina; QB
Johnny Manziel
, Texas A&M
Five biggest topics:
1.
What's to be done about Johnny Football? There's no question that Texas A&M quarterback Johnny Manziel has all of the talent to own the college football landscape in what likely will be his final season in College Station, but his off-field social media persona has drawn too much attention. Manziel is allowed to have as much fun as he wants. He's in college and he's young. But he's also one of the best college athletes around, and his team can't repeat what it did last season if he's not 100 percent focused. He, coach Kevin Sumlin and offensive lineman
Jake Matthews
will get bombarded with questions about controlling Johnny Football away from the field. What will Manziel's take be, and how will he handle the media circus?
2.
This hasn't been the best summer for the SEC. Outside all of the Manziel social media drama, the SEC faced some embarrassing arrests during the offseason. The biggest scandal revolves around Vanderbilt's football program, which suspended and then dismissed four players during an investigation by the Nashville Metro Police sex crimes unit. The police and coach James Franklin have been quiet about the situation, but Franklin will have to address it. The earlier he does, the better. He might not have to give too many details, but meeting the incident head-on will save him from further scrutiny and questions. Sumlin also will be asked about the recent arrests of defensive backs
Deshazor Everett
and
Floyd Raven
and the status of suspended defensive tackle
Kirby Ennis
. LSU coach Les Miles has been very quiet about running back
Jeremy Hill
's recent arrest and is letting it play out in the legal system, but chances are Miles will field plenty of questions about Hill and the effect on the team.
3.
Four coaches are making their first trips to SEC media days: Arkansas' Bret Bielema, Auburn's Gus Malzahn (first as head coach), Kentucky's Mark Stoops and Tennessee's Butch Jones. All have made early splashes in their own ways, but it's time to deal with the circus that is SEC media days. We'll ask them all about their quarterbacks, offenses and early recruiting success, especially of Jones and Stoops. Bielema likely will field questions about comparing the Big Ten to the SEC ... and his Twitter account. Malzahn will be asked about getting Auburn's offense back to where it was when he was the offensive coordinator. These guys should have "fun" answering every single one of these, too.
4.
Will Alabama make it three in a row? And which teams from the SEC can stop the Tide? We know that it's Alabama's world and we are all just trying to figure out the "process." Coach Nick Saban has all of the parts in place to win his third straight national championship and fourth at Alabama in five years. Saban & Co. will continue to talk about avoiding complacency and "fixing" whatever they deem isn't working at 100 percent. But what the country wants to know is who is ready to end the Bama dynasty? Can A&M tackle the Tide for a second straight year? Is LSU tough enough? Can Georgia's defense grow up fast enough? Can Florida's offense figure it out? Does Steve Spurrier have something up his sleeve? The people want to know!
5.
There are a lot of unsettled quarterback spots. Auburn had a two-man battle this spring between veteran
Kiehl Frazier
and rising sophomore
Jonathan Wallace
. Both left the spring pretty even. Kentucky had three vying for the No. 1 spot in
Jalen Whitlow
,
Patrick Towles
and
Maxwell Smith
. Whitlow has the slight edge. Missouri had
James Franklin
,
Maty Mauk
and
Corbin Berkstresser
fight it out. It looks like it's down to Franklin and Mauk, but coach Gary Pinkel has been quiet about it. Tennessee has
Justin Worley
and
Nathan Peterman
competing. Worley has the edge but little experience. And Vanderbilt watched
Austyn Carta-Samuels
and
Patton Robinette
compete. Carta-Samuels has the lead, but Robinette isn't out of it.
June, 27, 2013
6/27/13
1:00
PM ET
Editor's note: The season is nearly upon us and TideNation is taking steps to get you ready for every one of Alabama's regular season opponents. Every Tuesday and Thursday we'll go through each week of the Crimson Tide's schedule, starting with the season-opener against Virginia Tech and closing with the finale against Auburn.
The rundown
2012 overall record:
7-6
2012 SEC record:
3-5, fifth in the SEC West
Record all time against Alabama:
3-9-46
Last meeting:
Sept. 29, 2012 in Tuscaloosa, Ala.
Starters returning
Offense: 8; Defense: 11; Kicker/punter: 0
Top returners
DE C.J. Johnson, WE Donte Moncrief, LB Denzel Nkemdiche, LB Mike Marry, CB Charles Sawyer, RB Jeff Scott, QB Bo Wallace
Key losses
OG A.J. Hawkins, ATH Randall Mackey, DT Gilbert Pena, K Bryson Rose
2012 statistical leaders (*returners)
Rushing:
Jeff Scott* (846 yards)
Passing:
Bo Wallace* (2,994 yards)
Receiving:
Donte Moncrief* (979 yards)
Tackles:
Denzel Nkemdiche* (82)
Sacks:
C.J. Johnson* (6.5)
Interceptions:
Dehendret Collins*, Senquez Golson*, Denzel Nkemdiche* (tied at 3)
To continue reading this article you must be an Insider
May, 9, 2013
5/09/13
10:15
AM ET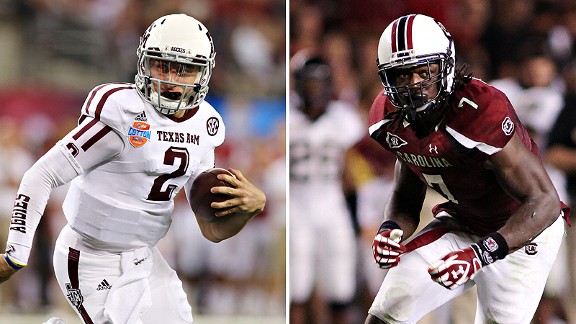 USA Today SportsTexas A&M's Johnny Manziel and S. Carolina's Jadeveon Clowney are top 2014 NFL draft prospects.
The SEC had a record 63 players selected in last month's NFL draft, including 12 in the first round.
I'm not sure it's realistic to expect that kind of haul next year, but it's never too early to start looking ahead to the 2014 draft class.
So, similar to a year ago, I've come up with our list of the SEC's top 20 draft prospects for 2014.
This isn't a mock draft. Likewise, it's not a ranking of who I think will be the best players in the SEC next season. Rather, it's a projection of who will be the most coveted NFL prospects from the SEC when the 2014 draft rolls around in April. In coming up with this list, I've talked to several draft analysts as well as NFL personnel, SEC coaches and others who are clued in to the whole draft process.
Some players will obviously play their way onto this list next season, while others will play their way off it. Injuries undoubtedly will be a factor, and then occasionally, guys will come from nowhere to be first-round picks.
Among the prospects I nailed this time a year ago were Alabama cornerback
Dee Milliner
, Alabama offensive guard
Chance Warmack
, LSU defensive end
Barkevious Mingo
and LSU safety
Eric Reid
.
Among those I missed the boat on were Texas A&M offensive tackle
Luke Joeckel
, Missouri defensive tackle
Sheldon Richardson
, Florida defensive tackle
Sharrif Floyd
and Alabama offensive tackle
D.J. Fluker
.
I had Arkansas quarterback
Tyler Wilson
No. 1 overall and South Carolina running back
Marcus Lattimore
in my top five. So it never goes exactly the way anybody predicts, especially 11 months before the draft.
Here goes with our 2014 list. Again, we're not suggesting all 20 will go in the first round or even the first two rounds. It's simply the order we think they will come off the board in next April's draft and includes only draft-eligible players:
1. Jadeveon Clowney, DE, South Carolina, Jr.:
The ultimate game-changer on defense, Clowney would have been a first-rounder had he been draft-eligible after his freshman season. Clowney then excelled in 2012, elevating his status as the 2014 No. 1 favorite.
2: Cyrus Kouandjio, OT, Alabama, Jr.:
A potential top-five pick in next year's draft, the 6-foot-6, 310-pound Kouandjio is everything you're looking for in a left tackle.
3. Jake Matthews, OT, Texas A&M, Sr.:
We know Matthews has the bloodlines, but he also has the game. He's shifting over from right tackle to left tackle for his senior season.
4. Antonio Richardson, OT, Tennessee, Jr.:
The man they call Tiny has the size and athleticism to be a franchise left tackle. Clowney said Richardson was one of the best tackles he faced a year ago.
5. Anthony Johnson, DT, LSU, Jr.:
There's a reason they call him Freak. They just seem to breed great defensive linemen at LSU, and Johnson is next in line.
6. Loucheiz Purifoy, CB, Florida, Jr.:
He's a pure cover cornerback with good size and an explosive athlete to boot. The Gators also will play him at receiver next season.
7. Johnny Manziel, QB, Texas A&M, RSo.:
Yes, Manziel is shorter than the NFL typically likes its quarterbacks, but do measurables really matter when you make as many plays as Johnny Football does?
8. Dominique Easley, DT, Florida, Sr.:
Easley is fully recovered from the torn ACL he suffered at the end of the 2011 season. He's sliding inside to tackle next season and will be a force for the Gators.
9. Adrian Hubbard, OLB, Alabama, RJr.:
We saw his ability to get to the quarterback in flashes last season. Look for Hubbard to take that next step in 2013 and become a premier finisher.
10. C.J. Mosley, LB, Alabama, Sr.:
As the saying goes, he's a football player. Mosley is a sure tackler. He's excellent in coverage and is always money whenever Alabama needs a big play.
11. Ha Ha Clinton-Dix, S, Alabama, Jr.:
In the past four drafts, Alabama has produced four first-round selections in the secondary. Clinton-Dix could be the top safety off the board next year.
12. Mike Evans, WR, Texas A&M, RSo.:
In his first season in the SEC, the 6-5, 225-pound Evans was sensational with 82 catches and 1,105 yards. He'll be even better his second time through.
13. AJ McCarron, QB, Alabama, Sr.:
Sure, he's been surrounded by great talent, but McCarron also has an NFL arm, delivers in the clutch and takes care of the football.
14. Jordan Matthews, WR, Vanderbilt, Sr.:
The 6-3, 205-pound Matthews is so smooth that he makes it look easy. And talk about productive. He averaged 109.6 receiving yards in eight SEC games.
15. Donte Moncrief, WR, Ole Miss, Jr.:
One of the more underrated players in the SEC, the 6-3, 215-pound Moncrief has a knack for finding the end zone with 14 touchdowns in his first two seasons.
16. Daniel McCullers, DT, Tennessee, Sr.:
This mountain of a man (6-8, 360 pounds) is still developing, but he should make an imposing nose tackle for a team that uses a 3-4 defensive scheme.
17. Marcus Roberson, CB, Florida, Jr.:
The "other" Florida cornerback also has big-time skills and was second in the SEC in passes defended last season with 14.
18: Chaz Sutton, DE, South Carolina, RJr.:
Clowney will get most of the attention next season, but don't be surprised if Sutton blows up and has a monster senior season.
19: Gabe Jackson, OG, Mississippi State, Sr.:
Jackson thought about coming out early this year. He returns as one of the top offensive guards in college football.
20: Aaron Murray, QB, Georgia, Sr.:
The opinions are mixed on Murray, who's bearing down on several SEC records. His numbers speak for themselves, and so does the way he approaches the game.
September, 27, 2012
9/27/12
5:04
PM ET
Ole Miss wide receiver
Donte Moncrief
is more than familiar with what his teammates will face when they travel Saturday to Tuscaloosa, Ala., to face the No. 1 Crimson Tide. He grew up knowing what trips to Bryant-Denny Stadium sounded like and felt like.
"I know how the crowd is -- very loud," he said. "There's a lot of energetic people in the crowd trying to get Alabama to make big plays."
Now a sophomore and Ole Miss' leading receiver with 343 yards and four touchdowns, he knows what he has to do on his return trip to the University of Alabama.
To continue reading this article you must be an Insider
July, 20, 2012
7/20/12
11:11
AM ET
HOOVER, Ala. -- Now that another year of SEC media days are through, it's time to take a look back at the best moments from this year's three days in the Wynfrey Hotel:
Best interview:
Yes, Missouri wide receiver
T.J. Moe
had a pretty good time with the media in Hoover and Arkansas coach John L. Smith seemed to win over the main ballroom during his press conference, but the best interview of the week had to go to Alabama offensive lineman
Barrett Jones
. The veteran strolled right into our interview room munching on pecan pie bites without a care in the world. But the real magic came during his video interview where he playfully crushed his best friend and former teammate William Vlachos and gave fellow SEC blogger Chris Low a shout out during his hit. Jones came prepared and knew how to have fun.
[+] Enlarge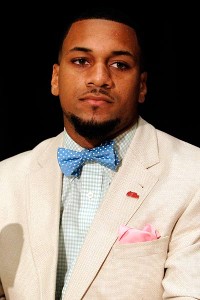 Butch Dill/AP PhotoOle Miss WR Donte Moncrief dresses to the nines for his appearance at SEC media days.
Best quote:
There were so many good one-liners from Moe that we're giving you our top three from the week:
Moe on what's different about the SEC: "They say girls are prettier here, air's fresher and toilet paper is thicker." -- Offensive lineman Elvis Fisher later told us that this line was planned after a conversation during the trip over.

But Moe wasn't done there: "Apparently Ryan Swope is a god because he can come in and get first-team all-SEC. But that's fine."

And this one really got to Arkansas running back Knile Davis: "In the Big 12, we put our best athletes on offense. [In the SEC], they put their best athletes on defense."
Best outfit:
The players came out and dressed well this week, like Auburn's
Corey Lemonier
and bow tie and red-striped socks and Vanderbilt's
Trey Wilson
in his slick charcoal suit with the black checkered shirt and red tie. But Ole Miss wide receiver
Donte Moncrief
stole the show with his colorful outfit. He rocked a light beige jacket over a checkered mint shirt and a blue bow tie. He was also equipped with salmon pants and a bright pink pocket square. The man dresses with confidence.
July, 11, 2012
7/11/12
2:11
PM ET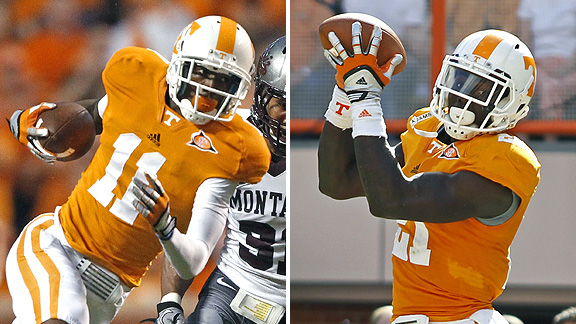 AP Photo/Wade PayneJustin Hunter (11) and Da'Rick Rogers (21) are considered to be the best receiving duo in the SEC.
Our SEC position rankings continue with a look at schools' wide receiver and tight end groups.
Past rankings:
On to the league's wide receiver/tight end groups:
1. Tennessee:
The Vols are equipped with two of the top wideouts in the league with
Da'Rick Rogers
, who was second in the SEC in receiving last year, and
Justin Hunter
, who might be the SEC's top deep threat. It sounds like Hunter will be 100 percent this fall after his ACL injury last year. Junior college transfer Cordarrelle Patterson is big, fast and possesses the big-play gene. The speedy
Zach Rogers
is back and is so is talented tight end
Mychal Rivera
.
2. Arkansas:
Cobi Hamilton
is now Arkansas' primary receiver, and he might be the league's most complete wideout. He can make the big-play and elude defenders along the way. While
Marquel Wade
's status is still unclear, if he does return, he'll be a major lift for this offense because of his playmaking ability in the slot.
Julian Horton
and
Javontee Herndon
have always impressed coaches in practice and now will get their chances to in games. Tight end
Chris Gragg
should be even more involved and is the league's top tight end.
3. Georgia:
While
Malcolm Mitchell
could go back and forth between receiver and corner, when he's at receiver he's Georgia's top offensive threat and was one of the league's best as a rookie. There are vets behind him, starting with reliable senior
Tavarres King
, who had a very good spring, senior
Marlon Brown
, who seemed to take a big step in his game this spring. Sophomores
Michael Bennett
and
Chris Conley
combined for 48 catches for 608 yards and seven touchdowns last year. Unproven tight ends
Arthur Lynch
and
Jay Rome
will replace Orson Charles and Aron White.
January, 10, 2012
1/10/12
4:23
PM ET
We officially said goodbye to the 2011 season Monday night and crowned the
Alabama Crimson Tide
as college football's new champions. Now, it's time to shift our focus to 2012. Here's to hoping the Mayans were wrong:

1. Alabama:
The defense will get hit the hardest by graduation and the NFL draft, but Alabama's offense should be better. While it's almost a forgone conclusion that junior running back
Trent Richardson
will declare for the NFL draft, Alabama returns a veteran offensive line, has a good set of up-and-coming receivers and has some pretty talented running backs to work with, including pounder
Eddie Lacy
. Oh, and that quarterback ain't too bad, either.
2. LSU:
The Tigers might have come up short in the big one, but it's not like LSU is going anywhere. That defense that ranked second nationally was made up by a slew of youngsters. LSU returns double-digit starters next year, including most of its front seven. A major bright spot for this team is that former Georgia quarterback
Zach Mettenberger
will now get his chance, and has skill that
Jordan Jefferson
and
Jarrett Lee
lacked.
3. Georgia:
The Bulldogs might return more starters next year than LSU. After surpassing expectations and challenging LSU for the SEC title, the Bulldogs should enter next fall as the favorites in the SEC East. Stud quarterback
Aaron Murray
returns and so do most of his weapons. With arguably the easiest schedule (again) in the SEC, Mark Richt will be expected to take his Dawgs back to Atlanta.
4. South Carolina:
There won't be any sleeping on the Gamecocks in 2012. After getting 11 wins for only the second time in school history, South Carolina should compete for the SEC East for the third straight year. The Gamecocks return a slew of talent, especially on defense, and saw tremendous improvement in quarterback
Connor Shaw
. Also, running back
Marcus Lattimore
should be back and healthy after his devastating season-ending knee injury.
5. Arkansas:
The Razorbacks will lose a lot of key players that have helped Arkansas get to where it is under Bobby Petrino. Defensively, five seniors will say goodbye, while the offense will lose three NFL wide receivers. However, that offensive line, which grew up as the season progressed, will be much better and star running back
Knile Davis
should be back and healthy. Quarterback
Tyler Wilson
is back, so there shouldn't be much dip in the passing game even with some new faces at receiver.
6. Auburn:
Those youngsters on the Plains will be more mature and much improved in 2012. That has to be a scary thought for other SEC members. Auburn doesn't lose much from its 2011 team and gets a great addition to the defensive side of the ball in new defensive coordinator Brian VanGorder. Offensively, there are weapons everywhere, but the key will be finding the right quarterback ... again.
7. Florida:
Will Muschamp's first year as the Gators' head coach didn't go as planned, but there is still a lot of talent in Gainesville, especially on the defensive side of the ball. Florida loses just one starter on defense and should have one of the fastest, most aggressive defensive units around the SEC. Getting that offense going will be key to Muschamp's second year, but with all that turnover, it should be a fresh start for this unit.
8. Missouri:
This new group of Tigers enters 2012 as a factor in the SEC East. Missouri returns nearly everyone from 2011, including quarterback
James Franklin
and running back
Henry Josey
, who both put up solid numbers in 2011. The Tigers will no doubt hit some snags as they transition into their new home, but with all the talent that returns, Missouri won't be a pushover in its first year in the SEC.
9. Tennessee:
Derek Dooley has the pieces in place on both sides of the ball to compete in the SEC East. That young defense won't be so young in 2012 and quarterback
Tyler Bray
returns with his deep-threat sidekicks at wide receiver. With a solid offensive line, the next step for Tennessee is to find a consistent running back to help take the pressure off of the passing game. There's a lot of pressure on Dooley to get things done, and he has the talent to in 2012.
10. Texas A&M:
The Aggies have the pleasure of entering the SEC as a Western Division team. That's not exactly a warm welcome. It doesn't help that Texas A&M is losing a ton from its 2011 team. There could be six NFL draft picks who won't be back in College Station next season. Quarterback
Ryan Tannehill
and top safety Trent Hunter are gone, and so is receiver
Jeff Fuller
.
Christine Michael
should do well as
Cyrus Gray
's replacement at running back, but the core of this team will be gone.
11. Vanderbilt:
Year 1 of the James Franklin era was a success and there shouldn't be a lot of drop-off for the Commodores next season. Vandy loses top defenders Chris Marve, Tim Fugger and Casey Hayward, but a lot of veterans return on that side of the ball.
Jordan Rodgers
is back at quarterback,
Zac Stacy
returns at running back and wide receivers
Chris Boyd
and
Jordan Matthews
will be back. Running back and specialist
Warren Norman
should be back too and the offensive line returns four starters.
12. Mississippi State:
The Bulldogs lose a lot on both sides of the ball in 2012, but should have a top cornerback combo in Johnthan Banks and Corey Broomfield. Losing Fletcher Cox up front will leave a hole on the defensive line and saying goodbye to linebacker Brandon Wilson won't be easy.
Tyler Russell
will probably get the first crack at quarterback for the Bulldogs, but he will be without his safety net in running back
Vick Ballard
. The good thing is that the receivers are back, but this team will have to grow up in a hurry.
13. Kentucky:
The offensive line will have some missing pieces in 2012 and the defense loses six starters, including star linebacker Danny Trevathan.
Maxwell Smith
and
Morgan Newton
will battle at quarterback, but with how 2011 ended, Smith might have the advantage. This team struggled mightily on offense and the problem was that there wasn't a lot of improvement throughout the year. The offseason should be dedicated to find ways to get this offense moving.
14. Ole Miss:
Hugh Freeze steps into a tough situation at Ole Miss. His first order of business needs to be improving the discipline on this team. It was awful in 2011, and if Ole Miss wants to improve it has to clean that up. The defense should get a boost with leader D.T. Shackelford returning from his season-ending knee injury and offensive playmakers
Jeff Scott
,
Donte Moncrief
and
Nickolas Brassell
are back. The offensive line loses some key components, and the quarterback situation is far from figured out.
Recruit Comparison: Kouandjio to Big Cam
SEC SCOREBOARD
Saturday, 12/21
Monday, 12/23
Tuesday, 12/24
Thursday, 12/26
Friday, 12/27
Saturday, 12/28
Monday, 12/30
Tuesday, 12/31
Wednesday, 1/1
Thursday, 1/2
Friday, 1/3
Saturday, 1/4
Sunday, 1/5
Monday, 1/6