Alabama Crimson Tide:

Denard Robinson
November, 9, 2012
11/09/12
8:30
AM ET
TUSCALOOSA, Ala. -- With No. 1 Alabama's matchup against No. 15 Texas A&M on the horizon, let's take a look at the two schools with a fine-tooth comb.

With the help of the ESPN Stats and Information Department, we broke down three keys to the game:



1. Running wild


• Alabama runs downhill with 68.3 percent of their designed running plays coming between the tackles in SEC games. The Tide average 6.4 yards per carry on such running plays with about one in every 4.5 attempts going for at least 10 yards.


October, 18, 2012
10/18/12
3:48
PM ET
By
ESPN Stats & Information
| ESPN.com
The
Alabama Crimson Tide
have a chance to do something this week that's never happened in their tradition-rich program. The Crimson Tide have scored at least 33 points in all six games this season, but they have never reached the 33-point mark in seven consecutive games.

Last season was the only other time Alabama had a streak of six such games, which was broken with the 9-6 loss to LSU. More good news for Alabama? This season is the sixth time that Alabama has scored at least 33 points in at least five consecutive games in a single season (1920, 1945, 1973, 2009, 2011). Of those previous five seasons, the Tide's combined record is 57-3 with three national championships (1973, 2009, 2011).
As for the other SEC team in the state of Alabama, the
Auburn Tigers
are 1-5 (0-4 in the SEC) just two seasons after claiming the national championship.

The Tigers are the fourth team in the AP Poll era (since 1936) to start a season 1-5 or worse within two years of winning the national title -- and no team has done it since Michigan State in 1954 (won title in 1952). The others are Ohio State in 1943 (won title in 1942) and TCU in 1939 (won title in 1938). All three of those teams started 1-5 in those seasons. The last team to finish a season with a losing record within two years of winning the national championship? Georgia Tech went 5-6 in 1992.
September, 13, 2012
9/13/12
1:45
PM ET
By
ESPN Stats & Information
| ESPN.com
1.
Matt Barkley
has thrown 119 consecutive passes against five or more pass-rushers without an interception -- a streak that dates to Sept. 24 of last season. During that time, Barkley has thrown 18 touchdowns when opponents blitz, including four games with at least three touchdown passes.

The first of those four games was against Stanford last year in Week 7, Barkley's second career three-touchdown game against the Cardinal blitz. Overall, Barkley has thrown 37 touchdowns and three interceptions against blitzes since the start of his sophomore season.
2. UL Monroe faces Auburn on Saturday after pulling off a stunning upset of Arkansas last week. In the process, the Warhawks can achieve something that hasn't been done in 24 years. The last team not currently in a BCS-AQ conference to beat SEC opponents in consecutive games was Tulane in 1988. In 1988, the Green Wave beat Ole Miss on Nov. 5 and then knocked off Mississippi State. Memphis pulled off a similar feat just a few weeks earlier in 1988, beating Mississippi State and Florida in consecutive games.
3. Alabama begins its SEC slate this week at Arkansas. On the field, Alabama has won 20 straight SEC openers, with its last loss coming in 1991 to Florida. (Note: Some of those games have since been vacated or forfeited.)

How impressive is that? Not only is it the longest current win streak in conference openers, but it beats the next highest by eight. Boise State has won 12 straight conference openers dating to 2000, accomplishing that in three different conferences. The Broncos open their 2012 conference schedule on Sept. 29 at New Mexico.
4. Last week against Air Force,
Denard Robinson
had more total yards (426) than the entire Michigan team (422). One big reason for this was Robinson's 218 rushing yards. The remainder of the team had minus-4. While this seems like it would be a rarity, it isn't. In fact, he wasn't even the only player to accomplish this last week (Temple's
Chris Coyer
). Since 2004, it's happened 25 times, and the only player to do it twice over that stretch? Indiana's Kellen Lewis in 2007.
5. Michigan State soared into the AP Top 10 this week, and that could be bad news for its opponent this week.

Notre Dame has lost nine straight games against AP Top 10 teams by an average of more than 15 points per game. The last time the Fighting Irish beat a team in the top 10 was 2005, when they knocked off No. 3 Michigan. The nine-game losing streak is the longest in Notre Dame history. The previous longest was seven games spanning 1984-86.
September, 2, 2012
9/02/12
12:15
AM ET
The bright lights and the big stage certainly didn't affect the focus of the defending champs, as No. 2 Alabama routed No. 8 Michigan
41-14
on Saturday inside Cowboys Stadium in Arlington, Texas.


Alabama's defense might be younger, but it didn't flinch against Michigan's flashy spread offense. The Tide's defense smothered the Wolverines, holding them to 268 total yards, forcing Michigan to go 3-of-12 on third downs and creating three turnovers.
Alabama's offense was equally impressive. The Tide showed tremendous balance, as quarterback
AJ McCarron
passed for 199 yards and two touchdowns, while true freshman running back
T.J. Yeldon
rushed for 111 yards and one touchdown on 11 carries.
It was over when:
This one got away from Michigan early, but you could really feel this one was officially out of hand after Alabama running back
Eddie Lacy
bullied his way into the end zone for a 9-yard touchdown to make it 21-0 with 1:24 left in the first quarter.
Game ball goes to:
Alabama defensive coordinator Kirby Smart called a near-perfect game against an offense many thought would give the Tide issues. Smart and his players were more than prepared against
Denard Robinson
and that spread. Robinson was all over the place with some of his early passes, and was pressured and contained by Alabama's front seven for most of the night, basically taking him out of the game.
Stat of the game:
Michigan didn't give up more than 40 points in any game last season. The Wolverines surrendered 41 points Saturday night and gave up 31 by halftime.
Unsung hero
: There was a lot of talk about what Alabama's defense would do, especially the secondary. That put a lot on the shoulders of senior cornerback
Dee Milliner
. But he made quite the statement Saturday. He showed lockdown ability, knocked passes away and came away with his own interception. He's certainly the leader of this group.
What it means for Alabama:
People wondered what the defending champs had in the tank with the pieces they lost on defense, and Alabama delivered a monstrous punch. It was only one game and SEC play hasn't started, but Alabama yet again looks very strong on both sides of the ball. That's a scary thought for the rest of the country ... and the SEC.
What it means for Michigan:
This wasn't Robinson's best game, and there were a few plays in the first half that should have been made. But the Wolverines likely won't play a defense as dominating as Alabama's from here on out. The other good news is that suspended
Fitzgerald Toussaint
and defensive end
Frank Clark
will return. This team can still make a run in the Big Ten.
August, 30, 2012
8/30/12
7:40
AM ET
TUSCALOOSA, Ala. --
AJ McCarron
and
Denard Robinson
could not be two more different quarterbacks.
One lives and dies with the pass, the other is as comfortable running with the ball as he is throwing it.
But who is best; who does more with the ball: Robinson or McCarron?
No one doubts Robinson holds the edge in celebrity, but is he that much more effective a quarterback than his SEC counterpart?
With the help of the ESPN Stats and Information Department, let's break down the two quarterbacks in terms of passing, rushing and clutch situations:
Passing
Throws of 15 or more yards (career)
• Robinson has not improved much throughout the years on these passes. In 2011, he completed 38.1 percent of his passes with seven touchdowns and six interceptions.
• McCarron was 5 of 9 for 105 yards on throws of this distance in the BCS National Championship Game
Rushing
Robinson's long runs
• Robinson leads the FBS with 102 rushes of 10-plus yards since 2010. Robinson has had at least one such run every game during the last two seasons, including seven games with at least five such runs. A.J. McCarron has one rush of 10-plus yards in his career.
Most 10+ Yard Rushes Since 2010:
Denard Robinson, Michigan – 102
Bobby Rainey, Western Kentucky – 91
LaMichael James, Oregon – 91
Robinson Designed Running Plays:
Clutch situations
In the red zone (2011):
Fourth-quarter passing (2011):
Third-down passing (2011):
Against the blitz (2011):
• McCarron completed 60.9 percent of his passes with three touchdowns and no interception against the blitz when facing SEC opponent last season, including 8 of 13 passes against LSU in the BCS National Championship game.
August, 29, 2012
8/29/12
9:05
PM ET
TUSCALOOSA, Ala. -- Somehow, the University of Alabama and Michigan have never played one another in the regular season in their 1,709-game history. The two schools have combined to win 25 national titles, but have only met on the field three times -- all in bowl games.

As the Maize and Blue and the Crimson Tide gear up for their first-ever regular-season showdown Saturday, the differences between the two programs might not as numerous as you might think, though. Common threads still exist.

Take for instance Michigan offensive coordinator Al Borges. The 56-year-old assistant coach caught on with Brady Hoke at San Diego State in 2009 and made the trip with him to Ann Arbor, Michigan, in 2011 when Hoke was hired to replace Rich Rodriguez.

Before Borges ever coached in the Mountain West Conference, he made a name for himself in the SEC at Auburn, beating up on Alabama in his four seasons on the Plains. He went undefeated in the Iron Bowl from 2004-2007, winning the four games by a combined score of 98-56.

While Alabama coach Nick Saban was a part of just one of those losses to the Tigers, he said on Wednesday that there's a familiarity and respect for what a Borges-run offense looks like.


August, 28, 2012
8/28/12
8:24
PM ET
TUSCALOOSA, Ala. -- The University of Alabama defense has been asked about it all week: How do you stop
Denard Robinson
? How do you keep one man with so much talent down?
While coach Nick Saban and the rest of the defense conceded Robinson is a man to be reckoned with, cornerback
Dee Milliner
said it comes down to discipline.
"It's tough when you have a guy like him that's a run-pass quarterback back there," Milliner said. "If you don't contain him or you mess up on the line, he can take it the distance himself."
August, 27, 2012
8/27/12
5:47
PM ET
TUSCALOOSA, Ala. -- The University of Alabama defense is making no bones about it: They plan on knocking the bronze off
Denard Robinson
's Heisman campaign.
The Crimson Tide want to get to the Michigan Wolverines' indomitable quarterback and make their presence known from the opening snap when the two schools meet in Arlington, Texas, on Saturday.
Defensive end
Damion Square
already has a plan laid out. He can even tell you the way it will happen.
"Bootleg. Sack. First play," Square said with a smirk. "13-yard loss."
There wasn't any hesitation in Square's voice. It's something he's thought about often.
"No doubt about it," he said.
The Alabama defense will have its hands full with Robinson, who enters the season as a potential candidate to win the Heisman Trophy. The senior quarterback is a play-maker on offense, a threat throwing the ball or tucking it down and taking off in a sprint down the sideline. Last season, Robinson led the team in passing and rushing. He threw for 2,173 yards and rushed for 1,349 more. He combined to score 36 touchdowns.
August, 14, 2012
8/14/12
8:02
PM ET
TUSCALOOSA, Ala. -- With Nick Saban's role as college football czar seemingly expanding by the day, it was only a matter of time before the sport's off-the-field issues would find a way to his podium in Tuscaloosa, most notably
Tyrann Mathieu
's unceremonious exit from LSU.
While the sixth-year coach of the Crimson Tide would not comment specifically on Mathieu's situation, he did take a moment to point out the larger issue.
"This is not a football problem," Saban said. "This is a national problem."
May, 24, 2012
5/24/12
9:17
AM ET
By
TideNation staff
| ESPN Insider
Each week at TideNation we'll speak with a writer who covers one of Alabama's opponents this season. Today, we spoke with WolverineNation beat writer Mike Rothstein.
[+] Enlarge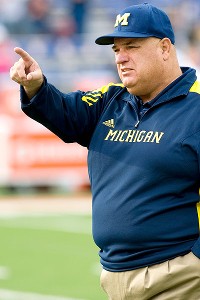 Lon Horwedel/Icon SMIU-M offensive coordinator Al Borges will have his hands full against a talented Alabama defense.
Q: Michigan closed the season out strong in January, beating Virginia Tech in the Sugar Bowl. How has that momentum carried over during the spring?
Mike Rothstein: Michigan's offense, save Junior Hemingway, struggled against the Hokies. But the win definitely gave the Wolverines more confidence heading into next season. I think it also started to set up the leadership core for this upcoming season: Denard Robinson, Jordan Kovacs and Taylor Lewan. If anything, however, the Sugar Bowl gave Michigan an idea of how far it needed to go to continue to compete on an elite level nationally. The season-opener against Alabama is such a test.
Q: Denard Robinson is obviously the biggest threat on offense for the Wolverines. What do you expect from him in his senior year?
M.R.: For much of the spring, a lot was made of Robinson's improved accuracy and decision-making. Whether it is true or not remains to be seen. Robinson played one series in the public spring scrimmage and Robinson was made to look very good in the pre-packaged highlights of practices Michigan put on its website. It'll be interesting to see how he deals with pressure from Alabama.
Q: The defensive line lost a lot from last year. How do you see the defense as a whole coming together in 2012?
M.R.: The defensive line lost a lot but everyone else returns for Michigan. The secondary, which was once a weakness for the Wolverines, now has its top six cornerbacks returning from last season and also has a strong pair of starting safeties in Kovacs and Thomas Gordon. With a Greg Mattison-led defense, though, much of what he likes to do comes from defensive line pressure. It is a defensive line with three new starters and four guys playing different positions -- senior Craig Roh moved from rush end to strong side end in the offseason. Roh is going to have to have a big year as the rest of the line is untested. Jibreel Black has shown flashes, but is moving inside from an end spot. Will Campbell has always had potential, but never shown it with any consistency during his first three seasons. Brennen Beyer and Frank Clark will play rush end and should form a strong tandem. It'll be a place, however, where Alabama can attack on Sept. 1.
Q: We've got months to dissect everything about Alabama-Michigan. What do you think of the hype behind this game? Can it live up to the talk?
M.R.: Yes and no. If people understand that it is an opener and both teams are going to make some errors, I think it'll be a pretty good football game. Hype always concerns me because very rarely do games live up to it -- Kentucky-Indiana in last season's Sweet 16 was an exception -- but this will be two of the top teams in the nation playing. I'm expecting a competitive game.
Q: Give me your argument for Michigan beating Alabama in Cowboy Stadium.
M.R.: If Denard Robinson has improved as much as he and offensive coordinator Al Borges say he has, he'll be a tough player for Alabama to deal with, especially as it breaks in new players on defense. Robinson is usually good for two or three long runs a game. If those long runs turn into touchdowns, especially early, Michigan will have confidence.
Q: And, now, what are some obstacles that might prevent that from happening?
M.R.: Speed and overall talent. Alabama is perennially one of the top recruiting teams in the country and whenever Nick Saban looks like he might have a team taking a step back, that team ends up in the middle of the SEC conference title talk anyway. Michigan also is replacing David Molk at center and if snaps don't go well the first few series, confidence in the shotgun could become an issue with new center Ricky Barnum. There are still major questions about Robinson's accuracy so if he hasn't improved like Michigan claims, it could be a long night because he is prone to making a few bad decisions a game with the ball.
To continue reading this article you must be an Insider
May, 24, 2012
5/24/12
7:30
AM ET
The rundown
Michigan's 2011 record:
11-2
[+] Enlarge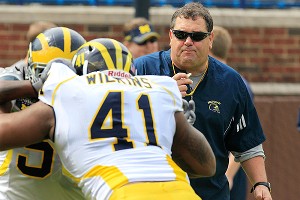 AP Photo/Carlos OsorioBrady Hoke and Michigan might catch Alabama at a good time when the teams meet to open their seasons.
All-time against the SEC:
24-8
To continue reading this article you must be an Insider
May, 18, 2012
5/18/12
6:02
PM ET
Michigan's season opener against defending national champion Alabama is beginning to loom larger and larger. The Wolverines' ticket allotment is sold out. Students and fans are planning road trips to the game, in Arlington, Texas. The hype has begun.
But for Michigan offensive coordinator Al Borges, it's business as usual around the offices.


"We're not going down there like it's a bowl game. We're going down there like we're playing in the Big House, first game of the season," said Borges, who spoke at the annual Mott Takeover radiothon fundraiser. "Alabama is a heck of a football team, but I would be watching the first game of the season no matter who it was."
Marquee matchup or not, the Wolverines have begun game-planning for the Crimson Tide.
Borges said he has watched a lot of game film on Alabama, but the part of its game that has stood out the most has been the speed on the field. Opponents averaged less than 200 yards per game against the Crimson Tide defense last season.
"They're fast guys," Borges said of Alabama. "Coaching down there [Borges was the OC at Auburn from 2004-07], I'm very aware. Plus, they're very well trained. Their staff, (defensive coordinator) Kirby Smart does a great job and (head coach Nick) Saban is a defensive guy by nature."
April, 24, 2012
4/24/12
9:49
AM ET
TUSCALOOSA, Ala. -- Even as the Crimson Tide practiced in shells and shorts this April, coach Nick Saban had opening day on his mind.
[+] Enlarge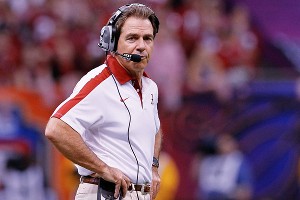 Kevin C. Cox/Getty ImagesNick Saban is already preparing for Michigan.
While the rest of the country waited on a groundhog to usher in the start of spring, the University of Alabama coaching staff prepared for a pack of wolverines.
The colossal Alabama-Michigan matchup at Jerry Jones' equally enormous Cowboys Stadium won't be left wanting for anticipation or, as it turns out, preparation. Tickets for the 80,000-seat venue are nearly sold out (a handful of $30,000 suites remain if you're into that sort of thing), hotels are slammed and travel routes are already being arranged as two of the country's most storied programs go head-to-head for the first time in more than a decade.
Saban, who has ties to the Great Lakes where he spent 10 years as both an assistant and head coach at Michigan State, isn't doing anything to stall the hype machine. Several times during spring practice he said he'd begin introducing next year's opponents, specifically citing the Michigan game.
In fact, following Alabama's A-Day scrimmage, the fiery coach let it be known just how serious he's taking the season opener. If anyone expected a glimpse of the game plan that day, they were wrong.
Jonathan Taylor Arrested Again
SEC SCOREBOARD
Thursday, 9/3
Saturday, 9/5