Alabama Crimson Tide:

Dabo Swinney
September, 10, 2013
Sep 10
9:00
AM ET
By the time the sun sets Saturday on the East Coast, another one of the preseason heavyweights in the SEC will be sporting a loss.
And in unison, the rest of the college football world will let out a collective cheer.
One of the ways to look at the Alabama-Texas A&M showdown is that the winner will be in primo position to make a run at the national championship.
But there's another subplot to the game in College Station: The loser will be the fourth SEC team ranked in the top 10 of the preseason polls to lose -- only three weeks into the season.
After watching Florida fall last week at Miami and Georgia stumble to open the season at Clemson, the anybody-but-the-SEC crowd is starting to rev its engines and ponder the possibilities.
Maybe the big, bad SEC is showing a few cracks in its foundation, and just maybe this is the year that a BCS National Championship -- the last one, as fate would have it -- is played without an SEC team as a participant.
There are still so many ways this season could go, but the feeling coming in was that the surest way for the SEC's seven-year national championship streak to end was for the league to beat up on itself.
Stay tuned on that front, but it certainly looks like everybody in the SEC has a few warts.
Even Alabama was average at best offensively in its season-opening 35-10 win over Virginia Tech. We'll find out a lot more about the Crimson Tide this weekend, but part of their issues offensively in the opener can be attributed to how physical Virginia Tech's front seven was on defense.
The Hokies flat got after Alabama, and unlike past years when the Tide were playing with an NFL-esque offensive line, they didn't respond particularly well.
Meanwhile, the rest of the college football world is starting to smell blood, SEC blood.
Is that premature?
[+] Enlarge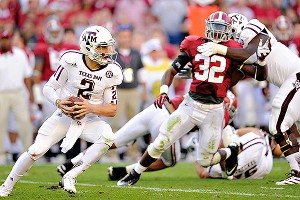 John David Mercer/USA TODAY SportsSaturday's showdown between Alabama and Texas A&M should provide some answers about the path to the national championship.
Sure it is, but it's going to be fascinating to see how it all plays out, because more than ever, it's the SEC versus the rest of college football.
Comparing scores this early in the season is meaningless, but Clemson did beat Georgia, which beat South Carolina.
After Miami took down Florida last week, Clemson coach Dabo Swinney chortled, "How about that ACC? Spunky little old league."
The best part was Swinney flashing the "U" sign as he walked out of the interview room following Clemson's 52-13 pasting of South Carolina State.
The gamesmanship makes it a lot more fun, and Clemson is hardly the only team that's a legitimate threat to the SEC this season.
At first glance, Oregon appears to be faster and more explosive than ever, and nobody's sleeping on Stanford. Louisville could easily go unbeaten when you look at the Cardinals' schedule, and it's not far-fetched to think that an unbeaten team could come out of the Big Ten this season either.
Ultimately, it's probably going to come down to how much damage is doled out within the SEC's own parameters.
What's more, is there another Texas A&M lurking similar to a year ago?
The Aggies went from unranked to taking down Alabama in Tuscaloosa last November and were playing as well as anybody in the country by season's end.
LSU was sort of the forgotten team in the league to begin this season after losing so many star defensive players, but the Tigers' passing game has taken flight under first-year offensive coordinator Cam Cameron and it's hard to see an appreciable drop-off on defense to this point.
Again, though, LSU has to play at Georgia in three weeks and at Alabama in November.
One of the constants in the SEC's national championship run has been suffocating defense. It's not a coincidence that six of the seven national champions during the streak have finished in the top 10 nationally in total defense.
The early returns suggest that some of the offenses are perhaps catching up with the defenses in this league. But, then, maybe some of the defenses this season simply aren't what we've grown accustomed to in the SEC.
South Carolina was torched for 536 yards last week in its loss to Georgia, which has given up 68 points in its first two games, albeit to a pair of top 10 teams.
Texas A&M has been playing with a patchwork unit defensively thanks to suspensions, but the Aggies have given up 59 points in their first two games -- to Rice and Sam Houston State.
Florida is a load on defense, but the Gators haven't shown nearly enough offensively to think that they could be a national championship contender.
LSU's toughest tests are yet to come defensively, which leads us back to the Crimson Tide.
They've won national championships each of the past two seasons despite losing games at home in November.
One of the things that make Saturday's game so pivotal for both Alabama and Texas A&M is that neither team has a tough draw in the East this season. They both avoid Florida, Georgia and South Carolina.
So the path to the national championship gala will clear up considerably for the winner Saturday.
Even so, it's a race after a few laps around the track that has everybody outside the SEC's footprint believing, anticipating and hoping that the league everybody has been chasing for the better part of the past decade may finally be losing a few steps.
June, 18, 2013
Jun 18
7:30
AM ET
TUSCALOOSA, Ala. -- There's a list somewhere inside the walls of the University of Alabama athletic offices with names on it, some we could guess and some that would surely surprise us. In the event that a coaching hire becomes necessary, the list is brought out as a rough outline of prospective candidates for the job. Every athletic department has the same piece of paper with coaches' names on it, and Alabama is no different.
"We keep a good list of what happens if a truck hits somebody," UA athletic director Bill Battle quipped on Monday morning, "because you never know when you're going to need to hire somebody."
Sometimes the truck is a bad season. Sometimes the truck is retirement. Sometimes the truck is simply a vehicle that takes a coach away for one reason or another.
To continue reading this article you must be an Insider
June, 13, 2013
Jun 13
7:00
AM ET
TUSCALOOSA, Ala. -- The viewing public wants it, the league commissioner wants it and frankly it's good for the health of the sport as a whole. SEC schools need to improve their nonconference schedules and remove all doubt about any supposed lack of strength of schedule.
With that in mind, TideNation takes a look at 10 nonconference opponents we'd like to see on Alabama's schedule:
Boise State
Last Meeting:
N/A
Who wouldn't want to see college football's David vs. Goliath? For the past decade we've watched as Boise State has won game after game on its blue turf, reaching bowl games in the process. And each year we've heard college football fans complain about their schedule. Well, why not change that? Why not put a super power like Alabama on the docket and prove once and for all whether the Smurf turf is anything more than a parlor trick?
To continue reading this article you must be an Insider
Raekwon McMillan discusses recruitment