Alabama Crimson Tide:

Clarence McKinney
October, 17, 2013
10/17/13
5:30
AM ET
The Early Offer is RecruitingNation's regular feature, giving you a daily dose of recruiting in the mornings. Today's offerings: Oregon State coach Mike Riley launched a new Twitter campaign on Tuesday to help the Beavers connect with recruits across the country; LSU's
Frank Wilson
didn't make the first edition of the ESPN recruiting power rankings, but he could be leading the poll by signing day; and a question and answer session on Wednesday helped identify what topics are most important with recruiting fans today.
#SmartRecruitingTool
Oregon State coach Mike Riley has more than 18,900 followers and is great communicating with fans on Twitter. So it was no surprise to see him launch a campaign Tuesday called "Tweet Film Tuesday" where he asked recruits to send him links to their film, and he and his staffers will then select 10 recruits to evaluate each week. With only 140 characters to work with, Riley didn't explain how he and his assistants would pick the 10 recruits to evaluate, but the idea is ingenious. Not only does it help Riley and the Beaver coaches communicate with prospects in a way they're already familiar with, it also allows the OSU coaches to find prospects they might not have been familiar with who are truly interested in the program. Also with Riley's track record of uncovering hidden talent, you can all but guarantee there will be a story a few years down the road where the Beavers found a sleeper through this approach.
September, 13, 2013
9/13/13
3:30
PM ET
COLLEGE STATION, Texas -- Like virtually every coach in major college football, Kevin Sumlin understands the importance of recruiting.
It's the lifeblood of a program. As players graduate or move on, new ones must come in to keep success going.
[+] Enlarge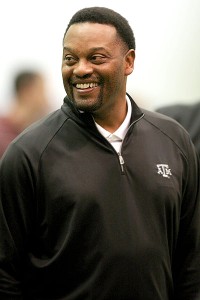 Brett Davis/US PresswireTexas A&M coach Kevin Sumlin said the "move to the SEC has obviously been a boost" for the Aggies in recruiting.
Since taking over at Texas A&M, Sumlin and his staff have leveraged the power of playing in the SEC to their benefit, landing a top 10 recruiting class in the 2013 cycle while being on pace to do so again for the Class of 2014.
And this weekend could be the biggest yet when it comes hosting recruits.
While the college football world has long awaited the Alabama-Texas A&M rematch, the A&M staff has spent months preparing for the recruiting aspect of this weekend.
Roughly 75 recruits are expected to be in attendance for Saturday's highly-anticipated game between the No. 1 Crimson Tide and the No. 6 Aggies.
"I think [the game has] already had an impact," Sumlin said. "We have a large number of prospects that are going to be here. The move to the SEC has obviously been a boost for us. I think it wouldn't be as big of a boost if we didn't have some sort of success in the league last year. We didn't have all the success we wanted. We were extremely competitive and won a big game last year. But all that being said, I think the ability to compete and win in this league has really helped us too, in recruiting."
And that's the key. Without the 11-2 record, the Heisman Trophy run for
Johnny Manziel
or all the attention coming to the program as a result of that success in the SEC, widely considered the country's best conference, this weekend might not have been as big.
While the number of recruits who will be in attendance is impressive, so are the names. Topping that list are a host of highly-regarded 2014 ESPN 300 prospects: defensive end
Myles Garrett
, athlete
Speedy Noil
, safety
Jamal Adams
, defensive tackle
Gerald Willis III
, athlete
Davion Hall
, safety
Edwin Freeman
are among those expected. All of them are top 100 recruits.
"It's going to be great, knowing A&M is in our top three," said Noil, who is making the trip with Willis, his high school teammate. "I want to see what they offer as an offense."
Said Willis: "It's going to be crazy. I'm very excited."
A host of 2015 ESPN Junior 300 prospects are also expected in attendance. Receiver
Tyron Johnson
, outside linebacker
Malik Jefferson
, defensive end
Anthony Wheeler
and quarterback
Kyler Murray
are just a sampling of the impressive juniors that will make the trip.
If there's any doubt as to how important recruiting is to the Texas A&M staff, take this as evidence: Sumlin and defensive line coach Terry Price were out on the trail Thursday night via helicopter and trekked to the Dallas-Fort Worth Metroplex to see a prospect, fewer than 48 hours before one of the biggest games in program history.
The target? Garrett, the No. 7 player in the 2014 ESPN 300.
Coach Price and I strapped in headed to the Metroplex to find the next great Aggie! http://t.co/8d1BG3goMT

— Kevin Sumlin (@CoachSumlin) September 12, 2013
The swaggerchopper has landed. #swag http://t.co/n18uhrZ8nY

— Coach Terry Price (@Coach_TPrice) September 13, 2013
Sumlin and offensive coordinator Clarence McKinney also made a helicopter trip to Houston to see then-uncommitted 2013 ESPN 300 receiver
Ricky Seals-Jones
and 2013 Texas A&M quarterback commitment
Kohl Stewart
on a nationally-televised game between Sealy (Texas) High and Houston St. Pius X. Seals-Jones eventually committed and signed with the Aggies; Stewart signed but chose to play professional baseball after being chosen fourth overall in the MLB draft this summer.
While the Aggies continue to strengthen their position in recruiting statewide, their longtime rival, Texas, has a lot of question marks at the moment. After a decisive loss to BYU, the Longhorns fired defensive coordinator Manny Diaz. While the schools don't play each other anymore, they still battle for the same recruits. A win this weekend would further strengthen Texas A&M's position in the talent-rich Lone Star State.
This weekend has become something of a perfect storm for the Aggies. The chance to make a statement on a national level is there, with the eyes of fans across the country watching, not to mention dozens of recruits at Kyle Field to experience it all.
"You don't have a stage like this for this weekend if you're not a competitive program," Sumlin said. "And I think the high school coaches in this state do a fantastic job of coaching and regionally, recognizing that. And I think student-athletes are recognizing that, too, that we've got a great situation here from a stability standpoint, from a support standpoint, from a facilities standpoint and from a league standpoint.
"You don't have to go 700-800-900 miles away anymore to get all those things. That has been a big selling point for us since we've gotten here and I think that message has been driven home every week that we play in the SEC, not just play but play in meaningful games on big stages."
September, 12, 2013
9/12/13
7:00
AM ET
TUSCALOOSA, Ala. -- Nick Saban took a moment to let the question soak in.
Alabama's coach had reached his boiling point in his talk with the media. He was tired of all the talk about the young, unproven players on his team: who didn't play and why, who stood out in relief, who could see more time moving forward. Saban bent his knees at the podium and put his hand to his forehead in frustration before deciding to ask his own pointed question in return.
"You know, what I'd like to ask is, we've got a lot of really good players around here, all right, that really play like crazy, you know, like
C.J. Mosley
," Saban said. "The guy plays every play in the game and on two special teams [units], he's running down the sidelines with
Christion Jones
, faster than Christion Jones is, cuts the angle off the safety so the guy can run for a touchdown. How about somebody asking about him? What's wrong with asking about him and what kind of player he is and how did he do? Because I mean, that guy does fantastic, alright?"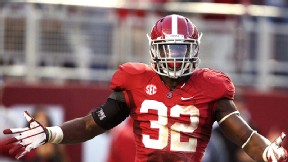 Mike Zarrilli/Getty ImagesAlabama's C.J. Mosley lets his play on the field do most of the talking.
Well, Nick, this story's for you.
The problem with asking about C.J. Mosley is that C.J. Mosley doesn't have a lot to say about himself. Alabama's senior linebacker is deferential by nature. It's either about the system he's in or the players around him, but it's never about him. He's quiet, bordering on shy, and he'd cop to that assessment. Though he's a leader on the football team, he'd rather lead by example. He may play like his hero, Ray Lewis, but he doesn't shout or prance or bloviate like him.
His play speaks for itself. Last season he became the first Alabama linebacker since Rolando McClain to record more than 100 tackles. He won All-American honors and was second on the team in sacks and tackles for loss, all while playing a part-time role behind starting mike linebacker Nico Johnson. Mosley was the best backup in the country, and now he might be the best linebacker in all of college football.
If you don't know him by now, you will after Saturday's game against Texas A&M. Mosley is Alabama's best defender and arguably its best hope of stopping the Aggies' sensation at quarterback,
Johnny Manziel
.
Mosley, for his part, doesn't want the game to be about him versus Manziel. He said as much in a one-on-one interview with ESPN.com on Tuesday, but that might be what it comes down to. On and off the field, the comparisons are inevitable. In one corner, there's the media circus of Johnny Football: the big plays, the celebrations, the autographs, the social media outbursts, the NCAA investigation. And in the other corner, there's the media black hole around Mosley, smiling for the camera, albeit awkwardly. The most high-profile thing he did during the offseason was receive the keys to his home town of Mobile, Ala. Even then he told reporters, "Usually you see stuff like that on the movies with a superhero getting it." He couldn't see himself as the leading man.
Saban won't say it and neither will Mosley, but Bill Meredith had no problem putting the obvious comparison into words. In fact, it was the first thing Mosley's former coach at Theodore High wanted to talk about when he got on the phone this week.
"He's what football is all about," Meredith said. "We've got Johnny Manziel all over the place. Let me tell you who C.J. is: he's at church every Sunday, he's so humble that if he owed a dollar to the football team he'd pay it, his Momma and Daddy was at every booster club meeting, he's 'Yes, sir' and 'No, sir,' he's never been in trouble one time in his life. He's exactly what you look for as a human being. He is the opposite of Johnny Manziel. Why don't we write more stuff about him?"
Well, Bill, this story's for you, too.
The problem with writing about C.J. Mosley is there isn't all that much to write about C.J. Mosley's life. Often you look for a hook in a story, a moment where the subject had to overcome adversity to get to where he is today. With Mosley, it's hard to pinpoint just where that is. By all accounts, he's never had an obstacle in his way. Why? Because he never put one there.
Mosley comes from a blue-collar family. His mother, Tracy, is a substitute teacher, and his father, Clinton, a supervisor at a ship yard, kept the leash tight on their two boys, C.J. and younger brother Jamey. Dad was the disciplinarian, and Mom checked in on the kids' homework. Both boys knew if school wasn't taken care of there would be no sports. Clinton once brought C.J. to tears when he told him he'd miss a game because he didn't have his work done.
Clinton was the one to get C.J. involved in football. Father and son took a trip to see a football game when C.J. was three years old. Clinton pushed C.J. in the stroller and looked around, eventually turning his attention to his son.
"He looked at it and stuck his head out and all the time he kept his eyes on the field," Clinton said, recalling the first time he understood that football would mean something to his son.
It took a year of watching from the sidelines before Tracy could be convinced that the game was safe enough for her boy to play. It was a good way to keep him occupied and out of the streets, the couple determined. And it didn't take long to realize they made the right decision. C.J. was tall and "thick" for his age, but Clinton could see his burgeoning athleticism.
"I can remember him being 6 years old on the defensive line kids running around the end and down the field. Everyone on the sidelines would say, 'Watch this, watch this,' C.J. would bust out the pack and run the whole length of the field all the way behind the kid to the end zone," Clinton said.
"That's everything in a nutshell. He's gifted."
C.J. played football, basketball and baseball growing up. He ran track and even sang tenor in the church choir. Everything he did, he did well. On the football field he played offense and defense, scoring as many touchdowns as he stopped.
Meredith happened upon Mosley at a middle school track meet and couldn't help but marvel at the 6-foot-1 runner lined up for the 100-yard dash.
"All of the sudden, they start the gun and here comes this kid from the middle school leading the pack," he said. "You look up here and C.J., this huge monster, is running down the track and I said, 'Oh my God, this kid's special.'"
In Mosley's first game in high school, he had 22 tackles against powerhouse Prattville. The following Monday, a member of Auburn's coaching staff called to offer him a scholarship.
He couldn't bench his weight, but boy could Mosley fly. He thinned out in high school and played at a slender 210 pounds, racking up a school-record 186 tackles his senior season. He wound up at Alabama's camp for prospective athletes and impressed former linebackers coach James Willis with his speed and determination.
"Coach Willis came up to me and said, 'Man, C.J. won't get out of the drills,' " Meredith said. "Here's all these top recruits, and he's out there learning football.
"Let's just say that before it was over Coach Saban was coming up really friendly to me. After that I started being C.J.'s coach instead of the coach from Theodore."
Mosley was always determined to sign with Alabama, and in February 2010, he did. He was a Top-100 player nationally and the second-highest ranked player from the state.
At home, though, he was still the same C.J., or Clinton Jr., as his parents know him. Even after all the awards, he came back to Mobile to do his chores and sing in the church youth choir, even though he may be a little too old to do so. Co-workers ask the senior Clinton about his son all the time, hoping for a story of his celebrity only to have him say, "He's just a child like anyone else."
But there was an opportunity for Mosley's life to change after last season. He could have entered the NFL draft and likely would have been selected in the first or second round. Mosley instead chose to return to school, and there was plenty of speculation why. But according to Mosley's parents, it was never even an option.
"There was no decision," Clinton said, emphatically. "There was never a discussion about it."
The Mosleys admit that their son has insurance in case an injury occurred and an NFL career was no longer an option, but they wouldn't say how much the policy is worth, only that, "He's taken care of."
Mosley said he told Saban his plans to return to school before his junior season ever began. When the season ended, Saban asked to be sure his mind hadn't changed, curious if a first-round grade had piqued his interest. It hadn't. The truth is Mosley never looked into it.
"No, not at all," Mosley said of seeking advice from the NFL. "For me, I still felt like I had things to prove. I wasn't an every down linebacker [last year]. People are saying, 'Well, he's not big enough to stop the run' and this and that. From a football standpoint, I felt like I had something to prove."
Well, for the doubters, this story's for you, too.
C.J. Mosley doesn't look like your typical linebacker prospect at 6-foot-2 and 232 pounds, but most linebackers can't run like C.J. Mosley. Most don't have his reputation, either.
"You can see that he's the leader," Texas A&M offensive coordinator Clarence McKinney said of Mosley. "He's a playmaker. That guy never leaves the field, I don't care what package they're using. He's always the guy out there getting them lined up and making plays."
Mosley is the heartbeat of the defense. He may be quiet in public, but when he steps onto the football field, he changes. He said as a senior in high school that his favorite part about football was "trying to kill somebody." He's just not all that flamboyant when he goes about it.
"He's a competitor," Meredith said. "It's all business. There's no backing down about him."
And this weekend, he'll face the biggest challenge of his career as he's tasked with shadowing Manziel. Mosley wasn't aggressive enough during last season's loss to the Aggies when he spied Manziel, giving him too much of a cushion to run with the football and make plays with his arm. But Mosley says this time it will be different. This time he feels ready for what's to come.
"Every time I see it on TV or hear about how they came into our house and killed our momentum and how he lifted his season and their season ... "That's what happens when you're a great team, the bull's eye is on your back.
"I'm pretty confident. I know the coaches are. We feel more comfortable about it than last year."
Mosley has the skill and the speed to do the job. He may play linebacker, but he can fly. It wasn't that long ago that he ran a 4.47 40-yard dash at Alabama's camp, where reports put Manziel's 40 time somewhere around 4.5 seconds.
"I just have to make sure I play my type of football," Mosley said. "When I have a chance to make a play on him, I have to execute."
You may not hear Mosley's name mentioned often in the build-up to the game, but expect it to be called plenty by announcers after kickoff.
Mosley wants to return the favor of losing at home a season ago, but he's not making the game about himself. Saban and others may want the focus to be on him, but that's not Mosley's attitude. He's not talked about like Manziel and other stars in college football for a reason. That kind of spotlight would be too uncomfortable. He'd rather just play his game, quietly and without fanfare.
"There's a lot of talk about me versus him or Alabama versus Texas A&M and their crowd and all this stuff, but at the end of the day it's all going to come down to execution," Mosley said. "The big thing would be beating them in their house like they did to us last year.
"I'm ready for that game day."
September, 10, 2013
9/10/13
1:40
PM ET
COLLEGE STATION, Texas — Texas A&M shocked the college football world when it went into Tuscaloosa, Ala., and upset the No. 1 Alabama Crimson Tide last November. It was a game for the ages, with the Aggies jumping out to a 20-0 lead, Alabama charging back to make it close and a nailbiter finish that included a turnover near the goal line.
With the Crimson Tide coming to Kyle Field for a rematch with the Aggies, anticipation has built throughout the offseason. The Tide are again No. 1, defending their BCS championship from a year ago and the Aggies still have their linchpin, Heisman Trophy winner
Johnny Manziel
, who made his most compelling case for the trophy that afternoon at Bryant-Denny Stadium.
As the heavily hyped clash approaches, let's look back at some of the keys to last year's game and how they might affect the rematch.
1. Credit to the Texas A&M defense
When dissecting Texas A&M's upset of Alabama last season, many cite the Aggies' offensive explosion en route to a 20-0 first-quarter lead as one of the most difficult things for Alabama to deal with. And while the Aggies used creative playcalling and personnel packages, their fast pace and precision execution to score three touchdowns on their first three drives, the Aggies' defensive effort had as much -- or more -- to do with their ability to take that kind of commanding lead.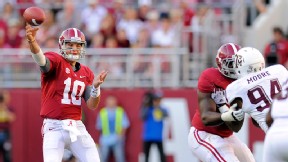 John David Mercer/US PresswireAJ McCarron threw his first interceptions of the season in Alabama's loss to Texas A&M last season.
The first play from scrimmage helped the Aggies set the tone as Alabama handed off to running back Eddie Lacy on an off-tackle play to the left side. Tight end Michael Williams motioned to that side of the formation to help open a hole for Lacy, but Texas A&M linebacker Sean Porter eluded Williams and sliced into the gap between Williams and left tackle
Cyrus Kouandjio
and made a strong tackle to stop Lacy for no gain. Alabama went three-and-out on that drive and punted.
The Crimson Tide's next offensive drive started on a much better note for Alabama, with Lacy gaining 23 yards on his first two carries. But everything halted as the Aggies created a turnover when quarterback
AJ McCarron
tried to find
Kenny Bell
in the middle of the field. As a McCarron pass hit Bell in the chest, safety
Howard Matthews
delivered a hard, clean hit to Bell, who dropped the pass. Porter was there to intercept the pass, and that set up the A&M offense with great field position after a 16-yard return to the Alabama 41.
One of the key players throughout the day for the Aggies' defense was defensive tackle Spencer Nealy. A former defensive end who moved to defensive tackle at the start of the 2012 season despite lacking what would be considered "SEC size" for a tackle, Nealy played an integral role in the Aggies' run defense. Evidence of that was on display at the start of the Crimson Tide's third drive of the game.
On the first play of the drive, Alabama handed off to
T.J. Yeldon
on the left side and the 6-foot-5, 277-pound Nealy, who lined up at nose tackle on that play and for much of the day, used his quickness to beat center Barrett Jones and tackled Yeldon for a loss of 4 yards. The Crimson Tide went three-and-out on that drive as well as the Aggies forced McCarron's hand with a safety blitz and Matthews got into the backfield untouched, forcing an incomplete pass. The defensive effort by the Aggies forced McCarron to start the game 1-of-5 passing for 5 yards.
And even though the Tide were able to gather their bearings and make a strong comeback with some big plays on offense, the Aggies still found ways to make plays on defense. Matthews plugged a gap on third-and-2 when Yeldon tried to cut back for first-down yardage, holding the Crimson Tide to a third-quarter field goal. Safety Steven Terrell stripped Yeldon in the fourth quarter on the play after a 50-yard pass from McCarron to
Amari Cooper
. And of course, cornerback
Deshazor Everett
picked off McCarron on the Tide's final offensive play with 1:36 remaining.
The drawback for Texas A&M in the rematch is that many of the above names are gone. Nealy, Porter, Terrell and other key players -- such as defensive end Damontre Moore and linebacker Jonathan Stewart -- have graduated. They've been replaced by younger, more inexperienced players who have taken their lumps in the first two games. The Aggies also haven't had their full complement of defensive players because several served suspensions in the first two games. Saturday will be the first opportunity for all of their key guys to play together this season.
Lacy is gone for the Tide, as are several offensive linemen. The Tide struggled in that area in their season-opening win against Virginia Tech. So there will be adjustments on both sides with the differences in personnel.
2. Finding the "Y"
Manziel went to receiver Ryan Swope, the "Y" receiver who lines up in the slot on the right side of the offensive formation, early and often against the Crimson Tide. Early in the game the passes were of the short, quick variety, hitch routes that gained incremental yardage, almost like running plays.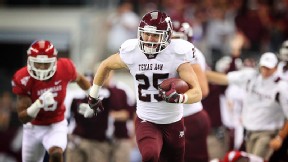 Matthew Emmons/US PresswireRyan Swope, a senior last season, made 11 catches against Alabama.
As the game wore on, Manziel went downfield to Swope, who made some of the biggest catches of the season. One was in the middle of the field for 28 yards as he was nailed by safety
Ha Ha Clinton-Dix
in the third quarter. In the fourth, Manziel found Swope down the right sideline for 42 yards.
Swope graduated as well, but look for the guy who made the catch on the play after Swope's 42-yard reception --
Malcome Kennedy
-- to be a factor. Kennedy caught a 24-yard touchdown pass on the next play and having experience in a game like that can only help him this Saturday. The question is, can Kennedy bring the kind of consistency that Swope did in catching 11 passes for 111 yards and a touchdown against Alabama?
And should he be healthy for the game, 6-foot-5 freshman receiver
Ricky Seals-Jones
could be a factor at that position as well. Seals-Jones missed the Sam Houston State game last Saturday with a knee injury.
3. McCarron can scramble, too
While Manziel is known for his scrambling, McCarron showed he has good mobility as well.
McCarron isn't nearly as fleet of foot, but he did show the ability to escape pressure and make quality throws. On two instances in the Crimson Tide's first scoring drive, he evaded the Aggies' pass rush and found Cooper for a first-down completion.
In the second half, McCarron scrambled and tried to find Cooper. He avoided an interception from Everett (who was ruled out of bounds on the catch), but nevertheless, scrambling is a tool McCarron can use if the Aggies dial up extra pressure Saturday.
4. Defending Manziel on the ground
[+] Enlarge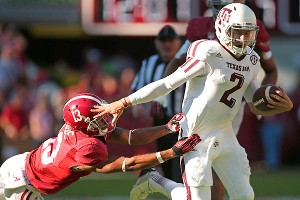 AP Photo/Dave MartinJohnny Manziel had great success running in the first half against Alabama, but the running lanes closed a bit in the second half.
In the first half last year, Manziel was electric with his feet. Then-offensive coordinator Kliff Kingsbury was comfortable in calling designed quarterback draws. They were successful as Manziel piled up 82 yards on nine first-half carries.
But the Tide did a much better job containing Manziel in the final two quarters. In the second half, he finished with 10 rushing yards on nine attempts.
This season, Manziel is making an effort to improve as a pocket passer without taking away his playmaking ability. The Aggies have a new offensive coordinator and playcaller (Clarence McKinney) and a new quarterbacks coach (Jake Spavital). It will be interesting to see how much running Manziel does Saturday and how Alabama handles it.
5. Big plays in the Alabama passing game
Cooper, now a sophomore for the Tide, had a huge game in last year's matchup, catching six passes for 136 yards.
He had a catch of 50 yards and a 54-yard touchdown reception, both in the fourth quarter. The first came on an out-and-up, when he beat Everett one on one. The next one came when the Aggies sent Everett on a cornerback blitz and Cooper beat Matthews deep for a touchdown.
November, 16, 2012
11/16/12
3:21
PM ET
Before this season, Houston Lamar safety
John Bonney
already possessed an offer from his father's alma mater, Houston. This week, the 2014 prospect received one from his mother's, LSU.
[+] Enlarge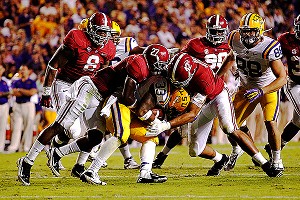 AP Photo/Bill Haber2014 safety John Bonney enjoyed his visit to LSU for the Alabama game.
The six-foot, 175-pound rising star got the news of the LSU offer on Thursday from his head coach at Lamar, Tom Nolen. It was met with excitement from Bonney, who came into the season with offers from Baylor, Houston and SMU.
"I was kind of surprised at first," Bonney said. "I didn't expect anything coming but it was pretty good and I was happy. It's great."
To continue reading this article you must be an Insider
Scout's Take: Atlanta Opening Regional
SEC SCOREBOARD
Thursday, 9/3
Saturday, 9/5