Alabama Crimson Tide:

Carl Lawson
November, 30, 2013
Nov 30
7:00
AM ET
Here are five things to watch as No. 1 Alabama takes on No. 4 Auburn in Jordan-Hare Stadium for one of the South's biggest rivalries: The Iron Bowl.


Big-game jitters:
Alabama has been through this drill before. Big games are nothing new to the veteran Crimson Tide.
AJ McCarron
doesn't buy into the hype and neither does
C.J. Mosley
. For them, it's just another game. But for Auburn, this isn't just another game. Gus Malzahn has said all the right things, but there's no denying that this is the biggest game of his tenure as the Tigers' head coach. It's a moment for Auburn to prove it's more than lucky. It's a chance to earn a reputation as a championship contender. And frankly, Auburn's players have never had to deal with that kind of pressure. How will they respond? When Nova flies around Jordan-Hare Stadium and the buzz reaches a fever pitch, will Auburn keep its emotions in check or allow them to run wild?
McCarron for Heisman:
The momentum is gaining quickly. But is it too late for McCarron to become a serious contender to win the Heisman Trophy? Given
Jameis Winston
's off-the-field entanglements and
Johnny Manziel
's three losses this season, the chips are starting to fall McCarron's way. His numbers are impressive (2,399 yards, 23 touchdowns, five interceptions), but has he had the kind of "Heisman Moment" that can catapult him to victory? You could argue his performance against Texas A&M was up to that billing, but that was so long ago and his game against LSU didn't exactly intrigue would be voters. If McCarron is going to win the Heisman, he'll have to do it on Saturday afternoon against Auburn. A big game on the biggest stage might be the final push to send him into the forefront of the Heisman race.
Protecting the quarterback:
As Auburn defensive end
Dee Ford
told reporters this week, "You change the game when you get to the quarterback." Make no mistake, the Tigers defense plans on pinning back their ears and getting after McCarron on Saturday. And with Ford,
Nosa Eguae
and
Carl Lawson
at defensive end, they have the tools to do it. Alabama has faced good defensive lines this season (Virginia Tech, LSU, etc.) but none had the type of edge rushers Auburn possesses. As Ford said, "[McCarron] hasn't been hit all year, so we want to see what he can do after being hit a few times."
Who starts at center?:
A sprained knee has Alabama starting center
Ryan Kelly
as a game-time decision, according to coach Nick Saban. He hurt the knee early this week and was limited in practice since then. Saban stopped short of saying that backup
Chad Lindsay
would start, but you've got to believe the staff has confidence in him after already starting three games this season. "Chad Lindsay did great when he played and we did great on the offensive line," Saban told reporters on Wednesday. "We have every confidence in him, we view him as a starter."
Perimeter tackling:
This isn't a game where the front seven will do all the work. Alabama's secondary will have to put a hat on a hat to be successful against Auburn's vaunted running game.
Nick Marshall
and
Tre Mason
aren't the only two guys that can hurt you. As one SEC head coach told me, the trouble with defending Auburn is that there are five or six guys who can run the ball from anywhere in the formation. Defending the end-arounds, fly-sweeps and other perimeter runs will be vital for Alabama. Because of that, look for safety
Landon Collins
to have a big day. He's one of the best on Alabama's defense in terms of reading the play and closing speed.
November, 27, 2013
Nov 27
8:00
AM ET
TUSCALOOSA, Ala. -- If you're a fan of rivalry games, this year's edition of the Iron Bowl doesn't get any bigger as Alabama and Auburn, both in the top five of the BCS standings, will fight it out over the SEC West crown and a shot at making it to the conference championship game in Atlanta.
Both sides are playing down the hype, as you'd expect. Players have said all the right things and so have the coaches. Auburn's Gus Malzahn is doing nothing to fan the flames, and neither is Alabama's Nick Saban.
"Focus on the next play. Focus on what you've got to do the next play to try to give your guys the best chance to be successful and make corrections, coach them on the mistakes that they made," Saban said of his outlook at the start of rivalry week on Monday. "This is an ongoing process for the whole week plus the whole 60 minutes of the game right down to the last play of the game. And then when the game's over, it is what it is."
[+] Enlarge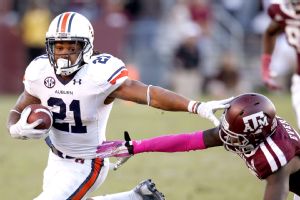 Thomas B. Shea/Getty ImagesAuburn's Tre Mason is second only to Georgia's Todd Gurley in rushing yards over the past two seasons among SEC backs.
But for whatever is said, there's no playing down the enormity of Saturday's game in Jordan-Hare Stadium. Rivalry games don't get any bigger than this. Just ask Alabama center
Ryan Kelly
, who grew up in Ohio watching what some contend to be the best rivalry in college football: Ohio State-Michigan.
"The roots run a little deeper around here," Kelly said. "It's always a big game, especially this year. We're two top-10 teams, and on the road at Auburn, it's going to be a big game."
Auburn players to watch
QB Nick Marshall:
If he gets comfortable throwing the football, watch out. Marshall's ability to run the ball is well documented. He can use his speed to get outside the tackles and has the shiftiness to make people miss. But unlike opponents in the past, Alabama will force him to stay in the pocket and beat the defense through the air.
RB Tre Mason:
He has had arguably the best two seasons of any running back in the SEC, trailing only
Todd Gurley
for tops in the league with 2,155 yards and 25 rushing touchdowns in that time, yet he doesn't get the attention he deserves. Marshall gets the hype as a quarterback and runner, but Mason really makes the offense go. He'll keep Alabama honest with his ability to run the ball between the tackles.
DE Dee Ford:
Auburn's defense is still a major question mark, especially on the back end. But up front, Auburn has some tools to work with, starting with Ford, who has eight sacks and 11.5 tackles for loss. But he's not alone. Defensive tackle Montravious Adams is a load and defensive end
Carl Lawson
(three sacks, 6.5 tackles for loss) is one of the top freshmen in the SEC.
Alabama players to watch
RB T.J. Yeldon:
Establishing the running game early and controlling the clock will be big against Auburn. For that reason, it's important that Yeldon has a big game. He was once committed to Auburn, so expect him to have some added motivation at Jordan-Hare Stadium, but he'll need to keep that in check. He and fellow running back
Kenyan Drake
need to take care of the football, something they haven't done particularly well this season.
LB Adrian Hubbard:
Alabama fans have to feel good about what they've seen from Hubbard lately. After starting out the season slowly, he has picked up sacks in each of the last two games. And he'll have to continue that hot streak against Auburn. While he might not get the sacks fans so covet, what Hubbard does sealing the edge and keeping containment on Marshall will be vital to Alabama's success on defense.
S Landon Collins:
Expect Collins to play near the line of scrimmage a lot on Saturday. Because of Auburn's lack of a passing game, defensive coordinator Kirby Smart will be able to move around Collins, blitzing him and using him as a spare linebacker. He and speedy middle linebacker
C.J. Mosley
will play a big part in stopping Auburn's multi-faceted running game, which utilizes more than just Marshall and Mason.
Key stats
1994:
Alabama and Auburn have never met in an Iron Bowl in which the winner would clinch the SEC West
and
the division's bid to the SEC championship game. It would have happened in 1994, but Auburn was on probation at the time and wasn't eligible to compete for in the league title game.
5:
It's no secret the key to the game will be Auburn's running game versus Alabama's run defense. And poring over those stats show that both teams are ranked in the top five nationally for rushing yards per game, yards per rush, runs of 10-plus yards and expected points added via rushes. Alabama, for its part, has allowed only five rushing touchdowns in its last nine game, while Auburn has scored at least five touchdowns in each of its last six games.
77:
The Iron Bowl has been very one-sided the last two years in favor of Alabama. In fact, the Crimson Tide has outscored the Tigers 91-14 in the last two meetings.
ESPN Stats and Information was used as a resource for this article.
October, 1, 2013
Oct 1
8:00
AM ET
From year-to-year the Southeastern Conference is full of recruiting battles. This year it appears that Alabama and LSU could have some of the best recruiting battles we've seen in a while. Here's a closer look at the five top recruiting rivalries in the SEC.
To continue reading this article you must be an Insider
August, 23, 2013
Aug 23
11:00
AM ET
It's time to dip into the SEC recruiting mailbag and answer your questions. Because of the amount of questions we've received, we won't be able to get to all of them today -- but we encourage you to ask again next week by tweeting your questions to
@DerekTysonESPN
.
@Watup_Haun: Who's going to land Clifton Garrett (Plainfield, Ill./Plainfield South)?
Derek Tyson:
LSU appears to be the team to beat for the ESPN 300 linebacker and by a wide margin. Garrett will also take official visits to Ole Miss, Tennessee and Florida. LSU is shaping up to have a monster recruiting class, and right now I expect Garrett to be a part of it.
[+] Enlarge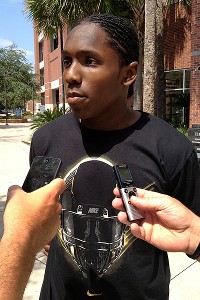 Jeff Barlis/ESPNESPN 300 athlete Adoree' Jackson likes Florida's football and track teams and met with both head coaches during his July visit.
@UltimateLemons: What's your gut tell you about Florida landing Adoree' [Jackson] and [Lorenzo] Carter? Do the Gators even contend realistically for Raekwon [McMillan]?
DT:
Though Florida has made a big impression on the five-star prospects, Jackson and Carter, the Gators certainly have their work cut out for them. Florida's track program recently won a national championship, and track will be a key factor in Jackson's decision. USC, Michigan, Tennessee and LSU are a few other schools squarely in the mix for the talented athlete. Carter has Florida in the lead with Alabama and Georgia slightly trailing. At this point, Florida feels good about both prospects, but there is still a long way to go.
As for McMillan, the Gators are in his top five, but Ohio State is clearly the team to beat. Clemson and Georgia are also near the top of his list. He is talented enough for the Gators to continue to pursue him, but at this time, I don't think he will end up in Gainesville.
@UTSportsAction1: Do the SEC school's generally look for three-star athletes and above?
DT:
If you ask coaches in college football if they only recruit players ranked three-stars or higher, you would probably get the same overwhelming response. "We don't look at stars," they would likely say, and probably in a stern voice. The truth is, a lot goes in to our recruiting rankings, and we don't just rate someone a four-star prospect for the fun of it. A lot of research goes in to every player we rank. I know for a fact that some college coaches do in fact look at rankings, but they wouldn't be doing their job if they didn't do their own evaluations. So to answer your question, I think college coaches use rankings as a general guide to see if they are missing out on certain prospects or to see which other schools have offered players, but they do their own evaluations and decide who they want to offer based on a number of factors.
Looking back at last year's SEC recruiting classes and excluding kickers, long snappers, punters and junior college, prep school and transfer players, SEC teams only signed seven players who were ranked two-star prospects or below:
2013:
Alabama - 0, Auburn - 0, Arkansas - 1 (WR
Drew Morgan
), Florida - 0, Georgia - 0, LSU - 0, Kentucky - 2 (QB
Reese Phillips
and OT
Justin Day
), Mississippi State - 0, Ole Miss - 0, South Carolina - 1 (DE
Kendal Vickers
), Tennessee - 0, Missouri - 2 (OC
Alec Abeln
and DT
DeQuinton Osborne
), Texas A&M - 0, Vanderbilt - 1 (ATH
C.J. Duncan
)
The numbers speak for themselves. Though it's uncommon, the SEC does generally recruit prospects ranked three-star prospects or higher.
@madveal37: The SEC has widespread talent. What true freshmen are going to have a big impact in 2013?
DT:
This is not really a recruiting question, but because I had an opportunity to see a lot of these players in high school and at all-star games over the last few years, I'll give my opinion on a few I think could make an early impact.
DE Robert Nkemdiche (Ole Miss)
: There is a reason he was the consensus No. 1-ranked player in the country. He will play early and often for the Rebels and should make a big impact.
WR Demarcus Robinson (Florida):
Florida needs help at wide receiver, and Robinson has been a star in fall camp.
RB Alex Collins (Arkansas):
Collins was a steal for the Razorbacks. His explosiveness will earn him carries early in his career.
DE Carl Lawson and DE Elijah Daniel (Auburn):
With Auburn's top defensive lineman,
Dee Ford
, out for the opener, it should open the door for Lawson and Daniel to make their marks.
LB Reuben Foster (Alabama):
It's not easy to get on the field early at Alabama, but head coach Nick Saban has specifically singled out Foster for having a strong camp. Look for him to see the field early.
@miketag98: Will UK lose a lot of recruits if [Mark] Stoops flops on the field? Like if they go 4-8?
DT:
I really don't believe so. Obviously Kentucky hasn't had much success on the field over the past few years, and recruits understand that. What Stoops is selling to these recruits is an opportunity to help turn the football program around. The opportunity to play early is another key selling point. As long as Kentucky shows improvement and is at least competitive in most of their games, I don't see recruits bailing on this impressive recruiting class.
@bigjpl2: Does Georgia have a real shot at Elijah Hood (Charlotte, N.C./Charlotte Catholic)?
DT:
Hood, the former Notre Dame commit, was considering North Carolina, Georgia and Virginia Tech before he originally committed to the Fighting Irish. Now that he has backed off his pledge, you would think Georgia might still be in the picture. However, Georgia has two stud running backs in
Keith Marshall
and
Todd Gurley
. The Bulldogs signed four-star running back
A.J. Turman
last year, and they have two ESPN 300 running backs (
Sony Michel
and
Nick Chubb
) committed this year. Chubb is very comparable to Hood as far as size, speed and build. At this point, Georgia doesn't have a pressing need at the position and could risk losing one of its other commits if the coaches put the full-court press on Hood. Though Hood might still show interest in Georgia, in my opinion, I don't believe he will end up in Athens.
@BlakeBoswell1: What are the odds [Leonard] Fournette stays in LA?
In my opinion, the odds are in LSU's favor to land Fournette -- but not by much. Alabama is certainly putting up a big fight. In fact, Fournette was in Tuscaloosa last weekend with
Cameron Robinson
and
Laurence Jones
to watch the Crimson Tide scrimmage. I think this will be a battle to the end, but Alabama has a lot of depth at running back, and LSU's proximity to home gives the Tigers the slight advantage.
February, 6, 2013
Feb 6
7:00
AM ET
ESPN RecruitingNation
has signing day covered. Follow ESPNU's coverage, chat with analysts and get breaking news on our
Signing Day Live
page beginning at 7:30 a.m. ET through 7 p.m. ET. For more on what to expect on signing day, check out the
SEC conference breakdown

.
Bold Prediction for the SEC:
Ole Miss' class will eventually be ranked in the top five nationally with the addition of No. 1 overall prospect
Robert Nkemdiche
from Loganville (Ga.) Grayson and possibly ESPN 150 prospects
Chris Jones
from Houston (Miss.) High and
Antonio Conner
from Batesville (Miss.) South Panola.
SEC East
Florida
Biggest need:
Florida wants immediate help at defensive tackle.
Jarran Reed
from Scooba (Miss.) East should be able to provide that if he decides to sign with the Gators on national signing day.
Biggest recruit:
The Gators have two five-star commitments: cornerback
Vernon Hargreaves III
from Tampa (Fla.) Wharton and running back
Kelvin Taylor
from Belle Glade (Fla.) Glades. No other school in the country can say that.
Georgia
Biggest need:
The Bulldogs would like to pick up another top offensive lineman. They looked destined to land
Laremy Tunsil
from Lake City (Fla.), but the competition has heated up for him lately.
Biggest recruit:
With 12 ESPN 300 commitments, Georgia has plenty of star power. However, it's impossible to overvalue the commitment of
Brice Ramsey
from Kingsland (Ga.) Camden, a quarterback the Bulldogs can build around.
January, 31, 2013
Jan 31
3:40
PM ET
By
ESPN RecruitingNation
| ESPN.com
National signing day is just around the corner on Feb. 6. That day, a number of the nation's top football recruits will announce their college destinations and 18
ESPN 300
prospects are scheduled to do so on ESPNU.
Below is the full schedule of announcements on ESPNU, which kicks off with the nation's No. 1 overall prospect, Robert Nkemdiche, making his long-awaited decision at 7:30 a.m. ET.
Note: All times are Eastern
January, 14, 2013
Jan 14
5:58
PM ET
ESPN 150 prospect
Montravius Adams
(Vienna, Ga./Dooly Co.) took his second official visit last weekend, traveling to Clemson. The 6-foot-3, 300-pound defensive lineman was first targeted by the Tigers more than 18 months ago, and they are considered one of the major contenders to get Adams as national signing day approaches.
Adams spoke well of his latest trip.
To continue reading this article you must be an Insider
January, 3, 2013
Jan 3
5:35
PM ET
By
RecruitingNation staff
| ESPN.com
Black Team offense
Quarterback:
Christian Hackenberg
(Penn State)
Running back:
Alvin Kamara
Receiver:
Alvin Bailey
(Florida),
Robert Foster
(Alabama),
Damore'ea Stringfellow
(Washington)
Tight end:
O.J. Howard
(Alabama)
Offensive tackle:
Darius James
(Texas),
Denver Kirkland
Offensive guard:
Grant Hill
(Alabama),
Joas Aguilar
(Texas A&M)
Center:
Hunter Bivin
(Notre Dame)
Captains:
Kelvin Taylor, Hunter Bivin, Robert Nkemdiche, Ben Boulware
Black Team defense
Defensive end:
Robert Nkemdiche
,
Elijah Daniel
Defensive tackle:
Greg Gilgmore
(LSU),
Kennedy Tulimasealii
(Hawaii)
Inside linebacker:
Ben Boulware
(Clemson)
Outside linebacker:
Alex Anzalone
(Notre Dame),
Matthew Thomas
Safety:
Keanu Neal
(Florida),
Leon McQuay III
Cornerback:
Vernon Hargreaves III
(Florida),
Tarean Folston
(Notre Dame)
Black Team special teams
Long snapper:
Tyler Kluver
(Iowa)
Kicker/punter:
Sean Covington
(UCLA)
December, 31, 2012
12/31/12
6:39
PM ET
LAKE BUENA VISTA, Fla. -– Team Nitro and Team Highlight took to the fields at Disney's ESPN Wide World of Sports on Monday for Day 1 of practice for Friday's Under Armour All-America Game (5 p.m. ET, ESPN). Two powerhouse programs in the Southeastern Conference look to battle it out for one of the standout running backs, and one of the top uncommitted offensive linemen is out with an injury.
Tide and Dawgs at top for RB Kamara
The Under Armour All-America Game boasts a bevy of talented running backs, and after the first practice ESPN 150 prospect
Alvin Kamara
(Norcross, Ga./Norcross) drew comparisons to one of the best.
[+] Enlarge
Miller Safrit/ESPN.comESPN 150 RB Alvin Kamara says Alabama defensive coordinator Kirby Smart and Georgia running backs coach Bryan McClendon have been key to his recruiting process.
"They say I play like
Percy Harvin
," Kamara said.
The 5-foot-10, 192-pound tailback has made a name for himself as a home-run threat out of the backfield or lined up in the slot, which makes it no surprise that programs across the country are pining for his commitment. Two from the SEC are in the lead.
"Alabama and Georgia are the front-runners, but I am still looking at Oregon -- and Tennessee too, with Butch Jones being there now," Kamara said.
The nation's No. 4 running back has yet to set any official visits, but plans to do so after he gets home from the UA Game. A decision will likely come after his visits.
"This is not going to be a busy month so much as it is just something I need to buckle down and do," Kamara said. "I am going to take these visits and base my decision off of that."
One factor in his decision will be the relationship he has with the coaches recruiting him. The Tide could have a slight advantage because they made first contact with Kamara.
"Kirby Smart and I are really close," Kamara said. "He was the first coach to ever talk to me. He snuck me his card after practice and I could not believe it. For a coach of his stature to be the first coach to talk to me is great. We have been in contact ever since, and we have a great relationship."
Georgia might counter that with their running backs coach being Kamara's recruiter of record.
"Coach [Bryan] McClendon and I have a great relationship too," Kamara said. "With him being my position coach, I could see myself playing for him. We are on a friend level and we do not even talk about football most of the time."
The in-state Bulldogs also have a few people in Kamara's ear this week, though he admits they have been putting the pressure on him for quite some time.
"Even when we are not in a big event like this, guys like
Shaq Wiggins
,
Brice Ramsey
, even
Reuben [Foster]
, even though he is not committed, are always asking where I am going," Kamara said. "They are joking, but they are on me pretty hard sometimes."
Newsworthy: OL Crowder deals with injury, sets officials
ESPN 150 offensive lineman
Tyrone Crowder
(Rockingham, N.C./Richmond) will be unable to play in Friday's UA Game after aggravating a hand injury he sustained a few weeks ago at the Shrine Bowl of the Carolinas. While he is disappointed, Crowder said today he is looking forward to the home stretch of his recruitment and choosing from one of two programs.
"It is Clemson No. 1 and Georgia No. 2, and I will decide on signing day," said Crowder, ranked the No. 2 OG in the country.
The Tigers have been after the 6-foot-1, 330-pound offensive lineman for more than three years now, and they have location and familiarity working in their favor.
"Clemson has been recruiting me since I was in ninth grade," Crowder said. "I like what they have going on and I have built a strong relationship with them. It is close to home and I have some family close to Clemson. I will take my official there Jan. 11."
Crowder has not been to Athens for six months, but he has fond memories of his visit.
"Georgia is a great powerhouse team in the SEC," Crowder said. "When I went down there during the summer I really liked the campus and enjoyed meeting the coaches. I spoke to them two weeks ago and set an official visit Jan. 18."
Trending
It was only the first day of practice, but Team Highlight (Black team) quarterbacks got off to an impressive start.
To continue reading this article you must be an Insider
December, 21, 2012
12/21/12
5:29
PM ET
By
RecruitingNation staff
| ESPN.com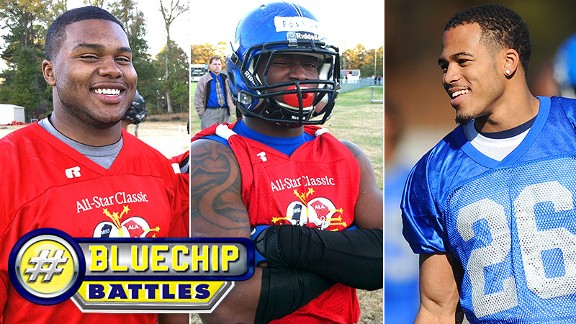 ESPN.comReuben Foster (center) is torn between good friends Dee Liner (left) and Tray Matthews (right).
No. 1 ILB Reuben Foster has voiced his desire to play with at least one of his SEC-bound friends next season. But will he follow Tray Matthews to Georgia or hook up with Dee Liner wherever the ESPN 150 DL settles? It remains to be seen, but the mystery surrounding his recruitment keeps Foster at the top of our #BlueChipBattles.
Each week, RecruitingNation summons its writers from around the country to compile a list of the top 10 battles for elite football recruits leading up to February's signing day.
Here are
this week's top battles

, and you can take a shot at
ranking the top 10 recruiting battles
on SportsNation.
November, 30, 2012
11/30/12
2:19
PM ET
By
RecruitingNation staff
| ESPN.com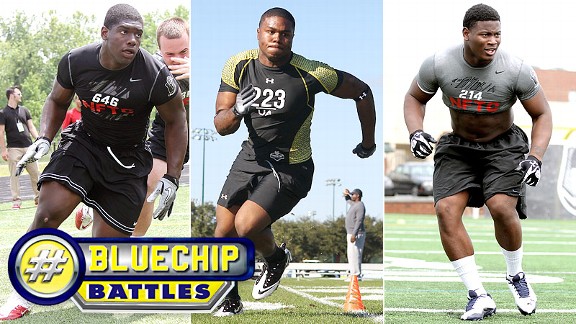 ESPN.comCarl Lawson, Dee Linerand Reuben Foster are still committed to Auburn, but the Tigers' coaching situation could change things for the three ESPN 150 recruits.
Auburn bid farewell to head coach Gene Chizik on Sunday. Could the Tigers also be saying goodbye to a trio of ESPN 150 recruits who could take their talents elsewhere?
Each week, RecruitingNation summons its writers from around the country to compile a list of the top 10 battles for elite football recruits leading up to February's signing day.
Here are
this week's top battles

, and you can take a shot at
ranking the top 10 recruiting battles
on SportsNation.
November, 8, 2012
11/08/12
10:00
AM ET
TideNation brings you another edition of The O-zone, a confidential look inside Alabama recruiting. Get the latest updates from the gridiron and the hardwood as it pertains to the Crimson Tide.
Five-star visitor
Alabama is set to host the biggest recruiting weekend of the season for Saturday's Texas A&M game. Prospects from all over are making their way to Tuscaloosa, maybe none bigger than five-star offensive tackle
Laremy Tunsil
. The nation's No. 1 tackle is visiting with friends and fellow Florida natives
Derrick Henry
and
DeMarcus Walker
, both of whom are already committed to the Tide. Tunsil is thought to be favoring Alabama and Georgia, and a positive visit this weekend could push the Tide to the top. He's still expected to take his official visit to UA after the season, and he doesn't plan to make a decision until signing day. The 6-foot-6, 295-pound offensive lineman is a top priority for Alabama.
To continue reading this article you must be an Insider
February, 15, 2012
2/15/12
12:13
PM ET
Defensive end
Carl Lawson
(Alpharetta, Ga./Milton) hadn't heard much from the USC coaching staff until Tuesday. That's when the 6-foot-3, 240-pound athlete was able to speak with USC coaches Lane Kiffin and Ed Orgeron for the first time.
"They asked if I was interested in USC," Lawson said. "I said, 'Who wouldn't be?' "
Lawson said the USC coaches always had a scholarship earmarked for him but simply wanted to get a read on if USC would even be a possibility for Lawson. He said he was already planning to take an unofficial visit to California this summer to visit UCLA, and said he will definitely have two Los Angeles stops to make, as he'll stop by USC as well.
To continue reading this article you must be an Insider
Who Would Be In A Four-Team Playoff?