Alabama Crimson Tide:

Bulldogs-Tide-102712
October, 28, 2012
10/28/12
3:10
AM ET
TUSCALOOSA, Ala. -- So who is college football's second-best team after Georgia upset turnover-plagued Florida 17-9 on Saturday?
Is it No. 3 Kansas State, which walloped No. 14 Texas Tech 55-24 to improve to 8-0?
Is it No. 4 Oregon, which scored eight touchdowns in the first half of a 70-14 rout of lowly Colorado?
Or is it No. 5 Notre Dame, which announced its return to national relevance once and for all with a 30-13 victory at No. 8 Oklahoma?
After watching No. 1 Alabama dismantle No. 11 Mississippi State 38-7 in front of a sellout crowd of 101,821 fans at Bryant-Denny Stadium on Saturday night, I can offer you an educated guess.
The argument over No. 2 doesn't even matter.
None of the above-mentioned teams is good enough on both offense and defense to beat the Crimson Tide, the defending BCS national champions.
This Alabama team, which improved to 8-0 going into next week's SEC West showdown at No. 6 LSU, might be as good as (or even better than) the 2011 squad that finished 12-1 and defeated the Tigers 21-0 in the Allstate BCS National Championship Game in New Orleans.
For Mark Schlabach's full column, click
here
.
October, 28, 2012
10/28/12
3:03
AM ET
TUSCALOOSA, Ala. -- OK, maybe Alabama's defense isn't dripping with the kind of talent it was a year ago.
Four of the starters on the Crimson Tide's 2011 national championship defense were taken among the top 35 picks in April's NFL draft. That's the kind of talent you simply don't replace overnight.
At least, not in the SEC.
But try telling that to the guys on this Alabama defense. They grew tiresome of hearing all offseason about what they weren't going to have this season and all the players who were no longer around.
"We did lose a lot of great players, but we also had a lot of players coming back who were hungry," Alabama junior linebacker
C.J. Mosley
said. "We're not as good as we were last year in some spots, and in some spots, we're better.
"The main thing is that we want to make our own mark. We want to create our own identity, and that's what we go out there to do every week."
Had it not been for a late touchdown against Alabama's reserves, the Crimson Tide would have pinned the first shutout on Mississippi State in the Dan Mullen era.
As it was,
No. 1 Alabama rolled 38-7 on Saturday night
with the kind of virtuoso defensive performance that has become the hallmark of this program.
The Crimson Tide don't give up anything on the ground. They get after the quarterback, and they don't beat themselves.
[+] Enlarge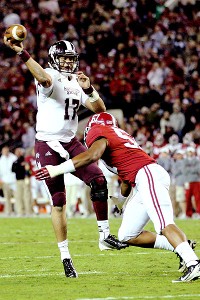 Marvin Gentry/US PRESSWIRED.J. Pettway and Alabama's dominant defense have a knack for making timely plays.
And even when they do give up the occasional drive, they break the other team's spirit with timely plays.
Never was that more apparent than the third quarter Saturday when Mississippi State drove all the way from its own 2-yard line and to the Alabama 1. On third-and-goal from the 1, Alabama redshirt freshman defensive lineman
D.J. Pettway
stayed home and forced Mississippi State quarterback
Tyler Russell
into a rushed throw that was intercepted in the end zone by
Robert Lester
.
"That's what we do, step up and make plays," Lester said. "They had driven it on us pretty good. But good defenses keep them out of the end zone."
Since the end of the 2010 season, Alabama has kept pretty much everybody out of its end zone. The Crimson Tide have now gone 13 straight SEC games without allowing more than 14 points.
"You know what the standard is here, and that standard never changes," said Alabama cornerback
Dee Milliner
, who blocked Mississippi State's 31-yard field-goal attempt after the Bulldogs had driven the ball deep into Alabama territory on their first drive.
All you really need to know about that standard is that Alabama coach Nick Saban was still peeved afterward that the backups didn't play better. They were on the field at the end of the game for Mississippi State's only touchdown.
"I know everybody is probably going to say, 'Well, you got upset with the backup players,' " Saban said. "I got upset with the backup players because they're better than that. They can play better than that. They need to play with poise and confidence when they go in the game and compete just like everybody else competes.
"It's not about shutting anybody out. It's not any of that. It's about them playing their best football."
Overall, though, Saban has been as pleased as anybody about the way this defense has progressed from the Michigan game until now.
"Really, for all the young players we have, if you would have told me that we would be in the position statistically and scoring-wise that we are right now, I would have probably said, 'No way,' " Saban said. "But these guys have really set out with an attitude that they want to prove something."
There's a lot more to prove, too, starting with next week's trip to LSU.
"We look at every game the same way," Lester said. "It's about us and not who we're playing. If we do the things we're supposed to do, then it doesn't matter who we're playing."
Hard to argue that theory when you watch Alabama play defense. The Tide are as sound as they are physical, and they're as consistent as they are aggressive.
"We're still a long way from being where we want to be, but it's coming," Milliner said. "We're looking for that perfect game."
October, 28, 2012
10/28/12
12:13
AM ET
Another week, another lopsided win for No. 1 Alabama. It didn't matter that Mississippi State brought a No. 11 ranking or an undefeated record to Bryant-Denny Stadium. The Crimson Tide did what they've done all season -- and for much of the past four years -- and applied a python-like vise grip on their opponent en route to an easy
38-7 win
.
Here's the skinny:


It was over when:
Alabama quarterback
AJ McCarron
hit wide receiver
Kenny Bell
on a wide-open go route for a 57-yard touchdown at the tail end of the first quarter. Sure, there was still plenty of football left to play, but the score gave Alabama a 14-0 lead, and double-digit deficits are hard things to overcome against Alabama squads. The Tide's defense forced a Bulldogs punt on the next possession, and Alabama scored again moments later to make it 21-0.
Game ball goes to:
McCarron was his usual efficient, mistake-free self against Mississippi State. He completed 16 of 23 passes -- 69 percent -- for 208 yards and two touchdowns. He has now gone eight weeks without throwing an interception. The junior bruised his back when he took a sack toward the end of the third quarter, and he didn't return to the game. That was probably more of a precautionary measure, but it's sure to be a storyline leading up to next week's trip to LSU.
Key play:
The Bulldogs threatened to claw back into a 24-0 game with a 97-yard drive that ate up 8:23 of the third quarter. Mississippi State quarterback
Tyler Russell
led his offense all the way to the Alabama 1-yard line, but the Crimson Tide stiffened and came away with an end zone interception to maintain the shutout.
Key stat:
The Crimson Tide forced three Mississippi State turnovers while committing none of their own, which pushes their season turnover margin to plus-17. Alabama scored touchdowns off two of those three turnovers -- a 27-yard screen pass from backup quarterback
Phillip Ely
to running back
Eddie Lacy
and a 3-yard touchdown run from third-string running back
Kenyan Drake
.
Key stat, part II:
Alabama narrowly missed out on its third shutout of the season, but it was the fifth time this year the defense has allowed 10 points or fewer. The Tide are allowing just 8.1 points per game.
What it means:
On a day when three top-10 teams suffered a loss, Alabama maintained its death grip on the No. 1 spot in college football. "College GameDay" has already announced it will be in Baton Rouge, La., for the Tide's showdown with No. 6 LSU -- the teams' third titanic meeting in the past year. The winner will grab the inside track to the SEC West championship.
The road doesn't get any easier for Mississippi State. The Bulldogs must bounce back quickly from this setback, as they host No. 20 Texas A&M next week before traveling to LSU on Nov. 10.
October, 27, 2012
10/27/12
8:43
PM ET
TUSCALOOSA, Ala. -- Even when you've won two of the past three national championships, you're always looking for a little extra motivation.
No. 1 Alabama might have gotten a little bit Friday when some prankster adorned the statue of Paul "Bear" Bryant outside Bryant-Denny Stadium with a T-shirt that read, "We Believe 8-0 Hail State."
Nick Saban's statue received similar treatment on Thursday.
The Alabama players weren't amused.
Safety
Nick Perry
tweeted, "Total disrespect. Show no mercy!!"
October, 27, 2012
10/27/12
8:18
PM ET
TUSCALOOSA, Ala. -- Finally, some real football weather.
It's more than a little chilly here at Bryant-Denny Stadium where Alabama and Mississippi State will meet as unbeaten teams for the first time since 1942.


Despite Mississippi State's record, nobody outside of Starkville really believes the Bulldogs have a chance in this game. Nevermind that they're No. 11 this week in the BCS standings and 7-0 for only the second time in school history.
The feeling nationally is that Mississippi State simply hasn't been tested.
And while it's true that the Bulldogs have only played two teams this season with winning records, this is still Dan Mullen's best team at Mississippi State. Another thing to keep in mind is that there are several veterans on this Mississippi State team, and the Bulldogs thrive on the no-respect theme.
Junior quarterback
Tyler Russell
said earlier this week that he's not sure the Bulldogs really believed they could win last season. He said this is a totally different team.
Winning the turnover battle will be critical for the Bulldogs. The good news is that they lead the country in turnover margin at plus-17. They've forced 21 and lost just four.
Then again, Alabama is also among the national leaders in turnover margin, and junior quarterback
AJ McCarron
has gone 239 straight pass attempts without throwing an interception.
In short, the Bulldogs are probably going to need a little help to win this game, and the Crimson Tide haven't been in the business of helping people.
Alabama Dismisses Jonathan Taylor
SEC SCOREBOARD
Thursday, 9/3
Saturday, 9/5