Alabama Crimson Tide:

Brian Kelly
March, 6, 2014
3/06/14
5:30
AM ET
1. The NCAA Football Rules Committee tabled the 10-second rule, and Alabama coach Nick Saban says the pace of play needs a closer look, which means we are in the exact same place as we were before the committee ready-fire-aimed its way toward passing the 10-second rule three weeks ago. That is, save for everyone on both sides being a lot more riled up. Until the data shows this is a player-safety issue, it's a style-of-play issue. Those rules are tougher to pass, if only because trends in the game develop slowly.

2. In a discussion on the ESPNU Football Podcast on Wednesday, my colleague Matt Fortuna made an interesting point in favor of the idea that Notre Dame coach Brian Kelly has established himself as a success in South Bend despite having had only one BCS-bowl season. Three of Kelly's coordinators have been hired as head coaches: Charley Molnar (UMass), Chuck Martin (Miami of Ohio) and Bob Diaco (UConn). Here's another point in Kelly's favor: he is in year five in South Bend without questions surrounding his job security. Since Dan Devine retired in 1980, only Lou Holtz has passed the five-year threshold.

3. Has it occurred to anyone else that this is the golden age of college football in the state of South Carolina? The Gamecocks have finished 11-2 and in the top 10 in the last three seasons; Clemson has done both in the last two seasons. This from the flagship programs of a state best known in recent years for exporting its talent to national powers such as Florida State and Penn State. What Steve Spurrier and Dabo Swinney have achieved gets lost because they have one conference title between them in their present jobs. But the state of South Carolina stands behind only Alabama in recent success.

November, 7, 2013
11/07/13
5:30
AM ET
1. History provides parallels of sort to the possible demise of No. 1 Alabama and No. 2 Oregon in their big games this week. No. 2 Oregon, with a quarterback who was the Heisman favorite, lost on the road in November 2007. But that was at Arizona, not Stanford, and quarterback Dennis Dixon had a torn ACL when the game began (the knee gave out in the first half). The last time the No. 1 Crimson Tide was a two-time defending national champion, 1980, the Tide made it into November with ranking intact before losing an SEC game, 6-3. But that was at Mississippi State, not home against LSU.

2. A Georgia Tech fan on my chat Wednesday asked if the Yellow Jackets had hit a ceiling with Paul Johnson and his option offense. Georgia Tech is 6-3 as it prepares to play No. 7 Clemson. But no one wants to play an option team -- ever. A week after Pitt lost to Georgia Tech, 21-10, and Notre Dame edged Navy and its option, 38-34, the Panthers and Fighting Irish play. The first thing Notre Dame head coach Brian Kelly said at his press conference Tuesday? "I know for both teams, we're excited about getting away from the option offense that we have both seen over the last couple of weeks." Exactly.

3. One of the most intriguing stories this month will be whether Duke -- yes, Duke -- can win the ACC Coastal. The Blue Devils are 6-2, 2-2 in the league, and with their victory over Virginia Tech, in the thick of the division race. A year ago, Duke started the season 6-2 – and finished 6-7. Unlike last year, the Blue Devils enjoyed an off week before they hit November. "It gave us time to talk about what lies in front of us," head coach David Cutcliffe said. "Everybody's aware on this team of what happened a year ago. We didn't win. We had all the losses, but it's easy to forget that we played good football in November."
January, 8, 2013
1/08/13
4:12
AM ET
MIAMI -- On the day before the Notre Dame defense did its best imitation of hot butter, head coach Brian Kelly said, "I still think this game is going to be decided by what happens up front."
He called it. He just couldn't do anything about it.
Actually, hot butter isn't accurate, because the Alabama offense was no cold knife. No. 2 Alabama won its third BCS National Championship in four years by bludgeoning poor No. 1 Notre Dame into submission. The
42-14 final score
is a testament to the control that the Crimson Tide's offensive line maintained at the line of scrimmage.
"It was pretty clear," Kelly said after the game. "I mean, we had a hard time getting off the field, and a lot of that had to do with Alabama. They ran the ball effectively."
Given the opportunity to play for its first national championship in 24 years, Notre Dame woke up the wrong echoes.
For Ivan Maisel's full column, click
here
.
January, 7, 2013
1/07/13
7:06
PM ET
MIAMI -- Greetings from Sun Life Stadium, where we're roughly two hours from kickoff of the last game of the college football season, and the most important one.


Great scene outside all day, as both Notre Dame and Alabama fans braved the heat and were up and running early. I figured the lots wouldn't be too crowded when I arrived shortly after 1 p.m., but I was sadly mistaken.
Notre Dame players have made their way to the field out of uniform for some tossing around and sightseeing. Coach Brian Kelly did as well, even bro-hugging Jon Bon Jovi on the sideline. Vince Vaughn is here and decked out in Irish gear, too.
Alabama coach Nick Saban made a brief tour of the field and exit for reasons I'm not quite sure of, other than to perhaps take in the biggest ovation he has ever enjoyed inside this stadium.
"Roll Tide" and "Let's Go Irish" went back and forth among the slowly increasing number of fans here early, but both piped-in music and the Alabama band have begun playing. I'm actually seated behind Notre Dame's band, which has been pretty rowdy so far.
We'll be back throughout the night with updates, so don't go anywhere.
We'll also be tweeting
and
chatting on CoveritLive throughout the night
, so look forward to enjoying this little tilt with y'all.
January, 6, 2013
1/06/13
9:00
AM ET
Editor's note:
Every day from now until kickoff in Miami, TideNation will break down the match-ups position-by-position. Today we'll look at the battle of the coaches.
Alabama:
Coach Nick Saban has been here before. So has defensive coordinator and AFCA Assistant Coach of the Year Kirby Smart, linebackers coach Lance Thompson, defensive line coach Chris Rumph and offensive line coach Jeff Stoutland. Simply put, Alabama's coaching staff does not lack for championship experience heading into the Jan. 7 showdown with Notre Dame.
[+] Enlarge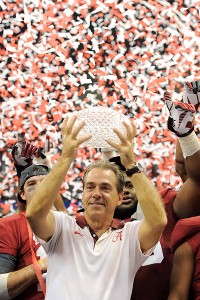 John David Mercer/USA TODAY SportsNick Saban has more than just championship experience working for him.
Saban is familiar with the BCS terrain having taken Alabama to the title game in two of the last three seasons. He's won all three of these games he's played, dating back to LSU's win over Oklahoma in 2003. He knows how to handle the time off and how to manage the pressure facing his players. He also knows better than most that the championship game is not a place to try out new tricks.
"Why do you have to come up with something new?" Saban said of incorporating new wrinkles against Notre Dame with so much time off. "Lots of people do. They think they have a lot of time to practice, so we can come up with a lot of tricks and different things like that. I don't necessarily think that's the way we've done it in the past. I think you technically do what you think you need to do to be able to attack the other team, doing things your players know how to do. If you try to do too many things they don't know how to do, they have a better chance of messing them up."
Notre Dame:
What Brian Kelly has done in three short years at Notre Dame is nothing short of remarkable. It wasn't that long ago that the Fighting Irish were agonizing over a pair of failed coaches in Tyrone Willingham and Charlie Weis. It was starting to look like the problems in South Bend were systematic, that the winning ways of Touchdown Jesus and the Golden Domers had run their course.
That, of course, was proven untrue. Kelly built his brand steadily, winning eight games in his first year and eight games the next. It all came together this season as Kelly brought what SEC fans recognize as a thoroughly Southern flair to his team. In other words, he brought smash-mouth, defensive football to another part of the country.
"I think it's very, very comparable," UA offensive coordinator Doug Nussmeier said. "This is as good a front seven as we've seen. They do a great job jumping in and out of their odd defense and going from an odd to a four-down front, and they've got big, physical, fast players. They run well on the back end, very well coached. They're just a really, really good defense."
Final Verdict:
For all that Kelly has done, he hasn't reached the promised land yet. This is his first time on the big stage and how he handles it is still to be determined. For Saban, that question doesn't exist. He has a track record and is working on the D-word at Alabama -- a dynasty. One could go on and on about Saban, but the quality of the UA coaching staff goes beyond the head coach. Smart is one of the hottest commodities in the profession and Nussmeier is making a name for himself after helping quarterback
AJ McCarron
to a school-record 26 passing touchdowns this season and producing the school's first tandem of 1,000-yard tailbacks.
January, 4, 2013
1/04/13
3:00
PM ET
We started this off last week. Here are some more nuggets courtesy of our friends at ESPN Stats and Info.
Notre Dame and Alabama have the most poll national championships since the Associated Press began its weekly poll in 1936. ESPN has made a policy of recognizing only poll-era national championships (since 1936). Both programs claim other national titles in the pre-AP era, but those are more difficult to legitimize, since there were several groups naming national champions back then, and hardly anyone watched teams from other regions of the country. The two teams have also met in bowl games that had national championship implications. Notre Dame beat Alabama in the 1973 Sugar Bowl to win the AP National Title. However, Alabama still won the UPI National title since it crowned its champion before bowl games were played. The next season, Notre Dame beat Alabama in the Orange Bowl to prevent Alabama for winning another national title. In all, Notre Dame and Alabama have played six times with the Irish holding a 5-1 edge. The two teams haven't met since 1987.
Having already won in 2009 and 2011, Alabama is trying to win its third national championship in four years, which has been accomplished only twice in the poll era. Nebraska did it under Tom Osborne in 1994, 1995 and 1997, but the last of those titles was only in the coaches' poll. The lone team to win three AP national championships in a four-year span was Notre Dame under Frank Leahy in 1946, '47 and '49. In addition, AJ McCarron and the Crimson Tide are trying to become the first program to win back-to-back BCS championships. Three previous reigning champs have returned to the title game, but all three lost in their quest to repeat. McCarron will also try to become the first quarterback to win consecutive BCS national championships, something that Chris Weinke (Florida State), Ken Dorsey (Miami FL), and Matt Leinart (USC) failed to do.
Alabama is trying to win the SEC's seventh consecutive national championship. Prior to this stretch, no conference had ever won more than three in a row. It would be the ninth BCS title won by the SEC. All the other conferences have six combined and no other conference has more than two.
Alabama's Nick Saban is the only coach with more than two BCS titles and is one of just 10 coaches with three or more national championships in the poll era. A win on Jan. 7 will put him in some very elite company, as only three coaches have won at least four national titles. The names: Bear Bryant, Frank Leahy and John McKay. Because Nick Saban spent the 2005 and 2006 seasons with the Miami Dolphins, he is trying to win his fourth national title in his past eight seasons as a college head coach. Only Frank Leahy has managed to win four in even a 10-year span.
Four different coaches have been responsible for Notre Dame's eight national championships in the poll era (since 1936). All four of those coaches captured their first national title in their third season at Notre Dame. Brian Kelly is currently in his third season in South Bend.
Notre Dame is third all-time in wins with 865 while Alabama is seventh with 826. Both teams also rank in the top seven in win percentage. The two teams met head-to-head six times with Notre Dame winning five of them. However, they haven't met since 1987, a 37-6 Notre Dame win in South Bend.
The last time an SEC team lost a national championship game to a team from outside the conference was when Nebraska beat Florida in the Fiesta Bowl to end the 1995 season ('96 Fiesta Bowl). Since that time, the SEC has won eight straight bowl games against "outsiders" with a national championship on the line. (doesn't count Alabama's win over LSU last year)
This will be Saban's ninth championship game as a head coach. He is 7-1 in the previous eight (3-0 in BCS title games, 4-1 in SEC title games). The only loss was to Florida in the 2008 SEC Championship.
Notre Dame is 6-0 in road/neutral games this season with the closest one being a nine-point win over USC. Even though the Irish were also 6-0 at home, five of those six games were decided by seven points or fewer. Alabama has only two losses over the last two years, and both were in Tuscaloosa. The Tide have won 13 consecutive games away from home, which is the longest such streak in the FBS.
The BCS championship games have been split seven apiece between the No. 1 and No. 2 teams in the final standings, but No. 2 has won seven of the last 10.
These are the nation's top two scoring defenses, with Notre Dame allowing 10.3 points per game, and Alabama allowing 10.7. Last year's national championship game was also a matchup of the top two scoring defenses, as Bama beat LSU, 21-0. Prior to that, there hadn't been such a meeting in the postseason since the 1994 season.
The Tide have scored 21 points or more in 44 of their last 45 games. That's three more than any other team in the FBS over this span.
No sophomore or freshman starting QB had ever won the BCS National Championship until Alabama's McCarron did it last year as a sophomore. Now, Notre Dame redshirt freshman Everett Golson has his chance.
In 2007, Alabama went 7-6 in Saban's first season, while Notre Dame sunk to a historic low, finishing 3-9. In 2008, Saban took the Tide to the SEC title game, while the Irish continued their mediocrity, going 7-6. Entering the 2012 season, these two teams couldn't have been more opposite in terms of success over the previous four years.
This will be the first time since 2006 that Notre Dame finishes a season in the AP Top 25, so it's not surprising that the Irish weren't ranked in this year's preseason AP poll. They are the first preseason unranked team to reach a BCS championship game, and they are the first preseason unranked team to finish the regular season as AP No. 1 since BYU in 1984.
The last preseason unranked team to win a national championship was Georgia Tech in the coaches' poll in 1990. The last team to do it in the AP poll (as Notre Dame can only do this season) was BYU in 1984.
December, 6, 2012
12/06/12
12:36
PM ET
Notre Dame and Alabama are squaring off Jan. 7 in the Discover BCS National Championship, in case you haven't heard. With the matchup more than a month away, TideNation's Alex Scarborough and Notre Dame blogger Matt Fortuna go back and forth on a number of topics between the Tide and Irish.
AS
: The other day Nick Saban called Notre Dame's front seven possibly the best in college football. How do you think it stacks up and what is it about the Irish defense that makes it special?


MF
: One of the most overlooked pieces of Notre Dame's defense has been nose guard
Louis Nix
. He is a junior who came in overweight two years ago, dropped roughly 40 pounds, and then was told last year that he might not see 20 snaps a game. Injuries turned him into nearly a full-time starter last year, and he has taken his game to another level this year. His numbers -- five tackles for loss, two sacks and one forced fumble -- simply do not do him justice. He regularly takes on two blockers at a time, freeing up athletic end
Stephon Tuitt
(12 sacks) and allowing the Irish linebackers to make more plays. The biggest question for me -- especially after the SEC title game -- is how much pressure can these guys get on
AJ McCarron
? Is this offensive line invincible?
AS:
The offensive line is about as invincible as it gets in one respect -- the running game. When Alabama commits to handing the ball off the
Eddie Lacy
and
T.J. Yeldon
, there's not much a defense can do. The job
Chance Warmack
,
Barrett Jones
and Co. do pushing the line of scrimmage is remarkable. But in another respect, the line is somewhat vulnerable. Georgia showed it's not very difficult to get pressure on the backfield. It's why Alabama committed to the running game like it did in Atlanta. There wasn't much of a choice with
Jarvis Jones
harassing McCarron.
If there's a spot to attack Alabama's defense, it's the passing game. Georgia hit the Tide up for big play after big play on Saturday. Does Notre Dame have enough with
Everett Golson
to stretch the field and keep the defense honest?
Alabama Dismisses Jonathan Taylor
SEC SCOREBOARD
Thursday, 9/3
Saturday, 9/5