Alabama Crimson Tide:

Bret Bielema
May, 10, 2013
May 10
10:19
AM ET
Inspired by
Florida's "#ComePlayWRFortheJoker" campaign
, our recruiting writers looked at other ways schools can sell themselves on the trail. Here's a look at recruiting pitches for the SEC:

Alabama Crimson Tide
What they are selling:
What's not to sell? Alabama is coming off back-to-back national championships, and the Crimson Tide had nine players taken in April's NFL draft, including three in the first round. For the critics who say you won't play early at UA, ask
T.J. Yeldon
and
Amari Cooper
how much they contributed as freshmen.
What they are missing:
Although they won a national championship, the Tide didn't generate much pass rush last fall, and they had trouble containing freshman sensation
Johnny Manziel
. Also, they need to rebuild the offensive line, a unit that anchored the offense last year.

Arkansas Razorbacks
What they are selling:
New head coach Bret Bielema runs a completely different offensive system than the previous two Arkansas coaches. The Razorbacks are selling an opportunity for freshmen to come in and earn playing time early in their careers.
What they are missing:
The Razorbacks signed only one offensive lineman,
Denver Kirkland
, who was rated a four-star prospect or higher last year. In this run-heavy system, look for Arkansas to focus on landing talented players along the offensive line.

Auburn Tigers
What they are selling:
It's a new regime for Auburn, but there's a familiar face running the show. New head coach Gus Malzahn knows the program from his days as offensive coordinator. He's already shown the ability to recruit, stealing ESPN 150 linebacker
Tre Williams
away from the Tide. There's a sense of excitement on The Plains again.
What they are missing:
Malzahn filled out his first recruiting class with playmakers, but Auburn needs to build up front on the offensive and defensive lines. No matter what offense you run, if you want to win in the SEC, you need to be able to compete up in the trenches.

Florida Gators
What they are selling:
With no proven wide receivers on the perimeter, Florida is attempting to sell early playing time at the position. A chance to play for one of the best defensive minds in college football in Will Muschamp is another selling point to defensive prospects.
What they are missing:
Production on offense. After finishing 114th nationally in passing offense, it will be hard to sell playing time to wide receivers without an explosive passing game in place.

Georgia Bulldogs
What they are selling:
Freshmen, if they're good enough, play early at Georgia. From running backs
Todd Gurley
and
Keith Marshall
to offensive tackle
John Theus
to defensive end
Jordan Jenkins
, several freshmen Bulldogs made major contributions on a team that was a few yards away from making the national championship game.
What they are missing:
Georgia has brought in four top-12 recruiting classes in the last four years. Depth might become an issue for some recruits, but Georgia has certainly shown a willingness to play younger players.
April, 1, 2013
Apr 1
1:30
PM ET
Remember Bret Bielema's comments when he was still Wisconsin's coach about what he suggested were illegal recruiting tactics by new Ohio State coach Urban Meyer?
"I can tell you this," Bielema said at the time. "We at the Big Ten don't want to be like the SEC ... in any way, shape or form."
Well, Bielema is in the SEC now as Arkansas' new coach, and it's clear that he's not bashful when it comes to speaking his mind.
At an
Arkansas booster club function
last week in Benton, Ark., Bielema didn't tread lightly.
Here's what he was quoted as saying when asked about the challenges of playing in the rugged Western Division: "I came to the SEC for a variety of reasons, but the major one in my mind was to win an SEC championship."
[+] Enlarge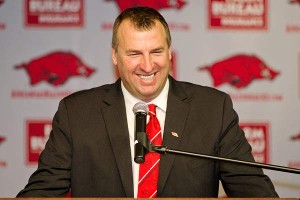 Beth Hall/USA TODAY SportsWill Arkansas' Bret Bielema be smiling after a brutal stretch of games during the SEC season?
On the topic of two-time defending national champion Alabama and Nick Saban, Bielema was quoted as saying: "The reason the SEC is talked about all the time is one team, because of their dominance. But I didn't come here to play Alabama. I came here to beat Alabama.
"You can take Saban's record when he was at Michigan State and when he was a coach in the Big Ten and put it against mine, and he can't compare."
For the record, a spokesperson at Arkansas -- when asked about the context of Bielema's comments -- said he was making a light-hearted joke and didn't mean it as a shot at Alabama or Saban.
Ultimately, something says the Alabama fans (and Saban) will be the judge of that. Arkansas travels to Bryant-Denny Stadium on Oct. 19 next season to face Alabama. It's the final game of a grueling four-week stretch for Arkansas which starts with Texas A&M at home, Florida on the road, South Carolina at home and then the trip to Tuscaloosa.
Bielema's not the first new coach or fairly new coach in the SEC to set his sights on Saban. Vanderbilt's James Franklin called Saban "Nicky Satan" while speaking in Macon, Ga., back in January and boasted that he was going to outwork Saban. Franklin later called Saban to apologize and said he was merely making a joke and had tremendous respect for Saban and his work ethic.
The first thing that's obvious regarding both of these instances is that everybody is shooting for Alabama and Saban. That's what happens when a team wins three national titles in four years.
The other thing at play here is that new coaches in this league are looking to make a splash with their fans and recruits (remember that Lane Kiffin guy?), and sometimes they say things at outside speaking engagements they might not normally say at a news conference or while speaking to a group of reporters after practice.
That's OK, because we in the media complain all the time about coaches being robots and rarely saying what's on their mind.
Steve Spurrier is the exception, and it's refreshing any time you get an audience with the Head Ball Coach.
In Bielema's case, he'll get plenty of chances to "beat" Alabama and Saban. The two teams play every year, and the Crimson Tide have won six in a row in the series. Three of the past four games haven't been close.
Before everybody beats up too much on Bielema, the last thing Arkansas fans want to hear at a Razorback Club function is their new coach talking about how wide the gap is right now between Alabama and Arkansas. But I would also contend that Bielema might have sold the rest of the SEC a little short with his comments about "one team" being the reason the SEC is talked about all the time.
Four different schools have won national championships during the SEC's streak of seven in a row. Five SEC schools were ranked in the top 10 in the final polls last season, and six were in the top 15. There could be as many as 12 former SEC players taken in the first round of the upcoming NFL draft.
Make no mistake. Everybody's chasing Alabama right now, but there are still a ton of thoroughbreds in the race.
And simply getting to a point where you're consistently running up front in this league is the most daunting grind in college football.
March, 22, 2013
Mar 22
12:30
PM ET
In keeping with our March Madness theme, I decided to take a look at one area everyone loves about the Big Dance and translate it to the football field: upsets.
We saw some good ones last year, like Louisiana-Monroe upending Arkansas, Texas A&M knocking off No. 1 Alabama in Tuscaloosa and Louisville embarrassing Florida in the Allstate Sugar Bowl.
Since anything -- and everything -- can happen on any given Saturday, we'll probably see some fun upsets yet again this fall.
Here are some potential upsets involving SEC teams to look out for in 2013:
Virginia Tech over Alabama, Aug. 31:
The Hokies limped through a 7-6 2012 season, but return nine starters on a defense that finished the year ranking 18th nationally in total defense. With four defensive linemen returning, Virginia Tech could give Alabama's new-look offensive line fits in the opener, while quarterback
Logan Thomas
could make a few plays here and there inside the Georgia Dome.
TCU over LSU, Aug. 31:
The Tigers have a lot of holes to fill on defense, and TCU just happens to bring back nine offensive starters. Plus, quarterback
Casey Pachall
is back. This game will also be played in Arlington, Texas, which is less than 20 miles away from TCU's campus.
Miami over Florida, Sept. 7:
The Gators finally get some more meat on their out-of-conference schedule and you better believe the Canes, who have spent the past few years in the shadow of Florida and Florida State, are itching to pull this upset. The game will be played in Sun Life Stadium, so Canes fans should be out in full force.
Western Kentucky over Tennessee, Sept. 7:
Bobby Petrino returns to the SEC with his new team with 13 returning starters, including six on offense. After getting zero love from SEC schools during his job hunt, Petrino will be looking to exact some revenge on the league. The Vols have tons of questions to answer and will be adjusting to a new staff. Also, this is a trap game with Oregon next on the schedule.
UCF over South Carolina, Sept. 28:
This would be a major upset for the Golden Knights. South Carolina is clearly the better and more talented team, but this is a road game early in the year. UCF is coming off of a 10-win season and returns 11 total starters, including 3,000-yard passer
Blake Bortles
and five of its top six receivers. The Gamecocks also have a tendency to play down to their competition.
Ole Miss over Texas A&M, Oct. 12:
The Rebels choked away a second-half lead in this game last year, so there's plenty of motivation on Ole Miss' side. This game is in Oxford again, too. The Aggies have to replace five starters in their front seven, and the Rebels' explosive offense, which returns eight starters, could be a bad matchup for a younger defense like that.
Arkansas over South Carolina, Oct. 12:
Everything is new in Fayetteville, but the Hogs have won three straight at home against the Gamecocks. A physical Bret Bielema team could catch the Gamecocks off guard, and you know that environment will be rocking.
Missouri over Florida, Oct. 19:
The Gators will be coming off of what should be a tough, physical game at LSU, and must stay on the road to play
these
Tigers. Fatigue could set in and if Mizzou can stay healthy, its offense should be better than what we saw last year. Florida's offense still has a bunch of questions and can't afford to let another road environment rattle it.
Vanderbilt over Georgia, Oct. 19:
In 2011, the Commodores came very close to pulling this upset. Last year, Vandy was run out of Athens. And we all know how much
James Franklin
wants this one. A solid defense returns and with the playmakers Vandy has on offense, this team could put some points up on Georgia's younger defense.
Auburn over Alabama, Nov. 30:
Yep. This could happen. Alabama is going to lose again and while most are looking at the Tide's trip to College Station as the most likely loss in 2013, don't sleep on Bama's biggest rival. Auburn will be a better team next year and could be a nuisance late in the season. If that offense gets going, the Tigers could really challenge Alabama on the Plains.
February, 25, 2013
Feb 25
1:57
PM ET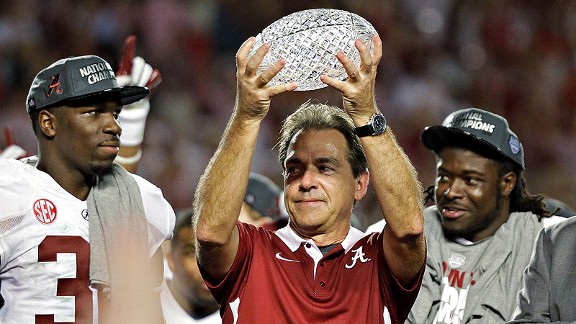 AP Photo/Chris O'MearaAlabama coach Nick Saban hoisting a national title trophy has become an extremely familiar sight.
Change is inevitable in the world of SEC football.
It's as much a part of the league as fierce rivalries that divide families, championship teams that rise to legendary status and tradition-soaked Saturdays at such iconic venues as Tiger Stadium, Bryant-Denny Stadium and most recently, Kyle Field.
Four new head coaches will take to the field this spring in the SEC -- Bret Bielema at Arkansas, Butch Jones at Tennessee, Gus Malzahn at Auburn and Mark Stoops at Kentucky.
Of the 14 head coaches in the SEC, eight have been in their jobs for two seasons or fewer.
They say that NFL stands for "Not For Long." Well, the same could be said about the SEC.
The one thing that hasn't changed, at least recently, is that Alabama keeps on winning national championships. The Crimson Tide have won two in a row and three of the past four.
Their 42-14 rout of Notre Dame in the Discover BCS National Championship placed the Tide in rarefied air. Not since Notre Dame in the late 1940s had one team won three outright national titles in a four-year span.
The worst-kept secret in college football is that the SEC has produced the past seven national champions. That drumbeat has become all too familiar for everybody outside SEC Country.
But within the league, an equally familiar question is beginning to circulate with increasing fervor: Can anybody catch Alabama?
December, 5, 2012
12/05/12
10:15
AM ET
We've come to the end of the regular season for the SEC, so here is our final batch of power rankings until the new year:

1. Alabama (12-1; last week: 1): No, Alabama wasn't perfect in its 32-28 victory against Georgia in the SEC title game, but talk about resolve. This team trailed by 11 in the second half, but fought back with a punishing running game and just wore down one of the most talented defenses around to throw itself into the Discover BCS National Championship against Notre Dame. The Crimson Tide will now play for their second national championship in a row, and third in four years.

2. Florida (11-1; LW: 3): The Gators didn't win their division and weren't in Atlanta, but it's hard to find a team with a better résumé. Florida finished the season with four wins against teams currently ranked in the top 12 of the BCS standings. Three of them are in the top 10. Florida is headed to a BCS bowl for the first time since 2009. The Gators will face Louisville in the Allstate Sugar Bowl.