Alabama Crimson Tide:

Bo Davis
April, 22, 2014
4/22/14
10:30
AM ET
TUSCALOOSA, Ala. -- A-Day might not have featured the finest quarterback play. It might not have been the introductory moment offensive coordinator Lane Kiffin was hoping for, either.
One thing did, however, go over incredibly well for Alabama on Saturday. The defensive line answered this spring's most hard-to-pin-down question with a resounding yes.
[+] Enlarge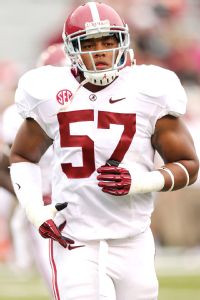 Nelson Chenault/USA TODAY SportsD.J. Pettway was a big part of Alabama's resurgent pass rush this spring.
Yes, Alabama has excellent depth up front on defense. And, yes, the line seems ready to get after the quarterback more than it has in seasons past. All you had to do was watch Kiffin's passing game fold under pressure time and time again to see that.
The ultimate point of pride for defensive line coach Bo Davis and his players had to be the first touchdown of the game: Defensive end
D.J. Pettway
snags a screen pass from
Blake Sims
, finds the open field and races 29 yards to pay dirt. After holding the offenses scoreless for 45 minutes, it was the defense that found a way to score.
But as much fun as it was to watch a big man rumble into the end zone, what really had the faithful at Bryant-Denny Stadium giddy was Alabama's resurgent pass rush. We'd heard all spring how Davis had infused enthusiasm and energy into the defensive line. How he was full of energy. How he was asking his players to read less, react more and get after the quarterback. And unlike the unfulfilled promise of Alabama's quarterbacks, its defensive linemen delivered, to the tune of seven sacks and 19 tackles for loss.
(For comparison sake, Alabama totaled two sacks and five tackles for loss at last year's spring game.)
Even coach Nick Saban, who
fought speculation about the quality of the defensive line
early on this spring, had to concede that he had a talented group of players to work with. In fact, he had to widen his praise to most of the defensive front seven.
"We have a lot of experienced players," Saban said after the White beat Crimson, 17-13, in a game where the score is meaningless, though White was led by the first-team defense. "[D.J.] Pettway and [Jarran] Reed add a lot of depth and athleticism to that group.
A'Shawn Robinson
and
Jonathan Allen
were both freshman last year, and I always say that you make the most improvement between your freshman and sophomore year. Those guys got to play a lot last year; they've both had great springs.
"We had three inside linebackers that I thought played really well.
Trey DePriest
had a really good spring.
Reggie Ragland
and
Reuben Foster
[did] as well. We also had three guys that played really well at outside linebacker.
Denzel Devall
,
Xzavier Dickson
, and
Dillon Lee
, those guys all had really good springs.
Tim Williams
and
Ryan Anderson
both contributed and improved."
Pettway and Williams played so well on A-Day that they were named co-winners of the Dwight Stephenson Lineman of the Game award. Allen, who had six tackles and two sacks, also blocked a field goal.
"From the front seven stand point, I feel a lot further along," Saban said.
Trey DePriest
, Alabama's leader on defense at middle linebacker, said the defensive line showed at A-Day what it was capable of.
"My defensive line is great," he said. "They put their hands on guys, they strike them, they push them back and let me and Reggie hit the holes and run."
Ragland, for his part, agreed -- though it came with a caveat. How good is the defensive line? "You'll see coming up," he said.
"We still have a lot more to prove. We didn't get to do half the stunts we wanted to."
April, 16, 2014
4/16/14
1:00
PM ET
TUSCALOOSA, Ala. -- At first, Nick Saban scoffed at the idea of his defensive line having good depth. After a
lecture on the merits of perception
, he said he wasn't at all happy with the group.
Alabama
might appear loaded, but the veteran head coach wasn't interested in how his defensive line appeared.
"I'm not satisfied with the way any of them are playing, if you want to know the truth about it," he told reporters on March 31.
[+] Enlarge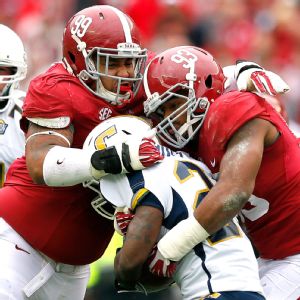 Kevin C. Cox/Getty ImagesWith a new coach, Brandon Ivory (left), Jonathan Allen and the rest of Alabama's defensive line are focused on improving their pass-rushing abilities.
And then people actually listened.
"I've been getting asked that everywhere I go, like we've got a bad defensive line," he said a week and a half later. "We don't have a bad defensive line. They're doing fine."
So which is it? The truth probably lies somewhere in between.
"They're improving," Saban said following Saturday's scrimmage. "But we're still not striking up front, playing as physical, converting pass rush, getting the kind of execution that we need, doing the little things right, especially when we're doing stunts and pressures.
"So I like the way they're working and they made improvement, but I think there's certainly a lot more that we can look for."
While Saban's feelings toward the defensive line have wavered throughout the spring, the players themselves appear largely pleased with their progress. They have a new coach (Bo Davis), new teammates (
D.J. Pettway
,
Jarran Reed
) and a new mandate (rush the passer).
Losing former defensive line coach Chris Rumph to Texas hurt initially, said sophomore defensive end
Dalvin Tomlinson
. "It was a shock to hear," he said. But then he got to experience the energy and enthusiasm Davis brings.
"He's a pretty fired-up guy on the field," Tomlinson said, describing Davis as being more hands on as well. "He makes us be aggressive out there."
Veteran nose guard
Brandon Ivory
agreed: "Davis is pushing us to the limit. ... He brings a lot of energy. He's always fired up, hyped. I say that's a good thing to have."
The hope for Davis is that a renewed sense of energy translates into production. Last season Alabama ranked a paltry 81st nationally in sacks (22) and tied for 94th in tackles for loss per game (5.3). This season Davis is asking his players to read less and react more. In other words, he wants them to play fast.
"Last year we didn't get enough sacks across the defensive line, we didn't feel like," Tomlinson said. "So this year our main focus is getting to the quarterback. So we're trying to be more aggressive off the ball and more explosive."
Ivory isn't the pass-rushing prototype at 300-plus pounds, but he's seen the linemen around him change into a group that's better equipped to chase down the quarterback.
"We've got guys that are pretty good at rushing the passer like D.J. Pettway,
Jonathan Allen
, more smaller guys and quicker who can get after the quarterback more," Ivory explained.
Maybe more so than in years past, Alabama has the "quick-twitch" defensive linemen Saban covets. Pettway and Allen certainly fit that mold. So do Tomlinson,
Dee Liner
and incoming freshman
Da'Shawn Hand
, a five-star prospect from Virginia. Even 320-pounder
A'Shawn Robinson
will be an asset in the pass-rushing department. He finished first on the team in sacks (5.5) as a true freshman last season.
But don't run down the roster with Saban. Don't tell him what the defensive line looks like on paper.
Maybe listen to the players themselves, however.
"We've been having our ups and downs," Tomlinson said, "but throughout the spring I think we're going to come together as a defensive line and be a great defensive line all the way across the front."
March, 14, 2014
3/14/14
9:00
AM ET
Schedule:
The Crimson Tide will open spring practice on Saturday in Tuscaloosa, Ala. All practices are closed and only the A-Day scrimmage at 2 p.m. ET on April 19 will be open to the public.
What's new:
The coaching staff has gone under some serious reconstruction. In fact, it looks a lot like Nick Saban's staffs of old with Kevin Steele as the linebackers coach and Bo Davis as the defensive line coach. Defensive coordinator Kirby Smart moved back to coaching the secondary to allow for Steele's return. And let's not forget the one new face on the staff, offensive coordinator Lane Kiffin. You might have heard of him.
On the move:
When Saban last spoke to the media a week ago, he said there was "no news on who's playing what position and who the quarterback is." But there will be movement. Look for some tweaking in the defensive backfield this spring. Much like last year,when Saban asked offensive players
Dee Hart
,
Christion Jones
and
Cyrus Jones
to try their hand at cornerback, he might ask someone like
ArDarius Stewart
to see if a return to defense is in order. Considering the lack of depth at cornerback and the departure of safeties
Ha Ha Clinton-Dix
and
Vinnie Sunseri
, the coaching staff might need to plug some holes in the secondary with some surprise players.
[+] Enlarge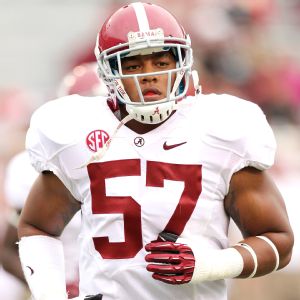 Nelson Chenault/USA TODAY SportsD.J. Pettway is back and will attempt to earn a shot at playing time at Alabama.
On the mend:
One of those defensive backs coming back is
Nick Perry
. The safety started four games in 2012 and appeared in two more games in 2013 before suffering a season-ending injury. Though he might not be the most talented option at the position, he's clearly the most experienced, with 30 games under his belt. And that counts for something with Saban, who needs to trust whoever starts opposite
Landon Collins
.
New faces:
Aside from the handful of early enrollees fresh out of high school, there are four junior college transfers to watch, including the return of former Alabama defensive end
D.J. Pettway
. There's also tight end
Ty Flournoy-Smith
, who was at Georgia once upon a time and could add to the passing game behind
O.J. Howard
; defensive tackle
Jarran Reed
, who could help plug the middle at 315 pounds; and offensive tackle
Dominick Jackson
, who was ranked as the No. 1 player at his position and could challenge to replace
Cyrus Kouandjio
.
Question marks:
We've detailed the problems in the secondary and hinted at the battle at left tackle, leaving a major unanswered question as to who replaces
C.J. Mosley
on defense. The former All-American linebacker was the heart and soul of the unit. We know
Trey DePriest
wants to take on the role, but is he ready? And who will play alongside him at inside linebacker?
Reuben Foster
was an immensely talented linebacker coming out of high school -- with a dramatic recruitment, no less -- but he played mostly on special teams as a freshman. He'll have a lot of competition for playing time, with
Dillon Lee
and
Reggie Ragland
hoping to emerge.
Key battle:
Unfortunately, this one won't be solved until the fall. But that makes the battle no less important. Alabama needs to find a starting quarterback to replace
AJ McCarron
, and until that's resolved, it's priority No. 1.
Jacob Coker
, the Florida State transfer, won't arrive on campus until May. So that leaves a bevy of unproven options under center.
Blake Sims
will get his shot after backing up McCarron last year, but it remains to be seen how the run-first athlete will do as a pocket passer. Beyond Sims, there's rising sophomore
Alec Morris
and a pair of redshirt freshmen,
Cooper Bateman
and
Parker McLeod
. If one stands out this spring, he'll surely have the upper hand come fall and could challenge the presumed frontrunner, Coker.
Breaking out:
It was a process started at the Sugar Bowl that many Alabama fans hope will continue right on into his sophomore season.
Derrick Henry
didn't do much during the regular season, carrying the ball a total of 28 times. But all you'll remember is the bowl game and his eight carries and one reception against Oklahoma, accounting for 161 yards and two touchdowns. He's big (try 6-3 and 238 pounds) and he's deceptively fast. With dreadlocks that stick out from under his helmet, picture a stretched out Trent Richardson. After losing a large chunk of practice last spring to a broken leg, he'll have the benefit of a full offseason to climb the depth chart and nip at the heels of incumbent starter
T.J. Yeldon
.
Don't forget about:
Don't sleep on Yeldon. He's pretty darn good, with back-to-back 1,000-yard rushing seasons to start his career. But don't forget Alabama's depth at wide receiver. Whoever starts at quarterback will have plenty of receivers to throw to.
Amari Cooper
, who is among the best in the SEC when healthy, is just the tip of the iceberg.
DeAndrew White
and Christion Jones are two veteran pieces, and tight end O.J. Howard has the potential to be one of the disruptive offensive weapons in the league if he reaches his potential. Given the way Alabama has recruited of late, look for one or two blue-chip prospects to emerge.
Chris Black
has been waiting patiently, and
Robert Foster
seems poised to step up with a year of experience under his belt.
All eyes on:
There's going to be a quarterback competition, position battles and several new players will emerge. But keep an eye on Alabama's attitude. Saban's dynasty in Tuscaloosa was shaken but not entirely derailed last season. Losing the final two games, to Auburn and Oklahoma, in such unspectacular fashion hurts. The question is how Alabama will respond. It worked out well after the 2010 season, but this isn't the same team. There are quite a few leaders in need of replacing, and there might be something to McCarron's criticism that a five-star sense of entitlement crept into the program. Righting the ship won't be easy for Saban and his staff, but he will have the luxury of putting a gigantic chip on his players' shoulders this offseason. How they respond is up to them.
February, 20, 2014
2/20/14
9:00
AM ET
Editor's note: This is Part IV in a weeklong series looking at Alabama's top five position groups with room to improve.
TUSCALOOSA, Ala. -- With a new position coach, maybe it's time for new expectations. Alabama's defensive line always has been solid, but when was the last time it was impressive? When was the last time it created the type of pressure that routinely moved quarterbacks off their spot and into bad situations?
Bo Davis' return to Tuscaloosa as defensive line coach represents an opportunity for Alabama. With starters
Jeoffrey Pagan
and
Ed Stinson
off to the NFL, there's room for both a shakeup in personnel and philosophy.
Granted, Nick Saban is never going to be the type of head coach who chases sacks, or any stat for that matter, but there's no doubt Alabama could stand to get better at rushing the passer up front.
With more hurry-up offenses and mobile quarterbacks taking over in the SEC and college football, simply getting in the face of the passer won't do it anymore -- the ball is out too quickly or the quarterback will too often scramble out of pressure.
[+] Enlarge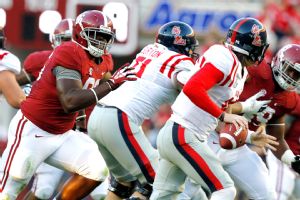 AP Photo/Butch DillA'Shawn Robinson made an immediate impact as a freshman.
Davis, though, has more than a passing familiarity with uptempo offenses and speedy quarterbacks. After three seasons in the pass-happy Big 12, he understands the demands of pressuring the quarterback in today's game.
Battling for No. 1:
Based on last season, the writing might already be on the wall for who replaces Pagan and Stinson in the starting lineup.
Brandon Ivory
and
Darren Lake
should continue to hold down at nose guard, and the way true freshman
A'Shawn Robinson
played, leading the team with 5.5 sacks, he's a lock to start. At 6-foot-4 and 320 pounds with surprising athleticism, he's the kind of "quick-twitch" down lineman Saban has been looking for. The same can be said of fellow rookie
Jonathan Allen
, who played in all but one game last season. His 16 tackles and half a sack won't knock your socks off, but considering he played so much as a true freshman without the benefit of spring practice, it's nonetheless impressive.
Strength in numbers:
The return of
D.J. Pettway
from junior college could push the presumptive starters, however. You'll recall that Pettway was a Freshman All-SEC selection in 2012 and only left the team after being arrested in an on-campus altercation. Should he remain out of trouble and regain the confidence of coaches on the field, he could make an immediate impact. He'll be joined by a handful of solid reserves:
Dalvin Tomlinson
,
Dee Liner
,
Korren Kirven
and
Dakota Ball
. Tomlinson is an intriguing prospect; coaches and players have raved about his potential, but knee injuries in successive years have forced him out of the lineup.
New on the scene:
Alabama won't be hurting for depth as it welcomes in four defensive linemen, not counting Pettway. Junior college transfer
Jarran Reed
is one to watch. At 6-4 and 315 pounds, he could compete for time at nose guard. Four-star prospects
O.J. Smith
,
Johnny Dwight
and
Joshua Frazier
are big bodies who could fill roles as interior linemen. And don't forget the most high-profile recruit of them all:
Da'Shawn Hand
. The five-star defensive end from Virginia is a physical marvel at 6-4 and 262 pounds with a sub-5.0 40-yard dash. He could easily trim down and play outside linebacker, but coaches will get a better look when he enrolls this summer.
January, 15, 2014
1/15/14
9:00
AM ET
Editor's note: This is Part III in a weeklong series looking at the five most pressing concerns Alabama faces this offseason.
TUSCALOOSA, Ala. -- With so many big-picture items on Alabama's to-do list this offseason, it's no wonder we're seeing a shakeup on the coaching staff. Lane Kiffin is the most buzz-worthy new hire with a big job to accomplish, but he's not alone. Bo Davis, who is set to become the Crimson Tide's
new defensive line coach
, has another important issue to tackle: generate a more consistent pass rush.
But he won't be alone. Head coach Nick Saban, defensive coordinator Kirby Smart and linebackers coach Lance Thompson all must work together to find a way to get to the quarterback more often.
[+] Enlarge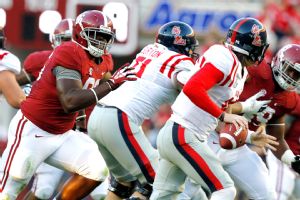 AP Photo/Butch DillFreshman A'Shawn Robinson led the Tide in sacks with 5.5.
Whatever you do, though, don't mention sacks as a statistic in making an argument to this coaching staff. Saban notoriously loathes the idea that
sacks are a measure of a good defense
. But even he would concede that the pressure Alabama brought on quarterbacks in 2013 wasn't enough. Alabama's total number of hurries, knockdowns and sacks have risen steadily over the past three season (48 in 2011, 53 in 2012 and 79 in 2013, according to ESPN Stats and Information), but with more and more mobile quarterbacks like
Johnny Manziel
and
Nick Marshall
, simply getting in the face of the passer won't do it -- they'll too often scramble and find a way to pick up yards with their feet or their arm.
Enter Davis, who has more than a passing familiarity with uptempo offenses and speedy quarterbacks. After three seasons in the pass-happy Big 12 at Texas, he is well acquainted with the demands of pressuring the quarterback. His Longhorns registered 100 sacks to the Tide's 87 over that time.
Losing a talented pass-rusher like
Adrian Hubbard
to the NFL draft hurts, but Alabama isn't without options. And unlike in years past, the heat may come from the down linemen more than the linebackers. With young up-and-comers
A'Shawn Robinson
and
Jonathan Allen
emerging at defensive end, Alabama is well equipped to get after the quarterback.
Robinson was one of the most impressive freshmen in all of the SEC this past season. Teammates joked that he looked 30 years old when he first enrolled, but opponents weren't laughing. The 6-foot-4, 320-pound true freshman wound up leading Alabama with 5.5 sacks, finished second with eight tackles for loss and tied for third with four quarterback hurries.
"I wondered where his whistle was because he looks like a coach," Smart said of Robinson prior to the Sugar Bowl. "He's about a 28-looking-year-old dude. When we recruited him, we always thought he was going to be a special player, big size, speed guy, what you wanted athletically, didn't know how developed he would be technically on the field. He was a real raw talented guy. He's come a long way and he still has a long way to go. But he's a talented young man. He's worked his tail off this year to contribute, especially mentally picking up the defense early on.
Allen, meanwhile, made the most of fewer snaps. The former four-star recruit from Virginia had half a sack and three tackles for loss as a true freshman. Though his numbers weren't eye-popping, he showed excellent athleticism while on the field, especially late in the season.
"We don't have as much depth on the defensive line that we always had," Smart said. "Without him and Jonathan Allen we would have had a hard time this year getting through at the D-line position."
With
Dakota Ball
and
Dalvin Tomlinson
back from injury and
Dee Liner
no longer sporting a redshirt, Alabama should have the numbers next season to rotate in fresh legs on the defensive line. Throw in the
return of former SEC All-Freshman D.J. Pettway
and incoming true freshman
Da'Shawn Hand
, and all the parts are there.
Whether that translates into a better pass rush, and, yes, more sacks, is anyone's guess. With Davis back and the needs of defenses changing, the hope for Alabama fans is that the answer is in the affirmative.
January, 14, 2014
1/14/14
12:00
PM ET
April, 30, 2013
4/30/13
12:40
PM ET
HUMBLE, Texas --
Deionte Thompson
's last visit to Alabama was a memorable one. And though it's hard to top that day, when the Orange (Texas) West Orange-Stark 2015 safety committed to the Crimson Tide, he had a pretty fun time when he returned to Tuscaloosa, Ala., recently for A-Day.
He even brought along a friend, fellow Southeast Texas defensive back
Tony Brown
(Beaumont, Texas/Ozen) an ESPN 150 prospect.
[+] Enlarge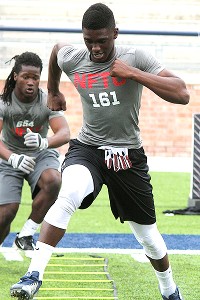 Sam Khan Jr./ESPNTexas and Texas A&M have been pursuing Alabama commit Deionte Thompson.
"It was great," said Thompson, who competed in the Texas Class 3A Region III track and field championships with his West Orange-Stark teammates over the weekend. "Tony Brown came with me. We talked to a lot of other recruits, two of the other commits from the Class of 2015. We watched the game, saw some stuff where they need to improve on and what they're good at, so it was a great time going out there and having fun."
Scout's Take: Atlanta Opening Regional
SEC SCOREBOARD
Thursday, 9/3
Saturday, 9/5