Alabama Crimson Tide:

Anthony Johnson
May, 12, 2014
5/12/14
9:00
AM ET
For the eighth consecutive year, the SEC led all conferences with the most NFL draft picks. When all was said and done on Saturday, the SEC had 49 former athletes selected. In 2013, the SEC had a league-record 63 players drafted, and after last year's draft, the league averaged 48.9 players drafted since 2006.
So I guess that whole run of seven straight BCS national championships had some real weight to it, huh?
The last time the SEC didn't lead the nation in draft picks was 2006, when the league had 37 players taken and the Big Ten had 41. This year, the SEC's only real competition in the draft was the ACC, which had 42 players taken.
[+] Enlarge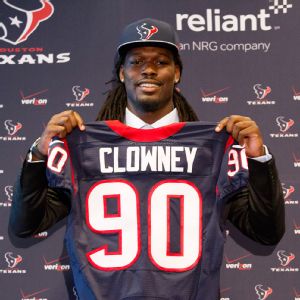 Bob Levey/Getty ImagesJadeveon Clowney is the fourth SEC player to be taken first in the draft since 2006.
On Thursday, the SEC led the rest of the conferences with
11 first-round draft picks
, including having
Jadeveon Clowney
selected No. 1 overall by the
Houston Texans
. Clowney became the fourth player from the SEC to be taken first in the draft since 2006. The SEC also had four players taken within the first 10 picks of the draft.
LSU led the SEC and the rest of the country with nine draft selections. Alabama was second with eight draft picks.
Every SEC team was represented in the draft, and here's a breakdown of how each school fared:
Alabama -- 8
Arkansas -- 4
Auburn -- 4
Florida -- 4
Georgia -- 2
Kentucky -- 1
LSU -- 9
Mississippi State -- 1
Missouri -- 4
Ole Miss -- 1
South Carolina -- 2
Tennessee -- 3
Texas A&M -- 3
Vanderbilt -- 3
After all the
Johnny Manziel
drama from the first night of the draft, the SEC had no shortage of intrigue during the next two days of the draft. Everyone waited for
AJ McCarron
to get drafted in the second round, but he didn't hear his name until the fifth round (No. 164 by the
Cincinnati Bengals
), and after
Aaron Murray
was taken a spot ahead by the
Kansas City Chiefs
.
Zach Mettenberger
, the quarterback many thought would go first from the SEC, was selected in the sixth round (No. 178) by the
Tennessee Titans
.
And perhaps the biggest news from the last two days was
Michael Sam
becoming the first openly gay player to be selected in the draft. The former Missouri defensive end -- and SEC defensive player of the year -- was selected in the seventh round (N0. 249) by the
St. Louis Rams
, and shared a powerful, historic and emotional scene on live television when he received the news.
It should come as no surprise that the SEC had yet another successful showing at the NFL draft. The league is absolutely stuffed with SEC talent. According to the SEC's official website, the SEC had 340 former players on active 53-man rosters on opening day of the 2013 season. Also, since 2006 the SEC has averaged nearly 280 players per year on NFL opening weekend rosters.
There were some surprising names not called during the three-day draft. Florida cornerback
Marcus Roberson
and
Loucheiz Purifoy
, who were viewed as top cornerback prospects before the 2013 season, went undrafted, as did former top offensive line prospect
Antonio Richardson
from Tennessee. Alabama linebacker
Adrian Hubbard
and LSU defensive tackle
Anthony Johnson
also were left out.
Here's a look at the SEC players taken after Round 1:
ROUND 2
42.
Jordan Matthews
, WR ,Vanderbilt --
Philadelphia Eagles
44.
Cyrus Kouandjio
, OT, Alabama --
Buffalo Bills
51.
Ego Ferguson
, DT, LSU --
Chicago Bears
55.
Jeremy Hill
, RB, LSU -- Cincinnati Bengals
60.
Kony Ealy
, DE, Missouri --
Carolina Panthers
63.
Jarvis Landry
, WR, LSU --
Miami Dolphins
64.
Justin Britt
, OT, Missouri --
Seattle Seahawks
ROUND 3
75.
Tre Mason
, RB, Auburn -- St. Louis Rams
76.
Travis Swanson
, C, Arkansas --
Detroit Lions
81.
Gabe Jackson
, OG, Mississippi State --
Oakland Raiders
90.
Donte Moncrief
, WR, Ole Miss --
Indianapolis Colts
92.
Trai Turner
, OG, LSU -- Carolina Panthers
ROUND 4
101.
Jaylen Watkins
, DB, Florida -- Philadelphia Eagles
106.
Bruce Ellington
, WR, South Carolina --
San Francisco 49ers
123.
Kevin Norwood
, WR, Alabama -- Seattle Seahawks
ROUND 5
151.
Avery Williamson
, LB, Kentucky -- Tennessee Titans
155.
Arthur Lynch
, TE, Georgia -- Miami Dolphins
156.
Lamin Barrow
, LB, LSU --
Denver Broncos
159.
Chris Smith
, DE, Arkansas --
Jacksonville Jaguars
160.
Ed Stinson
, DE, Alabama --
Arizona Cardinals
163.
Aaron Murray
, QB, Georgia -- Kansas City Chiefs
164.
AJ McCarron
, QB, Alabama -- Cincinnati Bengals
167.
Vinnie Sunseri
, S, Alabama --
New Orleans Saints
169.
Ronald Powell
, LB, Florida -- New Orleans Saints
173.
Wesley Johnson
, OT, Vanderbilt --
Pittsburgh Steelers
ROUND 6
177.
Jeoffrey Pagan
, DE, Alabama -- Houston Texans
178.
Zach Mettenberger,
QB, LSU -- Tennessee Titans
179.
Jon Halapio
, OG, Florida --
New England Patriots
181.
Alfred Blue
, RB, LSU -- Houston Texans
188.
E.J. Gaines
, CB, Missouri -- St. Louis Rams
193.
Zach Fulton
, OG, Tennessee -- Kansas City Chiefs
211.
Jay Prosch
, FB, Auburn -- Houston Texans
215.
Daniel McCullers,
DT, Tennessee -- Pittsburgh Steelers
ROUND 7
216.
Andre Hal
, S, Vanderbilt -- Houston Texans
227.
Kiero Small
, FB, Arkansas -- Seattle Seahawks
228.
Zach Hocker
, K, Arkansas --
Washington Redskins
239.
James Wright
, WR, LSU -- Cincinnati Bengals
249.
Michael Sam
, DE, Missouri -- St. Louis Rams
May, 6, 2014
5/06/14
12:00
PM ET
Lots more NFL draft talk and a bit from spring practice as we take a spin around the SEC with today's lunchtime links.
April, 29, 2014
4/29/14
12:00
PM ET
Football has taken a back seat this week to the storms that have ravaged parts of the Southeast, but in case you missed anything, here's a look at the latest news and notes across the SEC.
November, 7, 2013
11/07/13
8:00
AM ET
TUSCALOOSA, Ala. -- It's about that time. No, it's not the "Game of the Century" as Alabama-LSU matches have been called in years past, but Saturday's game in Tuscaloosa might just be the biggest of the season for the top-ranked Crimson Tide.
LSU players to watch
[+] Enlarge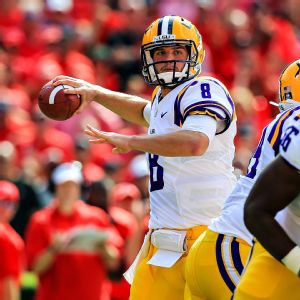 Daniel Shirey/USA TODAY SportsAlabama will need to find a way to slow down LSU QB Zach Mettenberger, who has thrown for nearly 2,500 yards and 19 TDs this season.
QB Zach Mettenberger:
LSU's veteran quarterback needs to get back on track against the Tide. After starting out the season on fire, Mettenberger has seen the pendulum swing decidedly out of his favor with six interceptions in his past four games. Still, he has the arm to hurt Alabama with the deep ball, as he did in last year's game when he threw for 298 yards and brought the Tide defense to its knees.
WRs Jarvis Landry and Odell Beckham Jr.:
One of them would be enough. But two? That's not fair. LSU has two of the best wideouts in the game in Landry and Beckham. They've combined for more than 1,800 yards and 16 touchdowns this season.
DL Anthony Johnson:
Say what you will about LSU's lackluster defense. The numbers bear that out. But don't question what the Tigers have up front with guys like Johnson, who's a load at nearly 300 pounds. He and fellow defensive tackle
Ego Ferguson
will pressure the interior of Alabama's offensive line.
Alabama players to watch
QB AJ McCarron:
This is his game. You can trace McCarron's growth as a quarterback to his games against LSU. Remember the regular season loss in 2011? He learned not to play without passion then. In the rematch at the national championship that season, we saw him develop into the passer he is today, throwing the ball with staggering efficiency. And last year? Though he didn't play his best, he found a way to put the team on his back and will his way to a win.
CB X:
No, that "X" isn't a typo. We, in fact, don't know who will start at cornerback opposite
Deion Belue
.
John Fulton
,
Cyrus Jones
,
Eddie Jackson
and
Bradley Sylve
have all tried their hands there and none have emerged as the clear frontrunner. Whoever it is won't like their job, though, as they'll be forced to cover either Landry or Beckham for most of the night.
OLB Adrian Hubbard:
It's been a slow go of it for Hubbard this season with zero sacks to his name. If he's going to turn the corner, it needs to happen soon. It needs to happen against LSU, who has had trouble when defenders get in Mettenberger's face. If there's hope for Tide fans, it's that Hubbard did this same trick last year, registering a sack in each of his final three games.
Key stats
.478:
Alabama enters Saturday ranked sixth in the country in percentage of possessions resulting in a touchdown. The Tide have found the end zone in 43 of 90 drives this season.
17:
The Tide offensive line, maligned at the start of the season, has been on a roll of late. It hasn't allowed a sack in 17 consecutive quarters, dating back to the third quarter of the Ole Miss game.
29:
LSU and Alabama have been NFL factories, producing a combined 29 first-round draft picks since 2004.
November, 6, 2013
11/06/13
9:00
AM ET
If you check
Anthony Johnson
's calendar, you won't find Nov. 9 circled. While special to most of the college football world, LSU's junior defensive tackle sees it as another day -- another game.
"I go week by week," Johnson said with a laugh.
Even though Saturday stands as annual Alabama-LSU day to college football purists, it's game No. 10 to Johnson. He insists that's no disrespect to No. 1 Alabama (8-0, 5-0 SEC), but Johnson said he doesn't focus on the crimson jerseys that will line up opposite him. That color has no effect on him.
[+] Enlarge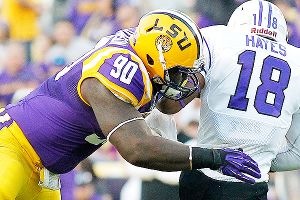 AP Photo/Jonathan BachmanAnthony Johnson says the Alabama game is just the next step for LSU.
"At the end of the day, you have to go in with that mindset that they are no bigger than we are, they are no tougher than we are," Johnson said. "It's man on man, team on team."
The No. 13 Tigers (7-2, 3-2) have seen all this before. They've won under the bright, intimidating lights of Bryant-Denny Stadium and they've been involved in plenty of games that have been at the center of the college football universe.
Alabama doesn't faze LSU. Yes, the Crimson Tide are No. 1 and closing in on possibly a third straight national championship. Yes, Alabama has won two straight in this series twice since 2007. Yes, the Tide have dynasty status, but it doesn't scare LSU.
Alabama isn't quite the red team to the Tigers, but it is just Saturday's team. As quarterback
Zach Mettenberger
put it, Alabama is "nameless and faceless" like everyone else on LSU's schedule.
"Obviously, we have a historical rivalry with Alabama, and we know what it takes to win this game," Mettenberger said. "I wouldn't say that teams fear them, but we're definitely not a team that's going to fear those guys."
If there's any team out there that has no reason to fear Alabama, it's LSU. Since coach Les Miles' first season in Baton Rouge in 2005, he's gone 5-4 against the Crimson Tide. He's 3-4 against Alabama coach Nick Saban, which is more wins than any other coach in the country has against Saban during his tenure at Alabama.
Even before the days of Miles and Saban, LSU wasn't threatened by Alabama, as the Tigers have won six of their last eight in Tuscaloosa.
And these two always seem to be very similar in the stat books. Currently, both rank in the top five of the SEC in scoring offense, scoring defense, pass defense and total defense. Both have running backs with more than 700 yards and at least 10 touchdowns, and quarterbacks with more than 1,800 passing yards and at least 16 touchdowns.
Alabama has won two in a row against LSU, but that doesn't seem to rattle the Tigers. Nothing really seems to unnerve this team when it comes to big-time games. The Tigers are more than used to it, as they've face Alabama yearly and Miles has had them traditionally play solid out-of-conference opponents.
Since Miles took over, the Tigers have gone 7-0 against ranked nonconference teams during the regular season, so big games and big stages aren't threatening. Forget that LSU has two losses this season, there will be ice water in the Tigers' veins when they step onto the playing field Saturday.
"It's in us. It's something we come here to do," wide receiver
Odell Beckham
said. "We come here to play in these big-time SEC games.
"When we line up, it's LSU versus whoever we are playing."
Beckham added that players have to be loose now and on Saturday. Stress can't trickle into preparation. Smiles and laughs should stick to players like shadows as they work. Being tense only leads to psyching yourself out.
It's why Miles began his weekly Monday news conference delivering a thorough scouting report on three of his children's athletic endeavors during LSU's bye week.
"Macy had two goals in a soccer game on Saturday," Miles said. "Long-legged, runs well, seems to defend [but] can't use her left foot as well as she'd like, but very enjoyable [to watch]."
That was six days before the game dubbed previous times as the "Game of the (fill in the blank)." It was lighthearted and amusing. That's just how LSU operates, even with a game approaching that will have major SEC Western Division and national championship implications.
It's not like the Tigers don't respect Alabama, but tensing up isn't their style. Players understand Saturday's importance and the high level of ball they'll see across from them, but they refuse to let this game's rhetoric impact them. The plan is to treat Saturday like, well, another Saturday.
"This game is no bigger than the Furman game," Johnson said. "This game is no bigger than the UAB game. It's the next step to trying to finish out with a great season. That's absolutely our biggest focus right now."
November, 5, 2013
11/05/13
11:00
AM ET
TUSCALOOSA, Ala. -- Alabama's offensive line represents the ultimate failure to manage expectations, to live in the world as it is as opposed to the world as it might become.
This season's line wasn't the same as its predecessor, but it was expected to have the same type of production. Just look at
Ryan Kelly
. He was no Barrett Jones, yet he was hyped as a possible improvement over a player with more accolades than any in Alabama history. How crazy was that?
[+] Enlarge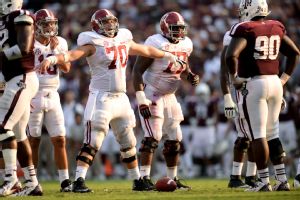 Thomas Campbell/USA TODAY SportsRyan Kelly and Alabama's offensive line have gotten better with each game.
Looking back, it's easy to spot the lunacy. That's no knock on Kelly, who could very well end up being a more talented center than Jones by the time his career is over. But come on. You don't replace Jones' Outland and Rimington trophies overnight. You can't quantify what his experience and leadership meant over four years as a starter at guard, tackle and center for the Crimson Tide.
At the same time, you don't sneak Chance Warmack and D.J. Fluker out the back door and expect no one to notice. Those were two first-round NFL draft picks. You could have run a rusty wheelchair behind them and picked up first downs. Granted,
Arie Kouandjio
and
Austin Shepherd
were talented replacements, but they hadn't started a game in their careers. We didn't even know if Kouandjio could stay healthy for an entire season, for goodness sake.
In other words, we should have seen Alabama's early-season struggles on the offensive line coming. We should have expected the performances vs. Virginia Tech and Colorado State when the line didn't get push,
AJ McCarron
was pressured, and the running game never materialized. We shouldn't have thought the success of 2012 would transition into 2013 without so much as a blip in the radar. It doesn't work that way.
All they really needed was time and more realistic expectations.
So it's no wonder we've seen such a dramatic improvement from Alabama's offensive line over the past few weeks. The line hasn't allowed a single sack since the third quarter of the Ole Miss game on Sept. 28 -- that's a streak of 17 quarters for those keeping score at home -- and the running game is suddenly potent again. The offense has begun to click on all cylinders, jumping up to No. 35 nationally with 462.8 yards per game.
Coach Nick Saban touted their improved chemistry and trust with one another, saying how important experience has been to their development.
"They have played well," he said. "They've run blocked well these last few weeks. The last four weeks we thought played well on the offensive line. I think that's important to us, especially with AJ. If he doesn't get pressured in the pocket and we get people open, he's pretty accurate throwing the ball and makes good choices and decisions.
"I think it's a key to us being successful that they continue to improve and play well up front. We'll play against some good defensive linemen and some good defensive teams down the road."
By "down the road" Saban meant this Saturday's game against LSU. Though the 13th-ranked Tigers' defense has been up-and-down this season, they still possess some of the country's best talent on the defensive line. Tackles
Ego Ferguson
and
Anthony Johnson
are monsters at 309 and 294 pounds, respectively.
LSU currently ranks fifth in the league in scoring defense (24.8 ppg), sixth in passing efficiency defense (131.9) and have accounted for the fifth-most sacks (20) in the league.
Had Saturday's game come earlier in the season for Alabama, there might be a full-blown crisis among Tide fans over the state of the offensive line. We'd be hearing questions about whether they could handle the pass rush and if that would mean the offense as a whole wouldn't score enough points to win.
But instead, we're hearing next to nothing. Luckily for Alabama, the offensive line has found its stride in the nick of time. It's almost as if the early struggles never happened. The names of Jones, Warmack and Fluker aren't forgotten in Tuscaloosa, but they're not as agonized over as they were in the first few weeks of the season.
"The past three or four games we were clicking on all levels of the run game and pass game," said right guard
Anthony Steen
, "and right now we're just trying not to lose the beat and stay on top of things."
Steen, a veteran presence with more than 30 starts under his belt, didn't know about the line's streak without allowing a sack until a reporter told him. He wasn't focused on that, he said, and neither were his teammates. Rather than getting to up or too down, he's tried to keep everyone even-keeled.
What's been said and what's happened this season won't matter when LSU comes to town this weekend, and Steen knows that. He said the Tigers' defensive line "will be the most physical line we'll see all season" and that's the only challenge he's worried about.
"We know it's going to be a tough game," he said. "We know it's probably going to come down to two or three plays. If they have two good plays and an 80-yard pass and an 80-yard run, then we might lose. But if we have two or three good plays then we might win.
"It's going to be that type of game. We know that, and we know it's going to come down to the end."
August, 29, 2013
8/29/13
2:00
PM ET
The wait is over; college football season is here. The first games of the 2013 campaign kick off tonight with No. 6 South Carolina starting things off by hosting North Carolina at 6 p.m. ET. Here are some links from around the SEC to get you ready:
July, 18, 2013
7/18/13
7:00
AM ET
By
TideNation
and
GeauxTigerNation
| ESPN.com
Editor's note: This week, GeauxTigerNation and TideNation will examine all aspects of the LSU-Alabama rivalry during the Nick Saban-Les Miles era. Today we turn to this season's game and what each team must do to come out victorious.
It's never too early to look forward to a good old-fashioned rivalry game. So with more than 100 days remaining between now and the Alabama-LSU regular-season matchup in Tuscaloosa, Ala., we asked TideNation writer Alex Scarborough and GeauxTigerNation writer Gary Laney to break down three keys for each school to come out on top.
A lot can happen between now and Nov. 9, but its safe to say the plans laid out by each writer will be as true today as they are four months from now when Nick Saban and Les Miles meet at midfield in Bryant-Denny Stadium to renew a rivalry that's been boiling intensely in recent years.
How LSU wins in 2013
[+] Enlarge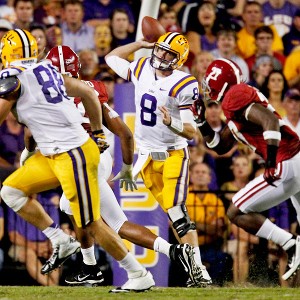 Derick E. HingleAlabama's defense has to find a way to put pressure on Zach Mettenberger in its matchup with LSU on Nov. 9.
1. Offensive balance:
On a spreadsheet, LSU did not have a team that should have been able to beat Alabama in 2012. The Tigers were too one-dimensional on offense without a consistent passing game and, if the 2011 meetings showed anything, Nick Saban-coached teams will eat one-dimensional offenses for lunch. But for one night in Tiger Stadium, LSU quarterback
Zach Mettenberger
was brilliant, throwing for a season's-best 298 yards to bring balance to the usual productive running game, led by
Jeremy Hill
, and the Tigers nearly pulled off an upset, losing 21-17. This year, Mettenberger will have to be as good -- probably better -- and LSU will need its usual running threat, whether it's Hill or somebody elese. Of course, that is the whole reason why LSU has a new offensive coordinator in Cam Cameron.
2. Pressure points:
Alabama has some work to do on its offensive line, and LSU has some holes to fill on its defensive line. This should not be a huge issue for the Tigers' run defense -- defensive coordinator John Chavis is a master of scheming extra men in the box to negate the run -- but if a now well-seasoned
A.J. McCarron
has time to sit back and go through his progressions in the passing game, even "DBU" won't be able to cover. Don't believe it? Look at the winning drive last season. Defensive tackle
Anthony Johnson
should be a pass-rushing force this season. But if the Tigers enter the LSU game still waiting for one of the young ends to emerge as a consistent sack threat, they could be in for a world of hurt.
3. Kicking it around:
The last time the Tigers beat Alabama, Drew Alleman gave LSU all of its points with three field goals. Under Les Miles, LSU always seems to enjoy a special teams edge. That's especially important against this team because it will take a mighty effort to just be close to the Tide, based on what they have coming back with offensive skill players and defensive talent. That might be a problem for LSU, which is breaking in a new starting punter in
Jamie Keehn
and is entering August camp still searching for Alleman's replacement at kicker.
How Alabama wins in 2013
1. Pressure Mettenberger:
It's odd that the silver lining in Mettenberger's otherwise lackluster 2012 campaign was a defeat, but such was the case for the rising senior quarterback who threw for a season-high 298 yards against Alabama in early November. Give him credit for making all the throws, but a fair share of the blame lies with the Tide defense, which had three sacks and no quarterback hurries in Baton Rouge. Allowing a big, strong-armed quarterback such as Mettenberger to set his feet like that was just asking for trouble. Combined with a season-low two pass breakups, it's a wonder he didn't throw for more than one touchdown. For Alabama to survive LSU in Tuscaloosa this season, the defense can't afford Mettenberger another career-making day where he has the time to sit back and pick the secondary apart.
2. Stay with the running game:
There were times last season when the Alabama offense got too far ahead of its skis and lost balance -- twice to be exact. The LSU game was the first such instance when offensive coordinator Doug Nussmeier called more passes than runs, and the lack of continuity showed in the second half, when McCarron and Co. went three-and-out on four of six drives. Alabama, of course, survived that bit of unbalance, but the next week it did not as the Tide threw the ball more than it ran and lost in heartbreaking fashion to Texas A&M. While the temptation to pass will be even greater with McCarron a year wiser and with more weapons at wide receiver, the fact remains that the Alabama offense is based on running the football and controlling the line of scrimmage. Handing the ball off to
T.J. Yeldon
and the rest of the stable of running backs might not be sexy, but it gets the job done.
3. Stay special:
A bad kicking game doomed Alabama the last time LSU came to Tuscaloosa as the Tide missed four-of-six field goal attempts in its only loss of the 2011 season. And while
Cade Foster
appears to have gotten over the hiccup of that game, he comes into the 2013 season with even greater expectations now that short-range specialist Jeremy Shelley is gone. Making the most of every opportunity will be important for whoever handles field goals for the Tide this go-around, whether it's Foster or redshirt freshman
Adam Griffith
, who could take over for Shelley as the short- to intermediate-range kicker. Getting the ball through the uprights won't be the only thing that's important, though. The Tide must do well in coverage and take care of the ball in the return game, as five of the past seven meetings between the schools have been decided by a touchdown or less.
July, 16, 2013
7/16/13
1:00
PM ET
Editor's note: The season is nearly upon us and TideNation is taking steps to get you ready for every one of Alabama's regular season opponents. Every Tuesday and Thursday we'll go through each week of the Crimson Tide's schedule, starting with the season-opener against Virginia Tech and closing with the finale against Auburn.


June, 21, 2013
6/21/13
10:47
AM ET
By
RecruitingNation
| ESPN Insider
As Michigan
looks to add to a No. 1 recruiting class

that already includes No. 2
Jabrill Peppers
, we look back at other schools that landed multiple top 10 recruits fared in those players' tenures. While Alabama hit a home run in 2009 -- landing future first-round picks
Dre Kirkpatrick
and
Trent Richardson
-- others have seen mixed results.
[+] Enlarge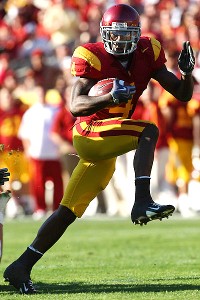 Stephen Dunn/Getty ImagesJoe McKnight never quite reached the lofty expectations placed on him as the No. 1 recruit in USC's stacked 2006 class.
2006
USC Trojans
Vidal Hazelton
(No. 3 recruit)
Taylor Mays
(8), Antwine Perez (10)
The trio signed with a USC program that was coming off back-to-back BCS title game appearances, but their reality ended up being a pair of transfers and a final game for Mays in the Emerald Bowl. Perez played sparingly as a true freshman and then transferred to Maryland. Hazelton was the leading receiver for the Trojans in his sophomore year with 50 catches but transferred to Cincinnati after his junior year. Mays stayed all four years and earned All-American status before being drafted in the second round of the 2010 NFL draft by the 49ers.
-- Garry Paskwietz
To continue reading this article you must be an Insider
May, 22, 2013
5/22/13
7:00
AM ET
It's Rankings Week at TideNation. Every day we'll rank some facet of the Alabama football program heading in 2013. Today we're ranking the top 10 defensive players the Tide will face this season. On Thursday we'll switch gears and rank the top 10 freshmen with a chance of making the biggest impact in the fall for UA.
Ranking the defensive players
1. DT Anthony Johnson (LSU):
Stop me if you're heard this one before: LSU has one of the best defensive line prospects in the country. Yeah, this year is no different as Johnson steps to the forefront, already the No. 22 prospect on Mel Kiper's early Big Board. The 6-foot-3, 310-pound linemen is nicknamed Freak for a reason. Even behind players like Barkevious Mingo, Sam Montgomery and Bennie Logan, Johnson shined as a raw talent capable of terrorizing offenses up the middle.
2. LB Denzel Nkemdiche (Ole Miss):
He isn't a typical linebacker because of his relatively slight frame, and he's certainly not what you'd call a safety. But Nkemdiche is what every coach covets: a playmaker. In Ole Miss' complex defense, Nkemdiche thrives. He led the Rebels with 82 tackles and chipped in with team-leading 13 tackles for loss. He even finished tied for first with three interceptions.
3. DE James Gayle (Virginia Tech):
We'll know right away whether Alabama's retooled offensive line is capable of living up to last year's standard, as Gayle and the Virginia Tech pass rush comes calling in the season opener. As a junior, Gayle tallied 43 tackles and five sacks on his way to a second-team All-ACC selection. He turned down the NFL and comes back to Blacksburg as one of nine returning starters on defense.
[+] Enlarge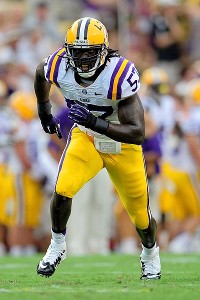 Stacy Revere/Getty ImagesLinebacker Lamin Barrow gives the LSU defense some of everything, including much-needed experience.
4. LB A.J. Johnson (Tennessee):
It's tough to find a player in the SEC who produced more last season than Johnson, who racked up 138 tackles for the Volunteers. The 50th-ranked player on Kiper's early Big Board, Johnson is a guy who can keep Alabama's ground game from running away from what stands to be a lackluster Tennessee defense.
5. LB Lamin Barrow (LSU):
Barrow was understandably lost in the haze of NFL prospects in Death Valley last season. But the 6-2, 229-pound linebacker did finish with a whopping 104 tackles, five pass breakups and five quarterback hurries. There will be a lot of new faces on defense for the Tigers in 2013, and Barrow should serve as the glue to hold the operation together.
6. DT Daniel McCullers (Tennessee):
The Vols very own Mount Cody, McCullers is the kind of big-bodied nose guard you can build a defense around. The 6-8, 370-pound prospect ranks 43rd on Kiper's early Big Board, and could see his stock rise farther with a solid 2013 campaign.
7. S Craig Loston (LSU):
Loston is a rising star on the Tigers defense who very nearly spirited all the way to the NFL after last season. Unlike many of LSU's underclassmen, Loston decided to return, and coach Les Miles should consider himself lucky for having a veteran to anchor what is an otherwise green secondary. Loston played in 12 games last season and finished with a respectable 55 tackles and three interceptions on his way to a second-team All-SEC selection.
8. DE Dee Ford and Nosa Eguae (Auburn):
Say what you will about Ellis Johnson the head coach, but Ellis Johnson the defensive coordinator knows what he's doing. And with a few parts still remaining on Auburn's defense, Johnson has a chance to outdo expectations on the Plains. Ford, who led the Tigers in sacks last season, and Eguae have the tools Johnson can build around up front.
9. LB Avery Williamson (Kentucky):
You might not know his name, but the 6-1, 243-pound linebacker finished second in the SEC in tackles (135) and led the conference in solo stops (70) in 2012. With new head coach Mike Stoops breathing new life into the program and its underwhelming defense, Williamson could see his profile rise this season.
10. DE Chris Smith (Arkansas):
The Razorbacks were a mess last season, but it wasn't all bad news for Arkansas fans as Smith emerged as a quality pass-rusher, finishing fourth in the SEC with 9.5 sacks. He and fellow defensive end
Trey Flowers
combined for a solid 26 tackles for loss last season and helped Arkansas to a top 25 finish nationally in sacks.
May, 9, 2013
5/09/13
10:15
AM ET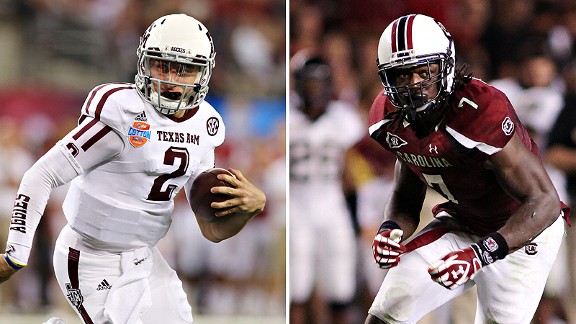 USA Today SportsTexas A&M's Johnny Manziel and S. Carolina's Jadeveon Clowney are top 2014 NFL draft prospects.
The SEC had a record 63 players selected in last month's NFL draft, including 12 in the first round.
I'm not sure it's realistic to expect that kind of haul next year, but it's never too early to start looking ahead to the 2014 draft class.
So, similar to a year ago, I've come up with our list of the SEC's top 20 draft prospects for 2014.
This isn't a mock draft. Likewise, it's not a ranking of who I think will be the best players in the SEC next season. Rather, it's a projection of who will be the most coveted NFL prospects from the SEC when the 2014 draft rolls around in April. In coming up with this list, I've talked to several draft analysts as well as NFL personnel, SEC coaches and others who are clued in to the whole draft process.
Some players will obviously play their way onto this list next season, while others will play their way off it. Injuries undoubtedly will be a factor, and then occasionally, guys will come from nowhere to be first-round picks.
Among the prospects I nailed this time a year ago were Alabama cornerback
Dee Milliner
, Alabama offensive guard
Chance Warmack
, LSU defensive end
Barkevious Mingo
and LSU safety
Eric Reid
.
Among those I missed the boat on were Texas A&M offensive tackle
Luke Joeckel
, Missouri defensive tackle
Sheldon Richardson
, Florida defensive tackle
Sharrif Floyd
and Alabama offensive tackle
D.J. Fluker
.
I had Arkansas quarterback
Tyler Wilson
No. 1 overall and South Carolina running back
Marcus Lattimore
in my top five. So it never goes exactly the way anybody predicts, especially 11 months before the draft.
Here goes with our 2014 list. Again, we're not suggesting all 20 will go in the first round or even the first two rounds. It's simply the order we think they will come off the board in next April's draft and includes only draft-eligible players:
1. Jadeveon Clowney, DE, South Carolina, Jr.:
The ultimate game-changer on defense, Clowney would have been a first-rounder had he been draft-eligible after his freshman season. Clowney then excelled in 2012, elevating his status as the 2014 No. 1 favorite.
2: Cyrus Kouandjio, OT, Alabama, Jr.:
A potential top-five pick in next year's draft, the 6-foot-6, 310-pound Kouandjio is everything you're looking for in a left tackle.
3. Jake Matthews, OT, Texas A&M, Sr.:
We know Matthews has the bloodlines, but he also has the game. He's shifting over from right tackle to left tackle for his senior season.
4. Antonio Richardson, OT, Tennessee, Jr.:
The man they call Tiny has the size and athleticism to be a franchise left tackle. Clowney said Richardson was one of the best tackles he faced a year ago.
5. Anthony Johnson, DT, LSU, Jr.:
There's a reason they call him Freak. They just seem to breed great defensive linemen at LSU, and Johnson is next in line.
6. Loucheiz Purifoy, CB, Florida, Jr.:
He's a pure cover cornerback with good size and an explosive athlete to boot. The Gators also will play him at receiver next season.
7. Johnny Manziel, QB, Texas A&M, RSo.:
Yes, Manziel is shorter than the NFL typically likes its quarterbacks, but do measurables really matter when you make as many plays as Johnny Football does?
8. Dominique Easley, DT, Florida, Sr.:
Easley is fully recovered from the torn ACL he suffered at the end of the 2011 season. He's sliding inside to tackle next season and will be a force for the Gators.
9. Adrian Hubbard, OLB, Alabama, RJr.:
We saw his ability to get to the quarterback in flashes last season. Look for Hubbard to take that next step in 2013 and become a premier finisher.
10. C.J. Mosley, LB, Alabama, Sr.:
As the saying goes, he's a football player. Mosley is a sure tackler. He's excellent in coverage and is always money whenever Alabama needs a big play.
11. Ha Ha Clinton-Dix, S, Alabama, Jr.:
In the past four drafts, Alabama has produced four first-round selections in the secondary. Clinton-Dix could be the top safety off the board next year.
12. Mike Evans, WR, Texas A&M, RSo.:
In his first season in the SEC, the 6-5, 225-pound Evans was sensational with 82 catches and 1,105 yards. He'll be even better his second time through.
13. AJ McCarron, QB, Alabama, Sr.:
Sure, he's been surrounded by great talent, but McCarron also has an NFL arm, delivers in the clutch and takes care of the football.
14. Jordan Matthews, WR, Vanderbilt, Sr.:
The 6-3, 205-pound Matthews is so smooth that he makes it look easy. And talk about productive. He averaged 109.6 receiving yards in eight SEC games.
15. Donte Moncrief, WR, Ole Miss, Jr.:
One of the more underrated players in the SEC, the 6-3, 215-pound Moncrief has a knack for finding the end zone with 14 touchdowns in his first two seasons.
16. Daniel McCullers, DT, Tennessee, Sr.:
This mountain of a man (6-8, 360 pounds) is still developing, but he should make an imposing nose tackle for a team that uses a 3-4 defensive scheme.
17. Marcus Roberson, CB, Florida, Jr.:
The "other" Florida cornerback also has big-time skills and was second in the SEC in passes defended last season with 14.
18: Chaz Sutton, DE, South Carolina, RJr.:
Clowney will get most of the attention next season, but don't be surprised if Sutton blows up and has a monster senior season.
19: Gabe Jackson, OG, Mississippi State, Sr.:
Jackson thought about coming out early this year. He returns as one of the top offensive guards in college football.
20: Aaron Murray, QB, Georgia, Sr.:
The opinions are mixed on Murray, who's bearing down on several SEC records. His numbers speak for themselves, and so does the way he approaches the game.
Scout's Take: Atlanta Opening Regional
SEC SCOREBOARD
Thursday, 9/3
Saturday, 9/5