Alabama Crimson Tide:

2013-LSU-Bama
November, 8, 2013
11/08/13
9:00
AM ET
When Alabama linebacker
C.J. Mosley
looks at film of LSU's offense, he can find time to smile and grimace.
On one hand, Mosley likes the fact that the Tigers run a more traditional pro-style approach, but on the other, he's fully aware of the vast offensive improvements LSU has made.
"We already know what we're going to get," Mosley said. "They're going to line up and try to run the ball down our throats and, when they get the chance, go deep over our heads. It's not really too much that we haven't seen or something that they're going to do that we haven't seen before. It's all about who's going to be the most physical team."
That pretty much has summed up this game since Nick Saban and Les Miles joined this series a few years ago. Both teams are going to get punched in the mouth, bleed and limp out of the stadium.
[+] Enlarge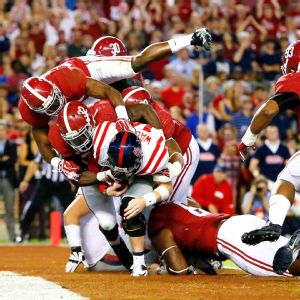 Kevin C. Cox/Getty ImagesSay what you will about Alabama's opponents of late. Its defense nevertheless has been smothering.
This year won't be any different, but Alabama's defense understands that it will have a little more work on its hands. For the first time in a while, the Tigers possess one of the SEC's most balanced offensive attacks. Heading into Saturday's showdown, the 13th-ranked Tigers (7-2, 3-2 SEC) sit in the top half of the SEC in rushing (200.6 yards per game), passing (279.4), total offense (480) and scoring (40.2).
"I think this is one of the best offensive teams, probably, we've faced all year," Saban said.
He's absolutely right. This will be the third time No. 1 Alabama (8-0, 5-0) has faced a team averaging more than 400 yards a game, and it's easily the most potent offense the Crimson Tide have played since Texas A&M.
This is an LSU offense that wants to bulldoze you up front then dismantle you with its vertical passing game. Running back
Jeremy Hill
is second in the SEC with 922 rushing yards, while quarterback
Zach Mettenberger
is second in passing, averaging 276.9 yards per game.
"Any chance you go out there and you're seeing yourself make these plays over and over again, it gets to a point where it doesn't matter who you're going against," LSU receiver
Odell Beckham Jr.
said. "It's just what we do, and it's what we're built to do."
Compare that to recent offenses the Tide have faced and it's not really close. Of Alabama's six opponents since A&M, only Colorado State and Ole Miss rank within the top 50 nationally in total offense.
Alabama's defense has taken full advantage of the schedule. Check out these numbers ESPN Stats & Information gathered about Alabama's last six outings:
Alabama has outscored teams 246-26, scored five more touchdowns (31) than opponents have points and allowed two touchdowns in 67 opponent drives (3 percent).
Alabama hasn't allowed any first-half points in its past six games. In three, opponents didn't run a first-half play in Alabama territory.
There have been nine first-half pass attempts by opponents in Alabama territory, with opponents throwing more interceptions (three) than completions (one).
Say what you will about Alabama's last six opponents (a combined record of 18-34), but the defense has done exactly what has been asked and then some.
"Every offense is good that we've played; we've just prepared to perfection," safety
Landon Collins
said. "We tried our best not to make any mistakes or give up any big plays. When we do that, that's the outcome of our defense. If we keep doing that and keep playing to our standards -- our Alabama way -- we all know what the outcome will be."
The Tigers might have two losses, but their offense will serve as a major test on the Tide's third-straight BCS title run.
"Their offense is explosive," Collins said. "Even though you know the play and you know what they're going to do, they're still going to execute to their full advantage. It's unstoppable sometimes."
LSU is second in the league at 7.4 yards per play and is averaging 106 more yards per game than last year and almost 130 more than 2011. One reason has been the maturation of Mettenberger, who had a breakout game against the Tide last year. He has flourished under new offensive coordinator Cam Cameron and has more command and comfort in the huddle.
He also has Hill to hand the ball to and Beckham and
Jarvis Landry
to throw to. That receiving duo has combined to catch 106 passes for 1,891 yards and 16 touchdowns.
"Really, my job's easy," Mettenberger said. "I just have to get [the ball] to some of the best athletes in the country and let them go to work.
"It's just my job to get those guys the ball. It's just what I have to do."
The thing is that even when Mettenberger struggles, this offense is still deadly with its running attack. It creates the conundrum of when to play two high safeties or stack the box.
So stay glued to the big uglies. Watch the trenches, because that's where Alabama wants to own things and create mayhem for the run and pass. Alabama wants to win the physical game in order to limit LSU's explosiveness.
"We know it's going to be a dogfight, and it's like that every year," Alabama defensive lineman
Jeoffrey Pagan
said. "We want to try and come out and step on their throats, break their will and try and end the game as quick as possible and let some of our freshmen play."
November, 8, 2013
11/08/13
9:00
AM ET
LSU and Alabama renew their rivalry on the field Saturday night, and also in recruiting. The home school in the showdown in recent seasons has had a stupendous visitors list. This year is certainly no different, with a bevy of talent in the classes of 2014, 2015 and 2016 expected in Tuscaloosa, Ala. Here is a look at some of the heavy hitters in 2014 who will be closely watching this year's game:
November, 6, 2013
11/06/13
11:00
AM ET
TUSCALOOSA, Ala. -- So much about LSU-Alabama is built around the physical style of play, and rightfully so. UA coach Nick Saban called the game a "heavyweight fight" where you have to show up in every round. His veteran defensive end,
Jeoffrey Pagan
, said it was a "dog fight" he looks forward to every season.
[+] Enlarge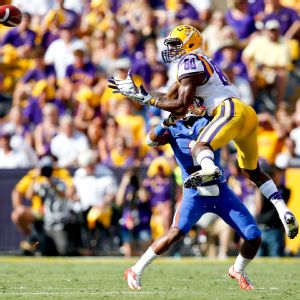 Derick E. Hingle/USA TODAY SportsWith a powerful run game, plus Jarvis Landry (pictured) and Odell Beckham Jr. stretching the secondary, LSU's offense presents a bigger challenge to Alabama's depleted secondary.
But it won't be all smash-mouth football when the two teams meet in Tuscaloosa on Saturday night. Don't be surprised if LSU coach Les Miles puts the ball in the air against the top-ranked Crimson Tide.
And given the Alabama's depth concerns in the secondary, why not? Eight different players have started there and two key pieces at safety --
Vinnie Sunseri
and
Nick Perry
-- are out for the season with injuries.
Deion Belue
has been consistent, but who plays opposite him at corner hasn't been.
John Fulton
,
Cyrus Jones
,
Eddie Jackson
and
Bradley Sylve
have all tried their hands there and none have risen to the top of the pile. It's unclear who among them will start against LSU.
"We like the matchup," Miles said of getting the ball to his two star receivers,
Jarvis Landry
and
Odell Beckham
Jr., who rank in the top 10 of the SEC in receiving yards and have combined for 16 touchdown catches. "We think that we kind of give them some challenges on the perimeter. We got a quarterback, first of all, that can make the throw and several receivers that can get open in space.
"Again, who we're playing, they are a very good team, but we think there is a matchup there that benefits us."
LSU certainly has the pieces to hurt Alabama through the air.
Zach Mettenberger
had his own personal coming out party against the Tide last season, throwing for a then-career high 298 yards in defeat. He carried that over to this year and has made the most dramatic improvement in opponent-adjusted QBR (+38.6) of any quarterback who qualified. His 85.7 opponent-adjusted QBR is seventh-best in the FBS, according to ESPN Stats & Information.
It helps that he's got two good ones to throw the football to.
"The combination of these two guys are as good a receivers as we've played against all year long," Saban said. "Not the same style as the Texas A&M guys, but very quick, very athletic. They have the speed to get on top. Very smart in terms of route runners. They do a good job of putting them in various positions that makes them difficult to cover and get the kind of matchups on that you'd like."
Beckham is as dangerous a weapon as there is in the SEC with his ability to create separation. He has premier top-end speed and the burst to make a guy miss and take it to the house. He's currently second in the country in all-purpose yards.
Landry, on the other hand, can go up and get it. He's listed as 6-foot-1, but plays much larger. He's sixth in the country in receptions (57), seventh in yards per catch (21.02) and fifth in creating first downs on a reception (40).
"They know how to run their routes, just like our receivers," UA safety
Landon Collins
said. "It's hard to stick our receivers. They know how to run their routes and stick on a dime. Watching it on film, it's going to be a pretty tough game sticking them, our safeties playing their wide receivers."
It won't help that LSU is so balanced. Alabama won't be able to help the secondary out by dropping many defenders back in coverage. There's simply no ignoring LSU's running game, headlined by
Jeremy Hill
, who ranks 13th nationally in rushing yards (922) and is tied for fourth in rushing touchdowns (12).
Given all that, the Tide secondary knows the task that lies ahead.
"They have very good wide receivers, very good quarterback," Collins said. "And their run game is tremendous. We just have to stay settled and stay watching our keys."
November, 6, 2013
11/06/13
11:00
AM ET
The LSU-Alabama game has become the premier contest in college football over the past few seasons. The battle between these two schools, however, extends beyond the football field. The two powers annually go head to head on the recruiting trail for many top prospects, but this year's recruiting battles might be even more intense. Here's a closer look at the top five 2014 recruiting battles between the two schools.
To continue reading this article you must be an Insider
November, 6, 2013
11/06/13
9:00
AM ET
If you check
Anthony Johnson
's calendar, you won't find Nov. 9 circled. While special to most of the college football world, LSU's junior defensive tackle sees it as another day -- another game.
"I go week by week," Johnson said with a laugh.
Even though Saturday stands as annual Alabama-LSU day to college football purists, it's game No. 10 to Johnson. He insists that's no disrespect to No. 1 Alabama (8-0, 5-0 SEC), but Johnson said he doesn't focus on the crimson jerseys that will line up opposite him. That color has no effect on him.
[+] Enlarge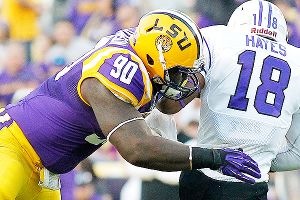 AP Photo/Jonathan BachmanAnthony Johnson says the Alabama game is just the next step for LSU.
"At the end of the day, you have to go in with that mindset that they are no bigger than we are, they are no tougher than we are," Johnson said. "It's man on man, team on team."
The No. 13 Tigers (7-2, 3-2) have seen all this before. They've won under the bright, intimidating lights of Bryant-Denny Stadium and they've been involved in plenty of games that have been at the center of the college football universe.
Alabama doesn't faze LSU. Yes, the Crimson Tide are No. 1 and closing in on possibly a third straight national championship. Yes, Alabama has won two straight in this series twice since 2007. Yes, the Tide have dynasty status, but it doesn't scare LSU.
Alabama isn't quite the red team to the Tigers, but it is just Saturday's team. As quarterback
Zach Mettenberger
put it, Alabama is "nameless and faceless" like everyone else on LSU's schedule.
"Obviously, we have a historical rivalry with Alabama, and we know what it takes to win this game," Mettenberger said. "I wouldn't say that teams fear them, but we're definitely not a team that's going to fear those guys."
If there's any team out there that has no reason to fear Alabama, it's LSU. Since coach Les Miles' first season in Baton Rouge in 2005, he's gone 5-4 against the Crimson Tide. He's 3-4 against Alabama coach Nick Saban, which is more wins than any other coach in the country has against Saban during his tenure at Alabama.
Even before the days of Miles and Saban, LSU wasn't threatened by Alabama, as the Tigers have won six of their last eight in Tuscaloosa.
And these two always seem to be very similar in the stat books. Currently, both rank in the top five of the SEC in scoring offense, scoring defense, pass defense and total defense. Both have running backs with more than 700 yards and at least 10 touchdowns, and quarterbacks with more than 1,800 passing yards and at least 16 touchdowns.
Alabama has won two in a row against LSU, but that doesn't seem to rattle the Tigers. Nothing really seems to unnerve this team when it comes to big-time games. The Tigers are more than used to it, as they've face Alabama yearly and Miles has had them traditionally play solid out-of-conference opponents.
Since Miles took over, the Tigers have gone 7-0 against ranked nonconference teams during the regular season, so big games and big stages aren't threatening. Forget that LSU has two losses this season, there will be ice water in the Tigers' veins when they step onto the playing field Saturday.
"It's in us. It's something we come here to do," wide receiver
Odell Beckham
said. "We come here to play in these big-time SEC games.
"When we line up, it's LSU versus whoever we are playing."
Beckham added that players have to be loose now and on Saturday. Stress can't trickle into preparation. Smiles and laughs should stick to players like shadows as they work. Being tense only leads to psyching yourself out.
It's why Miles began his weekly Monday news conference delivering a thorough scouting report on three of his children's athletic endeavors during LSU's bye week.
"Macy had two goals in a soccer game on Saturday," Miles said. "Long-legged, runs well, seems to defend [but] can't use her left foot as well as she'd like, but very enjoyable [to watch]."
That was six days before the game dubbed previous times as the "Game of the (fill in the blank)." It was lighthearted and amusing. That's just how LSU operates, even with a game approaching that will have major SEC Western Division and national championship implications.
It's not like the Tigers don't respect Alabama, but tensing up isn't their style. Players understand Saturday's importance and the high level of ball they'll see across from them, but they refuse to let this game's rhetoric impact them. The plan is to treat Saturday like, well, another Saturday.
"This game is no bigger than the Furman game," Johnson said. "This game is no bigger than the UAB game. It's the next step to trying to finish out with a great season. That's absolutely our biggest focus right now."
November, 5, 2013
11/05/13
11:00
AM ET
TUSCALOOSA, Ala. -- Alabama's offensive line represents the ultimate failure to manage expectations, to live in the world as it is as opposed to the world as it might become.
This season's line wasn't the same as its predecessor, but it was expected to have the same type of production. Just look at
Ryan Kelly
. He was no Barrett Jones, yet he was hyped as a possible improvement over a player with more accolades than any in Alabama history. How crazy was that?
[+] Enlarge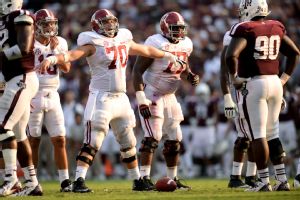 Thomas Campbell/USA TODAY SportsRyan Kelly and Alabama's offensive line have gotten better with each game.
Looking back, it's easy to spot the lunacy. That's no knock on Kelly, who could very well end up being a more talented center than Jones by the time his career is over. But come on. You don't replace Jones' Outland and Rimington trophies overnight. You can't quantify what his experience and leadership meant over four years as a starter at guard, tackle and center for the Crimson Tide.
At the same time, you don't sneak Chance Warmack and D.J. Fluker out the back door and expect no one to notice. Those were two first-round NFL draft picks. You could have run a rusty wheelchair behind them and picked up first downs. Granted,
Arie Kouandjio
and
Austin Shepherd
were talented replacements, but they hadn't started a game in their careers. We didn't even know if Kouandjio could stay healthy for an entire season, for goodness sake.
In other words, we should have seen Alabama's early-season struggles on the offensive line coming. We should have expected the performances vs. Virginia Tech and Colorado State when the line didn't get push,
AJ McCarron
was pressured, and the running game never materialized. We shouldn't have thought the success of 2012 would transition into 2013 without so much as a blip in the radar. It doesn't work that way.
All they really needed was time and more realistic expectations.
So it's no wonder we've seen such a dramatic improvement from Alabama's offensive line over the past few weeks. The line hasn't allowed a single sack since the third quarter of the Ole Miss game on Sept. 28 -- that's a streak of 17 quarters for those keeping score at home -- and the running game is suddenly potent again. The offense has begun to click on all cylinders, jumping up to No. 35 nationally with 462.8 yards per game.
Coach Nick Saban touted their improved chemistry and trust with one another, saying how important experience has been to their development.
"They have played well," he said. "They've run blocked well these last few weeks. The last four weeks we thought played well on the offensive line. I think that's important to us, especially with AJ. If he doesn't get pressured in the pocket and we get people open, he's pretty accurate throwing the ball and makes good choices and decisions.
"I think it's a key to us being successful that they continue to improve and play well up front. We'll play against some good defensive linemen and some good defensive teams down the road."
By "down the road" Saban meant this Saturday's game against LSU. Though the 13th-ranked Tigers' defense has been up-and-down this season, they still possess some of the country's best talent on the defensive line. Tackles
Ego Ferguson
and
Anthony Johnson
are monsters at 309 and 294 pounds, respectively.
LSU currently ranks fifth in the league in scoring defense (24.8 ppg), sixth in passing efficiency defense (131.9) and have accounted for the fifth-most sacks (20) in the league.
Had Saturday's game come earlier in the season for Alabama, there might be a full-blown crisis among Tide fans over the state of the offensive line. We'd be hearing questions about whether they could handle the pass rush and if that would mean the offense as a whole wouldn't score enough points to win.
But instead, we're hearing next to nothing. Luckily for Alabama, the offensive line has found its stride in the nick of time. It's almost as if the early struggles never happened. The names of Jones, Warmack and Fluker aren't forgotten in Tuscaloosa, but they're not as agonized over as they were in the first few weeks of the season.
"The past three or four games we were clicking on all levels of the run game and pass game," said right guard
Anthony Steen
, "and right now we're just trying not to lose the beat and stay on top of things."
Steen, a veteran presence with more than 30 starts under his belt, didn't know about the line's streak without allowing a sack until a reporter told him. He wasn't focused on that, he said, and neither were his teammates. Rather than getting to up or too down, he's tried to keep everyone even-keeled.
What's been said and what's happened this season won't matter when LSU comes to town this weekend, and Steen knows that. He said the Tigers' defensive line "will be the most physical line we'll see all season" and that's the only challenge he's worried about.
"We know it's going to be a tough game," he said. "We know it's probably going to come down to two or three plays. If they have two good plays and an 80-yard pass and an 80-yard run, then we might lose. But if we have two or three good plays then we might win.
"It's going to be that type of game. We know that, and we know it's going to come down to the end."
November, 5, 2013
11/05/13
10:00
AM ET
Alabama senior quarterback
AJ McCarron
is 33-2 as a starter and is trying to make it three straight national championships before he leaves the Capstone.
Despite his success, McCarron has been overshadowed this season by several other quarterbacks, namely
Marcus Mariota
,
Jameis Winston
and
Johnny Manziel
.
With LSU coming to town this weekend, we thought we'd throw open the great debate: Is McCarron a marquee quarterback who shines in big games, or is he more a product of having great personnel around him?
ESPN.com colleagues Chris Low and David Ching tackle that question in a Take Two debate.
Take 1: Ching -- Best in big games? Not so fast
Let me start by saying that I think McCarron is a good quarterback. He absolutely deserves to be mentioned among the best quarterbacks in the SEC alongside Manziel,
Aaron Murray
and
Zach Mettenberger
.
[+] Enlarge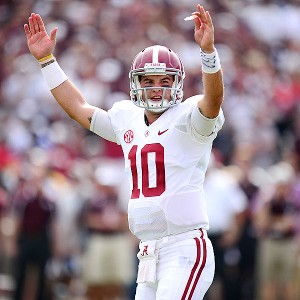 Phil Ellsworth/ESPN ImagesAJ McCarron has two national championship rings, but some still doubt his big-game credentials.
The reason this point-counterpoint column exists is that Mr. Low and I were on a phone call the other day, when he opined that McCarron is the best big-game quarterback in the country, and I disagreed.
Now, did McCarron play great in the last two BCS National Championships? Absolutely. Without question, he deserves credit for his performances against LSU and Notre Dame with a national title at stake.
But think back over Alabama's other big games over the last couple of seasons. How often was he more than a solid player on a great team? Not often enough to declare him the nation's best big-game quarterback.
Sure, he torched Texas A&M's defense earlier this season, but who hasn't? Does the opener against Virginia Tech count as a big game? Because if it does, he went 10-for-23 for 110 yards, one touchdown and one interception against the Hokies.
I'm sure you're asking, "What about his clutch passes last season?" No, I haven't forgotten about the key touchdown drives against LSU and Georgia in 2012. But do you recall what McCarron did in those games prior to his late heroics?
He was bad for a good chunk of the LSU game, completing 10 of 23 passes for just 93 yards prior to Alabama's last drive, which he conducted brilliantly and capped with a screen pass to
T.J. Yeldon
for the game-winning touchdown with 43 seconds to play.
Likewise, the play we remember from the win against Georgia was McCarron's game-winning touchdown pass to
Amari Cooper
. Not his two lost turnovers, including an interception in the Georgia end zone. Not that McCarron had passed for just 117 yards in the game prior to the pass to Cooper, or that the reason Alabama was able to come back and win was that Alabama's coaches largely took the game out of his hands in the second half and let the Crimson Tide's dominant running game take over.
You might also recall that Alabama's lone loss in 2012 -- to Texas A&M -- essentially ended when McCarron threw an interception in the end zone.
Listen, I don't want to sling mud at McCarron. He's a good player and he perfectly suits what Alabama needs from its quarterback. That's why his career has been so successful.
But is he the best big-game quarterback in the nation? I don't think so. There are other quarterbacks on good teams who carry much more of the production burden -- like Manziel, who had 562 yards and five touchdowns, against Alabama's defense -- and deserve this label more.
That's all I'm saying.
Take 2: Low -- How is this even a debate?
Really want to stoke McCarron's fire?
Refer to him as a good game manager, which he is, by the way.
The fifth-year senior is terrific at getting Alabama out of bad plays against a particular defense and into good plays. He's equally adept at taking what the defense gives him, and he rarely turns the ball over (only six interceptions in his last 25 games).
Moreover, he's excellent at spreading the football around and using all of his offensive weapons.
But above everything else, McCarron delivers in big moments and on big stages.
He might not be the best quarterback in the country, even in the SEC, and he might not be the game's most talented or entertaining quarterback.
But there's not a better big-game quarterback in college football than McCarron, and he's proved that time and time again.
When the Crimson Tide have needed him most, he has almost always delivered, which is why coach Nick Saban has so much faith in McCarron.
Saban has said repeatedly that McCarron doesn't get the credit outside the program that he deserves. Then again, McCarron will gladly take rings over credit.
But deep down, he stews over any suggestion that he's more game manager than playmaker.
This just in: If you are playing quarterback for Saban and aren't very effective at managing the game, you're going to be doing more watching than playing.
To me, McCarron is a little bit of everything you want in a quarterback. He's tough, playing through dislocated ribs toward the end of last season. He is a leader and isn't afraid to get in anybody's face, and he's one of those guys who never gets caught up in the moment.
That's why the Alabama coaches felt comfortable enough after the 2011 regular season to put so much of the game plan on his shoulders in Bama's 21-0 win over LSU in the BCS National Championship, a performance that earned him Offensive MVP honors.
That's why he shredded Notre Dame for four touchdown passes last season in the 42-14 rout of the Irish in the BCS National Championship.
And even when McCarron hasn't been at his best for the first three quarters of a game, he's been money in the fourth quarter. He hadn't done much of anything against LSU's defense in last year's regular-season meeting. But when the Tide got the ball back with under two minutes to play, McCarron calmly marched them down the field for the winning touchdown, capped by his memorable screen pass to Yeldon.
A few weeks later, in the SEC championship game, he connected with Cooper on a 45-yard touchdown pass with 3:15 to play, which wound up being the winning points. Up until that clutch throw, he'd been average at best.
But, again, when Alabama desperately needs a play, he is there to deliver it.
And let's not forget his four-touchdown performance at Texas A&M earlier this season. The Aggies were up 14-0 before anybody could blink. But in vintage McCarron fashion, he guided Alabama to 35 unanswered points, a spree that started with three consecutive McCarron touchdown passes.
As Bill Parcells used to famously say, you are what your record says you are.
McCarron's record says that he's a winner -- period.
November, 5, 2013
11/05/13
9:00
AM ET
When
AJ McCarron
steps behind center on Saturday night for Alabama's first offensive snap in its showdown against LSU, he'll be making his fourth start against the Tigers.
The senior has been the picture of stability the last three years as Alabama's starting quarterback. His first start against LSU was Nov. 5, 2011, dubbed "The Game of the Century," one that LSU won 9-6 in overtime at Bryant-Denny Stadium in Tuscaloosa, Ala.
LSU quarterback
Zach Mettenberger
, McCarron's counterpart on Saturday night, will make his second start against the Tide. LSU hasn't quite enjoyed the same stability that Alabama has, though Mettenberger has provided a steady hand and productive play this season, making LSU's offense the talk of the program for once; hard to do in a program known for its defense.
[+] Enlarge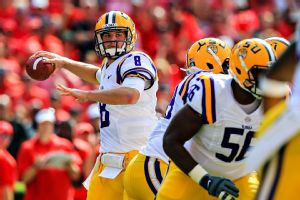 Daniel Shirey/USA TODAY SportsZach Mettenberger was 28-of-35 for 298 yards and a score in his first start against Alabama.
But in the same time span that McCarron has served as Alabama's lone starter in the Tide-Tigers showdowns, LSU has had three different starting quarterbacks. Mettenberger started last season's game but when the teams met twice in 2011 – in November and in January for the BCS championship – the Tigers had a different starter each time.
That's simply a microcosm of these two power programs. Both are championship-caliber teams that are annually in the BCS national championship discussion. Both have stable coaching staffs and a foundation built on great defense and the ability to run the football. Both recruit at a high level and, of course, play in the same division, the SEC West.
But since the Nick Saban took over at Alabama in 2007, the Tide have had just three quarterbacks start against LSU: McCarron, Greg McElroy (2009-10) and John Parker Wilson, who predated Saban and started for the Tide from 2006-08.
In that same time span, the Tigers have had a different starter vs. Alabama six times. In 2007 it was Matt Flynn, who was a senior. Jarrett Lee started the 2008 game, while
Jordan Jefferson
started in 2009 and 2010. In 2011 Lee started the November "Game of the Century," and Jefferson started the BCS national championship later that season. Though the Tigers have had four different quarterbacks in that span, it's been rare that the same one has started twice in a row against the Tide like Mettenberger will do Saturday.
Despite that contrast, the series has been back-and-forth. Alabama has won four times since 2007, LSU three. The Tigers' success despite quarterback turnover is even more fascinating in an age where quarterbacks dominate the headlines and up-tempo spread offenses are en vogue.
Take last season as an example, one in which the Tigers didn't make a change at quarterback but didn't get strong play from the position either. Florida (3rd), Oregon State (13th) and Kent State (25th) were the only schools other than LSU with a Total QBR of less than 55 for the season to finish in the top 25 of the BCS standings at the end of the regular season. The team with the worst QBR of thos, LSU (38), finished eighth in the final BCS standings last season.
Even in 2011, when the Tigers went 13-1 and went to the BCS title game before falling to Alabama, the quarterback situation was far from stable. Lee made nine starts that season, Jefferson made five. There was even discussion in the aftermath of the 21-0 title game loss to the Crimson Tide about LSU coach Les Miles' decision to not play Lee at all that night and leave Jefferson in, which Miles later said was because he wanted a mobile quarterback who could avoid Alabama's tenacious pass rush in the game.
The reason the Tigers were able to succeed despite a sometimes uncertain quarterback situation is their defense. LSU finished in the top 12 nationally in total defense each season from 2010-2012 and had a 34-5 record in that time span. They've also had a reliable running game to turn to move the chains offensively.
Alabama has enjoyed the fruits of both of those traits during their run of three BCS titles in four seasons, but the stability at quarterback is evident. The Tide have finished the season with a better QBR than LSU each of the last five seasons.
Stable or not, life is tough for the quarterbacks in this game. During the Saban era, Alabama quarterbacks have a QBR of 42.8 against LSU, while LSU's is 33.1 against the Tide. The touchdown-to-interception ratios aren't pretty (8-to-6 for Alabama, 7-to-11 for LSU) as the defenses take center stage in this matchup.
But the Tigers have shown that even in this era of offensive dominance, good defense can still get you far. And now, they just might have the quarterback to knock off the nation's top team.
November, 4, 2013
11/04/13
10:15
AM ET
Sit down, Michigan-Ohio State.


Take a back seat, Alabama-Auburn. Not so fast, Florida-Florida State. Try a little harder, Notre Dame-USC. Better luck next time, Oklahoma-Texas.
Although you're all amazing rivalry games, you just don't currently compare to the new rivalry in town: Alabama-LSU.
No, this game doesn't have the hatred that comes with the Iron Bowl or the storied tradition that Michigan-Ohio State possesses. But when it comes to the national championship, no other game holds the importance of Alabama-LSU. In the past few years, this game has been
the
game of the season.
On Saturday, when No. 1 Alabama (8-0, 5-0 SEC) hosts No. 13 LSU (7-2, 3-2), it will mark the eighth consecutive time these two have met as ranked opponents, and it will yet again have major SEC West Division championship and national championship implications in the balance.
[+] Enlarge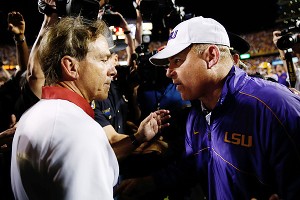 Jamie Squire/Getty Images for ESPN The MagazineThere's always a lot on the line when Nick Saban and Les Miles clash.
The past three games in this series have all dealt with the phrase "Game of the Century." And when the SEC West and the national championships have all been on the line, it's hard to argue against the hyperbole.
Since the 2006 season, these teams have delivered a few gems together. Four times, both have been ranked in the top 10, and twice they've met as No. 1 and No. 2. Oh, and once was in the national championship back in 2011.
"Every year -- past the first year we've been here [2007] -- it's [been a big game]," Alabama coach Nick Saban said.
"We have a tremendous amount of respect for them, being one of the most challenging opponents that we have in this league. The fact that they've been really, really good and we've been pretty good makes this game -- more than it has -- a tremendous amount of significance for both teams. ... It's a great game, and it's a game that players on both sides probably look forward to, but it's a tremendous challenge."
It certainly has become quite the challenge for both teams. Since 2006, Alabama has a 4-3 advantage over the Tigers but has lost at home twice. The winner of this game -- and the loser in 2011 -- has played in the national championship four times and won the SEC West five times. The average margin of victory in the six regular-season meetings between these two during that span has been 6.3 points. Alabama blanked LSU 21-0 in the BCS National Championship at the end of the 2011 season.
Two months earlier, the teams played their first "Game of the Century" when No. 1 LSU went to Tuscaloosa and left with a draining, 9-6 overtime victory over No. 2 Alabama. People poked at the offenses, but the story of that game was just how good both defenses were, as neither team gained 300 yards of offense and both defenses grabbed two takeaways.
Two freight trains smashed into each other in the middle of Bryant-Denny Stadium, but the one coated in purple and gold emerged still on the tracks.
Things were even more entertaining last fall, when No. 1 Alabama won 21-17 in thrilling, comeback style in Baton Rouge, La. While the 2011 game in Tuscaloosa had special-teams blunders and beautiful defensive stops, this one had a high-flying LSU passing game and a screen pass from AJ McCarron to T.J. Yeldon with 51 seconds remaining that put McCarron in tears and etched its place in the college football highlights hall of fame.
We also saw a classic in 2010, which featured two LSU fourth-down conversions and Les Miles introducing us to his appetite for eating grass. The 2009 game had that wonderful 73-yard Julio Jones touchdown and an interception that wasn't for LSU corner Patrick Peterson.
You want talent? There have been 31 players selected in the NFL draft who were on the Alabama or LSU rosters in the 2011 BCS title game.
Outside of the tremendous play on the field, you have the sideshow of Saban versus Miles. Saban is the ultimate perfectionist, and Miles' quirkiness can get the best of both him and his opponents. It truly is a match made in heaven, just like this game.
The animosity and disdain that seeps into every major rivalry isn't really there for this one. Sure, there was the Saban storyline that lingered for a few years because he's coached and won a national championship at both schools, but the loathing between players and fans in other rivalries really doesn't exist here.
This game has more of a mutual respect about it because of what is on the line when the clock hits zero. There isn't a shiny trophy or in-state bragging rights to claim. No, this game's winner is looking for bigger, more important awards, such as a division title and national championship.
"If you played at Alabama or LSU, it's one of those games you measure yourself by," Peterson said. "Look at the players who've come out of both schools, how many of those guys are in the NFL. It's
the
game in college football."
November, 4, 2013
11/04/13
10:00
AM ET
TUSCALOOSA, Ala. -- Nick Saban eventually learned to take advantage of the bye week and relax. Through years of coaching at Michigan State, LSU and Alabama, he found that using two full weeks to prepare for a game was counterproductive. Players got tired of hearing the same things over and over again, he said, and by the time the game actually arrived they were "sort of mentally and psychologically drained."
[+] Enlarge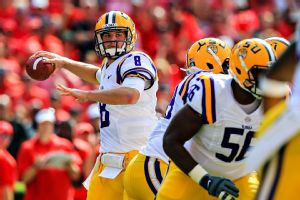 Daniel Shirey/USA TODAY SportsZach Mettenberger is one of the nation's most-improved QBs, a fact not lost on Nick Saban.
But Alabama's 62-year-old coach with four championship rings and plans on a fifth this season can only stick to his plan so much. He encouraged everyone on staff to go home and take the weekend off, to rest and recuperate before diving headlong into the task of preparing for LSU the following week. He said he looked forward to the change of venue -- "not come to work for the first time in six months" -- and added that he'd even watch some football on Saturday, especially if there was a good SEC game on.
Picturing Saban lounging on the couch with a cold drink and popcorn doesn't quite add up, though. Not with LSU on the horizon. The top-ranked Crimson Tide play host to the always dangerous purple and gold Tigers on Saturday. LSU will enter Tuscaloosa ranked 13th in the BCS, but more importantly as an underdog with a history of winning at Bryant-Denny Stadium. Their offense is potent, the talent unquestionable.
Should Alabama win, the Tide will remain favorites to win the SEC and reach the BCS National Championship Game for a third consecutive season. A loss would mean disaster, disappointment and a year's worth of questions.
The very thought kept Saban from enjoying the time off too much.
"I don't ever get too far from that computer, man," Saban told ESPN's
Ivan Maisel on his podcast on Thursday
. "It's just hard not to think about what's coming up and trying to prepare for it. Even though you get away, you never totally get away."
Though most of last week was spent looking at his own team, the matchup with LSU was impossible to ignore. Saban called it "the most challenging game" of the season and touted LSU's improved offense under new coordinator Cam Cameron, a coach he's familiar with dating to his days at Michigan State.
Zach Mettenberger
has developed into one of the best quarterbacks in the SEC under Cameron's tutelage. His 85.7 opponent-adjusted QBR is seventh-best in the FBS, according to ESPN Stats & Information. His 38.6-point improvement from the season before is the biggest gain of any quarterback who qualified.
With
Odell Beckham
Jr. and
Jarvis Landry
to throw the ball to, it's no wonder. The two starters rank in the top three of the SEC in yards receiving and have combined for 16 touchdown catches through nine games. Beckham ranks second nationally with 207.33 all-purpose yards per game.
And that's not to mention
Jeremy Hill
and LSU's stable of backs. Hill's 115.2 rushing yards per game is good enough for 15th nationally.
Kenny Hilliard
, his backup, has scored on 10.1 percent of his rushing attempts this season, trailing only
Marcus Murphy
and
Kenyan Drake
among SEC tailbacks.
"This is the most skilled group of receivers, combination of runners, combination of balance on offense, a good quarterback ... all the factors that I think are going to be the most challenging for us this season," Saban said.
There never has been a doubt about what the game means to everyone involved, Saban said, but he didn't want to "wear them out with it" last week. The Alabama-LSU rivalry speaks for itself. What's riding on this year's game is obvious.
But now that restriction is gone. It's Monday and it's time to start figuring out how to beat LSU.
Coaches and players know what to expect. Linebacker
Trey DePriest
called it a "physical, downhill-type team" that will line up and go right at you. Then the only thing left is "Can you stop it?" according to DePriest.
And the answer to that question means everything.
Scout's Take: Atlanta Opening Regional
SEC SCOREBOARD
Thursday, 9/3
Saturday, 9/5