Second look: Bama 52, Arkansas 0
September, 16, 2012
9/16/12
10:44
PM ET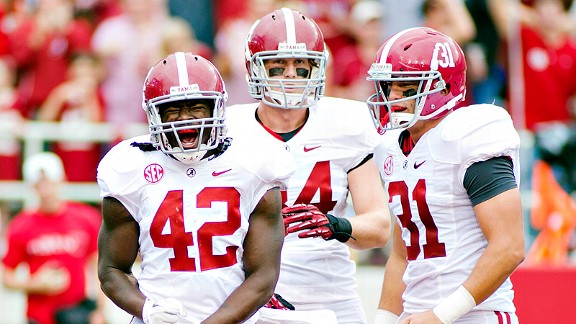 Beth Hall/US PresswireThe Tide put together another impressive performance against Arkansas on Saturday.
After 24 hours of digestion, analysis of No. 1 Alabama's 52-0 win over the Arkansas Razorbacks:
On defense ...
To continue reading this article you must be an Insider
Insider
Florida's Fumble-Recovery Touchdown
UF's Keanu Neal picked up an Alabama fumble and returned it 49 yards for a touchdown.
Florida's Fumble-Recovery Touchdown
VIDEO PLAYLIST
ALABAMA FB RECRUITING SCORECARD
SECfootball

SEC Football News


Florida recovers fumble, fumbles, recovers fumble http://t.co/dgHvavXfI2
about a minute ago

AlabamaFTBL

Alabama Football


Tide scores on a 2-yard TD reception from Blake Sims to Jalston Fowler. Adam Griffith with the point after. UA leads, 21-14. #UFvsBAMA
about a minute ago

Andrew_Gribble

Andrew Gribble


Alabama drives 56 yards on six plays, scores a TD, doesn't target Amari Cooper once.
about a minute ago

SECfootball

SEC Football News


Mauk trying to prevent Mizzou first-half disaster vs. Indiana http://t.co/IxlXzgqV24
about a minute ago

CrimsonWalsh

Christopher Walsh


TD upheld. Alabama scoring drive: Six plays and one really dumb penalty, 56 yards. Tide up 21-14
about a minute ago

AschoffESPN

Edward Aschoff


Agreed RT @Mark_Schlabach: Nice throw for TD, but should've handed it to Gurley
about a minute ago

TDAlabama

Touchdown Alabama


To the surprise of no one, the very partian Alabama crowd feels he caught it.
about a minute ago

TDAlabama

Touchdown Alabama


TD under review. It's close.
2 minutes ago

TDAlabama

Touchdown Alabama


Athletic Dept. letting bids for locker room repaint after Saban peels the paint with his speech at halftime... No... http://t.co/PXUPFM4Cmc
2 minutes ago

ESPN_SEC

ESPN_SEC


Very nice TD pass there by Sims but a great catch by Fowler #UFvsBAMA
3 minutes ago

TDAlabama

Touchdown Alabama


HOUSE IT! GREAT catch by Jalston Fowler for a Touchdown!
3 minutes ago

AlexS_ESPN

Alex Scarborough


Someone should tell Florida's defense that Jalston Fowler only catches touchdowns.
3 minutes ago

CrimsonWalsh

Christopher Walsh


After false start, Tide goes right back to Henry for 11-yard carry. Second-and-goal at the 2, Sims to Fowler. TD
3 minutes ago

TDAlabama

Touchdown Alabama


Derrick Henry. Still a monster. 11 yard run to the Gator 2.
4 minutes ago

Andrew_Gribble

Andrew Gribble


First trip to the red zone for either team.
4 minutes ago

TDAlabama

Touchdown Alabama


Did...the entire offensive line just get called for a false start? 1st and goal at the 13.
4 minutes ago

TDAlabama

Touchdown Alabama


Jalson Fowler with the FB leak for 18. 1st and 10 Tide from there.
4 minutes ago

ESPN_SEC

ESPN_SEC


Whoa. Henry is used to doing that to people ...
5 minutes ago

CrimsonWalsh

Christopher Walsh


Darious Cummings with the dumb penalty there for Florida.
5 minutes ago

AlexS_ESPN

Alex Scarborough


Derrick Henry has never been hit that hard in his lifetime.
5 minutes ago

ESPN_SEC

ESPN_SEC


Cummings just really wanted to finish that play didn't he? Bama will take it #UFvsBAMA
6 minutes ago

TDAlabama

Touchdown Alabama


Blake Sims with the fancy feet, and Florida adds 15 yards with a hit out of bounds. 1st and 10 Tide on the Gator 32.
6 minutes ago

ESPN_SEC

ESPN_SEC


Gators with a nice run and then a turnover. Have we come to expect anything else from this game? #UFvsBAMA
7 minutes ago

CrimsonWalsh

Christopher Walsh


Reggie Ragland with the fumble recovery. He didn't have a single tackle last week against Southern Miss.
8 minutes ago

TDAlabama

Touchdown Alabama


Bama gets one back! Bungled QB/RB exchange gives Alabama the ball at their 44. 1st and 10 Tide from there.
8 minutes ago

Andrew_Gribble

Andrew Gribble


Reggie Ragland now with both of Alabama's fumble recoveries this season. Wild, wild game.
8 minutes ago

AlexS_ESPN

Alex Scarborough


Florida gets in on the fumbling action. Alabama recovers.
8 minutes ago

CrimsonWalsh

Christopher Walsh


You think this half is long? Imagine what it seems like for Alabama's Nick Perry ...
9 minutes ago

TDAlabama

Touchdown Alabama


When it rains it pours, Mr. Surefoot place kicker misses, now the punter muffs one too... Anybody else flubs and Saban may pop an artery.
10 minutes ago

Damien_D1Harris

Damien Harris


I can't imagine coach Saban at halftime of this game...... lol
10 minutes ago

TDAlabama

Touchdown Alabama


Welcome to Shanksville. Population: JK Scott. 30 yard punt puts UF 1st and 10 from their 49.
11 minutes ago

ESPN_SEC

ESPN_SEC


Scott gives the Gators good field position but can they do anything with it this time? #UFvsBAMA
11 minutes ago

Andrew_Gribble

Andrew Gribble


After three mostly perfect games, a rough start for Alabama's young specialists.
11 minutes ago

GVMcElroy

Greg McElroy


Cooper is so SO good. That adjustment on the deep ball. He makes everything look so easy.
12 minutes ago

TDAlabama

Touchdown Alabama


Hargreaves back on the field in time to stop Alabama short on 3rd down. Alabama to punt.
12 minutes ago

ChaseGoodbread

Chase Goodbread


Kiffin went right to Cooper deep when Hargreaves went out. No accident.
12 minutes ago

SECfootball

SEC Football News


Amari Cooper ties Alabama record for career touchdown receptions http://t.co/E7DmQAGVCZ
12 minutes ago

ESPN_SEC

ESPN_SEC


Not sure you want to be trash talking Amari Cooper there ... just a thought #UFvsBAMA
12 minutes ago

SEC_Chuck

Chuck Dunlap


Nice game brewing in Tuscaloosa. Winner of this game 4 of last 5 meetings went on to win national title.
13 minutes ago

ESPN_SEC

ESPN_SEC


TJ Yeldon with some Playstation moves there ... Also Hargreaves slow there. Not what the Gators want to see #UFvsBAMA
13 minutes ago

jzenor

John Zenor


I feel like these two teams have packed a season into the first 18 minutes.
14 minutes ago

TDAlabama

Touchdown Alabama


That 5 yard run from Yeldon may be the prettiest 5 yard run you'll ever seen. Hargreaves down with an injury for UF.
14 minutes ago

AschoffESPN

Edward Aschoff


Great response by #Bama's defense there. #Gators also have to get into a passing rhythm #UFvsBAMA
15 minutes ago

GVMcElroy

Greg McElroy


This is the 5th time since 2011 that Alabama has had 3 turnovers in a game.
15 minutes ago

TDAlabama

Touchdown Alabama


Ironically, the long bombs means Florida leads Alabama 7:41-7:19 in time-of-possession.
15 minutes ago

TDAlabama

Touchdown Alabama


Ok. Official stats from Q1: Alabama with 291 yards (272 passing) to UFs 74. Reggie Ragland leads UA with 3 tackles.
16 minutes ago

CrimsonWalsh

Christopher Walsh


Amari Cooper ties Alabama record for career touchdown receptions http://t.co/coMPP0HUCT (Story may be updated ...) http://t.co/ummPDSNeft
17 minutes ago

TDAlabama

Touchdown Alabama


Fair catch by Christion Jones after a 27 yard punt. 1st and 10 Alabama from their 12. 14-14. 11:58 left Q2.
17 minutes ago

GVMcElroy

Greg McElroy


Really big stop by Alabama Defense after the sudden change.
17 minutes ago

ESPN_SEC

ESPN_SEC


Alabama dials up the pressure at the right time. You can do that when the deep ball is basically taken away #UFvsBAMA
18 minutes ago

TDAlabama

Touchdown Alabama


Incomplete pass on 3rd down. 4th down. UF to punt.
18 minutes ago

Andrew_Gribble

Andrew Gribble


Saban rewarded for accepting the penalty.
18 minutes ago

TDAlabama

Touchdown Alabama


3rd and 14 after accepting an ineligible receiver downfield penalty.
19 minutes ago

GVMcElroy

Greg McElroy


Driskell can't throw the ball to the RB on a screen with OL downfield.
19 minutes ago

TDAlabama

Touchdown Alabama


SMART PLAY. Dickson read that screen all the way. Sure, it gained 3, but its 4th down pending a penalty call.
19 minutes ago

ChaseGoodbread

Chase Goodbread


Xzavier Dickson did a nice job reading screen there.
20 minutes ago

AlexS_ESPN

Alex Scarborough


If you want to know how talented a safety Landon Collins is, just watch that play a couple of times.
20 minutes ago

TDAlabama

Touchdown Alabama


Landon Collins has closing speed for DAYS. Great play to break up that ball on 2nd down. 3rd and 9 UF from the Alabama 34.
20 minutes ago

ESPN_SEC

ESPN_SEC


Another turnover. That time it truly was a comedy of errors. You just gotta fall on the ball #UFvsBAMA
22 minutes ago

GregO_ESPN

Greg Ostendorf


Does Fowler get credit for two fumble recoveries on that play? #UFvsBAMA
22 minutes ago

TDAlabama

Touchdown Alabama


Well. That play was silly. Two fumbles later, UF recovers the ball at the Alabama 35. 1st and 10 UF from there.
22 minutes ago

AlexS_ESPN

Alex Scarborough


Fumbles on fumbles on fumbles. #UFvsBAMA
22 minutes ago

ChaseGoodbread

Chase Goodbread


Cooper with another catch on Hargreaves.
23 minutes ago

TDAlabama

Touchdown Alabama


Gotta give a nod to UF's run defense. Tough yards for the Tide so far.
23 minutes ago

TDAlabama

Touchdown Alabama


I see you, pass to OJ Howard. Please pull up a chair. Stay awhile. Touchdowns at the bar.
24 minutes ago

CrimsonWalsh

Christopher Walsh


Tight end OJ Howard with his first reception of the season to convert a third down.
24 minutes ago

Andrew_Gribble

Andrew Gribble


O.J. Howard sighting.
24 minutes ago

AlabamaFTBL

Alabama Football


Amari Cooper going the distance for receiving TD No. 18 of his career, which ties him for 1st at UA. #UFvsBAMA http://t.co/2KjAIoMo51
25 minutes ago

AlexS_ESPN

Alex Scarborough


DeAndrew White was just escorted to the locker room by a trainer. He missed the last two games nursing a shoulder injury. #UFvsBAMA
26 minutes ago

ESPNStatsInfo

ESPN Stats & Info


Alabama finished the 1st quarter with 272 pass yds. That's the most allowed by Florida in any half under Will Muschamp
27 minutes ago

uagameday

UA Gameday


First Quarter: Alabama 14 Florida 14
28 minutes ago

CrimsonWalsh

Christopher Walsh


Correction: Alabama has 291 yards of total offense on 18 plays.
28 minutes ago

GregO_ESPN

Greg Ostendorf


Crazy thing is that both Cooper and Hargreaves played well in the first quarter. #UFvsBAMA
28 minutes ago

SECfootball

SEC Football News


Georgia's 66 points the most by a Mark Richt-coached team http://t.co/cz3EzN82qs
28 minutes ago

SECfootball

SEC Football News


SEC Kickoff: Everything you need to know for South Carolina at Vanderbilt http://t.co/sRKze2PbE3
28 minutes ago

TDAlabama

Touchdown Alabama


First quarter stats of note: 27 rush/47 pass UF. Alabama 19rush/272 pass.
28 minutes ago

ESPN_SEC

ESPN_SEC


Mixed bag for both teams there in the first. Turnovers and blown coverages. First team to settle down wins #UFvsBAMA
28 minutes ago

CrimsonWalsh

Christopher Walsh


The end of a long, exhausting first quarter: Alabama 14, Florida 14. Go figure. Alabama already has 300 yards of total offense.
28 minutes ago

Andrew_Gribble

Andrew Gribble


Blake Sims with 272 yards in the first quarter. Alabama threw for more than 272 in a game last season six times.
29 minutes ago

TDAlabama

Touchdown Alabama


End of Q1. Tie game 14-14. 1st and 10 Tide from their 42 when we return to action.
29 minutes ago

AlabamaFTBL

Alabama Football


Cooper's latest receiving TD is the 18th of his career, which ties him with Dennis Homan (1965-67) for 1st all-time for @AlabamaFTBL. #RTR
29 minutes ago

TDAlabama

Touchdown Alabama


Blake Sims is pushing 300 yards passing in a quarter. You can't fit six guys on a milk carton, but the UF secondary belongs there.
30 minutes ago

ESPN_SEC

ESPN_SEC


Driskel is still having issues throwing the ball down field. Had a guy and over threw him #UFvsBAMA
31 minutes ago

TDAlabama

Touchdown Alabama


First and 10 Tide from their 13. 1:07 remaining Q1. Tie game 14-14.
31 minutes ago

TDAlabama

Touchdown Alabama


Alabama's rush has CONSISTENTLY affected Driskel, even if it doesn't result in a sack. Interception for Jabriel Washington!
31 minutes ago

Andrew_Gribble

Andrew Gribble


First interception for Alabama since the 1st quarter of the Sugar Bowl.
32 minutes ago

CrimsonWalsh

Christopher Walsh


Washington, who got beat on the TD, makes Alabama's first interception of the season.
32 minutes ago

TDAlabama

Touchdown Alabama


3rd and long for UF. Here comes the rush.
32 minutes ago

TDAlabama

Touchdown Alabama


Great pursuit and swarming to the ball on that 1st down screen. Mo Smith deserves credit for just standing his blocker up.
33 minutes ago

SECfootball

SEC Football News


Video: Keanu Neal returns fumble 49 yards for TD, Gators up 14-7 http://t.co/DMdjiWRACL
34 minutes ago

TDAlabama

Touchdown Alabama


UF finding a bit of success on the ground. Couple of quick first downs and they have the ball at the Alabama 36 yard line.
34 minutes ago

ChaseGoodbread

Chase Goodbread


Cooper over 600 rec. yards for the season with most of Alabama's 4th game still to play.
34 minutes ago

coachingsearch

Pete Roussel


Lane Kiffin calls that play "pressure." It's always thrown to the best player on the team who lines up in the slot.
35 minutes ago

AlabamaFTBL

Alabama Football


Cooper's latest receiving TD is the 18th of his career, which ties him with Dennis Homan (1965-67) for 1st all-time for @AlabamaFTBL. #RTR
36 minutes ago

TDAlabama

Touchdown Alabama


Return + penalty places the ball at the Florida 36 yard line. 1st and 10 UF from there.
36 minutes ago

tommydeas

Tommy Deas


So Blake Sims is literally on pace to throw for more than 1,000 yards ... today
36 minutes ago

TDAlabama

Touchdown Alabama


Alabama kicks off, and Florida will get a little help thanks to a facemask on the return.
37 minutes ago

AndrewJBone

Andrew Bone


Blake Sims with 256 passing yards in the first quarter. Amari Cooper with more than 150. This is a roller coaster.
37 minutes ago

TDAlabama

Touchdown Alabama


Can we just line up and throw a bomb every play? Seems to work so far....
37 minutes ago

ESPN_SEC

ESPN_SEC


Not sure how you lose Amari Cooper on the field but UF just did so I guess it's possible #UFvsBAMA
38 minutes ago
SEC SCOREBOARD
Saturday, 9/20
Thursday, 9/18
BLOG ARCHIVE:
CATEGORIES: