Recruits react to Pruitt's move to UGA
January, 14, 2014
Jan 14
4:27
PM ET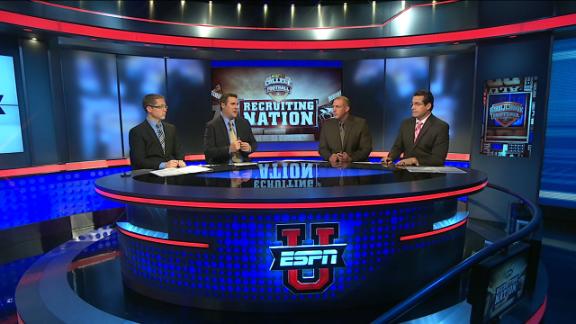 By
hiring defensive coordinator Jeremy Pruitt away from Florida State
, Georgia made a move that is sending shockwaves through the Southeast recruiting landscape.
One of those prospects who is certainly affected by the move is five-star defensive end
Lorenzo Carter
(Norcross, Ga./Norcross). The nation's No. 13 prospect has both Florida State and Georgia in his final group.
To continue reading this article you must be an Insider
Insider
Drive Through: SEC Preview
In the spirit of the MTV Video Music Awards and the Emmys, Cary Chow and Heather Dinich hand out some preseason awards of their own for the SEC.
Drive Through: SEC Preview
VIDEO PLAYLIST
Drive Through: SEC Preview

Drive Through: SEC Preview

In the spirit of the MTV Video Music Awards and the Emmys, Cary Chow and Heather Dinich hand out some preseason awards of their own for the SEC.

Is Alabama Vulnerable Against West Virginia?

Is Alabama Vulnerable Against West Virginia?

Paul Finebaum discusses the Alabama QB battle between Blake Sims and Jacob Coker and explains why he doesn't think the Crimson Tide will be vulnerable against West Virginia despite not having a clear-cut favorite at quarterback.

Trey DePriest Won't Play In Opener

Trey DePriest Won't Play In Opener

Alex Scarborough discusses Trey DePriest being suspended for Alabama's opening game against West Virginia due to an undisclosed NCAA infraction
ALABAMA FB RECRUITING SCORECARD
BamaSportsNow

Alabama Sports Now


2014 College Football TV Schedule Week 1: How to watch, game times, channels, and live streaming http://t.co/V2InEAvvxe
9 minutes ago

BamaSportsNow

Alabama Sports Now


Blake Sims' winding Alabama story includes sleepless decommitment, few wild twists of fate http://t.co/w0mpMJnZcH
26 minutes ago

BamaSportsNow

Alabama Sports Now


Former Bama great Kevin Turner fights ALS, launches 'Brain Not Bell' campaign at Tide opener against West Virginia http://t.co/32QN1u012R
26 minutes ago

rollbamaroll

Roll Bama Roll


2014 College Football TV Schedule Week 1: How to watch, game times, channels, and live streaming http://t.co/rNJ0Ill5c8
about an hour ago

BradTBuchanan

Brad T Buchanan


First night of CFB games at @SECNetwork and we got off air at 3:14am. I think @PeterBurnsESPN @ESPNDari @SECbooger @GVMcElroy had fun still
about 3 hours ago

SEC

SEC Sports


FULL RECAP: Temple Upsets Vanderbilt: http://t.co/MVxcamomt9 #SEC #TEMPLEvsVANDY
about 4 hours ago

ESPN_SEC

ESPN_SEC


Mercifully, #TEMPLEvsVANDY has come to an end. Vandy falls to Temple 37-7. Thanks for hanging with us for all the SEC action tonight!
about 4 hours ago

SEC

SEC Sports


FINAL SCORE: #TEMPLEvsVANDY: Temple defeats Vanderbilt, 37-7.
about 4 hours ago

GVMcElroy

Greg McElroy


Not a good night for the 'Dores. Watching this game leaves me with a lot of questions.
about 5 hours ago

ESPN_SEC

ESPN_SEC


Stephen Rivers back in at QB for Vanderbilt. Temple leads 34-7 with under 14:00 left. #TEMPLEvsVANDY
about 5 hours ago

SEC

SEC Sports


#TEMPLEvsVANDY: End of the third quarter: Temple 34, Vanderbilt 7. #SEC
about 5 hours ago

ESPN_SEC

ESPN_SEC


Six turnovers for Vanderbilt. Six. #TEMPLEvsVANDY
about 5 hours ago

SEC

SEC Sports


#TEMPLEvsVANDY: Temple 31, Vanderbilt 7. 6:08 3rd qtr. #SEC
about 5 hours ago

ESPN_SEC

ESPN_SEC


Our thoughts exactly, Jordan #TEMPLEvsVANDY RT @jmattjmattjmatt: Smh...
about 5 hours ago

AschoffESPN

Edward Aschoff


I literally did two double takes at the #Vandy score. This isn't real, right?
about 5 hours ago

austinkmiller

Austin Miller


Rhythm, silent count helped pave the way for a 2nd-half surge for @OleMissFB offense in 35-13 win over Boise State http://t.co/oCS4PxOOlN
about 5 hours ago

SEC

SEC Sports


#TEMPLEvsVANDY: Temple 24, Vanderbilt 7. 7:30 3rd qtr. #SEC
about 5 hours ago

BamaSportsNow

Alabama Sports Now


Blake Sims Reportedly Will Start Alabama's 2014 Season Opener vs. West Virginia http://t.co/sTIdk9vm6e
about 5 hours ago

ESPN_SEC

ESPN_SEC


Third QB of the night -- now Johnny McCrary for Vandy -- and he promptly throws a pick. 24-7 Temple, 7:58 left in Q3. #TEMPLEvsVANDY
about 5 hours ago

SEC

SEC Sports


FULL RECAP - Ole Miss pulls away from Boise State for season-opening win: http://t.co/euwdXLzKoj #SEC #BOISEvsMISS
about 5 hours ago

ESPN_SEC

ESPN_SEC


Going from bad to worse for the Commodores. Muffed punt and Temple recovers, with a chance to add to its 21-7 lead. Ouch. #TEMPLEvsVANDY
about 5 hours ago

ESPN_SEC

ESPN_SEC


Plays that changed the game for Ole Miss http://t.co/wiybc8U3kp
about 5 hours ago

ESPN_SEC

ESPN_SEC


Woes continue for Vandy. Solid drive stalls, missed 40-yard FG by Hayden Lekacz leaves Commodores trailing 21-7. #TEMPLEvsVANDY
about 5 hours ago

GVMcElroy

Greg McElroy


Rivers - keeping his eyes downfield!
about 6 hours ago

tommydeas

Tommy Deas


I just send Vandy an email giving permission to use "Man Overboard" jerseys in the second half
about 6 hours ago

mtjrolemiss

Michael Thompson


. @OleMissFB 28 4th qtr points were the most points in a qtr since scoring 28 in the 4th against Memphis in the 2009 season opener.
about 6 hours ago

NFL_CFB

CollegeFootball 24/7


Seven things you should know from Thurday's college football opening games --> http://t.co/3NnfqKohe1 http://t.co/bJ8o4Mq3xx
about 6 hours ago

tommydeas

Tommy Deas


Vandy's whole Anchor Down thing is starting to look a bit ironic
about 6 hours ago

SDS

Saturday Down South


Enjoyed watching a halftime show that only talks about the Southeastern Conference. @SECNetwork @ESPNDari @GVMcElroy @SECbooger
about 6 hours ago

CFAPeachBowl

ChickfilA Peach Bowl


1 hour after @OleMissFB & @BroncoSportsFB & the @GeorgiaDome is already being prepped for @AlabamaFTBL & @WVUfootball http://t.co/MUdjFeonZF
about 6 hours ago

tommydeas

Tommy Deas


This American Athletic Conference Network has potential #templeofdoom
about 6 hours ago

SECfootball

SEC Football News


Video highlights: Ole Miss 35, Boise State 13 http://t.co/p3NLq5NJmc
about 6 hours ago

SEC

SEC Sports


VIDEO - Postgame interview with @OleMissFB quarterback Bo Wallace: http://t.co/wvjlncoKrh #SEC
about 6 hours ago

SECfootball

SEC Football News


Halftime Quick Take: Commodores struggling against Temple http://t.co/9S4pg5pGfS
about 6 hours ago

tommydeas

Tommy Deas


Explain to me how an email from a conference official can overrule whats in the rule book. Can he make holding legal too?
about 6 hours ago

ESPN_SEC

ESPN_SEC


Nightmare of a first half comes to a close for Vanderbilt and Derek Mason. Commodores trail Temple 21-7. #TEMPLEvsVANDY
about 6 hours ago

SEC

SEC Sports


#TEMPLEvsVANDY: HALFTIME - Temple 21, Vanderbilt 7. #SEC
about 6 hours ago

DanWetzel

Dan Wetzel


Vandy trails Temple 21-7 and it's best player has been an email.
about 6 hours ago

ESPN_SEC

ESPN_SEC


Officials review says the fumble stands. Vanderbilt crowd voicing its displeasure. Touchdown Temple. Owls up 21-7 in Q2. #TEMPLEvsVANDY
about 6 hours ago

NFL_CFB

CollegeFootball 24/7


Report: Nick Saban picks Blake Sims over Jacob Coker to start for Alabama vs. West Virginia: http://t.co/ISwhce4uSI http://t.co/ftufLcvlK7
about 6 hours ago

tommydeas

Tommy Deas


Fat Boy touchdowns shouldn't be reviewable anyway
about 6 hours ago

ESPN_SEC

ESPN_SEC


Looks like replay might save Vanderbilt here. Appears Rivers' knee was down before he lost the fumble. Huge if reversed. #TEMPLEvsVANDY
about 6 hours ago

tommydeas

Tommy Deas


Can Vandy trade back the illegal uniform penalty to get the play overturned?
about 6 hours ago

ESPN_SEC

ESPN_SEC


Ole Miss 35, Boise State 13 http://t.co/vG2DgY4vsR
about 6 hours ago

tommydeas

Tommy Deas


Vanderbilt and the Temple of Doom
about 6 hours ago

ESPN_SEC

ESPN_SEC


Stephen Rivers back at QB for Vanderbilt. Commodores could really use a good drive here to get some momentum before the half. #TEMPLEvsVANDY
about 6 hours ago

SEC

SEC Sports


#TEMPLEvsVANDY: Temple 14, Vanderbilt 7. 2:07 2nd qtr. #SEC
about 6 hours ago

SECfootball

SEC Football News


Watch Kevin Sumlin, Texas A&M players celebrate after South Carolina blowout http://t.co/acaYG1oUTy
about 6 hours ago

ESPN_SEC

ESPN_SEC


Commodores unable to get off the field on 4th-and-8. Temple threatening now, in the red zone with 2:14 left in the 2nd. #TEMPLEvsVANDY
about 6 hours ago

SEC

SEC Sports


VIDEO HIGHLIGHT - Vanderbilt's touchdown earlier this quarter: http://t.co/8fQYpwmGrt #SEC #TEMPLEvsVANDY
about 6 hours ago

NFL_CFB

CollegeFootball 24/7


.@BuckyBrooks: Johnny Manziel's successor Kenny Hill dynamic in Texas A&M debut: http://t.co/M7fQjrZcJc http://t.co/SbOio7vqLF
about 6 hours ago

ESPN_SEC

ESPN_SEC


Sumlin's system keeps creating QB stars http://t.co/9soLseC67O
about 6 hours ago

TideWire

TideWire


Auction Item: Verice Cloyd Authentic Basketball Jersey (#15) http://t.co/2lxpTbT7fd
about 6 hours ago

ESPN_SEC

ESPN_SEC


That Vandy drive chart ain't pretty. 5 punts and a fumble. Woof. #TEMPLEvsVANDY
about 6 hours ago

SECfootball

SEC Football News


Rapid reaction: Ole Miss defense dominates, Rebels pull away in second half http://t.co/e1F0jc7crV
about 6 hours ago

ESPN_SEC

ESPN_SEC


QB change alert for Vanderbilt: Stephen Rivers in the game. #TEMPLEvsVANDY
about 6 hours ago

ESPN_SEC

ESPN_SEC


Officiating crew says the ruling on the field of a fumble.Stands. Vandy ball at midfield. #TEMPLEvsVANDY
about 6 hours ago

AlexS_ESPN

Alex Scarborough


Johnny Manziel was just asked at a press conference if he's old news at Texas A&M now. His response: "Kenny Football, baby!"
about 7 hours ago

SEC

SEC Sports


#TEMPLEvsVANDY: Vanderbilt 7, Temple 7. 10:18 2nd qtr. #SEC
about 7 hours ago

ESPN_SEC

ESPN_SEC


Momentum swing? Vandy scores the first TD in the Derek Mason era on a botched Temple punt. #TEMPLEvsVANDY
about 7 hours ago

SECfootball

SEC Football News


Touchdown Vanderbilt. #AnchorDown
about 7 hours ago

Vandy

Vandy Football - SDS


TOUCHDOWN!
about 7 hours ago

ESPN_SEC

ESPN_SEC


Penalty reversed on Vandy's jerseys. Documentation received (an email) overturns the call. Wow.
about 7 hours ago

SDS

Saturday Down South


Of course Vanderbilt would provide documentation... #overturned
about 7 hours ago

AlexS_ESPN

Alex Scarborough


Nothing works like documentation. Vandy shows the refs an e-mail, has the penalty for "Anchor Down" on unis overturned.
about 7 hours ago

GVMcElroy

Greg McElroy


The jersey's are legal! #AnchorDown
about 7 hours ago

AlexS_ESPN

Alex Scarborough


Auburn would just break out the sewing machine right now. http://t.co/GzEDnVQBhk
about 7 hours ago

GVMcElroy

Greg McElroy


.@mowilkerson You know @BigDame900 has his retired. #fire
about 7 hours ago

SDS

Saturday Down South


Well, Vanderbilt just lost a timeout for having "Anchor Down" on the jersey. What has @CFB become?
about 7 hours ago

ESPN_SEC

ESPN_SEC


Replacing last names with "Anchor Down" on the back of their jerseys is costing Vandy a timeout every quarter.
about 7 hours ago

AlexS_ESPN

Alex Scarborough


Vanderbilt just had a timeout taken away each quarter for having "Anchor Down" on the back of its jerseys. The unis are sharp, though.
about 7 hours ago

GVMcElroy

Greg McElroy


.@mowilkerson c'mon man! When they going to retire #9?
about 7 hours ago

SEC

SEC Sports


FINAL SCORE - #BOISEvsMISS: Ole Miss 35, Boise State 13. #SEC
about 7 hours ago

ESPN_SEC

ESPN_SEC


Ole Miss overcomes sloppy start, scores 28 fourth-quarter points in win over Boise State. #BOISEvsMiss
about 7 hours ago

GVMcElroy

Greg McElroy


My true/false bold predictions. 2 correct, 2 incorrect. 1 TBD. Need Vandy to run for some TDs!
about 7 hours ago

SEC

SEC Sports


#TEMPLEvsVANDY: Temple 7, Vanderbilt 0. 3:39 1st qtr. #SEC
about 7 hours ago

BamaSportsNow

Alabama Sports Now


Alabama target K.J. Hill commits Friday morning; will 4-star receiver pick Crimson Tide or Arkansas? http://t.co/EkTuWQgVxw
about 7 hours ago

SDS

Saturday Down South


For those of you that don't know @CoachHughFreeze, that image must have been a photoshop...
about 7 hours ago

tommydeas

Tommy Deas


Vandy is back ... to being Vandy
about 7 hours ago

SDS

Saturday Down South


Hugh Freeze says "Thank you" to Boise State... [h/t @obtaxman] http://t.co/As0VL2wPxp
about 7 hours ago

AlexS_ESPN

Alex Scarborough


There you have it. RT @JManziel2 KENNY FOOTBALL!!! #GigEm
about 7 hours ago

TDAlabama

Touchdown Alabama


Season two of 15 And Counting is here!#2 Alabama vs. West Virginia Preview.Check out #TDAL's own Ivan White and... http://t.co/T0kRyuiqPX
about 7 hours ago

GVMcElroy

Greg McElroy


Really great to see Bo Wallace finish strong. He needs to be that guy all the time. 27th start. Can't have 1st game jitters.
about 7 hours ago

JManziel2

Johnny Manziel


KENNY FOOTBALL!!! #GigEm
about 7 hours ago

SEC

SEC Sports


#BOISEvsMISS: Ole Miss 28, Boise State 13. 4:25 4th qtr. #SEC
about 7 hours ago

Vandy

Vandy Football - SDS


Who loves our new uniforms? http://t.co/u0JiYYWn8r #AnchorDown
about 7 hours ago

SECfootball

SEC Football News


PHOTOS: Vanderbilt debuts stealth all-black Nike uniforms http://t.co/mLAkNKV1ku
about 7 hours ago

ESPN_SEC

ESPN_SEC


Cody Core hits another gear for Ole Miss on this last TD. #BOISEvsMISS http://t.co/nHhAvqtvUC
about 7 hours ago

WestALWatchman

WestAlabama Watchman


Bessemer Academy 30, Marengo 13 FINAL
about 7 hours ago

ChaseGoodbread

Chase Goodbread


Oh well. At least Orrin Hatch will make sure Boise gets to visit the Coke Museum on the way out of town.
about 7 hours ago

ESPN_SEC

ESPN_SEC


After three INTs in the first half, Bo Wallace has thrown TDs on his last three passes. #BOISEvsMISS
about 7 hours ago

AlexS_ESPN

Alex Scarborough


Dr. Bo and Mr. Hyde
about 7 hours ago

SEC

SEC Sports


#BOISEvsMISS: Ole Miss 28, Boise State 6. 7:45 4th qtr. #SEC
about 7 hours ago

AschoffESPN

Edward Aschoff


SEC chants now. Rebels back in the good graces of their fans after that 76-yard TD pass to Core
about 7 hours ago

AndrewJBone

Andrew Bone


I see you Cody Core. Great night for the Ole Miss WR.
about 7 hours ago

SECfootball

SEC Football News


Ole Miss' defense wanted to make a statement tonight. The Rebels want to be the #SEC's most physical defense.
about 7 hours ago

SECfootball

SEC Football News


How will Tennessee stop Chuckie Keeton? http://t.co/E1NIKkNYTp
about 7 hours ago

AschoffESPN

Edward Aschoff


I actually said they would. A win! RT @Aaron_Brenner: No Way Team USA Gets Out of Group State Over Portugal/Ghana - by @AschoffESPN
about 7 hours ago

AschoffESPN

Edward Aschoff


See this is the Ole Miss team I expected to see all game ... ...
about 7 hours ago

GVMcElroy

Greg McElroy


Standing ovation for @AggieFootball. Unbelievable performance. Now let's start game 2!
about 8 hours ago
SEC SCOREBOARD
Thursday, 8/28
Saturday, 8/30
Sunday, 8/31
BLOG ARCHIVE:
CATEGORIES: