Watch: Bo Scarbrough interview
September, 10, 2012
9/10/12
2:09
PM ET
By
TideNation staff
| ESPN.com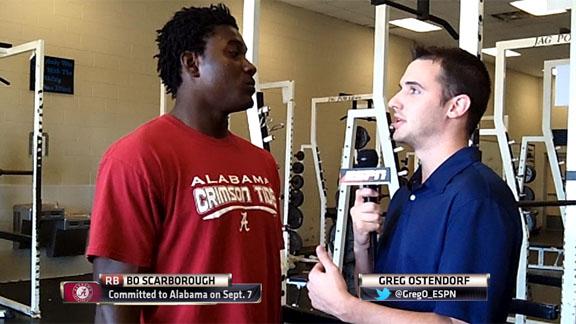 Bo Scarbrough, a 2014 running back from Northridge (Tuscaloosa, Ala.), committed to hometown Alabama after his high school game Friday. He talks with Greg Ostendorf about the decision.
Drive Through: SEC Preview
In the spirit of the MTV Video Music Awards and the Emmys, Cary Chow and Heather Dinich hand out some preseason awards of their own for the SEC.
Drive Through: SEC Preview
VIDEO PLAYLIST
Drive Through: SEC Preview

Drive Through: SEC Preview

In the spirit of the MTV Video Music Awards and the Emmys, Cary Chow and Heather Dinich hand out some preseason awards of their own for the SEC.

Is Alabama Vulnerable Against West Virginia?

Is Alabama Vulnerable Against West Virginia?

Paul Finebaum discusses the Alabama QB battle between Blake Sims and Jacob Coker and explains why he doesn't think the Crimson Tide will be vulnerable against West Virginia despite not having a clear-cut favorite at quarterback.

Trey DePriest Won't Play In Opener

Trey DePriest Won't Play In Opener

Alex Scarborough discusses Trey DePriest being suspended for Alabama's opening game against West Virginia due to an undisclosed NCAA infraction
ALABAMA FB RECRUITING SCORECARD
ESPN_SEC

ESPN_SEC


Momentum swing? Vandy scores the first TD in the Derek Mason era on a botched Temple punt. #TEMPLEvsVANDY
less than a minute ago

SECfootball

SEC Football News


Touchdown Vanderbilt. #AnchorDown
about a minute ago

Vandy

Vandy Football - SDS


TOUCHDOWN!
2 minutes ago

ESPN_SEC

ESPN_SEC


Penalty reversed on Vandy's jerseys. Documentation received (an email) overturns the call. Wow.
5 minutes ago

SDS

Saturday Down South


Of course Vanderbilt would provide documentation... #overturned
5 minutes ago

AlexS_ESPN

Alex Scarborough


Nothing works like documentation. Vandy shows the refs an e-mail, has the penalty for "Anchor Down" on unis overturned.
5 minutes ago

GVMcElroy

Greg McElroy


The jersey's are legal! #AnchorDown
6 minutes ago

AlexS_ESPN

Alex Scarborough


Auburn would just break out the sewing machine right now. http://t.co/GzEDnVQBhk
9 minutes ago

GVMcElroy

Greg McElroy


.@mowilkerson You know @BigDame900 has his retired. #fire
10 minutes ago

SDS

Saturday Down South


Well, Vanderbilt just lost a timeout for having "Anchor Down" on the jersey. What has @CFB become?
13 minutes ago

ESPN_SEC

ESPN_SEC


Replacing last names with "Anchor Down" on the back of their jerseys is costing Vandy a timeout every quarter.
13 minutes ago

AlexS_ESPN

Alex Scarborough


Vanderbilt just had a timeout taken away each quarter for having "Anchor Down" on the back of its jerseys. The unis are sharp, though.
13 minutes ago

GVMcElroy

Greg McElroy


.@mowilkerson c'mon man! When they going to retire #9?
18 minutes ago

SEC

SEC Sports


FINAL SCORE - #BOISEvsMISS: Ole Miss 35, Boise State 13. #SEC
22 minutes ago

ESPN_SEC

ESPN_SEC


Ole Miss overcomes sloppy start, scores 28 fourth-quarter points in win over Boise State. #BOISEvsMiss
22 minutes ago

GVMcElroy

Greg McElroy


My true/false bold predictions. 2 correct, 2 incorrect. 1 TBD. Need Vandy to run for some TDs!
23 minutes ago

SEC

SEC Sports


#TEMPLEvsVANDY: Temple 7, Vanderbilt 0. 3:39 1st qtr. #SEC
24 minutes ago

BamaSportsNow

Alabama Sports Now


Alabama target K.J. Hill commits Friday morning; will 4-star receiver pick Crimson Tide or Arkansas? http://t.co/EkTuWQgVxw
26 minutes ago

SDS

Saturday Down South


For those of you that don't know @CoachHughFreeze, that image must have been a photoshop...
27 minutes ago

tommydeas

Tommy Deas


Vandy is back ... to being Vandy
28 minutes ago

SDS

Saturday Down South


Hugh Freeze says "Thank you" to Boise State... [h/t @obtaxman] http://t.co/As0VL2wPxp
30 minutes ago

AlexS_ESPN

Alex Scarborough


There you have it. RT @JManziel2 KENNY FOOTBALL!!! #GigEm
31 minutes ago

TDAlabama

Touchdown Alabama


Season two of 15 And Counting is here!#2 Alabama vs. West Virginia Preview.Check out #TDAL's own Ivan White and... http://t.co/T0kRyuiqPX
32 minutes ago

GVMcElroy

Greg McElroy


Really great to see Bo Wallace finish strong. He needs to be that guy all the time. 27th start. Can't have 1st game jitters.
32 minutes ago

JManziel2

Johnny Manziel


KENNY FOOTBALL!!! #GigEm
32 minutes ago

SEC

SEC Sports


#BOISEvsMISS: Ole Miss 28, Boise State 13. 4:25 4th qtr. #SEC
35 minutes ago

Vandy

Vandy Football - SDS


Who loves our new uniforms? http://t.co/u0JiYYWn8r #AnchorDown
39 minutes ago

SECfootball

SEC Football News


PHOTOS: Vanderbilt debuts stealth all-black Nike uniforms http://t.co/mLAkNKV1ku
40 minutes ago

ESPN_SEC

ESPN_SEC


Cody Core hits another gear for Ole Miss on this last TD. #BOISEvsMISS http://t.co/nHhAvqtvUC
46 minutes ago

WestALWatchman

WestAlabama Watchman


Bessemer Academy 30, Marengo 13 FINAL
48 minutes ago

ChaseGoodbread

Chase Goodbread


Oh well. At least Orrin Hatch will make sure Boise gets to visit the Coke Museum on the way out of town.
49 minutes ago

ESPN_SEC

ESPN_SEC


After three INTs in the first half, Bo Wallace has thrown TDs on his last three passes. #BOISEvsMISS
49 minutes ago

AlexS_ESPN

Alex Scarborough


Dr. Bo and Mr. Hyde
50 minutes ago

SEC

SEC Sports


#BOISEvsMISS: Ole Miss 28, Boise State 6. 7:45 4th qtr. #SEC
50 minutes ago

AschoffESPN

Edward Aschoff


SEC chants now. Rebels back in the good graces of their fans after that 76-yard TD pass to Core
50 minutes ago

AndrewJBone

Andrew Bone


I see you Cody Core. Great night for the Ole Miss WR.
50 minutes ago

SECfootball

SEC Football News


Ole Miss' defense wanted to make a statement tonight. The Rebels want to be the #SEC's most physical defense.
51 minutes ago

SECfootball

SEC Football News


How will Tennessee stop Chuckie Keeton? http://t.co/E1NIKkNYTp
52 minutes ago

AschoffESPN

Edward Aschoff


I actually said they would. A win! RT @Aaron_Brenner: No Way Team USA Gets Out of Group State Over Portugal/Ghana - by @AschoffESPN
53 minutes ago

AschoffESPN

Edward Aschoff


See this is the Ole Miss team I expected to see all game ... ...
54 minutes ago

GVMcElroy

Greg McElroy


Standing ovation for @AggieFootball. Unbelievable performance. Now let's start game 2!
about an hour ago

SEC

SEC Sports


#TEMPLEvsVANDY: Vanderbilt vs. Temple about to get underway now on the @SECNetwork. #SEC
about an hour ago

ChaseGoodbread

Chase Goodbread


TAMU official site just now getting the box score up. So much addition.
about an hour ago

AschoffESPN

Edward Aschoff


If you can't laugh at yourself, right? RT @rcflores84: I like your humor. I think you do a great job #gigem
about an hour ago

ESPN_SEC

ESPN_SEC


Who's staying up for the night cap? Vanderbilt and Temple about to kick off on the SEC Network.
about an hour ago

AschoffESPN

Edward Aschoff


RT @jjk2006: @Polecatt props to analysts that can admit they are fallible. Just stop doubting Sumlin. You'll end up more right than wrong. 👍
about an hour ago

AschoffESPN

Edward Aschoff


Ole Miss offense really came to play ... this quarter
about an hour ago

BamaSportsNow

Alabama Sports Now


Nick Saban lists 11 Alabama newcomers you can expect to have a role this fall http://t.co/iCZvQIsZSM
about an hour ago

BamaSportsNow

Alabama Sports Now


Nick Saban doesn't name starter but drops more hints about Alabama's QB competition http://t.co/XD1BaKsd8Q
about an hour ago

SEC

SEC Sports


BOISEvsMISS: Ole Miss 21, Boise State 6. 10:05 4th qtr. #SEC
about an hour ago

ESPN_SEC

ESPN_SEC


This is the Ole Miss team we thought we were going to see. #BOISEvsMISS
about an hour ago

AschoffESPN

Edward Aschoff


Ole Miss offense really came to play ... this quarter
about an hour ago

AschoffESPN

Edward Aschoff


No, I'm welcoming ALL trolling tonight RT @MrShift4: Why can't you predict the future? You're the worst journalist. - Internet Commenter
about an hour ago

ChaseGoodbread

Chase Goodbread


Tony Conner can flat-out play.
about an hour ago

AschoffESPN

Edward Aschoff


Ole Miss has some athletes. What a pick by Tony Conner.
about an hour ago

AschoffESPN

Edward Aschoff


Worst RT @Polecatt Why South Carolina will win: South Carolina's defense will force QB Kenny Hill into some late mistakes. -- Edward Aschoff
about an hour ago

SEC

SEC Sports


FULL RECAP - Texas A&M's Kenny Hill has record-setting night in win against South Carolina: http://t.co/2lsFGrER3j #TAMUvsSC #SEC
about an hour ago

ESPN_SEC

ESPN_SEC


Here's another look at that last TD grab from Laquon Treadwell. #BOISEvsMISS http://t.co/OF4bxvj8Ue
about an hour ago

SEC

SEC Sports


VIDEO - @CoachSumlin post-game interview with @SECNetwork's @MariaTaylor7: http://t.co/YFsGmtIHzw #SEC
about an hour ago

ESPNTAMU

ESPN Texas A&M


The plays that changed the game -- @AlexS_ESPN breaks down how the #Aggies routed the #Gamecocks: http://t.co/Yr4tJkdHxV #TAMUvsSC
about an hour ago

ChaseGoodbread

Chase Goodbread


LaQuon Treadwell is hell to deal with in man coverage.
about an hour ago

AschoffESPN

Edward Aschoff


Laquon Treadwell will a grown-man touchdown grab there. Just manhandled Cleshawn Page and it's 14-6
about an hour ago

SEC

SEC Sports


#BOISEvsMISS: Ole Miss 14, Boise State 6. 12:26 4th qtr. #SEC
about an hour ago

ESPN_SEC

ESPN_SEC


Hello Mr. Treadwell. #BOISEvsMISS
about an hour ago

AschoffESPN

Edward Aschoff


My hero RT @skhanjr: @kodair0211 Ditto. Some dude spent $20K and is getting it free.
about an hour ago

AschoffESPN

Edward Aschoff


Aaron Morris has NOT had a good return to college football after his injury. Just missed everything on that sack
about an hour ago

SECfootball

SEC Football News


Video highlights: Texas A&M 52, South Carolina 28 http://t.co/fqHVGHffbY
about an hour ago

AschoffESPN

Edward Aschoff


False start No. 8 for the Rebels. It's been so long but all is right with this game #BoisevsMiss
about an hour ago

AschoffESPN

Edward Aschoff


Seeeeeeeeeeee RT @bamagirl_4_ever: It had to be bought before today.
about an hour ago

AschoffESPN

Edward Aschoff


I'm definitely going to Ashley Furniture in College Station. Getting me a new EVERYTHING!!
about an hour ago

SEC

SEC Sports


#BOISEvsMISS: Moving into the fourth quarter, Ole Miss leads Boise State 7-6. #SEC
about an hour ago

AschoffESPN

Edward Aschoff


Tweet of the night RT @AggieJay: ESPN is on the phone and they'd like you in Bristol tomorrow. Bring your play book.
about an hour ago

AschoffESPN

Edward Aschoff


Touche RT @loljocks_grimey: this is what you get for besmirching Abilene Christian/Georgia State, sir
about an hour ago

AschoffESPN

Edward Aschoff


Turnover coming I'm sure RT @aadelsonESPN: Looking in on the boys in blue ... errr orange. #BOISEvsMISS
about an hour ago

AschoffESPN

Edward Aschoff


I said Ole Miss would win this game 31-21. Me know football
about an hour ago

ESPN_SEC

ESPN_SEC


Either Boise State has an awesome defense or Ole Miss has some work to do on offense. #BOISEvsMISS
about an hour ago

TDAlabama

Touchdown Alabama


15 And Counting: #2 Alabama vs. West Virginia Preview: http://t.co/KjAqUzWkhr via @YouTube
about an hour ago

tommydeas

Tommy Deas


Another loss and the Ol' Ball Coach will have to fall back on taking shots at Dabo
about an hour ago

ESPN_SEC

ESPN_SEC


Texas A&M 52, South Carolina 28 http://t.co/k0KsBOCSmR
about an hour ago

AschoffESPN

Edward Aschoff


Oh and Boise RB Jay Ajayi not happy with the coaches deciding to just get a delay of game. This game has just been ... yeah
about an hour ago

AschoffESPN

Edward Aschoff


Boise going for it because the Broncos might as well
about an hour ago

BrentZwerneman

Brent Zwerneman


OC Jake Spavital: (Center) Mike Matthews is the reason this offense goes so fast.
about an hour ago

tommydeas

Tommy Deas


I'm not going to complain about this Ole Miss-Boise eyesore. Football is better than that which is not football
about an hour ago

SECfootball

SEC Football News


Johnny who? Kenny Hill torches South Carolina's defense http://t.co/LAZQD1VMk9
about an hour ago

SECfootball

SEC Football News


Steve Spurrier furious with Gamecocks' new 3-4 look defensively http://t.co/mcUD7Chwm4
about an hour ago

ESPN_SEC

ESPN_SEC


Plays that changed the game: Texas A&M http://t.co/bhleyyBfI4
about an hour ago

BurkParsons

Burk Parsons


Dear Football: Welcome back, we missed you.
about an hour ago

AschoffESPN

Edward Aschoff


A failed fourth-down attempt by Ole Miss and backup DeVante Kincade because this game #BoisevsMiss
about an hour ago

CrimsonWalsh

Christopher Walsh


One game in, everyone can take all those preseason magazines and chuck them
about an hour ago

tommydeas

Tommy Deas


Texas A&M the leader in the clubhouse for SEC total offense, week one.I don't think Ole Miss is gonna make the cut
about an hour ago

tommydeas

Tommy Deas


"@KevinOnCFB: @DCTheState: "We won't get much favorable press, that's probably going to be good for us." -- Spurrier" - Well there's that
about an hour ago

tommydeas

Tommy Deas


@ChaseGoodbread: New Oldsmobiles are in early this year
about an hour ago

tommydeas

Tommy Deas


@osgators @SteveSpurrier: Golf weather report. He's free tomorrow
about an hour ago

AggieFootball

Texas A&M Football


Final boxscore from #TAMUvsSC #12thMan http://t.co/UBPzlOgifk
about an hour ago

ESPNChing

David Ching


By golly I love that Steve Spurrier. Never afraid to roll over folks with the bus and then throw that sucker in reverse and get em again.
about an hour ago

ChaseGoodbread

Chase Goodbread


TAMU got off 99 offensive snaps vs. Gamecocks. Spavital's shoe sole glued to the gas pedal like Charles Napier in the Blues Brothers.
about 2 hours ago

TideSports

TideSports.com


Want $99 worth of FREE Crimson Tide gear? Sign up for an annual subscription and it's yours! Check it out! http://t.co/P5XFECF0cR
about 2 hours ago

BamaSportsNow

Alabama Sports Now


Alabama's Blake Sims sets example as leader, teammate http://t.co/SIjUCbATm4
about 2 hours ago

UGASportscom

UGASports.com


Over 1500 words on the #Clemson vs. #UGA game in this break down by Georgia great Drew Butler. Writes like he punts. https://t.co/lOJXIKLqQD
about 2 hours ago

AschoffESPN

Edward Aschoff


Up is down RT @catorano: still feel good about not including A&M's QB in passing over 3000?
about 2 hours ago
SEC SCOREBOARD
Thursday, 8/28
Saturday, 8/30
Sunday, 8/31
BLOG ARCHIVE:
CATEGORIES: