Commit Cole Mazza happy for Tinker
August, 22, 2012
8/22/12
12:19
PM ET
Cole Mazza
may be the first long snapper to earn a scholarship from Nick Saban out of high school, but on Tuesday, Alabama senior long snapper
Carson Tinker
earned his own scholarship from the Crimson Tide head coach after walking on four years earlier.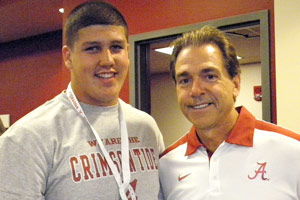 Courtesy of Cole MazzaCole Mazza made the trip for a prospect camp in Tuscaloosa and impressed Nick Saban enough to get an offer.
Mazza, who committed to Alabama in June, wanted to be one of the first to congratulate Tinker for the accomplishment.
"I was honestly so proud of him," Mazza said. "He's worked so hard for that. With all he's been through and how hard he's worked to get back to the top from what happened in the tornado. He deserves it more than anybody in this world to finally earn his full scholarship at Alabama."
To continue reading this article you must be an Insider
Insider
Harvey Updyke Dunk Tank Canceled Following Threats
Mark Schlabach discusses why organizers of the September 29th charity event in Mobile Alabama have canceled Harvey Updyke's appearance.
Harvey Updyke Dunk Tank Canceled Following Threats
VIDEO PLAYLIST
ALABAMA FB RECRUITING SCORECARD
BamaSportsNow

Alabama Sports Now


What did we learn? Our best answers to Alabama's 5 biggest preseason questions http://t.co/mc6MJQ468D
about 2 hours ago

BamaSportsNow

Alabama Sports Now


PHOTOS: 8/22 UA Fall Practice 2014 http://t.co/VSSIjgJmho
about 4 hours ago

BamaSportsNow

Alabama Sports Now


Watch Alabama commit Keaton Anderson take down MSU commit Keith Mixon http://t.co/qc0LX6IROs
about 4 hours ago

BamaSportsNow

Alabama Sports Now


VIDEO: 8/22 Practice Highlights http://t.co/PlxT5LssAv
about 5 hours ago

SEC

SEC Sports


VIDEO - Alabama soccer has big first half in opening-night win against Kennesaw State: http://t.co/oYzXBjwbZP #SEC
about 5 hours ago

SEC

SEC Sports


VIDEO - View highlights from Texas A&M soccer's win against Dayton: http://t.co/oSBZf0JlYE #SEC
about 5 hours ago

TDAlabama

Touchdown Alabama


Former Alabama WR Kenny Bell says we are now 7 days away from Alabama vs. West Virginia. #RollTide http://t.co/tQu9Of90Jg
about 6 hours ago

ESPN_Future

Stephen M. Smith


QB Jacob Coker and offensive coordinator Lane Kiffin. http://t.co/eCsbcGIqjg
about 6 hours ago

ESPN_Future

Stephen M. Smith


DBs Landon Collins & Geno Smith in tackling drills. http://t.co/az7fL3OSxr
about 6 hours ago

ESPN_Future

Stephen M. Smith


Freshman DB Laurence "Hootie" Jones in drills. http://t.co/CrqTlSFSeA
about 6 hours ago

ESPN_Future

Stephen M. Smith


Nice reception from WR Raheem Falkins at practice today. http://t.co/ZKNG8dVlFy
about 6 hours ago

ESPN_Future

Stephen M. Smith


QB Jacob Coker on this pass. http://t.co/150tsjmVND
about 6 hours ago

ESPN_Future

Stephen M. Smith


Freshman CB Tony Brown continues to impress in practice. http://t.co/PupVc6a8uL
about 6 hours ago

ESPN_Future

Stephen M. Smith


Fifth-year senior Nick Perry in defensive back drills. http://t.co/QXEMMeSwVg
about 6 hours ago

ESPN_Future

Stephen M. Smith


Alabama DB Landon Collins in practice. http://t.co/eN0M5Mv3fw
about 6 hours ago

ESPN_Future

Stephen M. Smith


Check out LB Denzel Devall's footwork. http://t.co/F4OJEj1lg9
about 6 hours ago

ESPN_Future

Stephen M. Smith


LBs Xzavier Dickson & Ryan Anderson in drills on this hot Thursday. http://t.co/cJf2VVKvkg
about 6 hours ago

TDAlabama

Touchdown Alabama


Alabama faces West Virginia August 30, but today was its second day of game planning.#TDAL insider Stephen M.... http://t.co/GSLGQAAVGi
about 6 hours ago

TDAlabama

Touchdown Alabama


Stephen's Report: Alabama Fall Camp (Aug. 22, 2014): http://t.co/IoYTRUGCKc via @YouTube
about 6 hours ago

SEC

SEC Sports


Take a look at the #SEC soccer scoreboard for tonight's matches: http://t.co/393Uibhasn
about 7 hours ago

SEC

SEC Sports


VIDEO - View highlights and a recap from the Georgia vs. Ole Miss soccer match: http://t.co/ODsNNv8YtA #SEC
about 7 hours ago

CrimsonWalsh

Christopher Walsh


Theresa Diederich's three assists help Alabama soccer open season with 5-1 victory
about 7 hours ago

BamaSportsNow

Alabama Sports Now


W. Soccer. Soccer Explodes for Four First-Half Goals En Route to 5-1 Victory http://t.co/zJ4TXp9Zdz
about 8 hours ago

AndrewJBone

Andrew Bone


Shades Valley will take home a 37-35 win against Florence tonight. Tremendous game. Two great programs. I bet we see these two in November
about 8 hours ago

AndrewJBone

Andrew Bone


There were two Florence defenders on Mixon's heels and he kicked it up a notch. No chance.
about 8 hours ago

AndrewJBone

Andrew Bone


Huge missed extra point by Shades Valley. SV leads Florence 37-35 with 3 mins to go in the game.
about 8 hours ago

AndrewJBone

Andrew Bone


What do you do on 4th and 13? Well Shades Valley throws a seam to #MissSt commitment Keith Mixon who races 65 yards for the go ahead TD
about 8 hours ago

AndrewJBone

Andrew Bone


Florence takes the lead 35-31 over Shades Valley with under 4 to play in the game. Heck of a first game.
about 8 hours ago

AndrewJBone

Andrew Bone


Shades Valley QB Rashad Louie dives in for his second TD of the game. Keith Mixon had a great 26-yard reception on the drive. 31-28 SV
about 9 hours ago

AndrewJBone

Andrew Bone


Florence was down 21 points in the second quarter. Tremendous comeback. Malik Manciel is committed to Texas St.
about 9 hours ago

AndrewJBone

Andrew Bone


Florence DL Malik Manciel with a sack/strip in the end zone and the Falcons recover. Florence takes 28-24 lead over Shades Valley. Early 4th
about 9 hours ago

ESPNU

ESPNU


Athlete Kerryon Johnson, currently on @ESPNU, leads an impressive @FootballAU recruiting class #RecruitingNation http://t.co/51bb7hFbWq
about 9 hours ago

UA_Athletics

Alabama Athletics


.@AlabamaSoccer wins! Share the W! The Tide returns to the field this Sunday vs Memphis at 7 pm. #RollTide http://t.co/m7RxUkE9Qb
about 9 hours ago

AndrewJBone

Andrew Bone


This is the best I've seen Keaton Anderson play in two years. Good chance to move to four-stars if he plays like this all year. Playmaker
about 9 hours ago

AlabamaSoccer

Alabama Soccer


Full time! Alabama begins its season 1-0, as it defeats Kennesaw State 5-1! #RollTide
about 9 hours ago

AndrewJBone

Andrew Bone


Florence playing inspired football right now. Malik Manciel and Dee Smith make plays to force three and out.
about 9 hours ago

AndrewJBone

Andrew Bone


Florence QB Blake Hawkins showing off his speed. Florence punches it in. We have a game! Shades Valley leads 24-21 in the third.
about 9 hours ago

Rivals

Rivals.com


TRUE or FALSE: The #SEC will dominate the college football playoffs.
about 9 hours ago

AndrewJBone

Andrew Bone


Saw the news on the letter sent to Miami-Central. Doubt it was anyone from HHS. Class program. Likely an immature kid not associated.
about 9 hours ago

AndrewJBone

Andrew Bone


Shades Valley with a 24-14 lead at halftime against Florence. Top performers thus far have been Rashad Louie, Blake Hawkins and K. Anderson
about 10 hours ago

BamaSportsNow

Alabama Sports Now


Is depth still an issue on Alabama's offensive line? http://t.co/MXiyUFCtDK
about 10 hours ago

AndrewJBone

Andrew Bone


Florence QB throws a 40 yard TD pass with 21 seconds remaining in the first half. Huge play. Shades Valley leads 24-14.
about 10 hours ago

AndrewJBone

Andrew Bone


Louie scrambles and flicks a pass to the end zone for six. Big play at the end of the half. Shades Valley leads Florence 24-7.
about 10 hours ago

AndrewJBone

Andrew Bone


Keaton Anderson keeps making plays. He has made some terrific open field tackles against Rashad Louie which is hard to do. #Alabama.
about 10 hours ago

AndrewJBone

Andrew Bone


Florence with a TD to cut the Shades Valley lead to 17-7 in the second quarter.
about 10 hours ago

AndrewJBone

Andrew Bone


Florence with a great drive and then shoot themselves in the foot with another INT.
about 10 hours ago

ChaseGoodbread

Chase Goodbread


Never in doubt to me. RT | "@NFL_CFB: NCAA denies Dorial Green-Beckham waiver to play in 2014 --> http://t.co/LYvwkrGWPf"
about 10 hours ago

NFL_CFB

CollegeFootball 24/7


NCAA denies Dorial Green-Beckham waiver to play in 2014 --> http://t.co/13n99jCEoQ
about 10 hours ago

AndrewJBone

Andrew Bone


Shades Valley student section has a good chant this year. #IBelieveThatWeWillWin.
about 10 hours ago

AndrewJBone

Andrew Bone


Daron Payne drawing consistent double teams all night. Chased down the Florence QB on third down to force another punt. SV looking good.
about 10 hours ago

AndrewJBone

Andrew Bone


#MissSt commitment Keith Mixon gets his first TD of the year on a 2-yard run. Credit QB Rashad Louie for his play on the drive. 17-0 SV
about 10 hours ago

AndrewJBone

Andrew Bone


Keaton Anderson makes another play in the open field to force fourth down. Keith Mixon took a direct snap on a fake punt to pick up the 1st.
about 10 hours ago

TheGameWDGM

The Game


CFB Analyst, @CrimsonWalsh from @SDS joins @TheGameWDGM next on http://t.co/S1TEIDnyxV in Tuscaloosa to talk some Alabama football and more
about 10 hours ago

BamaSportsNow

Alabama Sports Now


Football. Crimson Tide Moves Outside for Friday Workout http://t.co/MCxDiRqeHO
about 11 hours ago

AndrewJBone

Andrew Bone


Good play by #Alabama commitment Keaton Anderson to chase Shades Valley QB Rashad Louie out of the pocket and an incomplete pass. SV up 10-0
about 11 hours ago

AndrewJBone

Andrew Bone


Florence needs some special teams help. A botched punt on the 38 and Shades Valley takes over on the Florence 6-yard line.
about 11 hours ago

rketcham

Rob Ketcham


Addison 14, Pickens co 6: Kolby Kirk with 2nd TD, a 13-yder
about 11 hours ago

AndrewJBone

Andrew Bone


Botched FG attempt. Florence FG kicker attempts pass and it's intercepted by five-star DT Daron Payne.
about 11 hours ago

AschoffESPN

Edward Aschoff


Away with you RT @DBo90: Futurama is better though
about 11 hours ago

AndrewJBone

Andrew Bone


Shades Valley QB Rashad Louie races 71 yards on the second play of the game for a TD. Florence to open series on the 21.
about 11 hours ago

UA_Athletics

Alabama Athletics


alabamasoccer Player introductions are going on now! http://t.co/3fyQiqdReF
about 11 hours ago

Bama

Bama Football


Crimson Tide Moves Outside for Friday Workout http://t.co/VO5vxtEudl #RollTide
about 11 hours ago

UA_Athletics

Alabama Athletics


For in-game updates of tonight's soccer game follow @AlabamaSoccer. #RollTide
about 11 hours ago

AschoffESPN

Edward Aschoff


How do you live with yourself?? RT @RockyTopSkiBum: couldn't even name like 4 characters #WhoAreTheSimpsons
about 11 hours ago

AschoffESPN

Edward Aschoff


I'm not sure how that's legal RT @RockyTopSkiBum: lol never watched an episode
about 11 hours ago

UA_Athletics

Alabama Athletics


If you can't make it to tonight's @AlabamaSoccer game here's a link to watch (pay): http://t.co/LHyPHuqeKW
about 12 hours ago

UA_Athletics

Alabama Athletics


Kickoff between @AlabamaSoccer & Kennesaw State is in 30 min! Make your way to the Alabama Soccer Complex to watch some FREE soccer! #RTR
about 12 hours ago

AschoffESPN

Edward Aschoff


This Simpsons marathon makes me so thankful for parents who had me watch it each week when I was little. Best parents ever!
about 12 hours ago

AlabamaFTBL

Alabama Football


Crimson Tide Moves Outside for Friday Workout http://t.co/346aILwwxw #RollTide #BuiltByBama
about 12 hours ago

SECfootball

SEC Football News


VIDEO: Muschamp surprises two walk-ons with scholarships http://t.co/hW1jYUcptZ
about 12 hours ago

SEC_Sean

Sean Cartell


Commemorative coin given away tonight in Oxford for first live regular-season event on @SECNetwork: http://t.co/MnnZ57mA3p
about 12 hours ago

GregO_ESPN

Greg Ostendorf


Be sure to tune into the ESPN HS kickoff this weekend. Auburn commitment Kerryon Johnson will be on ESPNU tonight at 8 pm CT.
about 12 hours ago

TDAlabama

Touchdown Alabama


RT @SECNetwork: DCF aremm Enjoy your last weekend without football, everyone. #6d fun aystilkickof S'sff
about 12 hours ago

AndrewJBone

Andrew Bone


Whew. They recognized it was a mistake. I won't hate on you anymore Shades Valley.
about 12 hours ago

AndrewJBone

Andrew Bone


I've covered high school football for 11 years in Alabama. First time I've ever been charged to park as a media member. #ShadesValley.
about 12 hours ago

SEC

SEC Sports


Georgia and Ole Miss soccer at 7 pm ET in the first live regular season event on @SECNetwork: http://t.co/E5DH6iB73o
about 12 hours ago

BamaSportsNow

Alabama Sports Now


Alabama practice report: Listing the Tide players who were in scout team jerseys http://t.co/XDItHwRuAs
about 12 hours ago

SEC_Craig

Craig Pinkerton


https://t.co/hC0TXJVM6W
about 13 hours ago

sportsbizdiva

Tiffany Daniels


Inaugural @SEC Network regular season live event @OleMissSoccer v @UGASoccer! http://t.co/Ju96qqruJs
about 13 hours ago

ChaseGoodbread

Chase Goodbread


Finally moved to Tweetdeck. I'll clean up and shut the lights out while y'all move onto the next cool soc-med tool ahead of me.
about 13 hours ago

SECfootball

SEC Football News


VIDEO: Former Texas A&M WR Mike Evans involved in nightclub brawl http://t.co/nz7Npwcugv
about 13 hours ago

ESPN_SEC

ESPN_SEC


Grading each SEC QB situation http://t.co/pz6JuCKRqK
about 13 hours ago

UA_Athletics

Alabama Athletics


Tune into TideTV This Week to catch up on all Crimson Tide sports. Watch here: http://t.co/yqSJpEYuYI #RollTide http://t.co/U69fczpubf
about 13 hours ago

ChaseGoodbread

Chase Goodbread


Your one-stop visit for the latest on the top players in college football and other CFB happenings. Bookmark it. > http://t.co/IukK98dIpJ
about 13 hours ago

GregO_ESPN

Greg Ostendorf


Also, ICYMI: Nick Marshall isn't Cam, Johnny or Tebow, but that doesn't mean he's not the next star in the SEC. http://t.co/klTx5aL8fe
about 14 hours ago

AlexS_ESPN

Alex Scarborough


From earlier … It's a balancing act developing dual-threat QBs like Auburn's Nick Marshall: http://t.co/7QfDffJGO3
about 14 hours ago

AlexS_ESPN

Alex Scarborough


From earlier … It's a balancing act developing dual-threat QBs like Auburn's Nick Marshall: http://t.co/7QfDffJGO3
about 14 hours ago

BamaSportsNow

Alabama Sports Now


'Alabama should be excited about what they're getting' in linebacker commit Joshua McMillon, coach says http://t.co/JoW1Hn1k7q
about 14 hours ago

BamaSportsNow

Alabama Sports Now


Second suspect charged in fatal shooting of former UA football player Ozell Powell http://t.co/sH5TLyX9Z2
about 14 hours ago

AndrewJBone

Andrew Bone


#Ohio extends offer to Justin Foster, athlete from Donoho HS in Anniston, Ala.
about 14 hours ago

ESPN_SEC

ESPN_SEC


Marshall shows dual-threat dilemma http://t.co/GhuRVuLCfk
about 14 hours ago

UA_Athletics

Alabama Athletics


Join Big Al, the Pep Band, & UA Cheerleaders tomorrow from 12-2 pm at Chick-fil-A Northport for Bama Spirit Day! #RTR http://t.co/7xxX0bNih9
about 14 hours ago

ChaseGoodbread

Chase Goodbread


Neat graphic, but Wallace has no shot at some of these. MT | @OleMissFB Bo ready to chase down Eli's school records. http://t.co/yVkF0OXhNy
about 14 hours ago

BamaSportsNow

Alabama Sports Now


VIDEO: McMillon commits to Alabama http://t.co/ZtQPrqIg4E
about 15 hours ago

SECfootball

SEC Football News


SEC Subplots: Can South Carolina avoid the inevitable letdown game? http://t.co/uCpCmuM9tI
about 15 hours ago

SECfootball

SEC Football News


Top SEC targets in 2016 class: No. 14 DeKaylin Metcalf http://t.co/GHRgggWZJc via @SECrecruiting
about 15 hours ago

ESPN_SEC

ESPN_SEC


Versatility an asset for Tigers' OL http://t.co/nHAc3U2SPM
about 15 hours ago

Andrew_Gribble

Andrew Gribble


Current temperature in Tuscaloosa http://t.co/X6CW0k1qSL
about 15 hours ago

UA_Athletics

Alabama Athletics


It's MATCH DAY! @AlabamaSoccer opens the regular season tonight at 7 p.m. vs Kennesaw State. Admission is free! #RTR http://t.co/jGsCYuNAn8
about 15 hours ago

GregO_ESPN

Greg Ostendorf


RB Roc Thomas highlights a handful of freshmen who could influence Auburn's offense. http://t.co/Hy0L7ztQkh http://t.co/Dsij8PRSxk
about 15 hours ago
SEC SCOREBOARD
Thursday, 8/28
Saturday, 8/30
Sunday, 8/31
BLOG ARCHIVE:
CATEGORIES: