Video: Interview with 2014 LB Williams
March, 6, 2012
3/06/12
12:33
PM ET
Elite 2014 linebacker Tre Williams (Mobile, Ala./St. Paul's) talked with TideNation about the Nike SPARQ combine in Mobile, his early offers and how he could see himself playing for Alabama's defense one day.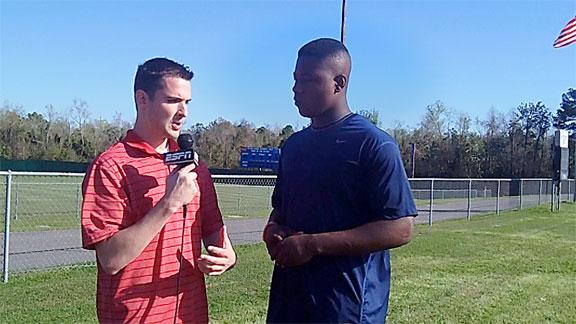 Week 14 Picks: Auburn-Alabama
Trevor Matich and Brad Edwards make their picks for the latest edition of the Iron Bowl on Saturday night.
Week 14 Picks: Auburn-Alabama
VIDEO PLAYLIST
ALABAMA FB RECRUITING SCORECARD
rollbamaroll

Roll Bama Roll


Hope For the Best: Bama versus Auburn - No really...hope for the best. http://t.co/lf6q5zVLjZ
25 minutes ago

BamaSportsNow

Alabama Sports Now


What they're predicting nationally for the Iron Bowl http://t.co/j4hcXq2Shg
about an hour ago

BamaSportsNow

Alabama Sports Now


Alabama Football: Lane Kiffin's Dark-Horse Stars Down the Stretch http://t.co/Nkt6GqYp1S
about 3 hours ago

SECfootball

SEC Football News


Week 14 SEC QB with the toughest task: Maty Mauk http://t.co/nIRzm4SZmr
about 3 hours ago

SECfootball

SEC Football News


Best SEC QB matchup, Week 14: Egg Bowl http://t.co/90Ipdzqm29
about 4 hours ago

SECfootball

SEC Football News


Around College Football: SMU appears ready to hire Clemson OC Chad Morris http://t.co/8cC7Imaugc
about 5 hours ago

CrimsonWalsh

Christopher Walsh


The RVs are already invading Tuscaloosa ...
about 5 hours ago

bhambizjrnl

Bham Biz Journal


From shoulder pads to suits: Alabama's John Parker Wilson. @BhamHealthTech http://t.co/XhdfMi81cU
about 5 hours ago

BamaSportsNow

Alabama Sports Now


Iron Bowl matches strength against strength http://t.co/SAk45AwNz8
about 6 hours ago

SECfootball

SEC Football News


Report Card: Texas A&M gets all Cs after fizzling against LSU http://t.co/kE6a5ILrie
about 6 hours ago

ChaseGoodbread

Chase Goodbread


Fournette, Tigers top TAMU as Ogbuehi returns to left side for Aggies > http://t.co/lUSh0Dl0cP
about 6 hours ago

CrimsonWalsh

Christopher Walsh


The perfect holiday gift for an Alabama fan? On sale at Hibbett http://t.co/jwPJIizwko http://t.co/qe37GC4nzz
about 6 hours ago

CrimsonWalsh

Christopher Walsh


The perfect holiday gift for an Alabama fan? On sale at Hibbett http://t.co/jwPJIizwko
about 6 hours ago

SEC

SEC Sports


LSU Earns Road Win at Texas A&M. Recap/Highlights: http://t.co/f0gP4zonFw #SEC
about 6 hours ago

ralphDrussoAP

Ralph D. Russo


@AschoffESPN I see you also suggested maybe Allen should not have, with the game on the line, assumed a penalty and just threw it up.
about 6 hours ago

SECfootball

SEC Football News


Infographic: LSU's victory over Texas A&M http://t.co/o9uxsXInfX
about 7 hours ago

AschoffESPN

Edward Aschoff


That escalated quickly with A&M fans ...
about 7 hours ago

SECfootball

SEC Football News


Rapid Reaction: LSU hangs on to beat Texas A&M http://t.co/ozb6RyhKZu
about 7 hours ago

ESPN_SEC

ESPN_SEC


Instant analysis: LSU 23, Texas A&M 17 http://t.co/XlZkT3GrnV
about 7 hours ago

SECfootball

SEC Football News


Rapid Reaction: Texas A&M's regular season ends in collapse http://t.co/aSbG4pliZM
about 7 hours ago

SECfootball

SEC Football News


Video: LSU vs. Texas A&M controversial ending http://t.co/PDZ6AnnQHu
about 7 hours ago

AschoffESPN

Edward Aschoff


So that no-call in the LSU-A&M game. I mean if you don't see a flag don't just heave up a pass ...
about 7 hours ago

ChaseGoodbread

Chase Goodbread


If Spavital is a genius, why did it take so long to recognize LSU can't be beat on perimeter? Needed to attack middle of field more & sooner
about 7 hours ago

SECfootball

SEC Football News


Video: Speedy Noil's incredible TD grab http://t.co/ZG8LvTvkse
about 7 hours ago

TDAlabama

Touchdown Alabama


Which team will execute its game plan properly Saturday?Our own Stephen M. Smith has his keys to victory for... http://t.co/CawnWeZrbs
about 8 hours ago

GVMcElroy

Greg McElroy


I hope everyone has had a wonderful Thanksgiving full of family, friends, football and food. Lots of love from my family to yours.
about 8 hours ago

AschoffESPN

Edward Aschoff


Legit Thanksgiving conversation: To cut the number of deer in Mississippi, we need to engineer velociraptors to hunt them ... Or wolves
about 8 hours ago

SECfootball

SEC Football News


Twitter explodes after Fournette trucks Howard Matthews http://t.co/FsDbooAyD6
about 8 hours ago

SEC

SEC Sports


End of the third quarter in College Station: LSU 20, Texas A&M 7. #SEC #LSUvsTAMU
about 8 hours ago

ChaseGoodbread

Chase Goodbread


Awful call. Even wife agrees.
about 8 hours ago

ChaseGoodbread

Chase Goodbread


Ogbuehi beaten badly there.
about 8 hours ago

ChaseGoodbread

Chase Goodbread


LSU running game is so far in Garrett's head right now.
about 8 hours ago

SECfootball

SEC Football News


Video: Texas A&M player ejected due to controversial targeting call http://t.co/nBJA2A4hPs
about 9 hours ago

SEC

SEC Sports


Halftime in College Station, LSU leads Texas A&M, 17-7. #SEC #LSUvsTAMU
about 9 hours ago

ChaseGoodbread

Chase Goodbread


Watts ejected. Back for bowl.
about 9 hours ago

ChaseGoodbread

Chase Goodbread


Calling the LSU win right now. This A&M defense is bad as we know, but it will be bad AND gassed in 2nd half.
about 9 hours ago

SECfootball

SEC Football News


Video: Leonard Fournette just destroyed a Texas A&M defender http://t.co/hfFzkNrM4Z
about 9 hours ago

SECfootball

SEC Football News


Video: Myles Garrett has sack taken away, confuses ESPN commentators http://t.co/2lP4dxytkD
about 9 hours ago

AschoffESPN

Edward Aschoff


Leonard Fournette just told that defender to sit on the bench and think about what he did
about 9 hours ago

ChaseGoodbread

Chase Goodbread


That was a Herschel on Bates type of crime.
about 9 hours ago

ChaseGoodbread

Chase Goodbread


Garrett's gotten around the corner on him a couple times, but the penalty isn't the only time Collins has schooled MG on a run down.
about 9 hours ago

ChaseGoodbread

Chase Goodbread


Lotta trash talk between Collins and Garrett right now.
about 9 hours ago

ChaseGoodbread

Chase Goodbread


Sounds like a kid ready to decommit anyway. "@FergusonJazz: Lsu lose I'm decommiting simple as that 😤"
about 10 hours ago

SEC

SEC Sports


End of the first quarter in College Station, Texas A&M leads LSU 7-0. #SEC #LSUvsTAMU
about 10 hours ago

TideSports

TideSports.com


Run away with one of our greatest deals! Get a 60 day FREE trial at http://t.co/Kx7MLDfxxP using the code IronBowl60 http://t.co/NvoSV2qCzI
about 10 hours ago

SECfootball

SEC Football News


Inside the Numbers: Week 14 http://t.co/DYH44ItG6F
about 10 hours ago

SECfootball

SEC Football News


Inside the Numbers: South Carolina vs. Clemson http://t.co/CZvneURlGj
about 10 hours ago

AschoffESPN

Edward Aschoff


#Sticktosoccerlikeme RT @skhanjr: #CollegeKickers RT @AschoffESPN: #Kickers
about 10 hours ago

AschoffESPN

Edward Aschoff


#Kickers
about 10 hours ago

ChaseGoodbread

Chase Goodbread


That CFP ad would be so much better if the security guy put a glass to the door to eavesdrop and pumped his fist.
about 10 hours ago

ChaseGoodbread

Chase Goodbread


La'el Collins pancake on the backside.
about 10 hours ago

ChaseGoodbread

Chase Goodbread


Cedric Ogbuehi back at left tackle tonight and just threw a great block to spring a TD run.
about 10 hours ago

Aaron_Torres

Aaron Torres


For those who missed it....nobody owned Thanksgiving like LSU fans tailgating before the A&M game... http://t.co/Y4IlP9Q222
about 11 hours ago

SECfootball

SEC Football News


Inside the Numbers: Vanderbilt looks to spoil Tennessee's bowl chances http://t.co/qUmahk1G8o
about 11 hours ago

SECfootball

SEC Football News


Savoring the Spotlight: Biggest Week 14 games in the SEC East and SEC West http://t.co/JYpmHsglOF
about 11 hours ago

SECfootball

SEC Football News


Inside the Numbers: Kentucky looks to earn bowl game, end losing streak http://t.co/FOGAKE46jl
about 11 hours ago

BamaSportsNow

Alabama Sports Now


Seattle Seahawks expect boost from James Carpenter's return http://t.co/jWqEMikioj
about 12 hours ago

BarrettAJones

Barrett Jones


So happy to finally have a sister! So proud of @harrisonwjones and @julia_hoke! Love them both so much… http://t.co/1RxmJR2eep
about 12 hours ago

SECfootball

SEC Football News


SEC's 10 best players regardless of position after 13 weeks http://t.co/GRUYnojHm6
about 12 hours ago

SEC

SEC Sports


Thanksgiving Day #SEC football from here at Kyle Field. #LSUvsTAMU 7:30 ET on ESPN. http://t.co/4ApdmN9rtG
about 12 hours ago

SECfootball

SEC Football News


Special Teams Index: Missouri return game slowly picking up pace http://t.co/LvcwcyYrsE
about 12 hours ago

AschoffESPN

Edward Aschoff


Amazing spread and MVP of the @wrightthompson Thanksgiving Day family football game. No big deal http://t.co/XXpg7cBPF1
about 12 hours ago

SECfootball

SEC Football News


Inside the Numbers: Tennessee looks to secure bowl eligibility http://t.co/Ks7tuAKtMS
about 12 hours ago

SECfootball

SEC Football News


Infographic: Previewing the 2014 Egg Bowl http://t.co/gEOePQvhkL
about 12 hours ago

SECfootball

SEC Football News


SEC Watchability Rankings: Week 14 http://t.co/FZ7fyZfrY2
about 12 hours ago

SECfootball

SEC Football News


Inside the Numbers: All-or-nothing for Mizzou in Friday showdown vs. Hogs http://t.co/y8cJQU60Mu
about 12 hours ago

SECfootball

SEC Football News


Infographic: Previewing the 2014 Palmetto Bowl http://t.co/sdm6zslWwE
about 12 hours ago

uagameday

UA Gameday


Happy Thanksgiving Crimson Tide Family!! We're only two days out from Iron Bowl! #UAgameday #ROLLTIDE
about 13 hours ago

SECfootball

SEC Football News


Sacks and Sacked: Gamecocks pass rush shows signs of life http://t.co/ZZDAQVIcUt
about 13 hours ago

GVMcElroy

Greg McElroy


Sanchez! Let's go!!
about 13 hours ago

ChaseGoodbread

Chase Goodbread


Turkey all the way to the top of the BGE dome. http://t.co/tV3U62eYdP
about 14 hours ago

SECfootball

SEC Football News


Inside the Numbers: Hutson Mason one of the SEC's best at protecting the football http://t.co/r0afHXSx5f
about 14 hours ago

BamaSportsNow

Alabama Sports Now


The Alabama Breakdown: Iron Bowl Week http://t.co/9eJLyiVGUZ
about 14 hours ago

BamaSportsNow

Alabama Sports Now


Christmas came early for Dallas Cowboys in Rolando McClain trade http://t.co/rJB8MGbFx7
about 14 hours ago

SECfootball

SEC Football News


Inside the Numbers: Florida could bookend FSU's 27-game winning streak http://t.co/MGTAjUNday
about 14 hours ago

BamaSportsNow

Alabama Sports Now


Alabama Football Recruiting 2015: Linebackers http://t.co/VhuTxVvWXn
about 14 hours ago

BamaSportsNow

Alabama Sports Now


Soft-Spoken Cooper Speaks Loudly With Play http://t.co/TNrUorBCzR
about 15 hours ago

SECfootball

SEC Football News


Infographic: Georgia Tech vs. Georgia Preview http://t.co/TwDu0Vh5LW
about 15 hours ago

SECfootball

SEC Football News


Video: Philip Lutzenkirchen's father delivers son's legacy http://t.co/pjeGEPv8Sc
about 15 hours ago

SECfootball

SEC Football News


SEC Kickoff: Everything you need to know about LSU at Texas A&M http://t.co/wj5G5wY9BW
about 15 hours ago

BamaSportsNow

Alabama Sports Now


Iron Bowl memories: Cornelius Bennett has enjoyed interesting perspectives of rivalry game http://t.co/RVX8NaN4Na
about 16 hours ago

SECfootball

SEC Football News


Throwback (Thanksgiving) Thursday: Rivalry Week in the SEC http://t.co/DuCWN3b2Kt
about 16 hours ago

SECfootball

SEC Football News


Video: How each SEC team can get into the College Football Playoff http://t.co/wWrLYkeSMB
about 16 hours ago

SECfootball

SEC Football News


Saban's philanthropic focus remains on helping kids http://t.co/dZp49EkiOA
about 16 hours ago

SECfootball

SEC Football News


Inside the Numbers: Miss. State offense has the edge vs. Ole Miss http://t.co/y36O8F7v7L
about 16 hours ago

BamaSportsNow

Alabama Sports Now


Rivalry Week Makes For Difficult Picks http://t.co/dBTuLwEhqB
about 16 hours ago

SECfootball

SEC Football News


Iron Bowl to be Nick Marshall's grand finale as collegiate http://t.co/jmK0I0yblD
about 16 hours ago

SECfootball

SEC Football News


Video: Georgia releases epic hype video "Finish The Fight" http://t.co/uYd0A6CTKS
about 16 hours ago

TDAlabama

Touchdown Alabama


Happy Thanksgiving to all! The Touchdown Alabama writers have their much anticipated #RivalryWeek predictions up now! http://t.co/bt7U1AY7It
about 16 hours ago

SECfootball

SEC Football News


SEC's top commits: Ranking incoming players by position http://t.co/SGK7MnpfMF
about 16 hours ago

SECfootball

SEC Football News


Coach Comparison: Iron Bowl, Egg Bowl feature prominent coaching showdowns http://t.co/xRptZpNCOv
about 16 hours ago

AndrewJBone

Andrew Bone


ICYMI- A look at the recruiting battles between #Alabama and #Auburn https://t.co/YW66oXjBzc. #IronBowl. @rivals
about 16 hours ago

rollbamaroll

Roll Bama Roll


#Alabama Recruiting: Linebackers http://t.co/OnbK55Yzwp http://t.co/Jvz1I5gpyx
about 17 hours ago

SECfootball

SEC Football News


Twitter Trash Talk: Florida vs. FSU http://t.co/ewfdA7Fnli
about 17 hours ago

AschoffESPN

Edward Aschoff


Heading to Thanksgiving supper with @wrightthompson and his family. You don't see this in Atlanta http://t.co/li7nMSHCBR
about 17 hours ago

SECfootball

SEC Football News


Auburn ruined Alabama's season last year; can it play spoiler again in 2014? http://t.co/MxyKpH95rI
about 17 hours ago

ESPN_SEC

ESPN_SEC


Video: Impact Of 2013 Iron Bowl On 2014 Edition http://t.co/t0BOdAT3sK
about 17 hours ago

SECfootball

SEC Football News


Inside the Numbers: Ole Miss looks to derail Mississippi State's season http://t.co/yFldHjLDxv
about 17 hours ago

SECfootball

SEC Football News


SEC East bowl possibilities Week 13 http://t.co/lTnUhPredJ
about 17 hours ago

SECfootball

SEC Football News


Matchup Breakdown: Miss. State's running game vs. the Landsharks http://t.co/CjeiodtPin
about 17 hours ago
SEC SCOREBOARD
Thursday, 11/27
Friday, 11/28
Saturday, 11/29
BLOG ARCHIVE:
CATEGORIES: