Watch: Dee Liner signs with Alabama
February, 6, 2013
2/06/13
11:40
AM ET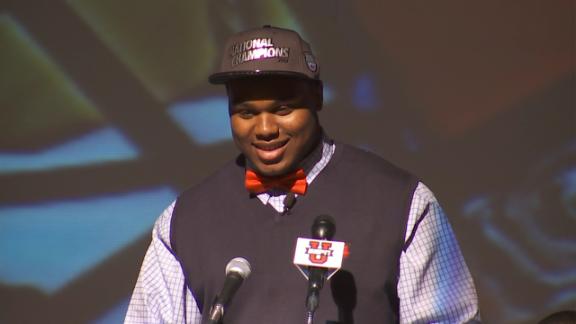 No. 4 defensive tackle Dee Liner of Muscle Shoals (Ala.), No. 26 overall in the ESPN 150, announces his commitment to the Crimson Tide. Liner picked Alabama over Auburn and Miami.
Week 14 Picks: Auburn-Alabama
Trevor Matich and Brad Edwards make their picks for the latest edition of the Iron Bowl on Saturday night.
Week 14 Picks: Auburn-Alabama
VIDEO PLAYLIST
ALABAMA FB RECRUITING SCORECARD
ChaseGoodbread

Chase Goodbread


Watts ejected. Back for bowl.
less than a minute ago

ChaseGoodbread

Chase Goodbread


Calling the LSU win right now. This A&M defense is bad as we know, but it will be bad AND gassed in 2nd half.
11 minutes ago

SECfootball

SEC Football News


Video: Leonard Fournette just destroyed a Texas A&M defender http://t.co/hfFzkNrM4Z
13 minutes ago

SECfootball

SEC Football News


Video: Myles Garrett has sack taken away, confuses ESPN commentators http://t.co/2lP4dxytkD
24 minutes ago

AschoffESPN

Edward Aschoff


Leonard Fournette just told that defender to sit on the bench and think about what he did
25 minutes ago

ChaseGoodbread

Chase Goodbread


That was a Herschel on Bates type of crime.
26 minutes ago

ChaseGoodbread

Chase Goodbread


Garrett's gotten around the corner on him a couple times, but the penalty isn't the only time Collins has schooled MG on a run down.
32 minutes ago

ChaseGoodbread

Chase Goodbread


Lotta trash talk between Collins and Garrett right now.
34 minutes ago

ChaseGoodbread

Chase Goodbread


Sounds like a kid ready to decommit anyway. "@FergusonJazz: Lsu lose I'm decommiting simple as that 😤"
42 minutes ago

SEC

SEC Sports


End of the first quarter in College Station, Texas A&M leads LSU 7-0. #SEC #LSUvsTAMU
53 minutes ago

TideSports

TideSports.com


Run away with one of our greatest deals! Get a 60 day FREE trial at http://t.co/Kx7MLDfxxP using the code IronBowl60 http://t.co/NvoSV2qCzI
53 minutes ago

SECfootball

SEC Football News


Inside the Numbers: Week 14 http://t.co/DYH44ItG6F
53 minutes ago

SECfootball

SEC Football News


Inside the Numbers: South Carolina vs. Clemson http://t.co/CZvneURlGj
53 minutes ago

AschoffESPN

Edward Aschoff


#Sticktosoccerlikeme RT @skhanjr: #CollegeKickers RT @AschoffESPN: #Kickers
about an hour ago

AschoffESPN

Edward Aschoff


#Kickers
about an hour ago

ChaseGoodbread

Chase Goodbread


That CFP ad would be so much better if the security guy put a glass to the door to eavesdrop and pumped his fist.
about an hour ago

ChaseGoodbread

Chase Goodbread


La'el Collins pancake on the backside.
about an hour ago

ChaseGoodbread

Chase Goodbread


Cedric Ogbuehi back at left tackle tonight and just threw a great block to spring a TD run.
about an hour ago

Aaron_Torres

Aaron Torres


For those who missed it....nobody owned Thanksgiving like LSU fans tailgating before the A&M game... http://t.co/Y4IlP9Q222
about an hour ago

SECfootball

SEC Football News


Inside the Numbers: Vanderbilt looks to spoil Tennessee's bowl chances http://t.co/qUmahk1G8o
about 2 hours ago

SECfootball

SEC Football News


Savoring the Spotlight: Biggest Week 14 games in the SEC East and SEC West http://t.co/JYpmHsglOF
about 2 hours ago

SECfootball

SEC Football News


Inside the Numbers: Kentucky looks to earn bowl game, end losing streak http://t.co/FOGAKE46jl
about 2 hours ago

BamaSportsNow

Alabama Sports Now


Seattle Seahawks expect boost from James Carpenter's return http://t.co/jWqEMikioj
about 2 hours ago

BarrettAJones

Barrett Jones


So happy to finally have a sister! So proud of @harrisonwjones and @julia_hoke! Love them both so much… http://t.co/1RxmJR2eep
about 2 hours ago

SECfootball

SEC Football News


SEC's 10 best players regardless of position after 13 weeks http://t.co/GRUYnojHm6
about 2 hours ago

SEC

SEC Sports


Thanksgiving Day #SEC football from here at Kyle Field. #LSUvsTAMU 7:30 ET on ESPN. http://t.co/4ApdmN9rtG
about 3 hours ago

SECfootball

SEC Football News


Special Teams Index: Missouri return game slowly picking up pace http://t.co/LvcwcyYrsE
about 3 hours ago

AschoffESPN

Edward Aschoff


Amazing spread and MVP of the @wrightthompson Thanksgiving Day family football game. No big deal http://t.co/XXpg7cBPF1
about 3 hours ago

SECfootball

SEC Football News


Inside the Numbers: Tennessee looks to secure bowl eligibility http://t.co/Ks7tuAKtMS
about 3 hours ago

SECfootball

SEC Football News


Infographic: Previewing the 2014 Egg Bowl http://t.co/gEOePQvhkL
about 3 hours ago

SECfootball

SEC Football News


SEC Watchability Rankings: Week 14 http://t.co/FZ7fyZfrY2
about 3 hours ago

SECfootball

SEC Football News


Inside the Numbers: All-or-nothing for Mizzou in Friday showdown vs. Hogs http://t.co/y8cJQU60Mu
about 3 hours ago

SECfootball

SEC Football News


Infographic: Previewing the 2014 Palmetto Bowl http://t.co/sdm6zslWwE
about 3 hours ago

uagameday

UA Gameday


Happy Thanksgiving Crimson Tide Family!! We're only two days out from Iron Bowl! #UAgameday #ROLLTIDE
about 4 hours ago

SECfootball

SEC Football News


Sacks and Sacked: Gamecocks pass rush shows signs of life http://t.co/ZZDAQVIcUt
about 4 hours ago

GVMcElroy

Greg McElroy


Sanchez! Let's go!!
about 4 hours ago

ChaseGoodbread

Chase Goodbread


Turkey all the way to the top of the BGE dome. http://t.co/tV3U62eYdP
about 4 hours ago

SECfootball

SEC Football News


Inside the Numbers: Hutson Mason one of the SEC's best at protecting the football http://t.co/r0afHXSx5f
about 4 hours ago

BamaSportsNow

Alabama Sports Now


The Alabama Breakdown: Iron Bowl Week http://t.co/9eJLyiVGUZ
about 5 hours ago

BamaSportsNow

Alabama Sports Now


Christmas came early for Dallas Cowboys in Rolando McClain trade http://t.co/rJB8MGbFx7
about 5 hours ago

SECfootball

SEC Football News


Inside the Numbers: Florida could bookend FSU's 27-game winning streak http://t.co/MGTAjUNday
about 5 hours ago

BamaSportsNow

Alabama Sports Now


Alabama Football Recruiting 2015: Linebackers http://t.co/VhuTxVvWXn
about 5 hours ago

BamaSportsNow

Alabama Sports Now


Soft-Spoken Cooper Speaks Loudly With Play http://t.co/TNrUorBCzR
about 5 hours ago

SECfootball

SEC Football News


Infographic: Georgia Tech vs. Georgia Preview http://t.co/TwDu0Vh5LW
about 6 hours ago

SECfootball

SEC Football News


Video: Philip Lutzenkirchen's father delivers son's legacy http://t.co/pjeGEPv8Sc
about 6 hours ago

SECfootball

SEC Football News


SEC Kickoff: Everything you need to know about LSU at Texas A&M http://t.co/wj5G5wY9BW
about 6 hours ago

BamaSportsNow

Alabama Sports Now


Iron Bowl memories: Cornelius Bennett has enjoyed interesting perspectives of rivalry game http://t.co/RVX8NaN4Na
about 6 hours ago

SECfootball

SEC Football News


Throwback (Thanksgiving) Thursday: Rivalry Week in the SEC http://t.co/DuCWN3b2Kt
about 6 hours ago

SECfootball

SEC Football News


Video: How each SEC team can get into the College Football Playoff http://t.co/wWrLYkeSMB
about 6 hours ago

SECfootball

SEC Football News


Saban's philanthropic focus remains on helping kids http://t.co/dZp49EkiOA
about 7 hours ago

SECfootball

SEC Football News


Inside the Numbers: Miss. State offense has the edge vs. Ole Miss http://t.co/y36O8F7v7L
about 7 hours ago

BamaSportsNow

Alabama Sports Now


Rivalry Week Makes For Difficult Picks http://t.co/dBTuLwEhqB
about 7 hours ago

SECfootball

SEC Football News


Iron Bowl to be Nick Marshall's grand finale as collegiate http://t.co/jmK0I0yblD
about 7 hours ago

SECfootball

SEC Football News


Video: Georgia releases epic hype video "Finish The Fight" http://t.co/uYd0A6CTKS
about 7 hours ago

TDAlabama

Touchdown Alabama


Happy Thanksgiving to all! The Touchdown Alabama writers have their much anticipated #RivalryWeek predictions up now! http://t.co/bt7U1AY7It
about 7 hours ago

SECfootball

SEC Football News


SEC's top commits: Ranking incoming players by position http://t.co/SGK7MnpfMF
about 7 hours ago

SECfootball

SEC Football News


Coach Comparison: Iron Bowl, Egg Bowl feature prominent coaching showdowns http://t.co/xRptZpNCOv
about 7 hours ago

AndrewJBone

Andrew Bone


ICYMI- A look at the recruiting battles between #Alabama and #Auburn https://t.co/YW66oXjBzc. #IronBowl. @rivals
about 7 hours ago

rollbamaroll

Roll Bama Roll


#Alabama Recruiting: Linebackers http://t.co/OnbK55Yzwp http://t.co/Jvz1I5gpyx
about 7 hours ago

SECfootball

SEC Football News


Twitter Trash Talk: Florida vs. FSU http://t.co/ewfdA7Fnli
about 7 hours ago

AschoffESPN

Edward Aschoff


Heading to Thanksgiving supper with @wrightthompson and his family. You don't see this in Atlanta http://t.co/li7nMSHCBR
about 7 hours ago

SECfootball

SEC Football News


Auburn ruined Alabama's season last year; can it play spoiler again in 2014? http://t.co/MxyKpH95rI
about 8 hours ago

ESPN_SEC

ESPN_SEC


Video: Impact Of 2013 Iron Bowl On 2014 Edition http://t.co/t0BOdAT3sK
about 8 hours ago

SECfootball

SEC Football News


Inside the Numbers: Ole Miss looks to derail Mississippi State's season http://t.co/yFldHjLDxv
about 8 hours ago

SECfootball

SEC Football News


SEC East bowl possibilities Week 13 http://t.co/lTnUhPredJ
about 8 hours ago

SECfootball

SEC Football News


Matchup Breakdown: Miss. State's running game vs. the Landsharks http://t.co/CjeiodtPin
about 8 hours ago

SECfootball

SEC Football News


Vegas sharp breaks down LSU-Texas A&M and Arkansas-Missouri http://t.co/K1Epb6x5Ob
about 8 hours ago

SECfootball

SEC Football News


Uncle Mo's Power Index: Razorbacks suddenly red-hot http://t.co/2Horpb6xVF
about 8 hours ago

TDAlabama

Touchdown Alabama


http://t.co/db1r9prloe http://t.co/rT1vO7Tb5C
about 8 hours ago

SECfootball

SEC Football News


Best GameDay of the season* http://t.co/hrv10zuHui
about 8 hours ago

SECfootball

SEC Football News


Butch Jones: Vols will celebrate Thanksgiving as a family http://t.co/FOefQDov5B
about 8 hours ago

BamaSportsNow

Alabama Sports Now


Listen to this week's episode of 'Hey Coach!' with Nick Saban http://t.co/PJxDfR5H0Q
about 8 hours ago

RivalsFriedman

Adam Friedman


http://t.co/8sPMc8LTbJ Football Recruiting - Friedman: Sweat, McLean, DeBerry on move http://t.co/l8v6rUGR1w #FSU #VT #UGA #Bama #PSU #LSU
about 8 hours ago

SECfootball

SEC Football News


Perception vs. Reality: Week 14 http://t.co/laMxSe6mQO
about 9 hours ago

SECfootball

SEC Football News


Five interesting things Nick Saban said this week … http://t.co/ylJxFvHJgs
about 9 hours ago

SECfootball

SEC Football News


Inside the Numbers: Alabama has a history of bouncing back http://t.co/421e0bvHgk
about 9 hours ago

SECfootball

SEC Football News


Poetic ending possible for Muschamp, Gators in Tallahassee http://t.co/7nc5TrwYKe
about 9 hours ago

TDAlabama

Touchdown Alabama


Bacardi the Wonder Dog, you know, that Pigskin pickin' pooch who helps me write the irreverent Larry's Losers... http://t.co/FClsbofjo5
about 9 hours ago

UACoachGrant

Anthony Grant


Levi shares his inspirational story on overcoming adversity after his best friend's tragic death. A great message! http://t.co/wtAPCHwF2c
about 9 hours ago

AndrewJBone

Andrew Bone


Another five-star added to the growing list of recruits who are heading to #Alabama this weekend https://t.co/gPRLXC8Vc5 @TideSports
about 9 hours ago

SECfootball

SEC Football News


Hogs' running backs, O-line present 'big' problems for Tigers http://t.co/kpI1FacGqD
about 9 hours ago

SECfootball

SEC Football News


Bowl berth a huge step for rebuilding Tennessee program http://t.co/g5AR5vsFdZ
about 9 hours ago

BamaSportsNow

Alabama Sports Now


If Alabama wins the West, which SEC East team would it rather face in Atlanta? http://t.co/fmCgDCCgwV
about 9 hours ago

BamaSportsNow

Alabama Sports Now


Alabama Football 2014: Previewing the Auburn Defense http://t.co/e3qlP7SxqN
about 9 hours ago

BamaSportsNow

Alabama Sports Now


Who in the Heck is Montravius Adams? http://t.co/5zDSreypFy
about 9 hours ago

SECfootball

SEC Football News


Matchup Breakdown: Tennessee defense vs Ralph Webb http://t.co/CQwcF3AAFm
about 10 hours ago

SEC

SEC Sports


ESPN's @CollegeGameDay heads to Tuscaloosa this weekend. Details: http://t.co/wX0n6aVx7V #SEC
about 10 hours ago

SECfootball

SEC Football News


Can't Miss TV: The SEC's most interesting games in Week 14 http://t.co/AImH0dr46R
about 10 hours ago

SECfootball

SEC Football News


How schedule helped bowl chances for Tennessee http://t.co/QDZiAdRk0w
about 10 hours ago

TDAlabama

Touchdown Alabama


HAPPY THANKSGIVING from our family to yours!#RollTide http://t.co/aEMgzRpQFg
about 10 hours ago

AschoffESPN

Edward Aschoff


That moment when you're stuffed at Thanksgiving but someone asks if you want pie ... Happy Thanksgiving! http://t.co/teOghAYTXX
about 10 hours ago

SECfootball

SEC Football News


Inside the Numbers: Defense rolling as Arkansas takes on Mizzou http://t.co/5hrImvPqEs
about 10 hours ago

SECfootball

SEC Football News


Inside the Numbers: Auburn must keep game close late against Tide http://t.co/fZQPqPvszE
about 10 hours ago

SECfootball

SEC Football News


Spurrier, Gamecocks wary of Clemson's top-ranked defense http://t.co/cIskgl1lKg
about 10 hours ago

TDAlabama

Touchdown Alabama


Our family would like to wish everyone a Happy and Blessed Thanksgiving. Enjoy everything from family and food to... http://t.co/vs0d7UnRgm
about 10 hours ago

SECfootball

SEC Football News


Les Miles on the hotseat? Hardly http://t.co/1JtlhgalTI
about 10 hours ago

SECfootball

SEC Football News


Matchup Breakdown: Vanderbilt defense looks to stop dual-threat Joshua Dobbs http://t.co/32NgyStui1
about 10 hours ago

SECfootball

SEC Football News


SEC Thanksgiving: What each team should be thankful for http://t.co/K6sUt8iOR3
about 11 hours ago

rollbamaroll

Roll Bama Roll


Previewing the Auburn Defense: The Tigers' defense looks to spoil Alabama's hopes again http://t.co/hxDwVq7WqE
about 11 hours ago

UA_Athletics

Alabama Athletics


Happy Thanksgiving from all of us in Alabama Athletics! #RollTide http://t.co/qXgmST997z
about 11 hours ago
SEC SCOREBOARD
Thursday, 11/27
Friday, 11/28
Saturday, 11/29
BLOG ARCHIVE:
CATEGORIES: