December, 19, 2014
Dec 19
11:00
AM ET
Stats don't lie, but they can be deceiving. Like the average number of rushing yards to the right side of the defense on night games in the month of October, some pieces of information simply don't matter.
That's why we're here.
In order to help preview the Allstate Sugar Bowl, ESPN's Austin Ward and Alex Scarborough teamed up to bring you three stats that matter most to Alabama and Ohio State as they prepare for their semifinal showdown in New Orleans.
Alabama stats that matter
-1:
Of the top 10 teams in the FBS in winning percentage, only three are negative in their turnover margin. One is Marshall, one is Florida State and the other is Alabama. That's what we like to call living on the edge. The last time Alabama finished the season on the wrong side of the turnover battle, Nick Saban wasn't the head coach. Ohio State, meanwhile, is plus-nine in turnovers and has created a whopping 118 points off of turnovers. It goes without saying that giving up free points isn't conducive to winning football games.
[+] Enlarge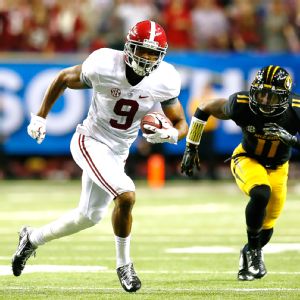 Kevin C. Cox/Getty ImagesAlabama's offense could be in danger of becoming too one-dimensional with Amari Cooper responsible for 42.9 percent of the receptions this season.
42.9:
The inequality of Alabama's passing game is dizzying.
Amari Cooper
not only has 42.9 percent of all catches this season, he has 45.3 percent of all receiving yards. He has 28 total receptions on third- and fourth-down plays that resulted in a first down or touchdown, compared to 14 from the next two closest receivers combined. While spotlighting your best weapon on offense is fine, there's something to be said for being too one-dimensional. Ohio State will have had roughly a month to prepare for Cooper come Jan. 1. If Urban Meyer and his coaching staff are able to divide a plan to slow him down, Alabama needs to have more options in the passing game to turn to.
4:
Thanks to
Blake Sims
' swift feet and the offensive line's stellar blocking, Alabama has allowed only four sacks in its last four games. Against the vaunted pass rush of Missouri, the Crimson Tide more than held their own. But Ohio State is not Missouri, and chances are it won't lose its best defensive end to ejection the way
Shane Ray
was tossed in Atlanta. No, the Buckeyes have a superb defensive line themselves, led by everyone's All-American,
Joey Bosa
. In Ohio State's last four games against Wisconsin, Michigan, Indiana and Minnesota, Bosa and the Buckeyes defense have racked up 15 sacks.
-- Scarborough
Ohio State stats that matter
21:
Picked on by opposing offenses during games and then ripped apart in press conferences by Urban Meyer a year ago, a rebuilt Ohio State secondary has gone from the team's biggest weakness to one of the most aggressive, successful units in the nation. Only three teams have nabbed more interceptions than the Buckeyes' 21 this season, with co-defensive coordinator Chris Ash having done a remarkable job getting the secondary to challenge receivers, break on balls and play without fear of being beat in the back end. It's hard to argue with the results, particularly since the Buckeyes aren't gambling for turnovers at the expense of yardage, ranking No. 17 in total passing yards allowed this year.
81.2:
For a team that didn't have its starter play a single snap this season and had to turn to two different guys without any previous first-team experience at the most important position on the field, Ohio State finishing second in the nation in raw QBR behind only Oregon without
Braxton Miller
is nothing short of remarkable.
J.T. Barrett
, of course, did the heavy lifting by starting every game in the regular season before breaking his ankle against Michigan, but
Cardale Jones
actually boosted the rating in his debut against one of the nation's best defenses in the Big Ten title game against Wisconsin, posting a sparkling 90.3 to clinch the spot in the Allstate Sugar Bowl. It certainly seems as if Urban Meyer and offensive coordinator Tom Herman know how to develop more that just one passer at a time.
51.5:
The Buckeyes can dial up the tempo and push the ball down the field in a hurry if they want to, but what makes them truly dangerous and perhaps unpredictable is their effectiveness at shifting gears and methodically moving the chains if need be. Only three teams in the country were more successful on third downs than Ohio State, which converted 85 of 165 chances -- or 51.5 percent -- to extend drives on those crucial snaps. The Buckeyes only played four games all season where their conversion percentage dropped lower than 50 percent, including the first two of the year with so many inexperienced players getting their feet wet -- and Jones' first start in the Big Ten title game, when it hardly made a difference in a 59-0 blowout.
-- Ward
December, 19, 2014
Dec 19
9:00
AM ET
By
ESPN.com staff
| ESPN.com
Bowl season is almost upon us. Alabama's still playing for a national title, while plenty of other SEC teams still have lots to prove. So let's get right to the picks.
Duck Commander Independence Bowl
December 27, 3:30 p.m. ET, ABC
Why Miami wins:
My question is: How motivated will this South Carolina team be? The same can be said for Miami, but the Hurricanes have
Duke Johnson
, arguably the best player on the field. Miami is 6-1 when it rushes for more than 125 yards. Don't be surprised if Johnson reaches that number on his own.
Miami 34, South Carolina 24
-- Greg Ostendorf
Why South Carolina wins:
So the Gamecocks have one of the SEC's worst defenses and let Clemson walk over them to end the season? Steve Spurrier and his crew are getting a few weeks to regroup and forget such a bad regular season. Plus, Miami lost five of its six games by 10 or more points, so just do the math.
South Carolina 27, Miami 24
-- Edward Aschoff
AutoZone Liberty Bowl
December 29, 2 p.m. ET, ESPN
Why West Virginia wins:
Call me crazy, but I don't see bowl practice yielding a dramatic turnaround for Texas A&M. While I expect
Kyle Allen
and the offense to be fine, I don't know how that defense gets any better -- especially without a coordinator in place. In the end, Dana Holgorsen and
Clint Trickett
light up the Aggies' secondary and win.
West Virginia 45, Texas A&M 35
-- Alex Scarborough
Why Texas A&M wins:
Texas A&M was hard to figure this season. The Aggies were all over the place, pretty good one game and pretty bad the next. West Virginia likes to play hurry-up offense the way Texas A&M does, so get ready for a shootout. The Aggies still haven't proved that they're ready for prime time defensively, but will score enough points in this one that it won't matter.
Texas A&M 45, West Virginia 38
-- Chris Low
AdvoCare V100 Texas Bowl
December 29, 9 p.m., ESPN
Why Arkansas wins big:
Which team led the SEC in points allowed per game for the month of November? Alabama? Ole Miss? Missouri? None of the above. It was the Razorbacks, who allowed an FBS-best 9.5 points per game. I just can't see
Tyrone Swoopes
and the Longhorns bucking that trend in this one.
Arkansas 28, Texas 10
-- Greg Ostendorf
Why Texas keeps it close:
This is a matchup of two teams that played better down the stretch. Texas won four of its last six games to reach bowl eligibility and played some decent defense along the way. I'm still going with Arkansas because of the way the Hogs finished the season, but I think Texas will make it interesting.
Arkansas 21, Texas 14
-- David Ching
Franklin American Mortgage Music City Bowl
December 30, 3 p.m. ET, ESPN
Why LSU wins big:
Notre Dame has quarterback issues and LSU has a secondary that is one of the best nationally at defending the pass. If
Leonard Fournette
& Co. can run the ball the way they did on Thanksgiving against Texas A&M against Notre Dame's banged-up D, the Tigers should be able to cruise to a win.
LSU 27, Notre Dame 17
-- Sam Khan Jr.
Why Notre Dame keeps it close:
With the exception of Kentucky, LSU hasn't blown out a Power 5 team all season. This team simply is not built for that. As bad as Notre Dame's defense has played down the stretch -- and they have been bad -- the Fighting Irish will hang around. If only LSU had a quarterback.
LSU 24, Notre Dame 21
-- Greg Ostendorf
Belk Bowl
December 30, 6:30 p.m. ET, ESPN
Why Louisville wins:
Oh, the fun we'll have with Todd Grantham facing his old team. Both Grantham and Georgia offensive coordinator Mike Bobo want a shot at each other, which means this one will be back-and-forth and plenty fun. Something tells me Bobby Petrino's offense proves to be too much in the fourth, and a late Georgia turnover seals it.
Louisville 27, Georgia 23
-- Edward Aschoff
Why Georgia wins:
Sure, Todd Grantham knows this team well, but Mark Richt knows Grantham well, too. And if Georgia blocks up front as well as it has and
Nick Chubb
runs like he has been running, that's not easy to defend. The Bulldogs average 41 points per game for a reason; I suspect they're headed that way again.
Georgia 41, Louisville 31
-- Sam Khan Jr.
Chick-fil-A Peach Bowl
December 31, 12:30 p.m. ET, ESPN
Why TCU wins big:
TCU hasn't seen anything like Ole Miss' defense, which leads the nation by allowing 13.8 points per game. But I don't think the Rebels will be able to shut down (or keep up with)
Trevone Boykin
and an explosive TCU offense that averages 46.8 ppg. Not without injured receiver
Laquon Treadwell
.
TCU 40, Ole Miss 24
-- David Ching
Why Ole Miss keeps it close:
The popular storyline for the Peach Bowl is TCU's high-powered offense versus Ole Miss' talented Landshark defense. But let's not forget about
Bo Wallace
and the Rebels' offense. Even without Laquon Treadwell, I expect Ole Miss to put up enough points to make it a ballgame.
TCU 42, Ole Miss 38
-- Alex Scarborough
Capital One Orange Bowl
December 31, 8 p.m. ET, ESPN
Why Georgia Tech wins:
Georgia Tech's option offense is never a lot of fun to prepare for. The Bulldogs have had some extra time to get ready during the bowl practices, but will be without defensive coordinator Geoff Collins, who left to take the Florida defensive coordinator job. The Yellow Jackets were an offensive machine the last month of the season, and that won't change in Miami.
Georgia Tech 31, Mississippi State 30
-- Chris Low
Why Mississippi State wins:
Generally when opponents have time to practice for Georgia Tech's option offense, they fare well. Paul Johnson is 1-5 in bowl games since arriving at Tech in 2008. Although they'll have to function without defensive coordinator Geoff Collins, the Bulldogs will still get the job done.
Mississippi State 28, Georgia Tech 21
-- David Ching
Outback Bowl
January 1, Noon ET, ESPN2
Why Auburn wins big:
Wisconsin's strength is running the ball. While Auburn's defense leaves much to be desired, that's one area where they're decent, ranking 46th nationally in rushing yardage allowed. And though Barry Alvarez is a Hall of Fame coach, I'll take Gus Malzahn over someone coaching his second game in eight years.
Auburn 45, Wisconsin 28
-- Sam Khan Jr.
Why Wisconsin keeps it close:
Something tells me
Melvin Gordon
is going to go out with a bang. And, frankly, nothing I've seen from Auburn makes me believe it will be able to stop him. While the Tigers ultimately should win, Gordon and the Badgers will have enough success running the football to keep things close.
Auburn 35, Wisconsin 30
-- Alex Scarborough
Buffalo Wild Wings Citrus Bowl
January 1, 1 p.m. ET, ABC
Why Missouri wins big:
Forget the SEC championship game; there's still something about Missouri. Like last season, the Tigers continued to find ways to win. And when they lost in Atlanta in 2013, they went out and beat Oklahoma State in the Cotton Bowl. I expect more of the same this time around.
Missouri 24, Minnesota 14
-- Alex Scarborough
Why Minnesota keeps it close:
Weird things always happen during bowl season, and while Minnesota doesn't exactly wow me, I think this game will be much closer than it should be. The Tigers still have an offense that can drag, while the Gophers are trying to win their first bowl game since 2004, which incidentally came against another SEC team (Alabama). I have a feeling this one will hurt our eyes at times.
Missouri 23, Minnesota 21
-- Edward Aschoff
Allstate Sugar Bowl
College Football Playoff semifinal
January 1, 8:30 p.m. ET, ESPN
Why Alabama wins big:
The last thing we remember is Ohio State blowing out Wisconsin in the Big Ten championship game, and
Cardale Jones
doing his best Troy Smith impersonation. I'm not sold. I think the young quarterback struggles against this stout Alabama defense. And good luck shutting out the Crimson Tide. That's not happening with Lane Kiffin calling plays. Alabama has too many playmakers.
Alabama 31, Ohio State 7
-- Greg Ostendorf
Why Ohio State keeps it close:
The Buckeyes didn't get here by being an average team. This is a really good team. Urban Meyer knows what to expect from a Saban-coached team thanks to his days in the SEC. Cardale Jones showed he can throw the ball well, and that's one thing Alabama had trouble defending in the Iron Bowl.
Alabama 31, Ohio State 24
-- Sam Khan Jr.
TaxSlayer Bowl
January 2, 3:20 p.m. ET, ESPN
Why Tennessee wins:
On one sideline, you have Tennessee, which won three of its last four games to reach bowl eligibility for the first time in years. On the other side, Iowa lost three of its last four. Iowa is better than its record, but I'm putting some faith in Tennessee quarterback
Josh Dobbs
.
Tennessee 23, Iowa 21
-- David Ching
Why Iowa wins:
Butch Jones really appears to have Tennessee moving in the right direction. The Vols probably could -- and should -- have won a couple more games in 2014, but that's why Jones is building. And while there's absolutely nothing flashy about anything that Iowa does on offense, I think the grinding nature of the Hawkeyes will eventually wear Tennessee's line down. Expect a couple of costly turnovers from the Vols as well.
Iowa 21, Tennessee 17
-- Edward Aschoff
Birmingham Bowl
January 3, Noon ET, ESPN
Why Florida wins:
East Carolina is great at throwing the ball -- the Pirates are second nationally with 367.3 passing yards per game -- but Florida is equipped to defend that style of offense pretty effectively. It's hard to know what to expect from a team playing with an interim coach, but I'll give the Gators a slight edge.
Florida 17, East Carolina 14
-- David Ching
Why East Carolina wins:
The big question in this one: How genuinely excited is Florida to be in this game? East Carolina, on the other hand, would love to take home an SEC pelt and has the kind of high-scoring offense that could give the Gators' smothering defense trouble. Better days are ahead for Florida's program, but this won't be one of them.
East Carolina 27, Florida 21
-- Chris Low
Standings
Greg Ostendorf: 89-23
Edward Aschoff: 87-25
David Ching: 86-26
Chris Low: 86-26
Sam Khan Jr.: 84-28
Alex Scarborough: 83-29
December, 18, 2014
Dec 18
1:00
PM ET
The Allstate Sugar Bowl featuring No. 1 Alabama and No. 4 Ohio State could come down to unexpected players stepping up and making big plays. Earlier we looked at who could be
the offensive X factors
, and now we look at who could fill that role on defense on Jan. 1.
Alabama CB Tony Brown:
Nick Saban and his coaching staff seem to find a way to make the most out of the extended bowl practices. Take last year, for example, when they brought along a true freshman by the name of
Derrick Henry
, who went on to obliterate Oklahoma in the Sugar Bowl. This time, don't be surprised if it's the rookie cornerback, Brown. He has seen the field his fair share this season, but been kept on a short leash because of his inexperience. Well, now the five-star talent has 13 games under his belt, and he could be the answer to Alabama's struggles at cornerback.
Ohio State: LB Darron Lee:
Considering that he's only two years removed from playing quarterback and safety in high school, it's pretty remarkable that the redshirt freshman was able to crack the starting rotation at linebacker so quickly for the Buckeyes. But Lee has done far more than just earn playing time this season, he's rapidly developed into one of the team's best playmakers and looks like a perfect fit in the mold left behind by first-round draft pick
Ryan Shazier
. He may not be a finished product yet, but with the ability to cover the entire field thanks to his elite athleticism, Lee stuffed the stats sheet with 13.5 tackles for loss, 5.5 sacks, 2 interceptions, 2 fumble recoveries, a forced fumble and a pair of touchdowns during his first campaign as a starter. The Buckeyes may have bigger stars on the defense heading into the Sugar Bowl, but they'll need Lee at his best to leave with a victory.
December, 18, 2014
Dec 18
11:00
AM ET
The Allstate Sugar Bowl featuring No. 1 Alabama and No. 4 Ohio State could come down to unexpected players stepping up and making big plays. So who could fill that role on offense on Jan. 1? Alex Scarbrough and Austin Ward take a look:
Alabama: WR Christion Jones:
Chances are that Alabama will need a receiver not named
Amari Cooper
to make plays. With several weeks to prepare, it stands to reason that the Ohio State staff will find a way to bracket Alabama's Heisman Trophy finalist and force quarterback
Blake Sims
to look elsewhere. So pay attention to Jones. The senior has the moves to make people miss in the open field and the speed to get behind the defense. At 13.9 yards per catch, he can make Ohio State pay for focusing too much on Cooper. And for good measure, don't miss Jones on kickoffs and punt returns. Though he hasn't struck paydirt with a touchdown on special teams yet this season, someone with his athleticism is due to break free at some point.
Ohio State: WR Devin Smith:
A pretty straightforward formula has emerged during the senior wideout's career, and it hasn't failed yet. When Smith catches a touchdown, the Buckeyes win. They are 20-0 when Smith has a TD reception. Is that any good? But this season Smith has taken it even further -- when he's at his best, Ohio State's already high-powered offense becomes downright unstoppable. In the two biggest matchups of the season, on the road against Michigan State and in the Big Ten title game against Wisconsin, Smith was a nightmare as a deep threat, unleashing his speed, incredible leaping ability and knack for making tough grabs all at once to kick the Buckeyes into their highest gear. He combined for 10 catches for 266 yards and 4 touchdowns in those wins, and Alabama's secondary will have to account for him in New Orleans.
December, 18, 2014
Dec 18
9:00
AM ET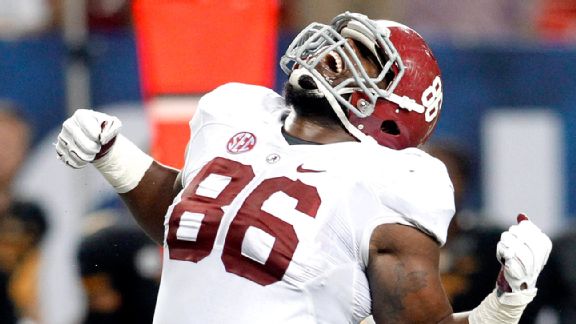 Brett Davis/USA TODAY SportsAfter a slow start to the season, A'Shawn Robinson and the Alabama defensive line are finally living up their billing.
TUSCALOOSA, Ala. --
A'Shawn Robinson
has been a man among boys from the minute he arrived on Alabama's campus as a true freshman. The 320-pound defensive lineman with his shaved head and gangly beard had a look that made some question his age. One senior said he thought he was looking at 30-year-old that first practice in the fall of 2013.
Opposing coaches and offensive linemen have wondered the same thing:
How could this guy be that young?
Robinson had old man strength before he was allowed to purchase an adult beverage. As a rookie, he played in all 13 games and made two starts. Leading the team with 5.5 sacks, the former four-star prospect became a consensus Freshman All-American.
But progress comes in peaks and valleys, and Robinson's growth spurt didn't extend into the beginning of his sophomore season. He was still plenty powerful, but in the season-opener against West Virginia he was noticeably absent on the stat sheet with zero tackles. Through his first six games, the First Team Preseason Coaches All-SEC choice had just 14 total tackles, 2.5 of which went for a loss.
Robinson's slow start was, in fact, a symptom of a larger issue. The entire Alabama defensive line wasn't living up to the hype. The unit billed as the best in the Nick Saban era wasn't getting the kind of pressure it was expected to. It wasn't bad, but it wasn't all-time great.
As it turns out, it was just a matter of time. Week 8 against Texas A&M, the defense got going in the right direction with six sacks and nine tackles for loss. The next time out against Tennessee, Alabama had seven more tackles for loss. And when it came time for the SEC Championship Game, the defensive line was stifling, limiting Missouri to 41 yards on 18 carries. Robinson & Co. freed up Xavier Dickson and
Ryan Anderson
to rush the passer, and the two outside linebackers combined for seven quarterback hurries.
Robinson, in particular, stood out in Atlanta, putting together a career night that featured nine tackles. He had 3.5 tackles for loss coming into the game and walked away with three more. Whenever Missouri tried to run the ball, big No. 86 was consistently there at the point of attack.
Lineman
Jonathan Allen
would say of Robinson that night, "He played amazing" and "He's one of the best players we have."
Alabama center
Ryan Kelly
would know. Between Robinson and the rest of the line, he has had his hands full.
"You look at
Dalvin Tomlinson
go in the three-technique, [
Brandon Ivory
],
Jarran Reed
, A'Shawn, [Darren] Lake, all those guys are huge dudes," he said. "We play against the best defensive front every day in practice, so it makes it easier to go out there in games."
It also makes it easier for the back end of the defense.
"It stars up front with the line," said safety
Landon Collins
. "They get penetration, and once you get penetration, I mean, it messes up the whole scheme of what the offense is trying to do."
If Alabama is going to be successful against Ohio State in the Allstate Sugar Bowl, it's going to come down to the battle of the trenches.
If the defensive line can take away the run and get in the face of the Buckeyes' rookie quarterback
Cardale Jones
, it could pay big dividends.
Robinson & Co. have the momentum. Now the question becomes whether they can maintain it.
December, 18, 2014
Dec 18
8:00
AM ET
Plenty of recruiting news flying across the wire on Wednesday, which was signing day for midterm junior college prospects. Several SEC teams did well in inking JUCOs, led by Ole Miss, Mississippi State and Auburn,
three teams that were considered "winners" in Wednesday's junior college sweepstakes
.

Another SEC winner in recruiting on Wednesday was
Texas A&M after it landed ESPN 300 receiver Christian Kirk
, the No. 30 overall player in the ESPN 300. The Aggies have done well in the state of Arizona, where Kirk is from, recently, landing quarterback Kyle Allen (now the Aggies' starter) and defensive end Qualen Cunningham (who played as a true freshman) in the 2014 class. Kirk,
who brings a strong skill set to College Station, Texas
,

will be able to join his good buddy Allen in the Aggies' offense next fall.
The
Football Writers Association of America released its All-America team
and there is plenty of SEC representation on it, including six members on the first team (Amari Cooper, Reese Dismukes, Shane Ray, Benardrick McKinney, Landon Collins and Senquez Golson. The SEC got seven total players on the two teams. On Tuesday, The Associated Press All-America teams were released and the
SEC got 15 players across the three squads
.
Kentucky had a void to fill at offensive coordinator when Neal Brown left the Wildcats to become the head coach at Troy and it looks like Mark Stoops has his man. Several reports point to
West Virginia offensive coordinator Shannon Dawson as Stoops' pick to replace Brown
at the position. It ensures some continuity for the Wildcats, who ran the well-known Air Raid offense under Brown the last two seasons. Dawson is also an Air Raid disciple, having worked under Dana Holgorsen. At West Virginia,
Holgorsen was the playcaller
, but Dawson has been in the offense long enough to be well-versed in it so the transition to handling those duties at Kentucky should be smooth. West Virginia averaged 502 offensive yards per game (11th nationally) while Kentucky averaged 384.5 yards per game (75th).
Around the SEC
Tweet of the day
If Jim Harbaugh ends up making $8 mil at Michigan per @RapSheet, Nick Saban won't be happy making a paltry $7.5 a year.

— Paul Finebaum (@finebaum) December 17, 2014
December, 17, 2014
Dec 17
12:30
PM ET
TUSCALOOSA, Ala. -- Coming off a win in the SEC championship game, Alabama was given the week off before it began preparation for the Allstate Sugar Bowl. It was the first time the players had that much time off since July. How did they spend it?
"I did a little Christmas shopping for my little girl," quarterback
Blake Sims
said. "I got a few things that she asked Santa for and just tried to give this year instead of receiving."
Sims was also in attendance for Saturday's graduation where he watched 14 members of the Alabama football team walk across the stage and receive their diplomas.
But aside from that, most of the players went home to spend time with their families. Others, such as
Amari Cooper
and
Landon Collins
, traveled across the country to take part in various award presentations.
Ryan Kelly
stayed in Tuscaloosa where he attended an engagement party for teammate and fellow offensive lineman
Austin Shepherd
.
"I think it was a much-needed [break]," Kelly said. "Coach [Nick] Saban always tries to look out for our best interests, especially with a lot of guys getting banged up and just the grind of the season. He knows what possible stretch we have ahead of us.
"That long weekend was huge for a lot of guys to just rest and get their bodies back. I know a lot of guys feel a lot better."
There was some rust at Tuesday's practice, though. Players made mistakes. They lacked the intensity they had before the break, the same intensity that helped them win eight straight games to finish the regular season.
But that's to be expected. It's going to take a day or two to get back into football shape. For that reason, the coaches are stressing fundamentals this week as they prepare for Ohio State and the impending College Football Playoff.
"This is really kind of a new season for us, a new opportunity," Saban said Tuesday. "What does everybody want the legacy of this team to be? Everybody should have the right mindset. You have to commit to a lot of hard work and preparation, trust what we need to do to get fundamentally back to where we need to be.
"In these kind of circumstances, it's really important to eliminate clutter, distractions, to focus on what we need to do to play your best."
Alabama has been here before. This team has played in a bowl game every year since Saban arrived in Tuscaloosa, and three of the past five years, they have played in the BCS National Championship Game. The month of December hasn't changed much over the years.
But this year feels different. The preparation might be the same, but the stakes are not. Rather than one game to decide a national championship, the Crimson Tide will have to play two if they want to win it all. Beating Ohio State is just the beginning.
"It's a new season," Collins said, echoing the sentiments from his coach. "You get the opportunity to possibly play two games, and you've got to prepare. You're going to be busy. If we win this game, we're probably going to fly in and fly right back out -- just like a regular game -- and then get ready for the next game.
"If we get to the second game, I'll see how it works. But the first game is always (business) as usual. We go through these three weeks of preparing for the game, and then after that, I don't know."
Nobody knows. That's the beauty of it.
December, 17, 2014
Dec 17
12:00
PM ET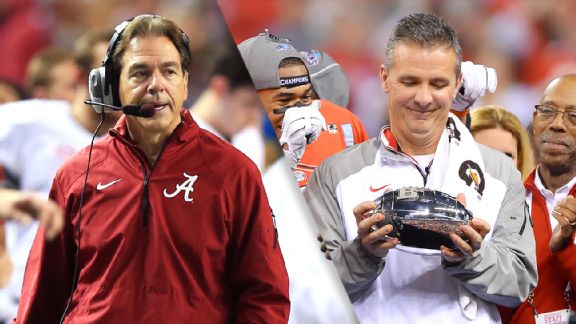 USA TODAY Sports, Icon SportswireNick Saban and Urban Meyer agree that players' families should get assistance to offset the cost of attending playoff games.
COLUMBUS, Ohio -- On the surface, there may not be all that much in common between the two rivals on top of the coaching game.
Urban Meyer is the offensive guru, a master motivator with a reputation for his relationships with players. Nick Saban is the defensive genius, a notedly strong disciplinarian with an incredible attention to detail.
The lines between them may actually blur at times, with Saban also beloved by his players and Meyer not one to let his organization fall out of order. And the truth is, other than that split between offense and defense, the two might actually be more like-minded than they're given credit for, a point that was driven home again when they took up yet another issue in lockstep to try to change college football for the better.
"I know we both committed our entirely livelihood to college football and believe in players," Meyer said. "The players are the most important part of this whole institution of college football.
"So we've had many, many conversations about how to make sure we keep the game or do the best we can to make sure the game stays what it is."
That previously put agents on campus and the possibility of providing stipends for players in the cross-hairs of arguably the two most famous coaches in America, and now they're pushing for some help for families ahead of a historic meeting between Alabama and Ohio State in the semifinal of the inaugural College Football Playoff.
With expensive price tags on flights and hotels around the Allstate Sugar Bowl and the possibility of an additional game looming with a victory, families have expressed their concerns both in letters and on social media that they can't afford to see their sons play in the most important games of their lives. Ohio State was able to offer $800 in reimbursements through the student-assistance fund, but that isn't likely to come close to covering even one trip on relatively short notice, and Saban and Meyer are once again raising their voices to draw attention to an issue that might otherwise be overlooked.
"I just hope that because it's a first that we do the best job that we possibly can for all teams involved, all players involved, all families involved, assessing how we do this so that we can make it better for the families in the future," Saban said. "I think that when I say make it better, I think for the travel that's involved with all the families, that maybe we should do something for the family so that they have an opportunity to get to the game so that they can see the players play.
"I think that would be something great, and I think that's something that all the coaches up here really, really support."
Sitting right next to him at the news conference last week in Orlando, Saban already had an ally who had strongly come out in favor of assisting the extended football family, with Meyer pointing to the huge amounts of money the playoff format is expected to bring in for conferences and universities.
Figuring out exactly how to slice up the pie and make sure moms and dads are in the building moving forward surely won't be an issue that is resolved in time for the first playoff. But just like they did back in the SEC, a pair of powerful rivals are at least making it a topic of conversation to potentially influence some change down the line.
"That was my first thought," Meyer said. "I want to see how our families are going to be able to afford two bowl games if we're fortunate enough to keep going. Universities and conferences are making a lot of money off the TV deals, how are we going to treat the families of the players? I still haven't heard much about it, but I'm going to keep pushing it because I want to know.
"I'm not sure what the answer is. ... They had a room where all those people sat and selected [the teams], I wonder if they have another room where people decide on how we make sure we treat the players the right way. You talk about stress over the holidays? Watch what happens here over the next month. I've spoken to some of my colleagues about it."
The conversation between long-time rivals was surely a short one this time. Once again, Saban and Meyer were already on the same page.
December, 17, 2014
Dec 17
11:30
AM ET
The Associated Press announced its
three-team list of All-Americans
for the 2014 season on Tuesday, and the SEC is represented by 15 players, including four on the first team.
A couple of obvious
first-team selections
were Alabama wide receiver
Amari Cooper
, who was only the nation's best receiver, Alabama safety
Landon Collins
and Ole Miss cornerback
Senquez Golson
. Mississippi State linebacker
Benardrick McKinney
and Missouri defensive end
Shane Ray
made the second team.
All good there.
But as you scan all three teams, you won't see Mississippi State quarterback
Dak Prescott
. No, the one-time Heisman Trophy front-runner, who set all kinds of Mississippi State records and helped lead the Bulldogs to their first 10-win season since 1999, didn't make it. Instead, Oregon Heisman winner
Marcus Mariota
, TCU's
Trevone Boykin
and Ohio State's
J.T. Barrett
made the cut.
Clearly, all three are worthy of All-America status, but so is Prescott after breaking 10 Mississippi State single-season records in 2014, including total offense (3,935), total offense per game (327.9) and touchdowns responsible for (37).
Four players for only three spots ...
Hey, there's always next season.
Here are the 15 SEC AP All-Americans:
FIRST TEAM
Offense
WR:
Amari Cooper, Jr., Alabama
C:
Reese Dismukes
, Sr., Auburn
Defense
CB:
Senquez Golson, Sr., Ole Miss
S:
Landon Collins, Jr., Alabama
SECOND TEAM
Offense
OT:
La'el Collins
, Sr., LSU
OG:
Arie Kouandjio
, Sr., Alabama
OG:
A.J. Cann
, Sr., South Carolina
Defense
DE:
Shane Ray, Jr., Missouri
DT:
Robert Nkemdiche
, So., Ole Miss
LB:
Benardrick McKinney, Jr., Mississippi State
CB:
Vernon Hargreaves III
, So., Florida
S:
Cody Prewitt
, Sr., Ole Miss
P:
JK Scott
, Fr., Alabama
THIRD TEAM
Offense
OT:
Cedric Ogbuehi
, Sr., Texas A&M
OG:
Ben Beckwith
, Sr., Mississippi State
December, 17, 2014
Dec 17
8:00
AM ET
New Florida coach Jim McElwain made his first staff hire on Tuesday when he tabbed Mississippi State defensive coordinator Geoff Collins as the Gators' new man at that position. Nicknamed the "Minister of Mayhem,"
Collins will bring his "swag chalice" and aggressive style to Gainesville
as the Gators begin a new era. It could provide some awkwardness leading up to the bowl game as
some believed McElwain would retain interim head coach D.J. Durkin
, who was Will Muschamp's defensive coordinator, while Mississippi State coach Dan Mullen noted that he wishes his coaches would leave for head coaching positions, not "lateral positions." Regardless, Collins guided Mississippi State to the top 10 nationally in scoring defense and No. 1 in red zone defense;
now he'll have better access to high-level talent and the Florida recruiting base
that could help him have even more success as he joins the Gators.
Want to watch a literal implosion? You can, thanks to Texas A&M. On Sunday morning, the west side of Kyle Field will be imploded as the school continues its $450 million redevelopment of the Aggies' football stadium, which is scheduled for completion prior to next season.
At 8 a.m. central time on Sunday, the massive 10-story structure will be brought to the ground
so that the rebuild of that side can soon begin. A local television station and Texas A&M's athletics site will live stream the implosion and fans will to be allowed to view it in-person from just outside Reed Arena, the Aggies' basketball home.
There was plenty of speculation about Will Muschamp going to South Carolina before he eventually settled on Auburn, which can be understandably unsettling if you're a South Carolina defensive coach, considering Steve Spurrier hasn't made any changes in that regard. The
Gamecocks' defensive coaches say they've tuned out the noise
. "I don't ride the rollercoaster," South Carolina's secondary coach Grady Brown said. "That's the business," defensive line coach Deke Adams said. It's natural for there to be speculation after the Gamecocks finished 13th in the SEC in yards per game allowed (433.6) and 12th in scoring (31.2 points per game allowed). For what it's worth, defensive coordinator Lorenzo Ward did not speak with reporters after Tuesday's practice.
Around the SEC
Saban: "Some little 10-year old boy came up to me after A-Day and asked if we had a quarterback other than Blake Sims."

— Cecil Hurt (@CecilHurt) December 17, 2014
December, 16, 2014
Dec 16
12:51
PM ET
ESPN.com news services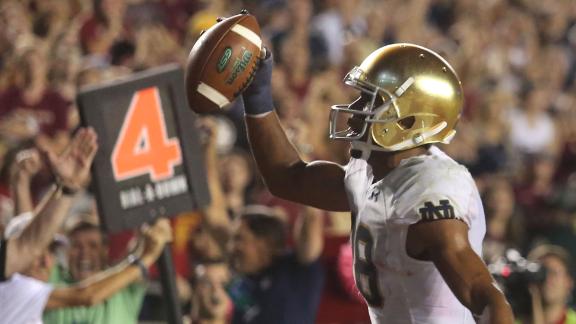 The Florida State Seminoles led the way among the College Football Playoff participants with three first-team selections on the 89th AP All-America team.
The defending champion Seminoles were represented by tight end Nick O'Leary, guard Tre' Jackson and kicker Roberto Aguayo, who is an AP All-American for the second straight season.
Aguayo is the first kicker to be a two-time All-American since Ohio State's Mike Nugent, though Nugent did not make the first team in consecutive seasons like the Seminoles' star.
The Oregon Ducks and Alabama Crimson Tide each had two selections, including a couple of Heisman Trophy finalists.
Heisman winner Marcus Mariota is the first Ducks quarterback to be an All-American. He is joined by Ducks cornerback Ifo Ekpre-Olomu.
The second-seeded Ducks will play third-seeded Florida State on Jan. 1 at the Rose Bowl Game Presented by Northwestern Mutual.
Saban vs. Meyer
SEC SCOREBOARD
Monday, 12/22
Saturday, 12/20
Tuesday, 12/23
Wednesday, 12/24
Friday, 12/26
Saturday, 12/27
Monday, 12/29
Tuesday, 12/30
Wednesday, 12/31
Thursday, 1/1
Friday, 1/2
Saturday, 1/3
Sunday, 1/4
Monday, 1/12