September, 18, 2014
Sep 18
3:00
PM ET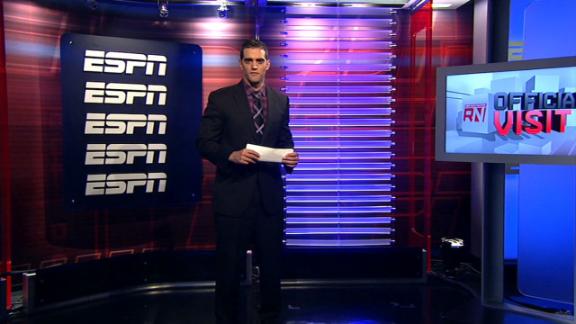 When
Alabama
and
Florida
square off on Saturday (3:30 p.m. ET, CBS), the two teams will display some of the top talent in the country. In fact, according to the expected two-deep depth charts, Alabama and Florida will showcase 56 players that were ranked in the ESPN 300 (changed from ESPN 150 to ESPN 300 in 2013) and the ESPN JC 300 coming out of high school or junior college.
September, 18, 2014
Sep 18
2:15
PM ET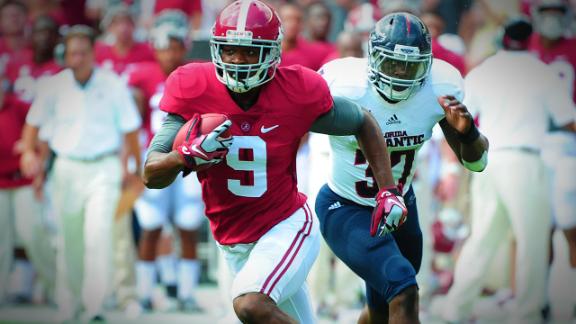 In advance of the All-American battle between Alabama wide receiver Amari Cooper and Florida cornerback Vernon Hargreaves III, we're breaking down what makes each player special. Click here for Edward Aschoff's take on Florida's star cornerback.
TUSCALOOSA, Ala. -- Amari Cooper is sizing you up. He might not say much, but Alabama's star receiver is seeing exactly where you stand.
Could you have envisioned the start you've had?
"Yeah," he said, not caring to elaborate.
You talked in the spring about Lane Kiffin and how you'd seen Marqise Lee and you were looking forward to that. Is that why you anticipated this?
"Yeah, that's the exact reason," he said, again letting you fill in the blanks.
It's not cockiness. It's not arrogance. It's just who he is.
Cooper isn't one to make bold statements. His former high school coach in Miami, Billy Rolle, drove him to and from school. "The three years I had him," Rolle said. "I haven't heard 50 words out of the kid."
Cooper lets his play do the talking. Through three games, the junior leads the nation in receptions (33) and yards after catch (245).
So if he isn't going to open up, we allowed those who know him best to break down what makes him arguably the best receiver in the country.
At 6-foot-1, he's not the tallest. At 210 pounds, he's not the most physically imposing, either. And while he does possess good speed, almost every defensive back in the SEC runs well.
Instead, it's the little things that set Cooper apart: his footwork, his ability to read defenses and his tireless work ethic.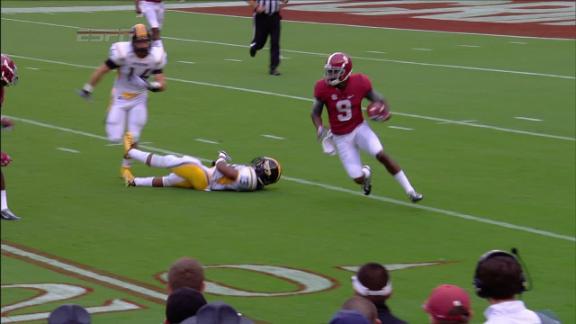 FOOTWORK
Alabama safety
Landon Collins
is still trying to figure him out.
Collins likes to read a receiver's steps, guess the route and make a play on the football. But with Cooper, the guessing game doesn't work. The All-SEC defensive back is helpless.
Collins: "His footwork is confusing. If you look at his feet and try to stick him at the line, you'll get lost."
Jarrick Williams
, Alabama cornerback: "His footwork, how quick he gets around you, how explosive he is. He's amazing."
Cooper: "It's definitely something I pride myself on. Playing as much backyard football as I did as a kid, it's something that's instinct now."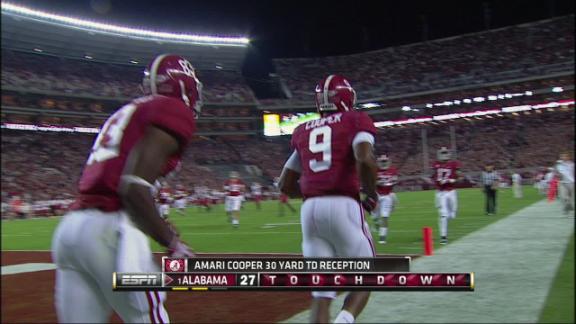 READING THE DEFENSE
Take, for instance, the SEC championship game in 2012. It was late in the fourth quarter and Alabama was trailing Georgia 28-25. The play called for Cooper to go inside on his release, but he saw the defender shading that way.
Collins: "He was too far inside, so I jumped outside instinctively."
To his credit, Georgia cornerback
Damian Swann
didn't bite on the play-action fake. Instead, he fell for Cooper's move toward the middle of the field. Cooper swung his hips back toward the sideline. Swann was caught flat-footed and completely turned around. Cooper was so wide open, he stopped running. He sped up just in time to catch the 45-yard game-winning touchdown that sent Alabama to the BCS National Championship Game.
Cooper: "It's a thing you can sense. As soon as you start releasing off the line, you can feel he's leaning toward one way and then you go the other way. It's a very unique thing."
But that wasn't Cooper's favorite instance of toying with a defensive back. It also took place in the 2012 season, against Ole Miss.
Cooper: "It was third down and I had a slant route. I'd been watching film of this guy because he's from Miami and I knew him personally. He was really quick. But I was watching film and I noticed he's really patient at the line. So I used one of my better releases to get open."
Rolle: "He thrives on reading defenses and knowing how to get open and not just running by people. He liked to run the slant pattern, the hookups, the outs. He was even more dangerous if he got the ball right away and in open space."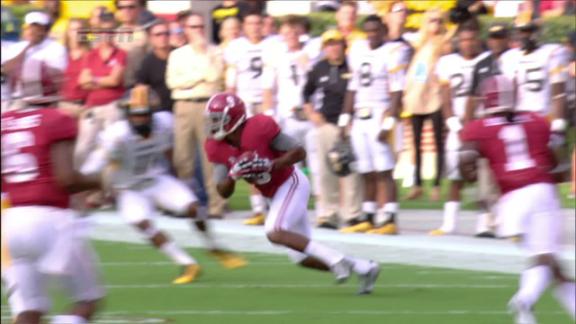 WORK ETHIC
Former USC coach Lane Kiffin marveled at Cooper's practice habits, too. When he became Alabama's offensive coordinator in January, he quickly noticed how much work Cooper puts into his craft.
Kiffin: "Amari sometimes would work out two hours before the workout started. I thought it was a really hard workout we were doing -- the Fourth Quarter program that we do here -- but he worked out two hours before that."
Christion Jones
, Alabama receiver: "Have you seen him? It's nothing fake. He goes hard every day, every practice. No matter what it is, he's going to go full tilt."
Cyrus Jones
, Alabama cornerback: "His potential has been evident since the first time he stepped on the campus and on the field. You progress each year as a player and you can definitely say he's reached another level this year."
September, 18, 2014
Sep 18
2:00
PM ET
COLUMBIA, S.C. -- South Carolina coach Steve Spurrier beamed when he sprang into his postgame press conference room Saturday evening. He had just watched his Gamecocks shock No. 6 Georgia -- the team picked by many to represent the SEC in the College Football Playoff after just one game -- 38-35 with a gutsy, yet controversial, call to go for it on fourth-and-inches.
[+] Enlarge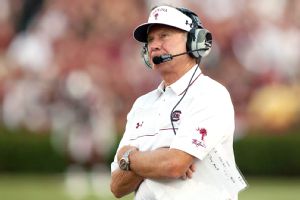 Jeremy Brevard/USA TODAY SportsSteve Spurrier again got the best of Georgia and showed that South Carolina will make noise in the SEC Eastern Division.
The Head Ball Coach, who was labeled "done" by some after an unconvincing 1-1 start that featured an epic beat down from Texas A&M, was smiling once again after besting his favorite SEC pinata -- Georgia.
Spurrier got his 16th win over Georgia -- the most by any coach over the Dawgs -- and his fourth out of the last five meetings. He and his team also showed that what we thought of South Carolina heading into last weekend wasn't exactly true. There are still issues with the Gamecocks, especially on defense, but we were quick to write off the very team picked in the preseason to win the SEC Eastern Division.
"This is a good one," Spurrier said of Saturday's win. "I knew we had a good chance to beat them when I heard [ESPN radio host Paul] Finebaum picked them [Georgia] to win by about 25 points. He picked Alabama to beat Oklahoma by 25 [in last season's Allstate Sugar Bowl] too. I said, 'We gotta chance tonight then.'"
Yeah, all that negativity we showed the Gamecocks last week didn't go unnoticed in Columbia.
"I'm not going to lie and tell you that I wasn't watching TV, seeing people say that Georgia was the No. 1 team, have them winning the playoff," South Carolina running back
Mike Davis
said. "Watching GameDay and seeing all those guys pick UGA, and having [ESPN college football analyst] Kirk [Herbstreit] being the only one who said we were going to win. This is a big confidence booster for our team."
So South Carolina isn't dead, and it's clear that the SEC East is still very much wide open.
What else were we quick to assume about the SEC?
1. Jake Coker isn't ready:
We all thought Coker would be Alabama's starting quarterback. Well, it's Florida week and veteran
Blake Sims
is very much the guy and has a big lead on Coker. Unlike Coker, Sims is limited with his arm, but he's done nothing to lose the starting job, while Coker has done nothing to take it.
2. Arkansas isn't the pushover it has been:
We figured it'd be another ho-hum year for the Razorbacks. Then they challenged Auburn in the first half of their opener and literally ran over Nicholls State and Texas Tech with 933 rushing yards and 13 touchdowns on the ground. Arkansas looks like it can run on
anyone
.
3. Vanderbilt is in trouble:
We thought the talent was still there for Vanderbilt to make another quality run under Derek Mason in his first year with the Commodores. Well, we aren't sure what's up, but the Commodores are lucky to be 1-2 at this point. After getting outscored 78-10 against Temple and Ole Miss, the Dores needed a last-second missed field goal to escape the UMass game.
4. Florida's defense has to climb back to elite status:
We questioned Florida's offense, which still has concerns, but we didn't press the defense. Well, it turns out that there are actually real concerns with this younger unit. Coverage breakdowns fueled 369 Kentucky passing yards and three touchdowns. Also, can anyone besides
Dante Fowler Jr
. rush the passer?
5. Mississippi State's secondary has questions:
It's early, but the Bulldogs have had issues in the back end of their defense. Through three games, the Bulldogs have allowed an average of 311.7 passing yards per game. Corner
Taveze Calhoun
, who garnered tons of preseason praise, and the guys around him at corner and safety have really underperformed to start the season.
6. Texas A&M is still pretty good:
Wasn't this team supposed to take a few steps back without
Johnny Manziel
? Well, the Aggies didn't get the memo. Texas A&M upset South Carolina 52-28 to start the year, the defense looks better and quarterback
Kenny Hill
leads the SEC with 1,094 yards and has 11 touchdowns. I can't believe someone didn't think an A&M quarterback would throw for
3,000 yards this season
...
7. Kentucky can upset someone:
If you watched any part of Florida's triple-overtime win over Kentucky, you'd know the Wildcats are better than they have been in years.
Patrick Towles
threw for almost 400 yards on the Gators with a handful of playmakers to use that this team hasn't had in a while. Also, that defense is much better with
Bud Dupree
and
Za'Darius Smith
battling for the top defensive end duo in the SEC.
8. Tennessee doesn't have a quarterback issue:
We thought there was too much uncertainty surrounding Tennessee's quarterbacks. Well, we were wrong, as
Justin Worley
has been solid, making tremendous throws through the first two games. He struggled against Oklahoma but is averaging 240 yards per game and has six touchdown passes.
9. Missouri isn't ready to take a step back:
We thought there were a lot of questions for Mizzou on both sides of the ball, and there still might be, but this team isn't ready to bow out in the SEC. The competition hasn't been great, but Mizzou has done exactly what's been asked, outscoring teams 125-52.
10. Leonard Fournette isn't Michael Jordan ... yet:
We thought Fournette would have
at least
1,000 rushing yards and, like, 20 touchdowns at this point. What a disappointment! It's a long season folks, but Fournette is still learning and has just 162 yards and two touchdowns. He'll be great, but we actually have to be patient with him.
September, 18, 2014
Sep 18
10:35
AM ET
By
ESPN.com staff
| ESPN.com
ESPN.com reporters Ted Miller, Edward Aschoff and Heather Dinich join host Chantel Jennings to discuss the latest on Jameis Winston and preview the weekend slate of games.
September, 18, 2014
Sep 18
9:00
AM ET
By
ESPN.com staff
| ESPN.com
Week 3 brought some serious action in the SEC, including Florida surviving triple overtime against Kentucky and Vanderbilt escaping against UMass. (And to think, Alex, everyone laughed when you picked the Minutemen.) With three high-profile games on the docket this week, let's get on with the picks.
Why Auburn wins big:
Kansas State isn't going to be scared by Auburn's breakneck tempo -- the Wildcats see it against Baylor annually. The difference will come in that tempo combined with the strength and athleticism in Auburn's offensive line that powers the Tigers' running game. Look for the game to be close and competitive initially before the Tigers pull away in the fourth quarter as they wear down the Wildcats up front.
Auburn 45, Kansas State 24
-- Sam Khan Jr.
Why Kansas State keeps it close:
When was the last time the SEC ventured into the Midwest to play a Power 5 opponent? Exactly. It's just not done, and with good reason. Expect Kansas State to load the box and dare Auburn to pass.
Nick Marshall
hasn't thrown the ball all that well thus far, completing 56 percent of his passes for just 151 yards.
Auburn 31, Kansas State 24
-- Alex Scarborough
Why LSU wins:
LSU has won 14 in a row in this series, but that won't matter on Saturday. The Tigers will beat Mississippi State again on Saturday because they are the better team -- and it doesn't hurt that they're playing at night at Tiger Stadium, a scenario in which they're 43-3 under Les Miles.
LSU 28, Mississippi State 14
-- David Ching
Why Mississippi State wins:
How good is LSU? I watched the first half against Wisconsin and was less than impressed. I still don't trust
Anthony Jennings
at quarterback. Meanwhile, Mississippi State comes in with a little bit of a chip on its shoulder, having not won in Death Valley since 1991, and
Dak Prescott
, a Louisiana native, gave the LSU defense fits in last year's game.
Mississippi State 24, LSU 21
-- Greg Ostendorf
Why Alabama wins big:
After scoring just three points in the first half and needing triple overtime to beat Kentucky last week, there are some serious concerns for Florida heading into a tough environment at Bryant-Denny Stadium. Alabama's defensive line should create a miserable afternoon for Florida's offense, specifically quarterback
Jeff Driskel
.
Alabama 36, Florida 16
-- Jeff Barlis
Why Florida keeps it close:
After a triple-overtime win against Kentucky, people are down on the Gators. But despite last week's scare, Florida is better than it was last year. I can already hear the silly homer chants, and I'm sure Jeff is snickering at me, but if Florida's communication and pass protection hadn't been so bad last week, I'd be tempted to pick Florida in the upset. Notice that I said "tempted." I think you'll see a defensive struggle, but Alabama's running game will be too much and the Crimson Tide will pull away late.
Alabama 24, Florida 13
-- Edward Aschoff
More unanimous picks:
Georgia over Troy:
Now you can show off that passing game, Georgia. The Bulldogs won't need much of
Todd Gurley
, as the coaches look to get more out of
Hutson Mason
's arm.
Georgia 51, Troy 10
Texas A&M over SMU:
Kenny Trill adds to his flashy numbers and the defense continues to look better in a road rout that will leave Eric Dickerson looking to take a blowtorch to his former program.
Texas A&M 65, SMU 13
Missouri over Indiana:
These Tigers don't need -- or want -- respect, and they'll continue to quietly go about their business with another convincing victory that will just lead to more Mizzou fans yelling at that
@AschoffESPN
Twitter account.
Missouri 45, Indiana 20
Arkansas over Northern Illinois:
Northern Illinois actually has had a respectable run defense through three games, so maybe the Hogs won't rush for 400 yards on Saturday. Maybe.
Arkansas 48, Northern Illinois 21
South Carolina over Vanderbilt:
After a thrilling 38-35 victory over SEC East favorite Georgia, the Gamecocks must get back on the field. Expect a slow start, but no fourth-quarter visor-throwing from the HBC.
South Carolina 34, Vanderbilt 14
Unanimous summaries and scores by Edward Aschoff.
Standings
Chris Low 32-2
Edward Aschoff 31-3
Jeff Barlis 31-3
David Ching 31-3
Sam Khan Jr. 30-4
Greg Ostendorf 29-5
Alex Scarborough 27-7
September, 18, 2014
Sep 18
8:00
AM ET
1. The big storyline Wednesday wasn't from the SEC. It was from the ACC. Florida State quarterback Jameis Winston, a name SEC fans surely know by now,
will sit the first half against Clemson
for yet another off-field incident. ESPN's Mark Schlabach
summed it up well
in his column: "Funny, the last time I checked, you can't spell Jameis without 'me' and 'I.'" This got me thinking, though. What player in the SEC could their team not afford to lose for a half? Auburn already showed it can win without its quarterback Nick Marshall, who sat out the first half against Arkansas. Losing Todd Gurley would be rough, but Georgia has a full stable of running backs behind him. Maybe Amari Cooper at Alabama? Or how about on the other side of the ball with Vernon Hargreaves III at Florida? The two will be squaring off this Saturday. But what do you think? Who's the SEC's most indispensable player?
2. Auburn coach Gus Malzahn will turn 49 next month, one year away from the big 5-0, but that's nothing compared to his coaching counterpart Thursday night. Bill Snyder, who is in his second stint at Kansas State, is 74 years old. The stadium his team plays in is already named after him. Not a lot of coaches can say that. As for Malzahn,
he doesn't see himself coaching at 74
because according to him, "college football ages you in dog years." It's not all that uncommon in the SEC, though. South Carolina coach Steve Spurrier turns 70 in April, and others -- including Nick Saban (Alabama), Gary Pinkel (Missouri), and Les Miles (LSU) are all over the age of 60. My guess is that Malzahn will be coaching in the NFL long before he reaches that age, but you never know.
3. It's been awhile since Mississippi State last beat LSU -- 15 years to be exact. In fact, the Bulldogs have never beat Les Miles since he's been in Baton Rouge, but that doesn't mean it won't happen this season. On Wednesday, Miles called this Mississippi State team
"as talented and as complete"
as any Mississippi State team he's coached against. He's not taking this game lightly, and neither will the fans. You can bet that the newly renovated Tiger Stadium will be rocking Saturday night. There are games -- like Sam Houston State and Louisiana Monroe -- and
then there are SEC games
. This weekend marks the first SEC game.
Around the SEC
Tweet of the day
Tomorrow night, 6:30CT ESPN. #WarEagle pic.twitter.com/LLtb5ApiB0

— Auburn Tigers (@AuburnTigers) September 17, 2014
September, 17, 2014
Sep 17
2:50
PM ET
By
ESPN.com staff
| ESPN.com
ESPN.com reporters Edward Aschoff, David Ching, Greg Ostendorf and Alex Scarborough got together to debate the hottest topics in the SEC as well as preview this weekend's biggest games, including Auburn-Kansas State, Florida-Alabama and Mississippi State-LSU. Get ready for this week's big games by watching now.
September, 17, 2014
Sep 17
2:00
PM ET
TUSCALOOSA, Ala. -- If there was ever a time not to make a bad decision, it was during the second half against Southern Miss, up three touchdowns with a big game against Florida on the horizon.
Alabama should have been focused on getting out of the game unscathed, but instead
Nick Perry
took matters into his own hands, making helmet-to-helmet contact with a defenseless receiver. The veteran safety was flagged on the play, ejected from the game, and, by rule, will have to sit out the first half of Saturday's game against SEC rival Florida.
It was a tough break for an Alabama defense already missing
Jarrick Williams
, who fractured his foot against West Virginia. With Williams and Perry out, the secondary is missing its two most experienced defensive backs. The two have combined for 25 career starts, while their potential replacements,
Geno Smith
and
Jabriel Washington
, have combined for three starts since 2012.
"We just have to work everyone and see how we end up," said coach Nick Saban. "Now that we lost Jarrick, who's a safety, and Nick for half a game, we are getting a little thin there."
Since Florida likes to spread the field with three and four receivers, the loss of Perry creates a domino effect. When Smith shifts back to safety, he vacates the nickel cornerback position. That means either
Tony Brown
or
Maurice Smith
have to come off the bench and fill in. Smith saw limited action as a freshman last season and Brown, a former five-star recruit, just arrived on campus in January.
Asked what they'll miss most with Perry and Williams out, safety
Landon Collins
said, "Knowledge."
"Other than that, we'll have other guys step up," he added.
Both Collins and junior cornerback
Cyrus Jones
were matter-of-fact about the sudden departure of their teammates.
Part of it was gamesmanship, to be sure, but part of it is the culture at Alabama. Last season there was never much settled in the secondary as Maurice Smith,
Eddie Jackson
, John Fulton and Jones all rotated at cornerback. At safety, Vinnie Sunseri and Ha Ha Clinton-Dix both missed chunks of time. Meanwhile, Perry was lost for the season with a shoulder injury.
While Jones could admit that it "puts more pressure on the older guys to hold down the fort," he wouldn't concede much with Perry out for the first half and Williams not expected to play.
"You just have to go out there and play with a lot of confidence," he said of Smith, Brown and Washington. "Those guys are just eager for their time and are ready to make plays when they're called upon. We definitely don't take a step down from when we have somebody go out."
That's the hope at least.
If there was any good news to come out of the aftermath of the game against Southern Miss, it was that starting cornerback Eddie Jackson isn't seriously injured. The sophomore, who returned from a torn ACL last week, came up limping in the first half. Medical trainers tended to him on the sideline, but Saban said after the game that it wasn't structural. A bruised quad, he said, "I don't think it's anything serious."
September, 17, 2014
Sep 17
1:00
PM ET
By
ESPN.com staff
| ESPN.com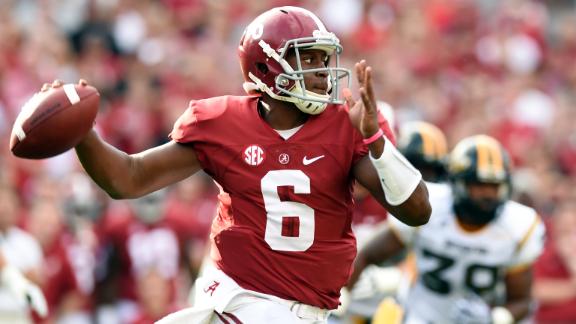 In this week's 'Prove It' video, Alex Scarborough and Greg Ostendorf take a look at the two quarterbacks in the Alabama-Florida matchup -- Jeff Driskel and Blake Sims -- and which one has more to prove this Saturday.
September, 17, 2014
Sep 17
10:43
AM ET
By
Brett Edgerton
| ESPN.com
September, 17, 2014
Sep 17
9:00
AM ET
The SEC quarterback competitions are fading fast.
Nick Marshall
is back for Auburn.
Patrick Towles
(Kentucky) and
Justin Worley
(Tennessee) have exceeded expectations. And
Kenny Hill
has gone from competing for the starting job to competing for the Heisman Trophy.
That leaves Alabama, LSU and Vanderbilt. All three schools seem to have settled on a signal caller for the time being, but how long will it last? We should find out a lot more this Saturday as they all have SEC opponents on the docket.
Alabama
Starter:
Blake Sims
Backup:
Jake Coker
How Sims performed:
Alabama fans are starting to accept that Sims is the team's quarterback and why not? The senior hasn't done anything to relinquish the job. If anything, he's shown improvement with each game. On Saturday against Southern Miss, he completed 12 of his 17 passes for 168 yards and a touchdown and also rushed for 46 yards and a score. Both Coker and
Alec Morris
came in during the second half, but neither played meaningful minutes.
What it means:
Sims is the starting quarterback until he gives up the job. If he keeps managing the offense and not turning over the football, the coaches are not going to pull him. That said, he faces his toughest test this Saturday against Florida. The Gators return all four starters on the defensive line, and with Vernon Hargreaves III at cornerback, Sims can no longer only throw the ball to his favorite receiver
Amari Cooper
. Will we see Coker? Not unless things go awry, but Sims has to play well for Alabama to win.
– Greg Ostendorf
Sims' hold on position:
8.5
LSU
Starter:
Anthony Jennings
Backup:
Brandon Harris
How Jennings performed:
Although Jennings (11-for-18 for 139 yards, INT) tossed his first interception of the season in last Saturday's 31-0 win against Louisiana-Monroe, he continues to do a solid if unspectacular job at quarterback. His passing numbers would have been better if not for a series of drops and he's minimizing his mistakes. He also showed some nifty moves in escaping from a sack and then ran for a 22-yard gain. To this point, he has been what LSU's coaches want him to be: A steady game manager.
What it means:
The ULM game made it even more evident that Jennings holds a clear lead over Harris as the starter. Jennings played every offensive snap until the Tigers led 24-0 late in the third quarter. Once Harris got into the game, he screwed up at least two play calls and had to scramble for yardage once everyone else ran a different direction than he expected. Until he has a firm grasp on the playbook, Harris won't truly challenge for the starting job.
– David Ching
Jennings' hold on position:
8
Vanderbilt
Starter:
Patton Robinette
Backup:
Wade Freebeck
,
Stephen Rivers
,
Johnny McCrary
How Robinette performed:
Exploring all options to find a quarterback, Derek Mason went with the true freshman Freebeck against UMass. That experiment lasted all of a quarter before Mason pulled him in favor of Robinette, the team's original starter. The sophomore took advantage. In three quarters, Robinette threw for 147 yards, rushed for 35 yards and scored two touchdowns to lead the Commodores back from an 11-point second-half deficit and notch their first win of the season.
What it means:
Has Vanderbilt finally settled on a quarterback? Don't assume anything with Mason calling the shots, but he did say Tuesday that Robinette is their guy until something happens to change that. It sounds like Robinette will have a longer leash this Saturday against South Carolina, and maybe that will give him a little added confidence. It also wouldn't be surprising if a different quarterback finished the game.
– Greg Ostendorf
Robinette's hold on position:
4
September, 16, 2014
Sep 16
2:00
PM ET
TUSCALOOSA, Ala. --
Amari Cooper
is a game-changing talent at receiver. His ability to catch the football, make one guy miss and take it the distance is uncanny. His yards-after-catch numbers are gaudy. As of Monday, he leads the country with 33 receptions and is third overall with 454 yards receiving. And that's not counting the passes he hauls in behind the line of scrimmage, of which he has three "carries" for 29 yards. But those are just the cherries on top.
Cooper is arguably the best receiver in the country. But for Alabama's offense to be successful, he can't continue to do it alone.
[+] Enlarge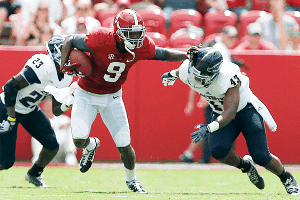 AP Photo/Brynn AndersonAmari Cooper has accounted for just over half of Alabama's receiving yards this season.
It's fine that Cooper is the focal point of the offense, but he can't be the entire playbook on a weekly basis. Teams like Florida won't allow it. Cornerbacks like
Vernon Hargreaves III
and safeties like
Jabari Gorman
will get in the way of an Amari Cooper-centric attack. Florida's Will Muschamp didn't look great coaching against Kentucky last weekend, but the man knows defense and understands how to double- and triple-team a receiver.
Take last season for instance. Despite the mess that it was for Florida, the defense held down LSU's Odell Beckham Jr. and Jarvis Landry. Neither receiver had more than 60 yards receiving or a single touchdown.
Dorial Green-Beckham
, Missouri's most talented receiver last season, was held to 52 yards and no touchdowns, too.
Receivers are reliant. Quarterbacks are not.
Blake Sims
, despite all the good work he's done in winning the starting job, must get the ball to his other weapons on Saturday against the Gators.
So far, Cooper has accounted for 48.5 percent of all of Alabama's receptions and 50.8 percent of all passing yards. He's been targeted 43 times. The next closest is
Christion Jones
, who has been thrown to only 14 times.
Chris Black
, who has started in place of
DeAndrew White
, has three total receptions. Starting tight ends
Brian Vogler
and
O.J. Howard
have combined for just one reception.
While there's been a lot to like about Sims and the new life Lane Kiffin has breathed into the offense, there's still a lot of uncharted territory to be discovered.
Kenyan Drake
has shown flashes of Reggie Bush-like ability,
Jalston Fowler
has caught the ball a few times in his versatile H-back role and even young
ArDarius Stewart
has gotten somewhat involved. But none have been truly featured.
Howard, who has the ability to be a mismatch against any defense, simply hasn't gotten the football. We're waiting on an APB to be sent out on the All-America talent. He's been thrown to once all season and it resulted in an interception. You could say he's not worked to get himself open, but that's a faulty argument because good coordinators find a way to get their best players the football in space. Sometimes that means setting a pick, dump it off into the flat or dialing up a screen pass. Howard is fast and athletic enough for any of those options.
Before Saturday's win over Southern Miss, Saban insisted that Howard needed to be more involved in the offense. That obviously didn't happen. Following Alabama's 52-12 beat down, Saban reiterated the need for more playmakers to emerge.
"We need to get more people involved offensively," he said. "Coop has had a great start, but we have other guys that are capable players. Chris Black dropped the ball tonight. He's a capable playmaker. We need those guys to play and get confidence. Getting DeAndrew White back will help us. Christion Jones had four catches tonight. We need to get more guys involved."
September, 16, 2014
Sep 16
12:00
PM ET
Despite Saturday's loss to South Carolina,
Todd Gurley
is still among the favorites to win the Heisman Trophy this season.
Georgia's stud running back did just about everything he could have to win that game Saturday. He broke through tackles, changed the field on a dime during a wild 17-yard gain, drug Gamecocks -- likely kicking and screaming -- on his back and legs, and flattened guys in his way inside Williams-Brice Stadium.
[+] Enlarge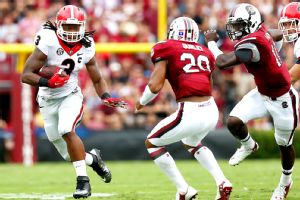 Streeter Lecka/Getty ImagesTodd Gurley did everything he could do to get Georgia a big road victory at South Carolina. Although the Bulldogs lost, he's still a top Heisman candidate.
Call this hyperbole if you want, but it wouldn't shock me if the lightning that delayed Saturday's game and the thunder heard in the distance that day wasn't linked to Gurley's presence in Columbia.
Still, it wasn't enough, but who knows what would have happened if he'd been given the ball on that first-and-goal from South Carolina's 4-yard line with 5:24 left in the fourth quarter. I know Bulldogs fans are wondering how the Dawgs went away from their workhorse back at such a critical moment ...
Through two games, Gurley is second in the SEC with 329 rushing yards on 35 attempts. He's averaging a whopping 9.4 yards per carry and has four rushing touchdowns. He also has a 100-yard kickoff return for a touchdown.
Gurley is your leader in the Heisman clubhouse nationally and the unquestioned one when it comes to SEC candidates. He has that special, rare blend of power, speed and agility that Playstation footballers wish they could compute.
But we already knew all that. So today, I thought we'd talk a little bit about the quarterbacks.
We can't have 10 legitimate Heisman candidates in the SEC. It's just not logical. But we
can
talk about a handful of guys who could throw themselves into the mix as the season goes on.
Now, will all of these guys be in the Heisman discussion in November? No. In fact, there's a good chance that by October most of this list will be eliminated from serious contention. But at this early part of the season, it was necessary to mention what these guys had done so far.
Here are a couple of other players to watch when it comes to SEC Heisman chances:
Muschamp thinks 50-50 balls may decide game
SEC SCOREBOARD
Thursday, 9/18
Saturday, 9/20