February, 19, 2015
Feb 19
9:00
AM ET
You can feel the buzz emanating from Indianapolis, can't you?
We know you want to know all about the NFL scouting combine, and we've got you covered.
Tweet of the day
One of these things is not like the other ...
Combine over/under 40-time odds: Marcus Mariota - 4.51; Jameis Winston- 4.82 & Rich Eisen -6.05, per Bovada.

— Bruce Feldman (@BruceFeldmanCFB) February 18, 2015
February, 18, 2015
Feb 18
1:00
PM ET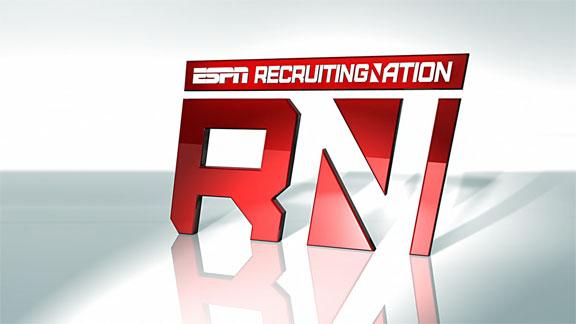 BRADENTON, Fla. -- IMG Academy will undoubtedly have one of the most talented football teams in the country in 2015, including defensive end
Shavar Manuel
. The nation's No. 2-ranked prospect in the 2016 ESPN Junior 300 has more than 40 scholarship offers to date, including the likes of Alabama, Auburn, Florida, Florida State and Miami (Fla.).
On Monday, the 6-foot-4, 275-pound former Tampa Blake High star provided RecruitingNation with the latest on his recruitment.
February, 18, 2015
Feb 18
10:00
AM ET
February, 17, 2015
Feb 17
9:07
PM ET
Amari Cooper does some amazing things on the football field; after all, the ex-Alabama wide receiver was a Heisman Trophy finalist and is projected by Mel Kiper Jr. to go fourth overall in the NFL draft.
February, 17, 2015
Feb 17
11:00
AM ET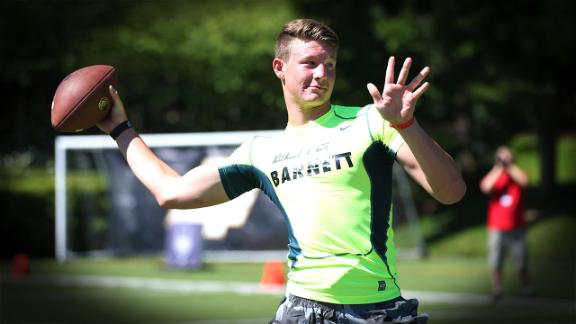 TUSCALOOSA, Ala. -- Like any good quarterback,
Blake Barnett
has plenty of confidence. And why not? He's 6-foot-5, 205 pounds, has a great head of hair and says he can throw the ball about 70 yards. He has the honor of being ESPN's No. 1-rated pocket passer, and he's even got some dual-threat in him, too, having rushed for 479 yards and seven touchdowns as a high school senior.
In short, the kid is the total package. So why not enroll early, dive head-long into the offense and take a shot at the starting job as a true freshman? That's what Barnett did.
Of course, the rookie said the right things on signing day, pointing out how his focus was "getting down with the playbook, getting stronger, and preparing myself for the season ... as much as possible." But even as he ever so diplomatically explained that, "The depth chart is something I'm not completely worried about," you could feel his confidence tugging at him. When asked point-blank whether his goal was to start right away, he couldn't say no.
"My main goal is to compete for a spot," Barnett said, "but right now that's big-picture things. The small picture I'm focusing on right now is to get the playbook down and take it step by step. I think that's a while away from here.
"I don't want to say anything, make any statements right now."
And neither will his coach, Nick Saban, who said he wouldn't rule out playing a true freshman at quarterback.
"I wouldn't rule that out at all," he said. "If he's the best player, why would we not play him? That's like saying a guy is from California, so we should not play him because he's from California."
Barnett, just so we're clear, is from California.
But does all that mean a West Coast kid will be running Saban's pro-style offense? In spite of Barnett's confidence and Saban's let-the-best-man-win attitude, that seems unlikely. Not only would he have to pass
Cooper Bateman
,
Jake Coker
,
David Cornwell
, and
Alec Morris
on the depth chart, he'd have to hurdle history, too.
Saban, for all his talk, has never fully handed over the reins of his offense to a true freshman. He didn't at Toledo when sophomore Kevin Meger was his quarterback. He didn't at Michigan State when he went from sophomore Tony Banks to junior Todd Schultz to junior
Billy Burke
. He was close at LSU, starting Jamarcus Russell four games as a redshirt freshman in 2004, but otherwise it was junior Josh Booty, senior Rohan Davey, sophomore Marcus Randall, and junior Matt Mauk.
Since arriving at Alabama in 2007, Saban has continued to side with experience, going from junior John Parker Wilson to junior Greg McElroy to redshirt sophomore AJ McCarron to fifth-year senior
Blake Sims
.
In what will be Saban's 20th season coaching the college game, can we really expect him to change his stripes? Is Barnett good enough to convince him that a rookie can handle the responsibility?
If anything, Barnett has the tools to pull off the upset. He talks a pretty good game, too.
Now all he has to do is get his coach to have confidence in him.
February, 17, 2015
Feb 17
10:00
AM ET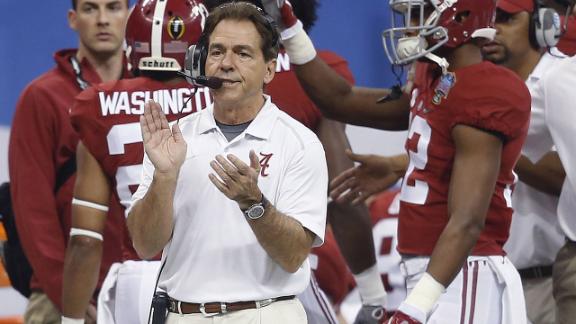 When the
Ultimate ESPN 300
was released on Monday, there were some noticeable surprises. Some players shot to near the top of the list early on in their careers, while other players weren't ranked high coming out of college but now appear on this prestigious list. Here's a closer look at some of the top surprises in the SEC.
To continue reading this article you must be an Insider
February, 17, 2015
Feb 17
9:00
AM ET
1. Ah, the mythical "Bama bias." You may have heard
how it pertains to recruits
. Well, it cuts both ways, apparently. Because just as players are hyped upon their entry to Alabama, they're devalued on their way out. As one scout told NJ.com of T.J. Yeldon, "
He's a little overrated, because he's coming from Alabama
." Um, what? Overanalyzed maybe, but not overrated. If anything, Yeldon's accomplishments were minimized over time. As soon as he rushed for 1,000 yards as a true freshman, he was old hat and people were ready for the next big thing. But don't sleep on Yeldon. He may not have the flash of other running backs, but he's the complete package. Here's what former NFL great Shaun Alexander told me of Yeldon's pro prospects in December:
He will be a steal wherever he goes. Teams will get him and say that the all-day running back is dead, the guys that could take 30 carries and catch three, four passes. The idea of that guy no longer being needed, he will allow people to think, 'Well, if you want to you can.' That's what's going to make him a great steal because he will open up the coaches' eyes wherever he goes to that, 'You know what? We can use this guy all day and in any situation.'
2. No, Mike Debord was not what you'd call a "sexy" hire at Tennessee. He's 59 years old and hasn't coached in two years. But it's hard to shake the feeling that this was the right hire by coach Butch Jones. After all,
the roots of Jones' offense come from Debord
. And it's that intimate understanding that should make the fit work out so well. With an established system, an emerging QB and a solid set of skill players, Debord needs only to "enhance" the offense and add a few "wrinkles" to help get the Vols over the hump and competing for the SEC East crown.
3. Derek Mason is taking a "
going back to genesis
" approach toward the start of spring practice at Vanderbilt. Sounds intense, right? But after a 3-9 campaign last season, it may take more than 40 days and 40 nights to get the Commodores back on track. With an overhauled coaching staff and no clear answer at quarterback, something has to get Vanderbilt headed in the right direction again. After all, it was only a few years ago that James Franklin put together back-to-back nine-win seasons.
Around the SEC
Tweet of the day
Happy #PresidentsDay from the 4th one from the left. pic.twitter.com/8yDpSz3Emv

— Bill Clinton (@billclinton) February 16, 2015
February, 16, 2015
Feb 16
10:00
AM ET
The
Ultimate ESPN 300
is RecruitingNation's ranking of the best prospects since we began evaluating high school athletes in 2006. That means there are many names on the list known to college football and recruiting fans since coming out of high school. The list can also provide glimpses of which states have been top producers since 2006 and which teams have done the best and worst jobs of evaluating prospects and producing players.
Here are 15 things to know about the Ultimate ESPN 300:
15.
Some classes turn out better than others, and that is true of the 2009 class. There are 45 players from the class in the Ultimate ESPN 300, the most of any class, including 15 that became first-round NFL draft selections. That includes four who signed with Alabama:
Trent Richardson
,
Dre Kirkpatrick
,
D.J. Fluker
and
Chance Warmack
.
14.
Bob Stoops recruited and coached 13 players on the list. Of the 13, four were first-round NFL draft selections led by Pro Bowl defensive tackle
Gerald McCoy
and 2008 Heisman Trophy winner
Sam Bradford
. Nine of the 13 were also members of the Sooners team that lost to Florida for the 2009 BCS National Championship.
13.
The teams that played for the 2012 BCS National Championship, Alabama and LSU, were supremely talented. There are 22 players from those rosters in the Ultimate ESPN 300, including 14 for the Crimson Tide.
12.
Quite possibly the most important part of the recruiting process for coaches is keeping the best at home. Well, only 137 of the Ultimate ESPN 300 stayed in state to play college football. One important aspect of this stat is that not every player on the list had the option to stay in state.
11.
The teams from the 2014 BCS title game are well represented on the list. Twenty-three players from Florida State and Auburn make the list, with the Seminoles accounting for 18.
10.
NCAA FBS single-game-rushing record holder
Samaje Perine
enters the list after a freshman season of 1,713 yards and 21 touchdowns for the
Oklahoma Sooners
. His 427 yards against Kansas in 2014 broke the record a week after
Melvin Gordon
had set a new mark.
9.
The 2011 class is special. That class has 41 players in the Ultimate ESPN 300, including 12 first-round NFL draft picks with more possible, including
Marcus Mariota
,
La'El Collins
and
Shane Ray
. The Sunshine State led the way in the 2011 class with first-round picks:
Sammy Watkins
,
Teddy Bridgewater
,
Ryan Shazier
,
Ha Ha Clinton-Dix
and
Kelvin Benjamin
with more possible to be added to the list.
8.
As expected, the state of Florida leads the way with 52 players on the list. Texas is second with 35, and California third with 28. Georgia follows with 18. Only 23 of the 52 from the Sunshine State stayed in state for college, but 19 of those players left college with national championship rings.
7.
There are 15 players who signed with USC on the list, including
Jarvis Jones
, who would later transfer to Georgia. That's the most from a school on the list that hasn't won a national championship since 2006. Notre Dame is second on that list with 12.
6.
There are six quarterbacks from the state of Texas in the Ultimate ESPN 300, and only one was recruited heavily and offered early by the University of Texas:
Matthew Stafford
. The five who weren't offered or recruited as quarterbacks by the Longhorns:
Andrew Luck
,
Robert Griffin III
,
Johnny Manziel
,
Ryan Mallett
and
J.T. Barrett
.
5.
There are 17 players on the list recruited by Urban Meyer. The impressive list includes Tim Tebow and
Percy Harvin
, along with
Joey Bosa
,
Ezekiel Elliott
and
J.T. Barrett
from 2015 national champion Ohio State.
4.
St. Thomas Aquinas in Fort Lauderdale, Florida, is the high school with the most players on the list with six. That includes NFL running backs
Gionvani Bernard
and
James White
, who were members of the same backfield.
3.
Nick Saban has recruited 25 players to Alabama on the prestigious list. Of those 25, 11 have been first-round NFL draft selections, with that number to hit 13 in a couple of months with
Amari Cooper
and
Landon Collins
projected to be 2015 first-rounders.
2.
South Florida's Dade and Broward counties are the two most talented counties in the country that neighbor each other. To illustrate that fact, 22 members of the Ultimate ESPN 300 are from the otherworldly talented counties, including five NFL first-round draft picks, with that number expected to jump to seven or eight in April. Add in Palm Beach County, which neighbors Broward, and that number jumps to 29 of the 300, including seven first-round picks, with that number sure to hit double digits in two months. If one is a Miami (Fla.) fan, time to turn away, as only four of the 22 from Dade and Broward counties played for the Hurricanes.
1.
How do you win three national championships in six years? Jimmys and Joes are where it must begin, and Alabama has the most of any school on the list with 27. More than half of the 27 have been or will be first-round draft selections after this year's draft. Both Florida and Florida State have 18 apiece on the list.
February, 16, 2015
Feb 16
10:00
AM ET
Four consecutive
No. 1-ranked recruiting classes

. Arguably the best head coach in the country. And a schedule that's manageable by most any standard.
For Alabama, the baseline is New Year's. With everything already going right for Nick Saban's Crimson Tide, there are no excuses not to make one of those top six games. Read more from
this series here
.
Even with a giant question mark at quarterback, the offense should be fine.
Derrick Henry
(6-3, 240 pounds) will be among the biggest and most intimidating feature backs in America, and he'll have the benefit of the lightning quick
Kenyan Drake
to spell him off the bench. Pick a couple blue-chip receivers from the cupboard, throw in a senior center (
Ryan Kelly
), a franchise left tackle (
Cam Robinson
) and the return of X's and O's aficionado Lane Kiffin, and you're looking at a solid recipe for success.
[+] Enlarge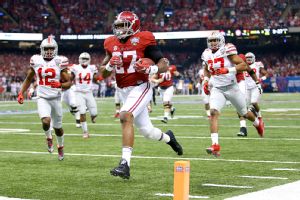 Chris Graythen/Getty ImagesDespite some questions at the quarterback position, Alabama's offense should still take off with the likes of Derrick Henry in the backfield.
Sure, the defense needs to pick up the slack after surrendering an average of 33 points and 493 yards in its final three games, but that porous finish should only serve as motivation through a long offseason. The defensive line, led by standouts
A'Shawn Robinson
and
Jarran Reed
in the middle, is poised be the best in the SEC. Losing
Trey DePriest
's experience at middle linebacker hurts, but getting
Reggie Ragland
back might actually to be an upgrade in terms of athleticism. And while the back end is shaky without
Landon Collins
, there are plenty of four- and five-star prospects at defensive back to fill the gaps.
But the biggest help to the defense and its ever-important battle for field position could be punter
J.K. Scott
, who routinely booms the football with his pendulum-like leg.
Outside of personnel, though, maybe the most compelling case for Alabama making a New Year's Six bowl is its schedule. While we don't want to venture into the territory of counting wins in February, it's worth noting that the Tide get Ole Miss, Arkansas, Tennessee and LSU at home. And while opening against Wisconsin in Dallas, might appear like a tall task, don't forget the Badgers have a new coach and are now without their best player in
Melvin Gordon
.
So with so much going in its favor, it's really not as simple as reaching next year's Sugar, Fiesta, Rose or Chick-fil-A bowls for Alabama.
If anything, the mantra continues to be what it's always been: playoff or bust.
What could go wrong
Blake Sims
was a nice story. The way the former running back came out of nowhere to win the starting job at quarterback as a fifth-year senior last season was an excellent story, in fact.
But you can't bank on a Blake Sims fairytale happening every year. And if we're looking at it with a critical eye, doesn't Sims winning the job reveal some flaws in the other QBs on the roster? It wasn't as if Sims had a particularly strong or accurate arm, remember?
So why did
Jake Coker
not beat him out? What about
Cooper Bateman
,
Alec Morris
or
David Cornwell
, for that matter? If they weren't good enough then, what makes us believe they'll be good enough now? The only thing that's changed since then is time and the addition of early enrollee
Blake Barnett
.
If experience doesn't dramatically improve the quality of Alabama's QBs or Barnett doesn't prove to be a rare exception as a rookie, the offense could be in shaky hands.
But even if you set that aside and assume the QB position will be fine, how confident should you be in the defense's ability to make stops? Because while the line is in good shape and the linebacking corps should to be fine, there's not a lot to feel good about when it comes to the secondary.
While there's plenty of talent to draw upon at DB, the same was true last season and it didn't exactly work out. Outside of cornerback
Cyrus Jones
, good luck figuring out who starts in 2015. Do you put a shaky
Eddie Jackson
back at corner? Do you bank on
Tony Brown
's improvement as a sophomore? Or does
Marlon Humphrey
come in as a redshirt freshman and set the world on fire?
Another year in the system might give guys such as
Hootie Jones
,
Maurice Smith
and
Geno Smith
the experience to become impact players, but that's not a sure thing. We might drool over the signing of
Kendall Sheffield
,
Minkah Fitzpatrick
and
Deionte Thompson
, but expecting contributions from true freshmen in Saban's complex system is a lot to ask.
If someone doesn't step up in the secondary and a quality QB doesn't emerge, Alabama could be in trouble.
February, 14, 2015
Feb 14
9:30
PM ET
COCOA BEACH, Fla. -- The Pylon 7-on-7 2015 tournament at Cocoa Beach High drew many of the top prospects in Florida and beyond in the 2016, 2017 and even 2018 classes Saturday. More than 15 skill players in the ESPN Junior 300 competed throughout the day, including nationally-recruited juniors such as
Trayvon Mullen
,
Dredrick Snelson
and quarterback
Ervin "Woody" Barrett
.
Here is the latest on several Sunshine State prospects.
Eli Stove, WR
ESPN Junior 300 ranking:
No. 80
To continue reading this article you must be an Insider
February, 13, 2015
Feb 13
10:52
AM ET
In each of the past six years, during the offseason, I have come up with a projected top 10 of the preseason AP poll on my website. I do this by taking several different factors into account:
• Most AP voters usually look at a couple of criteria when they evaluate a team for the upcoming season. First, they look at the number of returning starters the team has coming back, particularly at the offensive skill positions. A team that returns its starting quarterback and a combination of its running backs and wide receivers, for example, is often more highly regarded than a team that loses its starting quarterback but returns its entire offensive line. Similarly, a team that returns most of its starters on offense but loses a lot of its defensive playmakers is usually more highly regarded than a team that returns a majority of its defensive starters but loses its skill-position players on offense.
• Another factor weighed heavily is the performance of the team in its bowl game, which is undoubtedly the lasting image voters carry with them during the offseason. A team coming off a huge bowl win is usually more highly regarded than a team that is coming off a bowl loss, regardless of what its schedule looks like for the upcoming season.
• Also weighed heavily is where the teams finished the previous year. Naturally, teams that finished somewhere in the rankings (top 25) have a much better chance of being preseason top 10 than a team that finished unranked last year.
Using these factors -- and a few others, such as strength of schedule -- I project the preseason AP top 10 every year at the start of February, which in most cases is six months in advance of the poll's release. Now, as you all know, a lot can happen between February and August, including injuries, suspensions and transfers. But over the past six years, I have been very successful using this method, correctly projecting 56 of 60 teams (93.3 percent), including a perfect 10-for-10 again in 2014.
Before I go into the rankings, it is important to make the point that this is NOT my preseason top 10 for next season, but rather what I am projecting the AP top 10 will look like to start the season. If you're familiar with my college football preview magazine, you will know that every year I tend to go out on a limb for a couple of teams in my top 10, and this year will be no different.
Now, let's take a look at this year¹s projected preseason AP top 10 teams.

1. Ohio State Buckeyes

To continue reading this article you must be an Insider
February, 13, 2015
Feb 13
9:00
AM ET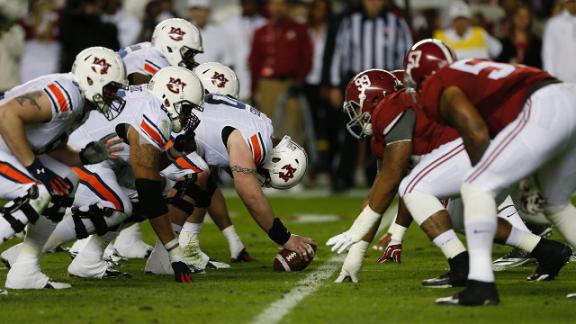 It was another incredible year of recruiting in the SEC. More than one-third (117 prospects) of the ESPN 300 signed with SEC schools. The conference also signed 12 of the 20 five-star prospects, and 218 four-star prospects. All but two of the 14 SEC schools finished in the top 40 of the final ESPN class rankings. Here is a closer look at the 2015 recruiting cycle in review.
To continue reading this article you must be an Insider
Tessitore assesses candidates in SEC West
SEC SCOREBOARD
Thursday, 9/3
Saturday, 9/5