December, 3, 2013
Dec 3
11:09
AM ET
By
Brian Fremeau
| Football Outsiders
A thrilling Iron Bowl victory by Auburn on Saturday shook up the BCS standings and left only two undefeated AQ teams at the top of the polls. The Florida State Seminoles and Ohio State Buckeyes appear to control their own destiny as they prepare for their respective conference championship games. But three SEC teams -- Auburn, Alabama and Missouri -- also are ranked in the top five in the BCS standings and are in position to seize a title-game bid if the Seminoles and/or the Buckeyes are upset.
Those five teams are all ranked highly in our latest FEI ratings, although not in the same pecking order as the BCS standings. FEI is an opponent-adjusted drive-based system designed not to select a national champion but rather to measure overall team efficiency, the success of a team maximizing its own possessions and limiting the possession success of its opponents.
Team records are a function of performance and the strength of the opposition faced. Ohio State ranks ahead of Auburn in our FEI ratings, for instance, but, if the two teams swapped schedules, they likely also would swap records. According to our data, the Buckeyes would be 11-1 against Auburn's schedule and the Tigers would be 12-0 against Ohio State's schedule. (It should be noted that, in this alternate scenario, Ohio State would still be ranked just ahead of Auburn according to FEI).
The possession efficiency data is also useful in projecting what might lie ahead for the remaining BCS title contenders. We compared each of the top five teams in the BCS against every team in the 2007 to 2012 seasons across five key measures -- opponent-adjusted offense, opponent-adjusted defense, special-teams efficiency, field-position advantage and overall FEI rating.
Which teams from the recent past are most similar statistically to the BCS front-runners, and where might each end up when the dust settles this weekend?
To continue reading this article you must be an Insider
December, 3, 2013
Dec 3
11:03
AM ET
By
Sharon Katz
| ESPN.com
Week 14 had two of the best finishes of the season as
Auburn
ran back a missed field goal to defeat
Alabama
and
Ohio State
stopped a two-point conversion attempt to beat
Michigan
.
With the help of ESPN's new college football metrics (see explanations
here
), ESPN Stats & Information takes a look back at the best performances of Week 14 and the decisions of Nick Saban and Brady Hoke at the end of those games.
Best individual performances
•
Brett Hundley
had a career-high 98.4 opponent-adjusted QBR in
UCLA's
35-14 win at
USC
. Hundley converted 7-of-13 third-down plays, including four rushes for 57 yards and a touchdown.
•
David Fales
posted a 97.3 opponent-adjusted QBR in
San Jose State's
62-52 upset of
Fresno State
. Fales passed for a school-record 547 yards and was responsible for seven touchdowns. He is the fourth FBS player in the last 10 seasons to throw for at least 500 yards, account for seven touchdowns and not turn the ball over in a game.
•
Nick Marshall
had a 95.0 opponent-adjusted QBR in Auburn's 34-28 win against Alabama. Marshall ran for 99 yards and one touchdown against the Tide, the most rushing yards Alabama has allowed by a quarterback in the Nick Saban era.
•
Braxton Miller
posted a 95.0 opponent-adjusted QBR in Ohio State's 42-41 win at Michigan despite completing just six passes. Miller ran for 153 yards and three touchdowns on 16 rush attempts, resulting in a 98.2 Total QBR on running plays. Since the middle of October (Week 8), Miller has the second-highest opponent-adjusted QBR in the nation behind
Jameis Winston
.
Best team performances
Offense
- San Jose State added 36.7 expected points on offense in its 62-52 win against Fresno State. The Spartans scored a touchdown on seven of their first 10 drives, including six passing touchdowns longer than 15 yards. They are the ninth team in the last 10 seasons to have six passing touchdowns of this distance in a game.
Defense
–
Houston
held
SMU
(which had previously averaged 30.8 points per game) scoreless in its 34-0 win on Friday. The Cougars forced four turnovers and held the Mustangs without a first down on 53.3 percent of their drives. As a result, Houston added 33.3 expected points to its net scoring margin on defense, its most defensive EPA in the last 10 seasons.
Special Teams
– Auburn added 11.5 expected points to its net scoring margin on special teams, the highest special teams EPA allowed by Alabama under Nick Saban. The Tigers were the beneficiaries of four missed field goals, a blocked punt and a missed field goal returned 100 yards for a game-winning touchdown. Additionally, Auburn punter
Steven Clark
had two punts downed at the 1 yard line.
Analysis of Saban/Hoke decisions
Saban's decision to attempt a 57-yard field goal:
Given that Nick Saban was trying to win the game in regulation, he made the correct decision in attempting the long field goal. In the last 10 seasons, teams have made 28 percent of their fourth-quarter go-ahead field goals from around this distance and none had been returned for a touchdown by the opponent prior to this game. In comparison, only two percent of all Hail Mary attempts have been converted at the end of games. So, Alabama had a better chance of winning by attempting a long field goal than by throwing a Hail Mary, or kneeling and going to overtime.
Hoke's decision to attempt a two-point conversion:
With an extra point pending and Michigan trailing 42-41, Brady Hoke elected to attempt a two-point conversion with 32 seconds remaining. Based on analysis of similar situations, Hoke slightly increased Michigan's chance of winning with this decision. Had the Wolverines tried a point-after kick, they would have had about a 44 percent chance of winning. With the Wolverines going for two points after the touchdown, they had about a 45 percent chance of winning based on the success rates of similar situations in the past 10 seasons. Given the Wolverines' status as a heavy underdog against their rival, Brady Hoke's decision should not be questioned.
December, 3, 2013
Dec 3
11:00
AM ET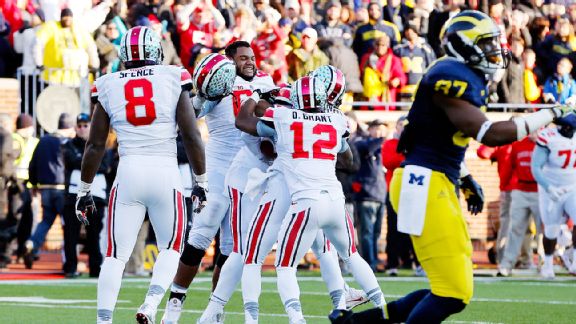 Gregory Shamus/Getty ImagesOhio State players celebrate stopping Michigan's fourth-quarter two-point conversion attempt.
For four months, ESPN The Magazine will follow the march to the Vizio BCS National Championship, moment by moment, culminating in our "Story of the Season" double issue Dec. 27. Every Tuesday, Mag senior writer Ryan McGee will pick the previous week's biggest moments and tell you why they'll have the most impact on potential BCS title matchups. If you disagree, send a tweet to @ESPNMag and tell us why your moment matters more, using the hashtag #StoryoftheSeason. Who knows? Your moment (and tweet) might just end up in our issue.
"We play the game to win ..."
Brady Hoke's vocal cords sounded even more tired than usual as the Michigan coach stood at the podium on Saturday afternoon, moments after losing to archrival Ohio State 42-41. His answer was a response to the first question he faced -- and the one he'll keep hearing as his Wolverines trudge through their mid-tier bowl and into a cold Ann Arbor winter.
Going for two instead of kicking the PAT and likely heading to overtime? At home? In the Big House? With your offense performing at a season-best clip? With a chance to shoot down the Buckeyes' chances at a BCS title?
That's the scenario Hoke had presented to his seniors on the Michigan Stadium sideline. He'd left it up to them, though he was quick to absorb all the criticism after the final outcome. They wanted to go for it. So did he. Besides, they had the go-to, two-point play already dialed up. Always did.
From the moment quarterback
Devin Gardner
stepped into the shotgun position, the play -- like so many others during his amazing 451-yard passing and five-touchdown day -- had looked perfect. In reality, it looked too perfect. On both sides of the football.
Michigan initially lined up with two receivers stacked on the right side, led by 6-foot-5
Devin Funchess
, who had just hauled in the touchdown pass that set up the situation. On the left side was the sneaky Wes Welker-like possession artist, 5-10
Drew Dileo
. But before the snap, Dileo went into motion and jogged over to take his place behind Funchess and
Jeremy Gallon
, who already had 175 yards receiving on the day.
The moment Dileo took his position, Ohio State corner
Tyvis Powell
had to catch himself. He didn't want to reveal what had just popped into his mind, like some sort of heavenly transmission from Woody Hayes ... or at the very least a current OSU position coach.
"It's all thanks to Coach Coombs," said Powell, referring to the Buckeyes' demonstrative secondary coach, Kerry Coombs. Head coach Urban Meyer had let Michigan get set for the two-point try and called a timeout to discuss what the coaches had just seen. Coombs approached Powell, a redshirt freshman, and told him that there was no doubt the Wolverines would run one of two plays. It would either be a speed option, which had already led to a pair of Michigan touchdowns. Or the play would come out of a triple stack ... with Dileo, Powell's man, hiding in the third slot ... as the primary receiver ... running something short ... likely a pivot ... at the goal line ...
"It all started happening just like we'd seen on film and how the coaches said it would," recalled Powell, still sounding a little stunned by it all. But he didn't believe that's how the actual play would go down. It was too obvious, right? Wrong.
Even though Ohio State had four defensive backs guarding three receivers, it was a designed mismatch by Michigan. At the snap, Funchess made contact with Powell and was supposed to either screen him out or draw him into the back of the end zone to help the waiting safety. But Powell didn't bite. His eyes never left Gardner, whose eyes never left Dileo. Funchess had a size mismatch in the back of the end zone, and if Gallon had run a true out instead of a halfhearted block attempt on OSU corner
Doran Grant
, he would've had room to work on the outside half of the end zone.
But Gardner fired the ball into unexpected double coverage, where Powell stepped in at the goal line and made the interception. (Had he not, Grant was also waiting in front of Dileo, having slipped Gallon's shove.)
"He really threw the ball," said Powell, admitting he was "shocked" to see it come his way. "That's their bread-and-butter play on two-point conversions. All week that's what we practiced."
Michigan, too.
A couple of hours later, Powell was still gripping the Michigan football in his arms on the team bus. He was still grinning. But now he was watching Alabama play at Auburn on the bus TV. Like the game he'd just played in, this one seemed destined for overtime.
"There was a shot ... we had the wind behind us ..."
If Hoke's voice was hoarse, then Nick Saban's was like the inside of a gravel truck. Like Hoke, the Alabama coach had rolled the dice. Unlike Hoke, Saban's situation -- a 57-yard field goal with no time remaining -- seemed risk-free. Miss and go to overtime.
But what happened next --
Chris Davis
' impromptu 109-yard kick return for the game-winning touchdown -- has sparked college football conversations in every corner of America, from stuffed-shirt academia to Barbara Walters and Whoopi Goldberg on Monday morning's "The View."
It should be no surprise that perfection-obsessed Saban routinely addresses that very situation in practice, despite the fact that Saturday night's Miracle on the Plains was, according to the NCAA, only the fourth time a game has ended on a similar play. It should also be no surprise that Saban reminded his team as they took the field (like the Michigan two-pointer, after a timeout) to keep an eye on Davis, who was lining up in the end zone, more than half a field away from the line of scrimmage.
Of course, Auburn practices that play, too. No matter how rare it might be. That was made obvious by the beautiful wall of blockers that lined the left sideline to plow the road for Davis. At least three pancake blocks took place in Davis' line of sight. But while all that was going on, we all should have been paying more attention to the cornerback's left foot, which came within inches of stepping over the line and out of bounds at the 35 ... the 40 ... the 45 ... and pretty much every yard in between.
It was so close that a group of bitter Tide fans posted what they believe is photographic evidence that he did step out of bounds, along with a
petition to have overtime played.
"It was closer than I thought," admitted Davis, who carried his game-winning football all the way home, just like Powell. "But I knew I was in."
Davis' white-line ballet was reminiscent of so many other moments in so many games this season that came down to inches. (Remember that missed Missouri field goal against South Carolina in double-OT? How much more interesting would the SEC title game be had it gone the other way?)
But as Lou Holtz reminds us each weekend on "College Football Final," every team that wins a national championship has to have one game in which they're lucky. Auburn now has two. Ohio State, on the other hand, hasn't needed much this year, at least not until Michigan.
Still, for these two teams to meet in Pasadena, Calif., in January, it will require ... lots more luck. They'll need Duke (perhaps second only to Auburn when it comes to 2013's out-of-nowhere teams) to work some magic in Charlotte, N.C., against Florida State. And they'll both need to make sure they aren't on the wrong side of luck in their respective conference title games.
But regardless of what happens this weekend, Tyvis Powell and Chris Davis will never have to buy another lunch in their home states. And Powell will always have his football. Davis is still searching for his.
He dropped it after crossing the goal line during the celebration. The last time anyone saw it, it was at the feet of fellow defensive back
Robenson Therezie
, one of Davis' escorts into the end zone, who stood over it signaling for a touchdown as the crowd started flooding the field. At one point it was thought that it had been retrieved and Davis was even handed a football that was believed to be the one. But it was not.
A crystal football in January would be a nice substitute.
Why we love college football. #StoryOfTheSeason pic.twitter.com/qqqidLG1Op

— ESPN The Magazine (@ESPNMag) December 1, 2013
December, 3, 2013
Dec 3
8:00
AM ET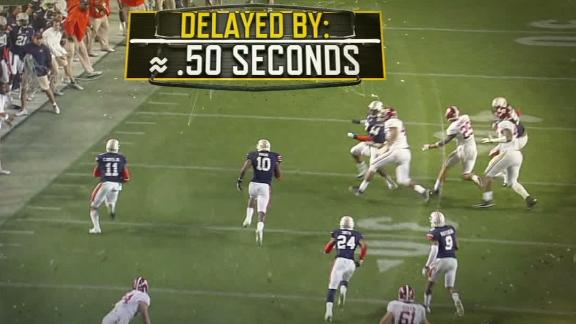 AUBURN, Ala. -- For a team of destiny, the play that would come to define Auburn's magical season started off in an ironic way as it looked as if luck might not be on its side after all. The clock read all zeroes in Jordan-Hare Stadium as Alabama running back
T.J. Yeldon
went out of bounds, sending a tie game into overtime. But officials double-checked, reviewed the play and put one second back on the clock -- just enough time for the top-ranked Crimson Tide to run one final play.
[+] Enlarge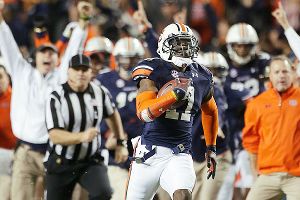 AP Photo/Dave MartinChris Davis' TD return was like something out of a video game, according to Tide QB AJ McCarron.
Alabama coach Nick Saban, staring his own date with destiny and a third straight national championship in the eye, didn't think to throw a Hail Mary pass. According to ESPN Stats & Information, the odds of
AJ McCarron
heaving a touchdown in that situation were 2 percent. Better to give
Adam Griffith
a shot at splitting the uprights from 57 yards out, Saban thought. He'd seen his freshman kicker hit it from 60 yards plenty of times, and
Cade Foster
, Alabama's regular place-kicker, had already missed three field goals.
Disgruntled, Auburn coach Gus Malzahn thought to himself, "You know, we haven't had a whole lot of luck with reviews anyway," as Alabama took the field for its shot at a game-winning field goal. Malzahn toyed with telling his special-teams coach to go for the block, but he knew he wanted to call a timeout to ice the kicker and survey his options anyway. Better go a different route, he decided.
"If they missed the kick, what was the worst that could happen?" said Auburn safety
Jermaine Whitehead
.
"Put CD back there," Auburn defensive end
Dee Ford
recalled hearing Malzahn say during the timeout, pulling safety
Ryan Smith
off the return in favor of
Chris Davis
, a speedy cornerback and part-time punt returner. Malzahn called Davis, a senior who has gone through his fair share of ups and downs, "a champion" in his book. On Saturday night with the wind blowing in his face and a title hanging in the balance, Davis was.
Cody Mandell
fielded the snap and dropped the ball into place for Griffith, who swung his right leg through cleanly. The ball floated on line for what seemed like an eternity to the orange-and-blue-clad fans standing in their seats. Then it dipped short and to the right, where Davis waited with open arms.
"I knew when I caught the ball I would have room to run," Davis said.
Alabama simulated field goal returns like Davis' every Friday during the season. "We just imagine," said tight end
Brian Vogler
, who is responsible for sealing the outside edge of the line during kicks. But there's never anyone actually there to return the ball, he said.
"You practice it so many times and when it happens you're not expecting that kind of speed," Vogler explained.
Davis started to his right up the center of the field before turning back left toward the sideline. He knew if he got to the edge the bigger guys for Alabama wouldn't be able to catch him. Vogler, all 6-foot-7 and 260 pounds of him, took a bad angle, leaped at Davis, and missed.
"I was running down the field expecting a blindside [hit] out of nowhere," Vogler said, "and when I finally got the opportunity, I was kind of in shock I hadn't gotten laid out."
Adrian Hubbard
, Alabama's 252-pound linebacker, didn't stand a chance either as he whiffed on the tackle.
Smith, in a stroke of irony, was a key part of the return as he laid out Alabama offensive lineman
Arie Kouandjio
.
"I made a good block," Smith said excitedly. "Y'all go check it out."
Mandell, the punter and holder, got one hand on Davis' jersey, but wound up only touching history rather than stopping it. Davis never broke stride as he passed Mandell and found daylight, running freely into the end zone for the game-winning score before being hugged to the turf by his own teammates as the stadium erupted in applause.
"When I looked back, I said I couldn't believe this," Davis said. "When I was running, I said, 'God is good.'"
It was like it happened in slow motion, McCarron said. His helmet on and his emotions hidden from view, he sprinted off toward the locker room as fans rushed the field.
"It's almost like a video game," McCarron said. "That's something you do on 'Madden.'"
"I was just shocked," said Alabama linebacker
C.J. Mosley
. "I didn't think that big of a play would have been caused by that."
Said Auburn defensive end
Nosa Eguae
: "I lost it. I ran and found myself on the other sideline and got to see some of my guys and hugged them. It was just an amazing experience, one that will last me for a lifetime."
The floodgates opened and the field at Jordan-Hare Stadium became a crazed sea of blue and orange fans celebrating what will go down as the most memorable Iron Bowl in history. An Auburn staffer would have to save Malzahn from being hit by Aubie, the Tigers' crowd-surfing mascot, during a postgame interview.
[+] Enlarge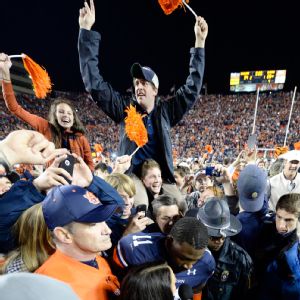 John David Mercer/USA TODAY SportsThe game over, the field turned into one very large celebration.
"I don't think I've ever been part of a sequence like that with so much on the line in that part of the game," Malzahn said, not realizing he had won the Western Division until the moment he shook Saban's hand after the game.
Meanwhile, Davis was being suffocated at the bottom of a dog pile.
"It was hard to breathe," he said. "I knew it was coming. What else do you expect when you're doing something like that? I'm proud of my teammates. It might seem like I'm the hero in this moment, but they also are too -- offense and defense and special teams. We fought together and we got the W."
"If you weren't there," Ford said, "I can't really explain it to you."
It took at least an hour for players and fans to finally leave the field. The cleanup of their celebration would continue into Monday. Toomer's Corner remained painted white with rolls upon rolls of toilet paper prior to Malzahn's news conference that day at 11:30 a.m. In fact, most of the campus remained covered in the tissue.
When Davis went to his geology class that morning, he received a standing ovation. It was like a scene from a movie: the team that couldn't win a single conference game and fired its entire staff from the season before, suddenly beats the top-ranked team in the country and its star player goes to class to a round of applause.
Davis and his teammates better get used to it. This is their legacy now. No one who saw what happened that Saturday night in Jordan-Hare will ever forget.
December, 3, 2013
Dec 3
5:30
AM ET
The Early Offer is RecruitingNation's regular feature, giving you a daily dose of recruiting in the mornings. Today's offerings: Maybe the Bangles knew what they were talking about when they sang about how Mondays can be manic. The news that USC had hired Washington coach Steve Sarkisian shook up the recruiting world from coast to coast, and it's just the first major bombshell that college football's silly season will produce.
To continue reading this article you must be an Insider
December, 2, 2013
Dec 2
7:19
PM ET
Associated Press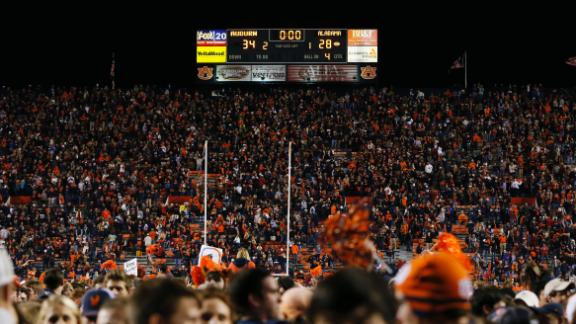 BIRMINGHAM, Ala. -- A woman charged with killing a fellow Alabama fan after the end of last weekend's Iron Bowl was angry that the victim and others didn't seem upset over the Crimson Tide's loss to archrival Auburn, said the sister of the slain woman.
Adrian Laroze Briskey, 28, was charged Monday with murder in the killing of 36-year-old Michelle Shepherd. Briskey, of Birmingham, was released Tuesday on $75,000 bond. She didn't return a message seeking comment.
Hoover police Capt. Jim Coker said both Birmingham women were Alabama fans and at the same party for the annual game between intrastate rivals. With no time left on the clock, Auburn returned a missed Crimson Tide field goal more than 100 yards for a 34-28 victory, dashing any hopes of Alabama playing for a third straight national championship.
The victim's sister, Neketa Shepherd, said she witnessed the killing and had no doubt it was about football, even though it was unclear to investigators whether the violence was motivated by the game.
"That's one of the things we are investigating," Coker said Monday.
Neketa Shepherd said Briskey flew into a rage when she saw the sisters and others joking that the Crimson Tide's loss wasn't as bad as if the NBA's Miami Heat had lost a game.
"She said we weren't real Alabama fans because it didn't bother us that they lost. And then she started shooting," Shepherd told The Associated Press.
Shepherd said she and her sister were invited to the party by a mutual friend who also invited Briskey. About two dozen people were on hand.
December, 2, 2013
Dec 2
5:42
PM ET
[+] Enlarge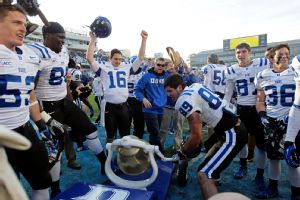 AP Photo/Gerry BroomeA Duke win over Florida State on Saturday would sound the toll for BCS upheaval.
Contrary to earlier reports from the sideline, Ohio State guard Marcus Hall was not gesturing toward the BMOC as he left the Big House field this past Saturday.
PREGAME WARMUP
The last time Ohio State, Michigan State and Duke all were involved in the national championship equation was 14 years ago.
It was the called the 1999 Final Four.
Otherwise, you've never seen these three programs in the same bunch formation when it comes to impacting, deciding or even winning a BCS championship.
But here we are in the first week of December and Duke -- Duke! … the same program that was picked to finish last in the ACC's Coastal Division, that didn't squeeze into the AP top 25 poll until two weeks ago (its first ranking since 1994) -- could grab the BCS Championship by the facemask and rattle its cage.
And if the Dookies get an assist from Sparty, another no-show in the preseason top 25, then we could be looking at a national title game that nobody thought possible a few days ago:
Auburn versus Alabama -- The Sequel.
It will never happen, right? No. 1-ranked Florida State will easily defeat underdog Duke in the ACC Championship Game this Saturday in Charlotte. And No. 2-ranked Ohio State will dispose of underdog Michigan State in the Big Ten Championship Game this Saturday in Indianapolis.
December, 2, 2013
Dec 2
12:00
PM ET
The regular season is over, and 12 of the SEC's 14 teams are trying to figure out how to get to next year's SEC championship game. Ten teams are bowl eligible, which leaves four downtrodden SEC teams trying to pick up the pieces and figure out how to simply win games.
December, 2, 2013
Dec 2
11:36
AM ET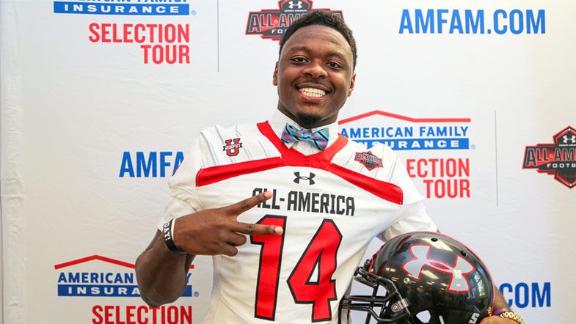 Laurence Jones
, the nation's No. 22 player in the ESPN 300 and No. 2 safety, strengthened Alabama's No. 1-ranked recruiting class by committing to the Crimson Tide over LSU on Monday.
How does Jones fit with Nick Saban's squad, and what does it mean to its recruiting class? Let's break it down.
What he brings
: Range, instincts and physicality that will allow for him to play off and in coverage, as well as close to the line of scrimmage in a hybrid safety/OLB role. He possesses college-ready size and would be expected to contribute as a freshman, especially on early run-down situations and in the kicking game.
To continue reading this article you must be an Insider
SEC recruiting rewind: Dec. 9