April, 6, 2014
Apr 6
10:14
PM ET
TUSCALOOSA, Ala. -- Alabama cornerback Eddie Jackson has a torn ACL and will miss the remainder of spring practice, sources told ESPN.
Jackson started four games and appeared in seven contests as a true freshman last season, racking up 19 tackles, an interception and two fumble recoveries. The Florida native and former four-star prospect had been working with the first-team defense for much of the spring before injuring his knee during a scrimmage on Saturday.
Alabama coach Nick Saban said Jackson hurt his knee in a "noncontact" situation where he jumped for the football and "came down funny."
"Eddie Jackson had an MRI Sunday which confirmed that he had ligament damage in his knee that required surgery," Saban said Monday in a statement. "... We are confident Eddie will make a full recovery and be ready to go this fall."
It is expected to take Jackson about five months to recover, which could cause him to miss preseason camp. If Jackson is unable to return for the regular season, a medical redshirt is possible.
Jackson came on strong early last season, starting in Week 3 against Colorado State and then again the following week against Ole Miss, where he made three tackles and broke up two passes. He started a third straight game before seeing his playing time dwindle down the stretch.
However, with the benefit of bowl practice, he returned to the starting lineup against Oklahoma in the Allstate Sugar Bowl.
April, 6, 2014
Apr 6
9:00
PM ET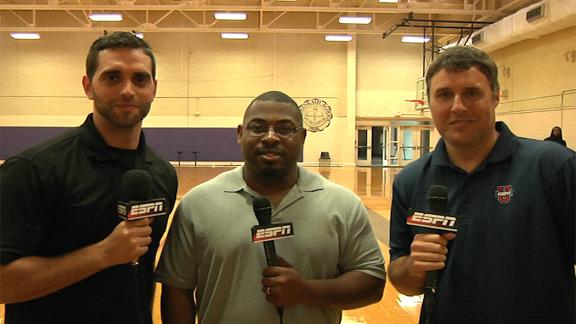 HOUSTON -- On-again, off-again rain couldn't put a damper on the Houston Nike Football Training Camp on Sunday, and three athletes -- safety
Deionte Thompson
, tight end
Jordan Davis
and offensive tackle
Jerry Tillery
-- earned golden tickets to compete at The Opening this summer in Oregon.
Seven players left The Kinkaid School practice facility with MVP honors at their respective positions: Skyler Bonneau (quarterbacks),
Remus Bulmer
(running backs),
Gary Haynes
(wide receivers),
Erik McCoy
(offensive linemen),
Nikolas Daniels
(defensive linemen),
Spencer Choka
(linebackers) and
Deontay Anderson
(defensive backs).
April, 4, 2014
Apr 4
12:00
PM ET
LSU and Ole Miss will hold their spring games on Saturday, with six more teams set to play their games next Saturday. As spring practice winds to a close at many of the schools around the conference, let's take a look at some of today's headlines.
April, 4, 2014
Apr 4
10:00
AM ET
Brandon Allen
.
Nick Marshall
.
Bo Wallace
.
That's it. That's the list.
Only three quarterbacks who started double-digit games last season return to the SEC this fall, and one of them isn't even guaranteed to be a starter.
[+] Enlarge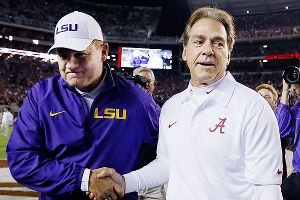 Kevin C. Cox/Getty ImagesLes Miles and Nick Saban are in no hurry to name their starting QBs for the fall.
Everywhere you turn in this league, there's a quarterback competition underway, from Alabama to Georgia, Arkansas to Kentucky, LSU to Texas A&M.
Maty Mauk
is surely the presumptive starter at Missouri, but even he's not a sure thing. Gary Pinkel says he wants competition, never mind that there were times when Mauk looked better than former starter
James Franklin
.
But not every coach in the SEC approaches the quarterback position the same way. A quick glance across the league shows a variety of opinions about how to pick a starter.
Mark Stoops is the most urgent-minded coach of the bunch, and given the inconsistency Kentucky had at quarterback last season, it's easy to understand why. Entering his second season, Stoops said: "I'd love to come out of spring with a clear-cut starter." That means everyone is in the mix.
Maxwell Smith
can't practice while he recovers from shoulder surgery, but
Jalen Whitlow
,
Reese Phillips
,
Patrick Towles
and even true freshman
Drew Barker
are in the hunt.
Barker, a four-star prospect according to ESPN, "has a very good opportunity to take control of it," Stoops said, praising his maturity for such a young quarterback.
"He's a guy [who] has high expectations [for] himself, and he's OK with the pressure that comes along with playing that position," Stoops said. "He's excited about the opportunity, and I'm excited to see what he can do."
Bret Bielema isn't outwardly putting a timetable on anything at Arkansas, but he's encouraging everyone to compete. Allen started 11 games last season but was up and down, with 13 touchdowns and 10 interceptions.
Bielema was about as no-nonsense as any coach gets about the situation.
"In theory, the first time we yell out for the [first string, Allen is] going to step out there," Bielema said before the start of spring practice. "But really, in our program, the competition brings the best out of people.
"So B.A. is going to be the first guy in with the ones, but there will be other guys who get opportunity," he continued. "Who is able to produce and run the offense effectively and who gives us the best chance to win next year's opener against Auburn will be at that position."
Similar to the case at Kentucky, Bielema isn't counting out his true freshman.
Rafe Peavey
, another highly-regarded four-star prospect, is going to be allowed to sink or swim. Bielema loves his talent and praised him as a "football junkie." But he's not pampering the rookie.
"It's no different between the right tackle or the quarterback or the safety," Bielema said. "It's all about what a freshman can handle, how they adjust to adversity and how they enjoy success.
"The quarterback gets a lot of attention. They're usually really pretty, really smart, and everybody likes them. But in reality, they're like everybody else. Those that play well will play and those that don't will sit."
While Bielema and Stoops are anxious for a battle, other coaches around the league are more inclined to sit back and wait.
[+] Enlarge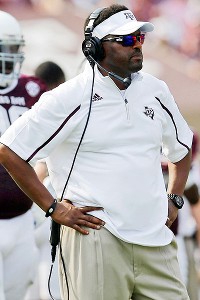 AP Photo/David J. PhillipWho will replace Johnny Manziel as Texas A&M's QB? Kevin Sumlin isn't saying anything right now.
LSU coach Les Miles said he has a good sense of the competition between
Anthony Jennings
and
Brandon Harris
. "But it always plays out," he said, harkening back to when Matt Flynn and JaMarcus Russell duked it out eight years ago. It looked like Flynn had the job in hand after winning a bowl game and watching Russell come into camp out of shape in 2006. But Flynn's body faltered down the stretch and Russell kept going, eventually winning the job.
"I want all the quarterbacks to know that it's going to be given to no one," Miles said. "[It's] earned by the one that plays."
Texas A&M and Alabama are taking similar approaches to replacing
Johnny Manziel
and
AJ McCarron
. In fact, both Kevin Sumlin and Nick Saban are somewhat defiant about holding the cards close to the vest.
Sumlin has gloated before that when people assumed
Jameill Showers
would beat out Manziel in 2013, "I didn't name a starter [after spring]; y'all did."
So while we watch
Matt Joeckel
,
Kenny Hill
and
Kyle Allen
jockey for position, don't expect a starter to be named until close to the season.
Saban, for his part, doesn't want to hear anything about it. His quarterback competition is essentially on hold until the fall, when Florida State transfer
Jacob Coker
arrives. Before the start of spring practice, Saban laid out his plan, saying, "Let me be very clear about this: We're not going to be in a hurry to decide who the quarterback is."
"You guys are going to ask me at least 1,000 times between now and the first game who's the first-team quarterback," he added, "and I'm telling you right now you're probably going to get a 1,000 'We're going to wait and see.' "
The only place in the SEC that doesn't have to be patient in the matter is South Carolina. Coach Steve Spurrier named
Dylan Thompson
the starter well before spring practice ever began.
Replacing
Connor Shaw
won't be easy, but Spurrier said that Thompson was the guy for the job, no question. A fifth-year senior with plenty of in-game experience, Spurrier didn't have a doubt in his mind.
"I didn't know there was any question about it," he said. "Someone said, 'You're just naming him the starting quarterback?' Well, I just said, 'Of course I am. Why wouldn't we?' "
Spurrier did it his way. Saban and Sumlin are doing it theirs. Stoops is anxious, and Bielema and Pinkel are only interested in the competition.
Recruiting a quarterback is the furthest thing from an exact science. Finding out who's ready to start is even more inexact.
This might be the season of new quarterbacks in the SEC, but everywhere there's a different sense of which way the wind blows.
April, 4, 2014
Apr 4
9:00
AM ET
TUSCALOOSA, Ala. --
Alabama
isn't in a rush to find its starting quarterback for the 2014 season.
That might sound a little crazy when you consider the high expectations the Crimson Tide will undoubtedly face yet again this fall, but it really isn't the biggest concern for a team that was an improbable play away from repeating as SEC West champs and possibly playing in its third straight BCS title game last season.
[+] Enlarge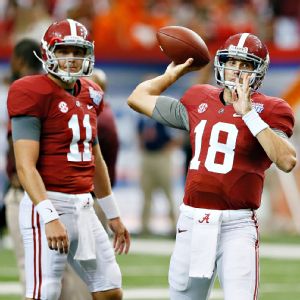 Kevin C. Cox/Getty ImagesAlec Morris (left) and Cooper Bateman (right), along with Blake Sims, have separated themselves a bit in Alabama's QB derby.
While the team can wait it out on finding a starter -- especially with former Florida State quarterback
Jacob Coker
enrolling
after spring
-- Saturday's scrimmage could go a long way to finding a little separation with the five guys currently vying for the position.
"Obviously, the first scrimmage kind of shows you who wants to really work for the spot and who doesn't," Crimson Tide center
Ryan Kelly
said about the quarterback competition.
With Coker not on campus, Alabama has turned to
Blake Sims
,
Cooper Bateman
,
Alec Morris
,
David Cornwell
and
Parker McLeod
to share reps under center this spring. Sims, a redshirt senior, is the only one with any experience, but he changes the offense some with his mobility. While all five bring something different to the table, the plan for Alabama will be to run more of a pro-style offense. Sims might be the odd one of the bunch when it comes to that, but new offensive coordinator Lane Kiffin's arrival shouldn't change the basic structure of an offense Sims is very familiar with.
Alabama has only had a handful of scrimmages, but players have been at it since pre-spring 7-on-7s began. For wide receiver
Christion Jones
, each QB has taken advantage of every rep afforded to him since last season ended. For now, Jones said Sims, Bateman and Morris have stood out from the bunch.
"Everyone has their time where they struggle a little bit, but those three guys are the ones who overcome," Jones said. "Even when they mess up it's not really a letdown or they get frustrated. Those three take the coaching better. The other guys still have to learn to take the coaching and take the criticism and make yourself better out of it."
We'll be able to see a little more of that Saturday. The guys who have prepared the most and bought in more will stand out. They won't have to be perfect, but they'll have to show that they've learned something in the last few weeks.
In a perfect world for the Tide, a starter would be in place and this team could worry more about developing, but trying to find a new signal-caller means that players around them are having to do more. Linemen are having to adjust to five different patterns and cadences from each quarterback, while receivers are dealing with five different releases, five different throwing styles and five different versions of in-huddle terminology.
Jones said it isn't exactly ideal, but it is making receivers better, as they are having to concentrate even more on what they are doing in practices to accommodate for each passer.
"This spring, it's more of focus level because we don't know who the starting quarterback is," he said. "Either one of those five guys could be it. We have to be on our Ps and Qs and we have to be at that right spot at that right time. We don't know what these guys are thinking right now. It makes you always be ball-ready because you never know what can happen."
Saturday will be a good stepping stone for each quarterback, but it won't necessarily decide anything. To Kelly, it doesn't matter who is under center, he's going to be expected to excel. That's how elite programs roll, and Kelly wants each quarterback he's working with to understand that.
"It doesn't matter who's in that position, you're going to be held to the standard that you're going to do your job the best you can," Kelly said. "Otherwise, if all five guys aren't on the same page then something bad is going to happen."
April, 3, 2014
Apr 3
12:15
PM ET
It's not exactly like the fall, but at least we'll have some football (spring) games this weekend. Let's take a quick spin around the SEC and see what's happening as the final spring scrimmages approach at some of the league's schools.
April, 3, 2014
Apr 3
9:00
AM ET
TUSCALOOSA, Ala. -- It started out innocently enough as Alabama coach Nick Saban ribbed the media on Monday about returning from spring break. He acted surprised when one reporter said she didn't take the time off, noting sarcastically how, "You really appreciate them when you work hard."
The jab was obvious as he gave a sly look around the room as if to say that hard work was a foreign concept to the press. One writer quipped, "Why are you looking down here?"
A smirk from Saban: "I don't know. I'm wondering."
The playful mood lasted a hiccup longer and then it was back to business as Saban said how his players were starting to worry too much about the depth chart, followed by a news flash: "We really don't have a depth chart."
[+] Enlarge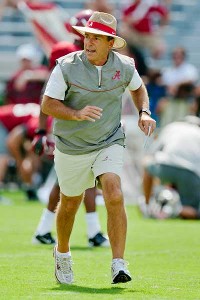 Kevin Liles/USA TODAY SportsFighting expectations and speculation during spring practice is nothing new to Nick Saban.
Later on came the question that really set him off.
Saban can talk about X's and O's all day. The problem is there's hardly anything concrete about spring practice. There's no game film, no stat book, no players of the week. Without a depth chart, there's only who's getting better and who's getting worse. And without results, that's a matter of opinion.
But Saban isn't fond of conjecture. He's even less fond of appearances, apparently.
"What does appear mean?" Saban said, responding to a question about the perceived depth of his defensive line. "It just means you've dreamed about it and it's there?"
A quick clarification before he fired back: "What it looks like on paper? We've never seen these guys play or seen them take on an SEC lineman. But it appears."
He continued, putting a point on the matter: "That's how we form public opinion because something appears to be that way and everyone believes it."
Such was a sneak peek into the mind of Saban. There's no room in there for what could be. There's a standard he's trying to uphold and anything that takes him away from that -- say, speculation -- isn't tolerated.
It's an odd conundrum to have a program that loathes appearances while at the same time being such an object of speculation. It's like a celebrity shunning the paparazzi. You want to avoid them but they're always there.
Alabama is nonetheless wrought with pressure from the outside. Inside the bubble of the football offices it's all business, but everywhere around there's immense expectations and boundless conjecture about wins, losses, championships and future stars.
Saban might claim to not have a depth chart, but every day is a constant battle for fans to determine who the starters will be on a team that loses two starting offensive linemen, two veteran receivers, two high-profile linebackers and three key contributors in the secondary. Oh, and there's also the small matter of
AJ McCarron
leaving a vacancy at starting quarterback -- just don't ask Saban about that race because he'll tell you to hold your horses and be patient.
Take for instance the question about the defensive line. Saban might not see his group in a good light today, but when you look at the depth Alabama has up front on defense, it's scary.
A'Shawn Robinson
was one of the most impressive rookies in the SEC last season. He's joined by
Jonathan Allen
, another true freshman who was promising off the bench.
Brandon Ivory
is back at nose guard,
Darren Lake
returns as his backup and there are a number of options to bring in the rotation around them.
Dalvin Tomlinson
, when healthy, has the potential to be a game changer. And we haven't even mentioned the return of former Freshman All-SEC choice
D.J. Pettway
and the eventual arrival of five-star
Da'Shawn Hand
.
List those names all you want, just don't expect Saban to sing their praise. It's simply not his way to buy into the hype.
"I'm not satisfied with the way any of them are playing, if you want to know the truth about it," Saban said of his D-line. "They've got to be more aggressive, physical, play with better leverage, hold the point better, rush the passer better. I didn't think that last year was one of our best years up front, and even though we have a couple new players competing and Dalvin Tomlinson back, I think all of them have a ways to go. A'Shawn Robinson has a lot of ability, but I think we need to get him in shape and he's got to play with better focus and intensity down in and down out to be more consistent.
"So defensively we have a ways to go to improve to get back to the level and our standard of what we like to play here."
Though sometimes it feels like Saban is constantly fighting with reporters, he's not. The speculation extends far beyond the walls of the media room and the pages of newspapers. It's all the talk that drives Saban nuts because it has a way of reaching his players, inflating their egos long before they've earned their stripes. Remember Saban's comment about the depth chart? That came unsolicited, a direct shot at his team one floor below in the locker room.
What Saban is fighting is the standard. While others are taking time off, he's busy worrying about the next move, not the next question about how things appear.
How it looks on paper? He'd rather see how it looks with his eyes, and then he'll get back to you.
April, 2, 2014
Apr 2
12:45
PM ET
Alabama
running back
Altee Tenpenny
is due in court in North Little Rock, Ark., on April 10 to face charges for possession of a controlled substance.

Tenpenny, a former four-star recruit who was primarily a backup and special teams player for the Crimson Tide as a freshman last season, received a citation from North Little Rock Police at 2:21 a.m. on March 24. According to the incident report, Tenpenny was pulled over for having a faulty license plate light when the officer smelled what he believed to be marijuana.
The report states that Tenpenny told the officer he "smoked a blunt" with his older brother an hour earlier. The officer asked if there was any additional marijuana in the car and Tenpenny said there was not, according to the report. The officer searched the car and found a substance he suspected to be marijuana. The "whole drug quantity" was reported as two grams, to which Tenpenny allegedly said he was the owner, the report states.
Tenpenny was later released by officers, was given a citation and told to report to court on April 10 at 9:30 a.m.
"I'm aware of the situation with Altee and this is obviously not the kind of behavior we expect from our players," Alabama coach Nick Saban said. "In addition to any punishment he may receive from a legal standpoint, we will have some internal discipline as well as education that he will be responsible for working through."
The sophomore tailback has participated in spring practice at Alabama since the incident. He is expected to be one of a handful of backups to incumbent starter
T.J. Yeldon
in 2014.
April, 2, 2014
Apr 2
9:00
AM ET
AUBURN, Ala. -- There wasn't much fire in the voice of Gus Malzahn as he stood at the podium following Auburn's first scrimmage of the spring on Saturday. All told, it was a pretty boring scene. No injuries to report. No position changes to speak of. Only one turnover and a handful of big plays. His team had to move indoors because of the threat of rain, but as he said, "It didn't bother us a bit."
Watching Malzahn, you got the feeling he wasn't playing coy. This was the difference a year makes. Last spring was an anxious time for Auburn. There was no quarterback, no depth chart and no sense of expectations. Malzahn and Co. were simply trying to pick up the pieces left behind from the previous staff.
This spring has a much different tone. All one needed to do was look at the long-sleeve, collared shirt Malzahn wore after practice, the one with the SEC championship patch on its left shoulder. The building phase of Malzahn's tenure is over. The questions are much fewer this year than the last. And with that, the sense of urgency is far more diminished.
"We've got more information now, so we're not as urgent," Malzahn said. "We pretty much know a lot about the guys returning."
Not every coach in the SEC is in the same enviable position.
"You've also got to keep in mind next year," Malzahn said. "You want to get your guys as much reps as you can moving forward for next year, because that's what it's all about ... but I would say, probably, for the most part, that we've got guys in the position that we want them to be in."
Not every coach can afford to look ahead this spring. Not every coach has the time.
With that said, let's take a look at the programs with the most to accomplish this spring, ranking all 14 schools by the length of their to-do list.

Vanderbilt:
Any new coaching staff has the most work to do, from determining the roster to installing new schemes on both sides of the ball. Throw in a new starting quarterback and the
raid James Franklin put on the recruiting class
, and it adds up to an enormously important spring for Derek Mason.

Kentucky:
Mark Stoops has done a lot to turn around the culture at Kentucky. In fact, veteran defensive end
Alvin Dupree
said it feels like more of a football school now
. But the fact remains that Stoops has a very young group to deal with, so inexperienced that true freshman
Drew Barker
is in contention to start at quarterback.

Tennessee:
The Vols are facing many of the same
challenges in Year 2 under Butch Jones
. He has brought in a wealth of talent, including a remarkable 14 early enrollees. Considering the Vols lost all of their starters on both the offensive and defensive lines, there's a lot of work to do.

Florida:
The hot seat knows no reason. All is good in Gator Land right now as a new offense under a new coordinator is installed, injured players -- including starting quarterback
Jeff Driskel
-- return, and expectations creep upward. But a bad showing in the spring game could change the conversation quickly for Will Muschamp.

Arkansas:
There's
nowhere to go but up for Bret Bielema
after a 3-9 finish his first year with the program. The good news is he has young playmakers on offense (
Hunter Henry
,
Alex Collins
, etc.). The bad news is the quarterback position is unsettled and his defensive coaching staff is almost entirely overhauled from a year ago.

LSU:
A depth chart full of question marks is nothing new for Les Miles, who has
endured plenty of underclassmen leaving for the NFL
before. But missing almost every skill player on offense (
Zach Mettenberger
,
Jeremy Hill
,
Odell Beckham
,
Jarvis Landry
) hurts. He has to find replacements at several key positions, and we haven't even gotten into the defense.

Texas A&M:
Cedric Ogbuehi
can replace
Jake Matthews
at left tackle. The combination of
Ricky Seals-Jones
and
Speedy Noil
can replace
Mike Evans
at receiver. But
who replaces the legend of Johnny Football
? Determining a starter under center won't be easy, but neither will be overhauling a defense that was far and away the worst in the SEC last year.

Georgia:
Jeremy Pruitt
should breathe some new life
into a struggling Georgia defense. Having
Hutson Mason
to replace
Aaron Murray
helps as well. But
off-the-field problems continue
to plague Mark Richt's program. With stars such as
Todd Gurley
, the players are there. The pieces just need to come together.

Missouri:
After 13 seasons in Columbia, Gary Pinkel knows how to handle the spring.
Maty Mauk
appears ready to take over for James Franklin at quarterback, and even with the loss of
Henry Josey
, there are still plenty of weapons on offense. The real challenge will be on defense, where the Tigers must replace six starters, including cornerstones
E.J. Gaines
,
Kony Ealy
and
Michael Sam
.

Alabama:
The quarterback position won't be settled this spring, so we can hold off on that. But still, Nick Saban faces several challenges, including finding two new starters on the offensive line, replacing
C.J. Mosley
on defense and completely overhauling a secondary that includes
Landon Collins
and a series of question marks.

Ole Miss:
Hugh Freeze has his players. Now he just has to develop them. With emerging stars
Robert Nkemdiche
,
Tony Conner
,
Laremy Tunsil
,
Evan Engram
and
Laquon Treadwell
, there's plenty to build around. Include a veteran starting quarterback in
Bo Wallace
and there's a lot to feel good about in Oxford.

Mississippi State:
It's a new day in the state of Mississippi as
both state institutions have high expectations this spring
. Mississippi State returns a veteran defense, a solid offensive line and a quarterback in
Dak Prescott
who could turn into a Heisman Trophy contender. A few months after Dan Mullen was on the hot seat, he now appears to be riding high.

Auburn:
Losing
Tre Mason
and
Greg Robinson
hurts, but outside of those two stars, the roster remains fairly intact.
Nick Marshall
figures to
improve as a passer
, the running back corps is well off, and the receivers stand to improve with the addition of
D'haquille Williams
. The defense should get better as youngsters such as
Montravius Adams
and
Carl Lawson
gain experience.

South Carolina:
Steve Spurrier would like to remind everyone that
Dylan Thompson
was the only quarterback in the country to beat Central Florida last season. Sure, Thompson wasn't the full-time starter last year, but he has
plenty of experience and is ready to be the man
. Throw in a
healthy and eager
Mike Davis
and an improving set of skill players, and the offense should improve. The defense has some making up to do on the defensive line, but there's no reason to panic, considering the rotation they used last year.
April, 1, 2014
Apr 1
2:00
PM ET
Throughout this recruiting cycle, RecruitingNation will profile a number of ESPN 300 prospects in the 2015 class, including an inside look at the prospect, his recruitment, a scouting report and what college program could benefit when he ultimately makes his decision.
HOOVER, Ala. -- When
ESPN Junior 300
star
Jauan Jennings
visited Auburn this past weekend, he had the opportunity to take in the Tigers' first scrimmage of the spring and watch quarterback
Nick Marshall
, a player not so different from himself.
Marshall played quarterback in high school but signed with Georgia as a defensive back. After committing a violation of team rules, he was dismissed from the team and ended up in junior college. One positive that came from the incident was that it gave Marshall an opportunity to return to the position he loves, and now he's one of the top returning signal-callers in the SEC.
"He came from not playing quarterback at first," Jennings said. "He was a defensive back. He did a lot of things I want to be able to do. A lot of coaches don't feel I can play quarterback. A lot of fans don't feel I can play quarterback. I want to say, 'I told you so.'"
To continue reading this article you must be an Insider
April, 1, 2014
Apr 1
12:00
PM ET
College football's most high-profile head coach weighed in on the Northwestern players' bid to unionize yesterday. Nick Saban said after practice at Alabama that
players should be compensated and deserve a voice
in what happens. Are we seeing the beginning of a movement, the start of a never-ending legal process or both? Whatever it is, it's moving along as the
next step is Washington, D.C
.
April, 1, 2014
Apr 1
10:00
AM ET
TUSCALOOSA, Ala. -- Like a lot of position battles going on during spring practice in Tuscaloosa, Ala., -- hello, quarterbacks -- the starting five up front for the
Crimson Tide
likely won't be decided anytime soon.
[+] Enlarge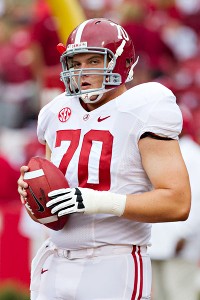 Wesley Hitt/Getty ImagesCenter Ryan Kelly is one of three returning starters for Alabama. The Tide is auditioning several youngsters at left tackle and right guard.
Sure,
Ryan Kelly
returns at center,
Austin Shepherd
is back at right tackle and
Arie Kouandjio
remains at left guard, but that's only slightly more than half the equation. The second half of the Kouandjio Bros., left tackle Cyrus, is off to a carer in the NFL, as is veteran right guard
Anthony Steen
, who racked up more than 35 starts in his career. Replacing those two stalwarts won't be an easy, much less quick, task.
The good news for Alabama is that this isn't the first time coach Nick Saban and his staff have been through this. Just last season offensive line coach Mario Cristobal had the unenviable job of replacing three All-SEC caliber linemen:
Barrett Jones
,
Chance Warmack
and
D.J. Fluker
. And do you remember what happened? The 2013 line actually one-upped the previous season's line in some respects. The line allowed six fewer sacks and also saw its rushes for zero or negative yards -- a good indicator of the push a line generates -- fall from 91 to 79, vaulting the Tide to fourth nationally in that category.
But, of course, there's room to improve. Just ask Kelly.
"Communication is the most important thing," he explained. "All 11 guys have to be on the same page. ... It starts with the offensive line. One of the things we're trying to emphasize is get up to the ball, get down, get set. Last year, look at it, we were running the clock down to five, four seconds every time. The faster that we can get to the line, get set, let the quarterback look at what he's got to look at, the more time we can have and we're not rushing to make calls last-minute."
Does that mean Alabama is turning to a more up-tempo offense under new coordinator Lane Kiffin? It depends whom you ask.
Brian Vogler
, a senior tight end, said that he thought the offense would stay similar to years past, relying on the "mauler" style it was founded on. Kelly, however, asked the question: "Anytime we can run more plays it's good for an offense, right?" He said he anticipates "a lot" of change this season, including new plays and new formations.
"Obviously, we want to practice faster every day," Kelly continued. "As as the spread offense, stuff like that, it's still the same. We've just been wanting to get more reps in practice. Obviously, reps make us better."
More repetitions will be key for the newcomers on the offensive line, not to mention the communication among all five potential starters.
Through the first four practices, the first-team line features Kelly, Shepherd and Kouandjio at their usual positions, with
Alphonse Taylor
added at right guard and
Leon Brown
at left tackle. The two combined for 17 appearances and one start last season, the lone start coming from Brown when Shepherd was lost for the Sugar Bowl against Oklahoma.
Though he can play inside, Brown might be better suited at tackle given his length (6-foot-6, 313 pounds).
Taylor, however, has all the earmarks of a punishing guard. At 6-5, 335 pounds and a low center of gravity, he looks vaguely like Warmack when he shuffles upfield in running situations.
"If you look at how big he is, he's actually really athletic, can bend really well and he's got a lot of power," Kelly said. "Another young guy, doesn't have a whole lot of experience, obviously, playing games. But I think this spring's going to be really big for him."
But the most intriguing prospect of all has to be
Cameron Robinson
, a five-star prospect and the No. 1 offensive lineman in the 2014 class. He has everything you look for in an offensive tackle: size, strength, athleticism. The 6-6, 325-pound freshman from Louisiana has shown some growing pains since enrolling in January, but he has also shown flashes of the talent that made him such a coveted recruit.
With a spring to learn, an offseason to prepare and an open position at left tackle to compete for come fall, don't sleep on Robinson.
"He's got a lot of ability," Kelly said of Robinson. "He's a big guy, can bend really well, long arms. Obviously he came into an offense where we kind of transitioning into a new style or new plays, stuff like that. So he never really learned the old one. Anytime you're coming from high school to college it's going to take a while to kind of get acclimated to it. Older guys have been helping him along the way, kind of showing him the ropes, because it can be eye-opening at times, coming from high school to college."
Saban called Robinson "a young guy that's learning and getting better every day." But along the same line, Saban said of the entire line that he wasn't "satisfied with where they are, but pleased with the progress they're making."
In other words, the line is very much an ongoing process.
"The depth chart means nothing right now," Shepherd said. "The depth chart won't mean anything until we play West Virginia."
March, 31, 2014
Mar 31
8:42
PM ET
TUSCALOOSA, Ala. -- Nick Saban believes that players deserve a seat at the table when determining the future of college football.
Fresh off the heels of last week's ruling that Northwestern football players qualify as employees of the university and have the ability to unionize, Alabama's coach chimed in with his thoughts on the matter, saying how he's long been an advocate of players' rights.
"I've always been an advocate of players being compensated the best that we can to help them," Saban told reporters following practice on Monday night. "Whatever the NCAA rule is and whatever they decide to do, I've always been an advocate of the player and the quality of life that a player has. I think that having a voice in what happens, I think, is something that the players probably ought to have."
Saban, however, said that all is not what it seems.
The coach of four national championships and 33 NFL draft picks took care to point out how schools aid in each player's development, noting how Alabama invests in "quality support staff to help players that may have a chance to go on and play at the next level."
Saban asked the question that's troubled so many in the course of the Northwestern case: "Not just the value of the scholarship, what's the value of him getting an education?"
"On a per-player basis, what we invest in the player to try to help them be successful," he said. "We spent like $600,000 last year on personal development programs -- all things that directly affect the player having a chance to be successful. I can't even tell you what our academic support budget is, trying to invest in a player and what is the value of him getting an education and graduating from school here?"
March, 31, 2014
Mar 31
2:20
PM ET
We hope you're grabbing a late lunch and can catch up on the goings on around the SEC. Unfortunately we slept in a bit -- we blame the weekend's fantastic college basketball action -- and we're running just a touch behind. So without further delay, here's some reading material for your day.
Blue Chip Battles: ESPN 300 Update
SEC SCOREBOARD
Thursday, 8/28
Saturday, 8/30
Sunday, 8/31