December, 31, 2013
12/31/13
7:55
PM ET
Three days of practice are now in the books and overall execution was sharper as the players begin to move into final preparations for the Under Armour All-America Game on Thursday. The productivity of the players picked up as did the speed of the play, and they're continuing to think less and display their natural ability more. It was a physical day, with the pads popping and some big hits throughout the practice. Here are some of the highlights.
Top performers
To continue reading this article you must be an Insider
December, 31, 2013
12/31/13
4:54
PM ET
LAKE BUENA VISTA, Fla. -- The third day of practices for the 2014 Under Armour All-America Game, which will air live Thursday at 4 p.m. ET on ESPN, was full of entertainment. Players engaged in some back-and-forth trash talk, coach Deion Sanders gave some dance lessons, there was a special guest in attendance and a linebacker hit
Racean "Roc" Thomas
so hard he nearly broke his face mask. Here's a closer look at the latest news and notes from the third day of practice.
Talking the talk
[+] Enlarge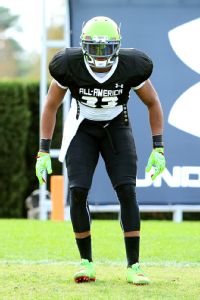 Miller Safrit/ESPNJamal Adams has drawn attention for his stellar play and unmatched trash-talking ability.
The top prospects in the country aren't just skilled on the field but also in the art of trash-talking. Many of the players took part in verbal intimidation during practice, but there were a few who seemed to excel at it.
Defensive back
Jamal Adams'
(Lewisville, Texas/Hebron) name has been brought up the most as one of the best trash-talkers so far. His persistence is what most, including receiver
Malachi Dupre
(River Ridge, La./John Curtis Christian), have noticed.
"Jamal is the best at it," Dupre said. "It doesn't get in my head anymore because I know him really well. He knows I got him a lot earlier. He's a good friend of mine and I know he's probably the best at it because he's nonstop. The more you do it, the more you get under people's skin."
Receiver
Braxton Berrios
(Raleigh, N.C./Leesville Road) agreed and added that he can't help but laugh when Adams starts talking.
Jabrill Peppers
(Paramus, N.J./Paramus Catholic) was often opposite Adams on the field and was brought up as another excellent trash-talker. He isn't as constant as Adams, but he let receivers know when they made a mistake.
"One particularly play, [Peppers] batted down a pass on
Ermon Lane
, and Jabrill and I were ready to get at it," Dupre said. "I never went up against him, though. Jabrill was just screaming, 'It's not going to happen' and 'Shutdown.'"
So you think you can dance?
Former NFL great Deion Sanders was known for his celebration dances, and on Tuesday, his team got a firsthand look at how to execute the patented high step and touchdown dance from Sanders' playing days.
Deion Sanders teaching touchdown dance moves #UAAllAmerica https://t.co/fsF7LRF0sB

— Tom VanHaaren (@TomVH) December 31, 2013
Sanders showed the players how to do both dances, then let them take a test run in case they score a touchdown in Thursday's game.
Players practicing like Neon Deion #UAAllAmerica https://t.co/IxE0Nr1KH8

— Tom VanHaaren (@TomVH) December 31, 2013
Decisions ahead
Seven of the nation's top prospects, including three five-star players, are set to make their decisions during the game. Here's a look at who will be making their decisions:
[+] Enlarge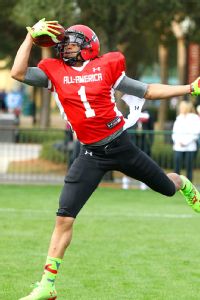 Miller Safrit/ESPNJalen Tabor is one of seven top prospects who will announce his college decision during the Under Armour All-America Game.
RB
Leonard Fournette
(New Orleans/St. Augustine): The nation's No. 1-ranked player will decide among LSU, Alabama and Texas.
WR
Travis Rudolph
(West Palm Beach, Fla./Cardinal Newman): A standout during practices this week, Rudolph will be choosing among Alabama, Florida, Miami, Tennessee, Auburn and Ohio State.
DT
Gerald Willis III
(New Orleans/Edna Karr): Ranked the No. 3 defensive tackle in the country, he will likely choose between LSU and Florida.
DB
Tony Brown
(Beaumont, Texas/Ozen): The five-star defensive back will choose between Alabama and LSU despite a shoulder injury that will could keep him out of the game.
DB
Jalen Tabor
(Washington, D.C./Friendship): The nation's No. 15 recruit Will choose between Arizona and Alabama.
S Jamal Adams (Lewisville, Texas/Hebron): The No. 23 player in the country will choose among Florida, LSU and Ole Miss.
ATH
Speedy Noil
(New Orleans/Edna Karr): Noil, the No. 8 player in the country, will choose between LSU and Texas A&M.
Top players
It's one thing for scouts and evaluators to give their opinions on the top performers, but it's always interesting to hear who the players themselves think are excelling on the field.
Here are a few of the Under Armour All-Americans talking about the best prospects they faced throughout the week:
RB
Bo Scarbrough
(Bradenton, Fla./IMG Academy): "
Marlon Humphrey
(Hoover, Ala./Hoover), I just think that he has great defense and you have to be really physical when you going against Marlon Humphrey.
JuJu Smith
(Long Beach, Calif./Long Beach Poly), you really have to come with it with JuJu because if you don't come with it, he's going to come with it."
[+] Enlarge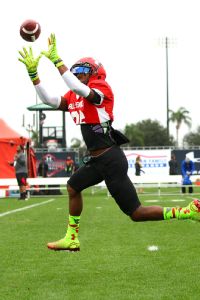 Miller Safrit/ESPNMarlon Humphrey has impressed his fellow All-Americans with his performance this week.
DB
Adoree' Jackson
(Gardena, Calif./Junipero Serra): "My best matchup, well all those guys are high caliber. From
Speedy Noil
to
[Chris] Godwin
,
[Cameron] Sims
, Travis Rudolph, everyone was good. I just like competition, and they're going to bring the best out of me and I'm going to bring the best out of them."
WR Malachi Dupre (River Ridge, La./John Curtis): "My whole defensive back corps was good. Jamal Adams, Tony Brown and Jabrill Peppers. All those guys were really good."
OL
Sam Mustipher
(Olney, Md./Our Lady of Good Counsel): "I went up against a lot of good guys. All those defensive linemen are good, but
Da'Shawn Hand
was one that stood out. He is quick off the ball and you can't fall for his hand fakes, the way he uses his hands."
RB
Dalvin Cook
(Miami/Miami Central): "Linebacker
Ronnie Clark
."
QB
Sean White
(Fort Lauderdale, Fla./University School of Nova South): "Oh man, I'd say Adoree' Jackson was probably the best. Him and
Tre' Williams
."
Smashmouth football
Lavar Arrington did everything he could to pump up his linebackers during Tuesday's practices with some not-so-gentle persuasion.
During inside run drills, Auburn linebacker commit Tre' Williams (Mobile, Ala./St. Paul's Episcopal School) flung his entire body at running back Leonard Fournette (New Orleans/St. Augustine) in a tackle attempt that drew a round of hoots and hollers from Arrington.
A few plays later, Florida State linebacker commit Kain Daub (Jacksonville, Fla./Sandalwood) got Auburn running back commit Racean Thomas (Oxford, Ala./Oxford) with a clean hit so hard he broke one of several clips on Thomas' face mask, causing it to hang from the helmet.
"That's the way to hit, Kain," Arrington said. "You broke his freaking face mask. Oh wow."
Special guest
There has been a special guest in attendance during the Under Armor All-America week of practices. John Shulby, a friend of 2012 Under Armour All-America tight end Colin Thompson, has Down syndrome and has been invited back as a special guest every year since Thompson participated in the game.
Shulby has been welcomed by the coaches, players and everyone else involved in the game. In fact, Shulby was asked by linebackers coach LaVar Arrington to assist in some individual drills.
John Shulby getting some 1-on-1 coaching from Lavar Arrington. #UAAllAmerica https://t.co/JdIiM4fKJo

— Derek Tyson (@DerekTysonESPN) December 31, 2013
Bill Shulby, John's father, said he and his son never expected to receive this much attention.
"From our perspective, we've never imagined John having this type of experience," Shulby said. "It's been wonderful and unbelievable. The players and coaches have included him in every day. The way LaVar Arrington included him this morning -- you could just see the joy in his face."
Jeremy Crabtree and Tom VanHaaren contributed to this report.
December, 31, 2013
12/31/13
4:33
PM ET
ESPN.com news services
[+] Enlarge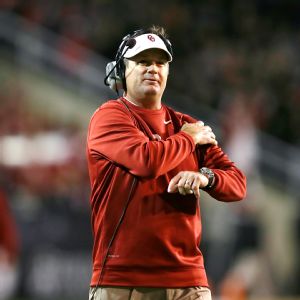 AP Photo/Tony GutierrezBob Stoops may be the winningest coach in Oklahoma history, but he's lost his last three games against SEC opponents and is 3-4 during his career against teams from that conference.
NORMAN, Okla. -- Gabe Lynn understands Oklahoma is a huge underdog against Alabama, but don't expect the senior safety and his teammates to be afraid of their Sugar Bowl opponent.
The No. 11 Sooners (10-2) have been peppered with questions asking if they're "scared" of the No. 3 Crimson Tide (11-1), who are 16-point favorites, since bowl selections were announced Dec. 8.
"Nobody's asked me that, but (they've) kind of talked about how they're such a great team or whatever (and) how we can't play with them," Lynn said. "I've heard stuff like that, but I haven't heard anything like, `We're scared of them.' Because we're definitely not scared of them."
Senior center Gabe Ikard still considers Alabama the "best team in college football," and now he'd love to shock the country.
"Alabama's been the king of college football, so they deserve all that respect," Ikard said. "Now it's up to us to go down there and play them well and go get our Sugar Bowl victory."
December, 31, 2013
12/31/13
1:00
PM ET
NEW ORLEANS -- When asked about his very first impression of Alabama linebacker
C.J. Mosley
, Oklahoma center
Gabe Ikard
was as concise as he could be, sporting an ear-to-ear grin.
[+] Enlarge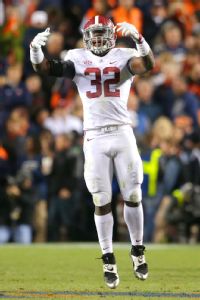 AP Photo/Dave MartinButkus Award winner C.J. Mosley leads Alabama in tackles, tackles for loss and quarterback hurries this season.
"That dude's good; very, very good," Ikard, an All-American, said.
"He's obviously the most talented linebacker in the country."
Mosley, an All-American himself and the recipient of the Butkus Award as the nation's best linebacker, is quiet and gentle away from the field but a thunderous wrecking ball on it. He can cover the field from side to side, drop back to defend the pass, rush the passer and stuff the run.
He's the heart of Alabama's staunch defense and enemy No. 1 for Oklahoma's offense.
Ikard and his teammates agreed they'll game plan to try and thwart Mosley's effectiveness in Thursday's Allstate Sugar Bowl. You'd think that added attention would put some pressure on Mosley, but this is nothing new for the nation's best.
"I can't really control that," Mosley said. "I just gotta do what I have to do and make plays when my name is called."
He's made plenty of plays this year for the Crimson Tide. A year removed from leading the Tide with 107 tackles while sharing time, Mosley leads Alabama this season in tackles (102), tackles for loss (nine) and quarterback hurries (eight) as a full-time starter at weakside linebacker. He's also defended five passes and forced a fumble.
"C.J. Mosley is probably the best player we've played against this year, probably one of the best I've played against in my four and a half years here," Ikard said.
"You always have to be aware of where 32 is at."
And that isn't easy to do. He's so active that one blink and you'll lose him. But spend too much time locking in on him and you'll lose focus, making it easier to blow an assignment. It puts many offensive players, especially offensive linemen, in precarious situations.
Like a playmaking receiver who can line up inside, outside or in the backfield, you have to account for Mosley in some form or fashion whenever he's on the field or he'll make you pay.
"Your eyes are just attracted to him just by the way he runs around and makes big plays," Oklahoma quarterback
Trevor Knight
said.
"We're going to account for him like anybody else, but he's definitely a force to be reckoned with. He's all over the field and he's a great leader out there."
Despite lining up in the middle of Alabama's defense, the Tide's defensive quarterback finds ways to get to the ball, no matter where it is. He's so dangerous because he's so multitalented. He pores over extra film for hours each week, while still trying to motivate and push his teammates with his relentless practice habits.
The quiet tone and smoother demeanor he shows the media is only a small part of who Mosley is. He's an animal on the field, and the Sooners understand the challenge of making him obsolete is quite an undertaking.
"He's a great player. He won the Butkus Award for a reason," Oklahoma running back
Brennan Clay
said. "He's fundamentally sound, he gets to the ball, his technique is great."
But for all the good Mosley does, he admits he isn't perfect. He's actually pretty goofy in the way he looks when he plays. Though he carries an impressive, stone-like 6-foot-2, 238-pound frame, his legs can get the best of him at times with his "unorthodox" running style that gives him some awkward-looking strides when he runs. His legs sometimes get caught under him, making sprinting tough.
It doesn't impede his pursuit too much, but it does receive a few giggles in the film room from his teammates.
"I've been doing that since high school," Mosley said with a laugh.
The Sooners might have 10 other players to account for when Alabama's defense takes the field, but everyone knows the Tide's defense goes the way of its commander. Mosley is the linchpin, and disengaging his playmaking ability will go a long way for the Sooners inside the Mercedes-Benz Superdome.
"That kid is the defense, if you ask me," Alabama safety
Ha Ha Clinton-Dix
said.
"It's been a blessing having him on this team, and I'm definitely going to miss him next year."
December, 31, 2013
12/31/13
1:00
PM ET
LAKE BUENA VISTA, Fla. -- Cornerback
Tony Brown
, No. 11 in the ESPN 300 and the No. 2 prospect in Texas, suffered an injury to his left shoulder on Tuesday and likely will not play in the Under Armour All-America Game.
Brown, of Beaumont Ozen High School, was hurt while reaching to defend a pass in a non-contact coverage drill. He received medical attention at the ESPN Wide World of Sports Complex and was transported from the practice facility by cart, his head buried in his hands and his arm in a sling.
The 6-foot, 196-pound Brown, rated as the No. 4 cornerback nationally, is scheduled to announce his college decision during the 4 p.m. telecast of the Under Armour Game Thursday on ESPN.
Brown made official recruiting visits to Ohio State, Alabama, Texas, USC and LSU.
He graduated from high school early in order to enroll in January at his college of choice. Brown is an elite sprinter and plans to compete in football and track and field in college.
December, 31, 2013
12/31/13
12:00
PM ET
The SEC bowl season kicked off Monday with a win by Ole Miss in the Franklin American Mortgage Music City Bowl. The league will now play five bowl games over the next two days so get caught up with the latest news and notes in the last lunch links of 2013.
December, 31, 2013
12/31/13
10:30
AM ET
NEW ORLEANS -- When No. 3 Alabama (11-1, 7-1 SEC) looks at its matchup with 11th-ranked Oklahoma (10-2, 7-2 Big 12) in Thursday's Allstate Sugar Bowl, the Crimson Tide can't help but see similarities to their last opponent.
You know, the opponent that derailed Alabama's national championship hopes with a miracle of a kick return and a run game that churned out nearly 300 yards on the Tide's vaunted defense.
Oklahoma, which is averaging 235.8 yards per game this season, isn't quite Auburn, but it does possess that pesky zone-read that gutted the Tide on the Plains. For all the inconsistency that Oklahoma has had this season on offense, Alabama isn't overlooking the Sooners' running game, which could pose quite the threat if it gets going early.
"It's very important [to stop the running run early] because once they get started, they keep on rolling," cornerback
Deion Belue
said. "They're a tough team as it is because their offensive line is big and strong. The thing is stop the run. If all else fails, we have to do that. If not, they can keep on rolling and then they have the option to run and pass any time they want to."
The thing with Oklahoma is that the offense can get a little complicated at times with quarterbacks
Blake Bell
and
Trevor Knight
sharing time. A starter hasn't even been announced for Thursday, but the good news is that both can run the zone-read, which has been pretty successful for the Sooners this season.
Oklahoma averages 7.2 yards per zone-read play when Knight is in and 4.5 yards per play with Bell, according to ESPN Stats & Information. Knight has gained 257 yards and is averaging 10.3 yards per play when he keeps the ball on zone-read rushes, which is the best among AQ players with at least 25 zone-read runs, according to ESPN Stats & Information.
So while the Sooners aren't sure who will be under center first, Alabama knows to expect plenty of running plays, regardless.
"We're just going to look at it as them trying to take our manhood, kinda, and try and down us a little bit [with their run game]," defensive lineman
Jeoffrey Pagan
said.
According to ESPN Stats & Information, Oklahoma has run 138 zone-read plays this season and averaged 18.7 zone-read plays (130 yards per game) in each of its last three games (all wins) after averaging 9.1 plays per game (47.2 yards per game) in its first nine games.
"We're going to be all right against it," linebacker
Trey DePriest
said. "We've repped it. That's the same offense the last we guys we played [ran]."
In Alabama's 34-28 loss to Auburn, the Tigers gained 270 rushing yards on 38 zone-read plays (7.1 yards per carry), including seven runs of 10 yards or more, according to ESPN Stats & Information. Alabama entered that game allowing 3.6 yards per rush on such plays, which second best in the SEC.
Senior running back
Brennan Clay
(913 yards) has been the bell cow back for Oklahoma, and while he's been very impressed with Alabama, he thinks Auburn's 296-yard outing against the Tide created a blueprint for how to hurt a rush defense that was allowing just 91 yards a game before facing Auburn.
"They're not the gods that everyone [claims] them to be," Clay said. "I feel like everyone was putting them on such a high pedestal, but anyone can get beat on any given day. It's whatever transpires in between those lines on the football field is what matters.
"If we come out being aggressive, being able to establish the run, make big plays, we'll be fine."
Establishing the run is easier said than done. Before Auburn, Alabama had allowed 100-plus rushing yards just four times and surrendered just five rushing touchdowns. With about a month to prepare, Alabama won't be startled by what it sees inside the Mercedes-Benz Superdome Thursday.
This isn't a defense prone to continuing its mistakes.
"They're just very technical. They don't make a whole lot of mistakes, they're really physical, they know how to make plays and stop offenses, especially high-powered offenses," Knight said. "That's been a staple of their program the last couple years."
What's also been a staple of this defense is winning up front. Getting the push up in the trenches will be important for both teams, and Oklahoma All-American center
Gabe Ikard
said winning there will dictate the game. Fail against their big uglies, and Ikard said Oklahoma is toast.
"They're extremely powerful and big up front -- biggest defense we've seen, most physical defense we've seen, best defensive we've seen all year," he said. "It's going to be a great challenge to control the line of scrimmage against those guys. They're D-linemen are bigger than anybody we've seen this year, and that includes Notre Dame.
"If we can't run the ball, it'll be a long day for us."
December, 30, 2013
12/30/13
9:30
PM ET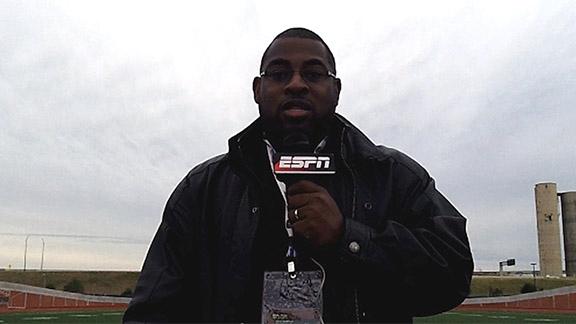 SAN ANTONIO -- Day 1 is in the books for the U.S. Army All-American Bowl. Here is Monday's notebook featuring some of the nation's top players:
Elam in his element; ready to choose UK or Bama
At 6-foot-6 and more than 350 pounds, ESPN 300 defensive tackle
Matt Elam
(Elizabethtown, Ky./John Hardin) is a big man, and he's used to being the bully on the football field.
Being at the U.S. Army All-American Bowl, however, has made him appreciate football at the next level. What he's heard all his life is true: The players are bigger, faster, stronger.
Or, as he was able to see firsthand during Monday's first day of practice, a combination of all three.
To continue reading this article you must be an Insider
December, 30, 2013
12/30/13
9:05
PM ET
[+] Enlarge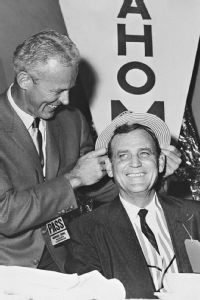 AP PhotoBud Wilkinson and Paul "Bear" Bryant were friends but coached against each other only twice.
Alabama and Oklahoma share passion and a rich legacy of success, not to mention a genuine respect for each other.
"They've looked at it as a great opportunity to see where we're at against the elite program in college football," Oklahoma defensive coordinator Mike Stoops said Sunday of his players. Stoops' counterpart at Alabama, Kirby Smart, said, "We've actually visited a lot of offseasons with their staff and their team."
When the No. 3 Tide and the No. 11 Sooners take the field Thursday night in the Allstate Sugar Bowl, it will be only the fifth time they have played one another in a history that spans 1,668 victories. Oklahoma has won 836 games, Alabama 832.
Alabama won six Associated Press national championships in the pre-BCS era. So did Oklahoma.
The Crimson Tide won three BCS titles, the Sooners one.
Oklahoma had Bud Wilkinson, Alabama had Bear Bryant.
Until Urban Meyer (.842) passed him late this season, former Sooners coach Barry Switzer had the best career winning percentage (.837) in FBS history (and if Ohio State loses the Discover Orange Bowl to Clemson, Switzer will be in first again).
December, 30, 2013
12/30/13
5:43
PM ET
After going 101-34 in the regular season (73-61-1 versus the spread) and picking winners for every bowl game so far, we've finally arrived at the final batch. Here are my score predictions for the fourth set of bowls that kick off on Wednesday, featuring all five BCS games and the other bowls that take place after Jan. 1.
For picks for the other Jan. 1 bowls, click here.
---
Wednesday, Jan. 1 at 5:00 p.m. ET, ESPN
The Spartans became the first Big Ten team since Michigan in 1948 to win all of their Big Ten games by double digits. The only thing missing from last year's Spartan team was solid quarterback play, and they got it this year from Connor Cook, who improved throughout the season and finished with a 20-5 TD-to-INT ratio. Running back Jeremy Langford also emerged as a key contributor, with 1,338 rushing yards. The nation's No. 1 defense allowed just 13 points per game, but will be without the services of their All-American linebacker Max Bullough.
To continue reading this article you must be an Insider
December, 30, 2013
12/30/13
5:26
PM ET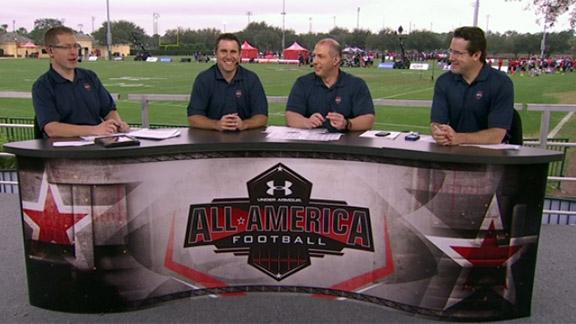 As expected, Day 2 at the Under Armour All-America practices were smoother, more concise and much more productive. The players are now starting to think less and play more. Natural ability is starting to come to the forefront, which allows for them to be more productive. There have been fewer dropped passes, fewer misses by the QBs and the offensive lines are starting to jell quicker than expected. Perhaps the most impressive thing about this group is there have not been any true letdowns. They have stepped up and been as advertised almost top to bottom for both squads. Let's hit the highlights of the day:
Top performers
WR Cameron Sims (Monroe, La./Ouachita Parish):
Sims might not wow anyone with his 40-yard dash time, but it may not matter. Sims is so similar to
Mike Evans
at Texas A&M. He just makes plays. He has extremely long arms and is outstanding when in contested matchups. The ball will look like it is uncatchable and then next thing you know he jumps out of nowhere, extends and makes a play and the defender is left scratching his head. When it comes down to it, the QBs for Team Highlight can trust that if they need to throw it up, Sims will make a play. The most basic thing about the position is catching the football and Sims has no problem doing that.
To continue reading this article you must be an Insider
December, 30, 2013
12/30/13
2:00
PM ET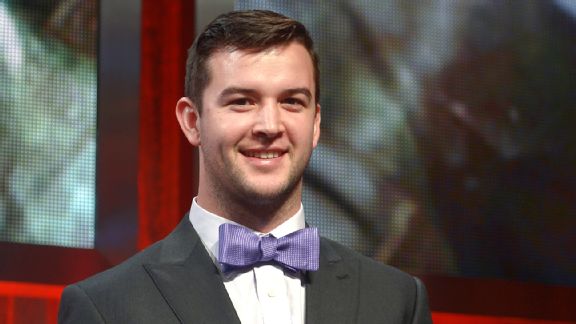 AP Photo/Phelan M. EbenhackAlabama quarterback AJ McCarron looks to put a bow on his career with win No. 37.
After all the big moments, big throws and, most importantly, big wins,
AJ McCarron
has one final game in what has been a record-setting Alabama career.
It's not the way he hoped to go out or the way he expected to go out.
One of college football's most accomplished winners, McCarron had his sights set on a third straight national championship. Instead, Alabama will face Oklahoma in the Allstate Sugar Bowl on Thursday.
As consolation prizes go, it's not a shabby one. But McCarron is accustomed to playing for the top prize only. In fact, this will be the first time as Alabama's starting quarterback that his season hasn't ended in the national championship game.
It will be odd, for sure, but his legacy is untouchable, and according to those who came before him, he has very few peers in a renowned Alabama quarterback fraternity that includes the likes of Joe Namath, Ken Stabler and Bart Starr.
"I don't think there are many quarterbacks in college football history, much less at Alabama, who have the resume AJ has," said Jay Barker, who quarterbacked the Crimson Tide to the 1992 national championship.
"There have been other quarterbacks at Alabama who've been a part of back-to-back championships, but I don't know if they've contributed as much as AJ has. He's been a leader. He's delivered in pressure situations. He's played through injuries. I think you have to put him at the very top."
[+] Enlarge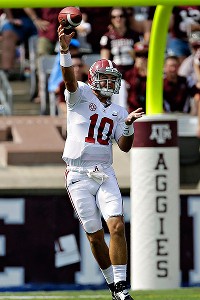 AP Photo/David J. PhillipAJ McCarron will be remembered as a tough competitor who always came up big in big games.
McCarron owns virtually every career passing record at Alabama, at least the major ones. And in most cases, it's not even close.
He'd already thrown more career touchdown passes than anybody at Alabama coming into this season. He heads into the Sugar Bowl with 75. Second place on that list is John Parker Wilson with 47.
McCarron also holds the school record for career passing yards (8,632), total offense (8,625 yards) and career completions (667).
In his last two seasons, he has thrown 56 touchdown passes and just eight interceptions. He led the nation in passing efficiency a year ago and is eighth nationally this season.
In truth, he has put up the kind of numbers that might not be touched at Alabama for a long time. But the numbers that mean the most to McCarron are 36-3, his record as the Crimson Tide's starting quarterback. The 36 wins are the most in school history and third most in SEC history.
"What he's been able to accomplish there is amazing," said Greg McElroy, who quarterbacked Alabama to the 2009 national championship. "It's been fun to watch. One thing I can say is that it's tough playing quarterback at Alabama, especially when you consider that AJ grew up in that state. The pressure can be overwhelming at times, but the level of consistency that he's sustained has been nothing short of spectacular."
His penchant for performing on the biggest stages has set him apart, whether it was his clutch drive in the final minutes at LSU last season, his four touchdown passes in the BCS National Championship last season or his Offensive MVP performance in the BCS National Championship two years ago.
"Everybody talks about him being a game manager, but that's a part of that position. You have to be a good game manager if you're going to be a good quarterback," Barker said. "What I look at is AJ in big games and in big moments. He always seems to deliver in those moments.
"I know it's not a fair comparison, although it's a flattering one. But AJ reminds me of Tom Brady in the way he thrives under pressure and makes the plays that have to be made. There are a lot of quarterbacks who have good stats. But what separates the men from the boys at the quarterback position is being able to handle the biggest of moments.
"Those are the ones who are special, and AJ is in that class."
Even though there's not a national championship at stake in New Orleans, McCarron has made it clear to anybody who will listen that the Tide will be ready. The last time Alabama lost two consecutive games was the end of the 2008 season when the Crimson Tide fell to Florida in the SEC championship game and were then beaten handily by Utah in the Sugar Bowl.
"We slipped up one time. That's football," McCarron said of the bitter loss to Auburn in the Iron Bowl. "You've got to let it go. It's the next game. I don't want to come out and just play a game and not win it. … I don't really care what I'm playing. I want to win."
And that's precisely the way he'll be remembered -- as a winner.
"Coach [Gene] Stallings used to always say, 'Don't confuse activities with accomplishments,'" Barker said. "In other words, if you're not winning, who cares if you're throwing for 300 yards and four touchdowns?
"Ask
Johnny Manziel
or any other quarterback who's putting up big numbers if they'd rather have those stats or have some championships. They'd rather have the titles.
"Your job as a quarterback is to deliver the win, and that's what AJ was so good at."
December, 30, 2013
12/30/13
12:00
PM ET
And now we get to the real meat of the bowl season, particularly in the SEC, where several teams will wrap up their seasons this week.
Projecting Impact Teams in 2015 Recruiting
SEC SCOREBOARD
Saturday, 12/21
Monday, 12/23
Tuesday, 12/24
Thursday, 12/26
Friday, 12/27
Saturday, 12/28
Monday, 12/30
Tuesday, 12/31
Wednesday, 1/1
Thursday, 1/2
Friday, 1/3
Saturday, 1/4
Sunday, 1/5
Monday, 1/6