January, 21, 2015
Jan 21
10:30
AM ET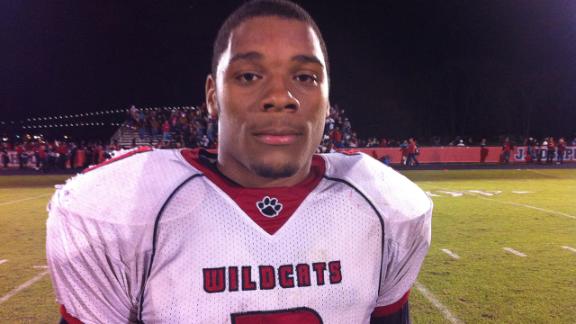 GLEN ST. MARY, Fla. -- Five-star defensive end
CeCe Jefferson
is nearing the time to make his college decision and the No. 9-ranked player in the ESPN 300 is starting to narrow his choices.
January, 21, 2015
Jan 21
9:00
AM ET
1. Here's another kind of story that we occasionally see this time of year -- of the much more pleasant variety than those about transfers and dismissals. Florida tight end
Jake McGee
tweeted Tuesday that the
NCAA granted him a sixth season of eligibility
after he broke his leg in the first game of the Gators' 2014 season. Georgia offensive lineman
Kolton Houston
received
similar news about a month ago
, less than two years removed from a years-long eligibility case that prevented him from playing during his first three seasons on campus. It's always nice to see the NCAA side with the athletes and give them the opportunity to make full use of their college experience when possible.
2. So maybe
Nick Marshall
is a defensive back, after all. Since it seemed likely that he would shift from quarterback -- where he starred at Auburn -- to cornerback during the run-up to the NFL draft, it seemed surprising when initial stories had
Marshall coming to the Senior Bowl as a quarterback
. Marshall cleared things up on Tuesday, however, saying he
expects to be a defensive back in the pros
after practicing at corner and as a gunner on special teams. When Southeastern Louisiana's Bryan Bennett joined the South team's roster Tuesday, it
enabled Marshall to shift to cornerback full-time for this week's practices
.
3. He's been rumored to be a front-runner for the
San Francisco 49ers
' offensive coordinator opening, but
Lane Kiffin continues to recruit for Alabama
. Crimson Tide coach Nick Saban said Tuesday at Senior Bowl practice that he couldn't say with certainty that Kiffin would return to his staff next season, but he's "hopeful that will continue." Kiffin certainly provided a jolt for Alabama's offense last season, helping
Blake Sims
become one of the nation's most efficient passers and funneling the ball to receiver
Amari Cooper
enough to solidify his status one of the
most coveted prospects in the upcoming NFL draft
.

. Kiffin
predicted during Sugar Bowl week
that he would return to Alabama in 2015, but an NFL coordinator job would have to be tempting for the former NFL coach.
Around the SEC
Age is just a number to Steve Spurrier
, 69, who said he feels "really good" physically and has dedicated himself to improving South Carolina's performance from its disappointing 2014 campaign.
Former Missouri football player Phil Pitts reportedly stepped down from his position as head coach at Helias High School in Jefferson City, Missouri,
to accept a coaching position at Mizzou
. Pitts played at Missouri under Gary Pinkel, who is still recruiting Helias' star tight end
Hale Hentges
, a 2015 Alabama commit.
Tennessee will play its annual
Orange and White spring game
on April 25.
Louisiana athlete
Donte Jackson
will
announce his pick
between LSU and Georgia on Wednesday at 11:30 a.m. ET.
Alabama defensive end prospect Prince Tega Wanagho Jr., whose "Coming to America" story we mentioned in Monday's morning links,
suffered a serious left leg injury
during a basketball game Tuesday night. Wanagho recently emerged as one of the nation's hottest football prospects by flashing a rare combination of size and athleticism in his first year playing football after moving to the U.S. from Nigeria.
Tweet of the day
Lets try this college thing one more time! thanks @ncaa = = see you in the fall!

— Jake McGee (@JakeOvaTheWorld) January 20, 2015
January, 21, 2015
Jan 21
9:00
AM ET
Tuesday was a busy day on the recruiting trail with head coaches and assistants earning frequent flyer miles with national signing day only 15 days away. The headliner on Tuesday was No. 2-ranked
Terry Beckner Jr.
and a visit from Florida State.
To continue reading this article you must be an Insider
January, 20, 2015
Jan 20
12:24
PM ET
[+] Enlarge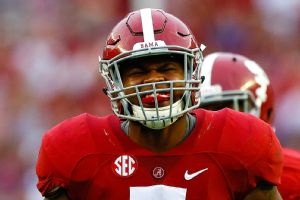 Kevin C. Cox/Getty ImagesRyan Anderson had 22 tackles and three sacks this season for the Crimson Tide.
Alabama junior linebacker Ryan Anderson and a 20-year-old woman face misdemeanor domestic violence charges after both were arrested following a dispute late Monday night.
According to a Tuscaloosa Police Department arrest report released Tuesday, officers responded to a domestic dispute call late Monday night, where they learned that Anderson, 20, and Sierra Patterson had been in an argument in a yard. After speaking with Anderson, Patterson and witnesses, officers learned that Patterson keyed and threw change at Anderson's vehicle and that Anderson then kicked Patterson's vehicle.
Both vehicles were visibly damaged, officers reported. Neither Anderson nor Patterson showed any sign of a physical injury, according to the police report.
The officers arrested Anderson and Patterson and charged both of them with third-degree domestic violence/criminal mischief. Bond was set at $500.
According to Alabama law, third-degree criminal mischief involves intentional damage to the property of another person in an amount not exceeding $500.
As a redshirt sophomore in 2014, Anderson appeared in all 14 games for the Crimson Tide. He finished fourth on the team with eight tackles for loss and was third with three sacks.
January, 20, 2015
Jan 20
12:00
PM ET
With the NFL teasing us by putting the Pro Bowl a week before the Super Bowl, we are forced to wait even longer before watching the biggest game of them all.
Is the Pro Bowl a worthy compromise in between conference championships and Super Sunday? Well, that's very much up for debate, but it is football. And if it's football, we'll try to figure out a way to interject some SECness into it because, you know, SEC bias and all.
But like we did with the
Super Bowl on Monday
, we're going to see who will be representing SEC teams in this year's Pro Bowl. And yes, ALL Missouri and Texas A&M players will be included in this. No, some didn't play in the SEC while they were in school, but those schools are there now and those players will count toward the SEC's number. It's just how the world works.
Last year, the SEC had 24 players make Pro Bowl rosters. This year, the league is also represented by 24 players. I mean, it's no shock that the NFL and the SEC go so well together. Just look at the NFL -- past, present and future. SEC players made the cut for every position except defensive end, safety and punter.
Remember, the Pro Bowl now has that funky format in which past NFL greats will draft each team. This year we could see nothing but receivers taken in the first few rounds, as Cris Carter and Michael Irvin are this year's coaches.
Alabama led the SEC with five Pro Bowl selections.
Here are the 24 SEC Pro Bowl representatives:
Quarterback
Peyton Manning
, Tennessee (
Denver Broncos
)
Running back
Arian Foster
, Tennessee (
Houston Texans
)
Mark Ingram
, Alabama (
New Orleans Saints
)
Wide receiver
Julio Jones
, Alabama (
Atlanta Falcons
)
A.J. Green
, Georgia (
Cincinnati Bengals
)
Odell Beckham Jr
., LSU (
New York Giants
)
Jeremy Maclin
, Missouri (
Philadelphia Eagles
)
Randall Cobb
, Kentucky (
Green Bay Packers
)
Tight end
Jason Witten
, Tennessee (
Dallas Cowboys
)
Martellus Bennett
, Texas A&M (
Chicago Bears
)
Offensive tackle
Jason Peters
, Arkansas (Philadelphia Eagles)
Center
Maurkice Pouncey
, Florida (
Pittsburgh Steelers
)
Offensive guard
Evan Mathis
, Alabama (Philadelphia Eagles)
Mike Pouncey
, Florida (
Miami Dolphins
)
Defensive tackle
Marcell Dareus
, Alabama (
Buffalo Bills
)
Kyle Williams
, LSU (Buffalo Bills)
Sheldon Richardson
, Missouri (
New York Jets
)
Geno Atkins
, Georgia (Cincinnati Bengals)
Outside linebacker
Von Miller
, Texas A&M (Denver Broncos)
Justin Houston
, Georgia (
Kansas City Chiefs
)
Inside linebacker
C.J. Mosley
, Alabama (
Baltimore Ravens
)
Cornerback
Joe Haden
, Florida (
Cleveland Browns
)
Patrick Peterson
, LSU (
Arizona Cardinals
)
Kicker
Cody Parkey
, Auburn (Philadelphia Eagles)
January, 20, 2015
Jan 20
10:00
AM ET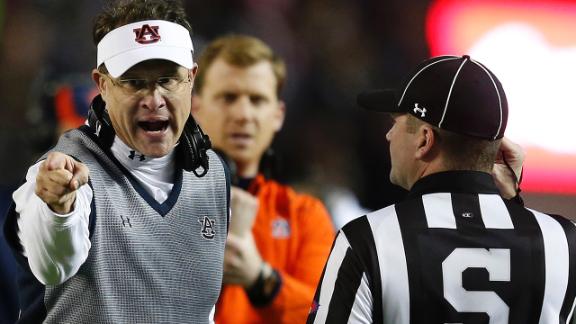 National signing day is less than three weeks away and it's coming down to crunch time. This past weekend was one of three remaining weekends for recruits to take official visits before signing day and some of the top prospects took full advantage of the available weekend. Auburn had a monster recruiting weekend and, though not to the same extent, so did Alabama, Texas A&M, Florida, Tennessee, Vanderbilt and others. Here's a closer look at the top news from this past weekend.
To continue reading this article you must be an Insider
January, 20, 2015
Jan 20
9:55
AM ET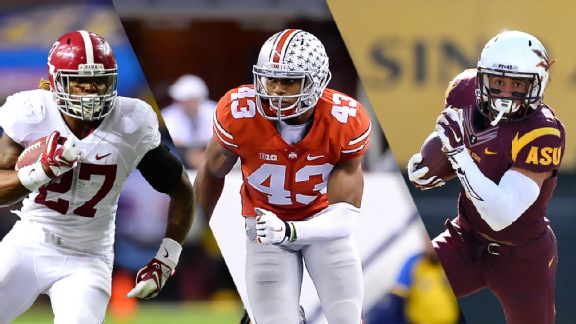 ESPN Images, Icon Sportswire, Icon SportswireAlabama's Derrick Henry, Ohio State's Darron Lee and Arizona State's D.J. Foster just missed the cut.
Choosing the top 100 players in college football is about as hard as picking the four teams for the inaugural College Football Playoff.
We all know how that went.
But after a survey of 32 writers and editors at ESPN.com, we've ranked the top players in the sport on a scale of 1 to 10. We ranked the top players at the start of the 2014 season, and our postseason list looks much different from the one we unveiled in August.
But once again, there are several standout players from teams around the country who just missed the list.
Here's a look at a few of the players who just missed the cut:
There were plenty of stars on Ohio State's national championship team this past season, but few players were as consistent as Lee.
Lee played only six plays in two games in 2013 before suffering a season-ending injury. After taking a medical redshirt that season, Lee was one of the team's most surprising stars this season. He was second on the team with eight sacks and 16½ tackles for loss and was third with 81 tackles.
January, 20, 2015
Jan 20
9:00
AM ET
1. Could Lane Kiffin be on the move, again? Sources told ESPN NFL Insider Adam Schefter that Kiffin, who is currently Alabama's offensive coordinator,
is a frontrunner to be the San Francisco 49ers' offensive coordinator
. What is it with Kiffin and the one year thing in the SEC? Obviously, what Kiffin did at Alabama in just one year was very impressive from a numbers standpoint, so no one should be surprised if NFL teams come calling. While his head-coaching resume is dismal, Kiffin is an X's and O's genius. There's no getting around how good he is when he's dialed in during games. He's be no means perfect with his play calling (just look at the second half of the Sugar Bowl), but Kiffin turned Alabama into a pass-first, offensive juggernaut in 2014. Also, Blake Sims, anyone? Still, as ESPN 49ers reporter Paul Gutierrez writes, with the baggage that Kiffin has,
he's a strange candidate
for the team.
2. I guess you could say that Will Muschamp hasn't lost much of a step in recruiting. In what he might have lacked in the way of coaching during his four years at Florida, he certainly made up for on the recruiting trail. And it's showing in his short time as Auburn's defensive coordinator. He's currently trying to reel in the
ultimate three elite prospect package deal
in five-star defensive ends Byron Cowart and CeCe Jefferson, and four-star linebacker Jeffery Holland. The kicker is that all three are from the state of Florida and were all recruited by Muschamp while he was at the University of Florida. All these guys have interest in the Gators, but they all have close relationships with Muschamp, and Cowart thinks all three will play at the same school.
"Yeah, we're going to stick together," Cowart said after his official visit to Auburn Sunday. "We'll all play at the same school, because we know we can make an impact. One guy can't make a difference at a school, and I don't think people understand that."
If they all pick Auburn, Muschamp would certainly be bringing the Boom.
Around the SEC
Tweet of the day
Incredible court projection from the @ATLHawks in honor of Dr. Martin Luther King Jr. tonight. pic.twitter.com/ieoIFLKgzy

— Good Morning America (@GMA) January 20, 2015
January, 19, 2015
Jan 19
9:44
PM ET
1.The 14 ACC members received revenue shares of $20.8 million at the end of the 2013-14 academic year, a significant increase from the $16.9 million that each member received the previous year. And yet Boston College cast the lone dissenting vote in the decision of the Power 5 Conferences to begin paying cost of attendance to their student-athletes. It might be that the school's longtime president, Father William P. Leahy, is taking a stand of fiscal prudence. But that ship sailed a long time ago. If Boston College wants to compete in the ACC and participate in its bounty, which is the very reason that the school left the Big East behind a decade ago, than BC has to pay ACC-level bills, too.

2. Alabama fans are holding their breath, awaiting a signal from offensive coordinator Lane Kiffin regarding the San Francisco 49ers' interest in him. If Kiffin leaves – he said last month that he "definitely" would stay, but his past indicates nothing is definite – it would mean Saban would be hiring his third offensive coordinator in four seasons. On a lot of staffs, that would mean chaos. But running backs coach Burton Burns came with Saban to Alabama eight years ago. Tight ends coach Bobby Williams arrived a year later. They are the source of the Crimson Tide's stability in the offensive meeting room.

3. I checked the NCAA statistical database Sunday to see if the all-time coaching records had been updated to show former Penn State head coach Joe Paterno with 409 wins. I went back Monday to double-check, and all I could find was the listing with Paterno at 298 wins. NCAA statistics director David Worlock assured me I hadn't been seeing things. An updated database briefly went online. He said that because of the Paterno ruling, his staff will upload all data from the 2014 season shortly so that the 2015 NCAA Football Records Book, with Paterno at 409 wins, will be available soon.

January, 19, 2015
Jan 19
10:00
AM ET
It's that time again. Time to count down who the best players in the SEC were this past season.
21. Markus Golden, DE, Missouri
Shane Ray
got most of the attention on Missouri's defense, and rightfully so considering he led the league in sacks. But don't sleep on Golden, who it could be argued had a more complete season than his running mate. Not only did the senior rack up 8.5 sacks, he had 20 tackles for loss and led the team in quarterback hurries (12), forced fumbles (3) and fumble recoveries (3).
22. A'Shawn Robinson, DL, Alabama
At first glance, Robinson wasn't the player he was as a freshman in 2013 when he led the team with 5.5 sacks. But as an interior lineman in coach Nick Saban's 3-4 system, stats don't tell the full story -- at least not individual ones. Rather, the 6-foot-4, 320-pound sophomore was a vital cog in a defense that ranked 12th nationally, taking on countless double-teams in the running game while also lending a hand rushing the passer.
23. Nick Marshall, QB, Auburn
Auburn didn't make it back to the national championship, but it wasn't the fault of its quarterback. Rather, Marshall's numbers were actually much better than his first season under center as he went from 1,976 yards passing to 2,531 and his quarterback rating jumped eight points. With a record of 20-7 as a starter, 6,425 total yards and 57 total touchdowns, Marshall's career stands out in SEC history.
24. Myles Garrett, DE, Texas A&M
Speaking of ridiculously talented freshmen, how about Texas A&M's stud defensive end? On an abysmal defense, Garrett, a former five-star prospect in his own right, shined. The 6-5, 250-pound rookie wound up finishing second in the SEC in sacks with 11.5. He also had 14 tackles for loss, 10 quarterback hurries and one blocked kick.

25. Leonard Fournette, RB, LSU
OK, so the Heisman Trophy talk was a little premature, but don't let that obscure the solid freshman season the nation's former No. 1-ranked recruit had. After all, in a backfield that was plenty deep with
Terrence Magee
and
Kenny Hilliard
, it was Fournette who led the team in rushing with 1,034 yards. In his final two games, he showed why there was such eagerness to see him in purple in gold as he ran for 289 yards and three touchdowns against Texas A&M and Notre Dame.
January, 19, 2015
Jan 19
9:00
AM ET
1. For recruiting maniacs, Prince Tega Wanogho Jr.'s story is not new. But for those who follow recruiting only as national signing day nears, this is
one of the more unique prospects you'll come across
. Recruiters across the country are beating down the door of the recruiting prospect who hails from Alabama by way of Nigeria. The 6-foot-7 defensive end has already lined up visits to LSU, Auburn and Tennessee, but he'll have no shortage of options on national signing day. Check out the brand-new football player's "Coming to America" story from AL.com's Jeff Sentell.
2. It's that time of year. Between bowl games and signing day, college headlines frequently involve players leaving their programs because of playing time or disciplinary or academic reasons. It happened at LSU on Sunday when the school confirmed that sophomores
Rashard Robinson and Melvin Jones are no longer members of the team
because of academic issues. It's apparently happening at Alabama, where
Altee Tenpenny and Malcolm Faciane
are not expected to return. And similar stories will continue to pop up all over the country as classes resume for spring semester. Keep your eyes peeled, it will probably happen at your school, too.
3. This is a big week for 25 former SEC players
who started arriving in Mobile, Alabama, on Sunday
for this weekend's Senior Bowl. For instance, former Auburn quarterback Nick Marshall was invited to show that he can play the position in the pros – some draft analysts believe he should switch to defensive back to make it in the NFL – while plenty of other players from the conference hope to solidify their draft stock by performing well in this week's all-important practices against other top-notch prospects. Here is a link to the rosters for the
North
and
South
squads for this week's all-star game.
Around the SEC
Is it time to stop calling Kentucky's offensive scheme the "Air Raid?"
Maybe so
.
Stephen Rivers, who transferred from LSU to Vanderbilt prior to the 2014 season, announced on Twitter that he
will transfer from Vandy
and use his final season of eligibility elsewhere.
Georgia early enrollees Michael Barnett and Natrez Patrick both
underwent recent surgeries
, but Patrick is still expected to participate in spring practice and Barnett should be available for the fall.
Multiple players who competed on NFL championship Sunday
had ties to Mississippi State
and 2010 defensive coordinator Manny Diaz.
Tweet of the day
Dearest Clara, I fear the battle may be lost. We appear quite outmatched by our patriotic opposition. Gen. A. Luck pic.twitter.com/1WTz8CEAF5

— SB Nation (@SBNation) January 19, 2015
January, 18, 2015
Jan 18
6:32
PM ET
Illustration by Mikey BurtonESPN.com is ranking the top 100 college football players of the 2014 season.
Ohio State quarterback Cardale Jones started just three games in 2014, but he might have made the most important contributions to his team of any player this season.
Except maybe Oregon quarterback Marcus Mariota.
But what about how valuable Melvin Gordon was to Wisconsin? Or Amari Cooper to the Crimson Tide?
On a scale of 1-10, with 10 being a stellar contributor, how would you rate those offensive standouts when compared with Arizona linebacker Scooby Wright III, and Alabama safety Landon Collins?
Don't worry, we figured it out for you -- again.
Heading into the 2014 season, ESPN.com ranked the top 100 players in the country based on their expected contributions for the season. Jones didn't make the cut in August -- go figure -- but Braxton Miller was tied for No. 5.
January, 18, 2015
Jan 18
1:45
PM ET
Auburn hosted an incredible seven five-star prospects over the weekend, while Alabama, Tennessee, Florida, Texas A&M and other SEC schools also had big recruiting weekends. Here's a closer look at some of the top sights and sounds from the weekend visitors.
Three-star linebacker Dwaine Thomas flipped his commitment from Louisiana-Lafayette to Texas A&M on Saturday afternoon. Thomas tweeted out a photo of himself wearing an Aggies jersey and helmet.
GigEm< pic.twitter.com/qp5TMUQjTT

— Dweezy (@_dweezy15) January 17, 2015
Auburn had a huge recruiting weekend. Here are several photos prospects tweeted out over the course of the weekend:
Georgia commit
Terry Godwin
posing with Auburn head coach Gus Malzahn.
Me and coach Malzahn on my Official Visit ....=/=/ #4sUp pic.twitter.com/kJJ6bivmM0

— DreamTeam_Austin (@TerryGodwin_4) January 18, 2015
Five-star defensive end
CeCe Jefferson
posing with a young fan after Auburn's basketball game Saturday night.
@cecejeferson7 thank you for the picture with my son #WarEagle pic.twitter.com/qOMGPbMnnY

— Jay (@AUJay17) January 18, 2015
Byron Cowart
posted an Instagram photo of himself along with Jefferson and four-star linebacker
Jeffery Holland
on Auburn's field.
Auburn commit
Jordan Colbert
posted several pictures of other targets wearing Auburn jerseys in the Tigers locker room.
in da locker room wit da homies = look at my face wit the head man son = WAR EAGLE pic.twitter.com/JL0Y96nidB

— Hollywood (@Og_smxx) January 18, 2015
ESPN 300 defensive end
Arden Key
took an official visit to LSU with his family. Here are a few photos of his time in Baton Rouge.
LSU Visit == pic.twitter.com/3jxEopHeSG

— Ronald & Aden (@Loveyourangel_) January 17, 2015
Alabama also had a big recruiting weekend. Here is a photo of Arkansas wide receiver commit
K.J. Hill
, Miami receiver commit
Lawrence Cager
and Alabama safety commit
Rico McGraw
.
#Alabama visit @LawrenceCager3 @KayJayHill @LoveHateRico pic.twitter.com/S1IvnWi2S3

— InsideBamaRecruiting (@RTRnews) January 18, 2015
Here's Alabama commit
Adonis Thomas
in a Crimson Tide uniform.
It's really gonna be a honor and privilege wearing that Crimson&White #RollTide #BuiltByBama pic.twitter.com/yJqy4BQIxP

— Adonis Thomas (@_SimplyThatGuy5) January 18, 2015
Tennessee commit
Kyle Phillips
tweeted a photo of several Tennessee commits goofing around.
Kahlil said just wait on it but I can't wait any longer #GBO #VFL pic.twitter.com/BDHqovL3ys

— kyle phillips#5 (@K5_Phillips) January 17, 2015
Mississippi State wide receiver commit Farrod Green tweeted a photo of himself in a Bulldogs uniform.
Home is wherever the authentic , unconditional love is - THIS IS HOME =6= pic.twitter.com/7p7VanIXZF

— Farrod Green (@iamfarrodgreen) January 18, 2015
Virginia Tech commit
Houshun Gaines
poses for a picture with Vanderbilt head coach Derek Mason.
Quick selfie with the head man.. #AnchorDown pic.twitter.com/bhyYsYgfDd

— Houshun Gaines (@HZGduoUno) January 17, 2015
Kentucky commit
Jeremiah Dinson
poses with uncommitted cornerback
Rashad Fenton
at the University of Florida.
"@_sleepp: @New_EraJD3 TV TIME= pic.twitter.com/2trSfzvanN"===

— 3" The Hard Way " (@New_EraJD3) January 17, 2015
Florida commit
Tyler Jordan
and South Carolina commit
Christian Pellage
pose for a picture while at Florida.
Wit the big bois pic.twitter.com/ALfbEV8Lde

— Daniel Imatorbhebhe (@_bhex2) January 18, 2015
Another Florida commit,
Mike Horton
, tweeted out a photo of him in a Gators jersey.
We bringing that Orange on Orange back! pic.twitter.com/dUCSaB0xLv

— Mike Horton7"9" (@big_mike247) January 18, 2015
SEC Recruiting Classes Evaluated