July, 17, 2014
Jul 17
6:26
PM ET
HOOVER, Ala. -- "We're 0-2,"
Amari Cooper
said.
After last season's loss to Auburn and the blowout defeat to Oklahoma that followed, Alabama and its star receiver are looking at the start of the 2014 season in a different way: two games in the hole.
Cooper remembered the 99-yard touchdown he scored against Auburn last November. The pass from
AJ McCarron
to Cooper in the fourth quarter silenced the crowd at Jordan-Hare Stadium that night. McCarron had his "Heisman moment" and Cooper showed the world just how dangerous he can be. Auburn rocked on its heels, and Alabama had a trip to the SEC championship game all but reserved.
[+] Enlarge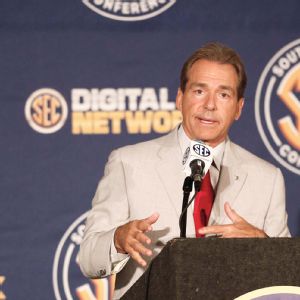 Marvin Gentry/USA TODAY Sports"We're a team that has a ton of questions," Alabama coach Nick Saban said at SEC media days.
But Cooper doesn't remember the long touchdown against his rival fondly. There's too much pain attached to the moments that followed the play: Auburn's furious comeback, Chris Davis' last-second, 106-yard return for the game-winning score. Auburn went on to Atlanta. Alabama went home, settled for the Sugar Bowl and lost back-to-back games for the first time since 2008.
"I remember it ... but I really wish we would have won that game," Cooper said.
Alabama coach Nick Saban didn't spend much time talking about 2013 on Thursday. This year's trip to SEC media days was all about hitting the reset button.
No more AJ McCarron. No more C.J. Mosley. No more aura of invincibility for the Tide.
Alabama was picked by the media to win the SEC again this season -- garnering more points than all other teams combined -- but the cloud of inevitability was more transparent than in years past.
"Our situation as a team is a lot different this year than it's been the last couple years, when we were coming off of successful seasons, championship seasons," Saban said in his opening comments to the media inside the Hyatt's packed ballroom. "The challenges were so much different in terms of trying to deal with success and complacency.
"Having lost our last two games last year, I think it's a little bit different mindset with our players."
Half an hour earlier, in a more private setting, Saban acknowledged the amount of hurdles facing his team. With the opening of fall camp only weeks away, there are more than a handful of starting jobs still up for grabs.
"We're basically an unproven team in some areas," he said, "and in some cases it's at critical positions."
"We're a team that has a ton of questions," he continued later.
The question du jour (Will the Tide settle on transfer QB Jacob Coker?) will linger into the foreseeable future, as Saban insisted that no decision, no matter the outside perception, has been made about who will start under center.
"We really can't make that decision or prediction as to what's going to happen at that position," Saban said, "but the development of that position, regardless of who the player is, is going to be critical to the success of our team."
The good news for Saban is that he's not devoid of talent. With Cooper, tight end
O.J. Howard
and the two-headed monster of
T.J. Yeldon
and
Derrick Henry
at tailback, there's plenty of firepower on offense. As South Carolina coach Steve Spurrier said earlier in the week, "They've got the greatest collection of football players ever assembled for a college team."
The bad news, though, is that the talent coming in is unproven at several other key spots. There's the potential for a true freshman to play at left tackle, and three-quarters of the starters in the secondary are gone.
Landon Collins
was a preseason first-team All-SEC choice for a reason, but he can't do it alone at strong safety.
"The young guys are looking at me to show them the ropes," Collins said.
Two of those youngsters are true freshmen: Tony Brown and Marlon Humphrey, both five-star prospects, have the potential to take significant reps at cornerback.
"They have impressed me," Collins said. "They're going to be phenomenal when it's their time. When it's time to showboat and do their thing, they're going to show you what they've been doing since high school."
The question is when their time will come.
Last season, Alabama relied heavily on a slew of inexperienced corners (
Eddie Jackson
,
Maurice Smith
,
Cyrus Jones
,
Bradley Sylve
) and the defense paid the price. Auburn was able to get a few big plays through the air, and then Oklahoma took it a step further when
Trevor Knight
transformed from an enigma into Peyton Manning in New Orleans, completing 32 of 44 passes for 348 yards and four touchdowns.
Alabama wasn't Alabama those final two games last season. The offense became inconsistent, the defense struggled and special teams came up just short.
Until the 2014 season kicks off, there's a big 0-2 record hanging around the team's collective neck.
Until Alabama gets back to playing Alabama football, players feel as if they're in the hole.
"I think it's a little bit of a different mindset with our players," Saban said.
For Cooper, it's almost a welcomed change. Winning championships inevitably breeds complacency. Losing back-to-back games and then having to answer all the questions that follow is simply fuel for the fire.
"When you have people doubting you, you're automatically hungry," he said. "You want to work hard just to prove them wrong."
July, 17, 2014
Jul 17
5:57
PM ET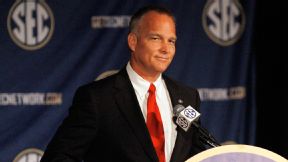 AP Photo/Butch DillGeorgia coach Mark Richt said that if the College Football Playoff is expanded beyond four teams, the regular season would have to be shortened.
HOOVER, Ala. -- The College Football Playoff will be centered on four teams, but coaches are already thinking about expansion.
The sport's new end-of-the-year playoff format currently has a 12-year lifespan, but in the event that more teams are added and more games are played during the college football season, some SEC coaches think the regular-season structure should be looked at and even shortened.
"I would hope that if it expands beyond this, we gotta look at the regular season," Georgia coach Mark Richt said as SEC media days concluded Thursday. "I think you have to reduce the regular [season]. A lot of people may not agree with that."
Ole Miss coach Hugh Freeze agreed with Richt, saying college football would have to cut into the regular season for the well-being of the student-athletes participating. Alabama's Nick Saban didn't exactly take a side on the matter, but he did say that if expansion comes, the sport should consider the toll more games would put on players.
"Not having thought much about it, I do think that for college players, with their age, with their responsibility to academics and the things they have to do that we're pretty much closing in on the limit of how many games they should be playing and how we can still fit them in," Saban said. "In our league, you'd have to win 15 games to win [the national championship in a playoff]. If you expand the playoff, you'd have to win more than that."
July, 17, 2014
Jul 17
2:38
PM ET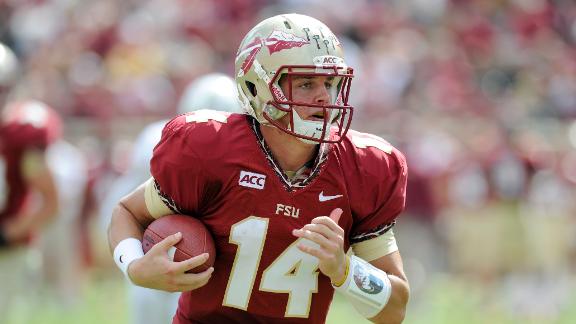 HOOVER, Ala. -- Most everyone has made up their minds that Jacob Coker will indeed be Alabama's next starting quarterback.
But the one person whose opinion matters -- coach Nick Saban -- hasn't decided on anything quite yet.
"That's really not internally the perception by me, our staff or our players," Saban said Thursday. "Jake Coker has the opportunity to come in and compete for the position.
"Blake Sims has been competing for the position. He really did a pretty good job in the spring. He didn't play great in the spring game, but we really didn't do the things that he's capable of doing."
Coker transferred to Alabama this spring after graduating from Florida State, where he backed up Heisman Trophy-winning quarterback Jameis Winston last season. In his career, Coker has completed only 21 passes for 275 yards, one touchdown and one interception.
But considering Alabama's incumbent quarterbacks' failures in the spring game -- Sims, in particular, threw two interceptions -- the court of public opinion has clearly dubbed Coker the next big thing. At 6-foot-5 and 230 pounds, he looks the part. And considering all the positive things his former coaches have said about his talent, it's no wonder the hype has been overwhelming.
"He's probably the best I've seen in 25 years at throwing it," Florida State quarterback coach Randy Sanders said earlier this year.
Saban, however, insists that there is no clear front-runner to replace former Alabama great AJ McCarron -- not yet.
July, 17, 2014
Jul 17
2:30
PM ET
Roughly one out of every five players on Thursday's Doak Walker Award watch list comes from the SEC.
The conference did not have a finalist for the award, which goes to the top running back in college football, last season, as winner
Andre Williams
of Boston College and finalists
Ka'Deem Carey
(Arizona) and
Bishop Sankey
(Washington) hailed from the ACC and Pac-12. And of the 10 semifinalists, only Auburn's Tre Mason and South Carolina's
Mike Davis
came from the SEC.
That could easily change this season since the league is brimming with star-caliber tailbacks, as evidenced by the 11 SEC backs on the Doak Walker watch list, led by the two players whom the media selected to its preseason All-SEC first team this week at media days:
Todd Gurley
of Georgia and
T.J. Yeldon
of Alabama.
Here is the full list of 11 SEC candidates out of the 53 total players on the watch list:
Tra Carson
, Texas A&M
Alex Collins
, Arkansas
Mike Davis, South Carolina
Todd Gurley, Georgia
Derrick Henry
, Alabama
Terrence Magee
, LSU
Josh Robinson
, Mississippi State
Kelvin Taylor
, Florida
Jonathan Williams
, Arkansas
Trey Williams
, Texas A&M
T.J. Yeldon, Alabama
July, 17, 2014
Jul 17
10:12
AM ET
HOOVER, Ala. -- It's going to come down to the Iron Bowl again this season. Or that's what the majority of the media thinks of the SEC race, as voters predicted on Thursday that Alabama and Auburn would finish No. 1 and 2, respectively.
The Crimson Tide, which finished last season with back-to-back losses, was awarded more points (154) than all other schools combined: Auburn (75), South Carolina (32), Georgia (19), LSU (9), Ole Miss (2), Arkansas (1) and Mississippi State (1).
If there's anyone who's not surprised by the finish, it's South Carolina coach Steve Spurrier, who raved on Tuesday about coach Nick Saban's ability to bring in the country's top recruits.
"Arguably, they've got the greatest collection of football players ever assembled for a college team," he said. "If the recruiting services are correct, and they're pretty much correct.
"So they're the favorites. They're the favorites. There's no question about that. As long as they can recruit like that, they're always going to be the favorites."
Alabama led all schools with nine first-team selections, including two of the top vote-getters in wide receiver Amari Cooper and running back T.J. Yeldon.
July, 17, 2014
Jul 17
9:15
AM ET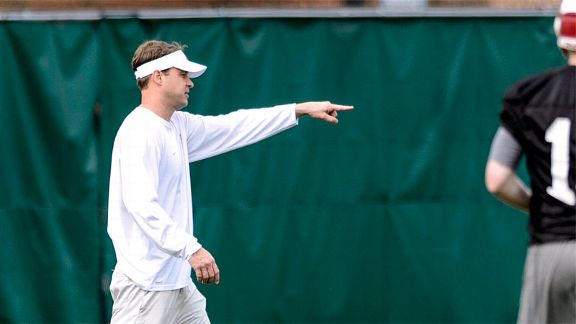 AP Photo/AL.com, Vasha HuntLane Kiffin is offensive coordinator for a very talented Alabama Crimson Tide team.
As we count down 50 days until the start of the 2014 college football season, ESPN Insider Travis Haney is answering at least one big question a day until South Carolina and Texas A&M's kickoff on Aug. 28.
Heisman contenders, breakout freshmen, conference winners -- it will all be covered as part of
Insider's Ultimate Season Preview
.
Today's question:
What will we be saying in January about Lane Kiffin's first season as Alabama's offensive coordinator? Will this work?
July, 17, 2014
Jul 17
8:00
AM ET
By
ESPN.com staff
| ESPN.com
It's the unofficial start of college football season as media events kick off with the biggest one of all, the four-day SEC circus in Hoover, Alabama. Keep this page open throughout today's proceedings as we bring you all of the latest from our array of reporters, who will cover all 14 teams at the event.
July, 17, 2014
Jul 17
7:00
AM ET
HOOVER, Ala. -- The fourth and final day of SEC media days will likely be a circus with Alabama coming through, but there will be no shortage of storylines on all four teams in attendance Thursday. Let's take a look.
Georgia (10 a.m. ET):
The expectations are high for this team, but if you ask Mark Richt who he has left in the secondary, it might take him a minute to respond. Josh Harvey-Clemons and Tray Matthews were both dismissed from the team, and Shaquille Wiggins transferred away from the program. That leaves the Bulldogs extremely thin on the back end, but star linebacker
Ramik Wilson
, who will be on hand Thursday, is back for another season. Wilson led the SEC last season with 133 tackles. On offense, it's all about
Todd Gurley
. If he's healthy, he's one of the best running backs in college football. However,
Aaron Murray
is no longer there, which means it's now up to
Hutson Mason
to take the reigns at quarterback. Between questions about the dismissals and questions about Mason, Richt will be plenty busy Thursday.
Ole Miss (10:30 a.m.):
Are the Rebels ready to take that next step? Hugh Freeze surprised everybody, including himself, when he led his team to a bowl game in his first season, and he was able to duplicate that success last year. But with veteran quarterback
Bo Wallace
returning and 10 starters back on defense, a bowl game might not be good enough this season. They have the talent and experience to compete in a stacked SEC West. The other major talking point for Thursday will be the sensational freshman class from a year ago. The likes of
Tony Conner
,
Evan Engram
,
Robert Nkemdiche
,
Laquon Treadwell
and
Laremy Tunsil
are all a year older, which is good news for Ole Miss fans but bad news for opponents. Treadwell, in particular, could be in line for a huge season with Donte Moncrief now in the NFL.
Alabama (12:10 p.m.):
This edition of SEC media days will have a different feel for Alabama if for no other reason than the Crimson Tide aren't defending national champs for the first time in a while. How will the team respond to losing back-to-back games to end last season? And, maybe more important, how will it deal with the manner it lost to Auburn, falling to its bitter rival in the most dramatic way possible? Alabama coach Nick Saban will no doubt have an eye toward the future and the redemption it holds. But first he'll have to answer questions about a rebuilt secondary, two new starters on the offensive line, and the biggest question mark of all -- quarterback. It's safe to assume the starting job is Jacob Coker's. Just don't be surprised when Saban scoffs at the assumption.
Kentucky (1:40 p.m.):
Recruiting, recruiting, recruiting. If you're looking for a main storyline to follow with the Wildcats on Thursday, it's how well Mark Stoops and his staff have done on the recruiting trail and how that's beginning to pay dividends on the football field. The top-to-bottom talent isn't quite there to compete with the upper echelon of the SEC yet, but it's on the right path. And maybe with a few surprise players and a break here or there, Kentucky might play the role of spoiler in 2014.
Za'Darius Smith
and
Alvin Dupree
are two of the more underrated defensive players in the league, and
Jojo Kemp
and
Javess Blue
are two similarly under-the-radar playmakers on offense. Nebraska transfer
Braylon Heard
could provide some much needed depth at tailback, and
Drew Barker
has the skill set to play immediately at quarterback as a true freshman. But how will Stoops put all those pieces together? His program is improving with each recruiting class, but it needs time to mature.
July, 16, 2014
Jul 16
5:51
PM ET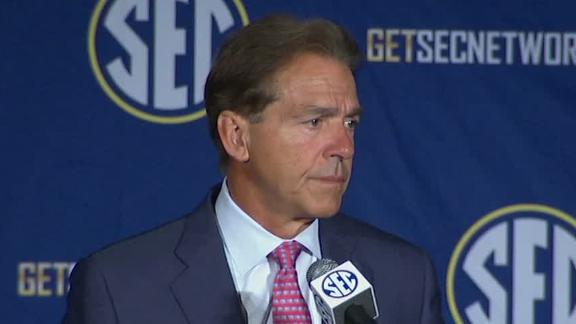 Texas was prepared to offer Alabama coach Nick Saban a contract worth $100 million to coach the Longhorns, Paul Finebaum of the SEC Network writes in his new book.
In Finebaum's book with Gene Wojciechowski, "My Conference Can Beat Your Conference," Finebaum writes:
"Texas was dead serious about trying to money-whip Saban. Depending on who you talk to -- Bama big hitters or Texas big hitters -- the Longhorns were prepared to give Saban somewhere between a $12 million and $15 million signing bonus and a salary package worth $100 million [plus performance bonuses]."
In December, Saban received a new seven-year deal from Alabama through Jan. 21, 2022, worth $6.5 million in base salary per year and a total of about $55 million including performance bonuses.
In December after Alabama's contract with Saban was finalized, Saban told ESPN.com's Chris Low he "never considered" Texas.
"The way this sort of got spun, it was a little bit more like, 'OK, he got a new contract at Alabama, so he's going to stay at Alabama instead of going to Texas,'" Saban said. "I never considered going to Texas. That wasn't even a conversation.
"I knew that if Mack [Brown] stepped down, there would probably be an opportunity, but it wasn't something I was interested in doing, not at this stage in my career."
Texas ended up replacing Brown with Louisville coach Charlie Strong.
Saban addressed the matter Thursday at SEC Media Days, saying, "I did not have any conversations [with Texas] and nobody offered me anything. If I didn't have any conversations with them, there must not have been very much interest."
July, 16, 2014
Jul 16
3:00
PM ET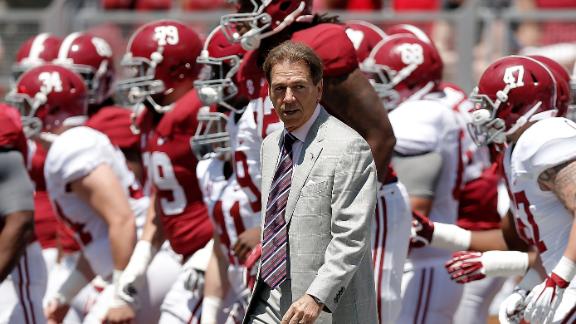 You want controversy? You want regional bias? You BCS-raised, college football young'uns don't know squat. Consider Exhibit A: USC and Alabama in 1978.
USC went to Legion Field in Birmingham, Alabama, on Sept. 23, 1978, and whipped the top-ranked Crimson Tide 24-14 in front of 77,313 fans who didn't appreciate West Coast cool rolling over their southern-fried team like an army of deranged surfers.
The technical term for that in college football parlance is a "head-to-head victory." That the win was accomplished on the road provided it even more gravity as an objective and seemingly insurmountable measure of two teams. Ergo, when the season ended with both USC and Alabama winning New Year's Day bowl games following one-loss seasons, it was obvious who should be ranked No. 1. That would be the Trojans, of course.
[+] Enlarge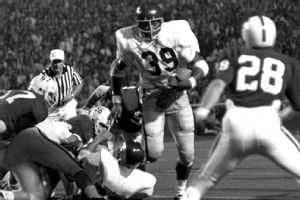 University of Southern California/Getty ImagesUSC fullback Sam Cunningham turned in a big performance in the Trojans' 1970 victory over the Crimson Tide.
Au contraire. The Associated Press poll voted the Crimson Tide No. 1 after they nipped regular-season No. 1 Penn State in the Sugar Bowl. USC had to settle for the UPI -- coaches' poll -- national title after beating No. 5 Michigan in the Rose Bowl.
Even today, if you throw this Apple of Discord onto a bar table between Tide and Trojans adherents over 50, spittle will fly, veins will bulge, and the unique righteous indignation of college football fans will thunder forth like water over Niagara Falls.
That just begins the story of USC-Alabama, which might have the most storied seven-game all-time series in college football history. Or is that Alabama-USC?
So if we are overbrimming with joy at the prospect of the Crimson Tide and Trojans opening the 2016 season in
the eighth annual Cowboys Classic at AT&T Stadium in Arlington, Texas, in a Labor Day weekend, neutral-site game
, please forgive us.
This, my friends, is what we've all been craving. If this is the luscious fruit brought forth by the new College Football Playoff demanding more challenging scheduling, then let's give the sport's powers-that-be a collective fist bump. They have, rightfully, been taking a lot of grief lately, most notably in the courts. If we can, for a moment at least, block off consideration of the monstrosity of the cash flow certain to gush from this one. Let's instead awash ourselves in the anticipation of the game itself.
Alabama and USC are without question two of college football's preeminent powers. They might be college football's
two
preeminent powers. They have combined for 26 national championships (11 by USC, 15 by Alabama), 66 bowl victories (32 USC, 34 Alabama), seven Heisman Trophy winners (6 USC, one Alabama), 272 first-team All-Americans (161 USC, 111 Alabama), 797 NFL draftees (483 USC, 314 Alabama), 52 College Football Hall of Fame players (31 USC, 21 Alabama) and such legendary coaches as USC's Howard Jones, John McKay, John Robinson and Pete Carroll and Alabama's Wallace Wade, Frank Thomas, Bear Bryant and current head coach Nick Saban.
Whew. While Notre Dame and Michigan fans are jumping up and down, waving their arms, this matchup is about as special as it gets, particularly when you project forward that both are likely to be top-10 teams to start 2016.
As for the series itself, Alabama leads 5-2. The Tide's biggest wins came in the 1946 Rose Bowl and in the Coliseum in 1971 and 1977, a decade in which both teams were dominating their respective regions. USC's other victory, a 42-21 blowout in 1970 in Birmingham, is often credited with pushing forward the integration of college football in the South, as the Trojans' African-American players, particularly fullback Sam Cunningham, tailback Clarence Davis and quarterback Jimmy Jones, turned in big performances. That game has been the subject of
many stories and documentary films
.
When those iconic helmets are standing opposite each other, there might be a few goose bumps from the old-timers that prove contagious to those who don't recall much from the pre-BCS age.
As for the present, the plot is also pretty thick. For one, the SEC and Pac-12 are the top two conferences in college football, and there's little reason to believe that will change much over the next three seasons. This game, therefore, could operate as a season-long measuring stick for both leagues. CFP committee members might be willing to apply the transitive property if they should be forced to make distinctions between Pac-12 and SEC teams that didn't play -- as in, "Well, UCLA beat USC and USC beat Alabama and LSU lost to Alabama, so UCLA should eclipse LSU."
Finally, there's the Lane Kiffin angle. Kiffin, you might have heard, was fired five games into the 2013 season as USC's head coach. He is now Alabama's offensive coordinator, a pairing with Saban that seems, well, interesting. Kiffin might be somewhere else in 2016, but it certainly would be a notable sidebar to the game if he is not.
By the way, Saban will be 65 in 2016. He might not be atop the Crimson Tide when this game rolls around.
Hmm. Lane Kiffin, Lane Kiffin. Hmm.
Ah, there is a lot to ponder with this one. Plenty of topics that will percolate. And ferment. Perhaps it's good we have two full seasons between now and this showdown to hone our hyperbole.
July, 16, 2014
Jul 16
12:16
PM ET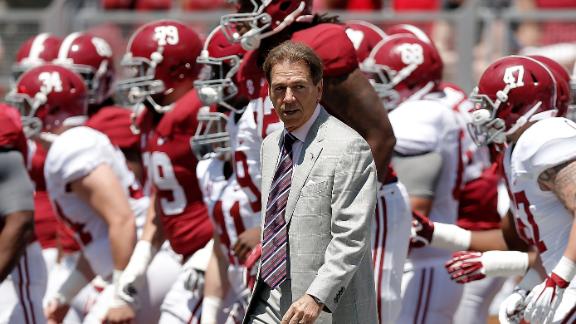 Alabama and USC will launch their 2016 seasons on Sept. 3 at AT&T Stadium in Arlington, Texas.
The Cowboys Classic will mark the eighth meeting between the programs. Alabama got the best of USC the last time the teams met, winning 24-3 in the 1985 Aloha Bowl.
The game against the Trojans is the latest of the Crimson Tide's high-profile neutral-site openers. Alabama will play West Virginia in Atlanta this season and Wisconsin in Arlington in 2015.
By adding the nonconference tilt with USC, Alabama fulfills its new obligation from the SEC to begin scheduling at least one nonconference game against a Big Five conference opponent starting in 2016.
Last summer, Alabama canceled a previously scheduled home-and-home series with Michigan State for 2016 and '17. Tide athletic director Bill Battle said at the time that the move was done because of "the uncertainty of conference football schedules in those years."
But according to coach Nick Saban, he tried and failed to persuade the Spartans to move the game to a neutral site.
The 2016 game between Alabama and USC could feature an interesting storyline. Lane Kiffin, who was fired by USC last fall, joined the Crimson Tide as offensive coordinator in January.
Alabama won the last time it played at AT&T Stadium, beating Michigan 41-14 to kick off the 2012 season.
Blue Chip Battles: ESPN 300 Update
SEC SCOREBOARD
Thursday, 8/28
Saturday, 8/30
Sunday, 8/31