April, 8, 2014
Apr 8
12:00
PM ET
April, 8, 2014
Apr 8
10:00
AM ET
TUSCALOOSA, Ala. --
Nick Perry
isn't doing anything to temper expectations for the Alabama secondary. The senior safety missed all but the first two games last season, and what he saw from the sidelines clearly didn't suit him. Back from injury, he's looking for a marked improvement.
"I think we're going to be a better secondary this year," Perry told reporters late last week. "The world should be ready to see more of the old UA-style secondary."
Last fall's results fell short of the typical Alabama standard. Though the numbers were far from horrific in the national rankings -- seventh in rushing yards per game, 11th in passing yards per game, fourth in touchdowns allowed -- the secondary was nonetheless vulnerable. Perry and fellow safety
Vinnie Sunseri
suffered season-ending injuries, starting cornerback
Deion Belue
wasn't always 100 percent, and the cornerback spot opposite him was never truly settled as
John Fulton
,
Cyrus Jones
,
Eddie Jackson
,
Maurice Smith
and
Bradley Sylve
all unsuccessfully tried to lock down the position.
[+] Enlarge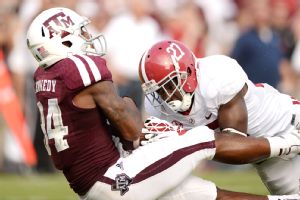 Thomas Campbell/USA TODAY SportsDespite their youth and inexperience, Nick Perry believes Alabama's secondary is ready for a return to glory.
Alabama's defense surrendered its highest Raw QBR score (38.1) since 2007 -- by comparison, that number averaged out to 22.5 from 2009-12. The Tide defense was ranked 60th nationally in the percentage of pass completions gaining 10 yards or more (46.2).
Still, Perry is confident this season will be different, even though that flies in the face of some noticeable obstacles. For one,
Ha Ha Clinton-Dix
left early for the NFL. Along with Belue and Sunseri, three-fourths of last season's secondary is gone. For another,
Jackson tore his ACL on Saturday
and will be out for several months, removing a promising talent from the equation. Barring an Adrian Peterson-like comeback, it's hard to envision the sophomore playing this season.
Those moves ultimately leave more questions than answers for Alabama's personnel. But it's not the personnel that has Perry hopeful. It's the coaching.
"Having Kirby [Smart] and [Nick] Saban in the same room coaching the same position is a dream come true for any defensive back," he said.
Perry called the two "geniuses at their position." He said that Smart is already "putting his new spin on things."
"It's tremendous," said fellow safety
Landon Collins
. "[Smart] just coaches us at a different level, trying to get us to understand it from his point of view because he played the position, and he knows what's going on. It's his defense. So basically it's a tremendous thing for us safeties because he sits down and goes step-by-step on what we need to do and what will make us a better player."
Saban has long worked with cornerbacks during practice, but this spring, Smart, Alabama's defensive coordinator, moved from coaching linebackers to safeties in order to
clear the way for Kevin Steele's return
.
"I've always liked it when Kirby coaches the secondary," Saban explained. "I think it's really hard for one guy to coach the secondary right now. I'm really sort of his [graduate assistant]. He's kind of working with the safeties and the whole group and then when we break down, I kind of try to work with the corners a little bit.
"I thought last year, we didn't play with enough consistency back there. We had a lot of different rotating parts, different starters, different corners starting. We've got to come up with some guys that can develop some consistency in performance."
As with most springs, the most talked-about players are the true freshmen. Five-star cornerback
Tony Brown
and four-star safety
Laurence 'Hootie' Jones
have been on campus since January, participating in the offseason conditioning program and spring practice. To Perry's eye, they haven't disappointed.
"Those guys have a bright future," he said. "They're picking up the defense pretty good, faster than I've seen any freshman pick it up. They came in early, and they're ready to work."
Perry was kind enough to break down each players' strengths.
"Tony is a great competitor. He's fast. He's everything you want in a corner," he said. "Hootie is your prototypical safety, you know. He's big. He has long arms. He has speed.
"Expect those guys to make a couple of plays this year."
In order to return to the Alabama secondary of old, they'll need to.
Perry is one of the few familiar faces still around. It's up to this season's crop of players to re-establish the standard.
April, 7, 2014
Apr 7
4:00
PM ET
The SEC has long been a line-of-scrimmage league. It's no coincidence that the team winning the title going back a decade or more has almost always been outstanding in the offensive line.

It's not absolute. The team with the best offensive line doesn't always win the title, but good luck in finding a recent SEC champion that was just average in the offensive line. Case in point: Was anybody better up front offensively last season than Auburn?
Looking ahead, we're asking you (the fans) to tell us who in the SEC will carry the banner in the offensive line this fall. So go vote in our SportsNation poll, and we'll break down the results later this week.
We've come up with five choices, including Auburn. The Tigers lost star left tackle
Greg Robinson
, who's being projected as a top-5 pick in May's NFL draft. But they're still plenty salty up front, led by All-SEC center
Reese Dismukes
.
The other four choices -- Alabama, LSU, South Carolina and Texas A&M -- also have a chance to be really good. And that's not to say that one of the other nine teams in the league could end up with the SEC's top offensive line by November. After all, how many people were touting Auburn as the best offensive line in the league this time a year ago?
Auburn, LSU, South Carolina and Texas A&M all return four starters. Alabama returns three.
Of note, the SEC returns an extremely talented crop of centers. The tackle position is equally loaded with LSU's
La'el Collins
, Florida's
Chaz Green
, Texas A&M's
Cedric Ogbuehi
, South Carolina's
Corey Robinson
and
Brandon Shell
, and Ole Miss'
Laremy Tunsil
.
April, 7, 2014
Apr 7
12:00
PM ET
April, 7, 2014
Apr 7
9:00
AM ET
TUSCALOOSA, Ala. -- Score scrimmage No. 1 in favor of
Blake Sims
.
Yes, he's something of a work in progress at quarterback. And, yes, it's fair to say that his skill set doesn't quite fit what Alabama and coach Nick Saban typically do on offense. But when it came down to proving it on the football field Saturday, Sims did exactly that, completing a team-high 16 of 23 passes for 227 yards, two touchdowns and no interceptions.
[+] Enlarge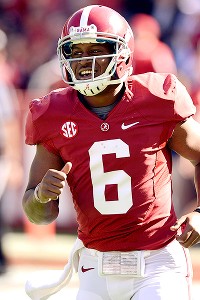 John David Mercer/USA TODAY SportsBlake Sims has accounted for just 244 passing yards in his Alabama career.
Considering only two touchdowns were thrown during the two-hour scrimmage, that's saying something. His 70 percent completion percentage, no matter how you slice it, is promising, considering his career average is less than 59 percent.
So maybe, just maybe, we're seeing Sims mature as a quarterback. He's still a 6-foot former running back and wide receiver with a sometimes awkward throwing motion, but until he's officially out of the race to replace
AJ McCarron
, there's no counting him out. He's easily the most experienced option
and
the most dangerous with the football in his hands.
"There are two plays with Blake: the one they call on offense and then when that one doesn't go right, it's the one he makes with his feet," senior safety
Nick Perry
said. "We've seen that in college football and even in the NFL with players like
Robert Griffin III
and
Johnny Manziel
. He's a dangerous player."
RG3 and Johnny Football, Sims is not. Put simply, he's a senior hoping that opportunity and maturity converge at the perfect moment.
Alabama coaches know what Sims can do running the football. All told, he's carried the ball 67 times for 355 yards and two touchdowns in his career. The real question, though, is whether he can stay in the pocket, set his feet and read a defense. He has a history of being erratic throwing the football, but has that improved with time and the added motivation of competition? Saturday's scrimmage seemed to indicate a move in a positive direction.
Saban didn't say much about the play of each quarterback, but he did note that Sims has had a "really good spring" and has "taken some command."
But the job isn't guaranteed to anyone. Along with Sims,
Alec Morris
and
Cooper Bateman
are in the mix.
"Those three guys have sort of emerged as the three guys that look like they're most ready to play," Saban said. "Nobody's disappointed in anybody else. We actually feel like our freshman (
David Cornwell
), who is coming off of an injury, has a lot of potential. He's just not 100 percent healthy yet.
"So we're pleased with the progress those guys have made."
Sims is clearly doing everything he can to separate himself. Instead of going to the beach and relaxing during spring break last week, he went to Florida and trained with quarterback coach Ken Mastrole.
The two worked on technical aspects like footwork, being on time with the football and reading coverages, Sims said, but it went beyond that. As much as he wants to improve as a passer, he's hoping to become more of a leader as well.
"[Mastrole] was a quarterback, so he gave me the knowledge of how to pick up your teammates and go at them so you're not a nagging quarterback," Sims said. "You're supposed to be a motivation and keep them positive and keep a great mindset with them."
In other words, Sims isn't letting the heat of competition get to him. When asked about soon-to-be Florida State transfer
Jacob Coker
, Sims said he loved his personality and looked forward to welcoming him "with open arms."
"We're not thinking about the battle against each other," Sims said. "We're just trying to think of how we can make Bama the best way they can be, and how can we have good communication with the players if we're with the ones or we're with the twos or with the threes. We're just trying to play harder and make each group better."
Of course, Sims isn't getting ahead of himself, but admitted, "It's very fun to see where your ability can take you in life."
"It would be nice," said Sims of potentially being named the starter. "It would be nice for me and I think I would like it. Watching AJ do the great thing that he did at the University of Alabama -- if I am the one that's chosen to be the quarterback at Alabama, I'd like to keep it going."
He might be the more unorthodox option, but if Sims keeps playing like he did Saturday and continues improving as a passer, he'll have a shot to do just that. The competition won't be decided until the fall, but Sims is off to the right start.
April, 6, 2014
Apr 6
10:14
PM ET
TUSCALOOSA, Ala. -- Alabama cornerback Eddie Jackson has a torn ACL and will miss the remainder of spring practice, sources told ESPN.
Jackson started four games and appeared in seven contests as a true freshman last season, racking up 19 tackles, an interception and two fumble recoveries. The Florida native and former four-star prospect had been working with the first-team defense for much of the spring before injuring his knee during a scrimmage on Saturday.
Alabama coach Nick Saban said Jackson hurt his knee in a "noncontact" situation where he jumped for the football and "came down funny."
"Eddie Jackson had an MRI Sunday which confirmed that he had ligament damage in his knee that required surgery," Saban said Monday in a statement. "... We are confident Eddie will make a full recovery and be ready to go this fall."
It is expected to take Jackson about five months to recover, which could cause him to miss preseason camp. If Jackson is unable to return for the regular season, a medical redshirt is possible.
Jackson came on strong early last season, starting in Week 3 against Colorado State and then again the following week against Ole Miss, where he made three tackles and broke up two passes. He started a third straight game before seeing his playing time dwindle down the stretch.
However, with the benefit of bowl practice, he returned to the starting lineup against Oklahoma in the Allstate Sugar Bowl.
April, 6, 2014
Apr 6
9:00
PM ET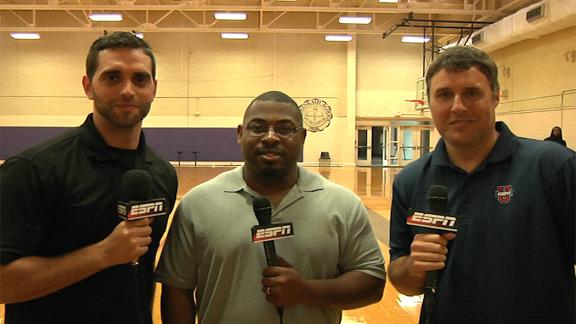 HOUSTON -- On-again, off-again rain couldn't put a damper on the Houston Nike Football Training Camp on Sunday, and three athletes -- safety
Deionte Thompson
, tight end
Jordan Davis
and offensive tackle
Jerry Tillery
-- earned golden tickets to compete at The Opening this summer in Oregon.
Seven players left The Kinkaid School practice facility with MVP honors at their respective positions: Skyler Bonneau (quarterbacks),
Remus Bulmer
(running backs),
Gary Haynes
(wide receivers),
Erik McCoy
(offensive linemen),
Nikolas Daniels
(defensive linemen),
Spencer Choka
(linebackers) and
Deontay Anderson
(defensive backs).
To continue reading this article you must be an Insider
April, 4, 2014
Apr 4
12:00
PM ET
LSU and Ole Miss will hold their spring games on Saturday, with six more teams set to play their games next Saturday. As spring practice winds to a close at many of the schools around the conference, let's take a look at some of today's headlines.
April, 4, 2014
Apr 4
10:00
AM ET
Brandon Allen
.
Nick Marshall
.
Bo Wallace
.
That's it. That's the list.
Only three quarterbacks who started double-digit games last season return to the SEC this fall, and one of them isn't even guaranteed to be a starter.
[+] Enlarge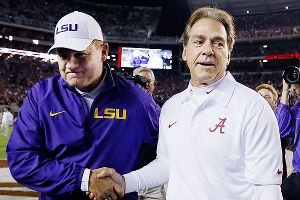 Kevin C. Cox/Getty ImagesLes Miles and Nick Saban are in no hurry to name their starting QBs for the fall.
Everywhere you turn in this league, there's a quarterback competition underway, from Alabama to Georgia, Arkansas to Kentucky, LSU to Texas A&M.
Maty Mauk
is surely the presumptive starter at Missouri, but even he's not a sure thing. Gary Pinkel says he wants competition, never mind that there were times when Mauk looked better than former starter
James Franklin
.
But not every coach in the SEC approaches the quarterback position the same way. A quick glance across the league shows a variety of opinions about how to pick a starter.
Mark Stoops is the most urgent-minded coach of the bunch, and given the inconsistency Kentucky had at quarterback last season, it's easy to understand why. Entering his second season, Stoops said: "I'd love to come out of spring with a clear-cut starter." That means everyone is in the mix.
Maxwell Smith
can't practice while he recovers from shoulder surgery, but
Jalen Whitlow
,
Reese Phillips
,
Patrick Towles
and even true freshman
Drew Barker
are in the hunt.
Barker, a four-star prospect according to ESPN, "has a very good opportunity to take control of it," Stoops said, praising his maturity for such a young quarterback.
"He's a guy [who] has high expectations [for] himself, and he's OK with the pressure that comes along with playing that position," Stoops said. "He's excited about the opportunity, and I'm excited to see what he can do."
Bret Bielema isn't outwardly putting a timetable on anything at Arkansas, but he's encouraging everyone to compete. Allen started 11 games last season but was up and down, with 13 touchdowns and 10 interceptions.
Bielema was about as no-nonsense as any coach gets about the situation.
"In theory, the first time we yell out for the [first string, Allen is] going to step out there," Bielema said before the start of spring practice. "But really, in our program, the competition brings the best out of people.
"So B.A. is going to be the first guy in with the ones, but there will be other guys who get opportunity," he continued. "Who is able to produce and run the offense effectively and who gives us the best chance to win next year's opener against Auburn will be at that position."
Similar to the case at Kentucky, Bielema isn't counting out his true freshman.
Rafe Peavey
, another highly-regarded four-star prospect, is going to be allowed to sink or swim. Bielema loves his talent and praised him as a "football junkie." But he's not pampering the rookie.
"It's no different between the right tackle or the quarterback or the safety," Bielema said. "It's all about what a freshman can handle, how they adjust to adversity and how they enjoy success.
"The quarterback gets a lot of attention. They're usually really pretty, really smart, and everybody likes them. But in reality, they're like everybody else. Those that play well will play and those that don't will sit."
While Bielema and Stoops are anxious for a battle, other coaches around the league are more inclined to sit back and wait.
[+] Enlarge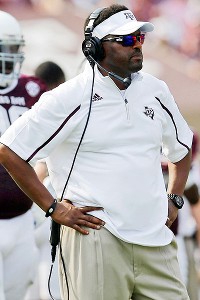 AP Photo/David J. PhillipWho will replace Johnny Manziel as Texas A&M's QB? Kevin Sumlin isn't saying anything right now.
LSU coach Les Miles said he has a good sense of the competition between
Anthony Jennings
and
Brandon Harris
. "But it always plays out," he said, harkening back to when Matt Flynn and JaMarcus Russell duked it out eight years ago. It looked like Flynn had the job in hand after winning a bowl game and watching Russell come into camp out of shape in 2006. But Flynn's body faltered down the stretch and Russell kept going, eventually winning the job.
"I want all the quarterbacks to know that it's going to be given to no one," Miles said. "[It's] earned by the one that plays."
Texas A&M and Alabama are taking similar approaches to replacing
Johnny Manziel
and
AJ McCarron
. In fact, both Kevin Sumlin and Nick Saban are somewhat defiant about holding the cards close to the vest.
Sumlin has gloated before that when people assumed
Jameill Showers
would beat out Manziel in 2013, "I didn't name a starter [after spring]; y'all did."
So while we watch
Matt Joeckel
,
Kenny Hill
and
Kyle Allen
jockey for position, don't expect a starter to be named until close to the season.
Saban, for his part, doesn't want to hear anything about it. His quarterback competition is essentially on hold until the fall, when Florida State transfer
Jacob Coker
arrives. Before the start of spring practice, Saban laid out his plan, saying, "Let me be very clear about this: We're not going to be in a hurry to decide who the quarterback is."
"You guys are going to ask me at least 1,000 times between now and the first game who's the first-team quarterback," he added, "and I'm telling you right now you're probably going to get a 1,000 'We're going to wait and see.' "
The only place in the SEC that doesn't have to be patient in the matter is South Carolina. Coach Steve Spurrier named
Dylan Thompson
the starter well before spring practice ever began.
Replacing
Connor Shaw
won't be easy, but Spurrier said that Thompson was the guy for the job, no question. A fifth-year senior with plenty of in-game experience, Spurrier didn't have a doubt in his mind.
"I didn't know there was any question about it," he said. "Someone said, 'You're just naming him the starting quarterback?' Well, I just said, 'Of course I am. Why wouldn't we?' "
Spurrier did it his way. Saban and Sumlin are doing it theirs. Stoops is anxious, and Bielema and Pinkel are only interested in the competition.
Recruiting a quarterback is the furthest thing from an exact science. Finding out who's ready to start is even more inexact.
This might be the season of new quarterbacks in the SEC, but everywhere there's a different sense of which way the wind blows.
April, 4, 2014
Apr 4
9:00
AM ET
TUSCALOOSA, Ala. --
Alabama
isn't in a rush to find its starting quarterback for the 2014 season.
That might sound a little crazy when you consider the high expectations the Crimson Tide will undoubtedly face yet again this fall, but it really isn't the biggest concern for a team that was an improbable play away from repeating as SEC West champs and possibly playing in its third straight BCS title game last season.
[+] Enlarge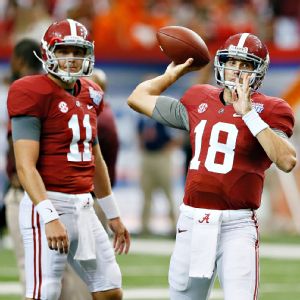 Kevin C. Cox/Getty ImagesAlec Morris (left) and Cooper Bateman (right), along with Blake Sims, have separated themselves a bit in Alabama's QB derby.
While the team can wait it out on finding a starter -- especially with former Florida State quarterback
Jacob Coker
enrolling
after spring
-- Saturday's scrimmage could go a long way to finding a little separation with the five guys currently vying for the position.
"Obviously, the first scrimmage kind of shows you who wants to really work for the spot and who doesn't," Crimson Tide center
Ryan Kelly
said about the quarterback competition.
With Coker not on campus, Alabama has turned to
Blake Sims
,
Cooper Bateman
,
Alec Morris
,
David Cornwell
and
Parker McLeod
to share reps under center this spring. Sims, a redshirt senior, is the only one with any experience, but he changes the offense some with his mobility. While all five bring something different to the table, the plan for Alabama will be to run more of a pro-style offense. Sims might be the odd one of the bunch when it comes to that, but new offensive coordinator Lane Kiffin's arrival shouldn't change the basic structure of an offense Sims is very familiar with.
Alabama has only had a handful of scrimmages, but players have been at it since pre-spring 7-on-7s began. For wide receiver
Christion Jones
, each QB has taken advantage of every rep afforded to him since last season ended. For now, Jones said Sims, Bateman and Morris have stood out from the bunch.
"Everyone has their time where they struggle a little bit, but those three guys are the ones who overcome," Jones said. "Even when they mess up it's not really a letdown or they get frustrated. Those three take the coaching better. The other guys still have to learn to take the coaching and take the criticism and make yourself better out of it."
We'll be able to see a little more of that Saturday. The guys who have prepared the most and bought in more will stand out. They won't have to be perfect, but they'll have to show that they've learned something in the last few weeks.
In a perfect world for the Tide, a starter would be in place and this team could worry more about developing, but trying to find a new signal-caller means that players around them are having to do more. Linemen are having to adjust to five different patterns and cadences from each quarterback, while receivers are dealing with five different releases, five different throwing styles and five different versions of in-huddle terminology.
Jones said it isn't exactly ideal, but it is making receivers better, as they are having to concentrate even more on what they are doing in practices to accommodate for each passer.
"This spring, it's more of focus level because we don't know who the starting quarterback is," he said. "Either one of those five guys could be it. We have to be on our Ps and Qs and we have to be at that right spot at that right time. We don't know what these guys are thinking right now. It makes you always be ball-ready because you never know what can happen."
Saturday will be a good stepping stone for each quarterback, but it won't necessarily decide anything. To Kelly, it doesn't matter who is under center, he's going to be expected to excel. That's how elite programs roll, and Kelly wants each quarterback he's working with to understand that.
"It doesn't matter who's in that position, you're going to be held to the standard that you're going to do your job the best you can," Kelly said. "Otherwise, if all five guys aren't on the same page then something bad is going to happen."
April, 3, 2014
Apr 3
12:15
PM ET
It's not exactly like the fall, but at least we'll have some football (spring) games this weekend. Let's take a quick spin around the SEC and see what's happening as the final spring scrimmages approach at some of the league's schools.
April, 3, 2014
Apr 3
9:00
AM ET
TUSCALOOSA, Ala. -- It started out innocently enough as Alabama coach Nick Saban ribbed the media on Monday about returning from spring break. He acted surprised when one reporter said she didn't take the time off, noting sarcastically how, "You really appreciate them when you work hard."
The jab was obvious as he gave a sly look around the room as if to say that hard work was a foreign concept to the press. One writer quipped, "Why are you looking down here?"
A smirk from Saban: "I don't know. I'm wondering."
The playful mood lasted a hiccup longer and then it was back to business as Saban said how his players were starting to worry too much about the depth chart, followed by a news flash: "We really don't have a depth chart."
[+] Enlarge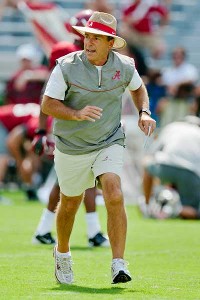 Kevin Liles/USA TODAY SportsFighting expectations and speculation during spring practice is nothing new to Nick Saban.
Later on came the question that really set him off.
Saban can talk about X's and O's all day. The problem is there's hardly anything concrete about spring practice. There's no game film, no stat book, no players of the week. Without a depth chart, there's only who's getting better and who's getting worse. And without results, that's a matter of opinion.
But Saban isn't fond of conjecture. He's even less fond of appearances, apparently.
"What does appear mean?" Saban said, responding to a question about the perceived depth of his defensive line. "It just means you've dreamed about it and it's there?"
A quick clarification before he fired back: "What it looks like on paper? We've never seen these guys play or seen them take on an SEC lineman. But it appears."
He continued, putting a point on the matter: "That's how we form public opinion because something appears to be that way and everyone believes it."
Such was a sneak peek into the mind of Saban. There's no room in there for what could be. There's a standard he's trying to uphold and anything that takes him away from that -- say, speculation -- isn't tolerated.
It's an odd conundrum to have a program that loathes appearances while at the same time being such an object of speculation. It's like a celebrity shunning the paparazzi. You want to avoid them but they're always there.
Alabama is nonetheless wrought with pressure from the outside. Inside the bubble of the football offices it's all business, but everywhere around there's immense expectations and boundless conjecture about wins, losses, championships and future stars.
Saban might claim to not have a depth chart, but every day is a constant battle for fans to determine who the starters will be on a team that loses two starting offensive linemen, two veteran receivers, two high-profile linebackers and three key contributors in the secondary. Oh, and there's also the small matter of
AJ McCarron
leaving a vacancy at starting quarterback -- just don't ask Saban about that race because he'll tell you to hold your horses and be patient.
Take for instance the question about the defensive line. Saban might not see his group in a good light today, but when you look at the depth Alabama has up front on defense, it's scary.
A'Shawn Robinson
was one of the most impressive rookies in the SEC last season. He's joined by
Jonathan Allen
, another true freshman who was promising off the bench.
Brandon Ivory
is back at nose guard,
Darren Lake
returns as his backup and there are a number of options to bring in the rotation around them.
Dalvin Tomlinson
, when healthy, has the potential to be a game changer. And we haven't even mentioned the return of former Freshman All-SEC choice
D.J. Pettway
and the eventual arrival of five-star
Da'Shawn Hand
.
List those names all you want, just don't expect Saban to sing their praise. It's simply not his way to buy into the hype.
"I'm not satisfied with the way any of them are playing, if you want to know the truth about it," Saban said of his D-line. "They've got to be more aggressive, physical, play with better leverage, hold the point better, rush the passer better. I didn't think that last year was one of our best years up front, and even though we have a couple new players competing and Dalvin Tomlinson back, I think all of them have a ways to go. A'Shawn Robinson has a lot of ability, but I think we need to get him in shape and he's got to play with better focus and intensity down in and down out to be more consistent.
"So defensively we have a ways to go to improve to get back to the level and our standard of what we like to play here."
Though sometimes it feels like Saban is constantly fighting with reporters, he's not. The speculation extends far beyond the walls of the media room and the pages of newspapers. It's all the talk that drives Saban nuts because it has a way of reaching his players, inflating their egos long before they've earned their stripes. Remember Saban's comment about the depth chart? That came unsolicited, a direct shot at his team one floor below in the locker room.
What Saban is fighting is the standard. While others are taking time off, he's busy worrying about the next move, not the next question about how things appear.
How it looks on paper? He'd rather see how it looks with his eyes, and then he'll get back to you.
April, 2, 2014
Apr 2
12:45
PM ET
Alabama
running back
Altee Tenpenny
is due in court in North Little Rock, Ark., on April 10 to face charges for possession of a controlled substance.

Tenpenny, a former four-star recruit who was primarily a backup and special teams player for the Crimson Tide as a freshman last season, received a citation from North Little Rock Police at 2:21 a.m. on March 24. According to the incident report, Tenpenny was pulled over for having a faulty license plate light when the officer smelled what he believed to be marijuana.
The report states that Tenpenny told the officer he "smoked a blunt" with his older brother an hour earlier. The officer asked if there was any additional marijuana in the car and Tenpenny said there was not, according to the report. The officer searched the car and found a substance he suspected to be marijuana. The "whole drug quantity" was reported as two grams, to which Tenpenny allegedly said he was the owner, the report states.
Tenpenny was later released by officers, was given a citation and told to report to court on April 10 at 9:30 a.m.
"I'm aware of the situation with Altee and this is obviously not the kind of behavior we expect from our players," Alabama coach Nick Saban said. "In addition to any punishment he may receive from a legal standpoint, we will have some internal discipline as well as education that he will be responsible for working through."
The sophomore tailback has participated in spring practice at Alabama since the incident. He is expected to be one of a handful of backups to incumbent starter
T.J. Yeldon
in 2014.
April, 2, 2014
Apr 2
9:00
AM ET
AUBURN, Ala. -- There wasn't much fire in the voice of Gus Malzahn as he stood at the podium following Auburn's first scrimmage of the spring on Saturday. All told, it was a pretty boring scene. No injuries to report. No position changes to speak of. Only one turnover and a handful of big plays. His team had to move indoors because of the threat of rain, but as he said, "It didn't bother us a bit."
Watching Malzahn, you got the feeling he wasn't playing coy. This was the difference a year makes. Last spring was an anxious time for Auburn. There was no quarterback, no depth chart and no sense of expectations. Malzahn and Co. were simply trying to pick up the pieces left behind from the previous staff.
This spring has a much different tone. All one needed to do was look at the long-sleeve, collared shirt Malzahn wore after practice, the one with the SEC championship patch on its left shoulder. The building phase of Malzahn's tenure is over. The questions are much fewer this year than the last. And with that, the sense of urgency is far more diminished.
"We've got more information now, so we're not as urgent," Malzahn said. "We pretty much know a lot about the guys returning."
Not every coach in the SEC is in the same enviable position.
"You've also got to keep in mind next year," Malzahn said. "You want to get your guys as much reps as you can moving forward for next year, because that's what it's all about ... but I would say, probably, for the most part, that we've got guys in the position that we want them to be in."
Not every coach can afford to look ahead this spring. Not every coach has the time.
With that said, let's take a look at the programs with the most to accomplish this spring, ranking all 14 schools by the length of their to-do list.

Vanderbilt:
Any new coaching staff has the most work to do, from determining the roster to installing new schemes on both sides of the ball. Throw in a new starting quarterback and the
raid James Franklin put on the recruiting class
, and it adds up to an enormously important spring for Derek Mason.

Kentucky:
Mark Stoops has done a lot to turn around the culture at Kentucky. In fact, veteran defensive end
Alvin Dupree
said it feels like more of a football school now
. But the fact remains that Stoops has a very young group to deal with, so inexperienced that true freshman
Drew Barker
is in contention to start at quarterback.

Tennessee:
The Vols are facing many of the same
challenges in Year 2 under Butch Jones
. He has brought in a wealth of talent, including a remarkable 14 early enrollees. Considering the Vols lost all of their starters on both the offensive and defensive lines, there's a lot of work to do.

Florida:
The hot seat knows no reason. All is good in Gator Land right now as a new offense under a new coordinator is installed, injured players -- including starting quarterback
Jeff Driskel
-- return, and expectations creep upward. But a bad showing in the spring game could change the conversation quickly for Will Muschamp.

Arkansas:
There's
nowhere to go but up for Bret Bielema
after a 3-9 finish his first year with the program. The good news is he has young playmakers on offense (
Hunter Henry
,
Alex Collins
, etc.). The bad news is the quarterback position is unsettled and his defensive coaching staff is almost entirely overhauled from a year ago.

LSU:
A depth chart full of question marks is nothing new for Les Miles, who has
endured plenty of underclassmen leaving for the NFL
before. But missing almost every skill player on offense (
Zach Mettenberger
,
Jeremy Hill
,
Odell Beckham
,
Jarvis Landry
) hurts. He has to find replacements at several key positions, and we haven't even gotten into the defense.

Texas A&M:
Cedric Ogbuehi
can replace
Jake Matthews
at left tackle. The combination of
Ricky Seals-Jones
and
Speedy Noil
can replace
Mike Evans
at receiver. But
who replaces the legend of Johnny Football
? Determining a starter under center won't be easy, but neither will be overhauling a defense that was far and away the worst in the SEC last year.

Georgia:
Jeremy Pruitt
should breathe some new life
into a struggling Georgia defense. Having
Hutson Mason
to replace
Aaron Murray
helps as well. But
off-the-field problems continue
to plague Mark Richt's program. With stars such as
Todd Gurley
, the players are there. The pieces just need to come together.

Missouri:
After 13 seasons in Columbia, Gary Pinkel knows how to handle the spring.
Maty Mauk
appears ready to take over for James Franklin at quarterback, and even with the loss of
Henry Josey
, there are still plenty of weapons on offense. The real challenge will be on defense, where the Tigers must replace six starters, including cornerstones
E.J. Gaines
,
Kony Ealy
and
Michael Sam
.

Alabama:
The quarterback position won't be settled this spring, so we can hold off on that. But still, Nick Saban faces several challenges, including finding two new starters on the offensive line, replacing
C.J. Mosley
on defense and completely overhauling a secondary that includes
Landon Collins
and a series of question marks.

Ole Miss:
Hugh Freeze has his players. Now he just has to develop them. With emerging stars
Robert Nkemdiche
,
Tony Conner
,
Laremy Tunsil
,
Evan Engram
and
Laquon Treadwell
, there's plenty to build around. Include a veteran starting quarterback in
Bo Wallace
and there's a lot to feel good about in Oxford.

Mississippi State:
It's a new day in the state of Mississippi as
both state institutions have high expectations this spring
. Mississippi State returns a veteran defense, a solid offensive line and a quarterback in
Dak Prescott
who could turn into a Heisman Trophy contender. A few months after Dan Mullen was on the hot seat, he now appears to be riding high.

Auburn:
Losing
Tre Mason
and
Greg Robinson
hurts, but outside of those two stars, the roster remains fairly intact.
Nick Marshall
figures to
improve as a passer
, the running back corps is well off, and the receivers stand to improve with the addition of
D'haquille Williams
. The defense should get better as youngsters such as
Montravius Adams
and
Carl Lawson
gain experience.

South Carolina:
Steve Spurrier would like to remind everyone that
Dylan Thompson
was the only quarterback in the country to beat Central Florida last season. Sure, Thompson wasn't the full-time starter last year, but he has
plenty of experience and is ready to be the man
. Throw in a
healthy and eager
Mike Davis
and an improving set of skill players, and the offense should improve. The defense has some making up to do on the defensive line, but there's no reason to panic, considering the rotation they used last year.
Saban: Peyton's Visit: 'Mutually Beneficial'
SEC SCOREBOARD
Thursday, 8/28
Saturday, 8/30
Sunday, 8/31