November, 25, 2014
Nov 25
10:00
AM ET
November, 25, 2014
Nov 25
10:00
AM ET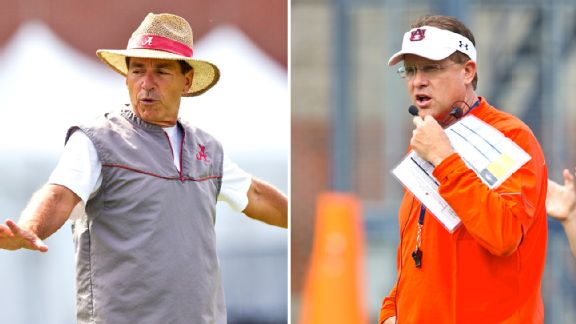 AP Photo/Brynn AndersonAlabama's Nick Saban and Auburn's Gus Malzahn have more in common than you might think.
It would be easy to portray Gus Malzahn and Nick Saban as two completely different coaches. Different philosophies. Different dispositions. Different sides of one of the most intense rivalries in all of sports.
But while you could cast them as opposites and be done with it, that might not be telling the whole truth. Because they aren't as different as you might think. Whether it's an obsessive drive to win, or a fierce attention to detail, the two coaches share much in common.
One is a defensive mastermind, the other an offensive magician. Whether it's exotic blitzes or misleading pre-snap motions, both attack their respective sides of the ball from unique angles. They try to confuse you. They try to outthink you. And they're both among the best in the game at doing so.
From a certain perspective, you might say Malzahn and Saban are different sides of the same coin.
They share an ingrained work ethic, having grown up in small towns -- Saban in Fairmont, West Virginia, and Malzahn in Fort Smith, Arkansas.
Though they're 14 years apart in age, their birthdays fall during the same week of October.
Saban was defensive coordinator at Michigan State, left, and then got his big break when he returned to become the Spartans' head coach.
Malzahn was offensive coordinator at Auburn, left, and then got his big break when he came back to take over as the Tigers' head coach.
Sensing a pattern?
Though Saban dwarfs Malzahn in total wins, their winning percentages aren't that far off, with Saban at 84 percent and Malzahn at 80.
Saban played defensive back in college. Malzahn played receiver. Even today their actions mirror one another, as Saban tries to slow down the tempo of the game while Malzahn does everything he can to pick up the pace.
Personality-wise, they present similar images to the media: guarded, singularly focused, sometimes combative. But behind the scenes, there's more to them. Thanks to the miracle of the Internet, we've seen both coaches dance, Saban doing his best "
Electric Slide
" and Malzahn strutting his stuff to MC Hammer's "
U Can't Touch This
."
Anything for recruiting, you might say.
Alabama presents itself as an NFL factory and Auburn as a place of family, but they both produce results. The Crimson Tide have
finished No. 1 in ESPN's class rankings

each of the past three years. Auburn, meanwhile,
is currently ranked ninth

and closed its most recent class at No. 8 overall.
But the biggest similarity between Saban and Malzahn is their attention to detail.
Alabama athletic director Bill Battle was amazed when he first caught a glimpse of the way Saban ran his program. Everything was so efficient, so focused on the task at hand. Watching practice from outside his office, Battle saw there wasn't a wasted moment.
Jay Jacobs, Auburn's AD, noticed the same thing about Malzahn.
"He's not thinking about other things," Jacobs said. "He's not self-serving at all. He's relentless in details, and he's absolutely great to work with because all he's thinking about is how to make Auburn football better."
Tying those two accounts together is Hoover (Ala.) High coach Josh Niblett, who has sent numerous players to both state schools. Whether it's on the recruiting trail or during coaching clinics, Niblett has had the chance to get to know both Saban and Malzahn well.
"They're both very professional," he said. "Both of them are competitors and both of them are driven, and then both of them have attention to detail. You don't have to be around them long to understand that attention to detail is one of the big factors for their success."
What's stood out to Niblett is their businesslike approach and their hands-on style of coaching.
"One of the neatest things about them is they're both good teachers," he said. "It's one of the best common values they have, they're very hands-on. You have a lot of coaches that are the CEO-type that are involved, but they're involved from the outside in. These two guys are involved from the inside out. It means so much to them that they put their stamp on it, that they want to make sure that they continue to do it."
On Saturday, we'll see their systems come to a head.
Auburn, well out of the playoff race with three losses, is out to spoil No. 1-ranked Alabama's season.
The way Malzahn's emphasis on speed matches up with Saban's emphasis on size is so perfectly incongruent. It's like looking in a mirror.
No, they're not exactly alike. But like the reflection in a mirror, everything is reversed. The receiver is the defensive back. Offense is defense.
They're different, but so much of them is the same. It's what makes it so fun to watch.
November, 25, 2014
Nov 25
8:30
AM ET
By
Brian Fremeau
| ESPN Insider
[+] Enlarge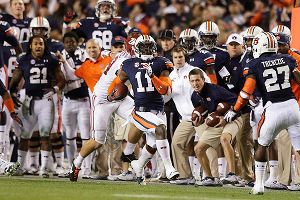 AP Photo/Dave MartinWill this year's edition of the Iron Bowl play out like last year's?
Two in-state SEC West rivalry games will be played this weekend, and the stakes for both games are at an all-time high.
Alabama
and
Mississippi State
are tied atop the SEC West standings with a 10-1 overall record, and as of
last week's rankings
, both are in position to receive a bid to the inaugural College Football Playoff. All that stands in the way of glory is each team's fiercest rival.
Either Alabama or Mississippi State will play for the SEC championship regardless of how this weekend's games shake out, but if both teams are saddled with a two-loss record at the end of the year, the door will swing wide open for other playoff contenders. We
forecasted the probability of this scenario
back in early September, at the time predicting a 14 percent chance that no SEC team will finish the season with fewer than two losses. That number remains 14 percent heading into this weekend, the likelihood that both Alabama and Mississippi State will lose on Saturday,
according to our latest FEI ratings projections
. There is a 66 percent chance one of the two will lose.
If the schedules had worked out a bit differently, they might all have two losses already.
To continue reading this article you must be an Insider
November, 25, 2014
Nov 25
8:30
AM ET
Let's just get this out of the way: Last week in college football was kind of dull.
Unless, that is, you're into watching the single-game FBS
rushing record fall
for the second straight Saturday. (So who breaks it this week?) Yes, last week was dull, unless, of course, you're into Florida State's
weekly high-wire act
, re-awakenings at
Arkansas
and
Minnesota
or UCLA's
continued stranglehold on Los Angeles
.
My point is, the latest set of games didn't significantly impact the College Football Playoff picture -- at least in comparison to the past few weeks. Barring some craziness at the selection-committee table, the top four on Tuesday night is going to look no different than last week's edition.
But Week 13 was simply the calm before the storm. Not so sure? Check out first nine paragraphs Gene Wojciechowski's
BMOC column
. The rocky road to Dec. 9 is enough to make a fan of any playoff contender choke on his or her turkey dinner.
And it starts in two days.
To continue reading this article you must be an Insider
November, 25, 2014
Nov 25
8:00
AM ET
1. It's been 359 days since the "kick-six" in last year's Iron Bowl. And yet, nobody has forgotten what happened -- not the coaches, not the players, not the fans, and certainly not the state of Alabama. In Tuscaloosa, the players have found
different ways to cope
with the gut-wrenching finish to last year's game. Some use it as motivation. Others turn off the TV when the replay comes on. But for the most part, they have all moved on. It's a new year. That's the same message Gus Malzahn is telling his Auburn team. "I know it will be talked about all week," Malzahn said Monday night on his weekly radio show. "But last year is last year. This is a new year." With or without the "kick-six,"
this is still the Iron Bowl
. As Auburn defensive coordinator Ellis Johnson said, there's no point in acting like it's "the same as every other game." It's not.
2. The Egg Bowl might not be the Iron Bowl, but there are
more than just bragging rights
on the line when Mississippi State and Ole Miss square off this Saturday. For the Bulldogs, it will have a direct effect on their playoff aspirations. They not only have to win but win big in order to impress the committee and try and hang on to a spot in the top four. Ole Miss did them no favors this past week with a 30-0 loss to Arkansas. It didn't help that quarterback
Bo Wallace
sprained his ankle in the first half and never looked like himself after that. But a sprained ankle
won't keep Wallace away
from Saturday's game, not in his final home game. He's going to give his best
Dak Prescott
impersonation and play even if he's not 100 percent. It worked out OK for Prescott in last year's Egg Bowl.
3. The season is nearing the end which means it's time to hand out awards and All-American honors. ESPN Insiders Mel Kiper Jr. and Todd McShay got a jump start Monday, putting out their
NFL prospect All-America team

. Basically, it's a look at what the All-America team would like if voted on by NFL scouts. The team included 10 players from the SEC, more than any other conference. Obvious names like
Amari Cooper
and
Shane Ray
were on there, but so were names like
Todd Gurley
, despite his recent injury, and Alabama fullback
Jalston Fowler
even though he has just seven carries on the season. Prescott was not on there (because of some quarterback named
Marcus Mariota
), and both Kiper and McShay agreed on Twitter that it would benefit the Mississippi State quarterback
to come back next year
.
Around the SEC
Tweet of the day
Praying for my #VFL brother Eric Berry! Can't wait to watch him bounce back from this test of adversity! =O #VFL @Stuntman1429

— Antonio Richardson (@tinyrichardson) November 25, 2014
November, 24, 2014
Nov 24
11:00
PM ET
Malik Jefferson
reduced his list to seven schools on Monday, and though the list is hardly a surprise, recruiters think there are still some in store with the No. 35 player in the country.
To continue reading this article you must be an Insider
November, 24, 2014
Nov 24
4:42
PM ET
[+] Enlarge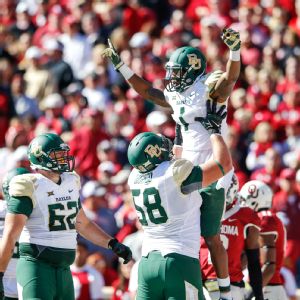 Kevin Jairaj/USA TODAY SportsEven if Baylor wins out, the Bears will likely need some help to sneak in to the top four.
There's only one week left in the regular season before the conference championship games begin (everywhere but the Big 12, that is). That leaves two more auditions for teams to make their final impressions on the 12 members of the College Football Playoff selection committee.
A handful of teams can control their playoff hopes, but more often than not, the teams on the bubble could use a little help down the stretch. The good news? There's still time. Here's a playoff road map to help illustrate how the leading candidates can get there in the final two weeks:
1. Alabama
• What the Tide controls: If Alabama beats Auburn in the Iron Bowl, it wins the SEC West and is one step closer to the playoff. Win the SEC and they're in.
• Where they need help: If Mississippi State loses to Ole Miss in the Egg Bowl, Alabama will clinch the division regardless of what happens in the Iron Bowl.
2. Oregon
• What the Ducks control: They've already clinched the Pac-12 North Division, earning a spot in the conference title game. All Oregon has to do is avoid an upset in the regular-season finale against Oregon State -- a 5-6 team that somehow found a way to upset then-No. 6 Arizona State.
November, 24, 2014
Nov 24
12:00
PM ET
It all comes down to this.
The regular season ends this week, and it's poised to close with a flourish as both the Iron Bowl and Egg Bowl have SEC and national implications.
Let's take a quick look at some of this week's top storylines in the SEC.
Game of the week: No. 1 Alabama vs. No. 14 Auburn
Auburn just isn't a good football team right now. After losing to Texas A&M, the Tigers threw in the towel against Georgia. Meanwhile, Alabama has come on strong of late, winning close games against LSU and then-No. 1 Mississippi State. So the Iron Bowl should be a blowout, right? Maybe. Because when it comes to rivalry games, you can throw out the records. Alabama is playing for a spot in the SEC championship game while Auburn has nothing to lose. Sounds like a recipe for something strange to happen, right?
Prescott
Player under pressure: Dak Prescott, Mississippi State
The last time we saw Mississippi State QB Dak Prescott on the national stage, it wasn't pretty. He played arguably his worst game of the year against Alabama as his three interceptions led to the Bulldogs' first loss of the season and a total knockout of his own Heisman Trophy hopes. In fact, eight of his 10 picks this season have come in his last six games. So it goes without saying that he needs to rebound. That started on Saturday against Vanderbilt, but the real test will come during the nationally televised Egg Bowl. If he plays well and helps beat Ole Miss, the Bulldogs' playoff hopes remain alive.
Muschamp
Coach under the microscope: Will Muschamp, Florida
This is it for Will Muschamp. His four tumultuous seasons at Florida will come to a close on Saturday. But what will be the final note of Muschamp's tenure? Against No. 3 Florida State, it could be wild. It could be an upset. After all, it's not like the Seminoles are dominant this year. As Louisville, Miami and Boston College have shown us, FSU is beatable. Now will Florida actually do it? Maybe not, but how crazy would that be if it happened in Muschamp's final game?
Storyline to watch: Who will win the East?
There's nothing Georgia can do about it. If Missouri wins on Saturday, the Eastern Division title will go to the Tigers for a second consecutive season. But a win is far from guaranteed as Missouri must host the suddenly red-hot
Arkansas Razorbacks
. Bret Bielema's squad has come on strong this season, knocking on the door against the likes of Georgia and Alabama before finally breaking it in the past two weeks with wins over LSU and Ole Miss. So how will
Shane Ray
and the rest of the Missouri defense handle
Alex Collins
and the Arkansas running game? And how will
Maty Mauk
take care of the football against an Arkansas defense that forced Ole Miss into four turnovers this past weekend? A win for Missouri would win a trip to Atlanta. A loss would give Georgia the pleasure.
Intriguing matchup: Alabama front seven vs. Auburn zone-read
Alabama's defense has been stout up the middle. Just ask Arkansas, LSU and Mississippi State, as the three power running teams had little success between the tackles against the Tide, averaging a combined 3.04 yards per carry. That's due in no small part to Alabama's size up front with big linemen like
Brandon Ivory
and physical inside linebackers like
Trey DePriest
. But Auburn's zone-read attack is a different animal. While there's power components to Gus Malzahn's offense, it's predicated on speed, too. Against the fleet-footed
Nick Marshall
and
Corey Grant
, Alabama's front seven will have to pay close attention to the running lanes and not give Auburn room to run on the outside.
November, 24, 2014
Nov 24
11:00
AM ET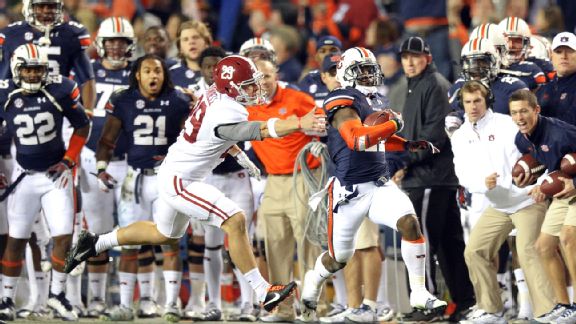 John David Mercer/USA TODAY SportsAlabama players haven't forgotten how last year's Iron Bowl ended.
TUSCALOOSA, Ala. -- Is it Iron Bowl week yet?
That's what the coaches, players and fans alike had to be asking themselves when Alabama and Auburn both fell behind in the first half against a pair of FCS programs Saturday. No offense to Western Carolina and Samford, both of whom have winning records, but there's no reason the two SEC powerhouses shouldn't have been up at least three scores by the end of the first quarter.
Instead, the Catamounts took the opening kickoff, went 75 yards and scored first on the Crimson Tide in their place. They became the first team all season to score multiple offensive touchdowns in the first half against Alabama's defense.
"We were as flat as a pancake when we went out there today, so I didn't do a very good job," Alabama coach Nick Saban said after the game. "I really thought our guys practiced pretty well all week and didn't look at this game as if ... they really tried to keep focus. They tried to keep the momentum of what we've been doing.
"But when we went out there for pregame warm-ups [Saturday], I was really surprised that we didn't have a little more energy and a little more juice than we did. We had to play our way into it."
It was worse at Auburn where the Tigers had just 23 yards of total offense in the first quarter. Quarterback
Nick Marshall
, a Heisman Trophy candidate at one time, was sacked twice and threw an interception in those first 15 minutes. The first score didn't come until midway through the second quarter, and it was Samford who reached the end zone.
"We just weren't really playing at the beginning of the game," Marshall told reporters afterwards. "But as the game got going, we got to playing football. It was early; it was an emotional game for the seniors, but we found a way to overcome it."
Both Alabama and Auburn found a way to overcome their sluggish starts as each won by at least three touchdowns. Now, the attention can finally turn to each other.
It's officially Iron Bowl week, the week fans look forward to all season and the week that couldn't come fast enough for Alabama players who were a part of last year's game. How often do they think about the famous field goal return for a touchdown in the final second?
"Three hundred sixty-five," linebacker
Reggie Ragland
said. "The whole year, ever since after that game, it's been in the back of our minds. And we know we've got to come out and fight them. They're a good ballclub, no doubt about it, so we have to come out and do the things that we've got to do to beat them."
"We're still reliving it," added safety
Landon Collins
. "It shows up on the TV every now and again, and it just breaks our heart every time. That one second took our whole chance away of winning anything. It's going to be in my head constantly throughout this week when we're getting prepared to play them."
The play is remembered in a positive light at Auburn. It made Chris Davis, who returned the missed field goal 109 yards, a legend on the Plains. It won an ESPY over the summer for "Best Play." And now it's shown before every home game to pump up the crowd.
But the Auburn coaches and players aren't dwelling on what happened last year. They're focused this year's game.
"We're not going to bring it up or talk about it because it can't help us this year," offensive coordinator Rhett Lashlee said Sunday night. "It's one of those things you've got to deal with. Both sides have to deal with it because it's kind of what comes with the week, just normal distractions and things that are out there.
"I don't think it will bother our guys. That was last year. This year is completely different and we're going to have to play even better this year."
The rest of us should anticipate seeing the "kick-six" a time or two this week in preparation of Saturday's game. That's good news for Auburn fans, who will have no problem reliving the play. Alabama fans, meanwhile, might want to wait until Saturday to turn on their TVs.
But the Iron Bowl is finally here, and everybody can agree that that's a good thing.
November, 24, 2014
Nov 24
9:00
AM ET
Whether you love the SEC or not, it's hard to argue against its entertainment value in 2014. The cannibalization of the SEC West and the mostly miserable play of the SEC East provided followers with two hotly contested divisional races that are coming down to the final weekend.
We saw the state of Mississippi take over the state of Alabama in one weekend. We saw the rise of Bulldogs and the fall of Gators. The West was wild and the East was,well, there.
There's SEC bias
everywhere
and still a chance for two SEC teams to make it into the inaugural College Football Playoff.
[+] Enlarge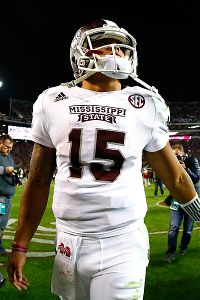 Kevin C. Cox/Getty ImagesFor Dak Prescott and Mississippi State, plenty will be on the line in the Egg Bowl on Saturday.
Offense was supposed to be down with so many seasoned quarterbacks gone, but 13 teams are scoring more than 27 points per game and eight are averaging more than 421 yards per game.
The SEC had two legitimate Heisman Trophy candidates in
Dak Prescott
and
Amari Cooper
, who both still have at least another weekend to impress everyone.
The league started the season with seven teams ranked in the AP Poll. Six are ranked in the AP Poll now, and Alabama and Mississippi State are ranked in the top four of the College Football Playoff Rankings. Both are also still in the running for the SEC West title.
From top to bottom, this league has been way more competitive than usual. Just think about this for a second: The West will be decided by the Iron Bowl
and
the Egg Bowl. The Iron Bowl made plenty of sense at the beginning of the year because you had the defending SEC champs in Auburn returning just about everyone, while Alabama was Alabama.
But the Egg Bowl? Mississippi State and Ole Miss? Sure, these two teams had the personnel to compete in the West, but to have the Egg Bowl actually mean something when you think of Atlanta is great for the league. Both serious playoff aspirations, and now Ole Miss is set up to play major spoiler for the Bulldogs.
Arkansas is relevant again. Bret Bielema's Hogs are rejuvenated and dangerous. After losing 17 straight SEC games, Arkansas has now won two straight by a combined 47-0. Those wins came against LSU and Ole Miss, both ranked. And Ole Miss was still in line for a spot in Atlanta and maybe a trip to the playoff, but the Hogs saw to it that Ole Miss' special run ended in a 30-0 romp.
Texas A&M fooled us with that commanding opening victory, but then it suffered three straight SEC losses before beating Auburn, who at the time was playing like one of the nation's best teams. LSU has a slew of young talent and beat Ole Miss before taking Alabama to overtime. Just wait until next year ...
The East hasn't exactly wowed anyone all year, but with things so even, the race to Atlanta has been a fun one to follow. Georgia -- clearly the most talented team on that side of the division -- might not even make it to the title game because of losses to South Carolina and Florida, who have combined to lose nine SEC games. Those pesky
Missouri Tigers
are now a win away from back-to-back Atlanta trips. The team that barely had an offensive pulse for most of the SEC season just doesn't know how to lose anymore. Remember when it was embarrassed by a bad Indiana team at home and then got trounced 34-0
at home
to Georgia? Well, Missouri is 5-0 since.
Mizzou isn't as good as it was last year, but that doesn't matter one bit. The defense has been outstanding in SEC play, allowing just 302.6 yards and 19.9 points per game in seven league games. With the defense being so good,
Maty Mauk
's inconsistent play at quarterback gets considerably overshadowed. The defense turned it up 10 notches, thanks in large part by ends
Shane Ray
and
Markus Golden
, who have combined for 22 sacks and 33.5 tackles for loss.
Mizzou ain't pretty, but it's winning. Deal with it.
South Carolina was supposed to win the East, but owns the division's worst defense and loved blowing fourth-quarter leads. Then, the Gamecocks somehow beat a slightly surging Florida team in comeback fashion that cost Will Muschamp his job.
Kentucky's offense had bite during a 5-1 start, but after five straight losses, it's pumpkin time for the Wildcats. Tennessee has been so up-and-down, but the emergence of quarterback
Joshua Dobbs
at least makes the offense watchable. Florida had a rain out, a couple of bad blowouts, two quarterbacks, nearly three overtime games, plenty of heartache and blew out Georgia.
Go figure.
The SEC has been a blast. It hasn't always been great, and there's no dominant team, but there's been plenty of fun drama along the way ... and two weekends still remain.
November, 24, 2014
Nov 24
8:00
AM ET
Florida probably needs all the help it can get if it is to have a chance against Florida State on Saturday.
The Gators got some good news on that front when they learned that quarterback Treon Harris, who injured his knee Saturday against Eastern Kentucky,
should be able to practice this week
and start against the Seminoles.
FSU might not be the juggernaut it was last season, but not much has been able to slow down the Seminoles.
Not even the game officials
.
Beating FSU would be a poetic ending for Will Muschamp in his final season as Florida's head coach, who
had to work to keep the team together
after the news broke that he will not return in 2015.
Razorbacks playing spoiler:
Bret Bielema's Arkansas Razorbacks are suddenly the darlings of the SEC following
back-to-back shutouts against LSU and Ole Miss
that ended a two-year conference losing streak. Some are already discussing the Hogs as
potential SEC contenders in 2015
, but they still have work to do this season. They could play spoiler again with a win this weekend at Missouri. The Tigers must win to represent the SEC East in the conference championship game. Otherwise Georgia will be the Eastern Division team in Atlanta. Missouri believes it has
come into its own in the second half of the season
, and it's hard to argue with a team that's riding a five-game winning streak. In fact, the Tigers seem to be
handling the underdog role fairly well
.
Rocky road for Auburn:
Coordinators Rhett Lashlee and Ellis Johnson made their weekly visits with reporters on Sunday night and acknowledged they'll have their work cut out when Auburn visits No. 1 Alabama on Saturday. For one thing, they're not entirely sure whether all of their most valuable personnel will be available. Johnson said that team sack leader
DaVonte Lambert probably will not play
after suffering a leg injury against Samford over the weekend. On the offensive side, Lashlee said
Duke Williams is still day to day
, but he's optimistic that the star receiver will be able to play. On a separate note, Lashlee said he had a laugh afterward over Samford -- where he coached in 2011 --
using play-calling placards that featured pictures of him
in Saturday's game.
Around the SEC:
" Oxford, Mississippi, is
bracing for a massive crowd
for Saturday's Ole Miss-Mississippi State game -- a matchup that could be the most pivotal game in Egg Bowl history.
" The Baton Rouge Advocate's Ross Dellenger examines
LSU's issues at quarterback
and the parallels between this season and 2008, Les Miles' least successful season as the Tigers' coach to this point.
" Looking toward the future,
a number of young reserves got a chance to shine
in Alabama's win against Western Carolina on Saturday.
" Arkansas coach Bielema said running back Korliss Marshall
will likely not return
to the Razorbacks' program.
" By the numbers, rivals Georgia and Georgia Tech
appear to be closely matched
.
Tweet of the day
One of my favorites the last few weeks. Love this guy and respect the beard. Jumped into Missouri prep today #WoooPig pic.twitter.com/0poLMuX4J7

— Bret Bielema (@BretBielema) November 24, 2014
November, 23, 2014
Nov 23
10:19
PM ET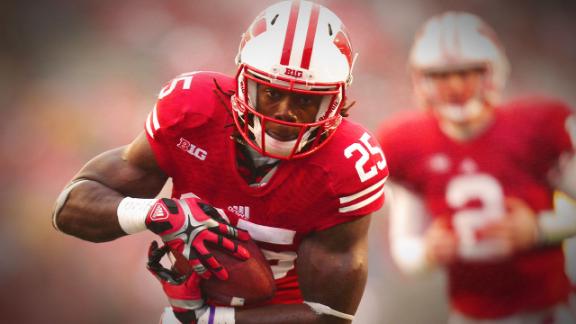 PREGAME SPEECH
There's a reason why the coaches of the College Football Playoff contenders are wound tighter than a fire hose these days.
Florida State coach Jimbo Fisher would rather grow arm-hair curtains than face Florida and Georgia Tech in back-to-back weeks.
Alabama's Nick Saban gets Auburn in the Iron Bowl this week and, if the Tide win, gets Missouri or Georgia in the SEC championship game. Fun.
Baylor's Art Briles has to make the short trip to Arlington for a matchup against Texas Tech, and then play Kansas State in the regular-season finale.
TCU's Gary Patterson has to travel to Austin to play the suddenly dangerous Texas Longhorns, followed by a home game against not-so-dangerous Iowa State.
Ohio State's Urban Meyer meets desperate Michigan at the Horseshoe, and then plays either Wisconsin or Minnesota in the Big Ten championship game.
Oregon's Mark Helfrich takes his team to Corvallis for the Civil War (Arizona State can tell Helfrich all about the Beavers), and then faces UCLA, Arizona or ASU in the Pac-12 championship game.
Mississippi State's Dan Mullen has to survive the Egg Bowl in Oxford, and then hope for the best (an Alabama loss to Auburn, which would mean the Bulldogs would face either Mizzou or UGA in the SEC championship game).
And UCLA's Jim Mora, who runs Saban-Meyer-Fisher intense, has to beat Stanford at Pasadena, and then Oregon to have any chance at reaching the four-team playoff.
This is when roster depth matters. When avoiding injuries matters. When talent, coaching and luck matter.
November, 23, 2014
Nov 23
2:15
PM ET
Associated Press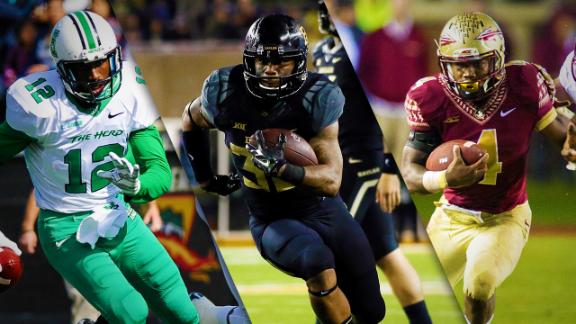 Florida State is No. 1 in The Associated Press college football poll, followed by Alabama, Oregon and Mississippi State. The top four teams were unchanged for the first time since late September.
The gap between the Seminoles and the Crimson Tide narrowed after another close call by Florida State, which beat Boston College 20-17 on a field goal in the waning seconds.
Florida State received 37 first-place votes and 1,458 points, down six first-place votes and 18 points from last week. Alabama has 21 first-place votes 1,445 points. No. 3 Oregon received two first-place votes, one more than last week.
Mississippi State is fourth, followed by Baylor and TCU. Baylor and TCU swapped places. Ohio State remained No. 7.
Auburn At Alabama Preview
SEC SCOREBOARD
Friday, 11/28
Thursday, 11/27
Saturday, 11/29