October, 21, 2014
Oct 21
10:00
AM ET
October, 20, 2014
Oct 20
11:11
PM ET
October, 20, 2014
Oct 20
11:00
PM ET
A lot of talent has already come off the board, but there's still quality at the top of the ESPN 300 that could give at least 10 teams a shot at the second-best class. Plus, Penn State's James Franklin continues to be the most talked about coach in the Washington D.C. metro area.
To continue reading this article you must be an Insider
October, 20, 2014
Oct 20
8:08
PM ET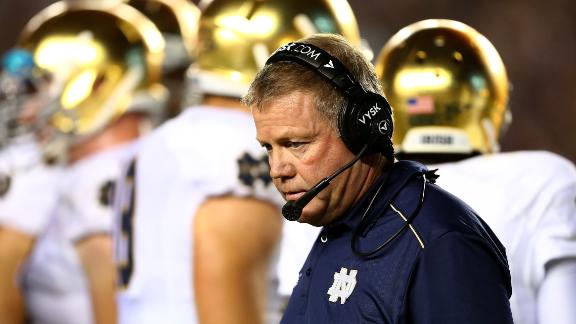 The glare of the Golden Dome can be blinding, even from SEC locales.
So we'll get this out there from the top: I'm not blinded, just realistic.
Notre Dame has the most compelling case to bump a one-loss SEC team that doesn't win the league title when the College Football Playoff selection committee unveils its final picks on Dec. 7.
And the way the Irish played Saturday night in a down-to-the-wire (err, down-to-the-official's-call) 31-27 loss on the road to Florida State, they should be a serious threat.
Notre Dame still has some work to do to make this more than just lively conversation, but it's clear that Brian Kelly's club is for real.
I know what's coming next from SEC junkies: The last time Notre Dame tangled with an SEC foe, it had all the drama of Mariano Rivera coming in to pitch the final inning of the Little League World Series.
Alabama obliterated Notre Dame 42-14 two years ago in the BCS National Championship. That Notre Dame team, too, had navigated its way unscathed through a schedule full of big names before stepping in over its head against the Crimson Tide.
That was then, though, and this is now. All that's supposed to matter is a team's body of work this season.
But we're entering a brand-new world with a selection committee, and that element could be a game-changer. Computers aren't making these decisions. Humans are.
October, 20, 2014
Oct 20
12:00
PM ET
Well, here we are once again after an entire Saturday of lopsided games. What did we learn that we didn't already know? If anything the league revealed itself to be more firmly divided between contenders and pretenders.
We'll just have to look forward to Week 9 for some better SEC entertainment.
Game of the week: No. 3 Ole Miss at No. 24 LSU
Now this should be fun. Night games at Tiger Stadium usually are. Two straight wins have LSU feeling good and back in the rankings. The Tigers are also back on the fringes of the SEC West race and could throw a giant wrench into the Magnolia State love-fest by upsetting the Rebels. The jury is still out on LSU quarterback
Anthony Jennings
, who didn't have to do much to beat Florida (110 yards passing) or Kentucky (120 yards passing). The Ole Miss defense, however, promises to give the Tigers their toughest test of the season. This unit is operating at peak performance at just the right time for a visit to Baton Rouge. The Rebs allowed zero rushing yards -- ZERO! -- to Tennessee last Saturday and have given up just six touchdowns in seven games this season. It should be a brawl in the Bayou.
Player under pressure: Maty Mauk, Missouri
The Tigers' gunslinging quarterback has been humbled and harnessed in his last two games -- a disastrous 34-0 home loss to Georgia in which he had five turnovers, and a goofy 42-13 win at Florida in which he was 6-of-18 passing for 20 yards and an interception. Mauk's and Missouri's seasons are nearing a crossroads. After playing what he called the worst game of his life against UGA, Mauk overcame a shaky start at Florida and played in control while the Gators self-destructed. The good news for the Tigers offense is that Mauk & Co. will have a solid chance to work out their issues against Vanderbilt, which will bring one of the worst defenses in the SEC (allowing 415.9 yards a game) to Columbia, Mo.
Coach under the microscope: Lane Kiffin, Alabama
The Tide's offensive coordinator might not have circled the third Saturday in October on his calendar, but you can bet 100,000 ticket-holding Volunteers fans sure did. In 2009 Kiffin coached his one and only season at Tennessee. He was full of promises, bravado and hot air. Other than some solid recruiting, the highlights of his 7-6 season were wins over Georgia and South Carolina and a near-miss at Alabama. Who can forget Bama's Terrance "Mount" Cody swatting away two Tennessee field goals in a 12-10 victory? Well, other than Kiffin? Now that he's back in the SEC, patrolling the Alabama sideline and steering its inconsistent offense, the vitriol is sure to reach a fever pitch on Saturday. Hundreds of students rioted when news broke of Kiffin's sudden departure in 2009. How are they going to treat his return?
Storyline to watch: Division dominance
The SEC West is a powerhouse. The East is a house of cards. So the story goes, and it doesn't seem likely to deviate with No. 1 Mississippi State visiting Kentucky and South Carolina traveling to No. 5 Auburn. The East has lost six of seven cross-division games so far this season, most of them with lopsided results. The much-improved Wildcats were riding high at 5-1 before being thrashed by LSU. Now they'll have to contend with
Dak Prescott
and his steamrolling MSU offense. South Carolina has the worst defense in the SEC and might need a miracle on the Plains to keep up with Auburn's offense. Don't look for the division script to flip this week.
Intriguing matchup: LSU offense vs. Ole Miss defense
As previously described in our game of the week entry, LSU can't expect much from its quarterback in Saturday's matchup against the fearsome Rebels defense. It gives Ole Miss a tremendous advantage to be able to stack the box against the run, but LSU has the horses to give the Rebel defense its toughest test of the season. Tigers senior RB Terrance Magee is coming off a career game with 220 all-purpose yards and two touchdowns. He makes a fine pairing with freshman stud
Leonard Fournette
, LSU's leading rusher with 544 yards (5.0 yards per carry) and seven touchdowns. If the Tigers can establish the run against Ole Miss it could open up some play-action passing or at least give Jennings a chance to take some shots with the very capable
Travin Dural
, a sophomore wide receiver with 26 catches, 665 yards and seven touchdowns. It all starts in the trenches.
October, 20, 2014
Oct 20
11:30
AM ET
By
RecruitingNation
| ESPN Insider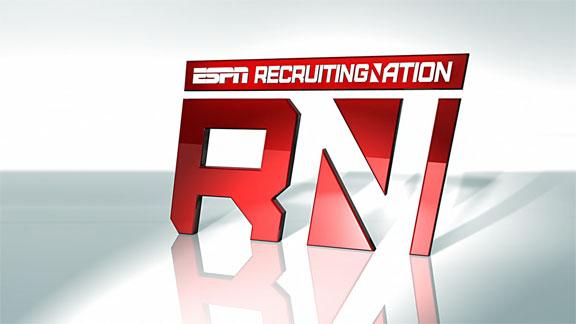 Each week, Recruiting Nation's scouts will highlight great performances from the nation's top recruits.
This week's honoree is ESPN 300 quarterback
Blake Barnett
.
Check out the highlights
.
To continue reading this article you must be an Insider
October, 20, 2014
Oct 20
10:00
AM ET
TUSCALOOSA, Ala. -- Experience means something. If you don't believe that, look at the SEC this season. Of the four most veteran teams in the league, three are ranked in the top five of the AP and coaches' polls. South Carolina has flamed out, of course, but Mississippi State, Auburn and Ole Miss are all legitimate playoff contenders.
Then there is Alabama.
According to Phil Steele's annual
Combined Experience Chart
, the Crimson Tide entered the season in the bottom half of the SEC and 107th nationally in a formula that breaks down the returning experience of every two-deep depth chart in college football. With AJ McCarron, C.J. Mosley and others graduated or off to the NFL, it made sense. But pundits looked at the run of top-ranked recruiting classes and a coaching staff led by Nick Saban, and trusted it would all work out.
[+] Enlarge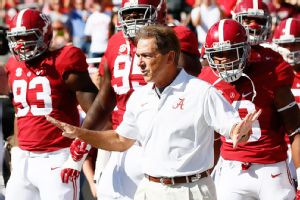 Kevin C. Cox/Getty ImagesAn up-and-down season for coach Nick Saban and Alabama hit a high note against Texas A&M.
In a way, it has. Sort of.
Alabama is worthy of its current top-five ranking in the polls, but its journey to this point has been a rocky one. Looking at its season has required taking the long view on things, and that has been difficult to do considering all the ups and downs we have witnessed. One week you are looking at a flawed team, the next you are looking at a dominant one. Then it's simple: rinse and repeat.
It all goes back to youth. If you look at Alabama through the lens of a young team finding itself, then it all starts to make sense: the highs and lows, the mistakes, the struggles on the road. This isn't the dominant, veteran Alabama team of years past, this is one dealing with growing pains and struggling to forge an identity.
Just look at the week-to-week themes:
Week 1: Nervousness sets in. The defense isn't what we expected. During a closer-than-anticipated win against West Virginia, the secondary struggles and the front seven never can seem to get on the same page.

Weeks 2 and 3: Anticipation without resolution. Southern Miss and Florida Atlantic roll over, Blake Sims wins the quarterback competition, but we were still unsure about the whole of the team.

Week 4: Now we know. Alabama so thoroughly dismantles Florida, you would have thought the Tide had won the SEC. There were some concerning turnovers and penalties, but they were easily overlooked.

Week 5: The trumpets of greatness play throughout the bye week.

Weeks 6 and 7: Stop the music. Turnovers and penalties catch up with Alabama during a late loss at Ole Miss and a narrow win on the road against Arkansas. Sims is no longer sharp, the offensive line struggles, and special teams become an Achille's heel.

Week 8: Utter confusion. The dynasty isn't dead. Alabama belittles Texas A&M. Sims returns to form, the offensive line dominates and the defense never yields.
As you can see, it's been something of a whirlwind following Alabama this season.
"This is as close to the Alabama football that we want to try to get from our players in terms of effort, toughness, emotional excitement and execution that we got throughout the game," Saban said following the 59-0 beatdown on Saturday. "Our approach to this game was that we wanted to find what exactly every position and player has to do, and see if you can go out there and dominate your box and do your job. I don't think we had many penalties; we played with a lot of discipline. Our quarterback executed the system extremely well, and lots of guys made plays."
It was a championship-caliber performance, one that in itself says Alabama is back in the playoff conversation.
But if we are looking at the season as a whole, then we should know not to rush to judgement. This is a young football team, and no one ages overnight. That pendulum of greatness and mediocrity could swing back in the other direction at any moment.
What Alabama needs now is consistency. Starting with a trip to Tennessee on Saturday, the Tide can show that going on the road is no obstacle. Alabama can show maturity by putting together back-to-back good games against quality opponents.
The team is young, so be patient. The potential for Alabama's players and coaches is certainly there, but there is no need to jump the gun. Haven't we done enough of that already?
October, 19, 2014
Oct 19
11:00
PM ET
The Big 12 was turned upside down by West Virginia and Kansas State, and both are being led by former juco recruits. Plus, it was no surprise that many of the nation's best recruits walked away impressed with Florida State following Saturday's victory over Notre Dame.
To continue reading this article you must be an Insider
October, 19, 2014
Oct 19
8:00
PM ET
The SEC's ability to get two teams into the College Football Playoff field is what should and will generate the most headlines as we push toward the final month of the season.
Each highly ranked team that loses -- hello, Baylor, Notre Dame and Oklahoma -- makes it seem like more of a possibility, but we're not yet ready to project that half of the playoff teams will come from the SEC.
We'll stick with top-ranked Mississippi State as the SEC's playoff pick for now, but Ole Miss, Alabama, Auburn and Georgia remain in the middle of the discussion as well. Those teams still have several key games ahead that will determine the top half of the SEC's postseason pecking order.
Meanwhile, the bottom half of the pecking order should also become a source of late-season drama. After their losses on Saturday, we're dropping Arkansas (3-4) and Florida (3-3) from this week's bowl projections and adding Tennessee (3-4), although none of those teams is a sure bet at this point. Kentucky (5-2) gets to stay in, but the Wildcats are coming off a 41-3 loss at LSU and will face a challenging second half of the schedule where earning another victory (and achieving bowl eligibility) might be tough.
At any rate, there is assuredly plenty of movement ahead in these projections, but here is where we are entering the ninth week of the regular season:
College Football Playoff semifinal (Rose Bowl):
Mississippi State
Capital One Orange Bowl:
Ole Miss
Cotton Bowl:
Alabama
Chick-fil-A Peach Bowl:
Georgia
Citrus Bowl:
Auburn
TaxSlayer Bowl:
LSU
Outback Bowl:
Missouri
Franklin American Mortgage Music City Bowl:
Texas A&M
Belk Bowl:
South Carolina
AdvoCare V100 Texas Bowl:
Tennessee
AutoZone Liberty Bowl:
Kentucky
October, 19, 2014
Oct 19
4:00
PM ET
Not quite the excitement we might have hoped for in Week 8. Every game involving an SEC team was decided by double digits and the average margin of victory for the winning teams was 33.5 points. That doesn't mean that there wasn't some spectacular plays seen on the field though. There were quite a few, in fact. Here are our five favorites -- let us know which one you think was the best in the SEC in Week 8.
Davis' sweet stiff arm
South Carolina cruised to a
41-10 win
against an overmatched Furman squad and
Mike Davis
' first touchdown run was evidence of that. In the first quarter, Davis' 5-yard touchdown run included an impressive stiff arm of an unsuspecting Furman defender. He then proceeded to absorb more contact as he dove into the end zone.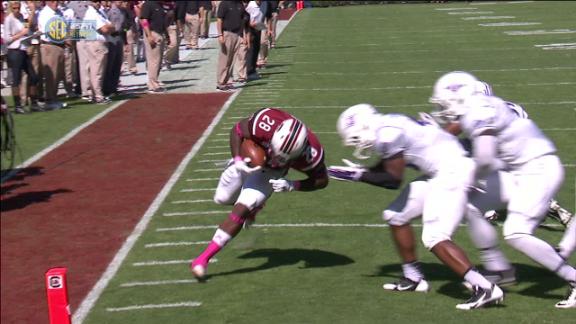 Great return sprung by a great block
Return touchdowns on special teams take great individual effort but also a great team effort from those blocking. That was especially true on this 67-yard punt return for a touchdown by LSU's
Tre'Davious White
, which was sprung by an impressive block by freshman safety
Jamal Adams
.

Sims' dazzling run
Alabama was dominant in its
59-0 win
against Texas A&M on Saturday and Crimson Tide quarterback
Blake Sims
' touchdown run pretty much summed up the kind of day it was in Tuscaloosa. He juked and juked again to make about six Texas A&M defenders miss and sprinted to the end zone for a 43-yard touchdown.
Murphy to the house
It was all about returns for Missouri on Saturday. In its
42-13 win
against Florida, the Tigers had two special teams returns for touchdowns and two defensive returns for touchdowns.
Marcus Murphy
accounted for the special teams scores, a 95-yard kickoff return to open the game and this 82-yard punt return, which was well done.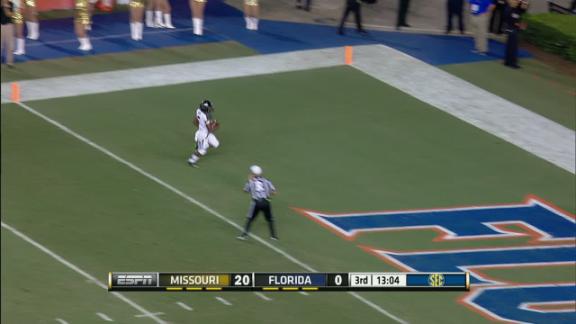 Engram stretches out and hauls it in
Ole Miss tight end
Evan Engram
is one of the league's best at his position and skills like this are why.
Bo Wallace
was under pressure, had to heave his pass quickly and though it might have been a tad long, Engram stretched out and dove to make a nice catch and a 28-yard touchdown in the front corner of the end zone late in the third quarter of the
Rebels' win
against Tennessee.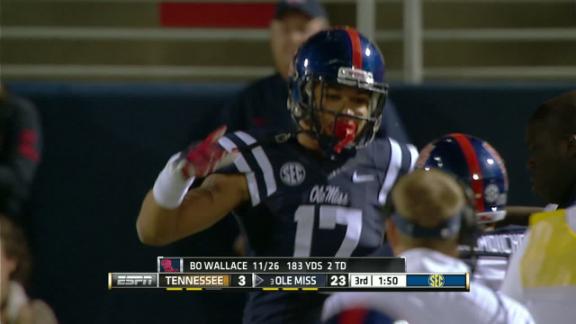 October, 19, 2014
Oct 19
3:40
PM ET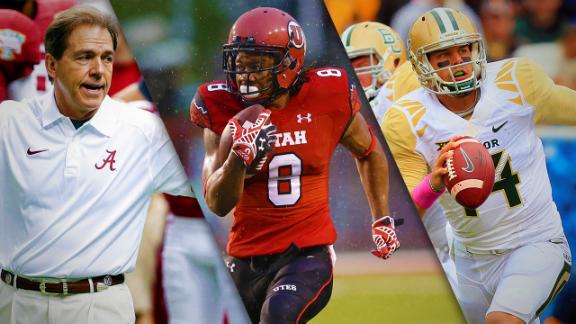 The SEC has been historically dominant this season. Just look at the most recent
Associated Press poll
where it became the first league to ever boast four teams in the top five.
Look even further, though, and you'll see that all four of those teams hail from the West: Alabama, Auburn, Mississippi State and Ole Miss.
Auburn's Gus Malzahn said it a few weeks ago and other coaches have echoed the statement since: "It's the best division in college football."
This might be the point where you feel sorry for Texas A&M.
The Aggies were the toast of college football for the first month or so of the season. They they went through three-quarters of the West wringer, losing games to Mississippi State, Ole Miss and Alabama -- in consecutive weeks.
How anyone will survive the West unscathed is beyond comprehension.
Already, Alabama has lost to Ole Miss and Auburn has lost to Mississippi State. But we're not through with the jockeying for position. Auburn goes to Ole Miss on Nov. 1 and Mississippi State travels to Alabama on Nov. 15. And lest we forget, the top four might not be decided until the final week of the regular season when the Iron Bowl and Egg Bowl are played.
The SEC is a bear this season. The West just happens to pack the most heat.
It's crazy to consider how we've arrived here, but it's even crazier to look ahead at what's to come.
Bold predictions: Alabama at Tennessee