January, 22, 2015
Jan 22
11:10
AM ET
The SEC took some flak in 2014 for not having enough elite quarterback play.
Expect some of that flak to return this season, as the SEC once again deals with a handful of young and relatively inexperienced quarterbacks running amok through the league. Seven of the top 14 SEC passers from 2014 won't be returning in 2015, giving some offensive coordinators extra work to do this year.
But fear not OCs and QBs, the league is still stocked with running back talent that should be able to carry some of those offenses still looking for stability at quarterback.
It sounds redundant, but 2015 really could be the "Year of the Running Back." And this group of running backs is on the younger side, but that shouldn't matter. Freshmen running backs took the league by storm last season, and unfortunately for SEC defenses, those kids are only going to get better.
[+] Enlarge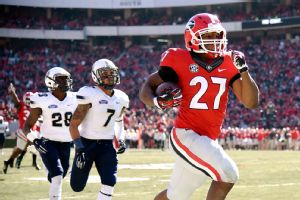 Dale Zanine/USA TODAY SportsNick Chubb rushed for 1,547 yards and 14 TDs last season, despite making just eight starts.
Six of the top-10 statistical running backs return in 2015, and all of them have the capability of making up for some quarterback deficiencies their teams might have.
The four schools that immediately come to mind are Alabama, Arkansas, Georgia, and LSU.
T.J. Yeldon
might be gone at Alabama, but the Crimson Tide will be in very good hands with rising junior
Derrick Henry
taking over as the lead back. Henry and Yeldon shared the carries in 2014, with Henry leading the way with 990 rushing yards. The return of
Kenyan Drake
will add another dimension to Alabama's running game, but Henry is a special talent, and with Alabama breaking in a new quarterback, a restructured offensive line and a young group of receivers, Henry will have plenty of opportunities to shine.
Leading the charge of the running back revolution is rising sophomore
Nick Chubb
, who will be the center of attention in Georgia's offense while the Bulldogs look for a quarterback. You think that's an issue for Chubb? All he did was rank second in the SEC in rushing (1,547 yards and 14 touchdowns) after making just eight starts last season. He was thrust into the starting role after star running back
Todd Gurley
was suspended by the NCAA for four games and then tore his ACL in his late-season return.
That led to Chubb running over, around and through so many unfortunate defenders. In those eight starts, he never dipped below 100 rushing yards and averaged 165.4 per game. Like Gurley, Chubb just runs on another level and appears to either be from another planet or constructed in a lab hidden in the Mojave Desert. The Bulldogs bring back solid talent around Chubb, but let's face it, if new offensive coordinator Brian Schottenheimer isn't routinely handing the rock to Chubb, something just isn't right.
About 600 miles southwest of Chubb is his position rival for the next two years: LSU's
Leonard Fournette
. Another manchild who roughed up plenty of defenders this past season (
so, so sorry Aggies
), Fournette will have to carry the load for the Tigers in 2015, because we just don't know what to expect from the quarterback position. He needed some time to feel comfortable, but when he did, he made his opponents suffer, finishing the season with 1,034 and 10 touchdowns.
Then, there is Arkansas, which has the SEC's best running back duo in
Jonathan Williams
and
Alex Collins
. Both rushed for more than 1,000 yards last season, and with
Brandon Allen
still needing to find his way at quarterback, those two will be relied upon again in 2015. And why not? Coach Bret Bielema wants to pound his opponents into submission anyway, and those two have done it well for the past two seasons.
And just for the heck of it, Tennessee's
Jalen Hurd
will rush for 1,000 yards, even with talented quarterback
Joshua Dobbs
under center.
Here are some other running backs who might have to push their quarterbacks:
Kelvin Taylor/Adam Lane Jr., Florida:
With new coach Jim McElwain installing yet another offense in Gainesville, the Gators have yet another quarterback battle on their hands. The good news is that Taylor and Lane have the potential to be a solid duo. Taylor rushed for 565 and six touchdowns as a backup last season, and Lane broke out in Florida's bowl game, rushing for 109 yards and touchdown.
Brandon Wilds, South Carolina:
The Gamecocks lose
Dylan Thompson
at quarterback, and there is a bit of a battle brewing for his replacement. Wilds, who has 1,277 career rushing yards, has been very solid, and should have no trouble taking over as the starter for
Mike Davis
.
Ralph Webb, Vanderbilt:
Another freshman standout in 2014, Webb will have to continue to be Vandy's top offensive weapon in 2015. The quarterback situation was up-and-down last season, and who knows what it will look like this year. Webb rushed for 907 yards and four touchdowns last season.
Russell Hansbrough, Missouri:
But the Tigers have veteran
Maty Mauk
at quarterback! Well, he wasn't exactly consistent last season, and proved to be a liability at times for Mizzou's offense. Hansbrough, on the other hand, rushed for 1,084 yards and 10 touchdowns in a breakout year. With
Marcus Murphy
gone, Hansbrough should grab the majority of carries and improve on a very solid first year as a starter.
January, 22, 2015
Jan 22
9:00
AM ET
1. Despite some coaching turnover in Tuscaloosa, Alabama, and rumors swirling about offensive coordinator Lane Kiffin bolting back into the NFL, Alabama coach Nick Saban
isn't exactly rushing to figure out his coaching staff
. I'm sure Saban would love to immediately fill the coaching holes left by Kevin Steele (LSU) and Lance Thompson (Auburn), but with the final weeks of recruiting here, Saban just doesn't have the time to do the proper scouting or interviewing. I mean, when you're Nick Saban and Alabama, I think you can get by with not having a couple of coaching positions filled, even at this point in the year.
2. After losing linebackers coach Randy Shannon to Florida, Bret Bielema just
plucked an accomplished coach from the Sunshine State to replace him
. That man is Vernon Hargreaves II, who brings 30 years of coaching experience to Arkansas. The father of Florida standout cornerback Vernon Hargreaves III has an exhaustive coaching resume, including a national championship with the 2001 Miami Hurricanes, and should also keep that strong recruiting in south Florida that Shannon had. Like Shannon, Hargreaves' ties with the Hurricanes are strong, and he should be a good addition to Bielema's staff. Next up for Bielema? Find on offensive coordinator ...
3. For one of the SEC's most accomplished coaches in the regular season, Wednesday's
announcement of a contract extension and a raise
should have been considered a no-brainer. But when you haven't won the SEC championship at a school like Georgia since 2005, you can't blame fans for their uneasiness toward their head coach. Still, for all the negativity that Mark Richt has had to deal with from Georgia fans -- some of it is justified -- he's had a heck of a coaching career with the Bulldogs. His .739 winning percentage (136-48 record) ranks fourth among active FBS coaches who have coached at least 100 games in FBS conferences, and he's had nine seasons with 10 or more wins at Georgia in his 14 years in Athens. But with an extension going through 2019 and Richt now making $4 million a year, the time to win an SEC title is now. The Bulldogs are equipped with the talent to make a strong run through the SEC, and you know those same fans unhappy with the lack of championship swag in Georgia's trophy cases won't be pleased with anything less than a title run or two in 2015.
Tweet of the day
Please foliow my new tumblr, "Linemen Looking Uncomfortable On Foam Rollers" pic.twitter.com/slZmox9oVx

— SPENCER HALL (@edsbs) January 21, 2015
Around the SEC
January, 21, 2015
Jan 21
11:00
PM ET
ESPN 300 prospect
Holton Hill
is one of only three elite cornerbacks remaining on the board in the 2015 class, and that means coaches are doing all they can to land his commitment.
January, 21, 2015
Jan 21
4:28
PM ET
[+] Enlarge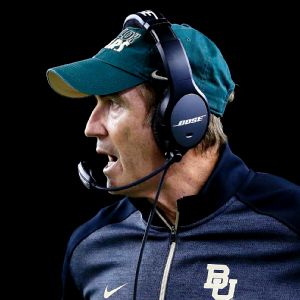 Jamie Squire/Getty ImagesBaylor coach Art Briles said Wednesday that his team fell just short of edging Ohio State for the final spot in the inaugural College Football Playoff.
According to Art Briles, national champion Ohio State was three votes away from not even making the inaugural College Football Playoff.
During an interview with a group of reporters Wednesday, the Baylor coach noted "a source" told him that the Bears fell short of the fourth and final playoff spot by "an 8-to-4 vote."
Instead, the Buckeyes got the final nod and went on to beat Alabama and Oregon to capture the national title.
"We were close this year," Briles said. "We were an 8-to-4 vote getting in from the No. 4 spot. Whether that's public or not, I don't know, but it is now. Unless I'm getting bad information, and I won't give you my source."
If Briles' source is in fact correct, it would defy the playoff committee's selection protocol.
January, 21, 2015
Jan 21
12:10
PM ET
DALLAS -- It's a sign of the times when you start seeing ground-and-pound Alabama running tempo.
There's a reason one of Will Muschamp's final orders at Florida was to have his team attempt to run more of a spread offense with some tempo. There's a reason Texas A&M and Missouri's offenses have flourished and have a combined record of 56-23 during their first three seasons in the SEC. There's a reason the Mississippi schools have been on the rise. There's a reason Gus Malzahn has had immediate success in two short years as head coach at Auburn.
There's a reason we saw two spread-minded teams -- one incredibly tempo-driven -- with offenses ranked in the top 10 and defenses outside the top four of their own conferences reach the first College Football Playoff National Championship game.
As rugged and as defensive-minded as the SEC has been for years and years, offense is taking over college football, and the SEC -- for the most part -- is trying not to get left behind.
"Any offense is trying to find any advantage against the defense," Oregon running back
Royce Freeman
said during media day for the College Football Playoff National Championship Presented by AT&T. "Why wouldn't you? If it's tempo or if it's different personnel, if it's by the rules, do it."
[+] Enlarge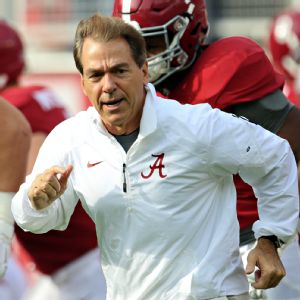 Marvin Gentry/USA TODAY SportsAlabama's Nick Saban once led a crusade against up-tempo offenses, but employed a little of it himself this past season.
Exactly.
Times are changing in all forms of football. Offense is in and defense is ailing.
In each of the last two seasons, the SEC has had six teams finish the year allowing more than 390 yards per game. From 2008-12, only nine teams allowed more than 390 yards a game. The disintegration of defense is apparent in the SEC, and how long it lasts is unknown. Offense is having a trickle-up effect with high school teams adopting the spread more and more and ramping up the tempo. Running quarterbacks feel like more of a necessity in the sport than a luxury.
Nobody thought the spread would work in the NFL, but the read-option is there to stay (hello, Super Bowl-bound Seattle Seahawks) and even the New England Patriots have been running a version of the spread during the last few years at times.
It's a natural evolution in sports for people to try and find the next best thing. Football is no different. For a while, defenses were stagnant and offenses would shift and motion to create leverage. Now, defenses can move at and before the snap to create temporary advantages and mismatches. So offenses have answered by lining up quicker and snapping the ball faster.
It's in all forms of the sport, but Oregon coach Mark Helfrich, whose Ducks have been perfecting this thing since the Chip Kelly days, believes this offensive fad his school helped create might not be the future of football.
"It'll cycle though. People that believe in certain things will keep it at their core," Helfrich said. "… There are also certain people who are just experimenting with it, so to speak."
Cyclical or not, programs are realizing that the current offensive evolution -- or revolution -- is real. Most teams in the SEC implement some form of higher tempo in their offenses. Some are spreading guys out more and finding homes in the shotgun. While it goes against all old-school football mantras, it's something coaches realize is the style of the times, and it's working and it's greatly affecting defenses.
Just look at Alabama. This is a team that dominated college football with a very traditional -- and successful -- offense. But Nick Saban's defenses have struggled with the spread recently. Johnny Manziel and his high-flying Texas A&M Aggies lit up Alabama for an average of 523 yards and 35.5 points in games in 2012 and 2013. Against Auburn and that uptempo Malzahn spread the last two years, Alabama has surrendered 1,023 yards and 78 points.
Alabama went 2-2 in those four games.
[+] Enlarge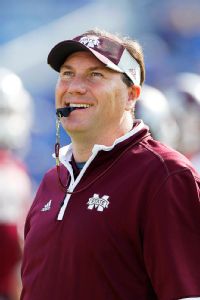 Mark Zerof/USA TODAY SportsDan Mullen has turned Mississippi State into a league power with a personnel-based spread offense he helped develop with Urban Meyer at Bowling Green, Utah and Florida.
Take it a step further and look at Alabama's two-game losing streak in the postseason where Oklahoma (spread and tempo) and Ohio State (spread) combined to score 87 points and reeled off 966 yards.
Running quarterbacks, spread and tempo have been weaknesses for Saban's defenses, so he added all three to his offense this year and watched Alabama set all sorts of offensive records and average 484.5 yards per game (most during his Alabama tenure) and 36.9 points a contest.
"Three or four years ago, Nick Saban was talking about how he didn't really like [uptempo offense], and the disadvantages to it," Oregon defensive back
Juwaan Williams
said. "He's making the evolution himself."
Ohio State coach Urban Meyer, a week removed from his third national championship victory, began some of the transformation down South by bringing his version of the spread offense from Utah to Florida in 2005. His very personnel-driven philosophy changed as the players did. That's why you saw Florida's 2008 national championship-winning offense look so different from the 2006 one.
And that's why Dan Mullen's spread at Mississippi State looks a little different from the one he helped run as the offensive coordinator at Florida. That's why Hugh Freeze's spread at Ole Miss has some philosophical differences from Mizzou's. That's why Tennessee is now spreading things out more now to go with its tempo with a more mobile quarterback in
Joshua Dobbs
.
"It's not system-driven; it's personnel-based," Meyer said of the spread.
That's why Bret Bielema isn't interested in it at Arkansas. He has his big guys plowing into everyone every chance they get, and he likes it. And that's fine, but as we continue to look around the league, more tempo and more spread is coming. Even new Florida coach Jim McElwain, who was a part of the ground-and-pound Bama philosophy during his time with Saban, would like to inject more tempo in the Gators. Steve Spurrier has even experimented with some tempo at South Carolina.
As we dive into this new playoff thing and football gets faster and faster, the SEC appears for the most part to be ready and adapting. And really, it had better be.
"It seems like every team is trying to conform to that," Ohio State offensive lineman
Darryl Baldwin
said. "I guess it's more about scoring points now than playing defense now."
January, 21, 2015
Jan 21
11:20
AM ET
Continuing this week's countdown of the top 25 players in the SEC in 2014, here are players 11 through 15:
11. Blake Sims, QB, Alabama

One of the SEC's feel-good stories of the year, Sims was not the favorite to win Alabama's starting quarterback job once news broke that
Jacob Coker
planned to transfer from Florida State. But the fifth-year senior Sims not only claimed the job, he had an excellent season. He finished second in the nation in Total QBR (85.8) behind only Oregon's
Marcus Mariota
and helped the Crimson Tide win the SEC title. This week he's at the Senior Bowl trying to grab a job in the NFL, which would have seemed very unlikely before his standout senior season.
12. Cameron Artis-Payne, RB, Auburn

He was Tre Mason's backup when Auburn shocked the college football world by reaching the BCS title game in 2013, but Artis-Payne proved as a senior that he has plenty of game himself. He led the SEC with 1,608 rushing yards and scored 13 touchdowns, and he figures to be an early-round pick in the upcoming NFL draft after rushing for 100 yards or more nine times in 13 games in 2014.
13. Pharoh Cooper, WR, South Carolina

One of the SEC's most entertaining players, Cooper can do it all. Take his performance against Tennessee, for example. Cooper caught 11 passes for 233 yards and two touchdowns, took a direct snap and threw a 30-yard touchdown pass to
Brandon Wilds
and also rushed for an 11-yard score. If Cooper had played defense, too, maybe South Carolina would have won the game instead of suffering an excruciating overtime loss. Nonetheless, Cooper was nothing short of outstanding as a sophomore, finishing the season with 1,136 receiving yards and giving Steve Spurrier an obvious weapon to utilize entering the 2015 season.
14. Benardrick McKinney, LB, Mississippi State

The leading tackler on Mississippi State's "Psycho Defense," McKinney was probably the group's emotional leader as well. He won first-team All-SEC honors after totaling 71 tackles, eight tackles for loss and three fumble recoveries and decided to enter the NFL draft after a strong redshirt junior season. The 6-foot-5 inside linebacker is the No. 1 prospect at his position, according to ESPN's Mel Kiper Jr., who said last month that McKinney is "a good bet to be a first-rounder if the draft were tomorrow."
15. A.J. Cann, G, South Carolina

Another of Kiper's top positional prospects, Cann heads the list among guards for the upcoming draft. It was a disappointing season for South Carolina, but Cann was again the rock on the Gamecocks' veteran offensive line. He and his fellow linemen's protection helped
Dylan Thompson
lead the league in passing, and Cann was named to several All-SEC and All-America squads after the season. Not a bad way to cap an outstanding career as a Gamecock.
January, 21, 2015
Jan 21
10:30
AM ET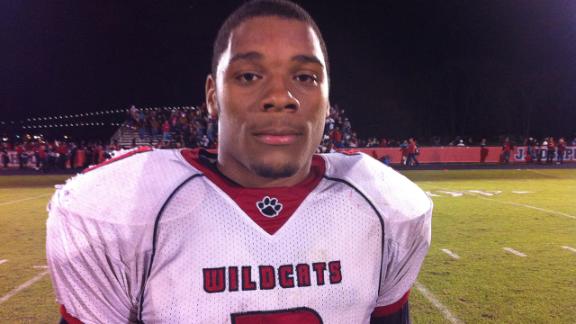 GLEN ST. MARY, Fla. -- Five-star defensive end
CeCe Jefferson
is nearing the time to make his college decision and the No. 9-ranked player in the ESPN 300 is starting to narrow his choices.
To continue reading this article you must be an Insider
January, 21, 2015
Jan 21
9:00
AM ET
1. Here's another kind of story that we occasionally see this time of year -- of the much more pleasant variety than those about transfers and dismissals. Florida tight end
Jake McGee
tweeted Tuesday that the
NCAA granted him a sixth season of eligibility
after he broke his leg in the first game of the Gators' 2014 season. Georgia offensive lineman
Kolton Houston
received
similar news about a month ago
, less than two years removed from a years-long eligibility case that prevented him from playing during his first three seasons on campus. It's always nice to see the NCAA side with the athletes and give them the opportunity to make full use of their college experience when possible.
2. So maybe
Nick Marshall
is a defensive back, after all. Since it seemed likely that he would shift from quarterback -- where he starred at Auburn -- to cornerback during the run-up to the NFL draft, it seemed surprising when initial stories had
Marshall coming to the Senior Bowl as a quarterback
. Marshall cleared things up on Tuesday, however, saying he
expects to be a defensive back in the pros
after practicing at corner and as a gunner on special teams. When Southeastern Louisiana's Bryan Bennett joined the South team's roster Tuesday, it
enabled Marshall to shift to cornerback full-time for this week's practices
.
3. He's been rumored to be a front-runner for the
San Francisco 49ers
' offensive coordinator opening, but
Lane Kiffin continues to recruit for Alabama
. Crimson Tide coach Nick Saban said Tuesday at Senior Bowl practice that he couldn't say with certainty that Kiffin would return to his staff next season, but he's "hopeful that will continue." Kiffin certainly provided a jolt for Alabama's offense last season, helping
Blake Sims
become one of the nation's most efficient passers and funneling the ball to receiver
Amari Cooper
enough to solidify his status one of the
most coveted prospects in the upcoming NFL draft
.

. Kiffin
predicted during Sugar Bowl week
that he would return to Alabama in 2015, but an NFL coordinator job would have to be tempting for the former NFL coach.
Around the SEC
Age is just a number to Steve Spurrier
, 69, who said he feels "really good" physically and has dedicated himself to improving South Carolina's performance from its disappointing 2014 campaign.
Former Missouri football player Phil Pitts reportedly stepped down from his position as head coach at Helias High School in Jefferson City, Missouri,
to accept a coaching position at Mizzou
. Pitts played at Missouri under Gary Pinkel, who is still recruiting Helias' star tight end
Hale Hentges
, a 2015 Alabama commit.
Tennessee will play its annual
Orange and White spring game
on April 25.
Louisiana athlete
Donte Jackson
will
announce his pick
between LSU and Georgia on Wednesday at 11:30 a.m. ET.
Alabama defensive end prospect Prince Tega Wanagho Jr., whose "Coming to America" story we mentioned in Monday's morning links,
suffered a serious left leg injury
during a basketball game Tuesday night. Wanagho recently emerged as one of the nation's hottest football prospects by flashing a rare combination of size and athleticism in his first year playing football after moving to the U.S. from Nigeria.
Tweet of the day
Lets try this college thing one more time! thanks @ncaa = = see you in the fall!

— Jake McGee (@JakeOvaTheWorld) January 20, 2015
January, 21, 2015
Jan 21
9:00
AM ET
Tuesday was a busy day on the recruiting trail with head coaches and assistants earning frequent flyer miles with national signing day only 15 days away. The headliner on Tuesday was No. 2-ranked
Terry Beckner Jr.
and a visit from Florida State.
To continue reading this article you must be an Insider
January, 20, 2015
Jan 20
12:24
PM ET
[+] Enlarge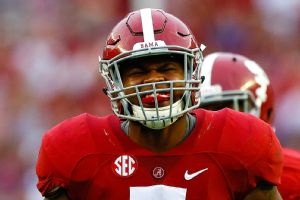 Kevin C. Cox/Getty ImagesRyan Anderson had 22 tackles and three sacks this season for the Crimson Tide.
Alabama junior linebacker Ryan Anderson and a 20-year-old woman face misdemeanor domestic violence charges after both were arrested following a dispute late Monday night.
According to a Tuscaloosa Police Department arrest report released Tuesday, officers responded to a domestic dispute call late Monday night, where they learned that Anderson, 20, and Sierra Patterson had been in an argument in a yard. After speaking with Anderson, Patterson and witnesses, officers learned that Patterson keyed and threw change at Anderson's vehicle and that Anderson then kicked Patterson's vehicle.
Both vehicles were visibly damaged, officers reported. Neither Anderson nor Patterson showed any sign of a physical injury, according to the police report.
The officers arrested Anderson and Patterson and charged both of them with third-degree domestic violence/criminal mischief. Bond was set at $500.
According to Alabama law, third-degree criminal mischief involves intentional damage to the property of another person in an amount not exceeding $500.
As a redshirt sophomore in 2014, Anderson appeared in all 14 games for the Crimson Tide. He finished fourth on the team with eight tackles for loss and was third with three sacks.
January, 20, 2015
Jan 20
12:00
PM ET
With the NFL teasing us by putting the Pro Bowl a week before the Super Bowl, we are forced to wait even longer before watching the biggest game of them all.
Is the Pro Bowl a worthy compromise in between conference championships and Super Sunday? Well, that's very much up for debate, but it is football. And if it's football, we'll try to figure out a way to interject some SECness into it because, you know, SEC bias and all.
But like we did with the
Super Bowl on Monday
, we're going to see who will be representing SEC teams in this year's Pro Bowl. And yes, ALL Missouri and Texas A&M players will be included in this. No, some didn't play in the SEC while they were in school, but those schools are there now and those players will count toward the SEC's number. It's just how the world works.
Last year, the SEC had 24 players make Pro Bowl rosters. This year, the league is also represented by 24 players. I mean, it's no shock that the NFL and the SEC go so well together. Just look at the NFL -- past, present and future. SEC players made the cut for every position except defensive end, safety and punter.
Remember, the Pro Bowl now has that funky format in which past NFL greats will draft each team. This year we could see nothing but receivers taken in the first few rounds, as Cris Carter and Michael Irvin are this year's coaches.
Alabama led the SEC with five Pro Bowl selections.
Here are the 24 SEC Pro Bowl representatives:
Quarterback
Peyton Manning
, Tennessee (
Denver Broncos
)
Running back
Arian Foster
, Tennessee (
Houston Texans
)
Mark Ingram
, Alabama (
New Orleans Saints
)
Wide receiver
Julio Jones
, Alabama (
Atlanta Falcons
)
A.J. Green
, Georgia (
Cincinnati Bengals
)
Odell Beckham Jr
., LSU (
New York Giants
)
Jeremy Maclin
, Missouri (
Philadelphia Eagles
)
Randall Cobb
, Kentucky (
Green Bay Packers
)
Tight end
Jason Witten
, Tennessee (
Dallas Cowboys
)
Martellus Bennett
, Texas A&M (
Chicago Bears
)
Offensive tackle
Jason Peters
, Arkansas (Philadelphia Eagles)
Center
Maurkice Pouncey
, Florida (
Pittsburgh Steelers
)
Offensive guard
Evan Mathis
, Alabama (Philadelphia Eagles)
Mike Pouncey
, Florida (
Miami Dolphins
)
Defensive tackle
Marcell Dareus
, Alabama (
Buffalo Bills
)
Kyle Williams
, LSU (Buffalo Bills)
Sheldon Richardson
, Missouri (
New York Jets
)
Geno Atkins
, Georgia (Cincinnati Bengals)
Outside linebacker
Von Miller
, Texas A&M (Denver Broncos)
Justin Houston
, Georgia (
Kansas City Chiefs
)
Inside linebacker
C.J. Mosley
, Alabama (
Baltimore Ravens
)
Cornerback
Joe Haden
, Florida (
Cleveland Browns
)
Patrick Peterson
, LSU (
Arizona Cardinals
)
Kicker
Cody Parkey
, Auburn (Philadelphia Eagles)
January, 20, 2015
Jan 20
10:00
AM ET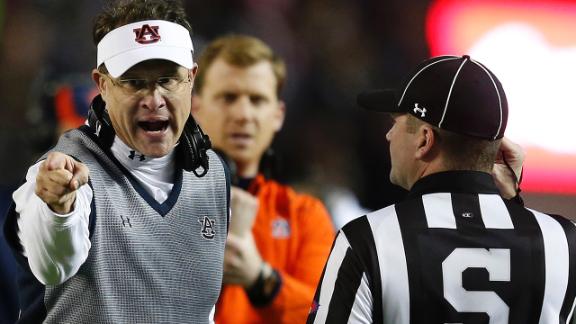 National signing day is less than three weeks away and it's coming down to crunch time. This past weekend was one of three remaining weekends for recruits to take official visits before signing day and some of the top prospects took full advantage of the available weekend. Auburn had a monster recruiting weekend and, though not to the same extent, so did Alabama, Texas A&M, Florida, Tennessee, Vanderbilt and others. Here's a closer look at the top news from this past weekend.
To continue reading this article you must be an Insider
January, 20, 2015
Jan 20
9:55
AM ET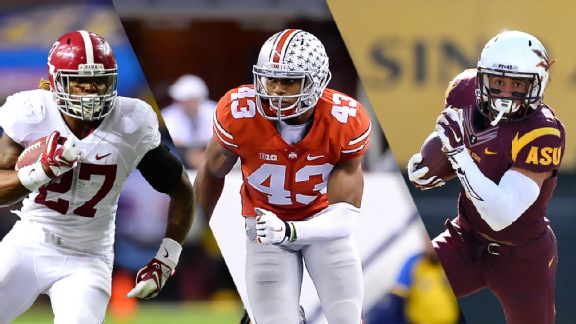 ESPN Images, Icon Sportswire, Icon SportswireAlabama's Derrick Henry, Ohio State's Darron Lee and Arizona State's D.J. Foster just missed the cut.
Choosing the top 100 players in college football is about as hard as picking the four teams for the inaugural College Football Playoff.
We all know how that went.
But after a survey of 32 writers and editors at ESPN.com, we've ranked the top players in the sport on a scale of 1 to 10. We ranked the top players at the start of the 2014 season, and our postseason list looks much different from the one we unveiled in August.
But once again, there are several standout players from teams around the country who just missed the list.
Here's a look at a few of the players who just missed the cut:
There were plenty of stars on Ohio State's national championship team this past season, but few players were as consistent as Lee.
Lee played only six plays in two games in 2013 before suffering a season-ending injury. After taking a medical redshirt that season, Lee was one of the team's most surprising stars this season. He was second on the team with eight sacks and 16½ tackles for loss and was third with 81 tackles.
SEC Recruiting Classes Evaluated