March, 6, 2014
Mar 6
8:04
AM ET
March, 6, 2014
Mar 6
5:30
AM ET
1. The NCAA Football Rules Committee tabled the 10-second rule, and Alabama coach Nick Saban says the pace of play needs a closer look, which means we are in the exact same place as we were before the committee ready-fire-aimed its way toward passing the 10-second rule three weeks ago. That is, save for everyone on both sides being a lot more riled up. Until the data shows this is a player-safety issue, it's a style-of-play issue. Those rules are tougher to pass, if only because trends in the game develop slowly.

2. In a discussion on the ESPNU Football Podcast on Wednesday, my colleague Matt Fortuna made an interesting point in favor of the idea that Notre Dame coach Brian Kelly has established himself as a success in South Bend despite having had only one BCS-bowl season. Three of Kelly's coordinators have been hired as head coaches: Charley Molnar (UMass), Chuck Martin (Miami of Ohio) and Bob Diaco (UConn). Here's another point in Kelly's favor: he is in year five in South Bend without questions surrounding his job security. Since Dan Devine retired in 1980, only Lou Holtz has passed the five-year threshold.

3. Has it occurred to anyone else that this is the golden age of college football in the state of South Carolina? The Gamecocks have finished 11-2 and in the top 10 in the last three seasons; Clemson has done both in the last two seasons. This from the flagship programs of a state best known in recent years for exporting its talent to national powers such as Florida State and Penn State. What Steve Spurrier and Dabo Swinney have achieved gets lost because they have one conference title between them in their present jobs. But the state of South Carolina stands behind only Alabama in recent success.

March, 5, 2014
Mar 5
1:00
PM ET
Whether or not the much debated 10-second rule passes or not on Thursday (or even goes to a vote), it's clear that the pace of the game in college football and the number of plays being run has been the topic du jour this offseason.

The coaches who want to go fast frown at the thought of a restrictor plate being placed on their offenses, while a few defensive-minded coaches, namely Alabama's Nick Saban and Arkansas' Bret Bielema, are concerned that player safety is compromised by increasing the number of plays in a game.

"This is the only game in history of any sport where the college game is longer than the pro game," Saban said.

Compared to the rest of the country, the SEC wasn't a league last season that necessarily lived in the fast lane, at least as a whole.

Ole Miss averaged the most offensive plays per game (79.8), but only ranked 21st nationally. Texas Tech was first nationally with an average of 90.3 plays per game.

Not surprisingly, Alabama and Arkansas were at the bottom of the SEC. The Crimson Tide averaged 65.9 plays and the Hogs 64.7 plays.

Auburn, which is renowned for its hurry-up, no-huddle attack under Gus Malzahn, was tied for fifth in the SEC along with Texas A&M with an average of 73.8 plays per game.

In 2012, before to Malzahn's arrival as head coach, Auburn averaged just 60.5 plays per game, which ranked last among 124 FBS teams.

The Aggies went the other way in Kevin Sumlin's second season in College Station. They averaged 83.5 plays per game in 2012 and dipped to 73.8 last season, a difference of nearly 10 plays per game.

Here's a rundown of the entire SEC in the last two seasons in terms of offensive snaps per game:

2013

1. Ole Miss: 79.8
2. Missouri: 75.5
3. Georgia: 74.6
4. Mississippi State: 74.2
5. Auburn: 73.8
6. Texas A&M: 73.8
7. South Carolina: 72.5
8. Vanderbilt: 70.8
9. Florida: 68.9
10. LSU: 67.7
11. Tennessee: 67.7
12. Kentucky: 66.8
13. Alabama: 65.9
14. Arkansas: 64.7

2012

1. Texas A&M: 83.5
2. Ole Miss: 76.2
3. Missouri: 75.7
4. Tennessee: 75.1
5. LSU: 70.8
6. Arkansas: 70.5
7. Vanderbilt: 69.2
8. South Carolina: 69
9. Georgia: 67.8
10. Florida: 67.2
11. Kentucky: 67
12. Mississippi State: 66.8
13. Alabama: 66.3
14. Auburn: 60.5
March, 5, 2014
Mar 5
12:00
PM ET
The "
10-second rule
" has been the hot topic in college football this offseason, and the debate raged on Tuesday with
Nick Saban speaking out
on the issue. As we all await Thursday's vote, see what else is going on in the SEC with today's lunch links.
March, 5, 2014
Mar 5
11:30
AM ET
We all know junior college players are a crap shoot.
Sometimes you hit it big with them. Sometimes you swing and miss.
With spring practice cranking up for a handful of SEC schools, we've come up with our top-five impact junior college newcomers in the league. These guys are all already on campus and will go through spring practice. They're listed alphabetically.
Here goes:

Dontavius Blair, OT, Tennessee:
With the Vols losing all five starters on their offensive line from last season, they need reinforcements. The 6-foot-8, 313-pound Blair is the odds-on favorite to replace
Antonio Richardson
at left tackle. Blair was rated as the nation's No. 6 offensive tackle prospect in the
ESPN Junior College 50
.

C.J. Johnson, DT, Kentucky:
The Wildcats lost
Donte Rumph
and
Mister Cobble
in the middle of their defensive line, so there's plenty of opportunity for the 6-3, 295-pound Johnson to show what he can do this spring. Kentucky held on to Johnson despite Miami pushing hard until the very end.

Abu Lamin, DT, South Carolina:
The Gamecocks need a run-stuffer in the middle, and the 6-4, 295-pound Lamin fits that bill. He has three years of eligibility remaining and has the kind of burst off the ball and overall athleticism to develop into much more than just a run-stopper for the Gamecocks.

Christian Russell, LB, Ole Miss:
The 6-foot, 230-pound Russell is big, fast and physical and has outstanding closing speed. The Rebels signed him with the hope that he could step in for
Mike Marry
in the middle. Russell was ranked by ESPN as the No. 1 inside linebacker prospect in the country among junior college players.

D'haquille Williams, WR, Auburn:
The 6-3, 213-pound Williams is the epitome of a big-play receiver. He was rated the top overall junior college prospect in the country regardless of position and has all the physical tools to emerge as Auburn's No. 1 option in the passing game next season.
A few more to watch:
March, 5, 2014
Mar 5
11:00
AM ET
TUSCALOOSA, Ala. -- With the start of spring practice only a few weeks away, we're spending this week discussing five players to keep an eye on when Alabama opens camp on March 15.
Because they're unpredictable, we'll avoid first-year players like
Cam Robinson
. If you want an idea of who could make an instant impact in 2014,
we wrote about that
shortly after signing day.
On Monday, we wrote about running back
Derrick Henry
jumping onto the national stage in the Sugar Bowl. On Tuesday, we covered
Jonathan Allen
's room for growth at defensive end. And today we're looking at a player with a few years in the program and plenty of untapped potential.
[+] Enlarge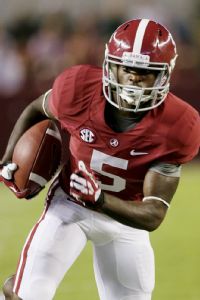 AP Photo/Dave MartinChris Black finds plenty of competition for playing time.
WR Chris Black
Redshirt sophomore
5-foot-11, 182 pounds
Credentials:
The 2012 season was over for him before it ever began. Alabama fans will remember that it was Black -- not
Amari Cooper
-- who entered fall camp with all the buzz. He was ranked higher by ESPN and other recruiting services out of high school, and the way he looked in practice at Alabama did nothing to quell the excitement over his potential early impact at receiver. But a shoulder injury he sustained in mid-August robbed the speedy Florida native of his first year on campus, forcing him to take a redshirt. And when he came back in 2013, Cooper was coming off a freshman All-American season and the rest of the receiving corps was stuffed with veterans like
Kevin Norwood
,
Kenny Bell
and
DeAndrew White
. Black appeared in eight games and caught eight passes for 79 yards and two touchdowns -- all from backup quarterback
Blake Sims
in what amounted to garbage time.
How he fits:
He may not have a stunning résumé, but to see Black run routes in practice makes you forget all that. The shifty receiver is silky smooth and hits a high gear with seemingly little effort. Now that Norwood and Bell are gone and the depth chart has loosened some, it's Black's time to show whether he'll sink or swim at Alabama. He clearly has the tools, but he'll have to beat out plenty of other talented pass-catchers before he can see the field. Cooper won't be moved, White has a bevy of experience and junior
Christion Jones
has been a fixture as slot receiver the past two seasons. It's realistic that Black could become the fourth receiver and catch 30 or so balls, but he'll have to fend off a slew of other youngsters: the physically imposing
Raheem Falkins
, the No. 2-ranked receiver prospect in 2013
Robert Foster
and the No. 8-ranked receiver prospect in 2014
Cameron Sims
.
Best case/worst case:
A repeat of 2013 would be a major setback for Black, especially considering all the youth suddenly behind him at receiver. If he has another year of single-digit receptions, there's a chance he could be passed by. But the good news for Black is that he has what amounts to the freshest of starts college football can offer. He'll not only have a new quarterback throwing him the football (
AJ McCarron
seemed to prefer veterans he knew better), but he'll also have the benefit of a brand new offensive coordinator who comes to Tuscaloosa with an eye on adding more explosive elements to the offense. Lane Kiffin's arrival could mean a shuffling of personnel at every position, and the receiver corps is especially ripe for an overhaul. If Black can use the spring to establish a rapport with the new quarterbacks and provide Kiffin a good first impression, he could ready himself to compete for a starting job come fall.
March, 4, 2014
Mar 4
9:01
PM ET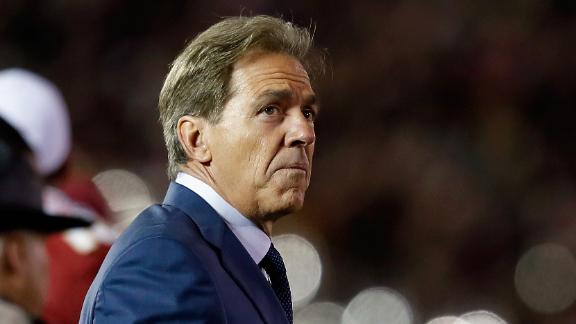 Alabama's Nick Saban isn't taking credit for the "10-second rule" that's scheduled to be voted on Thursday by the NCAA playing rules oversight panel, but he is adamant that the pace of play in college football bears a closer look as it relates to player safety.
"I don't care about getting blamed for this. That's part of it," Saban told ESPN.com. "But I do think that somebody needs to look at this very closely.
"The fastball guys (up-tempo coaches) say there's no data out there, and I guess you have to use some logic. What's the logic? If you smoke one cigarette, do you have the same chances of getting cancer if you smoke 20? I guess there's no study that specifically says that. But logically, we would say, 'Yeah, there probably is.'"
The proposed 10-second rule would penalize teams for snapping the ball in the first 10 seconds of the 40-second clock.
Only 25 of the nation's 128 FBS head coaches are in favor of the proposal, according to a survey conducted by ESPN's Brett McMurphy.
Of the 25 in favor, only 11 are coaches at "power five" conference schools (ACC, Big Ten, Big 12, Pac-12 and SEC, plus Notre Dame). Of the 128 coaches overall, 73 percent (93) are opposed to the proposal while 19.5 percent (25 coaches) are in favor of it. Seven percent (nine coaches) are undecided.
While an outpouring of coaches have said there's no evidence that player safety is compromised by speeding up the tempo and generating more plays in the game, at least one noted neurosurgeon is genuinely concerned about the length of the college game now and the number of snaps some teams are playing.
March, 4, 2014
Mar 4
12:00
PM ET
So "How I Met Your Mother" got a little depressing, but we got a sneak peek of Godzilla during the Oscars so things are working out pretty well this month.
March, 4, 2014
Mar 4
11:00
AM ET
TUSCALOOSA, Ala. -- With the start of spring practice only a few weeks away, we're spending this week discussing five players to keep an eye on when Alabama opens camp on March 15.
Because they're unpredictable, we'll avoid first-year players like five-star offensive tackle
Cameron Robinson
. If you want an idea of who could make an instant impact in 2014,
we wrote about that
shortly after signing day.
On Monday we wrote about sophomore running back
Derrick Henry
, and today we're focusing on another second-year player -- this time on defense.
[+] Enlarge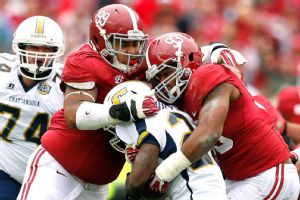 Kevin C. Cox/Getty ImagesJonathan Allen (right) has a chance to make a big impact for the Crimson Tide in 2014.
DE Jonathan Allen
Sophomore
6-foot-3, 264 pounds
Credentials:
There are places on the football field where a freshman can make an immediate impact and not necessarily raise an eyebrow. But most of those positions that allow for inexperience come on offense where a player can force the action rather than react to it. And in Nick Saban's defense, getting on the field early is a chore. Some cornerbacks have done it, and even a few linebackers. But playing from Day 1 as a true freshman defensive lineman is rare. Last season Alabama had two such rookies, one who already looks like a contributor for years to come in
A'Shawn Robinson
, and another who took a little more time to mature and fits a more pure pass-rusher's mold. Allen, the former four-star prospect from Virginia, played all but one game last season, racking up three tackles for loss and a half a sack. While those numbers won't blow you away (Robinson had eight tackles for loss and 5.5 sacks), Allen did show promise by getting on the field and playing well enough to stay there throughout the season as a freshman.
How he fits:
Considering that
Ed Stinson
graduated and
Jeoffrey Pagan
declared for the NFL draft a year ahead of time, there's an opportunity for Allen to insert himself into the starting lineup in 2014. Clearly Allen did a good job of grasping the defense to stay on the field so much as a rookie -- one that didn't enroll early, no less. But he'll have to do more than hold his own as a sophomore. Allen was brought to Alabama to provide more of what Saban calls "quick-twitch" defenders. In other words, someone who has the speed and athleticism to chase the quarterback and play in space in a league that's increasingly gone more toward mobile quarterbacks and hurry-up, no-huddle offenses. Early on in Allen's ESPN recruiting scouting report it states that he "displays very nice first-step quickness and can be a quick penetrator." To beat out the competition and develop into an All-SEC defensive linemen, Allen will have to use those tools and get in the quarterback's face more in 2014.
Best case/worst case:
It's easy to see Allen and Robinson forming a good nucleus on the defensive line for years to come. Both possess the skills to flourish in the new pass-happy SEC. Allen has the size, speed and athleticism to become the kind of edge rusher the Tide has been missing of late. But nothing is guaranteed. Not in Tuscaloosa where Saban and his staff are stockpiling defensive linemen who fit the very same billing as Allen.
Dalvin Tomlinson
, for instance, is the kind of athlete who won state wrestling titles and played soccer in high school. After back-to-back leg surgeries, he'll return this spring, hopefully at 100 percent.
D.J. Pettway
,
Korren Kirven
and
Dakota Ball
are a few other veterans Saban could turn to. And if experience isn't a factor, there's
Dee Liner
, a former four-star prospect coming off a redshirt season, and
Da'Shawn Hand
, who was one of 15 five-star prospects in this year's ESPN 300. Allen has something of a head start and all of them by playing so much in 2013, but he'll have plenty of competition on his hands this spring if he does want to develop into a full-time starter.
March, 4, 2014
Mar 4
10:29
AM ET
March, 4, 2014
Mar 4
9:05
AM ET
Setting up the spring in the SEC West:

ALABAMA
Spring start:
March 15
Spring game:
April 19
What to watch:
Succeeding McCarron: The Crimson Tide must find the person who will step into AJ McCarron's shoes. There are several quarterbacks on campus: Blake Sims, Alec Morris, Parker McLeod and Cooper Bateman. The person most have pegged as the favorite, however, won't be on campus until the summer: Jacob Coker. A transfer from Florida State, Coker is finishing his degree before enrolling at Alabama. But new offensive coordinator Lane Kiffin will get a chance for a long look at the others this spring.
What's next for Henry?: Running back Derrick Henry has the fans excited after his Allstate Sugar Bowl performance (eight carries, 100 yards), and he brings great size to the position (6-foot-3, 238 pounds). T.J. Yeldon is a returning starter who is more experienced and battle-tested, and there are still other talented backs on the roster, such as Kenyan Drake. But plenty of eyes will be on the sophomore-to-be Henry.
Replacing Mosley: Linebacker C.J. Mosley was a decorated star and leader, so his presence will be missed. Alabama has plenty of talent in the pipeline; it's just not tremendously experienced. Watch for Reuben Foster and Reggie Ragland.

ARKANSAS
Spring start:
March 16
Spring game:
April 26
What to watch:
Keeping it positive: It's been rough around Fayetteville, Ark. The Razorbacks closed their season with nine losses in a row; coach Bret Bielema is a focal point in the unpopular NCAA proposal designed to slow down hurry-up offenses; and leading running back Alex Collins served a weeklong suspension last month for unspecified reasons. The Hogs could use some positivity.
A new DC: The Razorbacks will be working in a new defensive coordinator, Robb Smith. He came over from the NFL's Tampa Bay Buccaneers, where he was the linebackers coach. Smith made a significant impact at his last college stop, Rutgers, where he led the Scarlet Knights' defense to a No. 10 ranking in total defense in 2012.
Year 2 progress: Making a drastic change in scheme isn't easy to do, which is what the Razorbacks tried to accomplish in Bielema's debut season. In the second spring in Fayetteville for Bielema, things should come a little more easily as the Razorbacks continue to institute Bielema's brand of power football.

AUBURN
Spring start:
March 18
Spring game:
April 19
What to watch:
Picking up where they left off: The Tigers put together a memorable, magical 2013, and with eight starters returning on offense, keeping that momentum going is key. Replacing running back Tre Mason and O-lineman Greg Robinson won't be easy, but there is still plenty of talent on offense to aid quarterback Nick Marshall.
Marshall's progress: Marshall's ascent last year was impressive, but can he continue it? He's great with his feet and made some big-time throws last year. As he continues to progress as a passer, it should add another facet to the Tigers' explosive, up-tempo, multifaceted attack.
Improving the defense: The Tigers lost five starters from a group that was suspect at times last season. But defensive coordinator Ellis Johnson has a history of improving defenses from Year 1 to Year 2, and it should be interesting to see if he can do that at Auburn.

LSU
Spring start:
March 7
Spring game:
April 5
What to watch:
Jennings next at QB?: Anthony Jennings engineered a memorable, game-winning drive in the regular-season finale against Arkansas, leading the Tigers 99 yards downfield, capped by a 49-yard touchdown pass. His performance in the Outback Bowl was far from impressive, though, as he went 7-for-19 passing for 82 yards and an interception in the Tigers' win over Iowa. Still, he is considered the favorite to replace Zach Mettenberger. Competing with Jennings is Penn State transfer Rob Bolden and freshmen Hayden Rettig and Brandon Harris.
Starting over at WR: LSU loses two 1,000-yard receivers in Jarvis Landry and Odell Beckham, plus a senior (Kadron Boone). That's a lot of production to replace. Travin Dural, who made the game-winning catch against Arkansas, is back, as is Quantavius Leslie and Armand Williams. The Tigers have a host of redshirt freshmen joining the mix (John Diarse, Avery Peterson and Kevin Spears) and bring in several freshmen (Malachi Dupre, Trey Quinn, D.J. Chark) to compete for playing time. But replacing 72 percent of the 2013 receiving yardage will be challenging.
Finding safeties: Craig Loston has moved on, and the Tigers don't have a returning starter at safety. But they do have Jalen Mills, who slid from his cornerback spot to safety to start in the Outback Bowl. Corey Thompson, Ronald Martin and Rickey Jefferson all return, and ESPN 300 recruit Edward Paris Jr. is already on campus and will participate in spring practice.

MISSISSIPPI STATE
Spring start:
March 18
Spring game:
April 12
What to watch:
All eyes on Prescott: With some strong performances to close out the season in the Egg Bowl and in the AutoZone Liberty Bowl, quarterback Dak Prescott certainly played the part of an elite SEC quarterback. He'll enter the season with more national attention after putting together some gutsy performances while pushing through some personal adversity last season after the death of his mother.
Malone stepping in: Justin Malone was on pace to start at right guard last season, but was lost for the year with a Lisfranc injury in his foot in the season opener against Oklahoma State. With Gabe Jackson gone, the Bulldogs need another solid interior lineman to step up, and a healthy 6-foot-7, 320-pound Malone could be that guy.
Offensive staff shuffle: The Bulldogs added some new blood on the offensive coaching staff, bringing in young quarterbacks coach Brian Johnson, a former Utah quarterback. Billy Gonzales and John Hevesy were promoted to co-offensive coordinators, though head coach Dan Mullen will continue as the playcaller in games.

OLE MISS
Spring start:
March 5
Spring game:
April 5
What to watch:
Wallace's development: Coach Hugh Freeze believes quarterback Bo Wallace will be helped by having more practice this time around; last year, January shoulder surgery had Wallace rehabilitating most of the offseason, and Freeze believes it affected Wallace's arm strength later in the season. A fresh Wallace going into the spring can only help, and as he's heading into his senior season, the coaching staff will look for more consistency.
Status of Nkemdiche and Bryant: Linebackers Denzel Nkemdiche and Serderius Bryant were arrested last month and suspended. Ole Miss is investigating the situation, but their status remains undecided.
A healthy Aaron Morris: During the season opener against Vanderbilt, Morris tore his ACL and missed the rest of the season. The offensive guard was recently granted a medical hardship waiver to restore that season of eligibility. Getting Morris back healthy for 2014 is important for the Rebels as he is a key piece to their offensive line.

TEXAS A&M
Spring start:
Feb. 28
Spring game:
None (final practice is April 5)
What to watch:
Life after Johnny Manziel: Texas A&M says goodbye to one of the best quarterbacks in college football history and must find his successor. Spring (and fall) practice will be the stage for a three-way battle between senior Matt Joeckel, sophomore Kenny Hill and freshman Kyle Allen. Only one of those three has started a college game (Joeckel), and he played in just one half last August. Whoever wins the competition will be green, but all three have the ability to run the Aggies' offense.
Retooling the defense: The Aggies were pretty awful on defense last season, ranking among the bottom 25 nationally in most defensive statistical categories. They have to get much better on that side of the football if they want to be a real factor in the SEC West race, and that starts in the spring by developing the young front seven and trying to find some answers in the secondary, particularly at the safety positions.
New left tackle: This spring, the Aggies will have their third different left tackle in as many seasons. Luke Joeckel rode a stellar 2012 season to the No. 2 overall pick in the NFL draft. Senior Jake Matthews made himself a projected top-10 pick for this year's draft while protecting Manziel last season. This season, Cedric Ogbuehi gets his turn. Ogbuehi has excelled throughout his Texas A&M career on the right side of the offensive line (first at right guard, then at right tackle last season) and is looking to follow in the footsteps of Joeckel and Matthews.
March, 3, 2014
Mar 3
12:24
PM ET
Spring practice kicks off for four more teams in the SEC this week. Here's a look at the latest news and notes around the league in today's lunch links.
March, 3, 2014
Mar 3
11:00
AM ET
TUSCALOOSA, Ala. -- With the start of spring practice only a few weeks away, we're spending this week discussing five players to keep an eye on when Alabama opens camp on March 15.
Because they're unpredictable, we'll avoid first-year players like
Cam Robinson
. If you want an idea of who could make an instant impact in 2014,
we wrote about that
shortly after signing day.
[+] Enlarge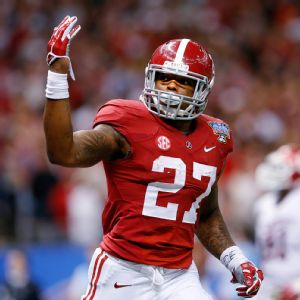 Kevin C. Cox/Getty ImagesDerrick Henry showed what he could do in the Sugar Bowl against Oklahoma, rushing for 100 yards and a touchdown on eight carries.
So instead, let's start by taking a look at an athlete who made a splash late last season as a true freshman, creating big expectations for his sophomore campaign.
RB Derrick Henry
Sophomore
6-foot-3, 238 pounds
Credentials:
Was he a running back or a linebacker? At 6-foot-3 and 238 pounds -- all muscle, we should add -- it was hard to tell. We hadn't seen him run the football yet, so for a while he looked like a project. Did he have the necessary speed and elusiveness to get through the holes up front and hit the second level of the defense? And then came the Sugar Bowl. Yes, it took Henry some time to work his way up the food chain at running back, but when he did, he was special. He got around the Oklahoma defense just fine in New Orleans, rushing for 100 yards and a touchdown on eight carries in addition to taking a short pass 43 yards for another score. All told, the former five-star athlete ran for 382 yards and three touchdowns on 36 carries as a freshman.
How he fits:
And herein lies the rub. Henry, with what he showed against the Sooners, might be more explosive than Alabama's incumbent starting running back
T.J. Yeldon
. Given Yeldon's fumbling woes, many fans are clamoring for Henry to replace him as the lead back. But Alabama has been through this before. Both the Mark Ingram-Trent Richardson and Richardson-Eddie Lacy tandems were balancing acts, and this coming season should be no different. Except that there's a third back,
Kenyan Drake
, also begging for carries. Talk about explosion and speed, and you're talking about Drake, who can take the ball to paydirt any time it touches his hands. One thing is certain: Running backs coach Burton Burns will have a tough time sorting out the depth chart when the season rolls around.
Best case/worst case:
We've made the mistake of assuming the depth chart order at running back before and have been burned. There's a case to be made that Henry should start, which would be an intriguing outcome to say the least. But there's another case, one based on seniority and experience, that could land him third or fourth on the depth chart. You know about Yeldon and Drake, but there's also the veteran
Jalston Fowler
and the blue-chip newcomer
Bo Scarbrough
to consider.
Tyren Jones
and
Altee Tenpenny
are on campus too, remember? The good news for the bevy of Alabama tailbacks is that new offensive coordinator Lane Kiffin shouldn't be constrained by position titles. The former USC head coach is seen as something of an innovator on offense and could move players like Henry, Fowler and Scarbrough around to places like H-back and slot receiver to get them touches.
Projecting Impact Teams in 2015 Recruiting
SEC SCOREBOARD
Saturday, 12/21
Monday, 12/23
Tuesday, 12/24
Thursday, 12/26
Friday, 12/27
Saturday, 12/28
Monday, 12/30
Tuesday, 12/31
Wednesday, 1/1
Thursday, 1/2
Friday, 1/3
Saturday, 1/4
Sunday, 1/5
Monday, 1/6