August, 18, 2014
Aug 18
12:08
PM ET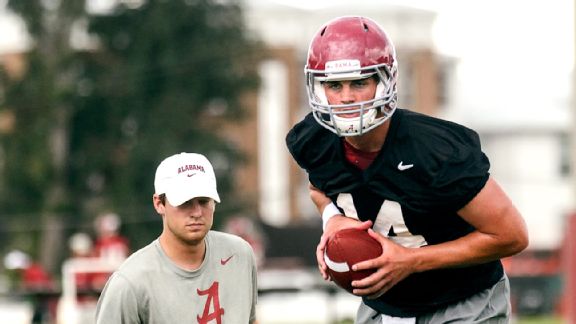 AP Photo/Alabama Media Group, Vasha HuntJake Coker, who didn't arrive at Alabama until May, will beat out Blake Sims.
As we count down 50 days until the start of the 2014 college football season, ESPN Insider Travis Haney is answering at least one big question a day until South Carolina and Texas A&M's kickoff Aug. 28.
Heisman contenders, breakout freshmen, conference winners -– it all will be covered as part of Insider's Ultimate Season Preview.
Today's question: Will Jake Coker start for Alabama Week 1 against West Virginia?
Based on conversations with several coaches and those who know Nick Saban well, I made Coker my
No. 1 breakout player
in a file that was published a couple of weeks back.
Am I regretting that now that Saban has said
Blake Sims
and Coker are essentially in a dead heat in Tide camp? Is it time to alter expectations for Coker?
Heck, no. Here's why.
August, 18, 2014
Aug 18
12:00
PM ET
TUSCALOOSA, Ala. -- Best of luck to the defensive coordinators tasked with devising game plans for Alabama this season. Sure, there's no more AJ McCarron to deal with under center. That has to be a relief. But there's more to the offense than the quarterback, and they know that. The receivers, the running backs, the tight ends -- those are the ones they have to worry about. And at each level of the Crimson Tide's offense, there's a mismatch waiting to keep those coordinatorss up at night.
Let's start with
O.J. Howard
. How do you cover that guy? His numbers as a true freshmen weren't overwhelming -- 14 receptions, 269 yards, two touchdowns -- but that belies his athleticism and potential as a pass-catcher. For instance, his average of 19.2 yards per catch led Alabama last season. He's 6-foot-6, 240 pounds and moves like a receiver. You can't put a linebacker on him. He'll make one move and leave them in the dust. You can't put an undersized DB on him, either. He'll push them around and create the space he needs to get open.
[+] Enlarge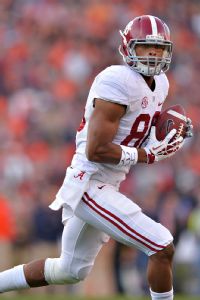 RVR Photos/USA TODAY SportsO.J. Howard's combination of size (6-foot-6, 240 pounds) and speed make him particularly difficult to defend.
"Having a guy like that," coach Nick Saban said, "really there's a lot of multiples in terms of how you can use him and create problems for the defense."
Said offensive coordinator Lane Kiffin: "O.J. is really extremely talented .... We're working more with him about speed and his ability to do everything."
Don't focus too much on Howard, though. If you chip him at the line of scrimmage with an extra linebacker, you might miss on whoever pops out of the backfield behind him.
T.J. Yeldon
and
Derrick Henry
are mismatches in their own right. Yeldon, on the one hand, is a one-cut back who will chip away until he's hit 100 yards and a couple touchdowns. Henry, meanwhile, is simply no fun to tackle. Running backs aren't supposed to be 6-foot-3 and 240 pounds and run like that. Oklahoma's defense had trouble getting a hand on him, and when they did they couldn't bring him down.
But it's not Yeldon or Henry who poses the biggest schematic challenge. The third back,
Kenyan Drake
, is the one you'll have trouble accounting for. He's Alabama's change-up, except he throws you off with acceleration. His speed is uncanny, as evidenced by his 7.54 yards per carry average (fifth nationally among qualifying backs). Once he hits the hole and gets to the second level of the defense, he's gone. And when you look at him in the context of Kiffin's offense -- a shifty back with speed and the ability to catch the football -- there's one obvious comparison to make:
Reggie Bush
. In each of Alabama's last two scrimmages, Drake has taken to the role of receiver, leading the team in receptions with a combined seven catches for 140 yards and a touchdown.
"Drake is like a cat to me, very slippery runner," said wideout
Amari Cooper
at SEC media days. "You can't turn your head when he's running the ball because he can make the big play at any time."
Cooper should know. He's the team's most consistently explosive offensive weapon. The junior from South Florida isn't the biggest or the fastest, but he has that certain knack for getting open. As a freshman, he became the first rookie receiver in Alabama history to reach 1,000 yards. In spite of dealing with an assortment of nagging injuries last season, he caught 45 passes for 736 yards and four touchdowns. In his final two games against Auburn and Oklahoma, he accounted for 327 total yards of offense.
As Saban put it: "He's pretty hard to stop unless you put two guys on him."
"The guy's really an explosive guy," Saban said this spring. "He's got great speed. He's got really good hands. He's got good size. He can catch the ball vertically down the field. He's difficult to cover coming out of a break."
On paper, Alabama's skill players have the potential to be among the best in the SEC. When you have to account for the tight end, running back and receiver, it puts defensive coordinators in a bind. But even so, there's still the question of how it all comes together. Without a strong offensive line, they won't matter. Without a serviceable quarterback, there won't be anyone to get them the football.
The good news for Alabama is that whether it's
Blake Sims
or
Jake Coker
who ends up under center, he'll have plenty of firepower to work with.
August, 18, 2014
Aug 18
10:51
AM ET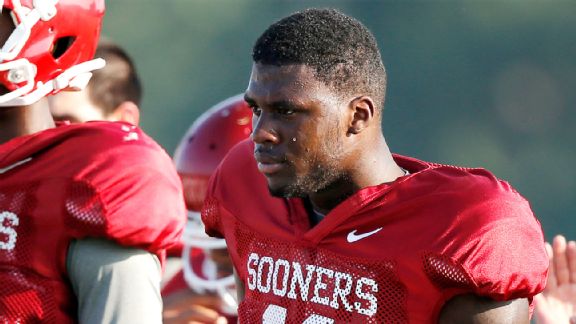 AP Photo/Sue OgrockiOklahoma coach Bob Stoops felt he knew enough about Dorial Green-Beckham to bring him in.
After receiver Damore'ea Stringfellow left the Washington program following his arrest for being involved in a fight during a Super Bowl celebration for the Seattle Seahawks, it didn't take long for other FBS programs to line up for his services.
In fact, Nebraska coach Bo Pelini was so upset about not landing Stringfellow, who was charged with two counts of fourth-degree assault and one count of third-degree malicious mischief, that he all but accused Ole Miss' coaches of improper recruiting.
Former Missouri receiver Dorial Green-Beckham was dismissed in April after he was accused (but never charged) with pushing an 18-year-old female student down four stairs. He had previously been arrested twice on marijuana-related charges. Despite Green-Beckham's troubled past, Oklahoma accepted him as a transfer in July and has even appealed to the NCAA for a waiver to allow him to play this season.
August, 18, 2014
Aug 18
10:00
AM ET
Frank Beamer says it has never crossed his mind. Al Golden wasn't sure if it was already happening at the high school level.
They're not the only two college coaches who didn't know what to think when asked about prep quarterbacks who -- before stepping on campus -- were already equipping themselves to use the graduate transfer rule in a worst-case scenario.
"You know, I've never thought of that," Beamer said. "I'm not saying that that's not possible."
This offseason, Beamer and Golden have taken advantage of the graduate transfer rule. It's a rule that -- for the most part -- allows players who have graduated early from college but have not exhausted their eligibility to transfer to another school without sitting out a year. Virginia Tech brought in
Michael Brewer
(Texas Tech), and Golden signed
Jake Heaps
(Kansas). Boston College coach Steve Addazio also brought in a graduate quarterback in
Tyler Murphy
, and even Alabama, which grabbed
Jacob Coker
from Florida State, made use of the rule made famous by
Russell Wilson
when he left NC State for Wisconsin in 2011.
[+] Enlarge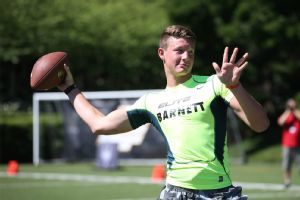 Tom Hauck for Student SportsAlabama 2015 QB commitment Blake Barnett plans to graduate in three years, giving him the option of transferring without penalty as early as possible if things don't work out with the Crimson Tide.
A large contingency of coaches either haven't put much thought into the idea of high school quarterbacks preparing for Plan B or don't believe college football has reached that point -- "I think it's looking too far down the road," Addazio said -- but the truth is the latest cycle of prep stars are acutely aware of all their options. It's manifested itself after an offseason in which nine FBS quarterbacks, according to
a list compiled by CBSSports.com's Jeremy Fowler
, are eligible to play immediately at their new schools, thanks to their use of the graduate transfer rule.
Blake Barnett
is a five-star Alabama commitment. The No. 2 quarterback nationally in the ESPN 300 is possibly in line to be one of the sport's upcoming superstars. His father, Lance, said his son is prepared to compete for the Crimson Tide's starting job in 2015 as a freshman and is not intimidated by the Tide's collection of elite high school signal-callers.
But the Barnetts also understand only one quarterback per team is on the field at a time, so graduating in three years is the plan for Barnett.
"The faster he can get his degree, the better off he is," Lance said. "God forbid you have to transfer, or you can go to the NFL, or he can work on his master's. ... You always have to prepare for situations that come your way down the road. Hopefully, [transferring] is a situation he doesn't see himself in. ... Get your degree as soon as possible, and worry after that. You're not penalized then."
Ricky Town
is one of two 2015 quarterback commits to USC. His father, Rick, said his son "loves USC, and you couldn't pry him away," but he is keeping an eye out for his son's best interests long-term. The Towns envision Ricky graduating from USC in three years, which gives him the same three options: NFL, master's degree or transfer.
Rick said he first became aware of the graduate transfer rule within the past year when he read reports that Coker was looking to transfer using the graduate rule. Coincidentally, Coker announced he was transferring to Alabama days before Town flipped from the Tide to the Trojans.
"You always plan ahead and explore more exit strategies, and the more avenues you have the better," the elder Town said. "You don't think you'll transfer in three years -- you set up for it, but it's not a goal. It's a bailout strategy if, for whatever reason, things don't go according to plan. It's a business. That's the bottom line."
Florida State coach Jimbo Fisher had two quarterbacks transfer over a nine-month period, Coker among them. The national championship-winning coach was in favor of both players transferring and said it was in their best interest with
Jameis Winston
entrenched as the Seminoles' starter.
Fisher said he is not for or against the graduate transfer rule -- it depends on each player's circumstance. He did say, however, he wishes more quarterbacks allowed the carousel to do a full revolution before they opt off the ride.
"I think it's better to have patience -- I really do," he said. "We're quick to jump."
But coaches are, in a way, opening their programs to graduate transfers at quarterback with how the position has been recruited recently. Of the top five quarterbacks in the ESPN 300, each could be January enrollees. Rick Town said his family began preparations for early enrollment after the second game of Ricky's sophomore season. Blake Barnett didn't begin thinking about enrolling early until Division I attention starting pouring in, but he's made up for lost time and will take two classes at Alabama during the spring semester.
Most players take classes during the summer as well, and the NCAA passed legislation in October that allows coaches to implement eight weeks of mandatory summer workouts. Between early enrollment and the summer credits, quarterbacks are often on track for graduation after three years.
"Then you still have those two full years of eligibility," Rick Town said.
August, 18, 2014
Aug 18
9:44
AM ET
By
ESPN.com staff
| ESPN.com
With the season less than two weeks away, Phil Steele takes a crack at projecting the final standings for the SEC, along with records for each team.
Click here

for the full rundown of Steele's thoughts on who will finish where and why, but here's a sample: He likes Alabama in the West and Georgia in the East.
August, 18, 2014
Aug 18
8:00
AM ET
1. Another quarterback battle came to a resolution over the weekend as Texas A&M coach Kevin Sumlin tabbed
Kenny Hill
to be the Aggies' starter when they open the season Aug. 28 vs. South Carolina at Williams Brice Stadium. It was
Hill's "body of work" over the course of the competition that won him the job
after he and true freshman
Kyle Allen
received virtually equal practice repetitions with the first and second team throughout the first two weeks of training camp. Sumlin noted that "Kyle needs to keep competing, and Kenny needs to continue competing at the level he's competing to stay where he is," and all indications are that it was a close competition and a tough decision for Sumlin and offensive coordinator/quarterbacks coach Jake Spavital. But don't be fooled -- while Allen will continue to push Hill on the practice field and is only one play away from getting on the field, Sumlin has never been a two-quarterback guy who rotates players. Allen will likely see time when the Aggies take commanding leads in some of their nonconference games but Sumlin wants his quarterbacks to operate from a place of confidence and not looking over their shoulder.
Sumlin has a long list of great college quarterbacks he has been around
that reinforces that belief. The Aggies open with the Gamecocks but games against FCS foe Lamar, Rice and SMU follow so don't expect a quick trigger on Hill. The sophomore will get an opportunity to establish himself. Will the competition continue? Sure. But don't expect a revolving door here. Allen is staying confident,
posting on Twitter "Don't count me out yet."
2. Over in Tuscaloosa, Alabama, the starting quarterback job is not yet situated. After a scrimmage Saturday, Alabama coach Nick Saban said that
Blake Sims
is
"playing a little faster right now"
than transfer
Jacob Coker
. As a fifth-year senior who has been in the Crimson Tide's system compared to Coker, who just arrived this summer, that's understandable. But with the season opener approaching, eyes begin to zero in on every twist and turn of the race. Saban declined to disclose his two quarterbacks' statistics from the scrimmage and made it clear that the coaching staff is not going to make a decision until "someone clearly wins the job." That's the right approach. It's beneficial to establish some kind of deadline so that when game week arrives, your starter is taking the first-team snaps and you're not splitting reps and allow your starter to develop a rhythm, but
if it's still pretty close taking more time makes sense
.
3. Arkansas held an open-to-the-public scrimmage on Saturday and there was plenty to take away, from the performance of quarterback
Brandon Allen
, the establishment of a backup (
Austin Allen
), a big day for
Korliss Marshall
and a glimpse of freshman receiver
Jojo Robinson
's ability. But perhaps the most entertaining bit came before the scrimmage, when
Bielema grabbed the microphone and reminded the crowd not to video record the practice
. "If you see someone videotaping, tell them that ain't right," Bielema said. "Especially if they're wearing an Auburn shirt, knock the s--- out of them." Of course, the Razorbacks open the season against Auburn and Bielema and Auburn coach Gus Malzahn have some differing opinions, but there's nothing wrong with a little good fun in the form of a joke to get your home crowd fired up.
More from around the SEC:
Tweets of the weekend
Some people dream of playing in front of 40,000 fans, at Tennessee we practice in front of 40,000 fans! #Unbelievable

— Butch Jones (@UTCoachJones) August 17, 2014
People rip UT fans. 1 winning season in 6 & this crowd shows up for Sat night practice pic.twitter.com/di7PtMDd3i

— Tony Basilio (@TonyBasilio) August 16, 2014
August, 17, 2014
Aug 17
6:32
PM ET
[+] Enlarge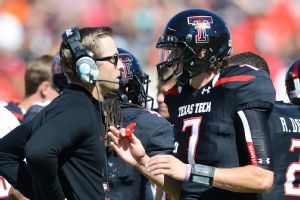 John Weast/Getty ImagesThree Texas Tech quarterbacks transferred after this season once it was clear Kliff Kingsbury favored Davis Webb as his starter.
During Florida State's 14-year streak of top-five finishes (1987-2000), the Seminoles developed an assembly line of quarterbacks. They signed, they learned, they waited, and after two or three seasons, they started.
Now that Florida State has returned to the top of the sport, let's check in on the assembly line behind Heisman Trophy winner Jameis Winston. Clint Trickett is starting at West Virginia. Jacob Coker is expected to start at Alabama. And Seminoles head coach Jimbo Fisher gave his blessing to both of them.
Whether it's out of self-regard or wanderlust, quarterbacks no longer are content to wait their turn. Coker went to Tuscaloosa to fill a void left in part by the three Crimson Tide quarterbacks who have transferred out in the past two years. And that's not even the record.
Three quarterbacks have left Texas Tech since the end of the past season. With sophomore Davis Webb entrenched as the starter, third-year sophomore Michael Brewer departed for Virginia Tech, sophomore Baker Mayfield went to Oklahoma and third-year sophomore Clayton Nicholas transferred to Bowling Green.
August, 17, 2014
Aug 17
3:54
PM ET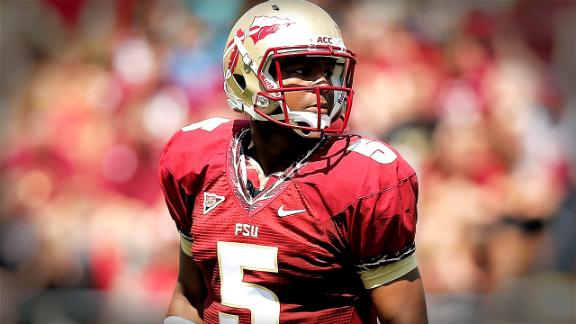 This one's for you, Auburn fan who thinks the national runner-up should be higher than sixth in the
Associated Press preseason poll
, released Sunday afternoon. And it's for you, Ohio State fan, to defend the chronically criticized Big Ten, the only Power Five league without a team in the top four of either the AP or
USA Today coaches'
preseason poll.
Don't worry, Baylor fan, we didn't forget you. If you want to climb to the top of beautiful new McLane Stadium and scream about why your Bears should be higher than No. 10 in both polls, go right ahead. Maybe you can hear the same outcries from fans of No. 19 Arizona State, No. 20 Kansas State or No. 24 Missouri, the defending SEC East champ excluded from the coaches' poll while barely squeaking into the AP.
Speaking of the SEC, no other conference had more teams (eight) in the preseason AP poll. So what's the complaint? There could have been more. Meanwhile, the league that ended the SEC's run of national titles, the ACC, placed just three teams -- No. 1 Florida State, No. 16 Clemson and No. 23 North Carolina -- in the AP rankings. Duke fans, grumble away.
Preseason polls serve a therapeutic purpose. They allow us to vent, to argue, to compare, to exclaim, to protest and, most important, to fill time before the games begin later this month. They are part of the American sports fan experience, and you should enjoy them.
Yet for the first time, the polls will have little to no bearing on shaping college football's national championship race. And that's a great thing too.
If Tom Osborne, Condoleezza Rice and Jeff Long were relentlessly refreshing Twitter at 2 p.m. ET Sunday, the time the AP poll was released, we have a problem. If Oliver Luck, Tyrone Willingham and Archie Manning furiously began calculating the Top 25 breakdown by conference, this might not work out. If Mike Tranghese, Barry Alvarez and Pat Haden immediately noticed how similar the AP and coaches' preseason polls are -- teams ranked 7 to 17 are identical, and only two teams, Missouri and Texas, made just one of the polls -- the playoff selection process could go very wrong.
The 13 members of the College Football Playoff selection committee shouldn't care about these rankings. They shouldn't spend one nanosecond analyzing them. They shouldn't read this or any other media report about what the polls suggest about this team or that conference. Here's hoping they spent Sunday fishing, golfing or anything other than poll watching.
This is about you, not them. So go ahead and wonder if a Wisconsin team with a largely revamped roster is rated way too high -- No. 14 in both polls -- and why Iowa, which loses far less than the Badgers off a vastly improved team, failed to make either preseason poll. Ask which set of voters correctly has the order of "O" teams -- Oregon, Oklahoma and Ohio State. Argue whether teams with new quarterbacks (Alabama, Georgia, LSU, Clemson, Texas A&M) are too high or too low.
Notre Dame's inclusion at No. 17 will set off fireworks, but remember the AP votes took place before Friday's announcement that four starters, including star cornerback
KeiVarae Russell
, have been held out pending an academic investigation into potential misconduct.
There's little debate at the top, as defending champion Florida State, led by reigning Heisman Trophy winner
Jameis Winston
, received 57 of the 60 first-place votes in the AP poll. Alabama, which will have a new quarterback but returns arguably the nation's most talented roster, is solidly in second position. It's very close for No. 3 between Oregon, which could have the nation's best player (
Marcus Mariota
), and Oklahoma, which stunned Alabama in the 2014 Sugar Bowl and eyes the next step.
Although the SEC has three teams among the top nine and five in the top 13, the Pac-12 enters the season projected as the nation's No. 2 conference. The quarterback-stacked league has three teams in the top 11 and five in the top 19.
Few would be shocked if the inaugural playoff reveals a field similar to the top of the preseason rankings. We could see four teams from four conferences, as both polls show, or multiple teams from a league like the SEC or Pac-12. Perhaps a team outside the preseason top 10 rises up, like Georgia, Arizona State or Nebraska. While zero teams from Group of Five conferences appear in the AP poll, don't write off UCF, the reigning Fiesta Bowl champion.
Talking season might be over, but debate season is in full swing, at least until the real season begins. So tell the world what you think of the polls. Just don't expect the committee members to listen.
August, 17, 2014
Aug 17
2:08
PM ET
Associated Press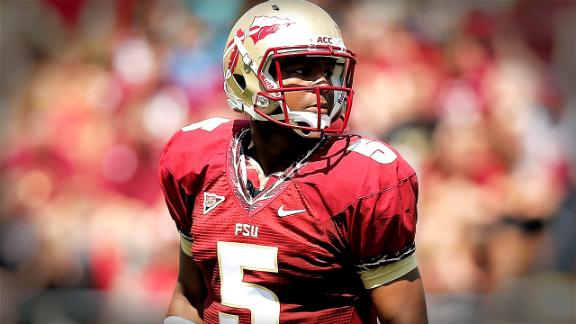 Jameis Winston and defending national champion Florida State are No. 1 in The Associated Press preseason college football poll.
The Seminoles will start the season No. 1 for the sixth time -- the first since 1999 when they became the first team to hold the top spot for the entire season.
Florida State received 57 of 60 first-place votes Sunday from the media panel. No. 2 Alabama, No. 3 Oregon and No. 4 Oklahoma each received one first-place vote. Ohio State is No. 5 and Auburn is No. 6.
Winston, the Heisman Trophy winner last season as a redshirt freshman, led Florida State to a 34-31 victory against Auburn in the last BCS national championship game.
This season the Bowl Championship Series is being replaced by the College Football Playoff. A selection committee will pick the top four teams in the country for two national semifinals.
The rest of the top 10 is UCLA
August, 16, 2014
Aug 16
5:08
PM ET
The SEC has dominated college football over the past decade, and while the league's streak of seven straight BCS championships came to an end last year, it wasn't without a fight. The Auburn Tigers had one of the most remarkable turnarounds in college football history, going from an 0-8 SEC season to an SEC title -- and 13 seconds away from a BCS title in Gus Malzahn's first year as coach.
This year will be one of transition for many teams in the conference, as far as quarterback play goes. In 2013, five SEC QBs ranked in the top 12 in the NCAA in pass efficiency, but all five of those passers departed. So this year's road to Atlanta could come down to who wins the battles in the trenches, and no team is better equipped to do that than coach Nick Saban's squad.
Here are my projected final SEC standings:
---
SEC West
Projected record: 12-0
Early lines on toughest matchups: at Ole Miss (minus-4), at LSU (minus-3)
Alabama has won three national titles under Saban, two of them with first-year starting QBs. Jake Coker gets the benefit of my No. 1 set of RBs, my No. 2 WRs unit and my No. 8 O-line. And each of Bama's defensive units is top-10. As for the schedule, it could be bumpy. The Tide have been favored in 54 straight games coming into '14, which is tied with FSU (1997-2001) for the longest streak in the past 20 years. I have the Crimson Tide favored in every game, but three are by only single digits (at Ole Miss, at LSU and Auburn), with the trip to Baton Rouge being the shortest odds.
To continue reading this article you must be an Insider
August, 15, 2014
Aug 15
3:00
PM ET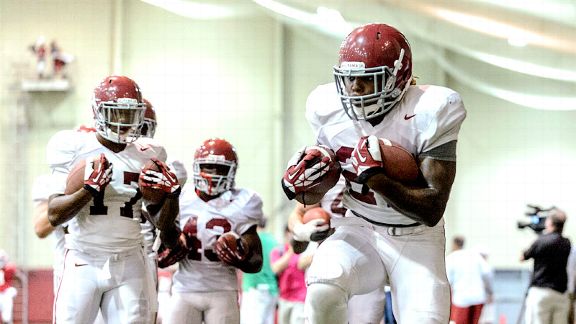 AP Photo/AL.com, Vasha HuntDerrick Henry hopes to pick up where he left off at the end of last season.
TUSCALOOSA, Ala. -- His dreadlocks were a little longer. They were brighter, too, turned yellow at the tail end of each strand, presumably by bleach. But beyond that, there wasn't much different about
Derrick Henry
when he met with the media on Thursday night at Alabama.
If anything, he sounded more tired than usual.
"It was a good offseason," the weary sophomore said. "Feel like I worked hard, progressed as a player, got in better condition just so I'd be ready for fall camp."
Standing before him, you'd think he wasn't the talk of college football. Henry's 161-yard, two-touchdown performance against Oklahoma in the Sugar Bowl was a revelation. It was the former five-star prospect's "this is me" moment after doing relatively little during the regular season. He went from under the radar to a Heisman Trophy contender in the span of one night in New Orleans, running over and around would-be tacklers.
But if you were looking for Henry to feel as if he'd arrived, you were left wanting. He may be one of the biggest running backs in all of college football at 6-foot-3 and 240 pounds, but his ego on Thursday seemed nonexistent. He said all the right things -- "We're excited for fall camp." "We're all working hard." "I just make sure I'm on my P's and Q's." -- and deferred to his teammates at all the right times.
Was he even aware of the hype surrounding him?
"I definitely tune it out. You've got to stay humble," he said.
Is there anything he wants to improve on?
"Everything," he said. "I just want to become a complete back."
How about your 40-yard dash? Have you timed yourself?
"No, no, no."
Maybe he didn't want to add more fuel to the fire. Expectations are enormous as it is. People think he's fast for his size already. Giving them an actual measurement would only prompt further discussion.
What's been lost in the Henry Hype Machine -- and what Henry himself seems to realize -- is that he hasn't really done all that much up to this point. The starter ahead of him,
T.J. Yeldon
, has more than 2,000 career rushing yards.
Kenyan Drake
, who many assume will be the third back behind Yeldon and Henry, had 694 yards and eight touchdowns last season. Henry's actual numbers as a freshman: 36 carries, 382 rushing yards, three touchdowns. He had one reception, which came against Oklahoma.
"I'd say I have a lot to prove," he said. "I don't see I've done anything that makes me feel like I've arrived or anything like that."
If Henry was willing to concede anything, it was that he feels more comfortable in the offense now. He was never asked to block or pass protect in high school, where he set the
national record for career rushing yards
. Now, he said, "I feel like I can catch the ball pretty well," which is something new offensive coordinator Lane Kiffin is asking of all the running backs.
"I've just really been focusing in the meetings and in practice, making sure I'm paying attention to [pass blocking and picking up the blitz] because that's really big in college," he said. "There are a lot of defenses, different defenses, so you've got to know the blitzes if you want to play."
Last season he was nervous. He wasn't relaxed enough and "letting it all come to me," he said. Now he knows what he's doing. Now he said he's "playing fast."
That should be a scary thought for the SEC. We all saw what Henry playing fast looked like against Oklahoma. If he can replicate that, he and Yeldon and Drake could form one of the best backfields in the country.
Just don't expect any kind of riff there. Sharing carries won't be an issue, Henry said.
"Coach will make a decision on how he wants to play. Like I said, whenever I'm in, I'm going to go in there and execute a play, play fast, know what I'm saying?"
We do. But good luck telling that to the people who gave you 20/1 odds to win the Heisman Trophy. Good luck telling that to the people saying you should start ahead of Yeldon and Drake. They see a completely different Derrick Henry than a season ago.
August, 15, 2014
Aug 15
8:00
AM ET
1. The first quarterback race is over. Tennessee coach Butch Jones, who said a decision was coming soon,
named his starting quarterback
Thursday. It will be
Justin Worley
. The senior started seven games last year and finished with 1,239 yards, 10 touchdowns and eight interceptions. He missed the final four games after suffering a injury to his thumb in Week 9 against Alabama, but as GoVols247 reports, Worley plans
to take the Vols' quarterback job and 'run with it.'
So who's next to name a starter? Across the state, first-year Vanderbilt coach Derek Mason has already said he's going to wait until the first game to name his starter. At Auburn, is it already a foregone conclusion that
Jeremy Johnson
will start the opener in place of
Nick Marshall
? And will a true freshman really start under center for either LSU or Texas A&M?
2. Not mentioned above is maybe the most-talked about --
unless you're Nick Saban
-- quarterback battle in the SEC, the battle between Jacob Coker and
Blake Sims
at Alabama. Coker transferred in from Florida State with the size, the big arm and the lofty expectations, but Kevin Scarbinsky of AL.com is starting to think that
Sims might actually start the season opener
against West Virginia. Saban spoke highly of Sims during the SEC Network's launch ... but he made sure to compliment Coker, too. Some say both will play against the Mountaineers. A two-quarterback system? The last time Alabama tried that it didn't go so well. Maybe Saban and his staff know who the guy is and they're just playing us all. Maybe not.
3. Sad news Thursday as Georgia officially announced that
Merritt Hall
's football career was over. The junior fullback was
medically disqualified for recurrent concussions
. The latest incident came last week when he sustained a concussion during practice. The Bulldogs have since moved linebackers Detric Dukes and
Christian Payne
to fullback where they will remain during the season, but this brings back up the question, how do we prevent football players from sustaining similar injuries in the future? Tackling better? The USA Football organization, the youth partner of the NFL, is sponsoring
the Heads Up Football campaign
, one that teaches players to tackle an opponent by wrapping their arms around them, rather than ramming them with their heads. It's a start.
More around the SEC
Tweet of the day
With his Super Bowl ring shining, Jerome Bettis pulls aside Josh Robinson for one-on-one advice. Two bowling balls. pic.twitter.com/RXEXxrAI3Q

— MSU Football (@HailStateFB) August 15, 2014
August, 14, 2014
Aug 14
11:26
PM ET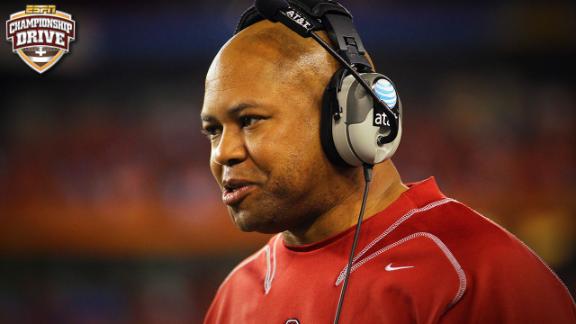 Not even West Virginia athletic director Oliver Luck knows what the ideal nonconference schedule should look like in the new era of the College Football Playoff -- and he's on the selection committee.
Here's a good start: Alabama versus USC. LSU versus Wisconsin. Michigan versus Oklahoma. Notre Dame at Texas. Clemson at Auburn.
A plethora of blockbuster matchups have been scheduled for coming seasons, and while it would be faulty to assume they are all a product of the playoff, there's no question programs across the country are strategically beefing up their lineups with the intent of impressing the selection committee. "Strength of schedule" is a phrase fans are going to hear ad nauseum in the College Football Playoff era, as it will be one of the factors the 13-member selection committee considers when choosing the top four teams in the country.
Just how heavily it will be weighed, though, remains to be seen.
"I don't know if I want to give it a percentage," Luck said. "Everybody, they may view it a little bit differently on the committee, but I certainly believe it's important. ... I do think it's something that matters. There are years you may not face the conference heavyweight, or conference powerhouses. In those cases, it will be important to look at what a team has done with its nonconference scheduling."
Virginia Tech, for example, does not play defending national champ Florida State this fall -- and will see the Seminoles only twice through 2024 -- but the Hokies will travel to Ohio State for a nationally televised game in Week 2, and they've scheduled games against Wisconsin (2019-20), Michigan (2020-21), West Virginia (2021-22), Penn State (2022-23) and Purdue (2023). Tennessee, though, has Alabama as its permanent crossover partner, and the SEC has implemented a rule requiring all schools to schedule at least one opponent from another Power Five school in their nonconference schedule.
Harvey Updyke Dunk Tank Canceled Following Threats
SEC SCOREBOARD
Thursday, 8/28
Saturday, 8/30
Sunday, 8/31