October, 28, 2014
Oct 28
9:30
AM ET
By
ESPN.com staff
| ESPN Insider
Each Tuesday, we ask the College Football Insider team to answer three big questions. On tap today: Which College Football Playoff matchups would be the most interesting? Which coach has done the best job so far? And which team truly boasts the most dominant defense?

Which coach has done the best job so far this season?
Travis Haney: Rightful homage is being paid to the coaches in Mississippi, but I want to go a different direction. Kyle Whittingham has Utah 6-1 after some doubted whether he could handle the Pac-12 transition. The Utes' offense isn't great at all -- 84th in yards per play -- but that further illustrates the job Whittingham has done to make Utah a complete team on defense and special teams. The win over Stanford in 2013 didn't look fluky, and neither did wins over UCLA or USC in 2014. The Utes will be a headache for Oregon in a couple of weeks, especially coming off the Stanford game

Tom Luginbill: Nobody was talking about Utah prior to the season, and all the Utes have done is take care of business with average QB play (plus an injury) and stellar special-teams performances. Utah is the one team that can truly throw a wrench into the Pac-12 playoff picture.


October, 28, 2014
Oct 28
8:30
AM ET
Welcome to terrific Tuesday. Or terrible Tuesday. All depends on your perspective.
The College Football Playoff selection committee began deliberations on Monday in Grapevine, Texas. Tonight at 7:30 p.m. ET, Arkansas Athletic Director Jeff Long will unveil to a most curious audience the first-ever CFP rankings.
It's a historic time -- and surely chaotic.
Marc Tracy of the New York Times, in
assessing the moment
, writes that "historians will most likely date the end of the era of good feelings to 7:31."
With that in mind, some advice for fans from the Big Ten to the SEC:
To continue reading this article you must be an Insider
October, 28, 2014
Oct 28
8:00
AM ET
Nick Saban took stock of the situation.
"A couple guys got ankles, toes, a sprained foot," he said.
Alabama's head coach did his best to downplay the severity of the injuries his team sustained during Saturday's 34-20 win over Tennessee, but listening to his postgame news conference it sounded like a laundry list of medical issues.
[+] Enlarge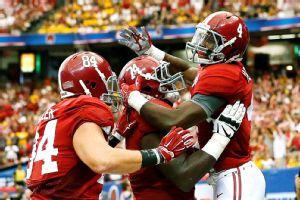 Kevin C. Cox/Getty ImagesCam Robinson (74) and T.J. Yeldon (4) are among Alabama's injured players.
Moving down the roster, Saban reported that tight end
Brian Vogler
had a sprained left knee.
T.J. Yeldon
, who leads the team with 618 yards rushing, was banged up and missed much of the second half with a foot injury.
"I don't know that any of these things are significant," Saban said, "but I don't know how long they'll be out either."
While Alabama's trip to Knoxville, Tennessee, was filled with positive images -- Lane Kiffin grinning from ear to ear,
Amari Cooper
setting a school record for receiving yards,
Reggie Ragland
's continued ascension at linebacker -- it was also colored with concerning scenes as starting wideout
Christion Jones
hurt his hamstring during warm-ups and
Landon Collins
was sidelined with cramps. Seeing left tackle
Cam Robinson
go down with an apparent ankle injury in the third quarter sent shivers through the Crimson Tide's playoff hopes.
Saban said Robinson, a true freshman who has started since Day 1, will be out a couple of weeks. In the meantime,
Leon Brown
will kick out from guard to tackle and
Bradley Bozeman
will come off the bench to fill in for Brown. For an offensive line searching for consistency, attrition was the last thing it wanted to see.
But among the bandages and braces is some good news: Alabama has the week off. Head athletic trainer
Jeff Allen
gets extra time to work his magic.
The bye week couldn't have been scheduled any better for the third-ranked Crimson Tide as they prepare to travel to Baton Rouge, Louisiana, to face No. 16 LSU on Nov. 8. Getting healthy for that annual SEC West rivalry game will be important as both teams are known for their physical style of play.
It will be all hands on deck, but it remains to be seen just who will be available. It's still unclear whether starting outside linebacker
Denzel Devall
will be cleared to play after missing the last few weeks recovering from a knee injury. Robinson will almost certainly be out and the timeline for Vogler and Yeldon is unclear.
A few weeks ago it looked as if Alabama's trip to LSU would be a breeze. The Tigers were 4-2 and unranked in the polls. But three consecutive wins later, including last weekend's upset of No. 3 Ole Miss, the outlook has changed considerably.
These young Tigers are getting better and more confident with each passing day.
Chances are the Tide will be favored when they head to Death Valley next Saturday, but that hinges on who makes the trip. If Saban's list of injured players doesn't shrink between now and then, Alabama could be in trouble.
October, 28, 2014
Oct 28
8:00
AM ET
Today is the day, folks. Curious fans who want to know what the College Football Playoff selection committee is thinking
will get a window into those thoughts
when the committee's
inaugural top 25 poll releases
at 7:30 p.m. ET tonight on ESPN. Our Ivan Maisel
likens the group to a jury
, now that it's down to 12 members. Not everybody is enamored with the idea of the committee releasing its own rankings, though.
Dan Wetzel makes the case against the idea
, suggesting it should look more like the NCAA basketball tournament selection committee, which simply releases its results after the season is complete.
George Schroeder calls the poll a "pointless exercise."
For the speculative types,
here is a prediction at what the first set of rankings might look like
. For those who miss the old days of the BCS,
here's a look at what the computers say about the teams
to this point. No matter what the result, it will generate a lot of conversation nationally.
Not a surprise, but as the noise increases around Florida coach Will Muschamp and his job security (or lack thereof), the
Gators players are voicing their support for the coach
. "I mean, people can really say what they want," Florida senior linebacker
Mike Taylor
said. "We're the ones who sit in these meeting chairs and listen to him. The people that are saying that are not out there coaching with them, not being coached by him, they're not playing on Saturday." The Gators should have plenty of motivation this week for their rivalry game with Georgia. They're under pressure, too. I remember
Vernon Hargreaves III
talking at SEC media days about things classmates said to players last year when the Gators were 4-8. Is it likely the Gators turn it around? Probably not, given how good Georgia is. But like their coach, they'll probably
operate with a bunker mentality
moving forward.
Here's an interesting dynamic before this weekend's showdown between Auburn and Ole Miss: Hugh Freeze
expressed some concern over the fact that a former quarterback of his at Arkansas State and intern for him at Ole Miss, Ryan Aplin, is an offensive graduate assistant with Auburn
now. In the coaching world, turnover is frequent and a situation like this can be expected to pop up from time to time, but the fact that Aplin spent so much time with Freeze, who gave Aplin his first job in football, suggests he has a deep knowledge of Freeze and the inner-workings of his attack. Everything is on film, so I doubt that it is a make-or-break type of thing, but coaches search for every advantage they can get.
Bo Wallace
acknowledged that the Rebels have changed terminology since Aplin left, but it's still worth noting.
Around the SEC
Tweet of the day
Question to Richt from fan on radio show: "Georgia brought in Will Muschamp as a player. Why don't we send him out as a coach?"

— Seth Emerson (@SethEmerson) October 28, 2014
October, 27, 2014
Oct 27
11:55
PM ET
October, 27, 2014
Oct 27
11:05
AM ET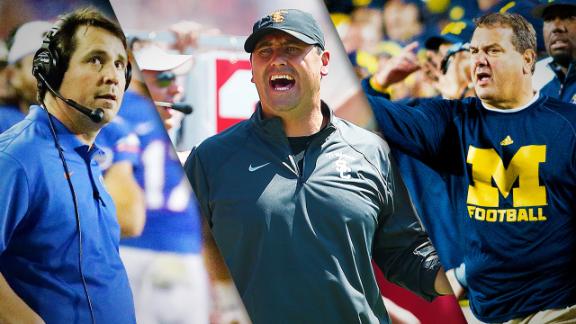 National signing day, Feb. 4, is just 100 days away. Here's a look at 100 things to watch for leading up to the big day.
Questions that will shape signing day
100. Who will coach the Florida Gators next year? The Gators entered the season hoping to rebound on the field with a shot at the No. 1 class. Amid another season of turmoil, Florida is in a fight just to keep committed prospects on board.
99. Will Michigan make a move? With that seeming likely, a number of Wolverines commits are making official visits. Assuming there will be a change, the new coach will have the difficult task of keeping the class together.
98. Can Virginia Tech or Virginia keep the best at home? While a pair of in-state five-stars from the 2014 class chose Virginia, the top four in 2015 remain uncommitted. Only one prospect in the top 10 is committed to an in-state program after eight of the top 15 signed with the Hokies or Cavaliers in 2014.
97. Can UCLA win any big battles late? The Bruins were ranked No. 7 in the preseason Associated Press poll and were a playoff contender. UCLA is 6-2, but the season hasn't lived up to those lofty expectations. That has provided rival USC the opportunity to have more success selling Steve Sarkisian's vision without the Bruins taking the headlines and winning the perception battle.
96. How many prospects will flip? To date, over 35 prospects in the ESPN 300 have decommitted or flipped their commitments. With more than 30 committed prospects still making official visits or planning to make visits, that number could reach as high as 70, considering both the Florida and Michigan jobs may open, which could start a chain reaction depending on future hires. There is no doubt that 2015 is the class of flips, and it has only just begun.
October, 27, 2014
Oct 27
10:05
AM ET
KNOXVILLE, Tenn. -- As the playoff committee prepares to release its first set of rankings on Tuesday, there is one team that has to get some considerable attention in the early playoff race.
Welcome back, Alabama!
Yes, the school left for dead on the side of Highway 6 after losing to Ole Miss, is back in the national spotlight, and there is really no reason not to take the third-ranked Crimson Tide (7-1, 4-1 SEC) seriously.
Since losing 23-17 in Oxford, the Crimson Tide have won three straight. The first game was an ugly, tough 14-13 win at Arkansas, but the past two have been in blowout fashion. A week ago, folks were drooling over that 59-0 thrashing of Texas A&M, and now it's time to start respecting Alabama more after a convincing 34-20 win against Tennessee in Knoxville.
[+] Enlarge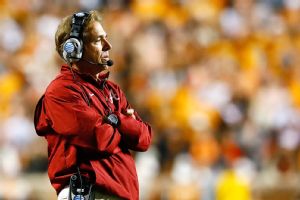 Kevin C. Cox/Getty Images Head coach Nick Saban has Alabama in position to make another run at a national championship.
Alabama has outscored its past two opponents 93-20 and has averaged 535.5 yards per contest. The defense has yet to give up 400 yards of offense in a game this season, and after having some real issues in its secondary, Alabama has given up an average of 171.5 passing yards per game in the past two outings.
We have immersed ourselves in the Magnolia State the past few weeks, but it's time to start to looking at what's happening in Tuscaloosa. Alabama is creeping back into the playoff race at the perfect time.
"This team is getting better and better," said quarterback
Blake Sims
, who has totaled 650 yards of offense and seven touchdowns in the past two games. "We're becoming even closer and we just want to play hard for each other. The way our coaches fight for us, we want to play even harder for them."
Oh, you aren't impressed with Saturday's 14-point win in Neyland Stadium? Well, there was more to the game than just a two-score outcome.
Alabama sprinted (
Hello, Lane Kiffin
!) out a 27-point lead early in the second quarter. At the end of the first quarter, Alabama had out-gained Tennessee 253 yards to 80. The game was over before the marching bands took the field for quite the entertaining halftime show.
Yes, Tennessee made a little bit of a comeback, but this game was never really in doubt for the Tide. We saw more of the Alabama that played Texas A&M than the Alabama that lost against Ole Miss. The Tide has to put games away earlier than it did against the Vols, but give credit to Tennessee for continuing to fight.
"Consistency in performance is what's going to be key to being successful down the road," Alabama coach Nick Saban said. "That's something that all of our players need to understand, and I do think they understand that. We have to be able to play Alabama football on a more consistent basis. That's something that everybody's got to be committed to."
With the bye week here, there is time to work on that. Alabama also gets to rest while SEC West leaders Mississippi State and Ole Miss have two physical matchups Saturday -- against Arkansas and Auburn, respectively.
Look at Alabama's November schedule. It goes to No. 15 LSU and then hosts No. 1 Mississippi State. After Western Carolina, the Tide hosts fourth-ranked Auburn.
OK, on paper that looks pretty daunting. But Alabama gets two of those ranked foes at home and has a week off before traveling to Baton Rouge. With Mississippi State the only undefeated team remaining in the SEC West, Alabama is right back in the thick of the divisional race. And if you are in the thick of the toughest division race in football, you are certainly in the playoff hunt.
Alabama isn't as dominant as it has been, but in a season with no true dominant college football team, Alabama is in great position to have a special season. Everything is still in front of it, and Alabama is hitting its stride on both sides of the ball just in time for the stretch run.
"When we're both (offense and defense) playing good," cornerback back
Cyrus Jones
said, "we're a tough team to beat."
October, 27, 2014
Oct 27
9:25
AM ET
Nick Saban may earn in the area of $7 million per year, but that doesn't stop the Alabama faithful from helping out their championship-winning coach whenever and however they can.
According to a report from AL.com, the Crimson Tide Foundation paid off Saban's $3.1 million home in January 2013 even though the organization was under no obligation to do so.
The Sabans, who bought the 8,759-square-foot home in 2007, continue living there with the foundation picking up the tab for property taxes each year.
"It's not all that unusual in the world for universities to provide the housing," Scott Phelps, assistant secretary of the foundation, told AL.com, noting how the University of Alabama also owned the home of Paul "Bear" Bryant and his family. "We want to keep him happy. We think he is the best coach in America."
According to the Crimson Tide Foundation website, it is a nonprofit group whose mission is to work with the UA athletic department "by raising private funds and providing necessary resources to achieve success." Those funds are distributed for everything from scholarships to coaching salaries to athletic-related construction projects.
A spokesperson for the NCAA told AL.com that a coach's compensation is allowed to come from a university foundation.
October, 27, 2014
Oct 27
9:00
AM ET
People think the SEC is complicated.
It's really not.
The conference, no matter what some pundits argue and statistics might say, can be observed by following one simple rule: survive and advance.
Style points are erroneous. Average margin of victory is useless. Strength of schedule really isn't that important.
Ignore all of it.
You think Mississippi State didn't look like the No. 1 team in the country against Kentucky? Get a grip.
I know that
Dak Prescott
wasn't sharp throwing the football. I know that the secondary looked susceptible. I know that turnovers could eventually doom the Bulldogs.
[+] Enlarge
Mark Zerof/USA TODAY Sports"Hopefully, we can get all of this ranking stuff behind us," said Mississippi State coach Dan Mullen. "I don't know where we'll rank. You can drop us if you want or you can raise us, I don't really care on any of that now."
But please tell me something I don't know. Talk to me when Mississippi State actually loses a game.
"This league is brutal," said Ole Miss coach Hugh Freeze. "It's difficult each Saturday to win football games, particularly when you may not play your best and you suffer some injuries you're not used to having."
You think Freeze cares about style points today? He would have gone dancing with Mike the Tiger to go back and play LSU differently.
People get too caught up in the minutia. We all do. The fact that so many are now burying Freeze and Ole Miss after their loss at LSU is a testament to that.
If you think the Rebs are out of it, you're fooling yourself.
Remember when Alabama was buried and the dynasty was over? What about Auburn's ominous fall? Did we forget our recent rush to pronounce Georgia dead?
Good times.
Last time I checked this is still the SEC. Anything can happen. A few cuts and bruises doesn't mean anyone's season is over.
Ole Miss could beat Auburn this weekend and jump right back into the top four of the polls. A win in the Egg Bowl could mean the division crown and a berth in the SEC title game.
Good luck keeping Ole Miss out of the playoff then.
What happened this past Saturday was all about the continued jockeying for position. The lead in the West could change hands every week from now until the end of November. And sitting off to the side could be Georgia, just hoping no one pays attention to its steady rise up the rankings.
There is no dominant team in the SEC this season, and it's about time everyone accepts that.
"Hopefully, we can get all of this ranking stuff behind us," said Mississippi State coach Dan Mullen. "I don't know where we'll rank. You can drop us if you want or you can raise us, I don't really care on any of that now."
It may be wishful thinking, but what Mullen was speaking to is perspective. It's a rare commodity these days.
But Mullen seems to understand a simple truth about the SEC: win and you're in. You don't even need to win all of your games so long as you're among the top two teams when the music stops. How well you dance doesn't matter.
Unlike the other Power 5 conferences, there's no need for overanalyzing schedules and determining supposed "quality wins." You don't see Mike Slive politicking for the playoff because he doesn't have to.
The SEC champion won't be denied a spot in the final four. And the way things are going, the No. 2 team in the league could be in as well. If you go by the AP and coaches' polls, three SEC teams are among the top four in the country.
We can debate about who's the best of the bunch all we want, but what really matters is who survives.
The rest will get sorted out in the end.
October, 27, 2014
Oct 27
8:00
AM ET
1. As Mississippi State's magical season chugs along, running back Josh Robinson has become the newest darling of college football. He has a wide smile and a playful spirit, as evidenced by a
perfectly executed videobomb of coach Dan Mullen's postgame interview
on Saturday. Robinson is listed generously at 5-foot-9 and carries his 215 pounds like a round mound of ground and pound. But he's got an even better nickname: "The Human Bowling Ball," and it makes sense when you watch this
highlight of Robinson breaking no less than six tackles
on one play. He ran for a career-high 198 yards, including 142 yards after contact. It was Robinson's second conference game with 100 or more yards after contact (the other featured 116 yards after contact at LSU). Entering Week 9, the rest of the SEC had two such games combined. Robinson really wanted those last two yards to reach the 200-yard mark for the day. As MSU was executing the kneel-down play, Robinson
gestured toward Mullen
with two fingers to plead his case. Mullen
seemed annoyed after the game
, saying, "Well, you should have gotten the two yards earlier in the game. You had 59 minutes to get that done." The lesson here? Don't videobomb Dan Mullen.
2. Playing quarterback takes guts and conviction. It's what Good Bo/Bad Bo is all about. Ole Miss QB Bo Wallace had his reputation on the line in the waning seconds of
Saturday's Ole Miss-LSU game
, and he went for it. It's too bad for the Rebels that Wallace didn't do anything close to what he was told to do. Coach
Hugh Freeze said he told Wallace to throw to the flats or out of bounds
. Wallace went for it in the end zone, and LSU intercepted the ball to seal its upset. So it's all on Bad Bo, right? Not so fast. Wallace struggled throughout the decisive fourth quarter, completing 6 of 13 passes before the final play. Shouldn't Freeze have known better than to take that risk with Bad Bo at the controls? "I thought we were pretty clear,"
Freeze said afterward
. Wallace's ill-advised pass was
his first interception in SEC play
. Entering the week, he led the SEC in fourth-quarter Total QBR (90.7) and had zero fourth-quarter turnovers. Saturday was just
a very clear, very painful case of Good Bo/Bad Bo
.
3. It needs to be said: Amari Cooper is the best wide receiver on Earth who's not in the NFL.
Scouts and wonks are lining up to agree
. ("He's like a smaller version of A.J. Green!") Cooper had his second SEC game of the season with 200-plus yards receiving and now has 13 career games of at least 100 receiving yards, which is tied with D.J. Hall for most in school history. In other words, it's safe to say Cooper will hold every meaningful Alabama record for a wide receiver when he's through. What is certain is
Nick Saban intends to continue feeding the beast
. And at the very least it should ensure Cooper gets a shot at some major hardware in December.
"He should be up there for the Heisman trophy,"
said Tennessee coach Butch Jones without the slightest bit of hyperbole. His
Vols had the skid marks to prove it
.
Around the SEC
Tweet of the day
#MississippiState RB Josh Robinson...on his prodigious butt: "I think that's why the women come to the game, to be honest."

— Brian Hamilton (@BrianHamiltonSI) October 26, 2014
October, 26, 2014
Oct 26
5:40
PM ET
There was also no shortage of spectacular plays in the SEC on Saturday, ranging from a fat-guy touchdown pass to an onside kick return to game-clinching interception. We've narrowed the weekend's best to five. Now it's your turn. Let us know what play you think was the best in the SEC this week by voting:
Fat-guy touchdown pass
We've seen scoop-and-scores from the big guys. We've seen touchdown receptions from them. But have you ever seen a 6-foot-6, 350-pound offensive linemen throw a touchdown pass? That happened in the Arkansas-UAB game Saturday. The Razorbacks'
Sebastian Tretola
took the snap on a fake field goal attempt and threw a 6-yard touchdown pass off his back foot. Offensive linemen everywhere were proud.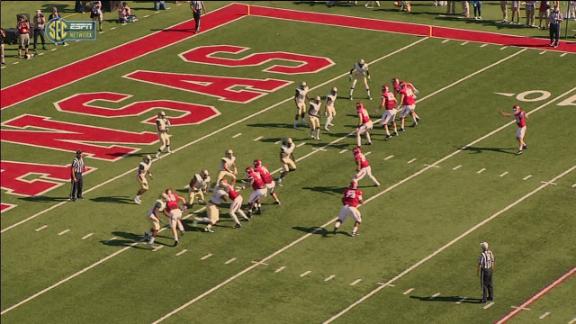 Onside kick return to the house
There were a handful of
Josh Robinson
runs that deserve honorable mention on here, but the run of the day came from Mississippi State tight end
Christian Holmes
, who returned an onside kick 61 yards for a touchdown. Kentucky had just scored to make it a one-possession game. The Wildcats' only option was to try for an onside kick. Not only did Holmes recover it, he snared it and outran the Wildcats' coverage team to seal the 45-31 victory.
Cooper starts off with a bang
Could Lane Kiffin have scripted his return to Knoxville any better? On the first play, he drew up a fake toss and a quick pass the other way to
Amari Cooper
. The All-SEC wide receiver did the rest. Cooper took the pass in stride and once he turned the corner, there was no catching him. He blew past the Tennessee defense and took it 80 yards for a touchdown.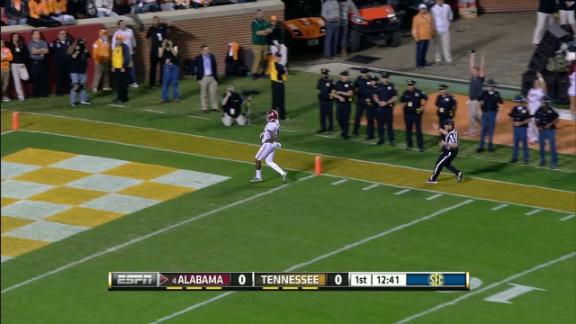 Louis turns on the jets
We all knew Cooper was fast, but how about Auburn wide receiver
Ricardo Louis
? Known for his game-winning touchdown grab against Georgia last year, Louis provided a spark for the Tigers on Saturday when he took a jet sweep around the left end and went untouched for 75 yards and a touchdown against South Carolina. The play was set up a key block from
Cameron Artis-Payne
, but Louis did the rest. The junior showed he's pretty quick, too.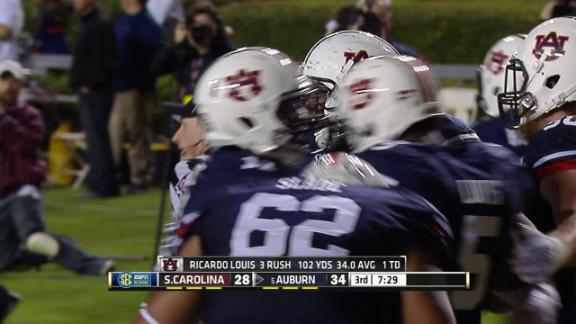 Martin seals the victory in Death Valley
It was a strange sequence of events in the final minutes between LSU and Ole Miss.
Jalen Mills
intercepted
Bo Wallace
to end the game, except pass interference was called. The Rebels were going to line up for a game-tying field goal until a delay-of-game penalty. Finally, with Ole Miss taking one last shot before another potential field goal attempt,
Ronald Martin
flew over from his safety spot and intercepted Wallace. This time there were no flags. Game over.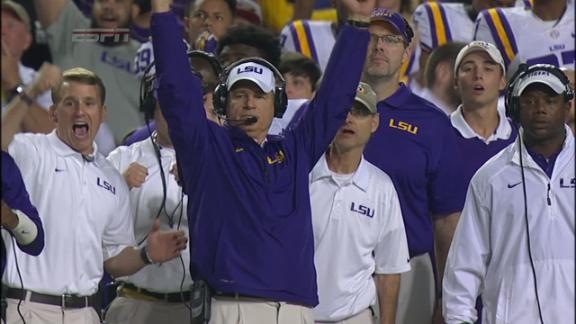 Bama DB Landon Collins in the Film Room