March, 6, 2014
Mar 6
2:40
PM ET
Surely, this is the year for
Derrick Thomas
.
The former Alabama great is back on the
College Football Hall of Fame ballot
for a fourth consecutive year after inexplicably not being voted into the Hall each of the last three years. Thomas, who died in 2000 following a car accident, ended his college career with an NCAA-record 52 sacks. He was a unanimous All-American in 1988 and won the Butkus Award that season as college football's best linebacker.

Thomas, who had 27 sacks during his final season at Alabama, is easily the SEC's greatest player (who's eligible) who hasn't been inducted to the College Football Hall of Fame. One of the game's most feared pass rushers, Thomas was inducted to the Pro Football Hall of Fame in 2009.
Here's a list of other players and coaches with SEC ties on this year's ballot:
PLAYERS
Wes Chandler, WR, Florida
Tim Couch, QB, Kentucky
Paul Crane, C/LB, Alabama
Willie Gault, WR, Tennessee
Bobby Humphrey, RB, Alabama
Larry Seivers, WR, Tennessee
Sterling Sharpe, WR, South Carolina
Art Still, DE, Kentucky
Jackie Walker, LB, Tennessee
Wesley Walls, TE, Ole Miss
COACHES
Jim Carlen, South Carolina
Danny Ford, Arkansas
March, 6, 2014
Mar 6
2:06
PM ET
Associated Press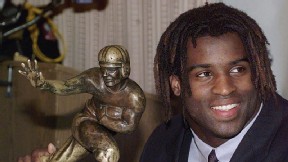 AP Photo/Suzanne PlunkettRicky Williams, who won the Heisman Trophy in 1998 while at Texas, is on the College Football Hall of Fame ballot for the first time this year.
DALLAS -- Heisman Trophy winning running backs Rashaan Salaam of Colorado and Ricky Williams of Texas are among the players making their first appearance on the College Football Hall of Fame ballot this year.
Some of the other notable first-timers are Iowa State running back Troy Davis, a two-time Heisman finalist, Miami linebacker Ray Lewis, Southern California receiver Keyshawn Johnson and Kentucky quarterback Tim Couch.
Alabama linebacker Derrick Thomas and Nebraska quarterback Eric Crouch are among the holdovers on the 75-player major college ballot. There are also six coaches up for selection, including former Oregon coach Mike Bellotti.
More than 12,000 National Football Foundation members receive ballots. Their votes are tabulated and then given to the NFF's 17-member honors court, which selects a class of about 14 players and two coaches.
Salaam won the Heisman in 1994, leading the nation in rushing and scoring. Williams was the 1998 Heisman winner and finished his career as the leading career rusher in major college football.
The 2014 Hall of Fame class will be announced in May and inducted in December at the National Football Foundation's awards banquet in New York. The new class will be enshrined at the new College Football Hall of Fame in Atlanta in 2015. The new Hall of Fame is expected to open in time for the 2014 college football season.
March, 6, 2014
Mar 6
12:00
PM ET
March, 6, 2014
Mar 6
11:00
AM ET
TUSCALOOSA, Ala. -- With the start of spring practice only a few weeks away, we're spending this week discussing five players to keep an eye on when Alabama opens camp on March 15.
Because they're unpredictable, we'll avoid first-year players such as
Cam Robinson
. If you want an idea of who could make an instant impact in 2014,
we wrote about that
shortly after signing day.
Thursday we turn our attention to a player who spent last year learning a new position on defense.
[+] Enlarge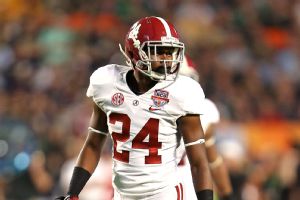 AP Photo/Tom DiPaceGeno Smith got in the dog house in 2013 after an offseason arrest, but he could figure in the mix at safety in 2014.
S Geno Smith
Junior
6-foot, 186 pounds
Credentials:
The former four-star defensive back had a stellar freshman campaign at cornerback in 2012, playing in 13 games, including a start against his home-state
Georgia Bulldogs
in the SEC championship. But that momentum ultimately proved short-lived as Smith was arrested during the offseason for driving under the influence, suspended for the season opener against Virginia Tech and then moved to safety where he struggled to break into the rotation, especially early on. He played in all 12 remaining games but didn't start a single contest. However even in garbage time he tied for third on the team in pass breakups (four).
How he fits:
Had only
Ha Ha Clinton-Dix
left early for the NFL, then there might not have been much of an opportunity for Smith to move up the depth chart.
Landon Collins
might have made do at free safety and
Vinnie Sunseri
might have remained the starter at strong safety. But Sunseri's surprise decision to enter the draft allows Collins to remain at his natural position of strong safety and clear an opening at free safety that remains up for grabs. Veteran
Nick Perry
could play there, but he's coming off a season-ending injury and might not be 100 percent. And
Jarrick Williams
might be an option, but he seems solidly entrenched at the star cornerback position. That leaves Smith as the most experienced option at free, but there's also some other contenders to consider: former professional baseball player
Jai Miller
and the No. 3 safety in the ESPN 300,
Laurence "Hootie" Jones
, who arrived on campus in January.
Best case/worst case:
Versatility will be Smith's biggest asset when it comes to his competition at free safety. Having been in the system two full years, he knows how it works. And having defensive coordinator Kirby Smart back coaching safeties will certainly help his cause, too. But knowing how to play back in space as a safety as well as how to play tight in man coverage as a corner should be a big chip in his favor. Still, less than a year removed from his DUI arrest you have to wonder whether he's fully emerged from the dog house enough to be considered for a starting position.
March, 6, 2014
Mar 6
9:00
AM ET
TUSCALOOSA, Ala. -- Nick Saban has hosted enough quarterback competitions to know how this oncoming saga will play out. From now until the moment he names a starter under center, the entire state of Alabama will be in a panic over who will become
AJ McCarron
's successor. The rest of the country will be watching, too.
Is Cooper Bateman really ready to take a step forward after redshirting last season? What about Parker McLeod and Alec Morris? Would Saban dare gamble on the run-oriented Blake Sims? Is it possible that true freshman David Cornwell could get a look? My goodness, what about Jacob Coker?! Isn't the job really his anyways?!
As Saban sat down with a group of reporters on Wednesday to discuss the start of spring practice and a number of other issues facing his Crimson Tide, he seemed resigned to the oncoming quarterback drama. Asked what he was looking for in the next starter, he listed a number of qualities: the ability to process information quickly, to make good decisions, to throw the ball accurately, to manage the game and make the correct calls.
[+] Enlarge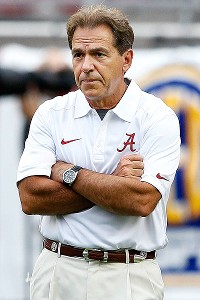 Kevin C. Cox/Getty ImagesIf you think Nick Saban is just going to open up daily about the QB competition, think again.
"Whoever can do that on the most consistent basis and have the kind of leadership to affect the people on offense around them is the guy that will probably have the best possibility to win the job," Saban explained.
And then came the disclaimer.
"But let me be very clear about this," he said. "We're not going to be in any hurry to decide who the quarterback is."
That's right, folks. Saban and his staff plan on taking their time with this decision. So hold your questions, please. Whatever opinions you have on who should start and why, keep them to yourselves until this is over.
"We're not going to be in any hurry to decide who the quarterback is," Saban said. "We're going to give everybody a lot of opportunity to compete. You guys are going to ask me at least 1,000 times between now and the first game who's the first-team quarterback, and I'm telling you right now you're probably going to get a 1,000 'We're going to wait and see.'"
Saban's been through this before. If you count John Parker Wilson, he's been a part of naming three starting quarterbacks at Alabama. He did the same at LSU and Michigan State plenty of times before that. And each and every time he's been content to employ the wait-and-see approach.
When the temperature rises and the competition heats up in the coming months, Tide fans will do well to remember that Saban didn't rush naming McCarron the starter in 2011, and that worked out to the tune of two national championships and a slew of new school passing records.
"When AJ became quarterback him and Phillip Sims actually alternated quarters in the first two games, I think, to see who played the best," Saban said, drilling the point home now. "And it really was hard on all you guys.
"I think it's important to get it right. ... And we have one candidate in this horse race who's not even going to be here until May, till he graduates where he is now. He's certainly a guy that's going to compete for the position too."
Ah, Jacob Coker.
Whatever we think we're able to learn this spring will come with the caveat that the primary competition hasn't even arrived yet. Coker, who will make his transfer from Florida State complete in May if he passes all his remaining classes, is the presumed frontrunner to win the job. He's
not bowing to the pressure
that comes with that, but it won't change the perception around camp this fall that he's the man to beat.
Saban would cringe at such assumptions. But his desire for less talk and more patience will do nothing to change what's sure to develop into a circus-type atmosphere as we inch closer to the start of the season. Between Coker's hype, the other quarterbacks competing and the arrival of Lane Kiffin as offensive coordinator, all eyes will be squarely on who's under center in Alabama. Every day a starter isn't named will be a day someone somewhere will talk about who it should be rather than who it actually is.
Just don't look for the competition itself to play itself out publicly. Scrimmages at Alabama are closed to the general public and media. Reporters only see the first few minutes of practice each day, and it's never enough to glean any real information. Getting insight from coaches and players will be next to impossible. None of the quarterbacks are likely to be made available to reporters while the competition is ongoing, and teammates who do speak won't stray from the company line. If you're looking for Kiffin to talk, he'll have his one and only media obligation of the year in early August, and even then he's never been one to show his cards. Which leaves Saban, who won't deviate from his steadfast policy to divulge nothing and speculate on even less.
So trade predictions at the water cooler, shout at the talking heads on television and scream at talk radio all you want. Whatever you do, though, have a little patience. Because whatever soap opera you were hoping for just isn't going to happen. This is The Nick Saban Show and it has very little in the way of drama.
March, 6, 2014
Mar 6
8:04
AM ET
March, 6, 2014
Mar 6
5:30
AM ET
1. The NCAA Football Rules Committee tabled the 10-second rule, and Alabama coach Nick Saban says the pace of play needs a closer look, which means we are in the exact same place as we were before the committee ready-fire-aimed its way toward passing the 10-second rule three weeks ago. That is, save for everyone on both sides being a lot more riled up. Until the data shows this is a player-safety issue, it's a style-of-play issue. Those rules are tougher to pass, if only because trends in the game develop slowly.

2. In a discussion on the ESPNU Football Podcast on Wednesday, my colleague Matt Fortuna made an interesting point in favor of the idea that Notre Dame coach Brian Kelly has established himself as a success in South Bend despite having had only one BCS-bowl season. Three of Kelly's coordinators have been hired as head coaches: Charley Molnar (UMass), Chuck Martin (Miami of Ohio) and Bob Diaco (UConn). Here's another point in Kelly's favor: he is in year five in South Bend without questions surrounding his job security. Since Dan Devine retired in 1980, only Lou Holtz has passed the five-year threshold.

3. Has it occurred to anyone else that this is the golden age of college football in the state of South Carolina? The Gamecocks have finished 11-2 and in the top 10 in the last three seasons; Clemson has done both in the last two seasons. This from the flagship programs of a state best known in recent years for exporting its talent to national powers such as Florida State and Penn State. What Steve Spurrier and Dabo Swinney have achieved gets lost because they have one conference title between them in their present jobs. But the state of South Carolina stands behind only Alabama in recent success.

March, 5, 2014
Mar 5
1:00
PM ET
Whether or not the much debated 10-second rule passes or not on Thursday (or even goes to a vote), it's clear that the pace of the game in college football and the number of plays being run has been the topic du jour this offseason.

The coaches who want to go fast frown at the thought of a restrictor plate being placed on their offenses, while a few defensive-minded coaches, namely Alabama's Nick Saban and Arkansas' Bret Bielema, are concerned that player safety is compromised by increasing the number of plays in a game.

"This is the only game in history of any sport where the college game is longer than the pro game," Saban said.

Compared to the rest of the country, the SEC wasn't a league last season that necessarily lived in the fast lane, at least as a whole.

Ole Miss averaged the most offensive plays per game (79.8), but only ranked 21st nationally. Texas Tech was first nationally with an average of 90.3 plays per game.

Not surprisingly, Alabama and Arkansas were at the bottom of the SEC. The Crimson Tide averaged 65.9 plays and the Hogs 64.7 plays.

Auburn, which is renowned for its hurry-up, no-huddle attack under Gus Malzahn, was tied for fifth in the SEC along with Texas A&M with an average of 73.8 plays per game.

In 2012, before to Malzahn's arrival as head coach, Auburn averaged just 60.5 plays per game, which ranked last among 124 FBS teams.

The Aggies went the other way in Kevin Sumlin's second season in College Station. They averaged 83.5 plays per game in 2012 and dipped to 73.8 last season, a difference of nearly 10 plays per game.

Here's a rundown of the entire SEC in the last two seasons in terms of offensive snaps per game:

2013

1. Ole Miss: 79.8
2. Missouri: 75.5
3. Georgia: 74.6
4. Mississippi State: 74.2
5. Auburn: 73.8
6. Texas A&M: 73.8
7. South Carolina: 72.5
8. Vanderbilt: 70.8
9. Florida: 68.9
10. LSU: 67.7
11. Tennessee: 67.7
12. Kentucky: 66.8
13. Alabama: 65.9
14. Arkansas: 64.7

2012

1. Texas A&M: 83.5
2. Ole Miss: 76.2
3. Missouri: 75.7
4. Tennessee: 75.1
5. LSU: 70.8
6. Arkansas: 70.5
7. Vanderbilt: 69.2
8. South Carolina: 69
9. Georgia: 67.8
10. Florida: 67.2
11. Kentucky: 67
12. Mississippi State: 66.8
13. Alabama: 66.3
14. Auburn: 60.5
March, 5, 2014
Mar 5
12:00
PM ET
The "
10-second rule
" has been the hot topic in college football this offseason, and the debate raged on Tuesday with
Nick Saban speaking out
on the issue. As we all await Thursday's vote, see what else is going on in the SEC with today's lunch links.
March, 5, 2014
Mar 5
11:30
AM ET
We all know junior college players are a crap shoot.
Sometimes you hit it big with them. Sometimes you swing and miss.
With spring practice cranking up for a handful of SEC schools, we've come up with our top-five impact junior college newcomers in the league. These guys are all already on campus and will go through spring practice. They're listed alphabetically.
Here goes:

Dontavius Blair, OT, Tennessee:
With the Vols losing all five starters on their offensive line from last season, they need reinforcements. The 6-foot-8, 313-pound Blair is the odds-on favorite to replace
Antonio Richardson
at left tackle. Blair was rated as the nation's No. 6 offensive tackle prospect in the
ESPN Junior College 50
.

C.J. Johnson, DT, Kentucky:
The Wildcats lost
Donte Rumph
and
Mister Cobble
in the middle of their defensive line, so there's plenty of opportunity for the 6-3, 295-pound Johnson to show what he can do this spring. Kentucky held on to Johnson despite Miami pushing hard until the very end.

Abu Lamin, DT, South Carolina:
The Gamecocks need a run-stuffer in the middle, and the 6-4, 295-pound Lamin fits that bill. He has three years of eligibility remaining and has the kind of burst off the ball and overall athleticism to develop into much more than just a run-stopper for the Gamecocks.

Christian Russell, LB, Ole Miss:
The 6-foot, 230-pound Russell is big, fast and physical and has outstanding closing speed. The Rebels signed him with the hope that he could step in for
Mike Marry
in the middle. Russell was ranked by ESPN as the No. 1 inside linebacker prospect in the country among junior college players.

D'haquille Williams, WR, Auburn:
The 6-3, 213-pound Williams is the epitome of a big-play receiver. He was rated the top overall junior college prospect in the country regardless of position and has all the physical tools to emerge as Auburn's No. 1 option in the passing game next season.
A few more to watch:
March, 5, 2014
Mar 5
11:00
AM ET
TUSCALOOSA, Ala. -- With the start of spring practice only a few weeks away, we're spending this week discussing five players to keep an eye on when Alabama opens camp on March 15.
Because they're unpredictable, we'll avoid first-year players like
Cam Robinson
. If you want an idea of who could make an instant impact in 2014,
we wrote about that
shortly after signing day.
On Monday, we wrote about running back
Derrick Henry
jumping onto the national stage in the Sugar Bowl. On Tuesday, we covered
Jonathan Allen
's room for growth at defensive end. And today we're looking at a player with a few years in the program and plenty of untapped potential.
[+] Enlarge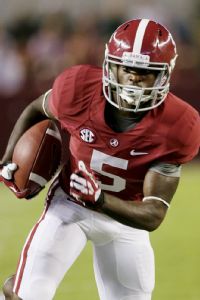 AP Photo/Dave MartinChris Black finds plenty of competition for playing time.
WR Chris Black
Redshirt sophomore
5-foot-11, 182 pounds
Credentials:
The 2012 season was over for him before it ever began. Alabama fans will remember that it was Black -- not
Amari Cooper
-- who entered fall camp with all the buzz. He was ranked higher by ESPN and other recruiting services out of high school, and the way he looked in practice at Alabama did nothing to quell the excitement over his potential early impact at receiver. But a shoulder injury he sustained in mid-August robbed the speedy Florida native of his first year on campus, forcing him to take a redshirt. And when he came back in 2013, Cooper was coming off a freshman All-American season and the rest of the receiving corps was stuffed with veterans like
Kevin Norwood
,
Kenny Bell
and
DeAndrew White
. Black appeared in eight games and caught eight passes for 79 yards and two touchdowns -- all from backup quarterback
Blake Sims
in what amounted to garbage time.
How he fits:
He may not have a stunning résumé, but to see Black run routes in practice makes you forget all that. The shifty receiver is silky smooth and hits a high gear with seemingly little effort. Now that Norwood and Bell are gone and the depth chart has loosened some, it's Black's time to show whether he'll sink or swim at Alabama. He clearly has the tools, but he'll have to beat out plenty of other talented pass-catchers before he can see the field. Cooper won't be moved, White has a bevy of experience and junior
Christion Jones
has been a fixture as slot receiver the past two seasons. It's realistic that Black could become the fourth receiver and catch 30 or so balls, but he'll have to fend off a slew of other youngsters: the physically imposing
Raheem Falkins
, the No. 2-ranked receiver prospect in 2013
Robert Foster
and the No. 8-ranked receiver prospect in 2014
Cameron Sims
.
Best case/worst case:
A repeat of 2013 would be a major setback for Black, especially considering all the youth suddenly behind him at receiver. If he has another year of single-digit receptions, there's a chance he could be passed by. But the good news for Black is that he has what amounts to the freshest of starts college football can offer. He'll not only have a new quarterback throwing him the football (
AJ McCarron
seemed to prefer veterans he knew better), but he'll also have the benefit of a brand new offensive coordinator who comes to Tuscaloosa with an eye on adding more explosive elements to the offense. Lane Kiffin's arrival could mean a shuffling of personnel at every position, and the receiver corps is especially ripe for an overhaul. If Black can use the spring to establish a rapport with the new quarterbacks and provide Kiffin a good first impression, he could ready himself to compete for a starting job come fall.
March, 4, 2014
Mar 4
9:01
PM ET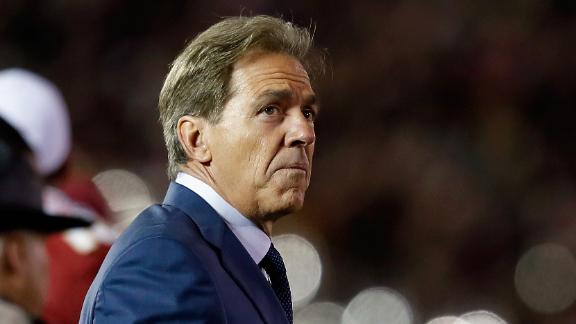 Alabama's Nick Saban isn't taking credit for the "10-second rule" that's scheduled to be voted on Thursday by the NCAA playing rules oversight panel, but he is adamant that the pace of play in college football bears a closer look as it relates to player safety.
"I don't care about getting blamed for this. That's part of it," Saban told ESPN.com. "But I do think that somebody needs to look at this very closely.
"The fastball guys (up-tempo coaches) say there's no data out there, and I guess you have to use some logic. What's the logic? If you smoke one cigarette, do you have the same chances of getting cancer if you smoke 20? I guess there's no study that specifically says that. But logically, we would say, 'Yeah, there probably is.'"
The proposed 10-second rule would penalize teams for snapping the ball in the first 10 seconds of the 40-second clock.
Only 25 of the nation's 128 FBS head coaches are in favor of the proposal, according to a survey conducted by ESPN's Brett McMurphy.
Of the 25 in favor, only 11 are coaches at "power five" conference schools (ACC, Big Ten, Big 12, Pac-12 and SEC, plus Notre Dame). Of the 128 coaches overall, 73 percent (93) are opposed to the proposal while 19.5 percent (25 coaches) are in favor of it. Seven percent (nine coaches) are undecided.
While an outpouring of coaches have said there's no evidence that player safety is compromised by speeding up the tempo and generating more plays in the game, at least one noted neurosurgeon is genuinely concerned about the length of the college game now and the number of snaps some teams are playing.
March, 4, 2014
Mar 4
12:00
PM ET
So "How I Met Your Mother" got a little depressing, but we got a sneak peek of Godzilla during the Oscars so things are working out pretty well this month.
March, 4, 2014
Mar 4
11:00
AM ET
TUSCALOOSA, Ala. -- With the start of spring practice only a few weeks away, we're spending this week discussing five players to keep an eye on when Alabama opens camp on March 15.
Because they're unpredictable, we'll avoid first-year players like five-star offensive tackle
Cameron Robinson
. If you want an idea of who could make an instant impact in 2014,
we wrote about that
shortly after signing day.
On Monday we wrote about sophomore running back
Derrick Henry
, and today we're focusing on another second-year player -- this time on defense.
[+] Enlarge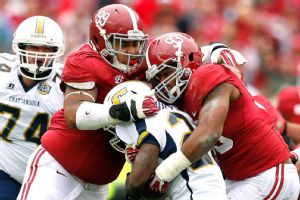 Kevin C. Cox/Getty ImagesJonathan Allen (right) has a chance to make a big impact for the Crimson Tide in 2014.
DE Jonathan Allen
Sophomore
6-foot-3, 264 pounds
Credentials:
There are places on the football field where a freshman can make an immediate impact and not necessarily raise an eyebrow. But most of those positions that allow for inexperience come on offense where a player can force the action rather than react to it. And in Nick Saban's defense, getting on the field early is a chore. Some cornerbacks have done it, and even a few linebackers. But playing from Day 1 as a true freshman defensive lineman is rare. Last season Alabama had two such rookies, one who already looks like a contributor for years to come in
A'Shawn Robinson
, and another who took a little more time to mature and fits a more pure pass-rusher's mold. Allen, the former four-star prospect from Virginia, played all but one game last season, racking up three tackles for loss and a half a sack. While those numbers won't blow you away (Robinson had eight tackles for loss and 5.5 sacks), Allen did show promise by getting on the field and playing well enough to stay there throughout the season as a freshman.
How he fits:
Considering that
Ed Stinson
graduated and
Jeoffrey Pagan
declared for the NFL draft a year ahead of time, there's an opportunity for Allen to insert himself into the starting lineup in 2014. Clearly Allen did a good job of grasping the defense to stay on the field so much as a rookie -- one that didn't enroll early, no less. But he'll have to do more than hold his own as a sophomore. Allen was brought to Alabama to provide more of what Saban calls "quick-twitch" defenders. In other words, someone who has the speed and athleticism to chase the quarterback and play in space in a league that's increasingly gone more toward mobile quarterbacks and hurry-up, no-huddle offenses. Early on in Allen's ESPN recruiting scouting report it states that he "displays very nice first-step quickness and can be a quick penetrator." To beat out the competition and develop into an All-SEC defensive linemen, Allen will have to use those tools and get in the quarterback's face more in 2014.
Best case/worst case:
It's easy to see Allen and Robinson forming a good nucleus on the defensive line for years to come. Both possess the skills to flourish in the new pass-happy SEC. Allen has the size, speed and athleticism to become the kind of edge rusher the Tide has been missing of late. But nothing is guaranteed. Not in Tuscaloosa where Saban and his staff are stockpiling defensive linemen who fit the very same billing as Allen.
Dalvin Tomlinson
, for instance, is the kind of athlete who won state wrestling titles and played soccer in high school. After back-to-back leg surgeries, he'll return this spring, hopefully at 100 percent.
D.J. Pettway
,
Korren Kirven
and
Dakota Ball
are a few other veterans Saban could turn to. And if experience isn't a factor, there's
Dee Liner
, a former four-star prospect coming off a redshirt season, and
Da'Shawn Hand
, who was one of 15 five-star prospects in this year's ESPN 300. Allen has something of a head start and all of them by playing so much in 2013, but he'll have plenty of competition on his hands this spring if he does want to develop into a full-time starter.
Projecting Impact Teams in 2015 Recruiting
SEC SCOREBOARD
Saturday, 12/21
Monday, 12/23
Tuesday, 12/24
Thursday, 12/26
Friday, 12/27
Saturday, 12/28
Monday, 12/30
Tuesday, 12/31
Wednesday, 1/1
Thursday, 1/2
Friday, 1/3
Saturday, 1/4
Sunday, 1/5
Monday, 1/6