November, 25, 2014
Nov 25
10:00
AM ET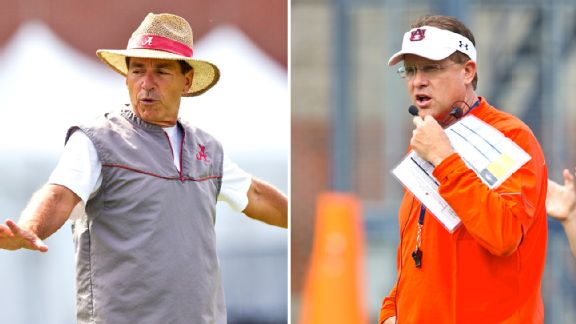 AP Photo/Brynn AndersonAlabama's Nick Saban and Auburn's Gus Malzahn have more in common than you might think.
It would be easy to portray Gus Malzahn and Nick Saban as two completely different coaches. Different philosophies. Different dispositions. Different sides of one of the most intense rivalries in all of sports.
But while you could cast them as opposites and be done with it, that might not be telling the whole truth. Because they aren't as different as you might think. Whether it's an obsessive drive to win, or a fierce attention to detail, the two coaches share much in common.
One is a defensive mastermind, the other an offensive magician. Whether it's exotic blitzes or misleading pre-snap motions, both attack their respective sides of the ball from unique angles. They try to confuse you. They try to outthink you. And they're both among the best in the game at doing so.
From a certain perspective, you might say Malzahn and Saban are different sides of the same coin.
They share an ingrained work ethic, having grown up in small towns -- Saban in Fairmont, West Virginia, and Malzahn in Fort Smith, Arkansas.
Though they're 14 years apart in age, their birthdays fall during the same week of October.
Saban was defensive coordinator at Michigan State, left, and then got his big break when he returned to become the Spartans' head coach.
Malzahn was offensive coordinator at Auburn, left, and then got his big break when he came back to take over as the Tigers' head coach.
Sensing a pattern?
Though Saban dwarfs Malzahn in total wins, their winning percentages aren't that far off, with Saban at 84 percent and Malzahn at 80.
Saban played defensive back in college. Malzahn played receiver. Even today their actions mirror one another, as Saban tries to slow down the tempo of the game while Malzahn does everything he can to pick up the pace.
Personality-wise, they present similar images to the media: guarded, singularly focused, sometimes combative. But behind the scenes, there's more to them. Thanks to the miracle of the Internet, we've seen both coaches dance, Saban doing his best "
Electric Slide
" and Malzahn strutting his stuff to MC Hammer's "
U Can't Touch This
."
Anything for recruiting, you might say.
Alabama presents itself as an NFL factory and Auburn as a place of family, but they both produce results. The Crimson Tide have
finished No. 1 in ESPN's class rankings

each of the past three years. Auburn, meanwhile,
is currently ranked ninth

and closed its most recent class at No. 8 overall.
But the biggest similarity between Saban and Malzahn is their attention to detail.
Alabama athletic director Bill Battle was amazed when he first caught a glimpse of the way Saban ran his program. Everything was so efficient, so focused on the task at hand. Watching practice from outside his office, Battle saw there wasn't a wasted moment.
Jay Jacobs, Auburn's AD, noticed the same thing about Malzahn.
"He's not thinking about other things," Jacobs said. "He's not self-serving at all. He's relentless in details, and he's absolutely great to work with because all he's thinking about is how to make Auburn football better."
Tying those two accounts together is Hoover (Ala.) High coach Josh Niblett, who has sent numerous players to both state schools. Whether it's on the recruiting trail or during coaching clinics, Niblett has had the chance to get to know both Saban and Malzahn well.
"They're both very professional," he said. "Both of them are competitors and both of them are driven, and then both of them have attention to detail. You don't have to be around them long to understand that attention to detail is one of the big factors for their success."
What's stood out to Niblett is their businesslike approach and their hands-on style of coaching.
"One of the neatest things about them is they're both good teachers," he said. "It's one of the best common values they have, they're very hands-on. You have a lot of coaches that are the CEO-type that are involved, but they're involved from the outside in. These two guys are involved from the inside out. It means so much to them that they put their stamp on it, that they want to make sure that they continue to do it."
On Saturday, we'll see their systems come to a head.
Auburn, well out of the playoff race with three losses, is out to spoil No. 1-ranked Alabama's season.
The way Malzahn's emphasis on speed matches up with Saban's emphasis on size is so perfectly incongruent. It's like looking in a mirror.
No, they're not exactly alike. But like the reflection in a mirror, everything is reversed. The receiver is the defensive back. Offense is defense.
They're different, but so much of them is the same. It's what makes it so fun to watch.
Auburn At Alabama Preview
SEC SCOREBOARD
Friday, 11/28
Thursday, 11/27
Saturday, 11/29