October, 21, 2014
Oct 21
1:00
PM ET
There's no denying that with his team's No. 1 ranking, undefeated record, wins against Top 25 teams and his own performance, Mississippi State's
Dak Prescott
is still the top contender
for the Heisman Trophy
from the SEC and, so it seems, he is the national favorite at the moment, depending on where you look (Oregon's
Marcus Mariota
is getting some love as well, lately).
[+] Enlarge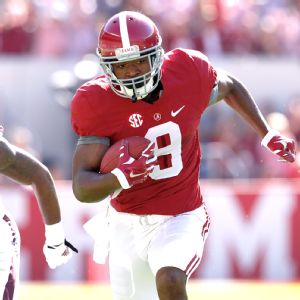 Marvin Gentry/USA TODAY SportsAmari Cooper caught eight passes for 140 yards and two touchdowns against Texas A&M.
But when it comes to SEC candidates, Prescott, the league's best quarterback on what is currently the league's best team, is the front-runner. Perhaps we should be paying some attention, however, to the league's best receiver: Alabama's
Amari Cooper
.
We've had this conversation before. Earlier this season, particularly after his 10-catch, 201-yard, three-touchdown performance against Florida, Cooper's name began to emerge as one deserving of Heisman Trophy candidacy.
Well, in case you forgot about Cooper after two less productive weeks (one in which he was hampered by an injury), he reminded us all on Saturday why he is the standard in the league at his position.
Cooper was dominant in Alabama's
59-0 win
against Texas A&M: eight catches, 140 yards, two touchdowns. The Aggies had no answers for Cooper, whom quarterback
Blake Sims
looked toward early and often in the game. He's big, fast, physical and extremely productive. He has been outstanding this season, with five games of at least 130 receiving yards and 908 receiving yards total, which ranks fourth in the country.
So while Prescott (whose team was off last weekend) remains the league's premier option currently and we continue to await word on what will happen with suspended Georgia running back
Todd Gurley
, perhaps we should keep a closer eye on Cooper moving forward.
Here are three other players to keep an eye on:
Bo Wallace, QB, Ole Miss: Wallace wasn't pristine this week (13-of-28, 199 yards), but he was still turnover-free and threw two touchdowns to guide the Rebels to a win over Tennessee. He is averaging 290.7 offensive yards per game in SEC play, while throwing nine touchdowns and zero interceptions in Ole Miss' four conference wins. He is third in the league in passer rating (163.0) and second in passing yards (1,899) and touchdown passes (17).
Josh Robinson, RB, Mississippi State: The Bulldogs were off this week but Robinson has no doubt been an excellent weapon to pair with Prescott this season. He's second in the SEC with 689 rushing yards and yards per carry (7.0) and tied for second with eight rushing touchdowns.
Todd Gurley, RB, Georgia: We don't know when Gurley will come back as he has missed the last two games, suspended by Georgia while it investigates allegation whether he profited from signing autographs. Even though he sat the last two games, he still leads the SEC in rushing yards (773), yards per carry (8.2) and is tied for second in rushing touchdowns (eight). The longer he's out, the more his chances are hindered, but for now, we'll keep him in the watch.
October, 21, 2014
Oct 21
12:43
PM ET
By
Brett Edgerton
| ESPN.com
In case you hadn't heard, Lane Kiffin is not a very popular man in state of Tennessee.
Even five years later, his one-and-done tenure with the Vols still irks UT fans, who have suffered through a horrific 7-28 SEC stretch since Kiffin's bravado and high hopes left for Los Angeles. And does it help that their hated former coach is now the offensive coordinator at UT's most ancient rival, Alabama? No. No, it doesn't.
So with Kiffin's Crimson Tide coming to Knoxville this weekend in his first appearance back at Neyland Stadium, you knew things were going to get a little zany. And so far, we have not been disappointed.
Let's start with the Tennessee State House race pitting incumbent Gloria Johnson against challenger Eddie Smith. Kiffin is so unpopular in this East Tennessee district that he's being used in a direct mail ad that compares him to Johnson.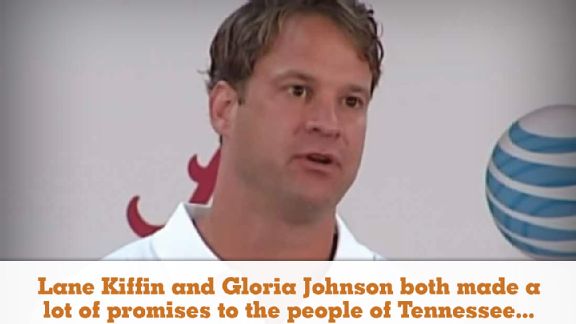 Tennessee Federation for Children PAC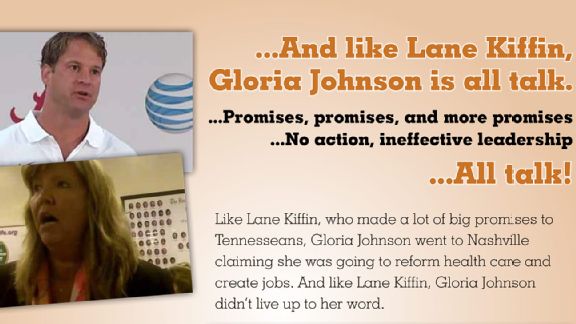 Tennessee Federation for Children PAC
Surely you didn't expect Rep. Johnson, a UT grad, to let such treachery go by without a response. So she did what any self-respecting politician in this Vol-crazy area would do -- got a much more popular former Tennessee coach to give her an endorsement. Enter Vols legend Johnny Majors, who finished runner-up for the 1956 Heisman Trophy and was head coach of his alma mater from 1977-92.
Oh, but that's not all. As Kiffin gets set to return to Knoxville, he's also facing an accusation that he skipped town in January 2010 before paying a $14 haircut debt.
That's according to the owner of the Western Plaza Barber Shop, Rusty Manis, who isn't seriously seeking payment from Alabama's offensive coordinator -- but is nevertheless having some fun with it with this week. Check out this
dramatized report from the local NBC affiliate
.
October, 21, 2014
Oct 21
10:00
AM ET
October, 20, 2014
Oct 20
11:11
PM ET
October, 20, 2014
Oct 20
11:00
PM ET
A lot of talent has already come off the board, but there's still quality at the top of the ESPN 300 that could give at least 10 teams a shot at the second-best class. Plus, Penn State's James Franklin continues to be the most talked about coach in the Washington D.C. metro area.
To continue reading this article you must be an Insider
October, 20, 2014
Oct 20
8:06
PM ET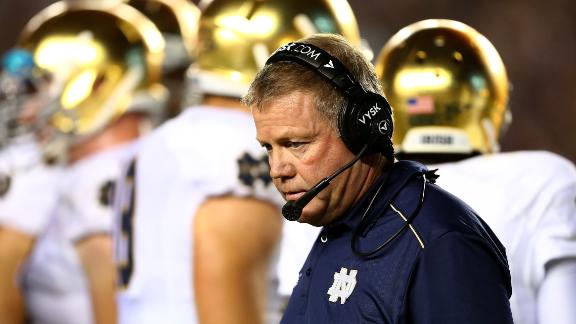 The glare of the Golden Dome can be blinding, even from SEC locales.
So we'll get this out there from the top: I'm not blinded, just realistic.
Notre Dame has the most compelling case to bump a one-loss SEC team that doesn't win the league title when the College Football Playoff selection committee unveils its final picks on Dec. 7.
And the way the Irish played Saturday night in a down-to-the-wire (err, down-to-the-official's-call) 31-27 loss on the road to Florida State, they should be a serious threat.
Notre Dame still has some work to do to make this more than just lively conversation, but it's clear that Brian Kelly's club is for real.
I know what's coming next from SEC junkies: The last time Notre Dame tangled with an SEC foe, it had all the drama of Mariano Rivera coming in to pitch the final inning of the Little League World Series.
Alabama obliterated Notre Dame 42-14 two years ago in the BCS National Championship. That Notre Dame team, too, had navigated its way unscathed through a schedule full of big names before stepping in over its head against the Crimson Tide.
That was then, though, and this is now. All that's supposed to matter is a team's body of work this season.
But we're entering a brand-new world with a selection committee, and that element could be a game-changer. Computers aren't making these decisions. Humans are.
October, 20, 2014
Oct 20
12:00
PM ET
Well, here we are once again after an entire Saturday of lopsided games. What did we learn that we didn't already know? If anything the league revealed itself to be more firmly divided between contenders and pretenders.
We'll just have to look forward to Week 9 for some better SEC entertainment.
Game of the week: No. 3 Ole Miss at No. 24 LSU
Now this should be fun. Night games at Tiger Stadium usually are. Two straight wins have LSU feeling good and back in the rankings. The Tigers are also back on the fringes of the SEC West race and could throw a giant wrench into the Magnolia State love-fest by upsetting the Rebels. The jury is still out on LSU quarterback
Anthony Jennings
, who didn't have to do much to beat Florida (110 yards passing) or Kentucky (120 yards passing). The Ole Miss defense, however, promises to give the Tigers their toughest test of the season. This unit is operating at peak performance at just the right time for a visit to Baton Rouge. The Rebs allowed zero rushing yards -- ZERO! -- to Tennessee last Saturday and have given up just six touchdowns in seven games this season. It should be a brawl in the Bayou.
Player under pressure: Maty Mauk, Missouri
The Tigers' gunslinging quarterback has been humbled and harnessed in his last two games -- a disastrous 34-0 home loss to Georgia in which he had five turnovers, and a goofy 42-13 win at Florida in which he was 6-of-18 passing for 20 yards and an interception. Mauk's and Missouri's seasons are nearing a crossroads. After playing what he called the worst game of his life against UGA, Mauk overcame a shaky start at Florida and played in control while the Gators self-destructed. The good news for the Tigers offense is that Mauk & Co. will have a solid chance to work out their issues against Vanderbilt, which will bring one of the worst defenses in the SEC (allowing 415.9 yards a game) to Columbia, Mo.
Coach under the microscope: Lane Kiffin, Alabama
The Tide's offensive coordinator might not have circled the third Saturday in October on his calendar, but you can bet 100,000 ticket-holding Volunteers fans sure did. In 2009 Kiffin coached his one and only season at Tennessee. He was full of promises, bravado and hot air. Other than some solid recruiting, the highlights of his 7-6 season were wins over Georgia and South Carolina and a near-miss at Alabama. Who can forget Bama's Terrance "Mount" Cody swatting away two Tennessee field goals in a 12-10 victory? Well, other than Kiffin? Now that he's back in the SEC, patrolling the Alabama sideline and steering its inconsistent offense, the vitriol is sure to reach a fever pitch on Saturday. Hundreds of students rioted when news broke of Kiffin's sudden departure in 2009. How are they going to treat his return?
Storyline to watch: Division dominance
The SEC West is a powerhouse. The East is a house of cards. So the story goes, and it doesn't seem likely to deviate with No. 1 Mississippi State visiting Kentucky and South Carolina traveling to No. 5 Auburn. The East has lost six of seven cross-division games so far this season, most of them with lopsided results. The much-improved Wildcats were riding high at 5-1 before being thrashed by LSU. Now they'll have to contend with
Dak Prescott
and his steamrolling MSU offense. South Carolina has the worst defense in the SEC and might need a miracle on the Plains to keep up with Auburn's offense. Don't look for the division script to flip this week.
Intriguing matchup: LSU offense vs. Ole Miss defense
As previously described in our game of the week entry, LSU can't expect much from its quarterback in Saturday's matchup against the fearsome Rebels defense. It gives Ole Miss a tremendous advantage to be able to stack the box against the run, but LSU has the horses to give the Rebel defense its toughest test of the season. Tigers senior RB Terrance Magee is coming off a career game with 220 all-purpose yards and two touchdowns. He makes a fine pairing with freshman stud
Leonard Fournette
, LSU's leading rusher with 544 yards (5.0 yards per carry) and seven touchdowns. If the Tigers can establish the run against Ole Miss it could open up some play-action passing or at least give Jennings a chance to take some shots with the very capable
Travin Dural
, a sophomore wide receiver with 26 catches, 665 yards and seven touchdowns. It all starts in the trenches.
October, 20, 2014
Oct 20
11:30
AM ET
By
RecruitingNation
| ESPN Insider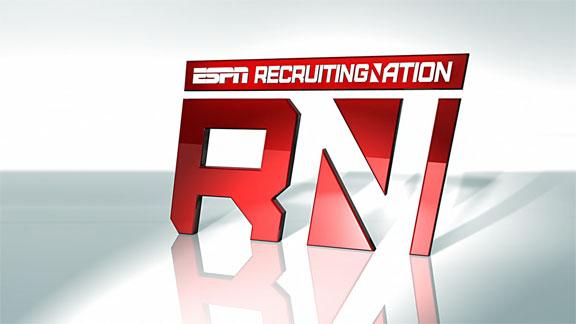 Each week, Recruiting Nation's scouts will highlight great performances from the nation's top recruits.
This week's honoree is ESPN 300 quarterback
Blake Barnett
.
Check out the highlights
.
To continue reading this article you must be an Insider
October, 20, 2014
Oct 20
10:00
AM ET
TUSCALOOSA, Ala. -- Experience means something. If you don't believe that, look at the SEC this season. Of the four most veteran teams in the league, three are ranked in the top five of the AP and coaches' polls. South Carolina has flamed out, of course, but Mississippi State, Auburn and Ole Miss are all legitimate playoff contenders.
Then there is Alabama.
According to Phil Steele's annual
Combined Experience Chart
, the Crimson Tide entered the season in the bottom half of the SEC and 107th nationally in a formula that breaks down the returning experience of every two-deep depth chart in college football. With AJ McCarron, C.J. Mosley and others graduated or off to the NFL, it made sense. But pundits looked at the run of top-ranked recruiting classes and a coaching staff led by Nick Saban, and trusted it would all work out.
[+] Enlarge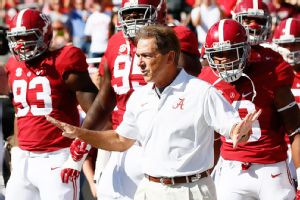 Kevin C. Cox/Getty ImagesAn up-and-down season for coach Nick Saban and Alabama hit a high note against Texas A&M.
In a way, it has. Sort of.
Alabama is worthy of its current top-five ranking in the polls, but its journey to this point has been a rocky one. Looking at its season has required taking the long view on things, and that has been difficult to do considering all the ups and downs we have witnessed. One week you are looking at a flawed team, the next you are looking at a dominant one. Then it's simple: rinse and repeat.
It all goes back to youth. If you look at Alabama through the lens of a young team finding itself, then it all starts to make sense: the highs and lows, the mistakes, the struggles on the road. This isn't the dominant, veteran Alabama team of years past, this is one dealing with growing pains and struggling to forge an identity.
Just look at the week-to-week themes:
Week 1: Nervousness sets in. The defense isn't what we expected. During a closer-than-anticipated win against West Virginia, the secondary struggles and the front seven never can seem to get on the same page.

Weeks 2 and 3: Anticipation without resolution. Southern Miss and Florida Atlantic roll over, Blake Sims wins the quarterback competition, but we were still unsure about the whole of the team.

Week 4: Now we know. Alabama so thoroughly dismantles Florida, you would have thought the Tide had won the SEC. There were some concerning turnovers and penalties, but they were easily overlooked.

Week 5: The trumpets of greatness play throughout the bye week.

Weeks 6 and 7: Stop the music. Turnovers and penalties catch up with Alabama during a late loss at Ole Miss and a narrow win on the road against Arkansas. Sims is no longer sharp, the offensive line struggles, and special teams become an Achille's heel.

Week 8: Utter confusion. The dynasty isn't dead. Alabama belittles Texas A&M. Sims returns to form, the offensive line dominates and the defense never yields.
As you can see, it's been something of a whirlwind following Alabama this season.
"This is as close to the Alabama football that we want to try to get from our players in terms of effort, toughness, emotional excitement and execution that we got throughout the game," Saban said following the 59-0 beatdown on Saturday. "Our approach to this game was that we wanted to find what exactly every position and player has to do, and see if you can go out there and dominate your box and do your job. I don't think we had many penalties; we played with a lot of discipline. Our quarterback executed the system extremely well, and lots of guys made plays."
It was a championship-caliber performance, one that in itself says Alabama is back in the playoff conversation.
But if we are looking at the season as a whole, then we should know not to rush to judgement. This is a young football team, and no one ages overnight. That pendulum of greatness and mediocrity could swing back in the other direction at any moment.
What Alabama needs now is consistency. Starting with a trip to Tennessee on Saturday, the Tide can show that going on the road is no obstacle. Alabama can show maturity by putting together back-to-back good games against quality opponents.
The team is young, so be patient. The potential for Alabama's players and coaches is certainly there, but there is no need to jump the gun. Haven't we done enough of that already?
College Football Minute