August, 26, 2014
Aug 26
5:59
PM ET
By
ESPN.com staff
| ESPN.com
ESPN's college football experts offer their predictions for the 2014 conference winners, which four teams will make the final four and which team will win the first College Football Playoff.
Alabama is the most popular pick to win the SEC crown, with Georgia, South Carolina and Auburn also receiving support. The Crimson Tide are the only conference team picked to win it all, although only two of the panel's 23 experts picked Nick Saban's crew to win it all.
Click here
for the full list of predictions.
And make sure to check out our
comprehensive betting guide

from Phil Steele and Will Harris.
August, 26, 2014
Aug 26
3:00
PM ET
TUSCALOOSA, Ala. -- It wasn't that long ago that a fresh-faced
Landon Collins
committed to Alabama in one of the strangest announcements ever recorded on national television.
[+] Enlarge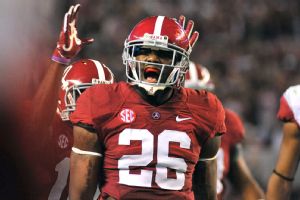 Ryan A. Miller/Icon SMIAlabama's defense will lean heavily on junior defensive back Landon Collins this season.
You know how it went: The five-star safety from Louisiana says, "Roll Tide Roll!" and pulls on a pair of Alabama gloves while his mother, April Justin, looks on in disappointment. Every one of Collins' 15 friends and family on stage -- that is, all but Justin -- applaud. And in the few weeks until national signing day, everyone wonders whether he'll flip to LSU. But he doesn't. He enrolls at Alabama and for the next year or so we catch only glimpses of the athlete who ignited such a firestorm of emotion.
That Landon Collins seems long gone now. His body has filled out. His hair has grown some, too. His mustache and chin-strap beard aren't trimmed up neatly like before. The talented special teams gunner fighting for reps is suddenly a veteran in a secondary hoping to return to its former glory. The drama of the past, the questions about his mother and LSU and his very public commitment, are now anecdotes in a larger story about one of the best safeties in the country, a First Team Preseason Coaches All-SEC selection and future NFL draft pick.
"Me and my dad sat down and talked about it before I ever signed to come here," Collins said. "He said by my junior year I'd be starting. I was like, 'No, I'll be playing my freshman year and get my starting job as a sophomore.' We didn't know the outcome, but by God's grace that's what we did.
"I just took it and ran with it."
In a way, both father and son were right. Collins played on special teams as a freshman and was expected to come off the bench as a sophomore. Ha Ha Clinton-Dix and Vinnie Sunseri, two upperclassmen, were entrenched at safety. But Clinton-Dix missed time sorting out an issue with the NCAA, and right as he returned, Sunseri tore his ACL. Collins stepped in, started nine games and filled up the stat sheet, finishing second on the team in tackles, first in passes defended and tied for second in interceptions and forced fumbles.
With Clinton-Dix and Sunseri off to the NFL and former starting cornerback
Deion Belue
gone as well, Collins is now the most recognizable face of Alabama's secondary. In fact, he might be the most indispensable player on Alabama's entire defense.
"He's been probably a key guy in a leadership role, defensively for this team in terms of how he's embraced that role and done a really good job," said coach Nick Saban. "The guy practices hard every day, works hard every day."
"I see a guy who's really hungry for this season, a guy who goes out and gets better and better every day" said fellow safety
Jarrick Williams
, who lauded Collins' speed and ability to tackle. "There's no slacking with him, it's full every day."
Amari Cooper
, Alabama's star receiver, said you have to keep an eye on him.
"He's a fast guy getting to the ball," he said. "Like on a reverse, he's coming down really fast. He's always near the ball, so you have to be very aware of him."
Instead of answering questions about his infamous commitment, Collins is now answering for a defense expected to be one the best in the country, despite losing more than half of its starters from last season. On Monday, he talked up rookies, praised the defensive line and assessed the play of another hotly contested recruit, linebacker
Reuben Foster
. He even answered the tough questions like whether the defense has anything to prove after struggling against hurry-up, no-huddle offenses last season.
His response: "Definitely."
"We've always been known as a defense that's unstoppable [sic]," he said. "You can't run the ball or throw the ball on us. That's how we want to portray our defense like we did in previous years."
We'll know right away whether Collins and Alabama can paint that familiar picture.
The Crimson Tide's opponent to open the season, West Virginia, may have won only four games last season, but coach Dana Holgorsen's offense is potent, having averaged 26.3 points and 410.8 yards per game. It likes to push the tempo, too, as last season it averaged 22.8 seconds of possession per play, 26th quickest in the country.
Collins' leadership, as much as his talent, will be critical to Alabama's success. How he handles Saturday's fast-paced environment will be an indicator of how the defense will fair in the weeks to come.
But talking to Collins, you don't sense any pressure. After having gone through so much already, he's excited about what's ahead.
"Having these guys look up to me and the expectations I have for myself, I think it's going to be a great year," he said.
August, 26, 2014
Aug 26
12:32
PM ET
August, 26, 2014
Aug 26
10:00
AM ET
Believe it or not, we are two days away from SEC football officially kicking off the 2014 season. And
you
thought we'd never get here!
Each season we make perfect prediction after perfect prediction. From weekly game picks to preseason teams, we think we've got this whole prognostication thing down to a science!
It's become a tradition here on the SEC blog to release our fearless predictions for the season ahead. I'm riding solo on them this year, but they shouldn't be any less correct this time around.
Here are my 10 fearless predictions for the SEC in 2014:
1. The SEC champion will have two losses ... but still make the playoff:
With the talent gap between the teams at the top and the middle of the pack growing tighter, the SEC might be in store for the most exciting divisional races we've seen in a long time. No team is perfect. I've said this since the end of last season: No team will go undefeated in the SEC and no team will leave Atlanta with fewer than two losses. But with how strong the conference is this year, there's no way the SEC champ will be left out of the inaugural College Football Playoff.
[+] Enlarge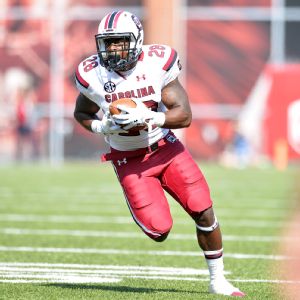 Scott Clarke/ESPN ImagesMike Davis rushed for 1,183 yards on 203 carries and 11 scores in 2013.
2. Mike Davis will lead the conference in rushing:
He can steamroll over you or just run by you. Davis has everything you'd want in a back and even though he's dealing with a rib injury, he'll lead the SEC in rushing yards this season. It won't hurt that he has arguably the nation's best offensive line in front of him. Georgia's
Todd Gurley
has yet to make it through an entire season healthy, while
T.J. Yeldon
will undoubtedly have his carries eaten into by
Derrick Henry
. With what should be a solid passing game taking some pressure off him, Davis will blow by the 1,183 yards he had last year.
3. The SEC will have 12 bowl-eligible teams:
Last year, the SEC saw 10 teams go bowling. This year, Florida and Tennessee will reach at least six wins this fall and join the teams that made bowl games last year. Yes, a Tennessee team with brand-new offensive and defensive lines will go bowling, and yes, Florida's offense
will
be much better.
4. Will Muschamp will finally beat Georgia:
After going 0-3 against his alma mater, Muschamp will finally get a win at the World's Largest Outdoor, eh, Party. It's a rebound year in Gainesville with a better offense. Of course, the game will be close, but quarterback
Jeff Driskel
will engineer a game-winning drive in the fourth quarter to end the bleeding the Bulldogs have caused the Gators the past three years. That means the SEC East title will come down to the Gators' home game with South Carolina on Nov. 15.
5. Arkansas will have two 1,000-yard rushers:
The Razorbacks came close last year after
Alex Collins
and
Jonathan Williams
combined to rush for 1,926 yards. With so many unknowns still lurking in the passing game, coach Bret Bielema will have no problem handing the ball off to his duo as much as possible. Williams might even lead the Hogs in rushing this year after an impressive offseason. Stacking the box won't stop this duo.
6. The Mississippi schools will reach nine wins:
It seems like whenever Mississippi State and Ole Miss have higher expectations, they fail to live up to the hype. Well, that ain't happening this season. With two very manageable seasons, and a host of talent returning, both of these schools will reach at least nine wins this season. Ole Miss gets Alabama, Auburn and Mississippi State at home and should sweep nonconference play. Mississippi State has an extremely soft nonconference slate and gets Auburn and Texas A&M at home. Both Mississippi teams will pull a big upset on their way to nine wins.
7. Leonard Floyd will lead the SEC in sacks:
Last year, Floyd led the Bulldogs with 6.5 sacks. This year, Georgia's best pass-rusher will push for All-American status by reaching double-digit sacks and leading the league. He's fast, strong and terrifying off the edge. Floyd had a great offseason and will be a nightmare for quarterbacks.
8. Vanderbilt will make it four bowl trips in a row:
No James Franklin? No problem. What Franklin didn't take was the talented core of players the Commodores have. The Commodores return a strong offensive line and a deep, talented group of running backs. New coach Derek Mason also likes what he has defensively. The new 3-4 scheme will make the Dores faster off the edge with
Kyle Woestmann
and
Caleb Azubike
moving to outside linebacker. Vandy should win its four nonconference games and will find two more wins to make it back to the postseason.
9. The SEC won't win the national championship:
Look at prediction No. 1. While I think the SEC is stronger than ever as a whole, the winner of this league (I'm predicting Alabama) will be pretty beat-up come playoff time -- monthlong break and all. But it isn't just that. I think the country has a great set of teams at the top this year, and I don't see one SEC team really sticking out like seasons past. The seven straight titles were good for the league, but the conference will hit a two-year snag.
10. Ohio State will lose to another SEC team:
The loss of quarterback
Braxton Miller
might have spoiled the Buckeyes' playoff hopes, but they'll find a way to meet an SEC team during the postseason and continue their time-honored tradition of losing to the SEC. Come January, the Buckeyes will be 0-11 against the SEC in bowl games.
August, 26, 2014
Aug 26
8:00
AM ET
1. A number of SEC schools
released their depth charts
Monday, giving the media and fans alike something to talk about. But do they really matter? At Alabama,
we learned nothing about the quarterback position
as Blake Sims and Jacob Coker are listed on the same line atop the depth chart. At Mississippi State, Chris Jones is currently
a backup at defensive tackle
. Even if Jones doesn't start the season opener, you can't tell me he won't play the majority of the game. I agree that depth charts are interesting and it's a chance to see who won some of the position battles in fall camp, but at the end of the day, I don't think they matter. Coaches are going to do what they want to do regardless of what they put out on a depth chart. But for those of you keeping track at home, Auburn and Florida will release their depth charts Tuesday.
2. Speaking of Florida, Pat Dooley and Robbie Andreu of the Gainesville Sun debated
five hot topics about the upcoming college football season
on Monday. For example, will the SEC get shut out of first ever College Football Playoff? Or is Jameis Winston a lock to win the Heisman Trophy? The two writers differ on their responses on these and the others. In my opinion, I can't see the SEC getting shut out of the playoff, but I also don't see the league getting two teams in. And no, I don't think Winston is a lock for the Heisman. There's a kid named Marcus Mariota who is getting a lot of hype out in Eugene, Oregon. However,
the SEC's chances of winning are shaky at best
, writes Christopher Smith of Saturday Down South, and I tend to agree. The most likely candidates are Auburn's Nick Marshall and Georgia's Todd Gurley, but it won't be easy for either of them to beat out Mariota or unseat Winston.
3. If you haven't seen Gene Wojciechowski's
"Big Man on Campus" column
from Monday, I encourage you to go give it a read. It's an expansive preview of the upcoming college football season in which he gives his predictions for conference standings, the Heisman Trophy and the first-ever playoff. What caught my eye was a look at who could be this season's Auburn. He mentions Auburn (doing it again), Mississippi State and Florida from the SEC, but to accomplish what the Tigers did a year ago, a team would have to rise up from the bottom of the conference. That leaves Arkansas and Kentucky, which goes to show how improbable Auburn's turnaround really was. I can't see either the Razorbacks or the Wildcats winning the SEC this year, but don't be shocked if Florida turns it around and win the East.
Around the SEC
Tweet of the day
Today is Monday. First Football game is Sunday. The Vol Navy has already started to show up. #VolNation #bestFans pic.twitter.com/dNyJbz1nHt

— Vol Photos (@Vol_Photos) August 25, 2014
August, 25, 2014
Aug 25
11:00
PM ET
The Early Offer is RecruitingNation's regular feature, giving you a daily dose of recruiting news across the country. Today's offerings: Five-star defensive end
Byron Cowart
is closing ranks and instead of focusing on the more than 50 schools that have offered him scholarships, he's zeroing in on four schools leading up to his late September decision. Plus, Oregon fans can rest a little easier knowing the Ducks' star running back recruit didn't suffer major damage in his first game of the season, and we continue our tour of the top recruiting happenings on social media.
August, 25, 2014
Aug 25
4:02
PM ET
TUSCALOOSA, Ala. -- Alabama coach Nick Saban isn't ready to determine who his starting quarterback will be when the second-ranked Crimson Tide open their season against West Virginia on Saturday. In fact, he said he isn't in a position to say whether Blake Sims and Jake Coker will both see the field in Atlanta.
"We're going to continue to rep both guys," Saban said Monday. "We feel like both guys have done a good job. Obviously someone has to start the game, so we'll make that decision sometime this week."
But whoever starts the opener might not finish it, Saban said.
"Whatever pitcher starts the game isn't necessarily going to pitch nine innings," he said.
Click here
for more from Alex Scarborough on where the Alabama QB battle stands heading into Week 1.
August, 25, 2014
Aug 25
1:38
PM ET
[+] Enlarge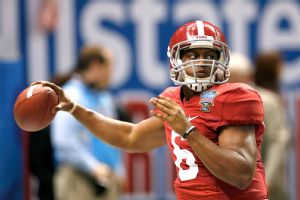 AP Photo/Aaron M. SprecherBlake Sims, a fifth-year senior and veteran Alabama backup, has a familiarity with the offense that could help him as he tries to win the starting QB job.
TUSCALOOSA, Ala. -- Alabama coach Nick Saban isn't ready to determine who his starting quarterback will be when the second-ranked Crimson Tide open their season against West Virginia on Saturday. In fact, he said he isn't in a position to say whether Blake Sims and Jake Coker will both see the field in Atlanta.
"We're going to continue to rep both guys," Saban said Monday. "We feel like both guys have done a good job. Obviously someone has to start the game, so we'll make that decision sometime this week."
But whoever starts the opener might not finish it, Saban said.
"Whatever pitcher starts the game isn't necessarily going to pitch nine innings," he said.
Though the race has been narrowed to Sims and Coker, it's unclear who has the edge in the competition to replace AJ McCarron under center. Alabama's scrimmages haven't been open to the media and passing statistics have not been provided by the university during preseason camp, so no luck gleaning any information there.
August, 25, 2014
Aug 25
8:30
AM ET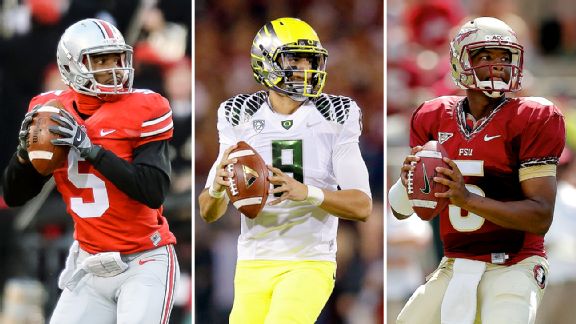 Getty ImagesSchools sell multiple jerseys with the numbers of Braxton Miller, Marcus Mariota and Jameis Winston.
Ohio State quarterback Braxton Miller missing the season could hit the school, retailers and Nike in the wallet.
Only four players in all of college football are more merchandised than Miller, according to jersey options matched to the most marketable players that are being sold on official school website stores.
Oregon is selling 25 different jerseys, counting colors and sizes, of No. 8, quarterback Marcus Mariota.
Michigan offers 17 different versions, in blue and white, in infant, youth, toddler, women's and men's cut, of No. 98, worn by its quarterback Devin Gardner.
Notre Dame has 15 different jerseys of its quarterback Everett Golson, who wears No. 5.
The University of Alabama website features 10 different jersey choices of No. 4, the same number worn by its star running back T.J. Yeldon.
Ohio State's official store is selling seven versions of Miller's No. 5.
That's even more jersey options (six) than Florida State fans have of No. 5 to choose from, the number worn by Heisman Trophy winner Jameis Winston.
The NCAA and its schools have long contended that numbers don't necessarily correspond to current players, but common sense, as proven by all the cases above, suggests otherwise.
While players one day might be able to realize a percentage of the business from their jersey sales, the recent O'Bannon ruling did not include commentary on this area.
It's not known how many No. 5 Ohio State jerseys have been produced for this season, but Miller's absence will be the biggest hit to the college jersey marketplace in two years. In August 2012, LSU safety Tyrann Mathieu was dismissed from the team weeks before Baton Rouge retailers got their shipment of No. 7 jerseys. The number is finally fashionable again thanks to it being given to Leonard Fournette, the nation's top running back recruit.
August, 25, 2014
Aug 25
8:00
AM ET
1. Game week is here. We are just three days away from South Carolina and Texas A&M.
Steve Spurrier is ready
. But there are still some question marks around the SEC, specifically at quarterback. Who does LSU go with against Wisconsin? Will Alabama ever name a starter before its first game? And how much will Nick Marshall play in Auburn's season opener? The latter is yet to be determined, but Auburn offensive coordinator Rhett Lashlee said Sunday that both Marshall and backup Jeremy Johnson
know what to expect
as the Arkansas game approaches. If you're like me, you're just ready for all three schools to name a starter so we can stop talking about it.
2. For those hoping to see the SEC's next Jared Lorenzen, it might be awhile. There was talk that Jeremy Liggins, who stands at 6-foot-3, 296 pounds, would take some reps as the Wildcat quarterback for Ole Miss this season, but
that's not going to happen
. Instead, it will be Anthony Alford, a Southern Miss transfer who also plays baseball in the
Toronto Blue Jays
farm system. Alford was taken in the third round of the 2012 MLB draft. Don't sleep on Liggins, though. Rebels' coach Hugh Freeze says there are multiple packages where the former high school quarterback will line up at tight end. And since we brought up Lorenzen, I encourage you read
this piece on the former Kentucky gunslinger
and his lifelong battle with weight.
3. We at the SEC blog looked at the most important game for every SEC team in 2014. Along those same lines, David Climer of The Tennessean put out his 14 for '14 –
the defining game of 2014 for every SEC team
. Some are more obvious like Georgia going to South Carolina early in the season or Alabama making the trip to Death Valley to take on LSU. But I was surprised to see that Tennessee's "defining game" is the season opener against Utah State. Don't get me wrong. Utah State has one of the nation's most productive quarterbacks in Chuckie Keeton, and the Vols can't afford to lose that game. But the defining game? I'd make a case for the Florida game or maybe Vanderbilt at the end of the season. The Commodores have taken the last two in the rivalry. What do UT fans think?
Around the SEC
Tweet of the day
I feel like somebody crossed the streams and we ended up with an 85' Stay-Puft Spurrier come to crush us all. pic.twitter.com/ky58wJoVT3

— Josh Kendall (@JoshatTheState) August 24, 2014
August, 24, 2014
Aug 24
9:35
PM ET
By
ESPN.com staff
| ESPN.com

ESPN SEC reporter Edward Aschoff joins Zubin Mehenti to discuss the starting quarterback races at Alabama and LSU, as well as Mike Davis' status heading into South Carolina's opener.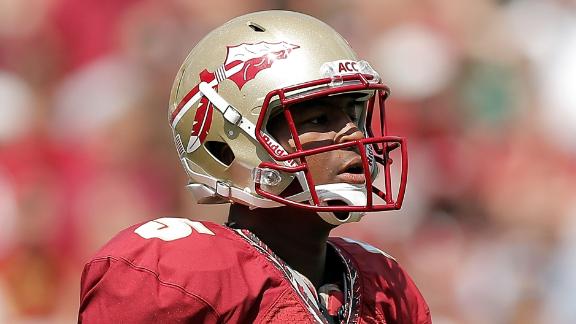 Blake Sims to start for Alabama
SEC SCOREBOARD
Saturday, 8/30
Thursday, 8/28
Sunday, 8/31