December, 2, 2013
Dec 2
5:45
PM ET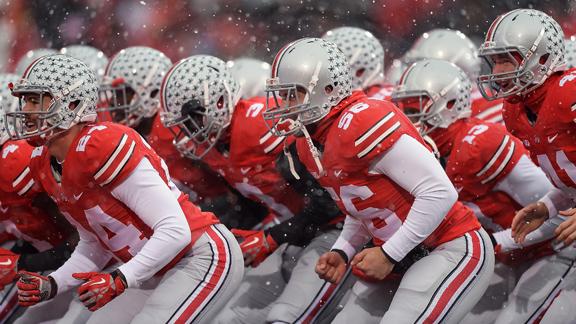 Contrary to earlier reports from the sideline, Ohio State guard Marcus Hall was not gesturing toward the BMOC as he left the Big House field this past Saturday.
PREGAME WARMUP
The last time Ohio State, Michigan State and Duke all were involved in the national championship equation was 14 years ago.
It was the called the 1999 Final Four.
Otherwise, you've never seen these three programs in the same bunch formation when it comes to impacting, deciding or even winning a BCS championship.
But here we are in the first week of December and Duke -- Duke! … the same program that was picked to finish last in the ACC's Coastal Division, that didn't squeeze into the AP top 25 poll until two weeks ago (its first ranking since 1994) -- could grab the BCS Championship by the facemask and rattle its cage.
And if the Dookies get an assist from Sparty, another no-show in the preseason top 25, then we could be looking at a national title game that nobody thought possible a few days ago:
Auburn versus Alabama -- The Sequel.
It will never happen, right? No. 1-ranked Florida State will easily defeat underdog Duke in the ACC Championship Game this Saturday in Charlotte. And No. 2-ranked Ohio State will dispose of underdog Michigan State in the Big Ten Championship Game this Saturday in Indianapolis.
It all makes perfect sense, except for the part where college football has a tendency to go Bo Pelini/Marcus Hall and lose its mind every so often. We saw it this past Saturday when Auburn followed "The Prayer At Jordan-Hare," with, "The Loveliest Return On The Plains."
December, 2, 2013
Dec 2
12:00
PM ET
The regular season is over, and 12 of the SEC's 14 teams are trying to figure out how to get to next year's SEC championship game. Ten teams are bowl eligible, which leaves four downtrodden SEC teams trying to pick up the pieces and figure out how to simply win games.
December, 2, 2013
Dec 2
11:36
AM ET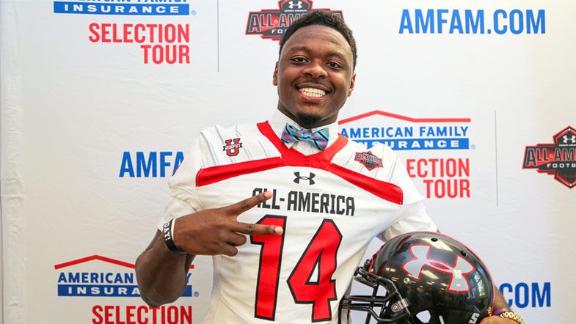 Laurence Jones
, the nation's No. 22 player in the ESPN 300 and No. 2 safety, strengthened Alabama's No. 1-ranked recruiting class by committing to the Crimson Tide over LSU on Monday.
How does Jones fit with Nick Saban's squad, and what does it mean to its recruiting class? Let's break it down.
What he brings
: Range, instincts and physicality that will allow for him to play off and in coverage, as well as close to the line of scrimmage in a hybrid safety/OLB role. He possesses college-ready size and would be expected to contribute as a freshman, especially on early run-down situations and in the kicking game.
To continue reading this article you must be an Insider
December, 2, 2013
Dec 2
11:32
AM ET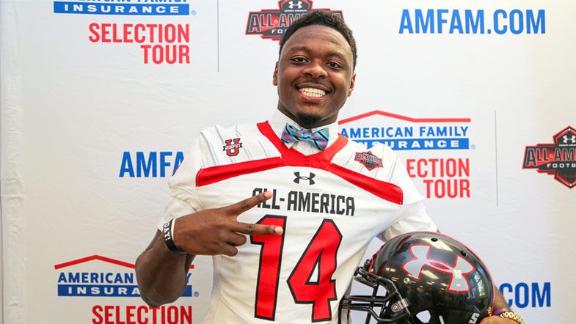 Two days after a dramatic loss at Auburn, Alabama has rebounded quickly on the recruiting trail with a commitment from ESPN 300 No. 22 Laurence Jones (Monroe, La./Neville).
The four-star recruit and No. 2 safety chose the Crimson Tide over LSU on Monday.
Jones continues Alabama's dominance in northern Louisiana, following ESPN 300 recruits such as No. 3 Cameron Robinson (Monroe, La./West Monroe), No. 63 Cameron Sims (Monroe, La./Ouachita Parish) and No. 221 O.J. Smith (Bossier City, La./Airline).
LSU was thought to be the favorite for Jones heading into the season. But Nick Saban and his staff chipped away by getting the defensive back on campus three times since August, and they received quite a bit of recruiting help from Robinson after his commitment.
Jones hosted Saban and LSU's Les Miles on Sunday for in-home visits before deciding.
For Alabama, the nation's top-ranked class gets even stronger. The pledge gives the Crimson Tide 23 verbals, including 18 ESPN 300 commits. Also included among those 18 are five-stars Robinson and DE Da'Shawn Hand (Woodbridge, Va./Woodbridge).
December, 2, 2013
Dec 2
11:15
AM ET
Whew, what a final week of the regular season in the SEC.
The heat is still rising from some of the things that happened around the league on Saturday.
So let's dive right in to our weekly look at who's hot and who's not.
GLOWING EMBERS
SEC lobbying:
The SEC is going to need some serious help to keep alive its national championship streak. Auburn and Missouri still have a heartbeat, and they will meet Saturday in the SEC championship game. The best scenario for the winner of that game would be for either No. 1 Florida State or No. 2 Ohio State to be upset in its respective conference championship game. Florida State faces Duke in the ACC title game and is a four-touchdown favorite, while Ohio State takes on Michigan State in the Big Ten title game and is a six-point favorite. In the meantime, you're going to hear some pretty passionate lobbying from SEC folks about how there's no way a one-loss SEC champion should be kept out of the VIZIO BCS National Championship Game. Already, Auburn athletic director Jay Jacobs said it would be a "disservice to the nation" if the Tigers were left out of the big game similar to what happened to them in 2004 when they were unbeaten and didn't get a chance to play for the national title. If Florida State or Ohio State win this weekend then the winner of the Auburn-Missouri game is going to have to hope several voters in the coaches' poll and Harris poll have a change of heart on their final ballots and vote a one-loss SEC champion ahead of Ohio State. Auburn, which is No. 3 this week in the BCS standings, probably has the best shot, but would need to win impressively over Missouri to leapfrog an unbeaten Ohio State team and then have the Buckeyes struggle this weekend. Even then, it's not likely enough voters would change their minds. Should Auburn beat Missouri, it would be difficult to dismiss the Tigers' resume. They would own four wins over top 25 teams in this week's BCS standings, including a win over the team that has won the past two national championships. That would compare to two wins over top 25 teams by the Buckeyes, assuming they beat the Spartans.
HOT
[+] Enlarge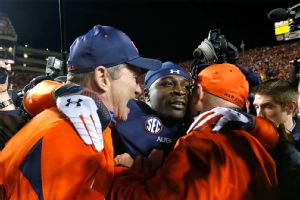 Kevin C. Cox/Getty ImagesChris Davis etched his name in Auburn lore with his touchdown return on the final play of the Iron Bowl.
Auburn cornerback Chris Davis:
His 100-yard return for a touchdown on the missed field goal attempt by Alabama gets more improbable every time you watch it. Davis was an absolute blur up the left sideline, and Alabama's players looked like they were running in slow motion. Before the season, Auburn coach Gus Malzahn told me that it was critically important for Davis to stay healthy this season because he could be a difference-maker for the Tigers in several areas. How prophetic does that look now?
NOT
Alabama's streak:
The Crimson Tide had won 15 straight games and two straight national championships. Going back to the 2009 season, when they won their first of three national championships under Nick Saban, it's the kind of run we probably won't see again anytime soon in the SEC. When historic streaks die, they typically die hard. Losing the way Alabama did last week at Auburn will cut deeply for some time.
HOT
Tennessee defensive end Corey Miller:
Entering his final college game at Kentucky, Miller had five career sacks in 48 games. He exploded for a school-record 4.5 sacks in the 27-14 win over the Wildcats. And whose record did he break? Hall of Famer Reggie White had four sacks in a game as a senior at Tennessee in 1983. That's some pretty impressive company.
NOT
Cowardly fans:
It's always a select few who screw it up for everybody else. But enough with hitting up players who miss field goals and lose key fumbles with nasty emails and messages, almost always behind the cloak of anonymity. Good to see the Alabama players come to kicker
Cade Foster
's defense. Too bad some of these so-called "grown" fans don't have the same kind of perspective the 20- and 21-year-old kids who are actually playing the game do about losing a football game.
HOT
[+] Enlarge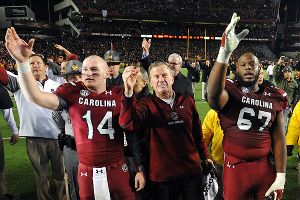 AP Photo/Rainier EhrhardtA familiar sight in the South Carolina-Clemson rivalry: Steve Spurrier and the Gamecocks celebrating another victory.
South Carolina coach Steve Spurrier:
You have to seriously wonder if Clemson will ever beat South Carolina again as long as the Head Ball Coach is there. He's renowned for getting inside teams' heads. And right now, Dabo Swinney and the Tigers might need a psychiatrist to get Spurrier out of their heads. As Spurrier said himself (in his own way) following South Carolina's fifth straight win in the series, Clemson seems to find a way to play just poorly enough and just uptight enough to lose this game every year.
NOT
Beating up on Vanderbilt in November:
Once upon a time, Vanderbilt probably considered canceling the month of November. But not anymore. The Commodores have won nine straight games in the month of November, another telltale sign that this is a program that only gets better under James Franklin as the season goes on. Before Franklin arrived, the Commodores were just 3-32 in November in the previous 10 years. Defensively, Vanderbilt really turned it on down the stretch and played lights out in November. The Commodores suffered some key injuries and struggled early, but ended up 25
th
nationally in total defense -- their third straight season in the top 25 under defensive coordinator Bob Shoop. And during this last month, Vanderbilt allowed just 11.8 points per game and 277 yards of total offense per game while forcing 12 turnovers. Opposing teams managed just one touchdown pass and 11 interceptions against the Commodores in November.
FREEZER BURN
Preseason predictions:
If anybody -- coaches, media or fans -- had Auburn and Missouri in the SEC championship game in August, I want to see the ballot. Auburn was picked fifth in the West and Missouri sixth in the East at the SEC media days. Missouri coach Gary Pinkel thanked everybody Sunday for picking the Tigers so low because it only served as motivation for his players. And get this: Neither Auburn nor Missouri received a single vote at the SEC media days to win the league championship. Let's face it, though. Given the media's shoddy track record for getting the eventual SEC champion right, if you're picked to win it in Hoover, Ala., during the summer, you might as well plan on not winning it. Only twice in the past 18 years has the media correctly predicted the SEC champion. Still, had anybody picked Auburn or Missouri this year, that would have been a story in itself at the time. Auburn didn't win a single SEC game a year ago and lost 38-0 to Georgia and 49-0 to Alabama in its previous two SEC games. Missouri won two SEC games a year ago in its first season in the league, and with so many injuries along the offensive line, looked overwhelmed at times.
December, 2, 2013
Dec 2
9:00
AM ET
We have a new No. 1 in our Power Rankings, and there's a chance that either of the top two teams on this list could back its way into the BCS title game:

1. Auburn (11-1, 7-1 SEC; last week: 3):
Call it luck, but don't forget to call the Tigers good. Auburn won the Iron Bowl 34-28 over No. 1 Alabama on a last-second field goal return for a touchdown by
Chris Davis
. It was another improbable win for the Cardiac Cats, but Auburn also ran for 296 yards on the SEC's best rush defense. Back-to-back thrillers have Auburn No. 3 in the BCS standings and SEC Western Division champions.
2. Missouri (11-1, 7-1 SEC; LW: 2):
These Tigers will meet those Tigers in the SEC championship game on Saturday. After beating Texas A&M 28-21 at home, Mizzou completed its own improbable season in its second year in the league. Missouri now has five wins over opponents that were ranked when it played them. Like Auburn, Mizzou is very much in the national championship picture. The Tigers need help, but a win over Auburn would push a team that was left for dead last season a step closer to Pasadena, Calif.
3. Alabama (11-1, 7-1 SEC; LW: 1):
The three-peat is likely over after Alabama was bested by its archrival. Why Nick Saban would attempt a 57-yard field goal with a second left without any speedy athletes on the field is mind-blowing. Saban rarely makes mistakes, but this one will sting for a very long time. Alabama is still very much in the hunt for a BCS bowl game, but a return to the title game is a long shot.
4. South Carolina (10-2, 6-2 SEC; LW: 4):
Another year, another win over Clemson. That makes five in a row for Steve Spurrier and his Gamecocks after his guys walked over the Tigers 31-17. South Carolina forced six turnovers, and quarterback
Connor Shaw
impressed yet again with 246 yards of offense and two touchdowns. The BCS is out of reach for the Gamecocks, but they have a shot at three straight 11-win seasons.
5. LSU (9-3, 5-3 SEC; LW: 5):
This is easily the most confusing team to follow in 2013. The Tigers started hot, hit some bumps and then finished strong with an exciting 31-27 win over Arkansas. LSU was without starting quarterback
Zach Mettenberger
(knee) late, but it didn't matter, as freshman
Anthony Jennings
drove the Tigers 99 yards, with a 49-yard go-ahead touchdown pass with 1:15 left. This could be another double-digit-win season for the Tigers.
6. Texas A&M (8-4, 4-4 SEC; LW: 6):
Johnny Manziel
went from carving up defenses to being smothered in his last two outings. In Saturday's loss to Mizzou, Manziel was held to a season-low 216 total yards and a touchdown. The defense was gutted -- again -- allowing 225 rushing yards, including a 57-yard
Henry Josey
touchdown run with 3:34 remaining. It's been a long November in College Station, but at least Kevin Sumlin is locked up for the long haul.
7. Vanderbilt (8-4, 4-4 SEC; LW: 8):
Coach James Franklin might be near the top of USC's coaching list, but for now, he's doing a heck of a job as Vandy's coach. There's no wonder he's on the Trojans' radar. Vandy has won four straight, will make its third straight bowl game and is in line to win nine in back-to-back seasons. The Commodores didn't make it look easy against Wake Forest, but a
Carey Spear
field goal with 39 seconds left kept the Dores' winning streak alive.
8. Georgia (8-4, 5-3 SEC; LW: 9):
Another team that didn't want things to be easy over the weekend, Georgia needed double overtime to beat rival Georgia Tech. The Bulldogs' defense was pushed around for 495 yards, but the offense was there to bring the Dawgs back from deficits of 20-0 and 27-17. When you have a guy like
Todd Gurley
(158 total yards and four touchdowns), it doesn't matter who you have at quarterback.
9. Mississippi State (6-6, 3-5 SEC; LW: 10):
After being on the outside of the bowl picture just a couple of weeks ago, the Bulldogs rallied to win their last two, including an overtime victory against bitter rival Ole Miss on Thanksgiving. It wasn't the prettiest of games, but injured quarterback
Dak Prescott
came into the fourth quarter and threw for 115 yards, while running for 29, including the eventual winning 3-yard score. Dan Mullen has Mississippi State in the postseason for the fourth straight season.
10. Ole Miss (7-5, 3-5 SEC; LW: 7):
Oh, what could have been for this team. Not only have the Rebels lost two straight, but they allowed their archrivals to make it to the postseason. For a season that started 3-0, some poor play in the red zone -- especially near the goal line -- against Missouri and turnovers against Mississippi State cost Ole Miss in its final two games.
11. Tennessee (5-7, 2-6 SEC; LW: 11):
A long first year for Butch Jones ended with a nice 27-14 win over Kentucky. The Vols aren't going bowling, but now is the time when Jones has to ramp up the development phase and keep an already stellar recruiting class together. Remember, this team was a fake Vandy jump pass from a bowl berth.
12. Florida (4-8, 3-5 SEC; LW: 12):
The Gators' nightmare of a season ended with a 37-7 rout by rival Florida State inside the Swamp. Florida then fired embattled offensive coordinator Brent Pease and offensive line coach Tim Davis. Florida lost seven straight to end the season without scoring more than 20 points. And it isn't going bowling for the first time in 22 years and has its first losing season since 1979.
13. Arkansas (3-9, 0-8 SEC; LW: 13):
With that heartbreaking loss to LSU, the Razorbacks have dropped a school-record nine straight and went 0-8 in conference play for the first time. This team fought hard in its final act, but it's clear that development and recruiting need to amp up during the offseason if Bret Bielema is going to have a chance at really competing in this league.
14. Kentucky (2-10, 0-8 SEC; LW: 14):
The Wildcats have now gone 0-8 in SEC play in back-to-back seasons for the first time since 1941-42 and have lost 16 straight SEC games. Mark Stoops is building a pretty impressive recruiting class right now, but we all know it takes more than recruiting. The Wildcats need more than talent, as they took steps back on both sides of the ball late in the season.
December, 2, 2013
Dec 2
8:30
AM ET
AUBURN, Ala. -- Their pain exiting the visitor's locker room was obvious. Far-off looks and muted responses told their story. Alabama's players had just endured the most heartbreaking, debilitating loss of their careers. And to make matters worse, it happened at Auburn on an improbable finish that Tide wide receiver
Kevin Norwood
couldn't help but call "lucky."
But it wasn't luck that led to Auburn's win. That's a hard pill for Alabama fans to swallow so soon, but the game was tied with one second remaining. That was no fluke. Nick Saban then went for a long field goal, didn't have his players properly prepared to defend the return and paid the ultimate price. The gates opened and the field at Jordan-Hare Stadium flooded into a blue and orange sea of joy, and Alabama had no one to blame but itself.
[+] Enlarge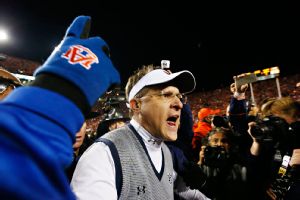 Kevin C. Cox/Getty ImagesGus Malzahn has a lot in common with Nick Saban.
Was it a likely scenario? Of course not. According to NCAA records, it was only the fourth time that a missed field goal was returned for 100 yards. But the answer to that most timeless of questions -- Did they win the game or did the other team lose it? -- doesn't apply here. Forget
Cade Foster
's missed field goals. As a matter of fact, get off his back already. You'd do well to remember the litany of missed opportunities Auburn had as well. The Tigers dropped passes, fumbled the football and committed penalties.
It's been more than 24 hours since the best, craziest, wildest Iron Bowl ever, and that's more than enough time to realize what we witnessed on Saturday night: Both teams played like champions, both coaches were among the best in the game and this rivalry is going to be the most compelling in college football for years to come.
As one SEC head coach told me prior to Saturday's game, "Alabama is at the top … Auburn is still trying to get there." Well, whether Auburn wins the SEC championship and advances to the BCS title game is beside the point now. They proved that coach wrong. By beating Alabama, Auburn showed it's more than just a team on the rise, it's an equal. The upstart Tigers are ready to compete with the likes of the vaunted Tide for championships today, not somewhere off in the future.
And the Iron Bowl rivalry is better off for it. Why? Because competitive games are good games, and rivalries are healthiest when both teams are playing well. What we saw from Alabama and Auburn over the past two seasons was sickly, predictable and no fun to watch.
Gus Malzahn, instead, has the Tigers back less than a year after walking into what was, by all accounts, a dumpster fire. Players quit, recruits jumped ship and the entire coaching staff was fired two seasons removed from a national championship. Rebuilds of that variety are supposed to be measured in years, not months. Winning Iron Bowls wasn't supposed to happen right away. Look at it this way:
Nick Marshall
's touchdown run in the first half Saturday was the first offensive touchdown by Auburn against Alabama since 2010.
Sound familiar, Alabama fans? It should. Saban walked into a similar mess in 2007. He took a little longer to recover from what NCAA probation and Mike Shula left behind, but in 2008 he and Alabama snapped Auburn's six-game Iron Bowl winning streak with a 36-0 win in Tuscaloosa. A year later the Tide won a national championship.
Try to separate Saban and Malzahn all you want, but their similarities are striking. They're both singularly focused coaches with a public personality that, to be put kindly, is often lacking. They eat, sleep and breathe football. They don't hype games and they don't regale the media with humorous stories. And they're both geniuses at what they do. Saban has established himself as the best defensive coach in college football and Malzahn is quickly making his case to become the best offensive coach in the game. One pushes the tempo like a maniac while the other does everything he can to slow it down.
It's brilliant. You couldn't draw up a better foil than Saban to Malzahn and Malzahn to Saban. They're even in the same state. They're practically neighbors. They'll cross each other's path on the recruiting trail, nod, smile and silently plot ways to ruin one another's existence. Just think of the weeks and months the Alabama staff will spend in the dark scouring Auburn's film this offseason, trying to find some place to exploit, some soft spot in the read-option to destroy.
Get ready, Alabama. Prepare yourself, Auburn. You're both lucky because this is going to be a fun ride for the next few years. With these two coaches, the Iron Bowl should continue to be a competitive back-and-forth like we saw Saturday every year.
December, 2, 2013
Dec 2
8:00
AM ET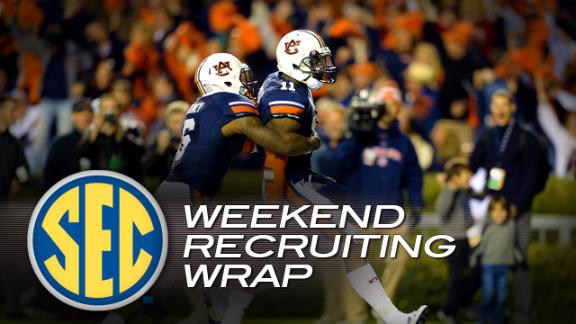 As the regular season winds down, there was a lot of news around the SEC over the weekend. Texas A&M received a big commitment on Thanksgiving at a position of need, and Auburn hosted several visitors for its incredible last-second victory over Alabama. Here's a closer look at some of the top storylines in the SEC this weekend.

Biggest commitment:
Though Texas A&M suffered a tough loss to Missouri on Saturday night, the Aggies did have something to be thankful for when junior college offensive tackle
Avery Gennesy
(Southhaven, Miss./East Mississippi CC) verbally committed to Texas A&M on Thursday.
The 6-foot-5, 315-pound tackle chose the Aggies over Ole Miss, Tennessee and Ohio State.
Texas A&M now has 18 commitments, including 10 from in the ESPN 300. The Aggies have the fifth-ranked recruiting class in the country.

Georgia, Tennessee lose commitments:
ESPN 300 defensive tackle
Dontavius Russell
(Carrollton, Ga./Carrollton), after visiting Auburn over the weekend, decided to open back up his recruitment. The four-star defensive lineman announced his decision on Twitter.
I'm reopening my Recruitment.

— Dontavius Russell (@Russ_Dont98) December 2, 2013
Auburn now appears to be the team to beat for Russell. Tennessee lost another wide receiver commit from ESPN 300 wideout Dominique Booth (Indianapolis/Pike) on Sunday. Booth is the third pass-catcher to decommit from the Vols this year. Junior college prospects Eric Lauderdale (Fayettville, Ga./Saddlebrook) and Kameel Jackson (Arlington, Texas/Blinn) also backed off their pledges to Tennessee earlier in the season.
To continue reading this article you must be an Insider
December, 2, 2013
Dec 2
5:30
AM ET
The Early Offer is RecruitingNation's regular feature, giving you a daily dose of recruiting in the mornings. Today's offerings: With the newest edition of the
BCS standings released
, we take a look at the biggest headlines of the top five teams from the recruiting trail.

No. 1 Florida State
FSU's victory over Florida this past Saturday will help the Noles on the recruiting front. Florida and FSU tangle quite a bit in the Sunshine State, especially in South Florida, and the Noles will use the 37-7 victory to sell their program against the Gators. With the Noles in line to play for the national championship, the next few weeks will be big to help FSU close out a top-flight class that already ranks as the
nation's sixth best
.
To continue reading this article you must be an Insider
Raekwon McMillan discusses recruitment