July, 22, 2014
Jul 22
4:02
PM ET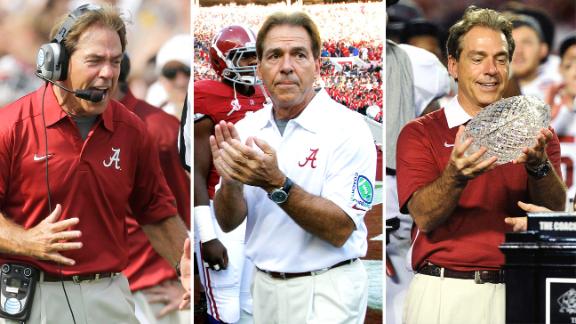 HOOVER, Ala. -- For better or worse, Nick Saban has a reputation. And after four decades of coaching, it's not likely to change.
He's gruff. He's demanding. He's hard-nosed, unrelenting and oftentimes furious.
He is, according to a survey conducted by ESPN, the most-intimidating coach in college football. Of the 58 recruits who responded to a survey, 22 selected Saban as the most intimidating coach they've spoken with. The next-highest on the list was Urban Meyer, who was selected only seven times.
What's maybe more telling: Among the 66 recruits who answered the question, "Of all the head coaches you've spoken with, who was the easiest to talk with?" none said Saban.
Amari Cooper gets it. He was once a highly sought-after recruit from South Florida, a Miami Hurricanes fan with no particular ties to the SEC or Alabama. He looked at Saban from afar and didn't know what to think of him. He'd heard secondhand stories and assumed that the man he'd meet in Tuscaloosa, Alabama, would live up to his unflattering reputation.
Then one day the promising young receiver went to camp at Alabama and made a name for himself. It was hot, Cooper recalled, but he was doing everything he could to show the coaching staff what he was capable of.
"[Saban] saw me run a route against a DB in one-on-ones and he looked to be surprised," he said. "He came up to me and shook my hand, started smiling and after that I went up to his office and talked to him and he offered me a scholarship."
Cooper accepted. Now he's a junior All-SEC receiver for the Crimson Tide. Now he understands the perception of Saban and how it doesn't quite match reality.
Blue Chip Battles: ESPN 300 Update
SEC SCOREBOARD
Thursday, 8/28
Saturday, 8/30
Sunday, 8/31