July, 18, 2014
Jul 18
10:28
AM ET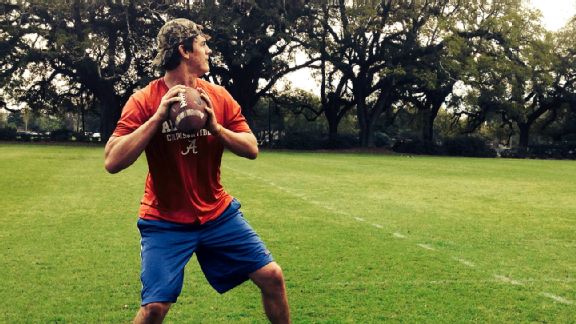 Courtesy of David MorrisThere are high expectations for Jake Coker once he steps on the field for Alabama.
As we count down 50 days until the start of the 2014 college football season, ESPN Insider Travis Haney is answering at least one big question a day until South Carolina and Texas A&M's kickoff on Aug. 28.
Heisman contenders, breakout freshmen, conference winners -- it will all be covered as part of
Insider's Ultimate Season Preview
.
Today's question: Which of the SEC's new starting QBs will have the best season?
What I notice first is that, with the possible exception of Missouri's
Maty Mauk
, each first-year starting QB in the SEC is inheriting great talent around him.
When in doubt, go to the program with the most talent, and even though he feels like a college football tall tale at this point, Alabama's Jake Coker absolutely has the best chance to excel.
Even with what little we have seen of him, Coker is already on Mel Kiper Jr.'s radar (tied for fifth among
underclassmen QBs for the 2015 NFL draft
). The fact that he is 6-foot-5 and 235 pounds does not hurt. Neither will the situation he is entering.
In fact, based on what I hear about his arm strength and knowing the skill around him, it is not that bold of a prediction that this could be his first and only season with the Tide before bolting for the NFL.
Alabama, named Thursday the SEC favorite by media members, is smarting after consecutive losses to end last season. The last time it was doubted to this degree, the Tide responded with consecutive national titles in 2011 and '12.
But it was obviously more settled then at QB. If anything, Nick Saban overplayed the position as a question mark when he addressed reporters at this week's SEC Media Days.
July, 18, 2014
Jul 18
10:00
AM ET
The extended version of SEC media days is behind us, and we've seen the way the media voted in terms of picking the champion and the preseason All-SEC selections.
Alabama was the pick, which given our track record, might not be the best news for the Crimson Tide. As Nick Saban so willingly reminded everybody, it's not like the media has had a crystal ball lately when it comes to picking the SEC champ. Only four times in the last 22 years have the media correctly picked the SEC champion at the SEC's preseason shindig.
Maybe this is the year we start the kind of streak John Wooden would be proud of. Here's a look at the
selections from SEC media days this year
.
Below is my own ballot, and Edward will unveil his later today after he finishes breaking down tape from all of the World Cup matches (or are they games?).
OFFENSE
QB:
Nick Marshall
, Auburn
RB:
Todd Gurley
, Georgia
RB:
Mike Davis
, South Carolina
WR:
Amari Cooper
, Alabama
WR:
Malcolm Mitchell
, Georgia
TE:
Hunter Henry
, Arkansas
OL:
Cedric Ogbuehi
, Texas A&M
OL:
Laremy Tunsil
, Ole Miss
OL:
La'el Collins
, LSU
OL:
A.J. Cann
, South Carolina
C:
Reese Dismukes
, Auburn
DEFENSE
DL: Dante Fowler, Jr., Florida
DL:
Chris Jones
, Mississippi State
DL:
A'Shawn Robinson
, Alabama
DL:
Robert Nkemdiche
, Ole Miss
LB:
Benardrick McKinney
, Mississippi State
LB:
Leonard Floyd
, Georgia
LB:
Trey DePriest
, Alabama
DB:
Vernon Hargreaves III
, Florida
DB:
Taveze Calhoun
, Mississippi State
DB:
Landon Collins
, Alabama
DB:
Cody Prewitt
, Ole Miss
SPECIALISTS
PK:
Marshall Morgan
, Georgia
P:
Drew Kaser
, Texas A&M
RS:
Marcus Murphy
, Missouri
AP:
Christion Jones
, Alabama
EAST
1. South Carolina
2. Georgia
3. Florida
4. Tennessee
5. Missouri
6. Vanderbilt
7. Kentucky
WEST
1. Alabama
2. Auburn
3. Mississippi State
4. LSU
5. Ole Miss
6. Texas A&M
7 Arkansas
SEC CHAMPION
Alabama
July, 18, 2014
Jul 18
9:00
AM ET
HOOVER, Ala. -- It's like SEC media days just started.
Well, not really. Four days of a nonstop influx of SEC information could knock Todd Gurley off his feet. It was a fun week, but now it's over, and it's time to shift our attention to fall practice. It's just a couple of weeks away!
As we inch closer to the regular season, let's take one last look at the week that was with five takeaways from what went down in Hoover:
1. Alabama has something to prove:
Buried in
some Texas-sized talk
you'll find something else that gets under Nick Saban's skin: The way his team finished last season. After being picked by just about everyone to win the BCS title, the
Alabama Crimson Tide
lost its last two games of the season, including getting run out of New Orleans in a Sugar Bowl loss to Oklahoma. So while Alabama was picked to win the West, this team is still hurting after how last season ended. "We have to reestablish our identity as a team at Alabama," Saban said. "It's going to take every player to have a tremendous amount of buy-in for us to be able to do that." The team has to do that for an entire season. It has to listen, and it sounds like that's happening so far. A Saban-coached team filled with five-star talents is hungry and upset? That bodes well for the rest of the league ...
2. Will Muschamp doesn't feel the heat:
Months after coaching one of the worst seasons in
Florida Gators
history, Muschamp is ignoring the toxicity surrounding his program. When you go 4-8 at a school like Florida, your seat will be engulfed in flames, but Muschamp is keeping his cool and focusing on his team during a critical season for the program. "I think you combat the hot-seat talk with having a good team and winning games," Muschamp said. "Control the controllable is always what I've said. ... That's coaching our football team, developing our football team. There was never any time in my mind that I didn't think I would be retained." Muschamp, whose team is breaking in a new spread offense and getting healthier, added that he expects his team to have "an outstanding year."
3. Vandy and Kentucky don't lack confidence:
The
Vanderbilt Commodores
are breaking in a new coach and the
Kentucky Wildcats
are looking to build for the long term in Year 2 with Mark Stoops. Both teams have a ton of questions entering the year, but representatives from both programs oozed confidence and even some bravado. "Our team is a team of probably no-name young men who have a chance to do something great," first-year Vandy coach Derek Mason said. "It's talented across the board. I think our opportunity to compete for an SEC East title is now."
James Franklin
who?
For Stoops, he isn't dwelling on the past because he's pretty amped about the present, and possibly the future. "I'm excited about this team," Stoops said. "This team has worked extremely hard. They've done everything we've asked them to do. ... Our players have put in the time. Our training staff has done a great job getting them prepared. We're physically better. Hopefully that will translate to more wins." Stoops isn't ready to say he has a bowl team, but he promises it doesn't lack any heart or fight.
4. Richt and Spurrier like their teams:
While Saban scolded the media about its decision to pick his team to win the SEC,
Georgia Bulldogs
coach Mark Richt wasn't thrilled about being ranked second in the SEC East. "Obviously, what's important is what happens at the end of the year. Earlier I got asked that question. I said, 'I'm not happy to be named No. 2. I'm not going to start cheering that 'We're No. 2.' I think in the end it's going to be Georgia."
And he wasn't kidding. He
really
likes returning an offense that averaged nearly 500 yards and 36.7 points per game that could only get better with some healthier components returning, and he thinks his defense will play smarter. The addition of new defensive coordinator Jeremy Pruitt has Richt excited. And when Steve Spurrier comes out and praises his team within the first minute of his introductory news conference, that means he likes the guys he's coaching. South Carolina's offense is loaded, but the defense has questions in the secondary. Spurrier doesn't seem too concerned, though.
5. The future is now in Baton Rouge:
One of the most talked-about players of the week wasn't even in the building. Heck, he hasn't even played a snap of college ball. But LSU freshman running back
Leonard Fournette
was compared to Michael Jordan and was said to have the talent to be the best player to ever play at LSU. Those are quite the compliments to pay a freshman, but
Tigers
coach Les Miles and Fournette's teammates believe he can live up to the hype. "He has been compared to
Adrian Peterson
," LSU running back
Terrence Magee
said. "To be honest, I think it's the only guy that's playing the running back position right now that you can compare [Fournette] to." He wasn't the No. 1 recruit in the 2014 class for nothing, and Fournette should make an immediate impact in an offense looking for a bellcow back to replace
Jeremy Hill
.
July, 17, 2014
Jul 17
6:26
PM ET
HOOVER, Ala. -- "We're 0-2,"
Amari Cooper
said.
After last season's loss to Auburn and the blowout defeat to Oklahoma that followed, Alabama and its star receiver are looking at the start of the 2014 season in a different way: two games in the hole.
Cooper remembered the 99-yard touchdown he scored against Auburn last November. The pass from
AJ McCarron
to Cooper in the fourth quarter silenced the crowd at Jordan-Hare Stadium that night. McCarron had his "Heisman moment" and Cooper showed the world just how dangerous he can be. Auburn rocked on its heels, and Alabama had a trip to the SEC championship game all but reserved.
[+] Enlarge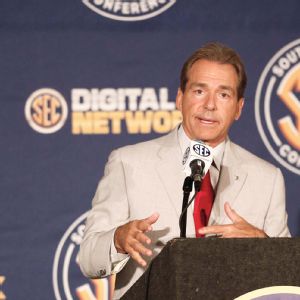 Marvin Gentry/USA TODAY Sports"We're a team that has a ton of questions," Alabama coach Nick Saban said at SEC media days.
But Cooper doesn't remember the long touchdown against his rival fondly. There's too much pain attached to the moments that followed the play: Auburn's furious comeback, Chris Davis' last-second, 106-yard return for the game-winning score. Auburn went on to Atlanta. Alabama went home, settled for the Sugar Bowl and lost back-to-back games for the first time since 2008.
"I remember it ... but I really wish we would have won that game," Cooper said.
Alabama coach Nick Saban didn't spend much time talking about 2013 on Thursday. This year's trip to SEC media days was all about hitting the reset button.
No more AJ McCarron. No more C.J. Mosley. No more aura of invincibility for the Tide.
Alabama was picked by the media to win the SEC again this season -- garnering more points than all other teams combined -- but the cloud of inevitability was more transparent than in years past.
"Our situation as a team is a lot different this year than it's been the last couple years, when we were coming off of successful seasons, championship seasons," Saban said in his opening comments to the media inside the Hyatt's packed ballroom. "The challenges were so much different in terms of trying to deal with success and complacency.
"Having lost our last two games last year, I think it's a little bit different mindset with our players."
Half an hour earlier, in a more private setting, Saban acknowledged the amount of hurdles facing his team. With the opening of fall camp only weeks away, there are more than a handful of starting jobs still up for grabs.
"We're basically an unproven team in some areas," he said, "and in some cases it's at critical positions."
"We're a team that has a ton of questions," he continued later.
The question du jour (Will the Tide settle on transfer QB Jacob Coker?) will linger into the foreseeable future, as Saban insisted that no decision, no matter the outside perception, has been made about who will start under center.
"We really can't make that decision or prediction as to what's going to happen at that position," Saban said, "but the development of that position, regardless of who the player is, is going to be critical to the success of our team."
The good news for Saban is that he's not devoid of talent. With Cooper, tight end
O.J. Howard
and the two-headed monster of
T.J. Yeldon
and
Derrick Henry
at tailback, there's plenty of firepower on offense. As South Carolina coach Steve Spurrier said earlier in the week, "They've got the greatest collection of football players ever assembled for a college team."
The bad news, though, is that the talent coming in is unproven at several other key spots. There's the potential for a true freshman to play at left tackle, and three-quarters of the starters in the secondary are gone.
Landon Collins
was a preseason first-team All-SEC choice for a reason, but he can't do it alone at strong safety.
"The young guys are looking at me to show them the ropes," Collins said.
Two of those youngsters are true freshmen: Tony Brown and Marlon Humphrey, both five-star prospects, have the potential to take significant reps at cornerback.
"They have impressed me," Collins said. "They're going to be phenomenal when it's their time. When it's time to showboat and do their thing, they're going to show you what they've been doing since high school."
The question is when their time will come.
Last season, Alabama relied heavily on a slew of inexperienced corners (
Eddie Jackson
,
Maurice Smith
,
Cyrus Jones
,
Bradley Sylve
) and the defense paid the price. Auburn was able to get a few big plays through the air, and then Oklahoma took it a step further when
Trevor Knight
transformed from an enigma into Peyton Manning in New Orleans, completing 32 of 44 passes for 348 yards and four touchdowns.
Alabama wasn't Alabama those final two games last season. The offense became inconsistent, the defense struggled and special teams came up just short.
Until the 2014 season kicks off, there's a big 0-2 record hanging around the team's collective neck.
Until Alabama gets back to playing Alabama football, players feel as if they're in the hole.
"I think it's a little bit of a different mindset with our players," Saban said.
For Cooper, it's almost a welcomed change. Winning championships inevitably breeds complacency. Losing back-to-back games and then having to answer all the questions that follow is simply fuel for the fire.
"When you have people doubting you, you're automatically hungry," he said. "You want to work hard just to prove them wrong."
July, 17, 2014
Jul 17
5:57
PM ET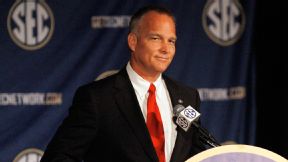 AP Photo/Butch DillGeorgia coach Mark Richt said that if the College Football Playoff is expanded beyond four teams, the regular season would have to be shortened.
HOOVER, Ala. -- The College Football Playoff will be centered on four teams, but coaches are already thinking about expansion.
The sport's new end-of-the-year playoff format currently has a 12-year lifespan, but in the event that more teams are added and more games are played during the college football season, some SEC coaches think the regular-season structure should be looked at and even shortened.
"I would hope that if it expands beyond this, we gotta look at the regular season," Georgia coach Mark Richt said as SEC media days concluded Thursday. "I think you have to reduce the regular [season]. A lot of people may not agree with that."
Ole Miss coach Hugh Freeze agreed with Richt, saying college football would have to cut into the regular season for the well-being of the student-athletes participating. Alabama's Nick Saban didn't exactly take a side on the matter, but he did say that if expansion comes, the sport should consider the toll more games would put on players.
"Not having thought much about it, I do think that for college players, with their age, with their responsibility to academics and the things they have to do that we're pretty much closing in on the limit of how many games they should be playing and how we can still fit them in," Saban said. "In our league, you'd have to win 15 games to win [the national championship in a playoff]. If you expand the playoff, you'd have to win more than that."
July, 17, 2014
Jul 17
2:38
PM ET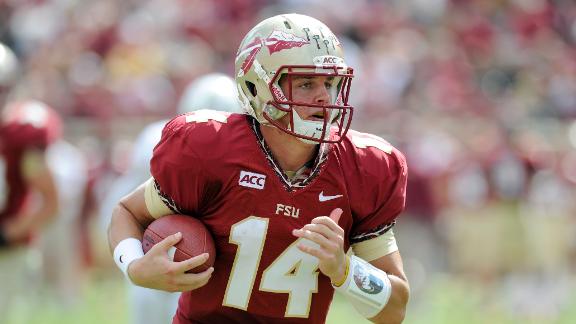 HOOVER, Ala. -- Most everyone has made up their minds that Jacob Coker will indeed be Alabama's next starting quarterback.
But the one person whose opinion matters -- coach Nick Saban -- hasn't decided on anything quite yet.
"That's really not internally the perception by me, our staff or our players," Saban said Thursday. "Jake Coker has the opportunity to come in and compete for the position.
"Blake Sims has been competing for the position. He really did a pretty good job in the spring. He didn't play great in the spring game, but we really didn't do the things that he's capable of doing."
Coker transferred to Alabama this spring after graduating from Florida State, where he backed up Heisman Trophy-winning quarterback Jameis Winston last season. In his career, Coker has completed only 21 passes for 275 yards, one touchdown and one interception.
But considering Alabama's incumbent quarterbacks' failures in the spring game -- Sims, in particular, threw two interceptions -- the court of public opinion has clearly dubbed Coker the next big thing. At 6-foot-5 and 230 pounds, he looks the part. And considering all the positive things his former coaches have said about his talent, it's no wonder the hype has been overwhelming.
"He's probably the best I've seen in 25 years at throwing it," Florida State quarterback coach Randy Sanders said earlier this year.
Saban, however, insists that there is no clear front-runner to replace former Alabama great AJ McCarron -- not yet.
July, 17, 2014
Jul 17
2:30
PM ET
Roughly one out of every five players on Thursday's Doak Walker Award watch list comes from the SEC.
The conference did not have a finalist for the award, which goes to the top running back in college football, last season, as winner
Andre Williams
of Boston College and finalists
Ka'Deem Carey
(Arizona) and
Bishop Sankey
(Washington) hailed from the ACC and Pac-12. And of the 10 semifinalists, only Auburn's Tre Mason and South Carolina's
Mike Davis
came from the SEC.
That could easily change this season since the league is brimming with star-caliber tailbacks, as evidenced by the 11 SEC backs on the Doak Walker watch list, led by the two players whom the media selected to its preseason All-SEC first team this week at media days:
Todd Gurley
of Georgia and
T.J. Yeldon
of Alabama.
Here is the full list of 11 SEC candidates out of the 53 total players on the watch list:
Tra Carson
, Texas A&M
Alex Collins
, Arkansas
Mike Davis, South Carolina
Todd Gurley, Georgia
Derrick Henry
, Alabama
Terrence Magee
, LSU
Josh Robinson
, Mississippi State
Kelvin Taylor
, Florida
Jonathan Williams
, Arkansas
Trey Williams
, Texas A&M
T.J. Yeldon, Alabama
July, 17, 2014
Jul 17
10:12
AM ET
HOOVER, Ala. -- It's going to come down to the Iron Bowl again this season. Or that's what the majority of the media thinks of the SEC race, as voters predicted on Thursday that Alabama and Auburn would finish No. 1 and 2, respectively.
The Crimson Tide, which finished last season with back-to-back losses, was awarded more points (154) than all other schools combined: Auburn (75), South Carolina (32), Georgia (19), LSU (9), Ole Miss (2), Arkansas (1) and Mississippi State (1).
If there's anyone who's not surprised by the finish, it's South Carolina coach Steve Spurrier, who raved on Tuesday about coach Nick Saban's ability to bring in the country's top recruits.
"Arguably, they've got the greatest collection of football players ever assembled for a college team," he said. "If the recruiting services are correct, and they're pretty much correct.
"So they're the favorites. They're the favorites. There's no question about that. As long as they can recruit like that, they're always going to be the favorites."
Alabama led all schools with nine first-team selections, including two of the top vote-getters in wide receiver Amari Cooper and running back T.J. Yeldon.
July, 17, 2014
Jul 17
9:15
AM ET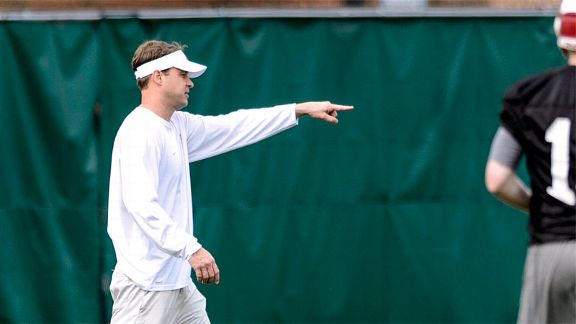 AP Photo/AL.com, Vasha HuntLane Kiffin is offensive coordinator for a very talented Alabama Crimson Tide team.
As we count down 50 days until the start of the 2014 college football season, ESPN Insider Travis Haney is answering at least one big question a day until South Carolina and Texas A&M's kickoff on Aug. 28.
Heisman contenders, breakout freshmen, conference winners -- it will all be covered as part of
Insider's Ultimate Season Preview
.
Today's question:
What will we be saying in January about Lane Kiffin's first season as Alabama's offensive coordinator? Will this work?
To continue reading this article you must be an Insider
July, 17, 2014
Jul 17
8:00
AM ET
By
ESPN.com staff
| ESPN.com
It's the unofficial start of college football season as media events kick off with the biggest one of all, the four-day SEC circus in Hoover, Alabama. Keep this page open throughout today's proceedings as we bring you all of the latest from our array of reporters, who will cover all 14 teams at the event.
July, 17, 2014
Jul 17
7:00
AM ET
HOOVER, Ala. -- The fourth and final day of SEC media days will likely be a circus with Alabama coming through, but there will be no shortage of storylines on all four teams in attendance Thursday. Let's take a look.
Georgia (10 a.m. ET):
The expectations are high for this team, but if you ask Mark Richt who he has left in the secondary, it might take him a minute to respond. Josh Harvey-Clemons and Tray Matthews were both dismissed from the team, and Shaquille Wiggins transferred away from the program. That leaves the Bulldogs extremely thin on the back end, but star linebacker
Ramik Wilson
, who will be on hand Thursday, is back for another season. Wilson led the SEC last season with 133 tackles. On offense, it's all about
Todd Gurley
. If he's healthy, he's one of the best running backs in college football. However,
Aaron Murray
is no longer there, which means it's now up to
Hutson Mason
to take the reigns at quarterback. Between questions about the dismissals and questions about Mason, Richt will be plenty busy Thursday.
Ole Miss (10:30 a.m.):
Are the Rebels ready to take that next step? Hugh Freeze surprised everybody, including himself, when he led his team to a bowl game in his first season, and he was able to duplicate that success last year. But with veteran quarterback
Bo Wallace
returning and 10 starters back on defense, a bowl game might not be good enough this season. They have the talent and experience to compete in a stacked SEC West. The other major talking point for Thursday will be the sensational freshman class from a year ago. The likes of
Tony Conner
,
Evan Engram
,
Robert Nkemdiche
,
Laquon Treadwell
and
Laremy Tunsil
are all a year older, which is good news for Ole Miss fans but bad news for opponents. Treadwell, in particular, could be in line for a huge season with Donte Moncrief now in the NFL.
Alabama (12:10 p.m.):
This edition of SEC media days will have a different feel for Alabama if for no other reason than the Crimson Tide aren't defending national champs for the first time in a while. How will the team respond to losing back-to-back games to end last season? And, maybe more important, how will it deal with the manner it lost to Auburn, falling to its bitter rival in the most dramatic way possible? Alabama coach Nick Saban will no doubt have an eye toward the future and the redemption it holds. But first he'll have to answer questions about a rebuilt secondary, two new starters on the offensive line, and the biggest question mark of all -- quarterback. It's safe to assume the starting job is Jacob Coker's. Just don't be surprised when Saban scoffs at the assumption.
Kentucky (1:40 p.m.):
Recruiting, recruiting, recruiting. If you're looking for a main storyline to follow with the Wildcats on Thursday, it's how well Mark Stoops and his staff have done on the recruiting trail and how that's beginning to pay dividends on the football field. The top-to-bottom talent isn't quite there to compete with the upper echelon of the SEC yet, but it's on the right path. And maybe with a few surprise players and a break here or there, Kentucky might play the role of spoiler in 2014.
Za'Darius Smith
and
Alvin Dupree
are two of the more underrated defensive players in the league, and
Jojo Kemp
and
Javess Blue
are two similarly under-the-radar playmakers on offense. Nebraska transfer
Braylon Heard
could provide some much needed depth at tailback, and
Drew Barker
has the skill set to play immediately at quarterback as a true freshman. But how will Stoops put all those pieces together? His program is improving with each recruiting class, but it needs time to mature.
Stoops Talks Sugar Bowl Win
SEC SCOREBOARD
Thursday, 8/28
Saturday, 8/30
Sunday, 8/31