September, 17, 2014
Sep 17
1:00
PM ET
By
ESPN.com staff
| ESPN.com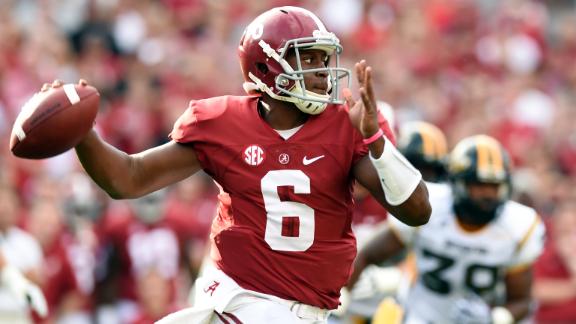 In this week's 'Prove It' video, Alex Scarborough and Greg Ostendorf take a look at the two quarterbacks in the Alabama-Florida matchup -- Jeff Driskel and Blake Sims -- and which one has more to prove this Saturday.
September, 17, 2014
Sep 17
10:43
AM ET
By
Brett Edgerton
| ESPN.com
September, 17, 2014
Sep 17
9:00
AM ET
The SEC quarterback competitions are fading fast.
Nick Marshall
is back for Auburn.
Patrick Towles
(Kentucky) and
Justin Worley
(Tennessee) have exceeded expectations. And
Kenny Hill
has gone from competing for the starting job to competing for the Heisman Trophy.
That leaves Alabama, LSU and Vanderbilt. All three schools seem to have settled on a signal caller for the time being, but how long will it last? We should find out a lot more this Saturday as they all have SEC opponents on the docket.
Alabama
Starter:
Blake Sims
Backup:
Jake Coker
How Sims performed:
Alabama fans are starting to accept that Sims is the team's quarterback and why not? The senior hasn't done anything to relinquish the job. If anything, he's shown improvement with each game. On Saturday against Southern Miss, he completed 12 of his 17 passes for 168 yards and a touchdown and also rushed for 46 yards and a score. Both Coker and
Alec Morris
came in during the second half, but neither played meaningful minutes.
What it means:
Sims is the starting quarterback until he gives up the job. If he keeps managing the offense and not turning over the football, the coaches are not going to pull him. That said, he faces his toughest test this Saturday against Florida. The Gators return all four starters on the defensive line, and with Vernon Hargreaves III at cornerback, Sims can no longer only throw the ball to his favorite receiver
Amari Cooper
. Will we see Coker? Not unless things go awry, but Sims has to play well for Alabama to win.
– Greg Ostendorf
Sims' hold on position:
8.5
LSU
Starter:
Anthony Jennings
Backup:
Brandon Harris
How Jennings performed:
Although Jennings (11-for-18 for 139 yards, INT) tossed his first interception of the season in last Saturday's 31-0 win against Louisiana-Monroe, he continues to do a solid if unspectacular job at quarterback. His passing numbers would have been better if not for a series of drops and he's minimizing his mistakes. He also showed some nifty moves in escaping from a sack and then ran for a 22-yard gain. To this point, he has been what LSU's coaches want him to be: A steady game manager.
What it means:
The ULM game made it even more evident that Jennings holds a clear lead over Harris as the starter. Jennings played every offensive snap until the Tigers led 24-0 late in the third quarter. Once Harris got into the game, he screwed up at least two play calls and had to scramble for yardage once everyone else ran a different direction than he expected. Until he has a firm grasp on the playbook, Harris won't truly challenge for the starting job.
– David Ching
Jennings' hold on position:
8
Vanderbilt
Starter:
Patton Robinette
Backup:
Wade Freebeck
,
Stephen Rivers
,
Johnny McCrary
How Robinette performed:
Exploring all options to find a quarterback, Derek Mason went with the true freshman Freebeck against UMass. That experiment lasted all of a quarter before Mason pulled him in favor of Robinette, the team's original starter. The sophomore took advantage. In three quarters, Robinette threw for 147 yards, rushed for 35 yards and scored two touchdowns to lead the Commodores back from an 11-point second-half deficit and notch their first win of the season.
What it means:
Has Vanderbilt finally settled on a quarterback? Don't assume anything with Mason calling the shots, but he did say Tuesday that Robinette is their guy until something happens to change that. It sounds like Robinette will have a longer leash this Saturday against South Carolina, and maybe that will give him a little added confidence. It also wouldn't be surprising if a different quarterback finished the game.
– Greg Ostendorf
Robinette's hold on position:
4
September, 16, 2014
Sep 16
2:00
PM ET
TUSCALOOSA, Ala. --
Amari Cooper
is a game-changing talent at receiver. His ability to catch the football, make one guy miss and take it the distance is uncanny. His yards-after-catch numbers are gaudy. As of Monday, he leads the country with 33 receptions and is third overall with 454 yards receiving. And that's not counting the passes he hauls in behind the line of scrimmage, of which he has three "carries" for 29 yards. But those are just the cherries on top.
Cooper is arguably the best receiver in the country. But for Alabama's offense to be successful, he can't continue to do it alone.
[+] Enlarge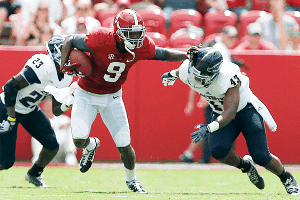 AP Photo/Brynn AndersonAmari Cooper has accounted for just over half of Alabama's receiving yards this season.
It's fine that Cooper is the focal point of the offense, but he can't be the entire playbook on a weekly basis. Teams like Florida won't allow it. Cornerbacks like
Vernon Hargreaves III
and safeties like
Jabari Gorman
will get in the way of an Amari Cooper-centric attack. Florida's Will Muschamp didn't look great coaching against Kentucky last weekend, but the man knows defense and understands how to double- and triple-team a receiver.
Take last season for instance. Despite the mess that it was for Florida, the defense held down LSU's Odell Beckham Jr. and Jarvis Landry. Neither receiver had more than 60 yards receiving or a single touchdown.
Dorial Green-Beckham
, Missouri's most talented receiver last season, was held to 52 yards and no touchdowns, too.
Receivers are reliant. Quarterbacks are not.
Blake Sims
, despite all the good work he's done in winning the starting job, must get the ball to his other weapons on Saturday against the Gators.
So far, Cooper has accounted for 48.5 percent of all of Alabama's receptions and 50.8 percent of all passing yards. He's been targeted 43 times. The next closest is
Christion Jones
, who has been thrown to only 14 times.
Chris Black
, who has started in place of
DeAndrew White
, has three total receptions. Starting tight ends
Brian Vogler
and
O.J. Howard
have combined for just one reception.
While there's been a lot to like about Sims and the new life Lane Kiffin has breathed into the offense, there's still a lot of uncharted territory to be discovered.
Kenyan Drake
has shown flashes of Reggie Bush-like ability,
Jalston Fowler
has caught the ball a few times in his versatile H-back role and even young
ArDarius Stewart
has gotten somewhat involved. But none have been truly featured.
Howard, who has the ability to be a mismatch against any defense, simply hasn't gotten the football. We're waiting on an APB to be sent out on the All-America talent. He's been thrown to once all season and it resulted in an interception. You could say he's not worked to get himself open, but that's a faulty argument because good coordinators find a way to get their best players the football in space. Sometimes that means setting a pick, dump it off into the flat or dialing up a screen pass. Howard is fast and athletic enough for any of those options.
Before Saturday's win over Southern Miss, Saban insisted that Howard needed to be more involved in the offense. That obviously didn't happen. Following Alabama's 52-12 beat down, Saban reiterated the need for more playmakers to emerge.
"We need to get more people involved offensively," he said. "Coop has had a great start, but we have other guys that are capable players. Chris Black dropped the ball tonight. He's a capable playmaker. We need those guys to play and get confidence. Getting DeAndrew White back will help us. Christion Jones had four catches tonight. We need to get more guys involved."
September, 16, 2014
Sep 16
12:00
PM ET
Despite Saturday's loss to South Carolina,
Todd Gurley
is still among the favorites to win the Heisman Trophy this season.
Georgia's stud running back did just about everything he could have to win that game Saturday. He broke through tackles, changed the field on a dime during a wild 17-yard gain, drug Gamecocks -- likely kicking and screaming -- on his back and legs, and flattened guys in his way inside Williams-Brice Stadium.
[+] Enlarge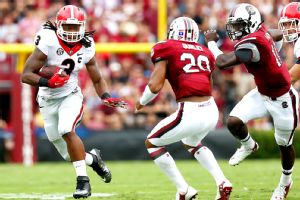 Streeter Lecka/Getty ImagesTodd Gurley did everything he could do to get Georgia a big road victory at South Carolina. Although the Bulldogs lost, he's still a top Heisman candidate.
Call this hyperbole if you want, but it wouldn't shock me if the lightning that delayed Saturday's game and the thunder heard in the distance that day wasn't linked to Gurley's presence in Columbia.
Still, it wasn't enough, but who knows what would have happened if he'd been given the ball on that first-and-goal from South Carolina's 4-yard line with 5:24 left in the fourth quarter. I know Bulldogs fans are wondering how the Dawgs went away from their workhorse back at such a critical moment ...
Through two games, Gurley is second in the SEC with 329 rushing yards on 35 attempts. He's averaging a whopping 9.4 yards per carry and has four rushing touchdowns. He also has a 100-yard kickoff return for a touchdown.
Gurley is your leader in the Heisman clubhouse nationally and the unquestioned one when it comes to SEC candidates. He has that special, rare blend of power, speed and agility that Playstation footballers wish they could compute.
But we already knew all that. So today, I thought we'd talk a little bit about the quarterbacks.
We can't have 10 legitimate Heisman candidates in the SEC. It's just not logical. But we
can
talk about a handful of guys who could throw themselves into the mix as the season goes on.
Now, will all of these guys be in the Heisman discussion in November? No. In fact, there's a good chance that by October most of this list will be eliminated from serious contention. But at this early part of the season, it was necessary to mention what these guys had done so far.
Here are a couple of other players to watch when it comes to SEC Heisman chances:
September, 16, 2014
Sep 16
10:00
AM ET
September, 16, 2014
Sep 16
8:00
AM ET
It's a fact frequently brought up in Missouri circles but not necessarily around the league, and it's one I find fascinating. The Tigers continued their nation-long active streak of forcing turnovers to 47 consecutive games on Saturday and
it started with an interception by Missouri defensive tackle
Josh Augusta
. That triggered a run that would see the Tigers collect four turnovers in a 38-10 rout of Central Florida. It was one of the highlights of a great day by the Tigers' defensive line,
including a strong performance from
Shane Ray
, who was eventually named SEC Defensive Player of the Week. The Tigers continue to simply play well and win. They have one more non-conference game (Indiana) before getting their chance to defend their SEC East division crown.
If Florida wants to be successful defensively, pressuring quarterbacks is paramount. On Saturday against Kentucky,
Dante Fowler Jr
. did a good job of it but didn't have a ton of help.
That has to change when the Gators play Alabama
this week. The individual matchup involving Fowler should be interesting -- he is facing Alabama true freshman
Cam Robinson
, the No. 1 offensive tackle in the 2014 recruiting class. For what its worth,
the Gators said they needed some adversity
, like Saturday's game provided, before going to Tuscaloosa.
Days after its loss at South Carolina, Georgia is still the subject of much conversation. A lot of it centers around the offensive playcalling and coordinator Mike Bobo. My colleague Edward Aschoff said not giving the ball to running back
Todd Gurley
near the goal line late in the game
was the wrong call
. That topic was even the
first question posed to Mark Richt by a caller on his weekly radio show
and he admitted that "I think we were all thinking the same thing on the ride home." The Bulldogs play Troy this week, so don't expect that chatter to calm anytime soon.
Read more
here
.
Around the SEC
Tweet of the day
@obnoxiousCUfan @MarshallM13 when you beat us

— Elliott fry (@elliott_fry22) September 14, 2014
September, 15, 2014
Sep 15
9:20
PM ET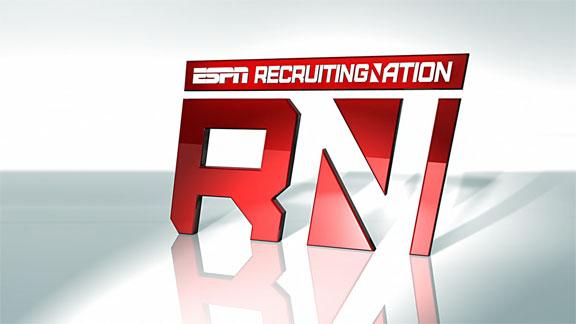 ESPN 300 offensive lineman
Matt Burrell Jr.
has already taken an official visit to
Ohio State
, and that trip has resonated with the No. 61 ranked prospect. He still has four more official visits to take, but Burrell says he has his list in order as it stands.
To continue reading this article you must be an Insider
September, 15, 2014
Sep 15
12:00
PM ET
What do we know about the SEC right now? Not as much as we thought we did on Friday, before Kentucky put a triple-overtime scare into Florida, South Carolina toppled Georgia and other conference teams gave us reason to doubt previous assumptions about the SEC hierarchy.
The uncertainty is part of what makes following the league fun, though. With a couple more SEC teams jumping into conference play this week, we should soon gain a better understanding of where things actually stand within the conference. But for now -- with a couple of key SEC games and a huge nonconference matchup on Thursday ahead -- let's celebrate how many SEC fan bases truly believe their teams have a legitimate chance to make it to Atlanta in December.
A quick look at the week ahead:
Game of the week: Florida at Alabama
Little did we know before the season that Florida's first major challenge of the fall would come from Kentucky and not from Nick Saban's juggernaut in Tuscaloosa. Will Muschamp's team (2-0, 1-0 SEC) needed an all-star performance from receiver
Demarcus Robinson
(15 catches for 216 yards and two touchdowns) and an assist from the back judge who was minding the play clock on a key fourth-down play to beat the Wildcats (2-1, 0-1) in overtime. The Gators need to make a lot of progress in a little time if they're to have a chance against No. 3 Alabama (3-0), despite the Crimson Tide's over reliance on dump-off passes to
Amari Cooper
and occasionally shoddy pass defense. Florida has the ability to make this a competitive game, but it must look a lot more like the team that destroyed Eastern Michigan, 65-0, two weeks ago than the one that easily could have lost to Kentucky.
Player under pressure: Dak Prescott
Mississippi State's quarterback has been great against three overmatched teams so far (Southern Miss, UAB, South Alabama). When they visit No. 8 LSU this weekend, Prescott and the Bulldogs will gain their first real opportunity to prove they'll be more than a middle-of-the-pack program in the SEC West this season. LSU hasn't allowed a single point in nine quarters and has outscored opponents 108-0 since falling behind Wisconsin, 24-7, early in the second half of the opener. The Tigers traditionally win comfortably in this series, so the pressure is on Prescott to keep the Bulldogs afloat against by far the best team they will have faced to date.
Coaches under the microscope: Georgia coordinators Mike Bobo and Jeremy Pruitt
A longtime Mark Richt assistant, Bobo has fielded some of the most productive offenses in school history in recent seasons, but he has taken plenty of heat for not handing the ball to
Todd Gurley
on Saturday with Georgia knocking at the South Carolina goal line with the chance to take a late lead. That decision blew up in Bobo's face when the drive sputtered and normally solid kicker
Marshall Morgan
missed a chip-shot field goal. Meanwhile, newcomer Pruitt's defense was atrocious, surrendering 447 yards of total offense following a solid debut two weeks ago against Clemson. This Saturday's matchup against Troy shouldn't provide a major challenge for the Bulldogs, but it will be their next opportunity to get bad tastes out of their mouths.
Storyline to watch: Auburn's travel schedule
Playing a Thursday night game halfway across the country can't help but be disruptive for Gus Malzahn's No. 5 Auburn Tigers (2-0, 1-0). It might be a competitive challenge, too, as the 1,000-mile trip to Manhattan, Kansas, will culminate with Malzahn's team facing No. 20 Kansas State (2-0). The sunny side of the unusual trip is that Auburn was off last weekend, so it will not play on short rest. Plus the Tigers will have nine days until they host Louisiana Tech on Sept. 27, so they have extra recovery time built into the back end of this trip and a relatively easy nonconference game between K-State and a huge SEC matchup with LSU on Oct. 4. Nonetheless, this odd piece of scheduling will probably create a couple of headaches for Malzahn and his staff.
Intriguing matchup: Arkansas running game against Northern Illinois defense
Fresh off a 438-yard outing in Saturday's win at Texas Tech, Arkansas' impressive rushing attack seems to rank among the nation's best.
Jonathan Williams
(22 carries, 145 yards, four TDs against Texas Tech) and
Alex Collins
(27-212, 2 TDs) might be the best tandem in the SEC and the Razorbacks' offensive line is doing fine work. Let's see how they fare on Saturday against a Northern Illinois defense that ranks 13th nationally against the run, surrendering 81 yards per game and 2.4 yards per carry. The Huskies posted those numbers in wins against Presbyterian, Northwestern and UNLV, so they certainly haven't seen the likes of Arkansas' running game yet. It seems highly likely NIU's opponent averages might rise a bit after Saturday's game.
September, 15, 2014
Sep 15
10:30
AM ET
TUSCALOOSA, Ala. -- You can see it in his body language;
Blake Sims
has settled down. His head isn't on a swivel any more. His eyes aren't feverishly bouncing from side to side. His feet have suddenly stopped dancing around inside the pocket. Everything he does on the football field he's now doing more confidently, and it's paying off.
Sims is Alabama's starting quarterback.
Through three games, the redshirt senior hasn't done anything to lose the job. He's connected on 75 percent of his passes, throwing for 646 yards and four touchdowns. He's also run for 102 yards and two scores. His total QBR of 89.6 ranks sixth nationally, ahead of
Jameis Winston
and
Trevor Knight
.
[+] Enlarge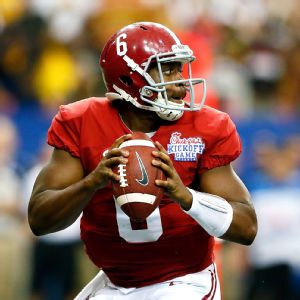 Kevin C. Cox/Getty ImagesAlabama quarterback Blake Sims has a higher QBR than Jameis Winston three games into the season.
But more importantly, the former running back/receiver has executed Lane Kiffin's offense with near-perfect precision, while his chief competition,
Jake Coker
, has struggled to call the right play and make the right decisions. Too many times Nick Saban has had to pat the former Florida State transfer on the behind and walk him through what he did wrong.
Coker may get there before it's all said and done, but in the meantime there's no doubt who is in charge. And who would have guessed a month ago it would be Sims?
Ken Mastrole says he saw it coming. The former NFL quarterback turned personal QB coach worked with Sims for nearly 100 hours this offseason, working on the mechanics of Sims' throwing motion, his release point and the way his feet move when he delivers the football.
But the specifics of Sims' game that everyone seems so concerned with didn't bother Mastrole all that much. There were always going to be questions about Sims' arm strength, he understood. There was always going to be some hitch in his delivery. Rather than starting over, he wanted to make the best, most confident version of Sims.
In conversations, in phone calls and in text messages, Mastrole coached Sims on how to do the job of a quarterback. He told Sims about having his teammates' backs, taking his linemen out to dinner and handling adversity. They even spoke about how to handle "the transfer situation," as Mastrole put it.
"Embrace it, get to know each other," he told Sims of Coker's late arrival.
Sims won the locker room early, but the way it translated on the field wasn't expected by many. Not after what we saw during the spring game, when Sims looked out of sorts, throwing two interceptions and lucking out when a defensive back dropped a third.
"He just wanted to get back to work," Mastrole said. "When he got down here, we just shut it out. We didn't talk about A-Day."
Now Sims is a new man.
"He's gelling very well for a first year in the offense," Mastrole said. "He looks very confident and very poised. I love his demeanor."
His teammates do, too.
Brian Vogler
, a fellow senior at tight end, said he hasn't been surprised by how far Sims has come.
"He's a smart football player," Vogler said. "He makes the right decisions and he has the great ability to make things happen with his feet. It's a whole new dimension to our offense.
"He's really matured over these last three games."
Maybe it was during the summer or maybe it was the spring, Vogler couldn't remember. But at some point he saw things click for Sims.
"He zoned in and said, 'It's time to lock down. I haven't taken these last four years as seriously. It's time to lock in and do what I can to be the best quarterback,'" Vogler said.
Cyrus Jones
, a junior cornerback, goes against Sims every day in practice. To him, it was just a matter of time before Sims gelled within the offense. As Jones put it, "Experience is definitely in the key. ... You can't play this game without confidence.
"I had confidence in Blake since Day 1," he said. "I know what kind of athlete he is. I know what type of drive he has and what type of focus he has. I'm not surprised he's playing as well as he is."
But this much better? How many people in their heart of hearts expected that?
"Do we want to continue working both quarterbacks and work both guys? Absolutely," Saban said. "Jake needs to play and develop confidence, but I think we're going to have to make decisions on a week-to-week basis on who gives us the best opportunity to win. Right now Blake is probably more confident. If that remains that way, he's probably going to start."
"The first game I was trusting the line," Sims said. "I was trusting the wide receivers. And as the games go by, I'm trusting them more and more, and they're trusting me that I'll get the ball there."
If he continues to play well Saturday against SEC rival Florida, Sims may never surrender the starting job. But that's a big if. The Gators have one of the best defenses in the SEC and boast one of the top cornerbacks in the country in
Vernon Hargreaves III
. Those quick passes to
Amari Cooper
and all the yards after catch he's accumulated might not be so easy to come by.
Mastrole's advice to Sims heading into the biggest test of his career? Don't change.
"Just trust your offense," Mastrole said. "Play within the system. No stage is too big. It's just another opportunity to go out there and play the game you love.
"It's a kid's game. Take all the pressure off and just go out there, trust your preparation during the week and go out there and executing the offense. Don't even worry about the jerseys lining up on the other side."
Those might all be typical coaching cliches, but they've gotten Sims this far. Now we'll see if they can carry him to the next level.
September, 15, 2014
Sep 15
8:00
AM ET
Arkansas' 49-28 win at Texas Tech was a big one for the Hogs in the Bret Bielema era, perhaps the biggest to date. It's a sign of a program showing improvement after a rough 2013. In the aftermath, much of the discussion focused on the Razorbacks' running game, led by Alex Collins, Jonathan Williams and that big Arkansas offensive line. Rightfully so. But what is easy to overlook is the performance of the Razorbacks' defense, which took some body blows early but had an impressive second half, holding the high-powered Red Raiders to just seven points. New defensive coordinator Robb Smith's crew
stood up to the challenge Texas Tech presented
and helped Arkansas score a seminal win as a result.
Though they lost, Kentucky opened a lot of eyes on Saturday night in the Swamp. Taking Florida to three overtimes in a 36-30 loss is notable for a program that has been a cellar dweller. One of the reasons for the Wildcats' ability to compete is the increased talent on the field they've gathered in recruiting under coach Mark Stoops. Several of those young Wildcats, especially receiver Garrett Johnson,
give Kentucky reason for hope in the future
.
Alabama coach Nick Saban is often cited as one of the most detailed-oriented coaches around. That may be true, but it doesn't apply to every part of the game, apparently. Asked after Saturday's win over Southern Mississippi about the play of left guard Leon Brown,
Saban admitted that he doesn't pay much attention to the offensive linemen
. As a former quarterback and defensive back, he focuses on the skill players. He emphasized that the linemen are important but that he doesn't even "watch them during individual [drills]."
You can see the video, where Saban smiles and jokes his way through the soliloquy, here
.
Around the SEC
Tweet of the day
Hahahaha, Billy Horschel doing the Gator Chomp on 18 after winning the Tour Championship and getting booed by Georgia fans.

— Dan Wolken (@DanWolken) September 14, 2014
Blake Sims Progressing
SEC SCOREBOARD
Thursday, 9/18
Saturday, 9/20