April, 24, 2012
4/24/12
2:07
PM ET
By
RecruitingNation staff
| ESPN.com
Reuben Foster (Auburn, Ala./Auburn), the top rated linebacker and the second overall rated recruit in the ESPN 150 talks with RecruitingNation's Jamie Newberg at the Atlanta Nike Football Training Camp. Foster is an Alabama commit.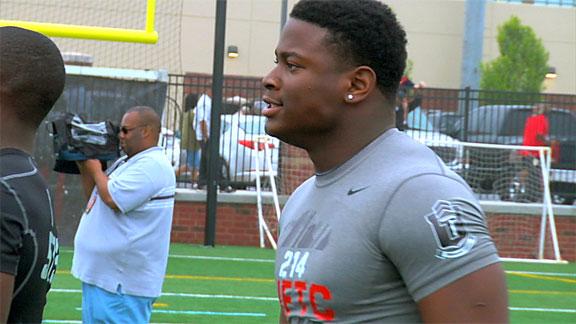 April, 24, 2012
4/24/12
12:57
PM ET
One of the most anticipated arrivals for Sunday's NFTC was that of the nation's top-rated offensive lineman,
Laremy Tunsil
(Lake City, Fla./Columbia).
Tunsil, the No. 3 overall prospect in the ESPN 150, has kept his recruitment close to the vest but was willing to reveal his top five Sunday.
"My top five as it stands is Oklahoma, Georgia, Florida, LSU and Alabama," Tunsil said. "I like their playbooks, the offense will allow me to pull and have my hand in the ground.
To continue reading this article you must be an Insider
April, 24, 2012
4/24/12
9:49
AM ET
TUSCALOOSA, Ala. -- Even as the Crimson Tide practiced in shells and shorts this April, coach Nick Saban had opening day on his mind.
[+] Enlarge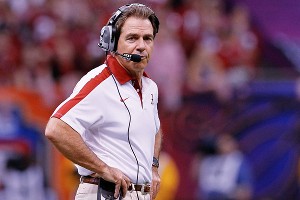 Kevin C. Cox/Getty ImagesNick Saban is already preparing for Michigan.
While the rest of the country waited on a groundhog to usher in the start of spring, the University of Alabama coaching staff prepared for a pack of wolverines.
The colossal Alabama-Michigan matchup at Jerry Jones' equally enormous Cowboys Stadium won't be left wanting for anticipation or, as it turns out, preparation. Tickets for the 80,000-seat venue are nearly sold out (a handful of $30,000 suites remain if you're into that sort of thing), hotels are slammed and travel routes are already being arranged as two of the country's most storied programs go head-to-head for the first time in more than a decade.
Saban, who has ties to the Great Lakes where he spent 10 years as both an assistant and head coach at Michigan State, isn't doing anything to stall the hype machine. Several times during spring practice he said he'd begin introducing next year's opponents, specifically citing the Michigan game.
In fact, following Alabama's A-Day scrimmage, the fiery coach let it be known just how serious he's taking the season opener. If anyone expected a glimpse of the game plan that day, they were wrong.
April, 23, 2012
4/23/12
6:00
PM ET
After an impressive performance at the Elite 11 camp and NFTC in Atlanta this weekend, quarterback
Max Staver
could soon see his recruitment take off. The 6-foot-6, 238-pound gunslinger was easily one of the best quarterbacks from the weekend.
Currently, Staver holds offers from Louisville, Mississippi State, and Tennessee State, but he's been hearing a lot from Alabama, Auburn, Duke, Florida State, Purdue, Tennessee and Virginia.
To continue reading this article you must be an Insider
April, 23, 2012
4/23/12
12:33
PM ET
Texas had always been the leader for ESPN 150 cornerback
Maurice Smith
. He was just waiting on an offer from the Longhorns so he could pull the trigger. However, that offer came later than expected, and UT is no longer the clear-cut favorite.
In fact, after visiting the University of Alabama for A-Day a week ago, the Crimson Tide now sit atop Smith's list. The Lone Star native feels he has a chance to play right away at UA.
"All that was really eye-opening," Smith said. "Everybody wants to go in there and start. I know that's most likely not going to happen, but if I have a chance I want to know it. Even if I don't start, I know I'll still be in the rotation."
For the full story on Smith from HornsNation,
click here
.
To continue reading this article you must be an Insider
April, 23, 2012
4/23/12
9:39
AM ET
Shamire Devine
might have won the offensive line MVP award at Saturday's NFTC in Atlanta, but Alabama commitment
Bradley Bozeman
finished a close second with a dominating performance of his own at the camp.
"I don't think I could've done better at the camp," Bozeman said. "I didn't ever lose besides the one time that I slipped down. It was definitely worth the drive. It was a great camp."
Bozeman has lost 20 pounds since winning the state championship in December, and it showed on Saturday. The 6-foot-5, 300-pound lineman looked lighter on his feet, showing off a quick first step in the one-on-one drills.
To continue reading this article you must be an Insider
April, 22, 2012
4/22/12
6:20
PM ET
Despite holding a couple major SEC offers, Gadsden, Ala., wide receiver
B.J. Hammond
is somewhat of an unknown in the recruiting world.
On Saturday, he began to turn some heads with his performance at the Atlanta NFTC. The 6-foot-3, 210-pound prospect looked smooth running routes and caught everything that was thrown to him. He made it look easy.
"This is my first actual combine that I've been able to make," Hammond said. "I feel like today was a good warmup. People look at it like you stood out, but it was just a warmup to me. They haven't seen anything yet."
To continue reading this article you must be an Insider
April, 22, 2012
4/22/12
5:24
PM ET
LAKE BUENA VISTA, Fla. -- Four-star defensive end
Demarcus Walker
of Jacksonville (Fla.) Sandalwood was a standout among the defensive line at the Orlando Nike Football Training Camp Sunday.
Walker, who earned an invite to The Opening with his performance, was still disappointed after the event ended.
"I thought I was the best," Walker said. "I thought I should have been the MVP, but oh well, it's straight."
To continue reading this article you must be an Insider
April, 22, 2012
4/22/12
4:29
PM ET
TUSCALOOSA, Ala. -- The University of Alabama coaching staff had the right plan: with the game tied and nobody on, push the outfielders back to the warning track to prevent any extra base hits.

But as the saying goes, "The best laid plans of mice and men often go awry."

In the top of the ninth with the game tied at seven and one out, Vanderbilt first baseman Conrad Gregor roped a single into right field. Ben Moore, playing a no-doubles style of defense, had the would-be extra base hit corralled -- until it popped away. Moore bobbled the ball and Gregor slid safely into second base. A sac fly sent then sent Gregor to third and a high chopper moved him across home plate for the game-winning run.

Just like that, Alabama let a series sweep of Vanderbilt go through its fingers. The Commodores rallied in the series finale to beat the Crimson Tide, 9-7, dropping UA to 16-25 overall and 6-12 in SEC play.


April, 20, 2012
4/20/12
12:46
PM ET
ATLANTA -- Don't be fooled by Alabama coach Nick Saban's love for pounding opposing defenses with a powerful running game. The man would like to air it out a little more.
But when you have bruising running backs like Glen Coffee, Mark Ingram and
Trent Richardson
, it's tough not to just hand them the rock and watch them hurt people.
[+] Enlarge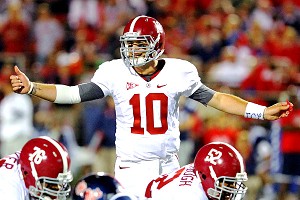 Spruce Derden/US PresswireAlabama coach Nick Saban said he's still preaching patience to QB AJ McCarron.
However, those backs are gone, and while heir to the running back throne
Eddie Lacy
appears more than capable of running down defenders' throats, Saban now has more of the pieces in place to get a little more vertical in his attack on defenses.
"I feel like you gotta do on offense what you have the players to do," Saban said in Atlanta Thursday during his second stop on the Crimson Caravan. "Now … we have a quarterback that I think is very capable, as long as he makes good decisions and judgments in terms of how he distributes the ball and doesn't turn it over."
That quarterback is redshirt junior
AJ McCarron
, who was named offensive MVP of the Allstate BCS National Championship Game and finished the 2011 season ranking third in the SEC in passing.
McCarron has all the tools to be a real star in the SEC, but he rarely looked flashy in his first year as a starter. He managed the game like his coach asked him to. There were times where he let it rip (the national title game rings a bell and so does the second half of the Tennessee game), but for the most part his job was to limit mistakes and lead the offense.
April, 20, 2012
4/20/12
12:00
PM ET
TUSCALOOSA, Ala. -- There's something about Saturdays at the Joe.

For the third consecutive time this season, the University of Alabama ended a Saturday at home with a walk-off home run, beating Vanderbilt 8-6 on an Austen Smith three-run homer with two outs and the Crimson Tide trailing by one.

Smith, who came into the game with a batting average of .205, had not hit a home run since June 3 against Central Florida. But on a high fastball from Will Clinard, he got just enough to send the ball just beyond the left-center field fence.


April, 20, 2012
4/20/12
11:59
AM ET
TUSCALOOSA, Ala. -- The University of Alabama used and abused Vanderbilt on Friday night at Sewell-Thomas Stadium, riding three Commodore errors to a 6-4 win in Game 1 of the three-game set.

Every time the Commodores made a mistake, the Crimson Tide was there to pick up pieces -- all too glad to see the ball bounce their way for one of the rare times this season. Prior to Friday's game, the Tide were on the wrong side of the error column, booting and throwing away 13 more balls than their opponents.

But this weekend started differently as UA played clean, confident baseball.

"It just kind of worked in our advantage tonight," said coach Mitch Gaspard. "God knows we've been on the other side of that enough this year. When you play clean, that's a big part of the game: don't beat yourself."


April, 20, 2012
4/20/12
10:17
AM ET
BIRMINGHAM, Ala. -- It's hard to miss
ArDarius Stewart
when he's out on the field.
For one, he's an ESPN 150 athlete who's considered one of the best prospects in the state of Alabama for 2013. But if you ask opposing players and coaches, they'll tell you it's his shoes that make him stand out.
Since he was young, Stewart has always tried to stand out, wearing white shoes when everybody else has black ones on, that sort of thing. At Fultondale (Ala.) High School, Stewart wears bright orange shoes every game. You notice them until he runs by you, and then it's just a blur.
To continue reading this article you must be an Insider
April, 19, 2012
4/19/12
3:05
PM ET

Alabama redshirt sophomore wide receiver
DeAndrew White
was one of two victims hospitalized overnight after sustaining injuries during an early Thursday altercation on The Strip in Tuscaloosa, Ala., a source close to the situation confirmed to
the Tuscaloosa Bureau
.
The source told the Tuscaloosa Bureau that White wasn't seriously injured, but did sustain a concussion.
There's no word yet on how White was involved in the fight, but university police arrested two men for firing handguns in the air during the fight, "allegedly to disperse the crowd," Tuscaloosa Metro Homicide Unit commander Loyd Baker said.
White, who caught 14 passes for 151 yards and two touchdowns, had a pretty productive spring and is expected to contribute even more this fall in Alabama's offense. Alabama hopes he can develop into a more reliable deep threat with his speed and explosiveness.
April, 19, 2012
4/19/12
3:01
PM ET
ESPN 150 tight end
DeSean Smith
(Lake Charles, La./Barbe) plans to make his decision in January, during the U.S. Army All-American Game.
"I know I want to visit LSU and Alabama. I know I want to visit one of the three Florida schools [Florida State, Florida or Miami]," Smith said. "I would love to get out to Cal and see some places out West. And I will probably visit Notre Dame. All of those schools have offered. I have 18 total right now."
Smith, now 6-foot-5 and 230 pounds, said Texas A&M was the first school to offer him last summer.
To continue reading this article you must be an Insider