July, 10, 2012
7/10/12
11:54
AM ET
The SEC has the reputation of being the toughest conference to play/coach in. But what is it like to be in charge of one of these high-profile programs?
That's where we come in. As we take a deeper look into programs around the country this week, we're looking at how each program stacks up in every conference. In the SEC, there's always a fierce arms race going on, and getting left behind can be dangerous.

Today, we're ranking each coaching job in the SEC. We considered a lot of factors, including location, tradition, support, fan bases, facilities and recruiting access.
Here's how we ranked all 14 SEC jobs.
1. Florida:
For starters, Florida is all about location, location, location. It's in a state that produces some of the country's top talent and it's a state that players around the country will flock to. Thanks to Steve Spurrier and Urban Meyer, Florida has become a national brand like Ohio State, USC, Notre Dame and Texas. Recent significant facility upgrades and a tremendous fan base have only helped this be the top job in the SEC.
2. LSU:
It's one of just a handful of schools around the country that's considered
the
school in the state. Every football player in Louisiana grows up wanting to play in Tiger Stadium. Louisiana is also extremely bountiful when it comes to producing football players, and Texas is right around the corner. The facilities are top notch and the program has great tradition and a tremendous fan base.
3. Alabama:
Talk about extraordinary tradition. Though there were some down years before Nick Saban took over, there's no escaping the success this program has had. Prospects from all over are drawn to Alabama. There's tremendous support inside and outside for the program, and the facilities are some of the best in the nation. This is also a school that didn't hesitate to pay Saban the big bucks when the opportunity arose.
4. UGA:
There is so much talent around Athens that it's hard for Georgia not to have a top recruiting class year in and year out. Georgia's facilities are near the top of the conference, and the campus is gorgeous. The tradition and game-day atmosphere would draw anyone in.
5. Auburn:
While it's constantly knocking heads with Alabama, Auburn has plenty going for it. The campus is gorgeous, the stadium is one of the best game-day venues in the league and the fan base is extremely passionate. Auburn is in the heart of recruiting central in the Southeast, and the recently updated facilities are a major plus.
6. Tennessee:
While the Vols have struggled with consistency on the field lately, this is still an attractive job. Nearly $50 million was spent to build a brand-new football complex, Neyland Stadium has been spruced up over the years and the program does have a rich tradition. Though with the state not being so talent-rich, coaches are forced to target other areas in the Southeast to recruit.
7. Texas A&M:
The Aggies' tradition is well-known in college football. The game-day atmosphere is one of the best in the country, there is a great alumni base, their home state is filled with elite talent and the school is huge. Now Texas A&M can sell playing in the SEC to Texas athletes. But one thing that does hang over the program is that it's still playing second to the Longhorns.
July, 10, 2012
7/10/12
7:32
AM ET
Each week at TideNation we will speak with a writer who covers one of Alabama's 2012 opponents. Today we spoke with David Helman, who covers all things LSU for
GeauxTigerNationESPN.com
.
Scarborough:
What is the mood around the LSU campus in the aftermath of losing to Alabama in the national championship game? Is there a sense of revenge?
Helman:
I'm not sure the word "revenge" completely encapsulates what LSU fans want out of 2012. Sure, any and every Tigers fan wants to beat the Crimson Tide on Nov. 3. But it wasn't just a big rivalry game Alabama won last January -- Nick Saban and Co. completely tainted what had been one of the most impressive single seasons in college football history. Beating Bama would be huge, but for many LSU fans, a national title might be the only way to wash Jan. 9 away.
To continue reading this article you must be an Insider
July, 10, 2012
7/10/12
7:16
AM ET
The rundown
2011 overall record:
13-1
2011 SEC record:
8-0 (first, beat Georgia in SEC championship game)
Record all time against Alabama:
25-46-5
To continue reading this article you must be an Insider
July, 10, 2012
7/10/12
7:00
AM ET
From now until kickoff in Arlington, Texas, we'll be counting down the days before Alabama and Michigan get the season started. Today, we move to No. 53 and what it means to UA football. See all the previous editions here.
The University of Alabama has never had a pass-happy football program. Since 1970, only once has a Crimson Tide quarterback attempted 50 or more passes. The last time: In 2007 against Florida State, John Parker Wilson completed 28 of 53 passes for 240 yards and two touchdowns. Alabama lost, 21-14.
In 2007, Wilson attempted a school-record 462 passes. Averaged over 13 games, he threw the ball 35.5 times per contest.
Compare that with last season. In 2011-12,
AJ McCarron
threw 134 passes in the same number of games. McCarron waited until the final game of the season against LSU to attempt a season-high 34 passes. In all but five games, he attempted 25 or fewer passes.
Since 2007, no Alabama quarterback has attempted more than 328 passes in a season.
From 2008-11, the most passes attempted in a single season was 700 from Case Keenum at Houston. Last season, Keenum attempted the most passes in college football again, slinging the ball 603 times.
LEADERS IN PASS ATTEMPTS

2011-12
1. Case Keenum -- HOU: 607
2. Seth Doege -- TTU: 581
3. Brandon Weeden -- OKST: 564
62. AJ McCarron -- ALA: 328



2010-11


1. Landry Jones -- OKLA: 617
2. Dominique Davis -- ECU: 609
3. Bryant Moniz - HAW: 555
67. Greg McElroy -- ALA: 313



2009-10


1. Case Keenum -- HOU: 700
2. Tyler Sheehan -- BGSU: 575
3. Tyler Hiller -- WMU: 514
57. Greg McElroy -- ALA: 325



2008-09


1. Graham Harrell -- TTU: 626
2. Case Keenum -- HOU: 589
3. Chase Daniel -- MIZZ: 528
T-66. John Parker Wilson -- ALA: 321



2007-08


1. Graham Harrell -- TTU: 713
2. Matt Ryan -- BCU: 654
3. Curtis Painter -- PUR: 569
23. John Parker Wilson -- 462
July, 9, 2012
7/09/12
10:20
PM ET
Reuben Foster admitted he was impressed.
After taking an unofficial visit to Washington, the 6-foot-2, 242-pound inside linebacker (Auburn, Ala./Auburn) likes where the Huskies are headed.
"With the stuff they're building now, it has yet to come," said Foster, who is rated the nation's No. 2 prospect in the ESPN 150. "They're building a program. They're building a good program. And I've seen it. There's a difference when you see it."
To continue reading this article you must be an Insider
July, 9, 2012
7/09/12
4:10
PM ET
While participating at The Opening, ESPN 150 defensive back
Shaq Wiggins
(Tyrone, Ga./Sandy Creek) planned to hold a meeting with several prospects in hopes of getting all of them to go to the same program.
And while the meeting had a few hiccups overall, Wiggins was pleased by the progress.
"We probably didn't hang out for as long as we could have but Reuben [Foster] left early so we had to deal with that," Wiggins said. "Still it was a good meeting and I think everyone knows what's up."
To continue reading this article you must be an Insider
July, 9, 2012
7/09/12
12:24
PM ET
By
RecruitingNation
| ESPN.com
Five-star defensive back
Vernon Hargreaves III
(Tampa, Fla./Wharton) will leave The Opening but remain on the West Coast for a few more days. The 5-10, 185-pound senior will take unofficial visits to Oregon, USC and Stanford.
These will be the first out-of-state visits for Hargreaves, who said he currently favors South Florida, Florida and Miami. After this trip he will visit more programs on the other side of the country, including Notre Dame, Alabama, Ohio State and Clemson.
As for his West Coast swing, Hargreaves said stops at Oregon State, Cal and UCLA are also possibilities.
To continue reading this article you must be an Insider
July, 9, 2012
7/09/12
12:18
PM ET
Everybody can recite who's the all-time winningest coach in the SEC.
Bear Bryant won 232 career games at Alabama and became one of the most iconic figures in college football along the way.
To this day, Bryant's name is mentioned with reverence around the Capstone.
But even if you take his 232 career wins out of the equation, the Crimson Tide would still have 582 wins.
[+] Enlarge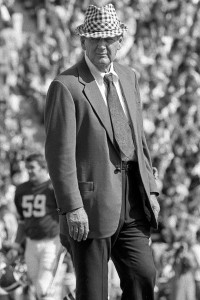 Bernard Troncale/US PresswireBear Bryant won 232 career games at Alabama.
So while the guy with the Houndstooth hat carved out a legendary career at Alabama, the Crimson Tide's success on the football field hasn't been defined solely by the Bryant years.
Frank Thomas won 115 games. Gene Stallings won 62 games. Wallace Wade won 61 games. Nick Saban -- in just five seasons -- has already won 55 games.
All five men, including Bryant, have also won national championships at Alabama.
In surveying the winningest coaches at all 14 SEC schools, some of what you find, especially when you take away each school's all-time wins leader, is telling.
For instance, Bryant is actually the winningest coach at two different SEC schools. He was 60-23-5 at Kentucky from 1946-53, and led the Wildcats to eight consecutive winning seasons.
Since Bryant's departure from the Bluegrass following the 1953 season, the Wildcats have had 10 other head coaches, but only one of them compiled better than a .500 record, Blanton Collier, who succeeded Bryant, was 41-36-3 in eight seasons.
Steve Spurrier could join Bryant this coming season as the second coach to earn the distinction of being the winningest coach at two different SEC schools.
July, 9, 2012
7/09/12
12:17
PM ET
Earlier, we
ranked all 14 quarterback groups
in the SEC. Now, it's time to rank the top 10 SEC quarterbacks heading into the 2012 season.
Again, we are looking at overall talent, game-changing ability and experience. We also looked at past performances and projections for 2012.
Here are our top 10 SEC quarterbacks:
[+] Enlarge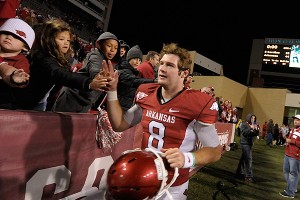 AP Photo/David QuinnArkansas quarterback Tyler Wilson passed for more than 3,600 yards and 24 touchdowns last season.
1. Tyler Wilson, Sr., Arkansas:
He could have easily left for the NFL after passing for more than 3,600 yards and 24 touchdowns last season. His big-time arm and incredible toughness weren't too shabby either. While his decision-making came into question sometimes last season, Wilson made tremendous strides this spring and should be an even smarter passer this fall.
2. Aaron Murray, RJr., Georgia:
Murray has a chance to own a few more school and SEC records before his time at Georgia is up, but he does have to get over his turnover issues. Murray has some of the best technique and mechanics around, and when he's on and focused, he is one of the most talented passers out there.
3. Tyler Bray, Jr., Tennessee:
Bray might have the strongest arm in the SEC, and has the ability to make some of the toughest throws in traffic. If he's healthy, he could go for 3,000 yards and 30 touchdowns. His focus hasn't always been great, but he made sure to correct that this spring and appears to finally be transforming into the
real
leader he's wanted to be.
4. AJ McCarron, Jr., Alabama:
He has the tools and the moxy to be a real star. As last season progressed, he looked better and better, and capped things off with a marvelous performance in the BCS title game. If coach Nick Saban is really going to let him loose, McCarron has to improve some of his on-field decisions.
5. James Franklin, Jr., Missouri:
If he's healthy, Franklin will be the SEC's top dual-threat quarterback. During a breakout season last fall, he passed for 2,865 yards and 21 touchdowns, and rushed for 981 yards and 15 more scores. Franklin wants to be a pass-first quarterback in his new league, but his shoulder injury is a concern.
6. Connor Shaw, Jr., South Carolina:
Shaw showed his inexperience when he was first thrown into the starting spot last season, but seemed to improve and calm down every week after. Coach Steve Spurrier wants him to be more of a pass-first quarterback, and that seemed to be the case at the end of last season and this spring.
7. Zach Mettenberger, Jr., LSU:
Mettenberger was a top quarterback prospect coming out of high school, but has very little experience outside of a stint at the junior college level after leaving Georgia. Still, he's certainly an upgrade for the Tigers, and showed this spring that he should make LSU's passing game stronger and more explosive.
8. Jordan Rodgers, RSr., Vanderbilt:
Rodgers was an instant playmaker for the Commodores when he replaced the struggling Larry Smith last year, but he struggled with turnovers. This spring was all about him improving his leadership skills and his game management. Vandy's coaches left spring more confident in Rodgers' play.
9. Tyler Russell, Jr., Mississippi State:
He bided his time during his first two years, but is now
the guy
in Starkville. The hope is that he'll be more consistent and more comfortable now that he knows he's the starter. It looks like the Bulldogs will have a more downfield passing game with Russell taking over.
10. Maxwell Smith, So., Kentucky:
Smith played in eight games last season, but proved to be a much more effective player than former starter
Morgan Newton
. Despite averaging just 102.4 passing yards per game, Smith earned SEC All-Freshmen honors last fall. Smith looked even better this spring, and it appears the Wildcats' starting quarterback spot is his to lose.
July, 9, 2012
7/09/12
12:14
PM ET
AJ McCarron
and
Eddie Lacy
were both named to the Maxwell Award watch list Monday. The award is given to the country's most outstanding offensive player. Last year, Stanford quarterback Andrew Luck took home the honor.
McCarron, who was often labeled a game-manager in his first year as the starting quarterback, threw for 2,634 yards and 16 touchdowns. His 147.3 quarterback efficiency rating was fourth-best in the SEC. Lacy was a backup to Heisman Trophy finalist Trent Richardson in 2011, but had a heavy hand in the offense when healthy. He ran for 674 yards and seven touchdowns, averaging 7.1 yards per carry. Lacy is the presumed starter at running back for the Tide this season.
The defense did even better in Monday's awards release.
Nico Johnson
,
Robert Lester
,
C.J. Mosley
and
Jesse Williams
were named to the Bednarik Award watch list, tied with LSU and Michigan State for the most nominees from any college. Last year, LSU defensive back Tyrann Mathieu won the award.
Johnson and Mosley figure to start at linebacker. Johnson finished fourth on the team in tackles last season and fourth in tackles for loss. Mosley tallied 37 tackles, 4.5 tackles for loss and two sacks.
Lester's return to the Alabama secondary was big considering the losses of Mark Barron, Dre Kirkpatrick and De'Quan Menzie to the NFL. Lester rebounded from a strong sophomore campaign to finish sixth in tackles and tied for second on the team with two interceptions.
The Bednarik announcement made it two major watch lists with Williams' name on it. In May he was named to the Lott IMPACT Award Watch list, despite playing a new position this season. With the departure of Josh Chapman and Nick Gentry, Williams will likely slide into the nose tackle spot for the Tide.
July, 9, 2012
7/09/12
11:20
AM ET
By
RecruitingNation
| ESPN.com
BEAVERTON, Ore. -- Team Super Bad, led by Alabama quarterback commit
Cooper Bateman
(Murray, Utah/Cottonwood), stormed through the seven-on-seven bracket, winning four games on Sunday to take the team title at The Opening.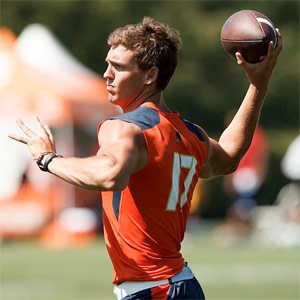 Tom Hauck for ESPN.comCooper Bateman led his Super Bad team to the championship of The Opening 7-on-7 tournament.
Super Bad beat Team Field Generals 14-6 in the championship game. It concluded the four-day event presented by Nike Football that featured top prospects from all over the country competing in not only the seven-on-seven tournament, but also a linemen challenge, SPARQ rating national championship and receiving coaching from NFL players.
"Really, we had a different mentality coming into the day," Bateman said. "We knew we were going to have to beat some good teams. We kept getting better as the day went along and felt the flow offensively."
Bateman and Field Generals QB
Max Browne
, who pledged to USC, traded touchdown passes in the first half. Bateman hit Torii Hunter Jr. for a long strike before Browne connected with
Alvin Bailey
.
Bateman then hit
Ezekiel Elliott
for a score as the first half ended.
Neither team scored in the 25-minute second half.
Kendall Fuller
intercepted Browne early to thwart a drive. On the Field Generals' final possession,
Ryan Green
took a Browne pass into Super Bad territory, but Browne could not connect on four passes to the end zone.
Keanu Neal
broke up the fourth-down throw, intended for Bailey.
Hunter secured early-round wins with late catches and made several acrobatic grabs on Sunday. The son of four-time major league all-star Torii Hunter of the Los Angeles Angels, Hunter was named MVP of the seven-on-seven play. He is undecided on a college and considering offers that include Oklahoma, Arkansas, Nebraska, Oklahoma State, Ole Miss, TCU, Notre Dame, West Virginia, Iowa, Arizona and Arizona State.
"Any kind of route, any kind of ball you throw him, he's going to make a play," Bateman said. "A couple balls that I had no business throwing, he went up and made a play. I don't know how he did it."
Hunter is also a standout center fielder at Prosper High School in Prosper, Texas. His father has won nine consecutive gold gloves from 2001 to 2009.
"His dad's who he is," Bateman said, "but Torii's making a name for himself. He definitely did it out here today. He came through for us in the clutch."
In addition to Hunter, the all-tourney team featured tight end
O.J. Howard
(committed to Alabama), linebacker
Larenz Bryant
(South Carolina), linebacker
Jaylon Smith
(Notre Dame), cornerback
Jourdan Lewis
(Michigan), running back Ryan Green (Florida State), Browne, tight end
Jake Butt
(Michigan), cornerback
Cam Burrows
(Ohio State), linebacker Matt Thomas and running back
Ryan Switzer
(North Carolina).
July, 9, 2012
7/09/12
10:49
AM ET
It's no surprise that tight end
O.J. Howard
(Prattville, Ala./Autauga Academy) performed well at The Opening. The No. 46 overall player in the country has the size and athleticism at 6-foot-6, 225 pounds to blow people away in that type of setting.
While he wasn't a finalist for the SPARQ National Championship, Howard instantly became a an integral part of his 7-on-7 team, the Land Sharks. He became a main target of Michigan quarterback commit
Shane Morris
(Warren, Mich./De La Salle) right from the get-go.
"Right away he made a great catch in the first game," Morris said. "From then on I knew he was the real deal, so I involved him a lot."
To continue reading this article you must be an Insider
July, 9, 2012
7/09/12
7:00
AM ET
From now until kickoff in Arlington, Texas, we'll be counting down the days before Alabama and Michigan get the season started. Today, we move to No. 54 and what it means to UA football. See all the previous editions here.
In a Nick Saban defense, the heart is located right in center of the action. The nose tackle is the lynchpin, the cornerstone if you will, of the defense. And in No. 54 Jesse Williams, the Crimson Tide have a dynamic building block in the middle.
The flamboyant, tattoo-clad Aussie spent last year at defensive end and will move to nose tackle this season to fill the hole left behind when Josh Chapman and Nick Gentry exhausted their eligibility. But similar to Barrett Jones' move from left tackle to center, there's little concern how Williams will fit in over center.
In early May, Williams was named to the
Lott IMPACT Trophy Watch list
. As a junior, Williams was an integral part of the No. 1-ranked defense in the country at Alabama, starting all 13 games at defensive end. The 6-foot-4, 320-pound lineman finished the season with 24 tackles, four tackles for loss and three quarterback hurries in his first year with the Crimson Tide. Mark Barron and Dont'a Hightower were both named to the watch list in 2011. Boston College Linebacker Luke Kuechly took home the trophy.
In previewing the 2013 NFL Draft, scouting guru Mel Kiper Jr. listed Williams as one of the
top five seniors available
at defensive tackle. CBS Sports has him ranked as the
No. 41 prospect overall
and No. 5 at his position.
July, 8, 2012
7/08/12
2:04
PM ET
Point guard
Anthony Barber
(Hampton, Va./Hampton) has been sensational in June and July. Considering only the point guards, Barber's moved his stock to a different level and is sitting as the nation's No. 3 point at this moment. How'd he do it?
"I'm shooting the ball better and being more vocal as a point guard," Barber said. "I'm not going at the same speed all the time and I've learned how to slow down. I think I've improved more as a point guard than I was last year."
Barber and his Boo Williams AAU team faced adversity in the spring. With plenty of talent, Boo Williams couldn't get it right and was in jeopardy of missing its first Peach Jam. Then, in Oakland at the final Nike Elite Youth Basketball League session, they got the mix down.
To continue reading this article you must be an Insider