November, 26, 2014
Nov 26
12:00
AM ET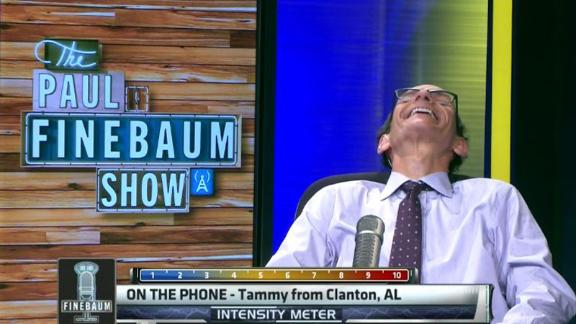 One woman is from Mulga, Alabama, the other from Clanton, Alabama.
They are both grandmothers of six.
One cheers for Alabama; the other for Auburn.
Like most college football fans in the gridiron-crazed state of Alabama, they're mortal enemies this week, as the No. 1 Crimson Tide prepares to play the No. 15 Tigers in Saturday's Iron Bowl at Bryant-Denny Stadium in Tuscaloosa.
"I've never met Tammy, but she really seems to be a sweet girl," said Phyllis Perkins, who is known as "Phyllis from Mulga" on the "Paul Finebaum Show," which airs on the ESPN-owned SEC Network. "But it's Iron Bowl week, so I don't know about her.
"She can probably hurt me physically because she's younger than me. No, I take that back. If she hits me, her ass is grass."
Among Finebaum's legion of loyal and colorful callers, there's none more famous than Perkins, a two-time cancer survivor, and Tammy Bullard, a loyal Auburn fan, who stepped across enemy lines when she married an Alabama fan last year.
In college football's craziest and often nastiest rivalry, Bullard and Perkins might very well be the First Ladies of the Iron Bowl.
"I think in some ways, they've meant everything to the show," Finebaum said. "They're the two people who, if I'm walking down a street in Birmingham or walking through LAX and someone recognizes me, they'll ask me about Tammy or Phyllis. I think they're the embodiment of what we do. They're both very genuine and they're real people."
Don't tell that to the Finebaum's listeners. If you've heard one of their weekly epic rants about the Crimson Tide or Tigers on the show, you might think they make Harvey Updyke seem normal.
Finebaum: Let's grab some more calls. And Tammy -- can't wait to hear this call -- from Alabama. Hey, Tammy.
November, 25, 2014
Nov 25
8:00
PM ET
After taking care of business against teams they were favored against, Alabama and Mississippi State hung on to their No. 1 and No. 4 spots, respectively, in the latest College Football Playoff rankings.
And the SEC got another team bowl eligible, as Arkansas earned its sixth win with a 30-0 victory over Ole Miss. So that's 11 bowl-eligible teams and counting in the SEC, including the entire SEC West.
As we head into the final week of regular-season play ahead of the SEC championship game, two teams have a shot at claiming bowl eligibility that haven't already: Kentucky and Tennessee. Kentucky's task is tough, going to No. 22 Louisville, Tennessee's is considerably more feasible, as the Volunteers travel to Vanderbilt.
Georgia, if it wins this weekend against Georgia Tech, looks to be in good position for a New Year's Six bid. There's still much to be decided, with the Egg Bowl and the Iron Bowl on deck. Alabama and Mississippi State must win to maintain their spots, if they don't, chaos will ensue.
But assuming the Crimson Tide and the Bulldogs prevail, here's how we think it'll pan out as of today, with 12 SEC bowl-eligible teams projected:
College Football Playoff semifinal (Allstate Sugar Bowl):
Alabama
College Football Playoff semifinal (Sugar Bowl):
Mississippi State
Capital One Orange Bowl:
Georgia
Chick-fil-A Peach Bowl:
Auburn
Buffalo Wild Wings Citrus Bowl:
Ole Miss
TaxSlayer Bowl:
Florida
Outback Bowl:
Missouri
AdvoCare 100 Texas Bowl:
Texas A&M
Franklin American Mortgage Music City Bowl:
Tennessee
AutoZone Liberty Bowl:
LSU
Belk Bowl:
South Carolina
Birmingham Bowl:
Arkansas
November, 25, 2014
Nov 25
7:41
PM ET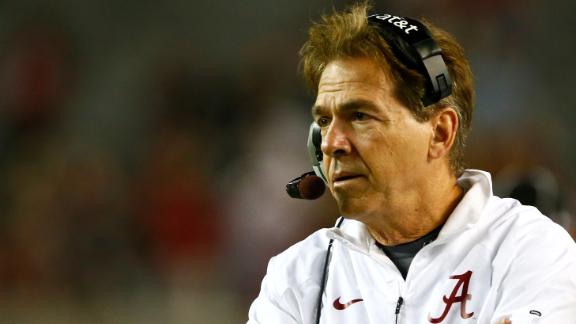 For the first time this season, the top seven teams in the College Football Playoff Top 25 have remained the same, as determined by 11 members of the 12-member selection committee (Mike Tranghese was sick and unable to travel to Dallas for the meetings).
No. 1 Alabama, No. 2 Oregon, No. 3 Florida State and No. 4 Mississippi State each won in Week 13, and in spite of another close win for the Seminoles, FSU did not drop another spot. The only difference at the top was that No. 8 UCLA, No. 9 Georgia and No. 10 Michigan State all slid up one notch to take the spot of Ole Miss, which sank nine spots to No. 19 after being shut out by Arkansas.
Here's what the bracket would look like today: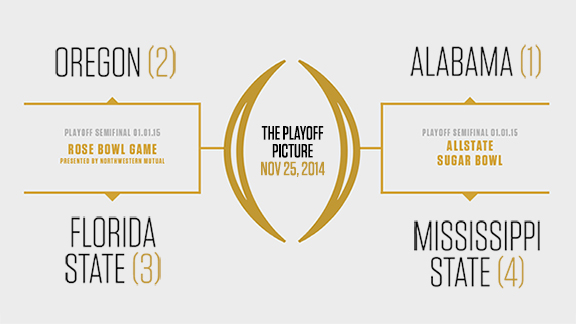 espn
TCU is still the first team on the bubble at No. 5, followed by No. 6 Ohio State and No. 7 Baylor. No. 11 Arizona jumped four spots, and No. 17 Missouri is up three spots. Another big mover was No. 18 Minnesota, which rose seven spots after beating Nebraska.
The biggest surprise this week was that not one but
two
Group of 5 teams were ranked: No. 23 Boise State and No. 24 Marshall. It was a controversial call, as Boise State is a two-loss team just one win away from clinching the Mountain West's Mountain Division, and Marshall is the only undefeated team remaining in the Group of 5. Marshall has already clinched the Conference USA East title.
Marshall is ranked No. 19 in the latest Associated Press poll, followed by No. 21 Colorado State and No. 25 Boise State. This is the first time since Week 10, when East Carolina was ranked in the selection committee's first Top 25, that the Group of 5 has been represented in the CFP rankings.
That would make Boise State the frontrunner to represent the Group of 5 in a New Year's Six Bowl.
As for the other major bowls, here's a projection based on the current rankings:
The Orange Bowl lost the ACC champion (FSU) so it gets the next highest-ranked ACC team, No. 16 Georgia Tech. The Orange Bowl then selects the next highest-ranked nonconference championship team from the Big Ten, SEC or Notre Dame. By contract, displaced conference champs from the SEC and Big Ten don't go to the Orange Bowl. That would pit the Yellow Jackets against No. 10 Michigan State because the committee would look to avoid a rematch with No. 9 Georgia.
Here's what New Year's Eve and New Year's Day could look like, based on today's rankings:
Dec. 31
12:30 p.m. ET -- Chick-fil-A Peach Bowl -- No. 9 Georgia vs. No. 7 Baylor
4 p.m. ET -- VIZIO Fiesta Bowl -- No. 23 Boise State vs. No. 8 UCLA
8 p.m. ET -- Capital One Orange Bowl -- No. 16 Georgia Tech vs. No. 10 Michigan State
Jan. 1
12:30 p.m. ET -- Goodyear Cotton Bowl Classic -- No. 5 TCU vs. No. 6 Ohio State
5 p.m. ET -- Rose Bowl Game presented by Northwestern Mutual -- No. 2 Oregon vs. No. 3 Florida State
8:30 p.m. ET -- Allstate Sugar Bowl -- No. 1 Alabama vs. No. 4 Mississippi State
November, 25, 2014
Nov 25
5:56
PM ET
ESPN.com news services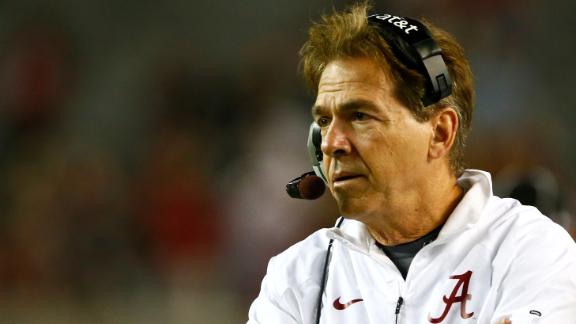 Things stayed the same at the top of the latest unveiling of the College Football Playoff rankings, but one team took quite the tumble down the list.
Alabama, Oregon, Florida State and Mississippi State are again the top four teams in the CFP rankings; in fact, the top seven teams from last week's rankings remain unchanged. TCU, Ohio State and Baylor held steady at the Nos. 5-7 spots.
Mississippi, however, took a spill, going from No. 8 last week all the way down to No. 19 after an embarrassing 30-0 road loss to Arkansas that was the Rebels' third straight SEC defeat.
As a result of Ole Miss' fall, UCLA, fresh off its win over rival USC, moved up to No. 8. Georgia and Michigan State rounded out the top 10. The Spartans benefited from the Rebels' fall, moving back into the top 10 after landing at No. 11 the previous week.
Further down the rankings is the battle to see which school from outside the Power 5 conferences will earn a guaranteed spot in a New Year's bowl. Boise State
November, 25, 2014
Nov 25
3:49
PM ET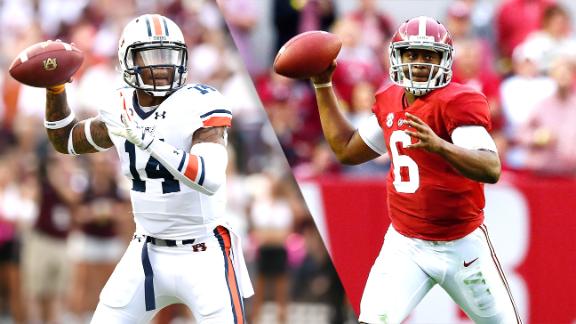 The Iron Bowl is like no other rivalry in sports. From Bear Bryant to Bo Jackson to Harvey Updyke, there's simply nothing that compares to Alabama vs. Auburn. It has turned players such as Van Tiffin and Chris Davis into legends. It's where the term "house divided" originated. It's on the minds of the coaches, players and fans 365 days a year.
If you haven't been a part of it, it's hard to understand. But to help with that, here's a look at the Iron Bowl rivalry from those closest to it:
Jay Jacobs, athletics director, Auburn
On the significance of the Iron Bowl: "It's a rivalry that is different than anything else because we all live together. Some rivalries are divided by borders, but this one has no borders. You're living with each other year round after that game. When you win that game, you have a little bit more pride and when you lose it, the other team has a little bit more pride."
Shaun Alexander, former Alabama running back
On his first Iron Bowl: "You could tell that it mattered, that it mattered more than anything else. You were like 'wow.' This is not the Super Bowl, this is not the SEC championship game, but this game matters. Of course, football matters. You're at Alabama for a little bit and you realize every game you've got to win it all. But there's just a little something extra. Everybody's going to hit a little bit harder. Everybody's going to play a little bit harder and give a little bit more of their self. And that's from the players on the field to the fans and how they cheer and how they watch the game. Everybody's going to be a little bit more into it. The game is just special because of that. No matter who you are, when you're into this thing and you pick your side, then you care. That was just special all the way around."
Nick Saban, head coach, Alabama
November, 25, 2014
Nov 25
3:00
PM ET
Whether recruits are attending games this holiday weekend or watching on television, all eyes around the recruiting world will be focused on several rivalry games. From the Iron Bowl to the Egg Bowl there will be recruiting implications throughout the conference this weekend. Here's a closer look at how these game might affect the top remaining recruits.


November, 25, 2014
Nov 25
10:00
AM ET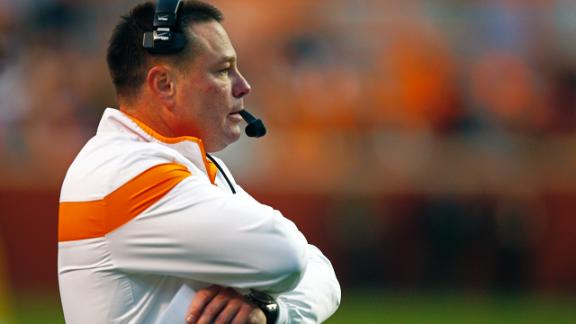 As always there was a ton of recruiting news from around the Southeastern Conference. There was a big commitment, there were key visits and new offers over the weekend. Here's a closer look at the top recruiting news from around the conference.
To continue reading this article you must be an Insider
November, 25, 2014
Nov 25
10:00
AM ET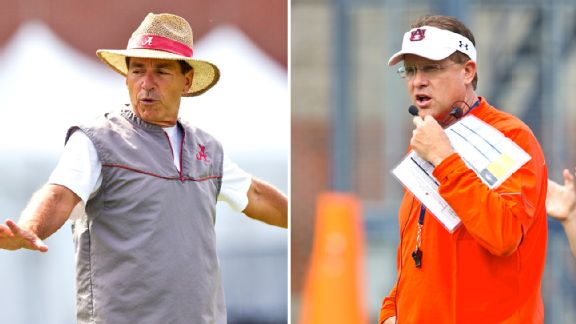 AP Photo/Brynn AndersonAlabama's Nick Saban and Auburn's Gus Malzahn have more in common than you might think.
It would be easy to portray Gus Malzahn and Nick Saban as two completely different coaches. Different philosophies. Different dispositions. Different sides of one of the most intense rivalries in all of sports.
But while you could cast them as opposites and be done with it, that might not be telling the whole truth. Because they aren't as different as you might think. Whether it's an obsessive drive to win, or a fierce attention to detail, the two coaches share much in common.
One is a defensive mastermind, the other an offensive magician. Whether it's exotic blitzes or misleading pre-snap motions, both attack their respective sides of the ball from unique angles. They try to confuse you. They try to outthink you. And they're both among the best in the game at doing so.
From a certain perspective, you might say Malzahn and Saban are different sides of the same coin.
They share an ingrained work ethic, having grown up in small towns -- Saban in Fairmont, West Virginia, and Malzahn in Fort Smith, Arkansas.
Though they're 14 years apart in age, their birthdays fall during the same week of October.
Saban was defensive coordinator at Michigan State, left, and then got his big break when he returned to become the Spartans' head coach.
Malzahn was offensive coordinator at Auburn, left, and then got his big break when he came back to take over as the Tigers' head coach.
Sensing a pattern?
Though Saban dwarfs Malzahn in total wins, their winning percentages aren't that far off, with Saban at 84 percent and Malzahn at 80.
Saban played defensive back in college. Malzahn played receiver. Even today their actions mirror one another, as Saban tries to slow down the tempo of the game while Malzahn does everything he can to pick up the pace.
Personality-wise, they present similar images to the media: guarded, singularly focused, sometimes combative. But behind the scenes, there's more to them. Thanks to the miracle of the Internet, we've seen both coaches dance, Saban doing his best "
Electric Slide
" and Malzahn strutting his stuff to MC Hammer's "
U Can't Touch This
."
Anything for recruiting, you might say.
Alabama presents itself as an NFL factory and Auburn as a place of family, but they both produce results. The Crimson Tide have
finished No. 1 in ESPN's class rankings

each of the past three years. Auburn, meanwhile,
is currently ranked ninth

and closed its most recent class at No. 8 overall.
But the biggest similarity between Saban and Malzahn is their attention to detail.
Alabama athletic director Bill Battle was amazed when he first caught a glimpse of the way Saban ran his program. Everything was so efficient, so focused on the task at hand. Watching practice from outside his office, Battle saw there wasn't a wasted moment.
Jay Jacobs, Auburn's AD, noticed the same thing about Malzahn.
"He's not thinking about other things," Jacobs said. "He's not self-serving at all. He's relentless in details, and he's absolutely great to work with because all he's thinking about is how to make Auburn football better."
Tying those two accounts together is Hoover (Ala.) High coach Josh Niblett, who has sent numerous players to both state schools. Whether it's on the recruiting trail or during coaching clinics, Niblett has had the chance to get to know both Saban and Malzahn well.
"They're both very professional," he said. "Both of them are competitors and both of them are driven, and then both of them have attention to detail. You don't have to be around them long to understand that attention to detail is one of the big factors for their success."
What's stood out to Niblett is their businesslike approach and their hands-on style of coaching.
"One of the neatest things about them is they're both good teachers," he said. "It's one of the best common values they have, they're very hands-on. You have a lot of coaches that are the CEO-type that are involved, but they're involved from the outside in. These two guys are involved from the inside out. It means so much to them that they put their stamp on it, that they want to make sure that they continue to do it."
On Saturday, we'll see their systems come to a head.
Auburn, well out of the playoff race with three losses, is out to spoil No. 1-ranked Alabama's season.
The way Malzahn's emphasis on speed matches up with Saban's emphasis on size is so perfectly incongruent. It's like looking in a mirror.
No, they're not exactly alike. But like the reflection in a mirror, everything is reversed. The receiver is the defensive back. Offense is defense.
They're different, but so much of them is the same. It's what makes it so fun to watch.
November, 25, 2014
Nov 25
8:30
AM ET
By
Brian Fremeau
| ESPN Insider
[+] Enlarge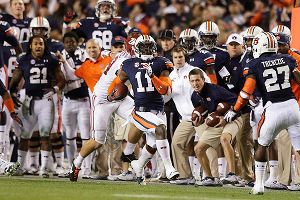 AP Photo/Dave MartinWill this year's edition of the Iron Bowl play out like last year's?
Two in-state SEC West rivalry games will be played this weekend, and the stakes for both games are at an all-time high.
Alabama
and
Mississippi State
are tied atop the SEC West standings with a 10-1 overall record, and as of
last week's rankings
, both are in position to receive a bid to the inaugural College Football Playoff. All that stands in the way of glory is each team's fiercest rival.
Either Alabama or Mississippi State will play for the SEC championship regardless of how this weekend's games shake out, but if both teams are saddled with a two-loss record at the end of the year, the door will swing wide open for other playoff contenders. We
forecasted the probability of this scenario
back in early September, at the time predicting a 14 percent chance that no SEC team will finish the season with fewer than two losses. That number remains 14 percent heading into this weekend, the likelihood that both Alabama and Mississippi State will lose on Saturday,
according to our latest FEI ratings projections
. There is a 66 percent chance one of the two will lose.
If the schedules had worked out a bit differently, they might all have two losses already.
To continue reading this article you must be an Insider
Week 14 Picks: Auburn-Alabama
SEC SCOREBOARD
Thursday, 11/27
Friday, 11/28
Saturday, 11/29