September, 30, 2014
Sep 30
11:30
AM ET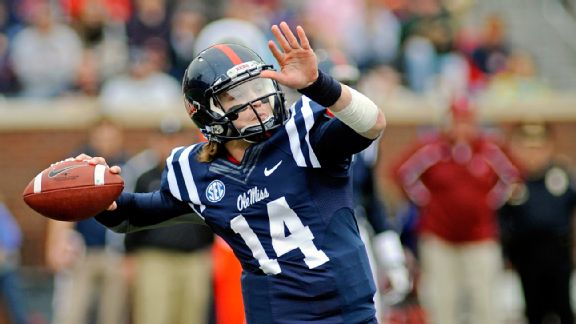 Thomas Graning/AP ImagesBo Wallace's impressive QBR numbers suggest he could lead the Rebels to a win at home.
Ole Miss
could be embarking on one of the most successful seasons in the program's history.
The Rebels are 4-0 for the first time since 1970 and have a top-10 ranking in the Associated Press poll for only the second time
in the past 44 years
. To top it off, ESPN's "College GameDay" crew is headed to the Grove for the
first time in the pregame show's histor
y, as the Rebels host
Alabama
in one of the most important games ever played in Oxford.
Since Alabama has won the past five meetings between these teams by a combined score of 155-34, many may be writing this game off as one of those early season tests the Tide tends to pass with ease.
Anyone with that mindset would do well to reconsider.
September, 30, 2014
Sep 30
10:00
AM ET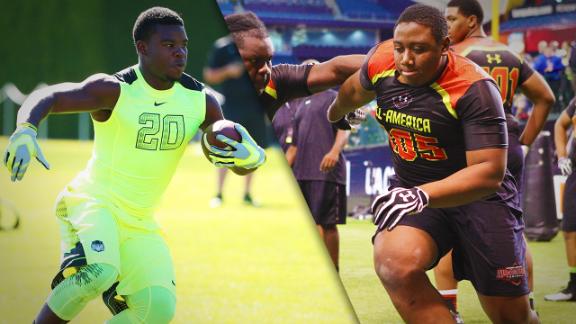 There was a ton of big recruiting news from around the Southeastern Conference this weekend. Several top prospects made their verbal commitments, Georgia flipped an FSU commit, and Missouri -- despite its big win against South Carolina on Saturday -- lost a commitment. Here is a closer look at the top recruiting news from around the conference.
To continue reading this article you must be an Insider
September, 30, 2014
Sep 30
9:30
AM ET
Claim your spot on the couch now. Reserve your table at your favorite sports bar. Buy another TV. Do whatever you gotta do to make sure you don't miss a snap Saturday because this is going to be a good one.
College football has been a well-kept secret so far, as it has been hiding the true identities of teams. Not this week. It's time to play or go home. There are six games between ranked teams. Of the 17 undefeated teams remaining, eight play against each other this week. It's the most relevant weekend the sport has had in regard to the new College Football Playoff.
Here are the games you can't miss, ranked from
least
to most likely to affect the playoff:
No. 14 Stanford at No. 9 Notre Dame
-- Stanford already has one loss, and this is the second straight road trip for the Cardinal. If Stanford loses again, its playoff hopes will be in serious jeopardy but not over, given that it could still win the conference. This game should reveal more about Notre Dame's place in the playoff, as it will be the first ranked opponent for the Irish.
No. 4 Oklahoma at No. 25 TCU
-- ESPN's Football Power Index gives Oklahoma a 64 percent chance to win and predicts this to be Oklahoma's hardest remaining game -- slightly more difficult than Nov. 8 against Baylor. If the Sooners can't handle TCU, they'll be on the outside looking in.
No. 15 LSU at No. 5 Auburn
-- LSU gave Auburn its only regular-season loss the past year, but LSU has already lost to Mississippi State, which put the Tigers behind in the SEC West race. Considering the rest of LSU's schedule -- and the hole it's already in -- this is a must-win. For Auburn, this is a chance to erase some doubts and make a push from the bubble into the top four.
No. 6 Texas A&M at No. 12 Mississippi State
-- Two terrific quarterbacks will be on display in the Aggies'
Kenny Hill
and the Bulldogs'
Dak Prescott
, who both rank in the top 10 in total QBR. A&M's stock dropped a bit this past week after it needed overtime to beat Arkansas, but it could be a top-four team if it can survive the state of Mississippi the next two weeks.
No. 3 Alabama at No. 11 Ole Miss
-- This is the most interesting matchup of the day. Alabama ranks third in offensive efficiency, and Ole Miss ranks second in defensive efficiency. Neither team has played a ranked opponent, so there is still some margin for error, but the Tide have a chance to separate from the crowded West.
No. 19 Nebraska at No. 10 Michigan State
-- Surprise. The game with the biggest playoff implications is not in the SEC West. This Big Ten matchup could knock Sparty out of the playoff entirely. It's one thing to lose to Oregon; it's another to try to make the four-team playoff with two losses and your best win coming over Nebraska in the Big Ten title game. Conversely, a win in East Lansing could vault the Huskers into the playoff conversation. They're the only undefeated team left in the Big Ten, and the toughest game left on their schedule is against No. 17 Wisconsin. If Nebraska pulls off the upset, it's time to take it seriously as a playoff team.
September, 30, 2014
Sep 30
8:00
AM ET
1. Alabama's players wouldn't bite. When asked about Ole Miss safety Cody Prewitt's comments -- "
We don't really think Bama is as good as they have been
" -- none of the four Crimson Tide players interviewed Monday said
anything noteworthy in response
. After all, what did you expect? This is Alabama we're talking about. Landon Collins had fans forward him a link to the bulletin board material, but he wasn't about to lob any shots in return. "
We're definitely going to give them our best game and see who comes out with the W," Alabama's star safety explained. If he had gone any further, Nick Saban would have had his head. And, frankly, there was no reason to fan the flames. Neither team is what it has been. Blake Sims has played well, but he's no AJ McCarron. C.J. Mosley ain't walking through that door. This isn't your daddy's Ole Miss, either. Prewitt and that secondary are tenacious. The front seven can get after it. As Saban said, "This is the best team we've played all year." If anything, Prewitt's slight jab was just what we needed to set the week off right.
2. I'll admit it: we were a little myopic on the SEC Blog Monday. In a
roundtable discussion
, our writers were asked to pick their game of the week. The options: Alabama-Ole Miss, Texas A&M-Mississippi State and LSU-Auburn. The reason? Well, it's obvious, seeing as all three games have College Football Playoff implications. But to make sure we cover all our bases, it felt like we ought to make note of the other games on the SEC slate. No, Vanderbilt-Georgia doesn't hold much intrigue. We can skip that. But you could argue that Florida-Tennessee and South Carolina-Kentucky mean something. For the Gators, this feels like a must win. Jeff Driskel needs to crawl out of the hole he's dug for himself, and his coach, Will Muschamp, needs a W to keep his job. The Vols, meanwhile, have to say enough is enough with moral victories and finally close out a big game. And in the case of South Carolina-Kentucky, you're looking at two teams heading in opposite directions. The Gamecocks fell all over themselves yet again Saturday, blowing a late lead against Missouri. Kentucky, on the other hand, broke its winless streak in the SEC by beating Vandy. The Wildcats may be young, but they're dangerous. With a deep group of tailbacks, Bud Dupree and Za'Darious Smith rushing off the edge, and A.J. Stamps making plays in the secondary, South Carolina and the rest of the East better watch out.
3. Not to end our morning jaunt on a sour note, but I was struck by news Monday of the
Indianapolis Colts releasing Da'Rick Rogers
. I shouldn't be surprised, I know. This is par for the course with Rogers, after all. But once again I was reminded of what a waste of potential the former Tennessee receiver was. To this day I remember seeing him play at Calhoun High in Georgia. He's the best high school player I've ever witnessed in person. Sadly, on the list of all-time SEC talents that never amounted to much, Rogers is right up there with names like Ryan Perrilloux, Mitch Mustain and B.J. Scott. Rogers was everything you wanted in a receiver: tall, physical, explosive. Even in the NFL he flashed All-Pro talent. But something never clicked for him. Maybe there's still time, but not likely. If anything, his story is a cautionary tale for any four- or five-star prospect who thinks talent alone can get the job done.
September, 29, 2014
Sep 29
10:08
PM ET
September, 29, 2014
Sep 29
9:07
PM ET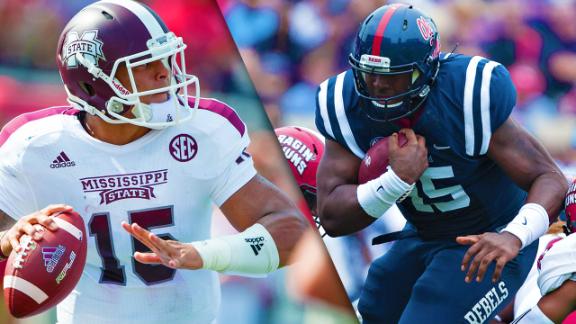 STARKVILLE and OXFORD, Miss. -- In the week when Mississippi will take its rightful place as the epicenter of the college football world, the Magnolia State is beaming with pigskin pride.
And why not? There are two games, featuring four of the nation's top 12 teams, being played on Mississippi soil.
No. 6 Texas A&M travels to No. 12 Mississippi State, and No. 3 Alabama visits No. 11 Ole Miss as both Mississippi schools sport a 4-0 record in the same season for the first time. In another first, ESPN's "College GameDay" is setting up shop in the Grove in Oxford.
It's almost too good to be true for a state that treats football as nothing short of a religious experience. Of course, the great irony is that even some of the most impassioned Mississippi State and Ole Miss fans would have guessed that only divine intervention would have positioned both programs to make this kind of noise in the big, bad SEC West.
Not since 1958 have both teams been ranked this highly in the polls in the same season. Even more telling, both schools have recruited and developed their programs, including raising the kind of money needed to build state-of-the-art facilities, to the point that there's no reason they won't continue to be relevant in the West race for years to come.
September, 29, 2014
Sep 29
8:59
PM ET
By
College Football Insiders
| ESPN Insider
As we move past the quarter mark of the 2014 season, it's a good time to examine which upstart teams have legit staying power. There have been lots of unexpected risers, from Mississippi State to BYU to East Carolina. But which early-season surprise team is most likely to sustain its success?
Insider's panel of experts debates that as well as other key questions: Which team -- outside of Michigan -- has been the biggest disappointment? Who's the leading candidate for comeback player of the year? And which Week 6 favorite should be on upset alert?
---
1. Which early-season surprise team can sustain its success?
Travis Haney: Mississippi State. I'll couch this by saying I think Alabama and Auburn are still the superior teams in the SEC West, but the Bulldogs have the physical girth up front to compete in every remaining game. Plus, Dak Prescott is the real deal at quarterback. If coach Dan Mullen's team will ever have a chance in the SEC West, as wild and deep as it is, this is the year.
If it can manage to go 6-2 in the league, it would be a real sign of success. I doubt there's an Auburn 2013 in the field, but Mississippi State can make a lot of noise and, as I said in the preseason, at least shape the division race. This is a huge week. To validate what's happening, the Bulldogs have to follow up the euphoria of Baton Rouge with a win at home against Texas A&M.
To continue reading this article you must be an Insider
September, 29, 2014
Sep 29
1:00
PM ET
Alabama is the No. 1 team in the country, at least according to the latest
coaches' poll
.
[+] Enlarge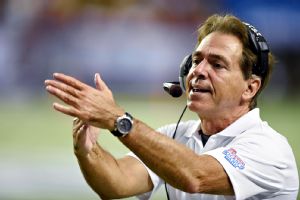 John David Mercer/USA TODAY SportsNick Saban and the Crimson Tide will play at the No. 11-ranked Ole Miss Rebels in Week 6.
Through four games, Nick Saban's Crimson Tide have done nothing to not deserve their spot atop the college football world.
Forget
Jake Coker
and forget being a game manager,
Blake Sims
has developed into one of the SEC's best quarterbacks. The hiring of Lane Kiffin as offensive coordinator hasn't signaled the end times, it's
brought about a renaissance
replete with screen passes, misdirection and even the use of the hurry-up, no-huddle.
After fumbling about against West Virginia in the season opener, Alabama's defense has returned to form. If it weren't for four turnovers, Florida wouldn't have scored a single point in Tuscaloosa two weeks ago. Saban and defensive coordinator Kirby Smart made the Gators look inept as
Jeff Driskel
struggled to complete 9 of his 28 pass attempts.
Alabama has developed into a complete football team these past few weeks. Even the punting and place kicking have been better than expected.
But now comes the real fun.
Now comes Ole Miss.
Whatever we think we know about Alabama will be challenged Saturday when the Crimson Tide have their first true road test against the No. 11-ranked team in the country. Oxford, Mississippi, may be a picturesque college town that prides itself on never losing the party, but what awaits Alabama inside Vaught-Hemingway Stadium won't be so friendly.
Bo Wallace
,
Laquon Treadwell
and
Robert Nkemdiche
want to knock off the No. 1 team in the land, not serve it sweet tea and barbecue.
How will Sims hold up under that type of pressure? He's played well so far, tossing eight touchdowns to two interceptions. Among quarterbacks with at least two starts, he ranks third nationally with an adjusted QBR of 89.4. But he hasn't played in a raucous road environment yet, and he hasn't faced a defense that's as good top to bottom as Ole Miss'. The Nkemdiche brothers can get after you. So can
C.J. Johnson
and
D.T. Shackelford
. And if you try throwing into that secondary, don't expect the ball back.
Senquez Golson
leads the SEC with three interceptions this season and
Cody Prewitt
led the league with six picks last season.
Speaking of defense, what do we really know about Alabama's? The Crimson Tide barely survived West Virginia Week 1, and in subsequent games they haven't really been put to the test. Florida was supposed to be a measuring stick, but we saw how that played out.
Ole Miss, on the other hand, should give Alabama everything it can handle. Wallace may be up and down as a passer, but when he's hot, he can really sling it. He's elusive in the pocket and knows Hugh Freeze's offense like the back of his hand. Plus, he's protected by an offensive line that stars one of the best tackles in the SEC in
Laremy Tunsil
.
Alabama's secondary won't be able to sleepwalk by the Rebs. Treadwell is one of the most productive receivers in the country and
Evan Engram
is a constant mismatch at tight end. And that's not to mention
Cody Core
and
Vince Sanders
, who are difficult to account for in their own right. If you're Saban, you're worried because your top cornerback is generously listed at 5-foot-10, your second-best cornerback,
Eddie Jackson
, has health concerns, and your third-best cornerback,
Tony Brown
, is a true freshman.
And all that goes without saying how Alabama has continued to struggle against the hurry-up, no-huddle. Go back and look at Texas A&M, Auburn, Oklahoma and West Virginia; it hasn't been pretty.
Meanwhile, Freeze just so happens to be one of the leading experts on uptempo offense. And unlike last season's game, he's probably going to make sure his
signals aren't so obvious
.
If Alabama wants to remain the No. 1 team in the country, it will have to prove it against Ole Miss.
From the play of Sims to the offensive line to the secondary to the defense as a whole, there won't be one phase of the game where the Crimson Tide won't be tested on Saturday.
September, 29, 2014
Sep 29
12:00
PM ET
Finally we've reached the heart of the SEC schedule where nonconference blowouts are a thing of the past. No more directional schools, this week it's nothing but mano-a-mano conference battles.
We're going to start separating the pretenders from the contenders, as division races heat up. It's time to find out a whole lot more about the powerful SEC West, where a whopping six top 15 teams square off. Buckle up!
Game of the week: Alabama at Ole Miss
The No. 3 Tide still have the best chance to win the SEC West -- a 31-percent chance to be exact, according to ESPN's FPI (Football Power Index) -- but their biggest threat of being upset will be waiting at Vaught-Hemingway Stadium on Saturday. The No. 11 Rebels admitted they were looking ahead to the big game after slogging past Memphis 24-3, but they still turned in another impressive performance by what has become one of the nation's most dominant defenses. Ole Miss kept Memphis out of the end zone and has allowed just two touchdowns on 38 drives this season. The Rebels' run defense was particularly nasty, limiting Memphis to 23 yards on 31 attempts. Alabama is coming off a bye and a dominant, complete performance of its own in a 42-21 thrashing of Florida. It all sets up to be quite a clash in Oxford, Mississippi, the first of what will likely be a handful of glamorous SEC West showdowns.
Player under pressure: Dak Prescott
Last time we saw them, the Bulldogs made quite the statement in beating then-No. 8 LSU for the first time in nearly 15 years and winning in Baton Rouge for the first time in nearly 24 years. Prescott showed all of his dual-threat brilliance in carving up the Tigers' defense, and MSU shot up in the polls after a very big win. In order for the Dogs to keep momentum on their side they now have to beat another top 10 foe. Prescott will be the central figure, and the pressure he'll face is sure to be literal as well as figurative. Texas A&M leads the SEC with 17 sacks in four games. True freshman end
Myles Garrett
has been a force with 5.5, while linebacker
Shaan Washington
returned from a broken collarbone last week and recorded two sacks in his first game of the year. One more thing: Prescott will be without his starting center, as
Dillon Day
will serve a one-game suspension for stomping on two LSU players.
Coach under the microscope: Florida's Will Muschamp
Muschamp probably has this category to himself until his Gators start winning and pulling off upsets. Florida's loss to Alabama was not unexpected, but the way it went down -- more ineptitude on offense and a school record for yards allowed on defense -- pushed fans to the brink. Even some of Muschamp's die-hard supporters had to be talked off their nearest ledge. If the noise was that loud after UF's loss to a juggernaut program like Alabama, what would happen if the Gators lose to Tennessee for the first time in nearly 10 years? The Volunteers are an improving bunch. They came oh-so-close to beating Georgia on the road last week, and they're still hungry for respect. Florida, coming off a bye, will have to get its act together in order to pull off a win at Neyland Stadium.
Storyline to watch: Will Brandon Harris start?
LSU's visit to No. 5 Auburn has an entirely different feel after the Bayou Bengals' season-long quarterback controversy took a turn for the decisive. True freshman Brandon Harris was electrifying in relief of
Anthony Jennings
. Harris was 11-of-14 passing for 178 yards and directed the LSU offense to seven touchdowns on seven possessions. After the game, coach Les Miles declined to name Harris the starter, saying LSU's way is to thoroughly evaluate before making a decision. With all due respect, that's a bunch of hooey. Harris obviously gives LSU its best chance to pull what would be an enormous upset both in terms of the national stage and the division race. It won't be easy against Auburn's improving defense. The Tigers have allowed only three plays of 25 yards or more this season, tied for the second fewest in the FBS.
Intriguing matchup: South Carolina at Kentucky
While the West division deserves all the attention it's going to get on Saturday, the East is quietly trying to sort itself out. Upstart Kentucky finally removed a very large monkey off its back by beating Vanderbilt and snapping a 17-game conference losing streak. In order to earn respect, the Wildcats' next task is to score an upset. Kentucky and its fans will be fired up for this home game, and the Gamecocks are ripe for the picking after blowing a 20-7 lead in the fourth quarter against division-leading Missouri. Kentucky's improving offense will stretch USC's struggling defense. But the most intriguing matchup in this one is on the other side of the ball, where the Cats' defense is coming off its best performance against an SEC foe since 1996. UK held Vanderbilt to 139 yards last week. If the Wildcats can contain the Gamecocks' offense, it might not even take a shootout to earn that elusive signature win.
September, 29, 2014
Sep 29
11:00
AM ET
This will be "Separation Saturday" in the SEC West. Three games -- Alabama-Ole Miss, Mississippi State-Texas A&M and Auburn-LSU -- will pit top-15 teams from the West against one another, so we should soon know more about who will emerge as legitimate contenders in college football's toughest division.
Considering all that will be at stake on Saturday, here are our SEC writers' picks for the games most worth watching on Saturday.
Edward Aschoff:
I mean, it's "GameDay" in the Grove -- the nation's best tailgating spot. I'm ready for chandeliers at tailgates, sport coats, sun dresses and the finest Southern hospitality this side of the mighty Mississippi. This is a chance for Ole Miss to prove it really deserves to be in the conversation with the premier teams, not just in the SEC but in the entire country. On the flip side, this is going to be the toughest test for Alabama thus far, and the Rebels' up-tempo offense certainly presents an issue for an Alabama defense that has struggled against that style in recent years.
Alex Scarborough:
Give me Oxford. Give me The Grove. Give me one team seeking to regain its spot atop college football and another team poised to break through into national prominence. Give me an SEC West showdown with actual playoff implications. Give me a quarterback with something to prove. In fact, give me two of 'em. Give me two of the most talented receivers in the country, two tenacious defenses and two coaches who sit on opposite ends of the spectrum, philosophically. Give me one game: Alabama-Ole Miss.
Jeff Barlis:
I have a feeling my choice will go against the grain: LSU at Auburn. I still think Auburn is the top team in the SEC, until proven otherwise. The Bayou Bengals, on the other hand, are just starting to get their talented true freshmen, RB
Leonard Fournette
, QB
Brandon Harris
and WR
Malachi Dupre
, integrated into the game plan. Expect this one to be a shootout that will force LSU coach Les Miles to turn to Harris, who has been the team's best signal-caller. This game could be one that decides the West Division. And remember, LSU was the only SEC team to beat Auburn last year.
David Ching:
I'll agree with Mr. Barlis here. If I had to answer this question at the end of the first quarter Saturday, I definitely wouldn't have picked Auburn-LSU. LSU's offense was sputtering against New Mexico State, and
Anthony Jennings
had been a turnover machine. Harris' joining the starting lineup is intriguing, though. A touted true freshman making his first start on the road against the defending conference champ? That's fascinating stuff. How will LSU's defense fare against Auburn's running game?
Dak Prescott
and Mississippi State embarrassed the Tigers' defense two Saturdays ago, and Auburn's offense is no less dangerous.
Sam Khan:
The other games are nice, but Texas A&M-Mississippi State looks to be the most hotly contested one of the bunch. The cowbells will be ringin' fiercely at Davis-Wade Stadium. The anticipation for this game in Starkville will be at a fever pitch, considering the Bulldogs are undefeated, ranked 12th in the country and coming off a landmark win at LSU. The past season, these teams combined for 92 points and 1,092 offensive yards in a game A&M won 51-41. Two of the SEC's best quarterbacks (
Kenny Hill
and Prescott) will be on display, and there are SEC West and even Heisman Trophy implications in this game.
Greg Ostendorf:
The atmosphere I'd pay most to see? The Grove for Alabama-Ole Miss. But the game I'd pay most to see? That's two hours away in Starkville. I'm still not sure what to make of the Aggies after Saturday, but I'm not turning down a chance to see Hill. Besides maybe
Todd Gurley
, Hill is the most exciting player in the conference. That said, it's hard not to root for Prescott after all he has overcome. It's the best quarterback matchup of the day, and I expect it to come down to the wire. Sign me up.
September, 29, 2014
Sep 29
8:00
AM ET
1. Fresh off its win over Memphis on Saturday, Ole Miss was
already taking shots at Alabama
. Safety
Cody Prewitt
said he doesn't believe the Crimson Tide are as good as they have been in recent years. It might be a little early to say that; after all, just last year, Prewitt's Rebels were shut out in Tuscaloosa, 25-0. A lot has changed since that game, though. The Ole Miss defense, which has allowed just two touchdowns through the first four games, is much improved, and quarterback
Bo Wallace
is a year older. At Alabama, the offense looks more balanced under new coordinator Lane Kiffin, and they're even using
their own version of the no-huddle offense
. It's one of many intriguing matchups in the SEC this weekend.
[+] Enlarge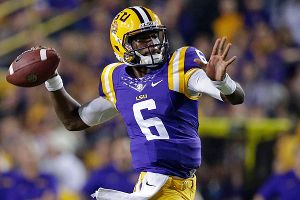 AP Photo/Gerald HerbertWill LSU turn to Brandon Harris in hostile territory at Auburn?
2. Speaking of intriguing matchups, how about LSU traveling to Auburn on Saturday? Les Miles' team has won six of the last seven against Auburn, but his Tigers opened up as 7.5-point underdogs on the road. A big reason for that is the uncertainty at quarterback. Miles has yet to name a starter, but after Saturday's victory over New Mexico State,
it was pretty clear who played better
. The question will be whether Miles wants to give freshman
Brandon Harris
his first start on the road, in a hostile environment. The Auburn defense isn't worried as much about the opposing quarterback; it's worried about
getting healthy
after three starters were banged up in a 45-17 victory over Louisiana Tech on Saturday.
3. What happened to South Carolina on Saturday? It looked like the Gamecocks were well on their way to beating Missouri and grabbing hold of the SEC East. Then, all of a sudden, it all slipped away. A day later, Steve Spurrier saw his team's streak of 69 consecutive weeks in the AP Top 25 come to an end. The good news is that despite the loss to Missouri and despite dropping out of the polls, South Carolina is
still not out of the SEC race
. The bad news is that they have to travel to Lexington this weekend to face much-improved Kentucky team, and the local beat writers are already saying that
Spurrier's team looks beatable
again this week. We'll know a lot more about both teams following Saturday's game.
Around the SEC
Tweet of the Weekend
That was fun #12thMan #ARKvsTAMU pic.twitter.com/3m4Ulb8Cb7

— Texas A&M Football (@AggieFootball) September 28, 2014
Week 6 Picks