December, 11, 2013
Dec 11
9:00
AM ET
The SEC is headed back to the BCS title game. Stop me if you've heard this before...
1. Auburn (12-1, 7-1 SEC; last week: 1):
When you beat the No. 1 team in the country, then thump the No. 5 team 59-42 to win the SEC championship and get a spot in the Vizio BCS National Championship, your résumé really speaks for itself. Auburn is the hottest team in the country. Behind RB
Tre Mason
, a Heisman Trophy candidate, the Tigers have the nation's best running game (335.7 yards per game) and a wave of momentum to ride out to Pasadena, Calif., to take on No. 1 Florida State.

2. Alabama (11-1, 7-1 SEC; LW: 3):
While the Crimson Tide won't be playing for a third straight national championship, they are still one of the best teams in the country. The Allstate Sugar Bowl waits for the Tide, but if the playoffs started this season, Alabama would be right back in the title hunt and might be the favorite to win it all.
3. South Carolina (10-2, 6-2; LW: 4):
The Gamecocks ended the season by winning five in a row. They were in the BCS hunt until Alabama lost, but their Capital One Bowl matchup with Wisconsin should be a fun one. Here's hoping that the long layoff helps DE
Jadeveon Clowney
heal for what will likely be his final game in a South Carolina uniform.
4. Missouri (11-2, 7-1 SEC; LW: 2):
The Tigers went to Atlanta with the nation's 14th-best rushing defense (second in the SEC) and left giving up an SEC title game-record 545 rushing yards. Missouri's defense looked far from sturdy against Auburn, but Mizzou still had a very successful season. A year ago, the team was sulking after a five-win season. Now, Missouri has 11 wins and is playing in the AT&T Cotton Bowl after possibly being a win away from the BCS title game.
5. LSU (9-3, 5-3 SEC; LW: 5):
It was an up-and-down season in Baton Rouge, but the Tigers pulled off two big, late-season wins, including a blowout against QB
Johnny Manziel
and his Texas A&M Aggies. In the Outback Bowl, LSU will be without QB
Zach Mettenberger
, who threw for 3,082 yards and 22 touchdowns this year. But the future looks bright for freshman
Anthony Jennings
, who orchestrated a game-winning 99-yard touchdown drive to beat Arkansas.
6. Texas A&M (8-4, 4-4 SEC; LW: 6):
This wasn't the ending Manziel wanted. While he hasn't officially declared early for the NFL draft, it's a foregone conclusion that his days in College Station are numbered. After another successful statistical season, Manziel is headed back to New York for the Heisman ceremony, but two straight poor performances in losses to end the regular season could keep him from winning the award for a second straight year.
7. Vanderbilt (8-4, 4-4 SEC; LW: 7):
If any team wants to complain about its bowl game, it's the Commodores. After finishing the season on a four-game winning streak and beating Florida, Georgia and Tennessee in the same year, Vandy is headed to the BBVA Compass Bowl. It was another great season for coach James Franklin and his team, and you better believe this team will be motivated against Houston.
8. Georgia (8-4, 5-3, SEC; LW: 8):
The Bulldogs had wins over South Carolina and LSU, but losing QB
Aaron Murray
to an ACL injury and dropping games to Mizzou and Vandy in consecutive weeks really put a damper on the season. The defense still has a lot of kinks to work out going forward, but surrendered 400-plus yards only twice in November after allowing 400 or more in four of the first five games of the season. And back-to-back bowl games against Nebraska is head-scratching to say the least.
9. Mississippi State (6-6, 3-5 SEC; LW: 9):
A season that started on the rocks ended with two must-wins and a bowl berth. Dan Mullen's hot seat suddenly feels cooler, and the Bulldogs even got some love in the postseason by unexpectedly jumping into the AutoZone Liberty Bowl against Rice. Mississippi State clawed its way back to the postseason and should have a lot of fire in Memphis.
10. Ole Miss (7-5, 3-5 SEC; LW: 10):
The end of the season wasn't great for the Rebels, but this program has come a long way under Hugh Freeze. In his first two seasons, Ole Miss has made back-to-back bowl trips. Last season, the Rebels were a surprise team in Birmingham. This year, Ole Miss is headed to Nashville, where Rebels fans will flock. It'll be fun to watch that spread offense take on Georgia Tech's triple option.
11. Tennessee (5-7, 2-6 SEC; LW: 11):
Butch Jones wasn't able to pull a Gus Malzahn in his first season, but he brought some enthusiasm back to a program looking to rediscover its pride. There won't be a bowl game for the Vols, but this is the time for Jones and his staff to hit the recruiting road hard. Tennessee already has the nation's No. 2 recruiting class, but now it's all about keeping that class together and building for the future.
12. Florida (4-8, 3-5 SEC; LW: 12):
It's going to be a long offseason in Gainesville after the Gators missed out on a bowl game for the first time in 22 years and had their first losing season since 1979. Things will be uncomfortable and toxic between coach Will Muschamp and the fan base, but he can't let that seep into his program or have it affect his football team. With no bowl prep, Muschamp's first order of business is to keep his recruiting class intact -- especially the offensive weapons -- and get those prospects to Gainesville.
13. Arkansas (3-9, 0-8 SEC; LW: 13):
The Razorbacks finished the season with nine straight losses, which was a school record and a new record for coach Bret Bielema, who just completed his first-year at Arkansas (his first head-coaching stop was at Wisconsin). Arkansas had a solid running game, with freshman RB
Alex Collins
(1,026 yards and four touchdowns) carrying the load, but the passing game was the worst in the SEC (148.5 yards per game).
14. Kentucky (2-10, 0-8 SEC; LW: 14):
Mark Stoops' first season in Kentucky was forgettable in the win-loss column, but the hope in Lexington is that his impressive recruiting class brings some real life back to the program in Year 2. What had to really irk the defensive-minded Stoops was that his defense ranked 13th in the league, allowing 427.2 yards per game and an SEC-worst 31.2 points per game. The Wildcats just didn't have the endurance to keep up in SEC play and have now lost 16 straight against SEC competition.
December, 11, 2013
Dec 11
2:43
AM ET
ESPN.com news services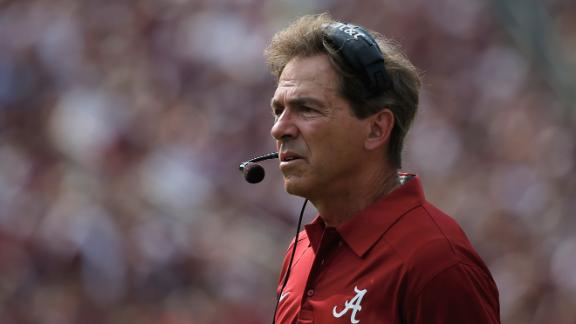 Representatives for coach Nick Saban and Alabama are talking about a contract extension, but the longer there is no agreement, the more uncomfortable Crimson Tide officials grow, sources told ESPN.
Saban has a verbal "offer of commitment" from Alabama officials to make him the highest-paid coach in college football, a source told ESPN's Paul Finebaum, rather than an actual contract, as earlier reported. Sources tell Finebaum and ESPN.com's Chris Low that while there have been discussions about a new deal, no formal offer is actually in place.
The reported imminent resignation of Mack Brown at Texas spurred rumors Saban could bolt and pushed Alabama to take action, sources told Finebaum. In March, though, Saban received a raise and contract extension through 2020 worth $5.62 million a year and said it represented his intention to finish his career in Tuscaloosa.
Still, there has been speculation that Texas would be willing to outpay Alabama for Saban. However, another source told ESPN's Brett McMurphy that if Saban leaves Alabama, it "won't be because of money" and that the coach and the school are "always in discussions" about extending the deal each year.
Alabama athletic director Bill Battle would not address Saban's contract situation when contacted by ESPN.
"Coach Saban is spending his time recruiting and getting ready for a bowl game," Battle said fromthe IMG Intercollegiate Athletics Forum in New York. "It's business as usual and that's what we're getting ready for. We have a great recruiting class lined up. We have 14 prospects coming in this weekend and looking forward to having them and looking forward to playing Oklahoma in the Sugar Bowl."
Battle was asked if he had any concerns Texas would target Saban.
December, 10, 2013
Dec 10
6:44
PM ET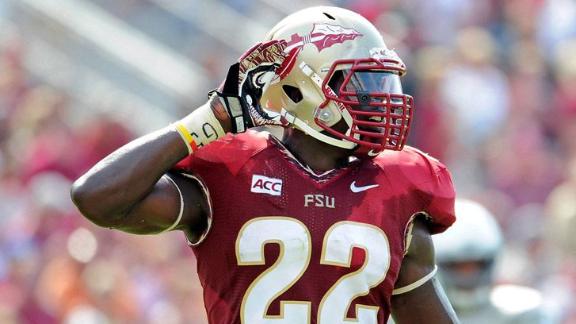 On paper, it looks as easy as 1, 2, 3 … 4.
Florida State. Auburn. Alabama. Michigan State.
Were the College Football Playoff selection committee actually deliberating this season, though, it's hard to imagine the top four teams would align as easily as they did in this year's final BCS standings. There was no drama, no controversy, no undefeated team locked out of the sport's biggest game. As Auburn wrapped up its SEC title and Florida State finished the season as the only undefeated team remaining in the BCS, college football had its answer for a national championship game before it was officially revealed.
Expect a little more debate next year.
The computers have their formulas. The 13 committee members have their opinions. With subjectivity added to the equation, trying to pinpoint the top four teams in the country would have added far more intrigue to this year's selection process. Fans stuck in the mindset of the current system -- one filled with objective weightings and data -- are going to be disappointed, because that's not the committee's approach. Whether or not Auburn is better than Alabama will come down to a vote. While the No. 1 team in the country might not have been a question this year, there are now three more spots to argue about.
It was only a week ago that nobody could agree on No. 2.
If you think Auburn's improbable run to the national title was more luck than it was leverage against lesser opponents -- a deflected Hail Mary pass to beat Georgia and a 109-yard field goal return to beat Alabama -- odds are at least one person on the committee might think so, too. Don't think a two-loss Stanford team has an argument over a one-loss Big Ten champ? Think again. Go ahead and throw Baylor and Ohio State into the mix, too.
December, 10, 2013
Dec 10
6:06
PM ET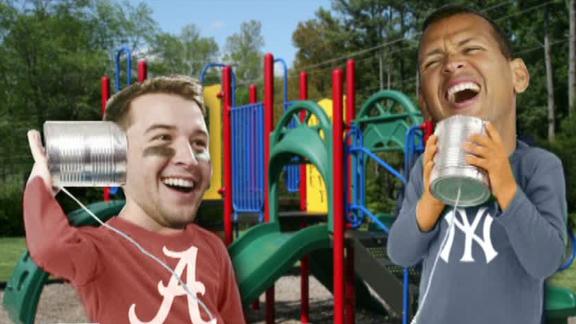 TUSCALOOSA, Ala. -- Yankees manager Joe Girardi has been around the Alabama football program a few times after having Tide coach Nick Saban to New York to speak to his team during the offseason. Even the most famous of pinstriped ballplayers,
Derek Jeter
, came to Tuscaloosa in November to take in the Alabama-LSU game.
All those happenings, while extraordinary in their own right, seem feasible within the bubble of big-time sports, another instance of one historically significant franchise reaching out to another.
But the connection between the Yankees and the Tide took a step in a more perplexing direction when
Alex Rodriguez
spoke on the phone with
AJ McCarron
prior to Alabama's regular-season finale against Auburn. For McCarron, a lifelong Yankees fan, it was a spectacular moment. For a national public that holds Rodriquez in a generally low esteem given his connection to steroids and his suspension from Major League Baseball, it might be a bit dumbfounding.
[+] Enlarge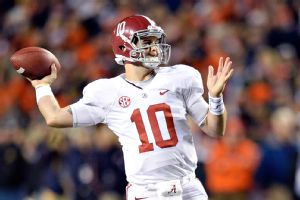 John David Mercer/USA TODAY SportsAJ McCarron doesn't just dial up audibles; Alabama has been putting him on the phone with other athletes who 'reinforce approach and confidence.'
McCarron was cheery, though, when he told reporters on Tuesday that Rodriguez told him he has followed his career.
"Coach Girardi showed them the video of me and [former Alabama center Barrett Jones] pushing each other [in the BCS title game] before last season and told him that's the passion they need within their club again and stuff like that," McCarron said. "It's just pretty crazy that they've watched me before and are fans of me. Like I said, it's unbelievable."
Alabama consultant Trevor Moawad, who is the full-time vice president of mindset programs at Athletes Performance, set up the phone call prior to the Iron Bowl, reaching out to Chad Bohling, who is the director of mental conditioning for the Yankees.
Moawad said the call with Rodriguez lasted 10-15 minutes and the discussion was about what it takes to be a successful athlete. There was no talk of Rodriguez's off-the-field troubles, Moawad said, just his own personal account of how he focused as a young man in order to reach where he is today.
It's a normal routine to put McCarron on the phone with high-profile athletes the night before games, according to Moawad, who said he has set up calls with Russell Wilson and Carson Palmer, to name a couple. Why? Because sometimes hearing the message from someone other than Saban helps.
"Over the years, the night before the game we'll try to find different people to reinforce key things about attitude, approach, confidence," Moawad said. "I've been with [McCarron] for five years, so if you can get someone to reinforce themes that Coach is talking about, it's a benefit.
"There are universal concepts that make athletes good across any sport. And athletes respond well to other athletes who have been successful."
It's hard to imagine a multi-million dollar professional athlete reaching out to a college senior, but Moawad said he hasn't had a hard time convincing players. In fact, most are very aware of McCarron before they speak.
"They are guys that have a tremendous amount of respect for AJ, too," Moawad said. "That's why they're willing to jump on the phone."
As far as McCarron is concerned, it's still an indescribable feeling. In as much as he's aware of his own celebrity, getting on the phone with someone like Rodriguez turns him into a giddy kid again.
"It's almost like living in a dream in a way because I've met guys that I've watched and watched coach for so many years," he said. "Now I'm talking to them on the phone and meeting them in person. It's just pretty surreal."
And there's a chance that McCarron's dream ride will continue. After all, McCarron will be in New York for the first time when he makes the trip to the Big Apple for the Heisman Trophy ceremony.
Maybe A-Rod or another Yankee will show him around.
December, 10, 2013
Dec 10
5:00
PM ET
The SEC coaches have spoken, and Alabama has once again taken over their
end-of-the-year All-SEC team
.
The Crimson Tide led the rest of the league with nine representatives on the coaches' teams, including an SEC-leading five first-team selections. LSU followed with eight total representatives. Texas A&M had four first-team members, while Auburn and Georgia both had three each.
Twelve of the league's 14 teams had at least one player on the first team, while every team was represented on at least one team. Coaches weren't allowed to vote for their own players.
Here are the coaches' first- and second-team selections:
First team
OFFENSE
QB:
Johnny Manziel
, Texas A&M
RB:
Tre Mason
, Auburn
RB:
T.J. Yeldon
, Alabama
AP:
Odell Beckham
Jr., LSU
TE:
Arthur Lynch
, Georgia
OL:
Jake Matthews
, Texas A&M
OL:
Cyrus Kouandjio
, Alabama
OL:
Gabe Jackson
, Mississippi State
OL:
Wesley Johnson
, Vanderbilt
C:
Reese Dismukes
, Auburn
WR:
Mike Evans
, Texas A&M
WR:
Jordan Matthews
, Vanderbilt
DEFENSE
DL:
Michael Sam
, Missouri
DL:
Jadeveon Clowney
, South Carolina
DL:
Dee Ford
, Auburn
DL:
Kelcy Quarles
, South Carolina
LB:
C.J. Mosley
, Alabama
LB:
Ramik Wilson
, Georgia
LB:
A.J. Johnson
, Tennessee
DB:
Cody Prewitt
, Ole Miss
DB:
Ha Ha Clinton-Dix
, Alabama
DB:
E.J. Gaines
, Missouri
DB:
Vernon Hargreaves III
, Florida
SPECIAL TEAMS
K:
Marshall Morgan
, Georgia
P:
Drew Kaser
, Texas A&M
RS:
Christion Jones
, Alabama *
RS:
Odell Beckham Jr., LSU *
Second team
OFFENSE
QB:
AJ McCarron
, Alabama
RB:
Mike Davis
, South Carolina
RB:
Jeremy Hill
, LSU
TE:
Malcolm Johnson
, Mississippi State
OL:
La'el Collins
, LSU
OL:
Antonio Richardson
, Tennessee
OL:
Justin Britt
, Missouri
OL:
Anthony Steen
, Alabama
C:
Travis Swanson
, Arkansas
WR:
Odell Beckham Jr., LSU
WR:
Jarvis Landry
, LSU
AP:
Marcus Murphy
, Missouri
DEFENSE
DL:
Anthony Johnson
, LSU
DL:
Chris Smith
, Arkansas
DL:
Ed Stinson
, Alabama
DL:
Trey Flowers
, Arkansas
LB:
Lamin Barrow
, LSU
LB:
Jordan Jenkins
, Georgia
LB:
Avery Williamson
, Kentucky
DB:
Andre Hal
, Vanderbilt
DB:
Chris Davis
, Auburn
DB:
Nickoe Whitley
, Mississippi State
DB:
Kenny Ladler
, Vanderbilt
SPECIAL TEAMS
K:
Michael Palardy
, Tennessee
P:
Cody Mandell
, Alabama
RS:
Solomon Patton
, Florida
-- (*-ties)
December, 10, 2013
Dec 10
3:10
PM ET
Now that we've had a look at the final BCS standings for the 2013 season, it's always worth going back and seeing who truly owns the strongest resume.
Records against ranked opponents at the time of the game provide some insight, but a better gauge is how a team fared against the top 25 in the final BCS standings, which takes into account the two human polls and the computer rankings.
[+] Enlarge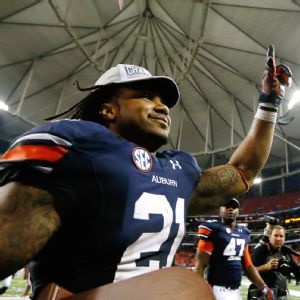 Kevin C. Cox/Getty ImagesAuburn and Tre Mason went 4-1 against BCS top-25 foes, best in the SEC.
In the SEC, Auburn (4-1) had the best record this season against top-25 teams in the final BCS standings. South Carolina (3-1) was second.
In fact, the Gamecocks were the only team in the country this season with wins over three teams ranked in the top 15 of the final BCS standings.
Of the 10 teams playing in BCS bowls this season, counting the VIZIO BCS National Championship, four failed to record wins over top-15 teams in the final BCS standings: Alabama, Clemson, Ohio State and UCF.
In the last three seasons, LSU's 10 victories over teams that finished in the top 25 of the final BCS standings are the most nationally. Alabama, South Carolina and Stanford each have nine wins over the last three seasons.
How does that compare to some other teams nationally during that same three-year span?
Notre Dame has seven wins, which is more than Oklahoma State (six), Clemson, Oregon and Wisconsin (five each), Florida State, Ohio State and Oklahoma (four each) and Texas (two).
Turning back to the SEC, if you extend it out over the last five seasons, Alabama (16-6) has the best record. LSU (14-11) is right behind the Crimson Tide.
They're the only two SEC teams over the last five seasons with winning records against teams that finished in the top 25 of the final BCS standings.
Les Miles, during his career at LSU, is 27-18 against top-25 teams in the final BCS standings. Alabama's Nick Saban is 19-10.
Here's a look at how all 14 teams in the SEC have fared in the last five seasons against top 25 teams in the final BCS standings:
Alabama: 16-6 (.727)

LSU: 14-11 (.560)

Auburn: 13-13 (.500)

South Carolina: 10-10 (.500)

Arkansas: 7-17 (.292)

Missouri: 5-14 (.263)

Georgia: 6-17 (.261)

Florida: 6-18 (.250)

Texas A&M: 5-17 (.227)

Ole Miss: 3-20 (.130)

Vanderbilt: 1-15 (.063)

Kentucky: 1-16 (.059)

Tennessee: 1-21 (.045)

Mississippi State 0-24 (.000)
December, 10, 2013
Dec 10
1:40
PM ET
What's the most interesting bowl matchup of them all?
Auburn-FSU with a BCS championship hanging in the balance
, of course.
But what about after that fairly obvious choice? ESPN.com's
Mark Schlabach attempted to rank them all from 1-35
on the college football homepage.
For our purposes, let's take a look at where Schlabach ranked the bowl games for the nine SEC teams that aren't Auburn that will appear in the postseason.
No. 4: Alabama-Oklahoma in the Allstate Sugar Bowl:
Sooners coach Bob Stoops has talked a big game about how tough the SEC actually is. He's about to get a close look at perhaps the toughest customer in the whole league.
No. 5: Missouri-Oklahoma State in the AT&T Cotton Bowl:
This should be a fun matchup between former Big 12 rivals who feature explosive offenses. Just like the old days.
No. 6: South Carolina-Wisconsin in the Capital One Bowl:
If not for an inexplicable midseason loss to Tennessee, South Carolina would have been in the thick of the BCS picture. A win here would be a proper sendoff in what will almost certainly be
Jadeveon Clowney
's final game as a Gamecock.
No. 9: LSU-Iowa in the Outback Bowl:
No
Zach Mettenberger
for LSU, but
Anthony Jennings
' debut at quarterback against a stout Iowa defense could make this one interesting.
No. 10: Georgia-Nebraska in the TaxSlayer.com Gator Bowl:
Yeah, it's a rematch from last season's Capital One Bowl, but it should still be another tight contest between injury-riddled teams that will have had another month to heal.
No. 11: Texas A&M-Duke in the Chick-fil-A Bowl:
If this is
Johnny Manziel
's final game as an Aggie, he'll have an opportunity to throw against a Duke team that is playing in back-to-back bowl games for the first time in school history. This game delivers an exciting result almost every year, and this season could turn into a shootout.
No. 22: Ole Miss-Georgia Tech in the Franklin American Mortgage Music City Bowl:
Facing Georgia Tech's option offense is always a challenge, and the young Rebels will need to slow down the Yellow Jackets in order to cap another year of improvement under Hugh Freeze.
No. 23: Vanderbilt-Houston in the BBVA Compass Bowl:
Commodores fans were angry that they didn't get invited to a more prestigious bowl after Vandy's second straight eight-win regular season. They'll need to turn out at Legion Field to prove their point.
No. 24: Mississippi State-Rice in the AutoZone Liberty Bowl:
The Bulldogs barely slipped into bowl season by beating Ole Miss in overtime. Now they'll have to take down Conference USA champ Rice, which won its first outright league title since 1957 when it blasted Marshall last weekend.
December, 10, 2013
Dec 10
12:05
PM ET
We're still 11 days from the first bowls, but that doesn't mean we can't talk about them. Here's some bowl chatter – and some other stuff – from across the SEC.
December, 10, 2013
Dec 10
11:00
AM ET
The SEC is headed to yet another BCS title game, and it's also
sending a trio of players to New York City
for this year's Heisman Trophy ceremony.
On Monday, the six finalists for this year's award were announced, and Alabama quarterback
AJ McCarron
, Auburn running back
Tre Mason
and Texas A&M quarterback
Johnny Manziel
all made the cut. The six finalists invited to New York are the most for the award since 1994.
The other three finalists are Florida State quarterback
Jameis Winston
, Boston College running back
Andre Williams
and Northern Illinois quarterback
Jordan Lynch
.
But does anyone from this SEC trio have a chance at bringing the bronze statue back to the SEC for the fourth time in five years? Let's take a look:
Mason:
The Auburn running back was a mere blip on the Heisman radar before he ran over and through Missouri's top-ranked rush defense in Auburn's SEC championship victory over the weekend. Mason ran for 304 yards and four touchdowns against Mizzou to help send Auburn to the VIZIO BCS National Championship. But he was also very good before he stepped into the Georgia Dome. On the season, Mason has rushed for an SEC-high 1,621 yards and a school-record 22 touchdowns. He also holds the Auburn single-season record for all-purpose yards (2,137). Five of the defenses he has faced this season rank in the top 50 against the run, and he rushed for 100-plus yards against each but Mississippi State, which held him to 34 yards. He averaged at least 5 yards per carry in nine games, rushed for 100-plus yards in eight games and had at least one rushing touchdown in 12 games. His stock is trending up.
Manziel:
The reigning Heisman Trophy winner had a strong case to become the first repeat winner since Ohio State's Archie Griffin (1974-75), but back-to-back poor performances -- and losses -- to close the season have knocked Manziel down the pecking order. Still, he had a very impressive regular season. He transformed as a passer, going through his progressions, checking down, reading defenses and finding multiple throwing options. He thought to throw first this year, leading the SEC with 3,732 passing yards and 33 touchdowns. He also ran for 686 yards (724 less than last season) and eight more scores (he had 21 rushing TDs last year). Manziel also has two more losses than he did last year and was held to just 494 total yards and two touchdowns in his last two games. His stock is trending down.
McCarron:
If this were a lifetime achievement award, McCarron would be a shoo-in for the Heisman this year. During his three years as a starter, McCarron won back-to-back BCS titles and heads into the Allstate Sugar Bowl with a 36-3 record. He's been one of the nation's most efficient passers and has thrown just 13 interceptions to 75 touchdowns during his career. But when it comes to numbers this season, McCarron ranks fifth in the SEC with 2,676 passing yards and has 26 touchdowns to five interceptions. McCarron has been incredibly consistent during his career and is the true definition of the word "winner," but his numbers could hold him back in the Heisman race. His stock is about the same as it was during the season.
December, 10, 2013
Dec 10
9:00
AM ET
The ESPN recruiter power rankings examine which assistant coaches are doing the best on the recruiting trail in the 2014 class. Beyond looking at how many four- or five-star recruits a coach lands, the rankings take into account the needs those recruits will fill at the next level.
These rankings will be updated regularly as national signing day approaches. They are also a measure of where we believe the recruiters are now, not where they will be on signing day. Many coaches and schools have yet to make a recruiting run and could quickly climb the list as more progress is made.
Previous rankings: October 2013
1. Billy Napier
School: Alabama
ESPN 300 recruits: 7
Top recruit: ESPN 300 No. 3 Cameron Robinson
Previous ranking: 4
Napier, Alabama's receivers coach, established himself as one of the better recruiters in the ACC while at Clemson, but recruiting for the Crimson Tide has allowed him to climb to the top of the national charts. Recruiting in Louisiana and parts of Texas, and also spot-recruiting other key national targets, Napier boasts commitments from five ESPN 300 prospects who are in the top 10 at their positions, including No. 1 OT Robinson (West Monroe, La./West Monroe), No. 2 pocket passer David Cornwell (Norman, Okla./Norman North) and No. 2 safety Laurence Jones (Monroe, La./Neville). Napier's efforts have also helped the Tide climb to No. 1 in the RecruitingNation class rankings and reload at positions of need like offensive tackle, quarterback and especially receiver.
To continue reading this article you must be an Insider
December, 10, 2013
Dec 10
8:00
AM ET
Talk is cheap, but it's never left the hype machine feeling shortchanged.
As if an Allstate Sugar Bowl featuring two of college football's most prestigious programs wasn't intriguing enough, we get to rehash a good old-fashioned war of words in the weeks leading up to the Jan. 2 showdown in New Orleans between No. 3 Alabama and No. 11 Oklahoma.
Bob Stoops, the Sooners longtime coach, hasn't been bashful in his criticism of the Southeastern Conference, of which the Crimson Tide are a charter member. He's called it an overrated, top-heavy league with a history of overblown defensive prowess. And that's just what he's said on the record in the past year or so.
[+] Enlarge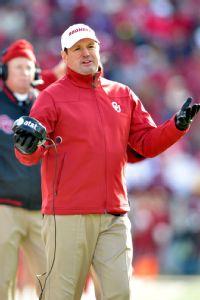 Jackson Laizure/Getty ImagesOklahoma's Bob Stoops gets a chance to make a statement against the SEC's Alabama Crimson Tide.
The last seven BCS national champions be damned, Stoops has been on a one-man mission to change the narrative surrounding college football's most dominant conference. He's shouted at the gates of Mike Slive's castle over and over again, and rather than send one of the commissioner's meager lords to answer Stoops' cries, the doors have opened and Alabama has come to call.
The Tide, owners of three of the last four national championships and arguably the best coach in college football, will represent the league in a game that many fans of the SEC hope shuts Stoops up once and for all.
Only don't count on it.
When Stoops was asked Sunday about his history of opining on the SEC it was as if he misunderstood the premise.
"What comments?" he asked in return.
Well let's see. You could start with the part about his seeing the SEC's dominance being sold as "propaganda." Or you could point to his comments about the league's poor defense in which he sarcastically mocked teams for struggling to defend Texas A&M, meanwhile neglecting how Oklahoma was blown out by the Aggies in the Cotton Bowl last season, 41-13. But instead the reporter in question noted how Stoops said that the bottom of the SEC was overrated.
"I'm not playing the bottom half," Stoops responded. "If the SEC is Alabama, there is nothing to talk about, right? If you want to say the SEC is Alabama, then sure, they're the ones that have won all the national championships, or most of them. Now, if you want to play in the bottom half, that's a different story. But we're not playing the bottom half, are we? So there's not a lot to talk about, is there? "
Stoops, however, failed to realize that when he initially made his disparaging comments about the bottom half of the SEC, Auburn and Missouri were included among that group after coming off dreadful seasons in which they combined for two wins in league play. But Auburn beat Alabama only a few weeks ago and on Saturday it bested Missouri in the conference title game. The bottom of the bottom half is now set to play Florida State in the VIZIO BCS National Championship Game in Pasadena, Calif.
The last time Stoops went to the Big Game he lost to SEC champ Florida in 2009. In 2004 the Sooners lost to USC and the year before they lost to an SEC team again in LSU, who happened to be coached by Alabama's Nick Saban at the time.
Just don't look for Saban to take up for the SEC against Stoops and Oklahoma this time around. Providing bulletin board worthy quotes isn't a part of his M.O. He'll let the game on the field do the talking. The most you'll get from him was the blunt response he gave during the offseason: "I've got more important things to do than sit around and read what Bob Stoops has to say about anything."
But leave it to Bob's brother, Mike, who coaches the Sooners defense, to smooth the waters somewhat. Maybe he thought we'd had enough gossip already.
"I think they have great programs," he said of the SEC. "The athletes they have down there, the coaches they have down there, it's rated as the top conference in college football for many years, having won seven national championships, having a chance to win eighth. They've got great athletes. Every time you step on the field with a Southeastern Conference team, they're very well coached and they play very hard. They're very complete when you look at any of these top Southeastern Conference teams."
But one Stoops doesn't speak for all, and when brother Bob goes toe-to-toe with one of the SEC's best in Alabama, he'll either answer his critics or eat his words.
December, 10, 2013
Dec 10
8:00
AM ET
Evaluating the most important recruiting targets for each school in the SEC for the Class of 2014:

Alabama
CB Marlon Humphrey (Hoover, Ala./Hoover)
6-foot, 180 pounds
ESPN 300 rank: 9
The Crimson Tide have already put together the No. 1-ranked class in the country, and adding a playmaker such as Humphrey would cement their status as the top recruiting class for the 2014 cycle. Humphrey is an athletic cornerback who has great size and would be a natural fit in coach Nick Saban's system. FSU is also in the picture for the five-star defensive back, and Alabama will have to fight to keep this electric playmaker from leaving the state.
To continue reading this article you must be an Insider
December, 9, 2013
Dec 9
6:16
PM ET
ESPN.com news services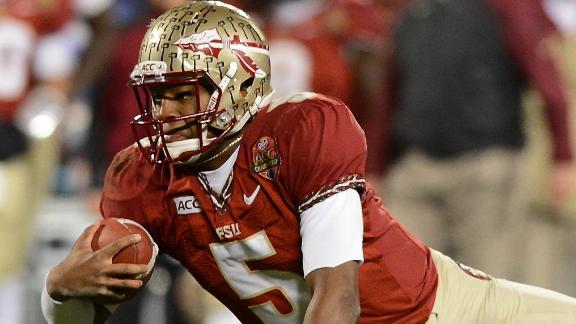 Four quarterbacks and two running backs were named Heisman Trophy finalists on Monday.
Quarterbacks Jordan Lynch of Northern Illinois, Johnny Manziel of Texas A&M, AJ McCarron of Alabama and Jameis Winston of Florida State were all invited to the Heisman ceremony on Saturday (8 p.m. ET, ESPN).
Auburn's Tre Mason and Boston College's Andre Williams are the running backs.
The six finalists invited to the ceremony in New York are the most since 1994.
Winston is the overwhelming favorite to win the award Saturday night in New York now that a sexual assault complaint against him in Tallahassee, Fla., has been closed without charges being filed.
He could become the second straight freshman to win the award as the top player in college football after Manziel won it last season.
Winston set freshman records by passing for 3,820 yards and 38 touchdowns while leading No. 1 Florida State into the VIZIO BCS National Championship Game. The Alabama native is on pace to break the NCAA record for passer efficiency rating (190.1).
Manziel passed for 3,732 yards, 255 more than in his Heisman-winning regular season last year. He also threw for nine more touchdowns, but his rushing stats were way down.
Manziel ran for 686 yards, down from 1,181 a year ago, and just eight touchdowns, down from 19.
Alabama Kicker Given Letter Of Support By Bush